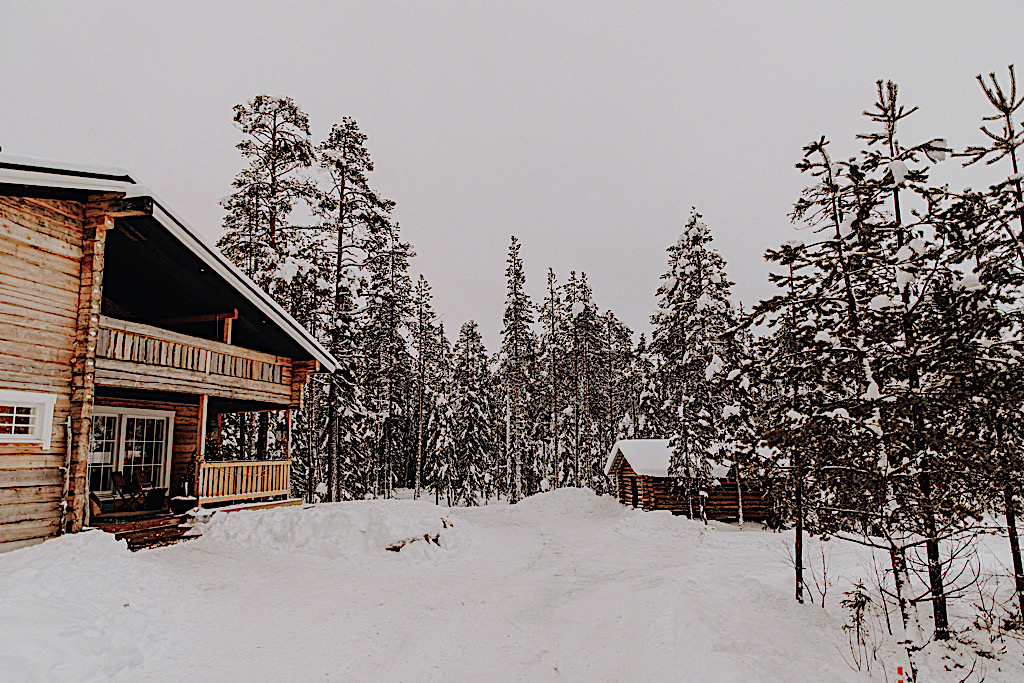 As we head into winter and you plan your amazing trips involving a snowy destination, let's talk about what to pack. Just coming off a trip from Finland, I've field tested these jackets, layering methods, and all the items you need for a cold weather trip while still looking stylish and not like an abominable snowman.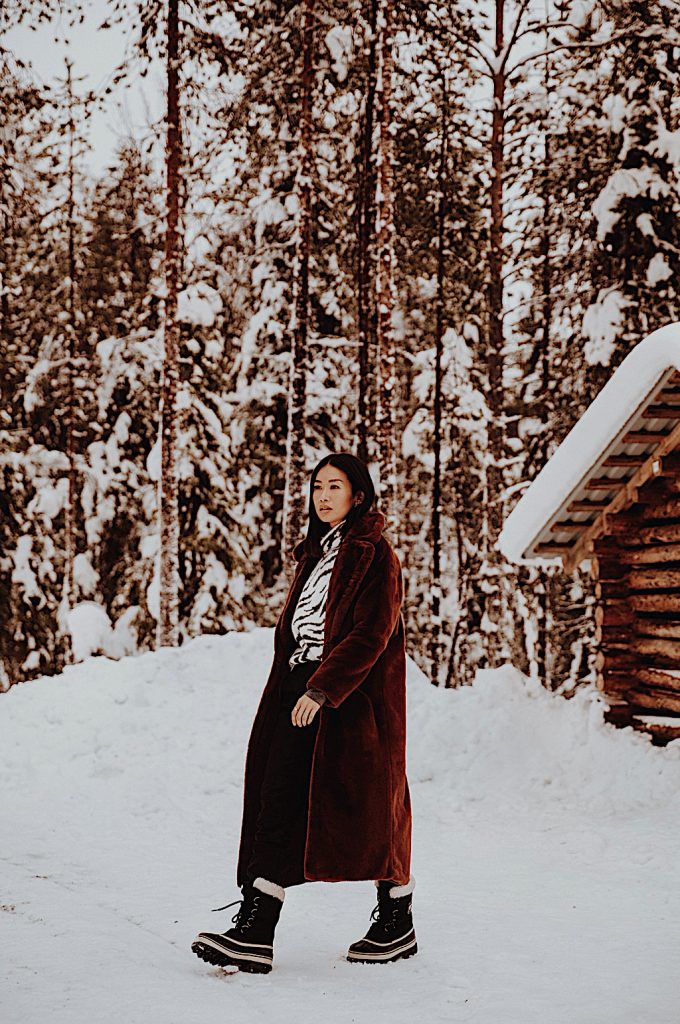 LAYERING IS KEY
In temps below single digits (and in the negatives), layering will be a lifesaver. Start with stockings. I just got these amazing pairs from Tabio which are made in Japan. Literally the softest, high quality stockings I've ever felt AND they are affordable ($20 and under). After stockings, layer with "thermals." I actually bought the two-pack thermal tops and bottoms at Costco for my trip but ended up NOT wearing because they were too thin. Instead I wore my Lululemon long sleeve tops and leggings that I already had under jeans and sweaters because they are thicker and warmer. Also these merino wool under garments are extra warm and keep you toasty too. The reason under layers are great are not only for warmth, but also they do not take much room in the luggage.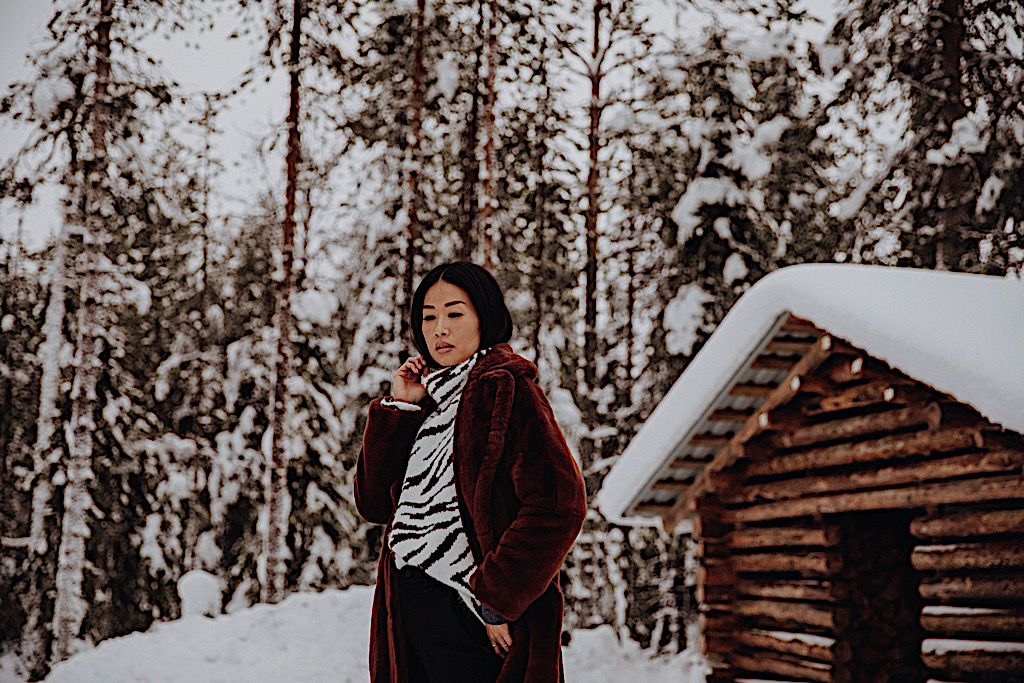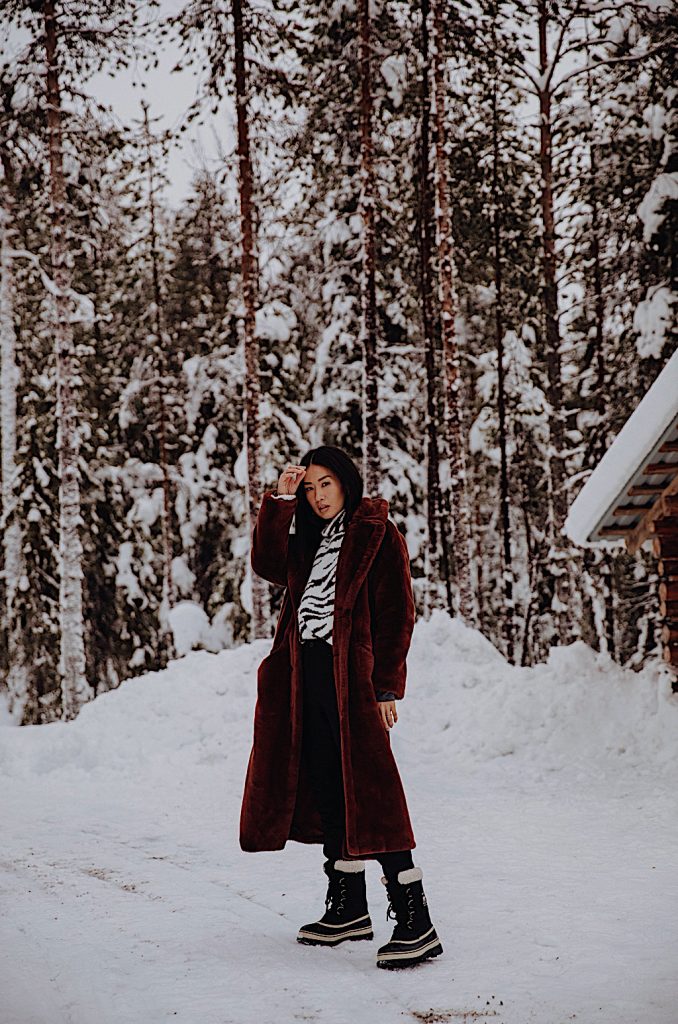 WEAR YOUR HEAVY STUFF
Since boots and heavy weight jackets weigh the most, wear those onto the plane. This will help with packing and avoiding the overweight luggage rates. I wore my Sorel boots on the plane as well as my thick faux fur coat. Faux fur instantly glams up any look so it's a great one to have to look chic even in the cold. If you want to pile it on some more, take a blanket scarf on the plane too. It can double as a blanket to keep you warm during the flight.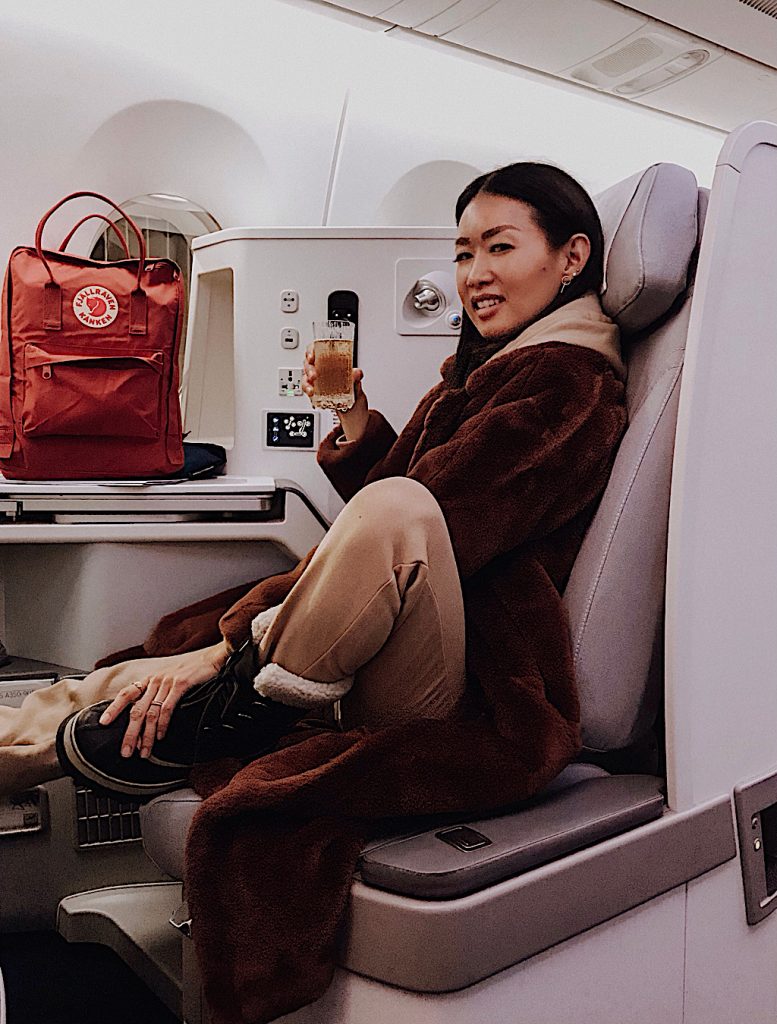 PACKABLE PUFFER JACKET
These are great for warmth but I love them because they squish down so that you can pack them in tightly into your suitcase. This midweight puffer from Noize is amazing, vegan, and PETA friendly. It is also a great length to keep my entire body warm. I also love the fun, fuschia lining inside! Noize has lots of great cold weather coats, parkas, and jackets and right now you can use code CHRISTINE20 to get 20% off! It also comes in an easy to zip, packable bag. Note that I belted mine but this particular jacket does not come with a belt.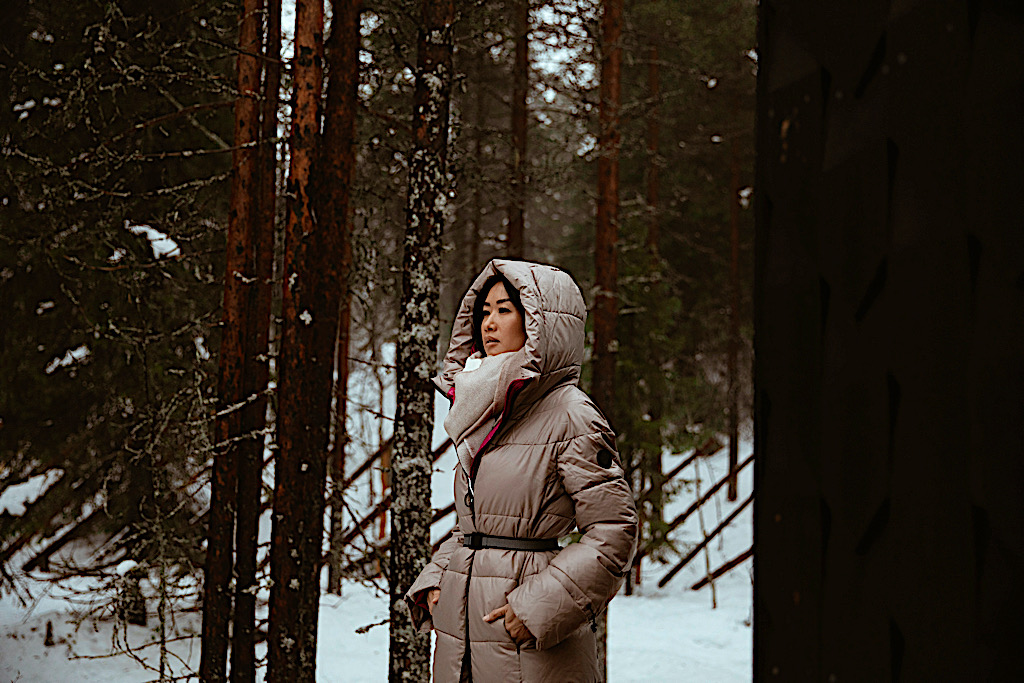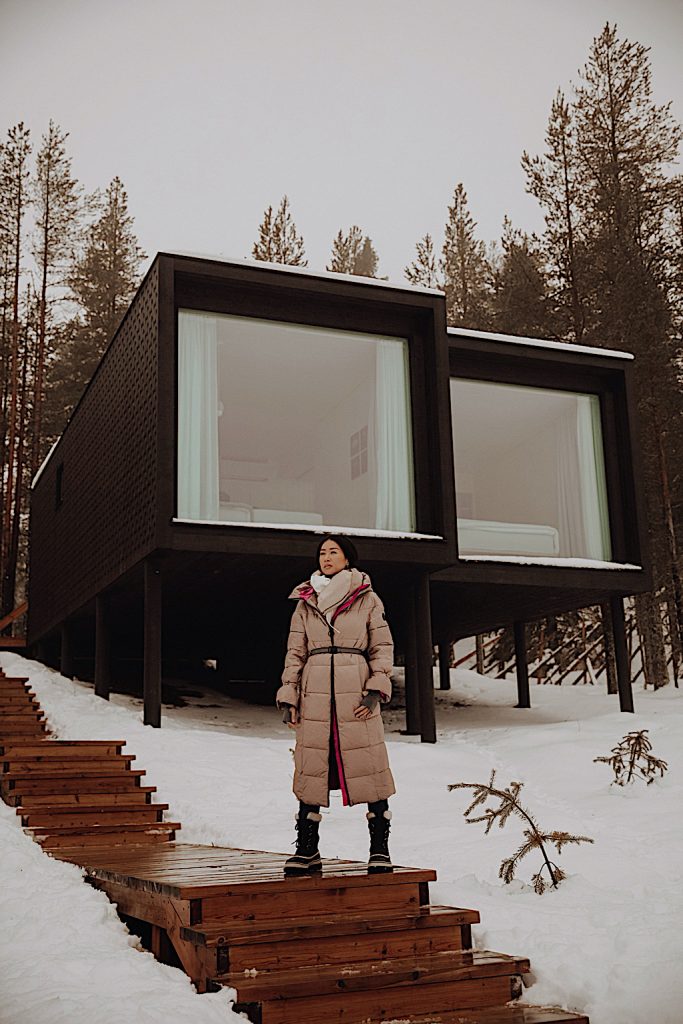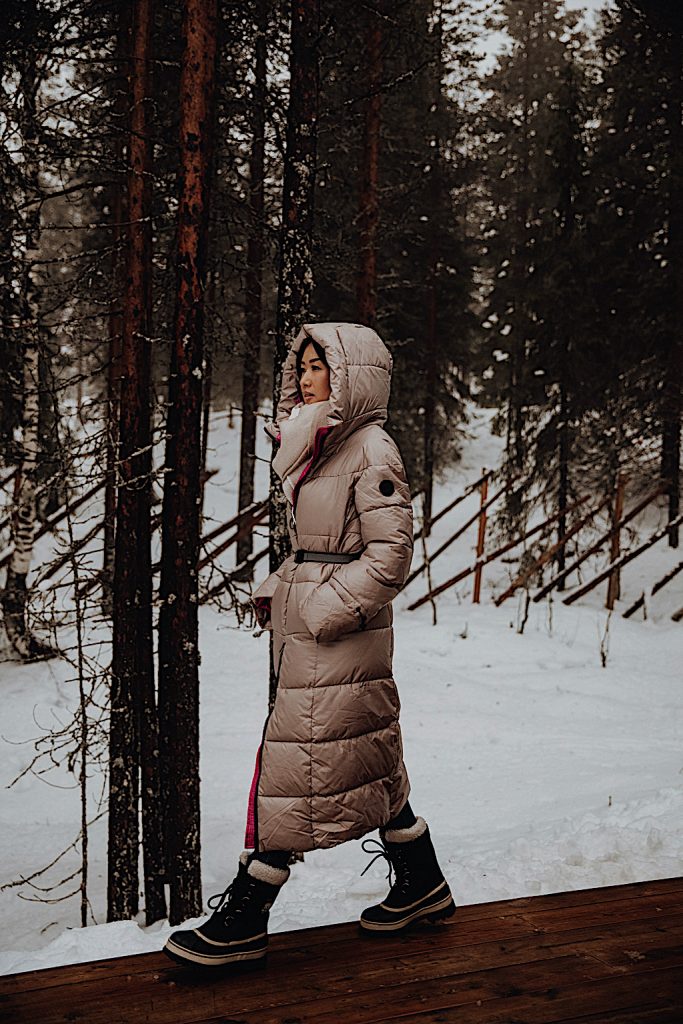 HEAVY WEIGHT JACKET
This is a must-have for the more action packed snow activities that you have planned. This one from Toboggan Canada is 50% down and great for skiing, snowboarding, and any outdoor snow activity. To be honest, this parka caught my eye because it looks like the Canadian Goose jacket but a fraction of the cost. It's thick and has a high collar to keep the wind out, and the faux fur lined hood adds that extra bit of glam. They also send changeable velcro labels if you desire to switch the tags out. This brand was also kind enough to share a 15% off code with my followers, so use CHRISTINE15 to get 15% off all Toboggan Canada jackets.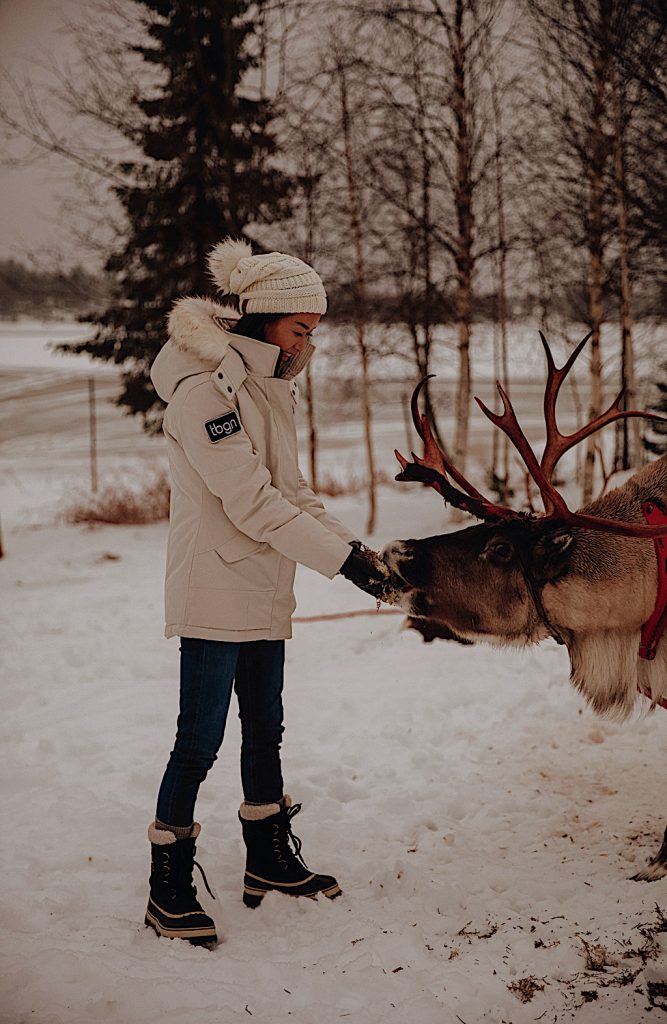 STAY NEUTRAL
For outerwear as well as bottoms, keep things neutral. By sticking to dark, neutral colors for outside layers, you'll find it easier to create stylish outfit combos with fewer pieces of clothing. I picked blacks and whites and switched things up with the sweaters I wore. I also kept my beanie white, but beanies are great to switch up and add some pops of color. I packed a pair of water resistant black pants and a white snow bib to layer over my leggings and jeans. Note: I bought the bib in a kids' large and it fit perfectly. I am 5'3″ FYI.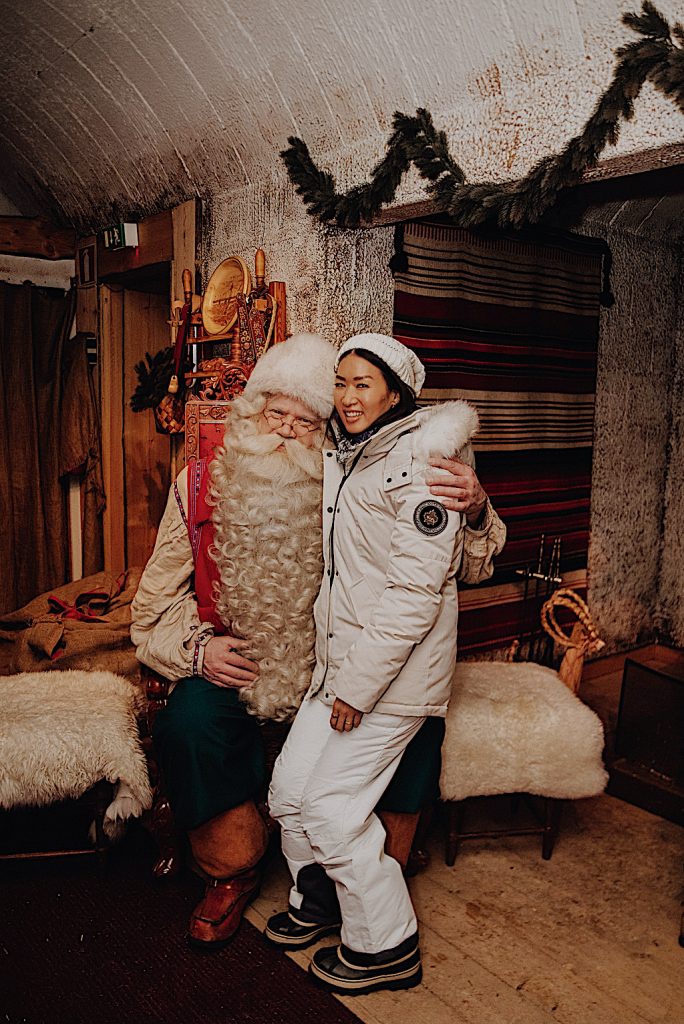 WARM TOES
Nothing is worse than cold feet. If you don't need heavy boots the for the entire trip, pack another pair of waterproof, lighter weight boots. The key to keeping toes warm are thick, smart wool socks over another pair of socks. Yes, even layer your feet. These wool socks saved my toes during my trip even after being outdoors all day long.

ACCESSORIZE
You can add color to your wardrobe with blanket scarves (long enough to cover your nose and mouth too) and beanies. I stuck to a white beanie, but I saw others with cute pom pom beanies and colorful stripes. Don't forget the gloves (take two pairs). I took a pair of cashmere lined leather gloves for the day and then a thicker, waterproof pair to wear during winter activities. I also added color with my day backpack which could carry everything from my MacBook Pro to snacks, sunglasses, extra gloves, ear warmers, hand warmers, and scarves.

HYDRATE YOUR FACE AND LIPS
In cold weather the air is so dry and the heater and hot showers don't help hydrate the skin either. I personally love Vaseline (great for lips, cuticles, and cracked heels) so took a mini jar with me everywhere. Another favorite of mine is Kopari lip glossy which also comes in "Birthday Suit" color too. These are my absolute go-tos to keep my lips hydrated so they don't crack or peel. Despite the lack of warmth, make sure you pack sunscreen (yes, snow can reflect sunlight back to your face). My favorites are Elta MD SPF 50 as well as Supergoop Unseen Sunscreen. For the ultimate hydration for your skin, I use La Mer's Creme de la Mer. Trust me, it's worth it.

CUTE OUTFIT
Lastly if you have a dinner or two that you want to dress cute but warm for, this knit set is perfect. It is great as separates and also together and can be work over a base layer. I was able to wear a long sleeve under the turtleneck and stockings and cropped leggings under the skirt to keep my legs warm.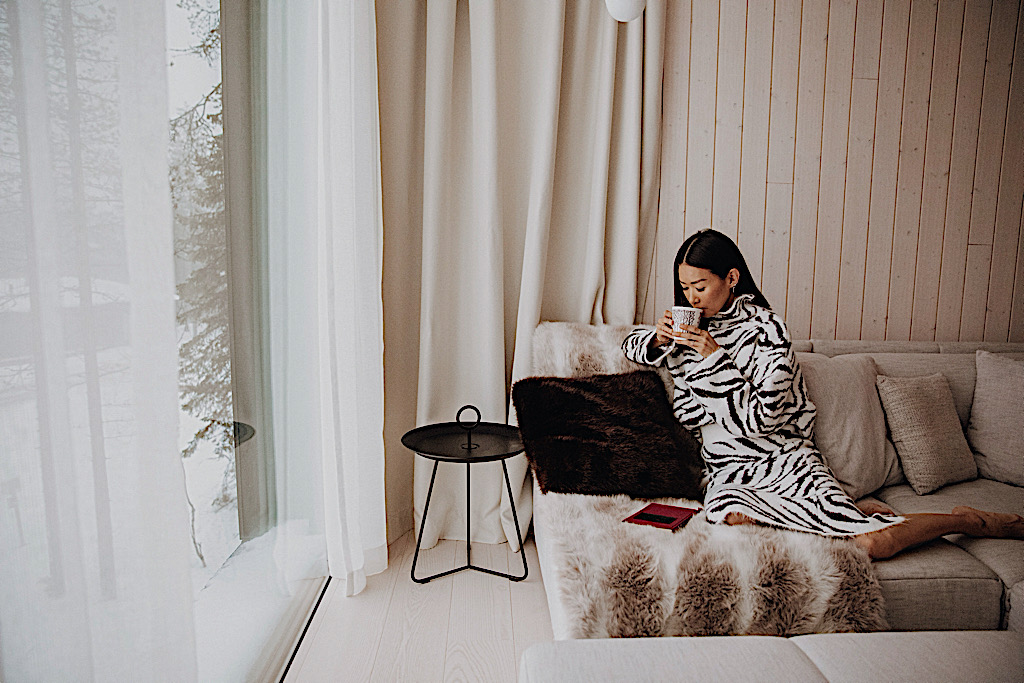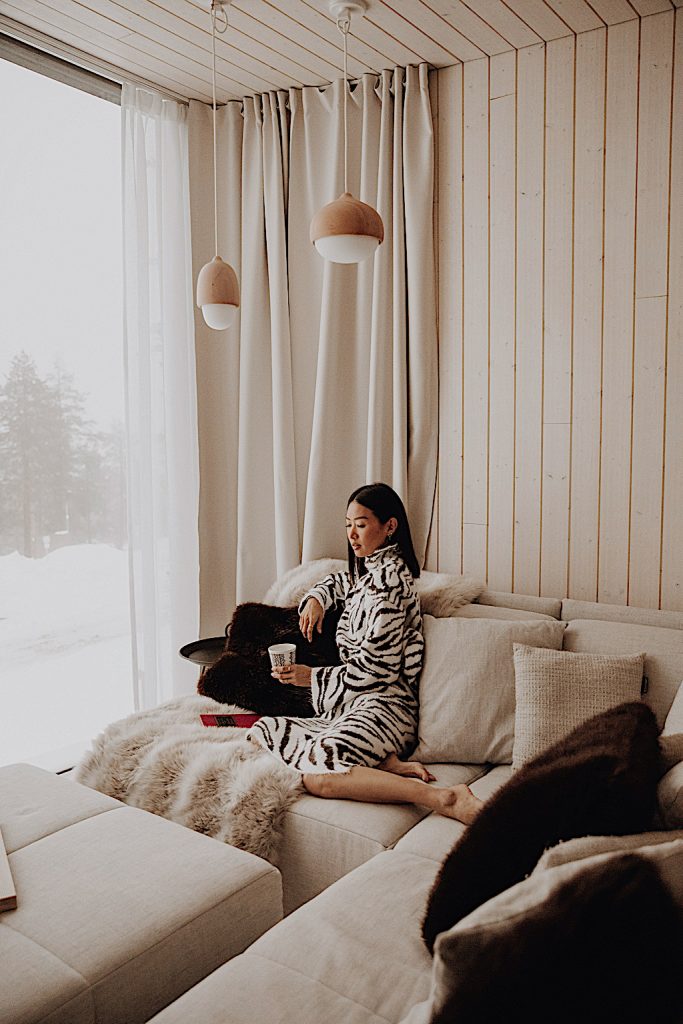 Having lived in Southern California all my life, cold weather isn't something I am used to. But after going on my trip to Finland in early November and experiencing the bitter cold, these packing tips will definitely save you from freezing. Let me know if you have any other tips or any plans for a snowy trip in the comments below!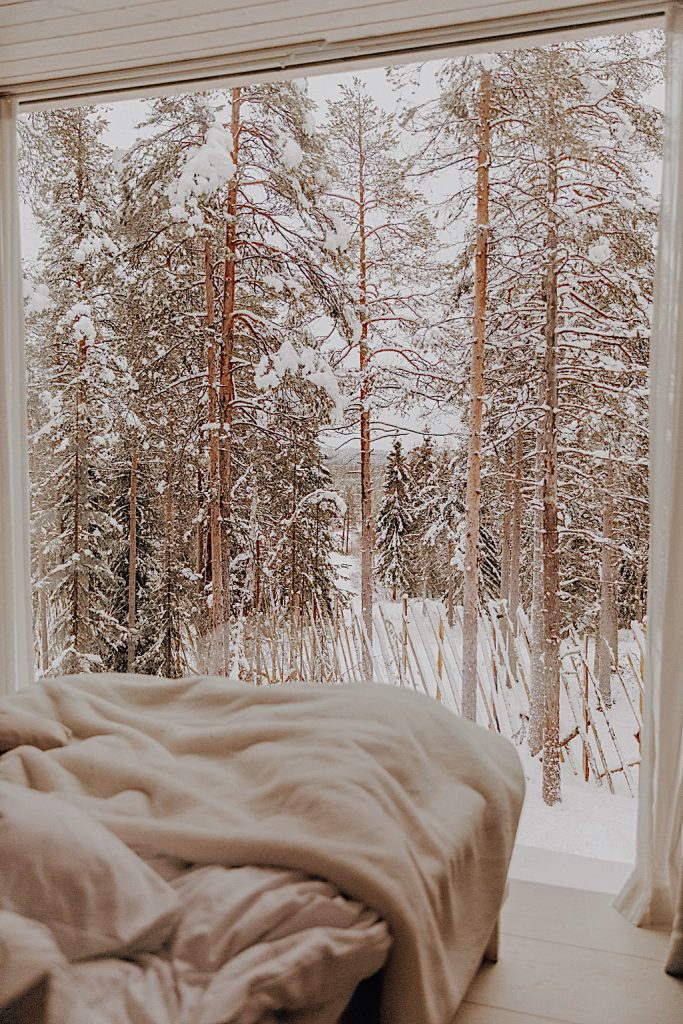 Photos taken in Lapland, Finland by @pret.a.photo.