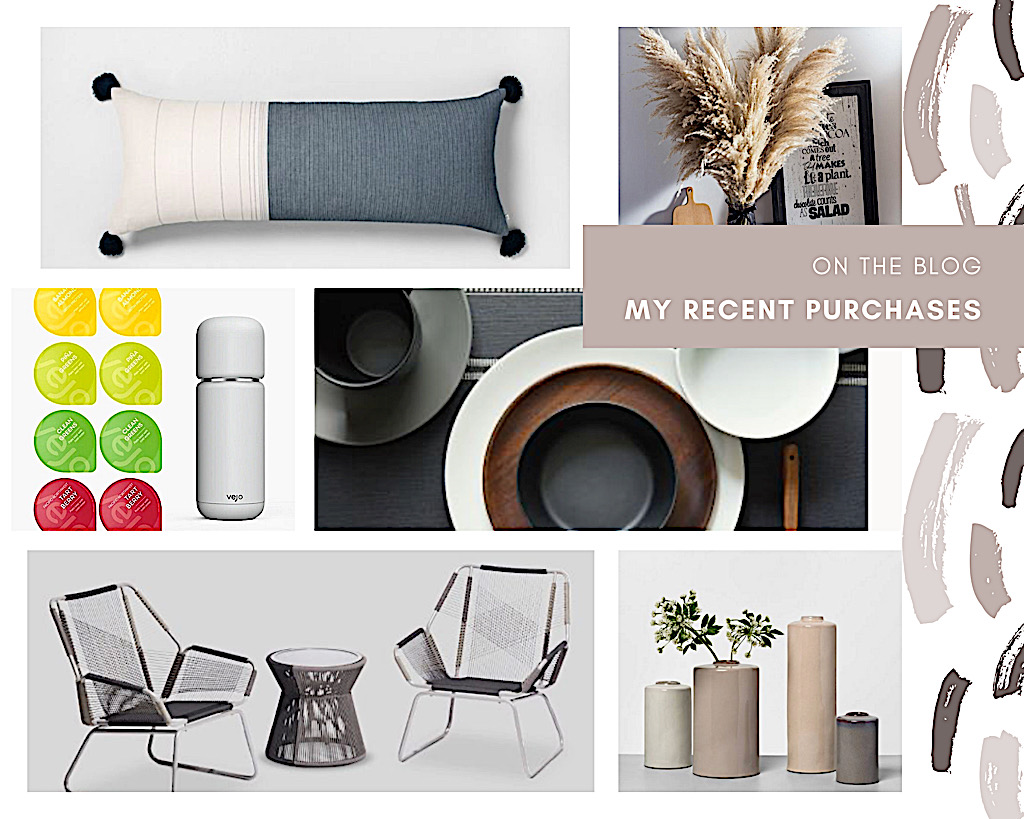 When quarantine first started I spent a lot of time online shopping as I previously did before the stay home order. But as weeks passed by I noticed I spent less on clothing and more on things to occupy my time at home. Below are the things I recently purchased. They are random, but everything I need and why.

I've been baking since forever and now more than ever (hello, banana bread anyone?). But can you believe I've been baking without these? I'm that type that still uses a hand mixer even though I bake at least once a week. Call me old school, but I am slowly transitioning. Got these silicone, baking mats recently and love how easy they are to clean and use. I mean, no spray and non stick?! Perfect for all my quarantine cookies from peanut butter, oatmeal cookies to paleo banana bread cookies and my recent Chex mix addiction.

After using this spray mister, I never have to worry about purchasing those oil sprays again! I go through tons of olive oil for cooking and now that summer is here we need more for grilling. This spray mister is the best because it can be refilled with olive oil you have at home. So I usually buy a huge Costco sized extra virgin olive oil and refill this spray. It's been one of those added conveniences you never thought you needed but now, I can't imagine my life without it.

I've had an air fryer for a few years now and because I use it so much, I just bought a new one. My old one had been in use daily (sometimes 2-3x a day) so it was time for an upgrade. I get so many questions on my air fryer on my Stories as I share lots of cooking on there. I air fry everything from sweet potato wedges, frozen fries, potstickers, bacon, tator tots, and even fish in my air fryer! I love that it doesn't take any oil (although I do a light olive oil spray) and everything comes out crispy on the outside and perfect on the inside (especially salmon). If you don't have one yet, it is the perfect time to get for your man for Father's Day or just because you've probably been cooking so much lately and need this gadget in your life!
I recently discovered this amazing portable blender which has made drinking my fruits and veggies so much easier and faster, but also has been getting my kids into it too! I plan on doing a full blog post on this Vejo blender because it is truly one of my favorite purchases so far and I use it 2 – 3 times a day! It is a portable blender with pods of different types of smoothies (fruits, functional blends, performance blends, etc.) that works in 30 seconds! It is super quiet, quick, almost all of their blends are organic, and each pod is 50% of your suggested daily intake of fruits and veggies! You can read more about it here, and if you want to purchase, I have a code for a FREE 8 pack of pods (code: KONG8PACK).

Spending more time at home also has me looking for new tableware. I am still using my basic, everyday set from when we got married so wanted to get some more modern, aesthetically pleasing pieces. I love these porcelain bowls and the dark contrast would go well with my lighter dining table. I also love the shape and color of these plates. They have a lip which is nice so food won't slide off of them. Also wanted to update some of my glassware too so picked these up for a more modern, chic feel.

If you are on Instagram, you know how popular these dried grass are. Since I am shooting indoors now, I figured these would be great as a prop and also love how they look in the home. There are so many pampas sellers out there and such a wide range of prices. Got these from this Etsy seller. Took a while to arrive but totally worth it. And what's pampas grass without some new vases?

Since summer is around the corner and it looks like we will be spending all our time at home, I decided we should finally purchase some outdoor furniture. I'm glad I bought these now because 1) it was on sale, and 2) this lounge set is backordered until July! I also grabbed these chairs to go with the set asap. They were actually out of stock and I put in my email to notify me when they were back in stock. As soon as I received the email, I hopped on this chair and table set! And of course I needed some throw pillows and blankets to add to the mix. I am still shopping for an outdoor rug, but figured once I get my lounge set I will make the rug purchase so I know the exact size I need. Just an FYI, outdoor furniture is going to sell out fast like workout equipment did so if you are shopping around for pieces, make sure if you see something you like, you get it soon.
MOSQUITO REPELLENT (that you don't have to apply)

If you watch my Stories, you know how much mosquitos love me. I can't escape them and since it is summer and we plan on being outdoors a lot more (with our new outdoor furniture), I wanted something to repel mosquitoes that I didn't have to apply onto my skin. I searched high and low and even asked for recommendations on my Stories from my followers and this is what I ended up getting. It's a little pricey, but it comes super highly rated and even my camping friends swear by it. It works by a chargeable battery and repels mosquitoes and other bugs within 15 feet! DEET-free, spray free, no mess, and scent-free (it's a no brainer)! They also have the smaller version of this which is also highly rated. The only difference is the battery life. I am super excited for this and to be able to enjoy my backyard without worrying about getting eaten alive.

Along with mosquitoes, I absolutely detest all bugs. Flies included. Especially during the summer. It's that one annoying fly that gets trapped in your house that you can't seem to catch. Well this electric bug zapper is AMAZING! My friend used this and I saw it in action and knew I needed this contraption. It basically zaps the bug (yes, even mosquitoes) by sending out electric shock waves and they pretty much disintegrate them. We also picked up this Salt Gun. It uses table salt to shoot and kill flies and even black widows. NOT for children to use and definitely don't aim in someone's face. My hubbie prefers this over the electric bug zapper but I like the zapper more.
So these are all my random, latest purchases. Hopefully you find some of them useful. Let me know what you purchases you've made recently that you are loving!