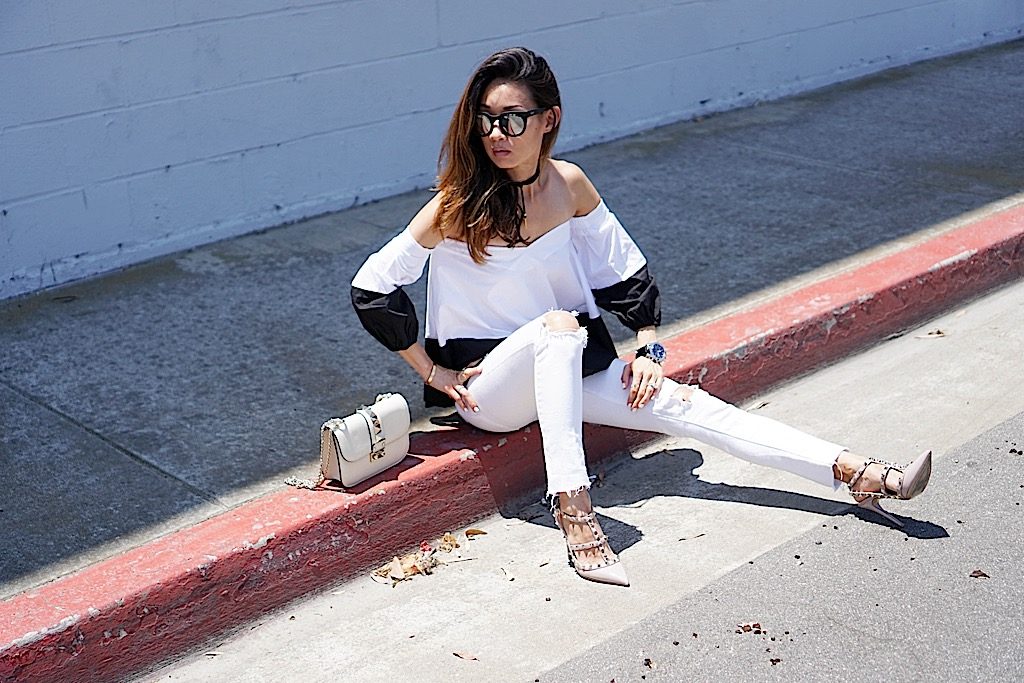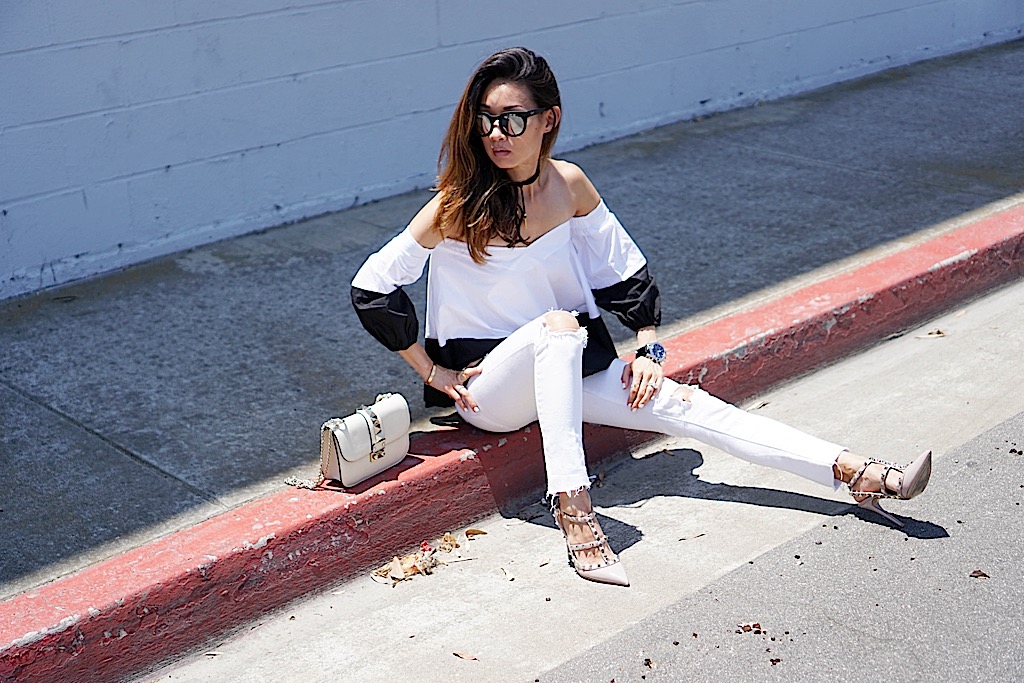 I recently found out what "BTS" stands for – Behind the Scenes. I would hear bloggers throwing around this acronym, "BTS," when preparing for a photo shoot and then I got it. There is a lot of BTS in the blogging world that many non-bloggers don't understand. In the short time that I've been doing this I've come to understand and appreciate all the behind the scenes work involved in what I do and what other bloggers do. To give you a little glimpse into my personal experience with blogging, I accepted a challenge from one of my blogger friends, Sharon Wu of Style Lullaby, who recently tagged me to share a few behind the scenes details of my blogging life.
Where do you blog?
As I type this, I am on my desktop in the "playroom" which originally was the toy room for my three kids, but also a craft area for myself (when I used to think I was Martha Stewart and knock out all these Pinterest-worthy things). I use a desktop because I am a very visual person and I like to see things on the big screen. That being said, I am looking into being more mobile and working off a laptop either in my office space upstairs or at various coffee shops where I can sip my minimum two lattes and people watch while I compose.

Where do you find inspiration for your posts?
Inspiration can be found anywhere (I'm sure you haven't heard that one before)! For outfit posts, I am inspired by all of these amazing brands I have discovered while on this blogging journey. Each brand has their own style and when they reach out to me, I love finding pieces that I may not normally wear, but can style and make my own. I am partial to basics for the most part and I find inspiration in pieces that make a statement or have some dramatic flare. On a personal level, I find inspiration in just talking to people and hearing their stories and experiences which led them to who they are today.

How long does it take you to do a blog post?
The writing portion of an outfit blog post typically takes about 30 minutes. The most time consuming part of the post is linking all of the clothes and accessories so that my readers can directly purchase and see the products I am wearing.
For more personal blog posts (which I haven't had too much time to write, but really want to include), they take about an hour. I find that I start writing my thoughts as they come out and then I have to reread, edit, and edit again.
As far as photos go, I take one day out of the week to shoot all my outfits (a trade secret I learned not too long ago). Before I realized that this is what most bloggers do, I used to drag my poor husband out everyday to literally shoot my outfit of the day! Now we go once a week and take about 3 – 4 hours to shoot a week's worth of posts.
Do you plan your blog posts? If so, how?
My posts are usually planned around the outfits I shoot for the week. Some bloggers are super organized and plan their posts 1 – 2 weeks in advance, but for me, the posts hit the blog almost as soon as they hit Instagram. When I am working with a brand on a sponsored post, however, there is more planning involved especially if there is a specific deadline. With kids and all of their activities, I blog when I can find the time (usually early mornings before they are awake or late evenings after they go to bed) and try to publish at least 2 -3 times a week.
What kind of camera do you use?
Prior to May 2016, all of my photos were off of my iPhone 6 (yes, really!). For Mother's Day this year, my husband graciously bought me a real camera, a Sony A6300. While he is still learning as we go, his dedication to my blog and full support and patience throughout this entire process has been nothing short of amazing.
What editing programs do you use?
I use Lightroom to edit all of my photos. That being said, I am still learning and basically use about three functions in LR, namely just to lighten up shadows. I hope I can learn how to use LR in its entirety because I know it can do some really cool things!
Do you use a notebook to track your ideas?
I do own a notebook and that's all I'll say about that. Just kidding. I have a notebook, but I've found that in the chaos of making dinner or helping the kids with homework, I jot things down on notepads sponsored by local real estate agents or the closest sticky notes I can find. No one will understand my notes or even know what they mean, but I do and that's all that matters (basically it's secret blogger code that only I can read and understand).

Do you take your pictures?
No, my husband takes all of my outfit photos, especially since I don't know how to use the camera he bought for me quite yet. I take the flatlay photos or product shots, but any shot that I am in, my husband is the photographer (or as I refer to him, my beautographer).
What's your favorite type of blog post to write?
I would have to say my favorite posts to write would be the ones that connect with people in some way or another. It can be an outfit post which provides a style tip that a reader didn't think of, or a motivational post that helps inspire a reader to do something. I am a huge believer in that we can all learn something from someone and the more we share, the more we learn too.
Who knows about your blog?
I tell everyone about my blog! I try to simultaneously link each post I do on Instagram with a blog post so that my followers can immediately see the detailed photos of my outfit and read about how I decided to style a particular look. It would be a dream of mine to one day walk down the street and have people recognize me from my blog and say that I have inspired them to be confident in their style.
Are you an organized or messy blogger?
I would have to say that I am an organized blogger. Because I have kids and am a full time mommy, I have to be organized to accomplish what I am doing. On top of my blogging photos, blog posts, emails and meetings, I also volunteer in each of my kids' classrooms once a week and have a work from home husband (which means a hot breakfast, lunch, and dinner everyday). I pride myself in being organized and efficient and also knowing when to say no and prioritizing my commitments.
Biggest blogging pet peeve?
From someone who started this blogging journey for fun, I realize now how much hard work and time is put into this blogging business. My biggest pet peeve would have to be the misconception people have about bloggers. It's not all about going to events, getting goody bags, and receiving free products. Blogging has been proven to be a business and it definitely is a full time job if not a lot more than that. Behind the squares you see on Instagram and the outfits featured on the blog, there are hundreds of correspondence with different companies, styling and accessorizing, location scouting, product placement, artistic and creative thinking behind each flatlay, each outfit, each photo. Bloggers like myself take pride in what they put out there and we do it in a way that is specific to our followers and our aesthetics. Blogging for me is about building my brand, my style, and my name and sharing it with the world just like any other company that is created. It takes the same amount of work, time, planning, and dedication and should not be overlooked at as a hobby.
All that being said, I am learning so much and meeting such inspiring people along the way. I started this as a way to showcase my style and to remind others to be confident in who they are and what they wear. Thank you for reading this personal and behind the scenes post and for being so supportive of this incredible journey I am on. This was such a fun tag to write and I challenge Adelina Perrin of The Charming Olive to share her BTS blogging details.
Here are some outfit photos from a recent brand I discovered through blogging (Floating Style).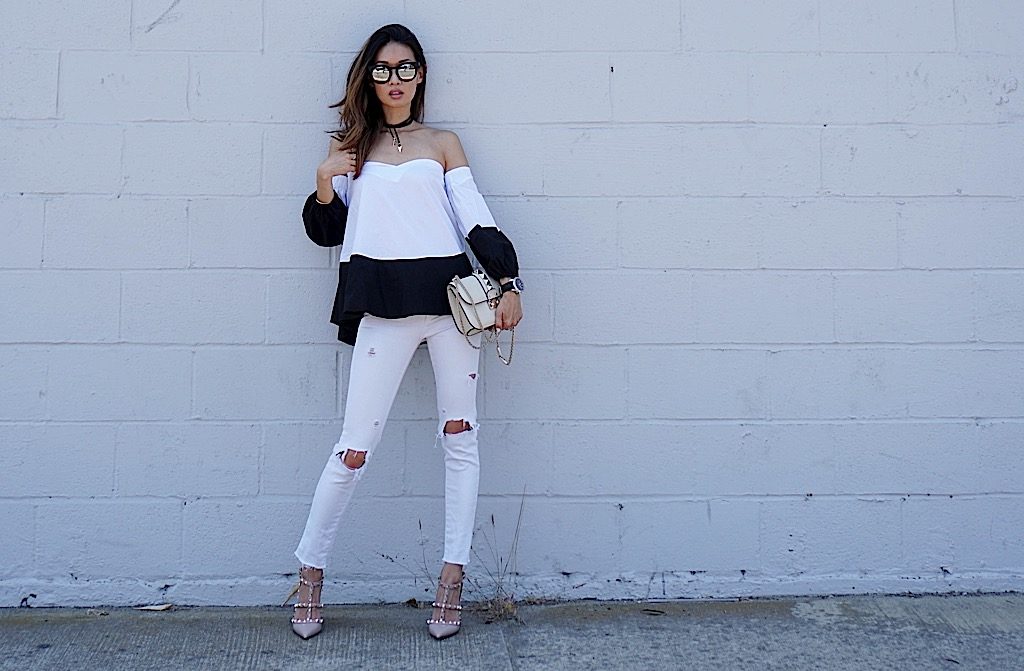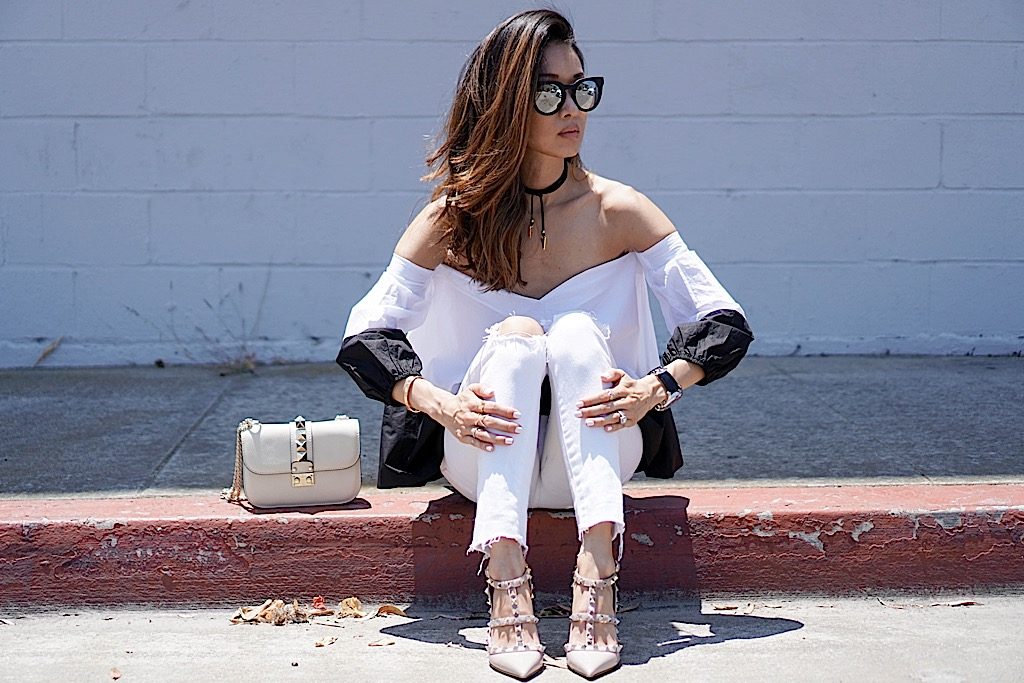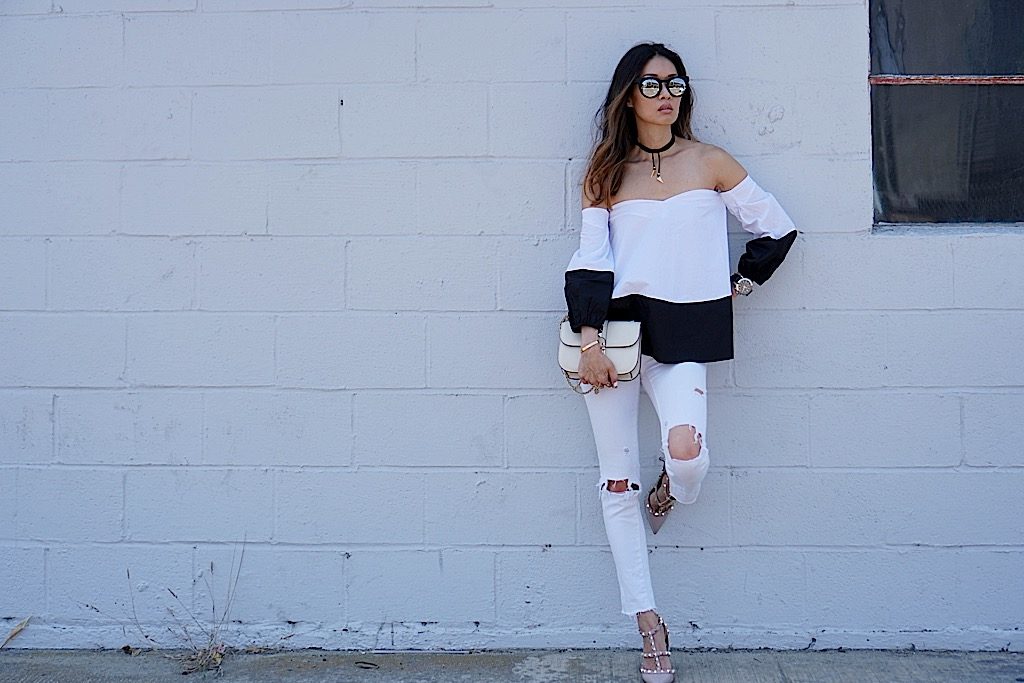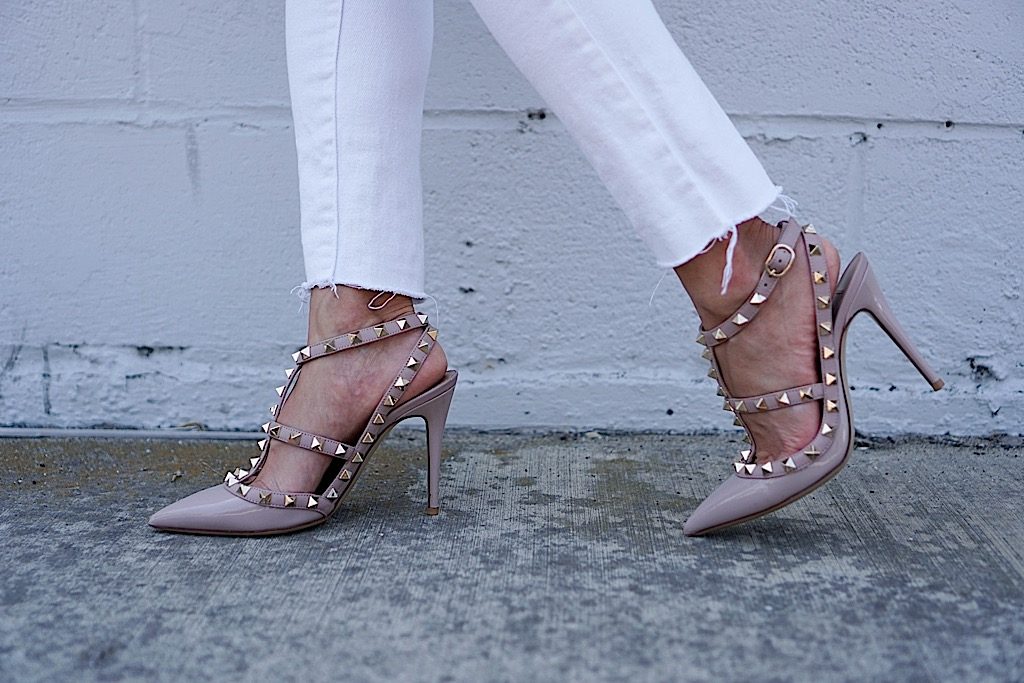 Top | Floating Style similar styles here and here
Jeans | Joe's Jeans similar styles here and here
Choker | Vanessa Mooney similar styles here
Sunglasses | Quay Australia similar styles here, here, and here
Watch | Leonard and Church
Bag | Valentino similar here and here
Shoes | Valentino similar here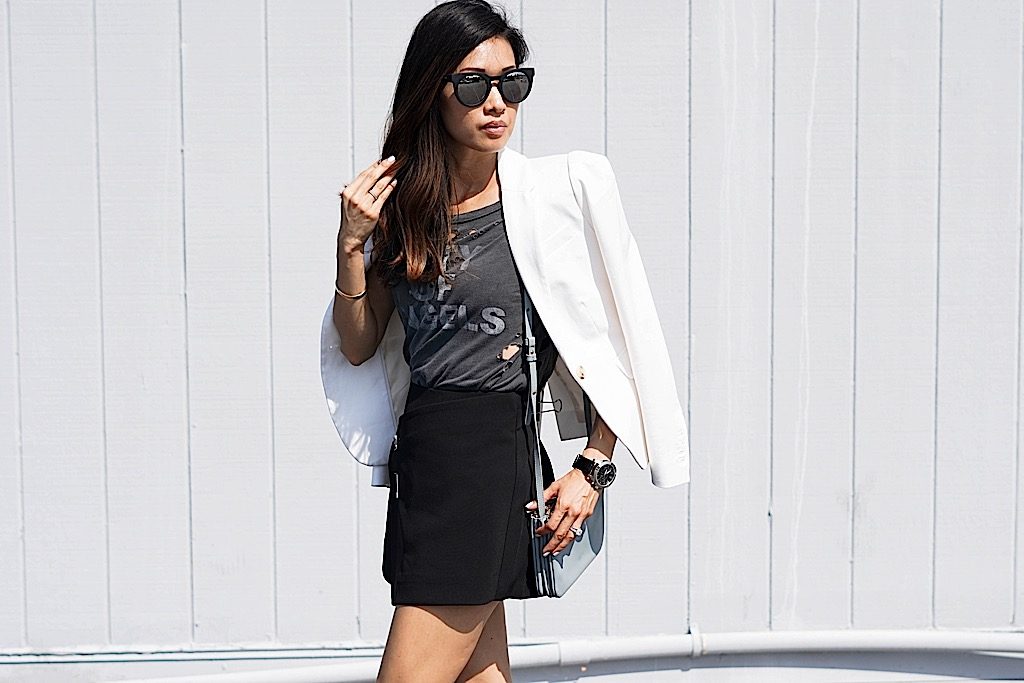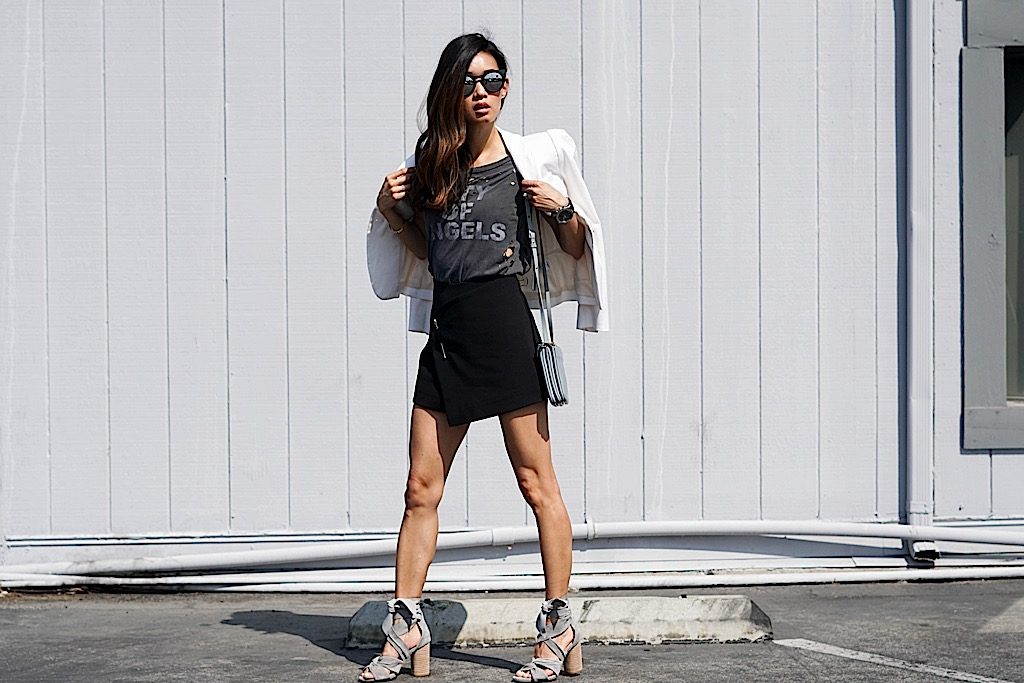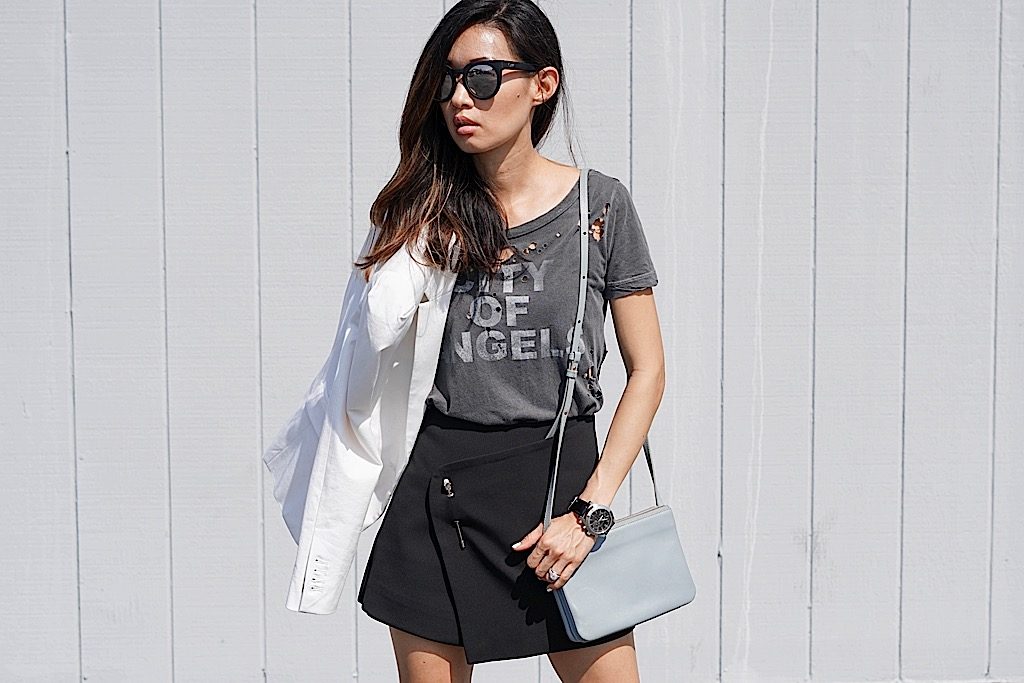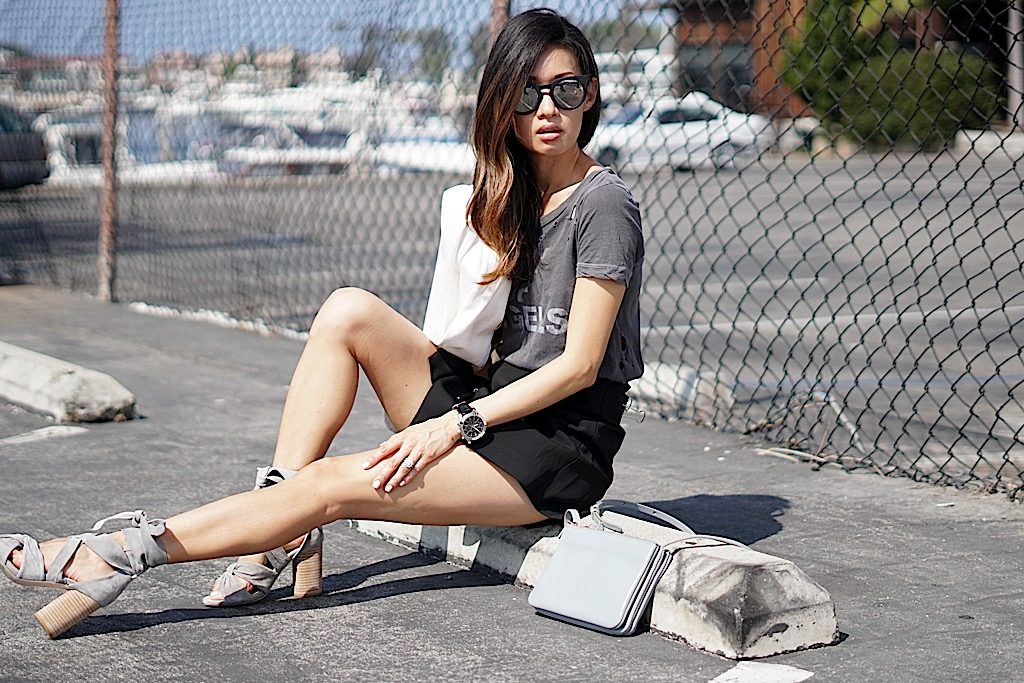 Shirt | Chaser (old) similar styles here here
Skirt | Floating Style (sold out) but similar styles here and here
Jacket | J. Crew similar styles here
Sunglasses | Quay Australia similar styles here and here
Watch | Leonard and Church
Bag | Celine similar styles here, here, here, and here
Shoes | Raye (sold out in grey) in black and brown