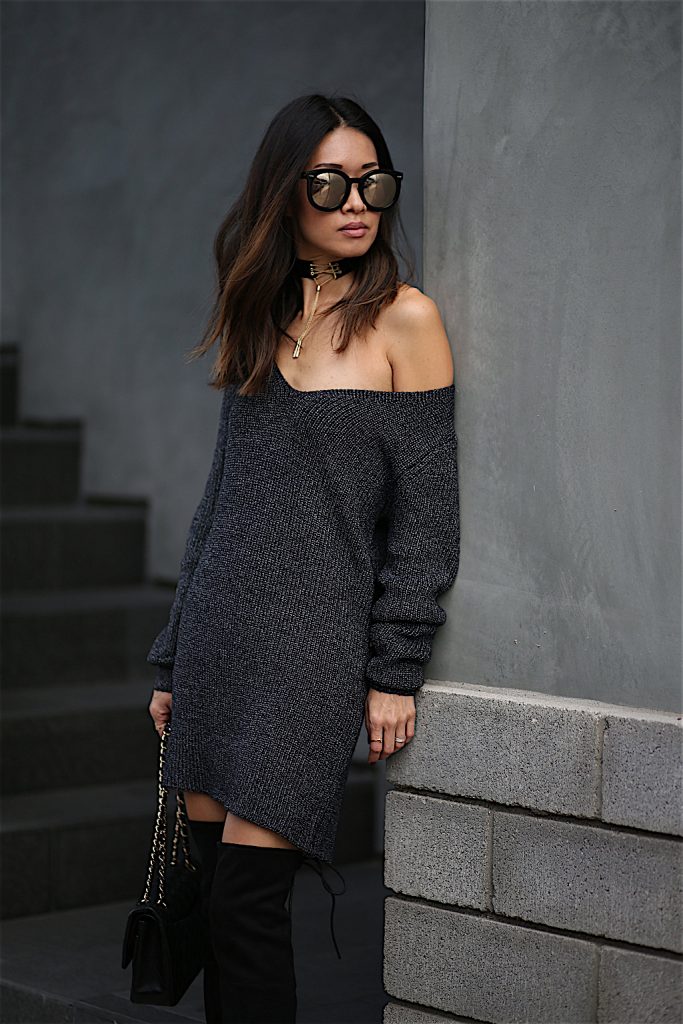 I don't know about you, but with all the Black Friday sales and holiday shopping starting, I always end up buying some gifts and then a few things for myself as well. I can't help it, the deals are too good! But don't worry, I know you have been bombarded with holiday gift guides already and this is NOT that type of post. In fact, this is a post about shopping for yourself! Despite what my husband may think, I actually do think things through before making a purchase. Even if money was no object, there are some basic questions I ask myself before I decide to swipe that card. That way once you make a purchase, you won't have buyer's remorse and you know you purchased with confidence!
// Questions I Ask Myself Before a Purchase //
• Is it versatile and can be worn multiple ways
• Can it be worn at least half the year
• Is there something unique about the style, cut, embellishment that makes a statement
• Is it trendy (therefore should be more affordable) or is it an investment or basic (therefore I am willing to spend more)
• Is it easy to wash or does it have to be professionally cleaned
• Will this piece give me instant gratification or will my happiness continue with each wear
• Will I think about this until I have it in my hands or will I forget about it once I leave the store
• Can it be returned (just so you can take home and try it on with several looks)
That all being said, let's talk about this sweater from Twenty 5A. As I mentioned above, when a piece can be worn more than one way, it's a winner in my book. I received this oversized sweater and immediately I fell in love. I am all about little details that make a piece stand out and the back of this sweater is definitely something that will leave people talking.
This sweater is intended to be worn as a top, but because of the looser fit and also because weather in Southern California isn't quite cold yet, I opted to wear this as a sweater dress with the must-have over-the-knee boots of the season. The back of this sweater is beautiful, but also revealing, so I added a short mini skirt underneath just to cover my bum. To add just that extra oomph of sexiness, I let one shoulder slip, turning this sweater into not only a dress but an off the shoulder piece as well.
How would you wear this sweater – as a top or a dress? I want to know!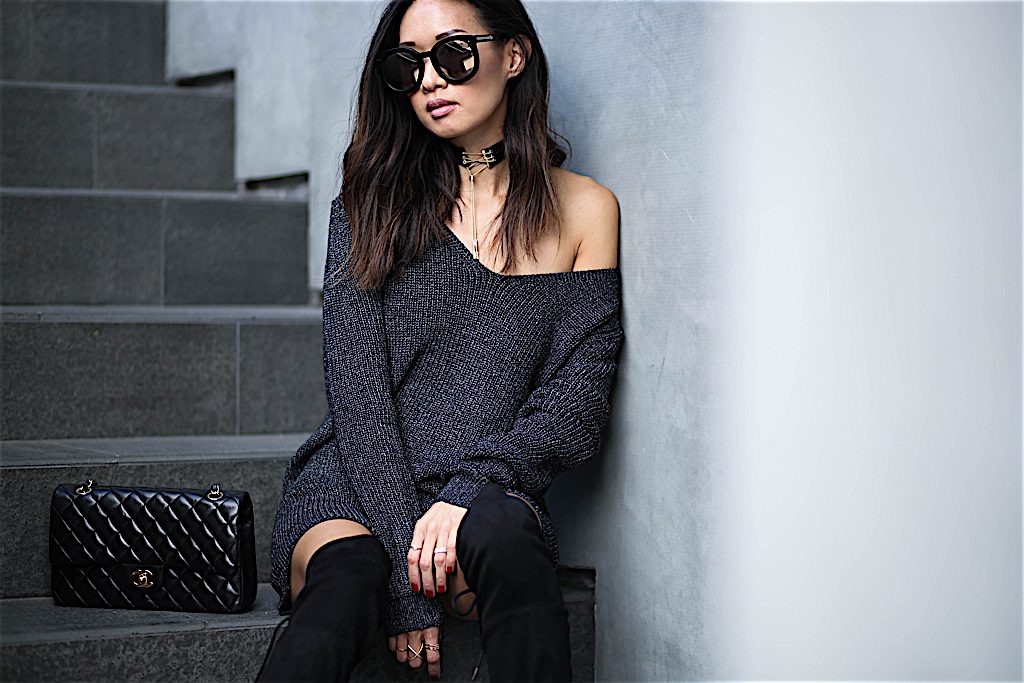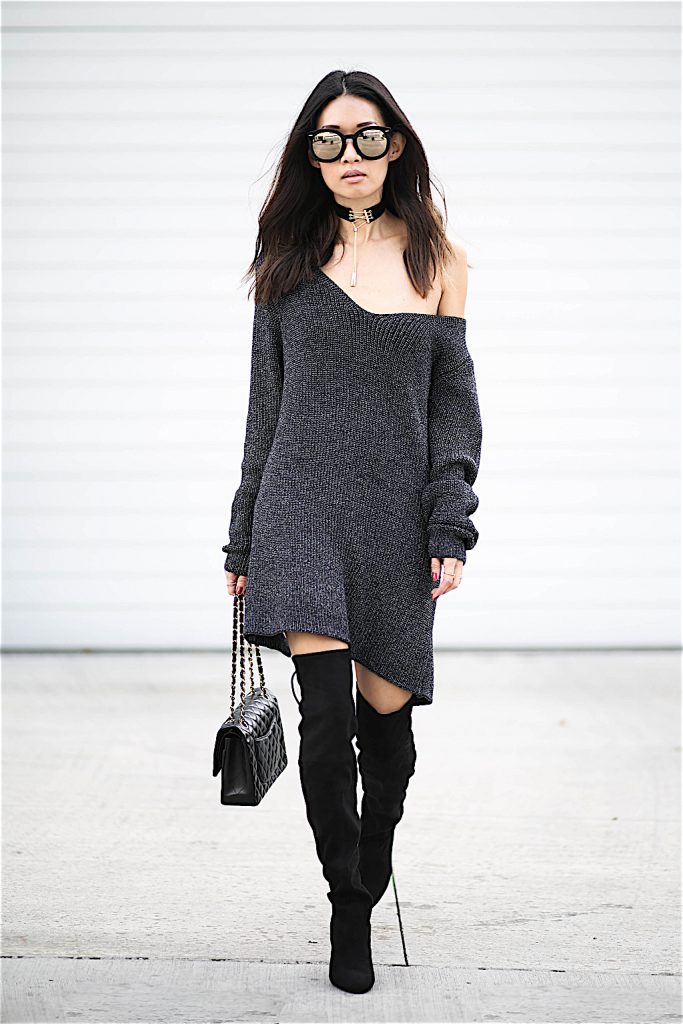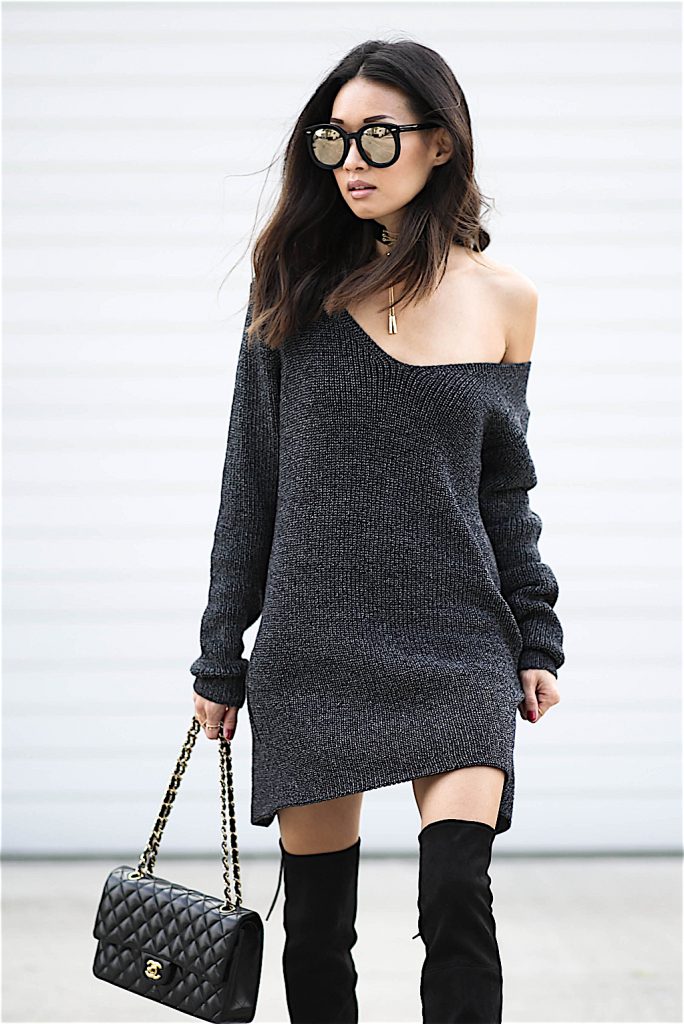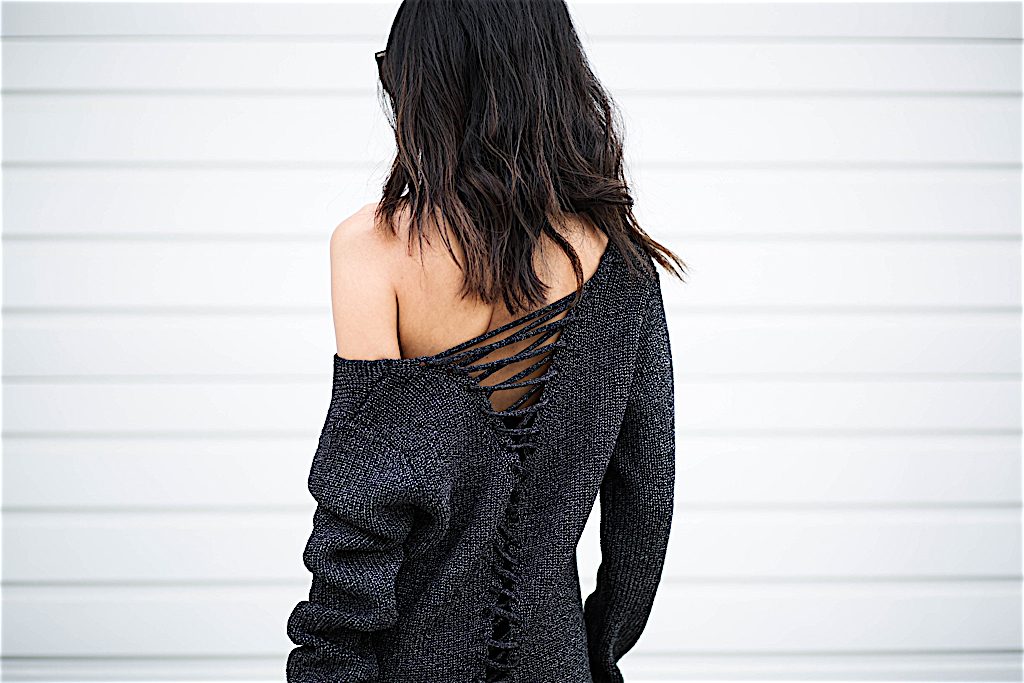 Sweater | Twenty 5A (sold out, I know, devastating but linked some of my favs) here, here, here, and here
Choker | Bauble Bar (get 30% off holiday collections with HOLIDAY30) similar styles here, here, here
Boots | Steve Madden similar styles here, here, here, and here
Sunglasses | Karen Walker similar styles here, here, and here
Bag | Chanel similar styles here, here, here, here, and here
* The GIVEAWAY for this sweater goes to lucky follower @mrsikari. Thank you to all those that entered and stay tuned for more giveaways soon! @mrsikari please email me at christine@dailykongfidence.com to claim your new sweater! *