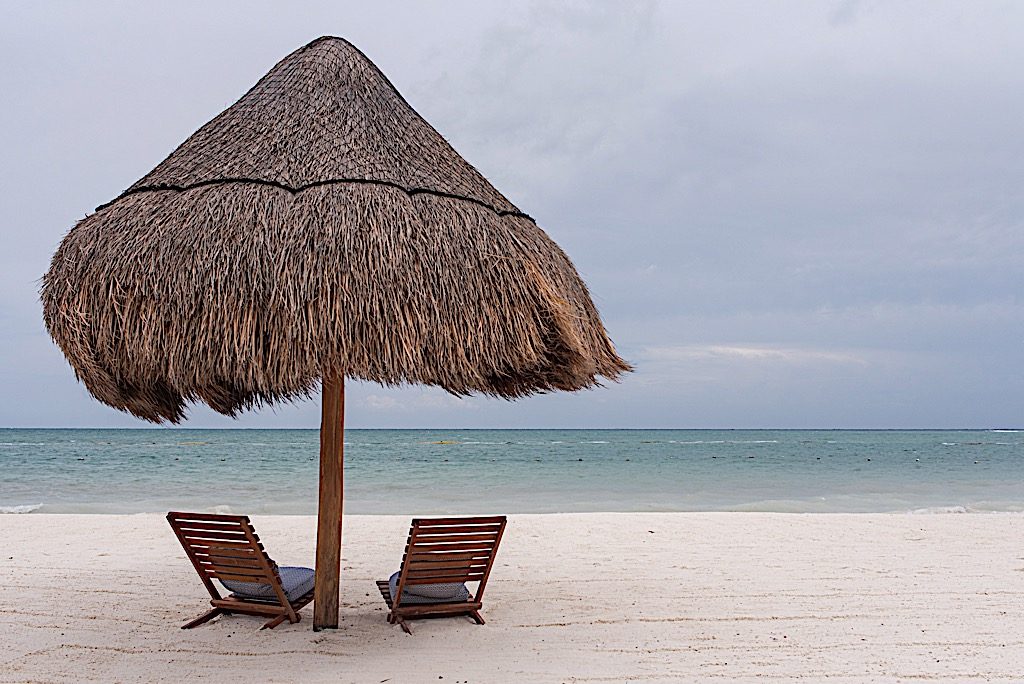 While many people have heard of Cancun before, Mayakoba is still somewhat an undiscovered destination. Considered "the Venice of the Caribbean," Mayakoba is an exclusive enclave located on the most desired beachfronts of the Riviera Maya and home to the world's most exclusive resorts, including the luxurious Fairmont Mayakoba. Contrary to other hotels in the area, the Fairmont Mayakoba offers a room only resort price in addition to the more common all-inclusive offering.
A short 30 minutes from Cancun airport, we arrive at the Mayakoba private gates. As we drive along the cobblestone path, physical and spiritual renewal feel closer and closer with each passing mangrove. We see the friendly staff awaiting our presence, ready to welcome us with cool, scented towels and fresh hibiscus tea, and we know we've made it to paradise.
Check-in is swift, more warm and smiling faces, and it seems to be a pattern here. Every staff we encounter from the lobby throughout the property have genuine delight across their faces.
We are swooped to our room in the comfort of a chauffeured golf cart. For this expansive resort, this is the preferred method of getting from one place to another. The other option being the signature Fairmont Mayakoba bicycles. Both golf carts and bikes are plentiful, so you are never waiting too long to get from one place to another.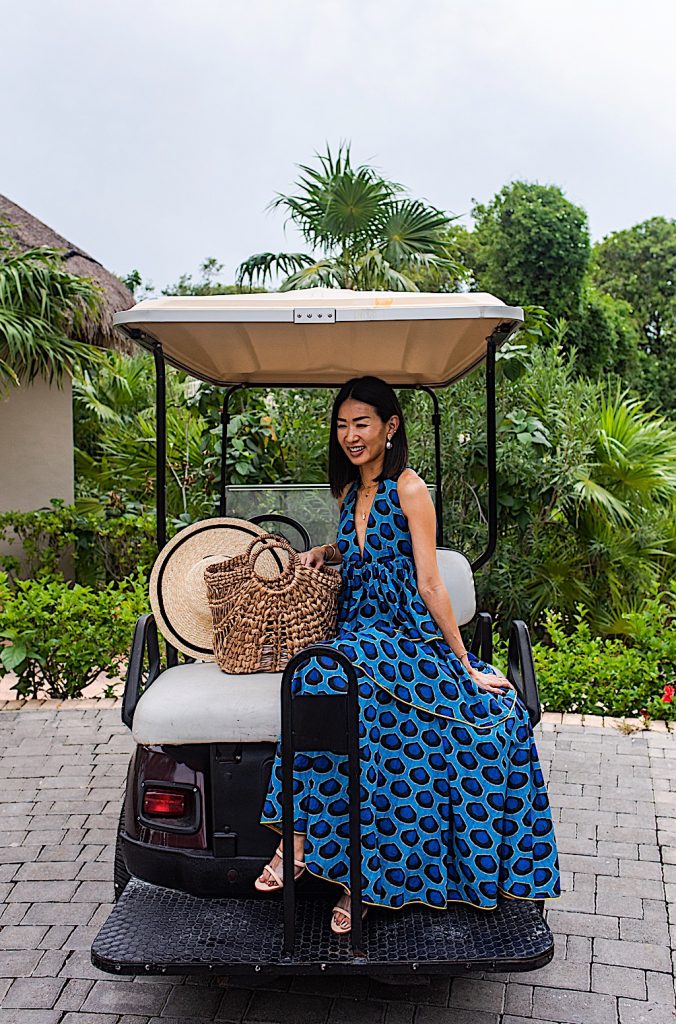 The signature room offers an inviting open floor plan with a terrace overlooking the Fairmont Mayakoba canals. The double beds, separate his/ hers closets, and full baths with dual vanities, shower and soaking tub are comfortable and roomy. Le Labo toiletries (a favorite of mine) are personalized with our names on the bottles. A subtle, but noticed touch to welcome their guests. One of the most utilized amenity in the bathroom is the eco-friendly mosquito spray. Yet another well thought-out gesture to make our stay as comfortable as possible. Mini bar snacks and drinks are included in the all-inclusive package as well as in-room dining. Before we fully settled in, staff arrive with Mayan iced teas on hand along with the largest bowl of fresh guacamole and chips. I couldn't be happier at this point. Even though there are 401 other suites on this property, we feel like we are almost the only ones here.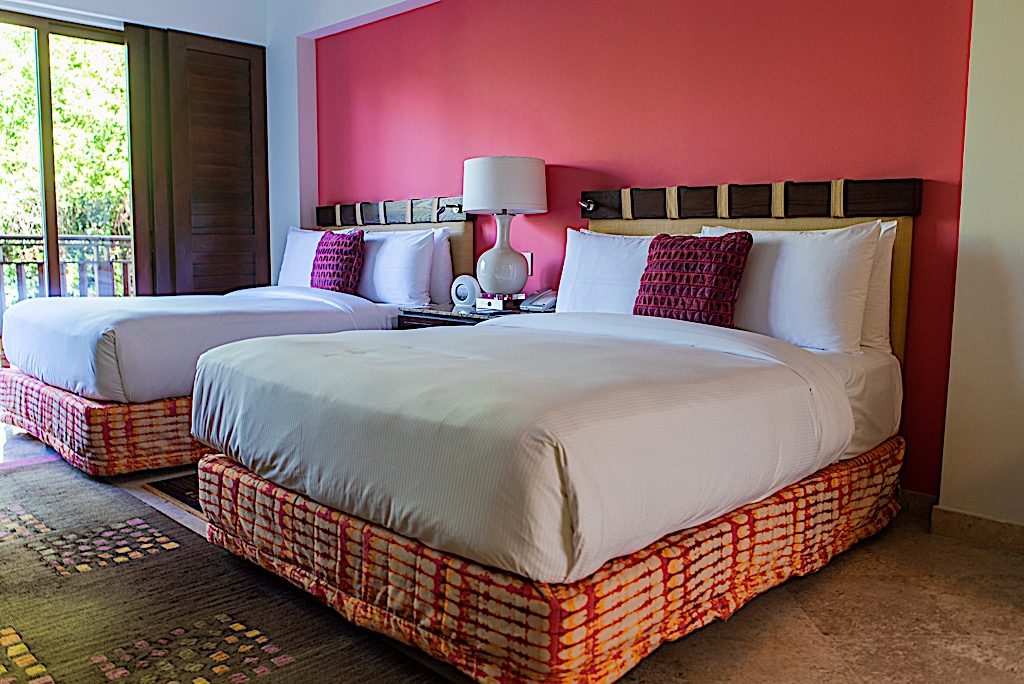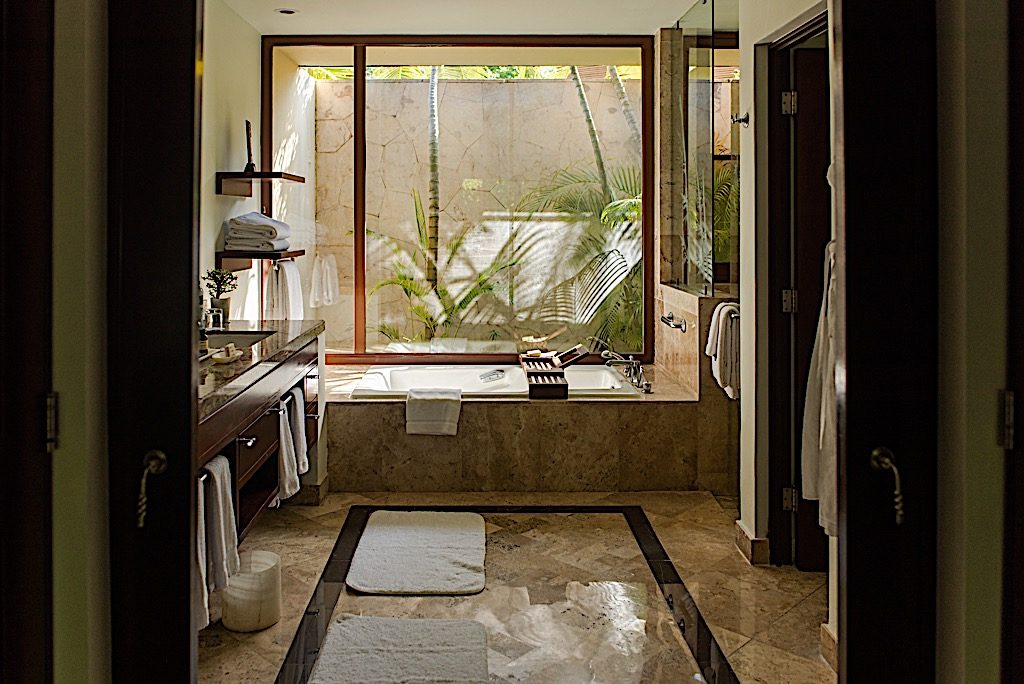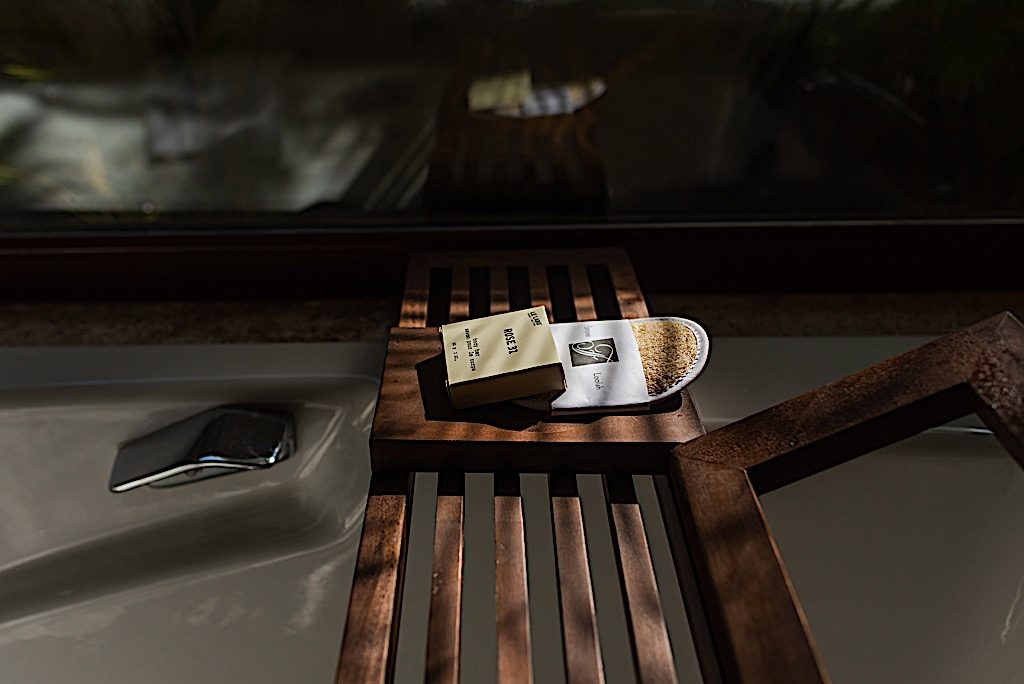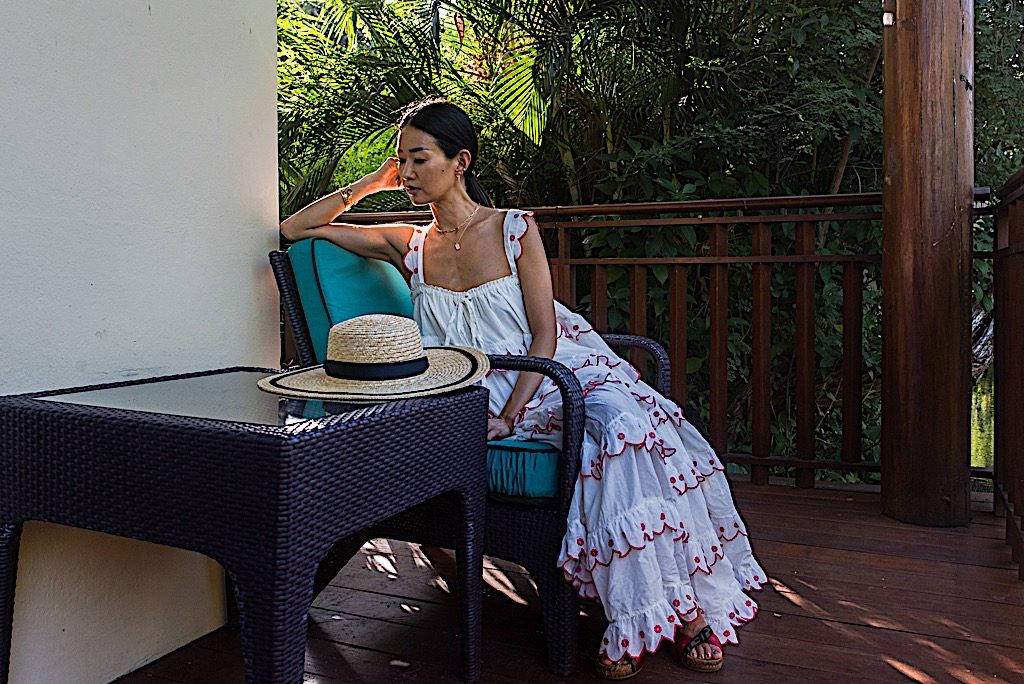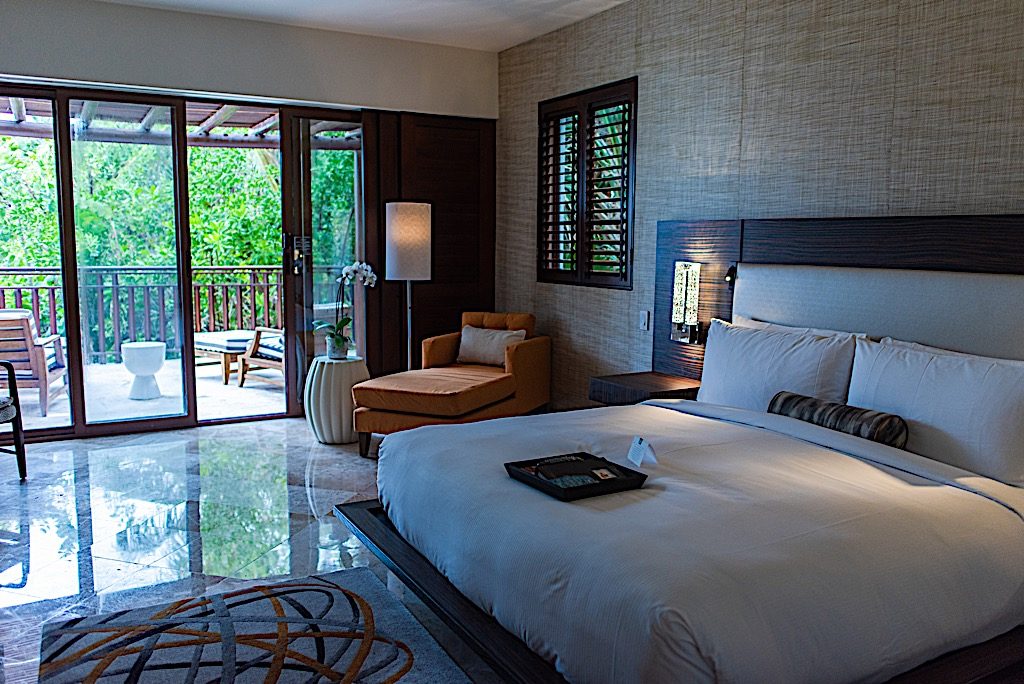 / WILLOW STREAM SPA /
As if the chirping birds, soft rustling leaves, and gentle beachfront waves aren't therapeutic enough, we further unplug and go into deeper relaxation at the Willow Stream Spa. Nestled within the tropical jungle, there is a hidden oasis spa featuring 20 treatment rooms with two mineral pools and steam rooms. The Willow Stream experiences are unique to Mayan traditions using local herbs, essential oils, and extracts. I opt for the deep tissue massage which is literally perfection. I feel my stress and burdens melt away with each touch. After my treatment with Mayan juice in hand (it's so refreshing and made with local chaya), I head to the rooftop overlooking mangroves and the most amazing vitality pool with healing waters. In addition to the soaking pools, spa lounge, gardens, and I guarantee, you'll find places to rest, reflect and find your energy at the Willow Stream Spa. They even have options to get your treatments beachfront under the swaying palm trees and huts. Included with the resort fee, you can get resort credit for the Willow Stream Spa or other activities.
Hours of Operation: Willow Stream Spa is open seven days a week
Beauty Salon 8:00 am to 8:00 pm
Spa facilities 7:45 am to 8:30 pm
Fitness Center from 6:30 am to 9:00 pm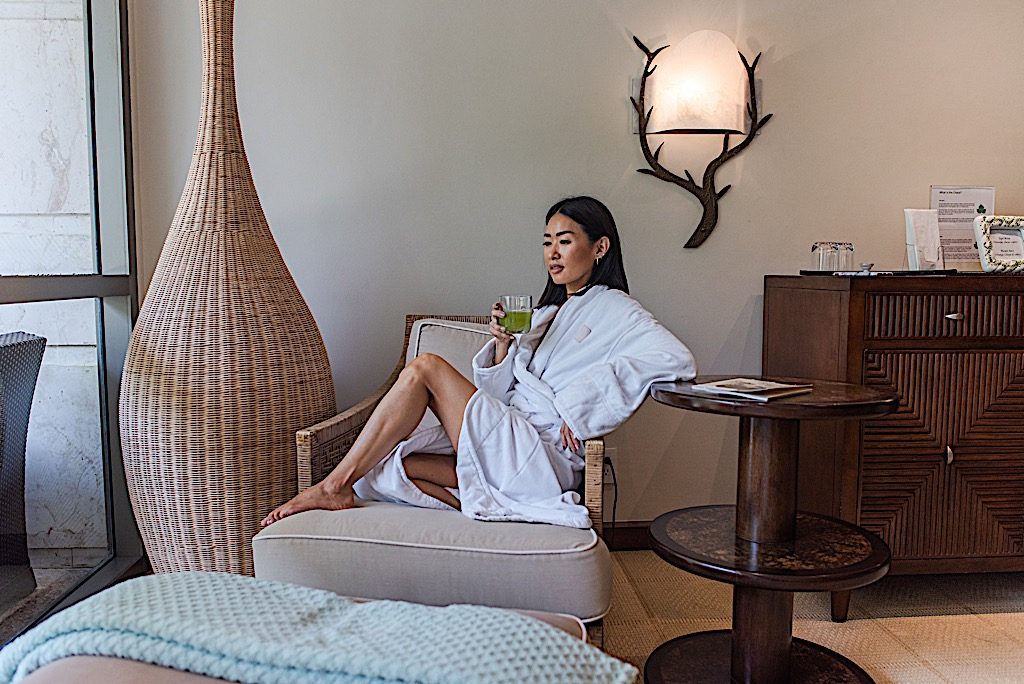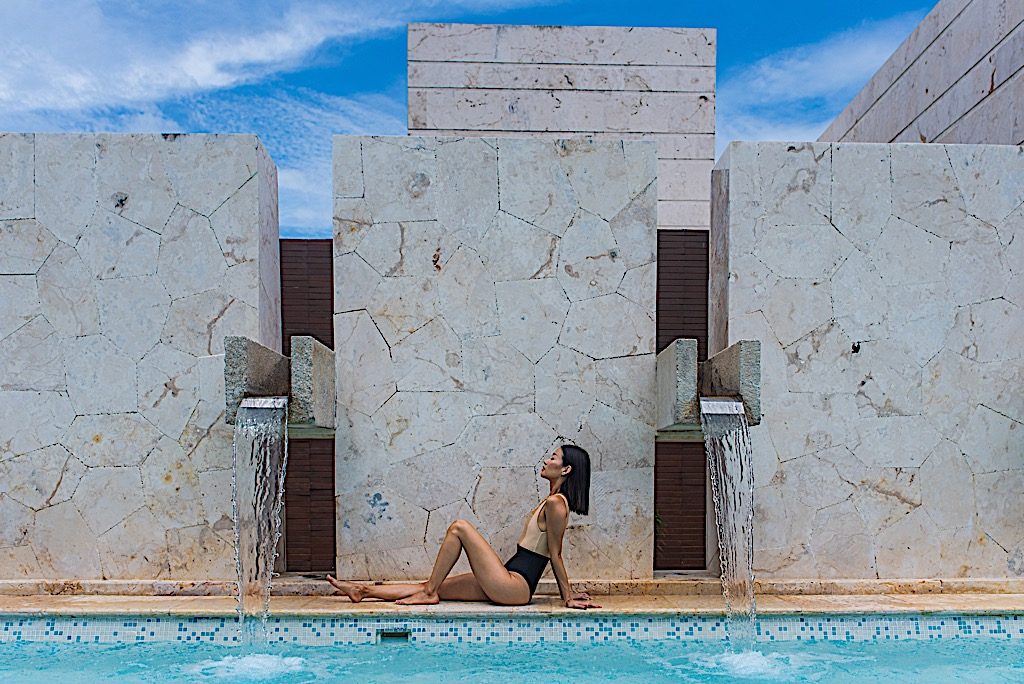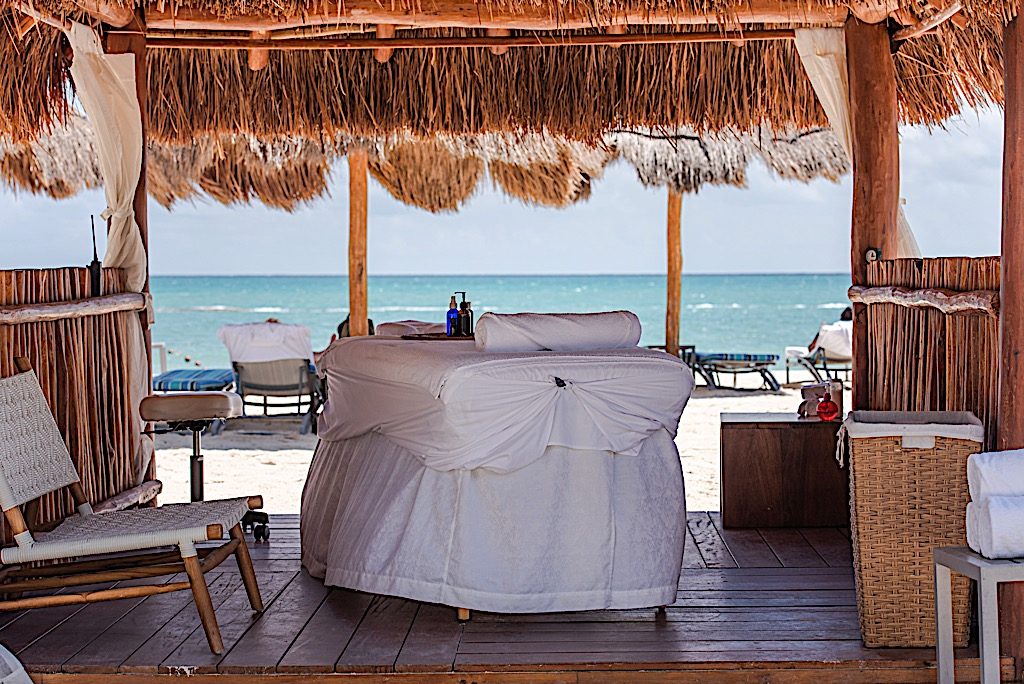 / BEACHES AND POOLS /
Fairmont Mayakoba is situated on the most pristine beachfront of the Riviera Maya. Not only is the sand soft and white, the waters are blue as can be and so warm! Coming from California where the beach water is very cold in the middle of summer, it is refreshing to be able to swim in the ocean. The included amenities are wonderful too! With shaded huts and chairs provided along the beach, guided catamaran tours, yse of sea kayaks, stand-up paddleboards, traditional snorkeling masks, boogie boards, beach balls, and sand toys, it's the perfect place to spend the entire day!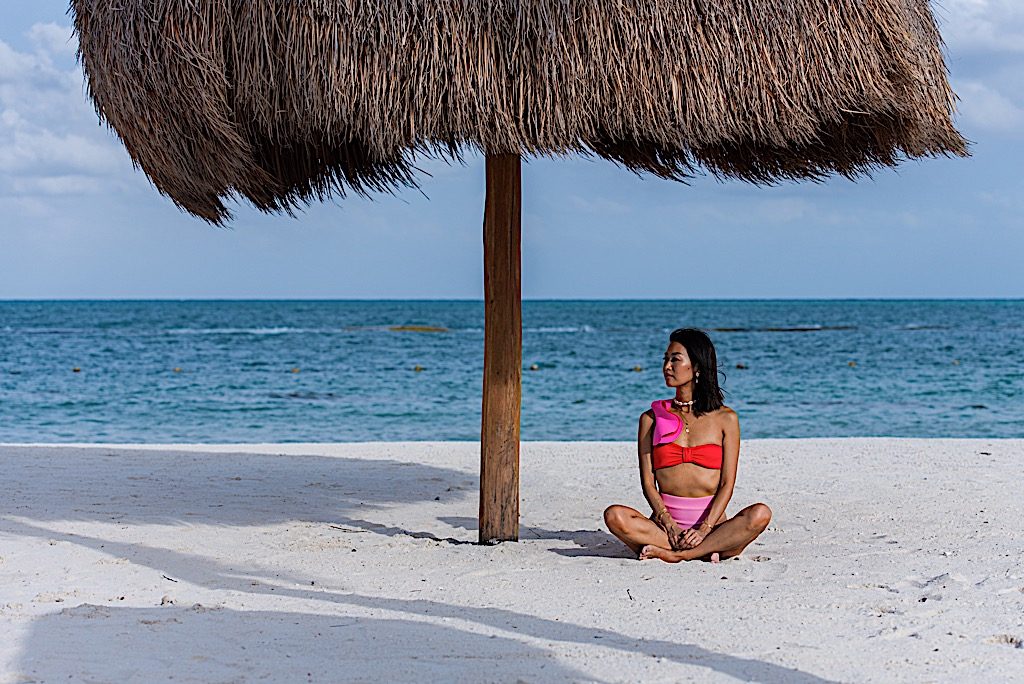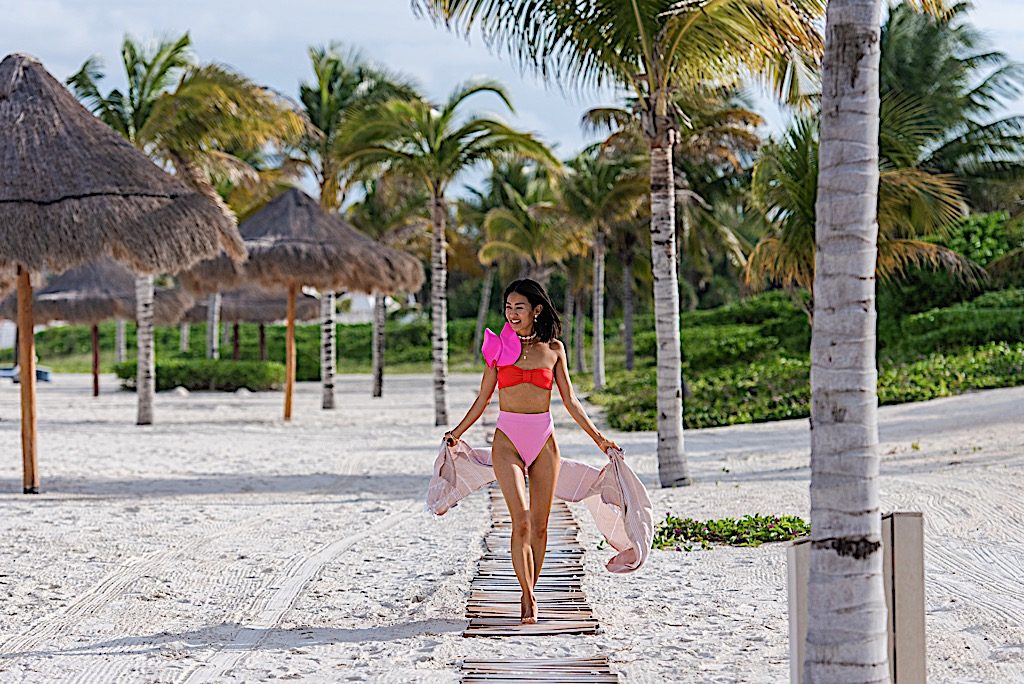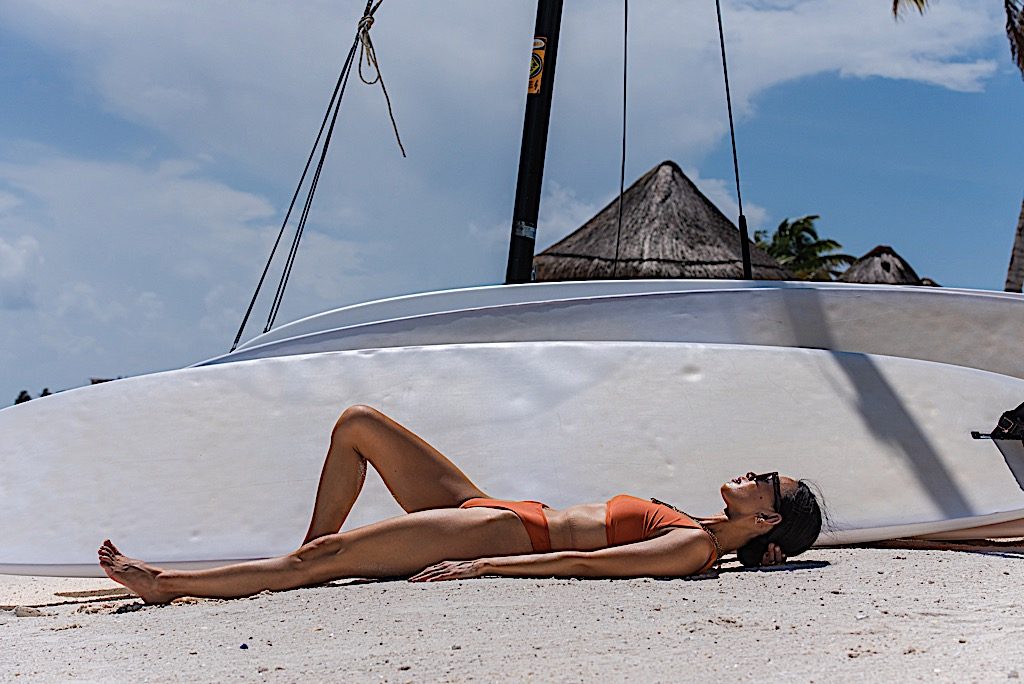 In addition to the amazing shoreline, Fairmont Mayakoba also has three large pool areas located throughout the expansive property.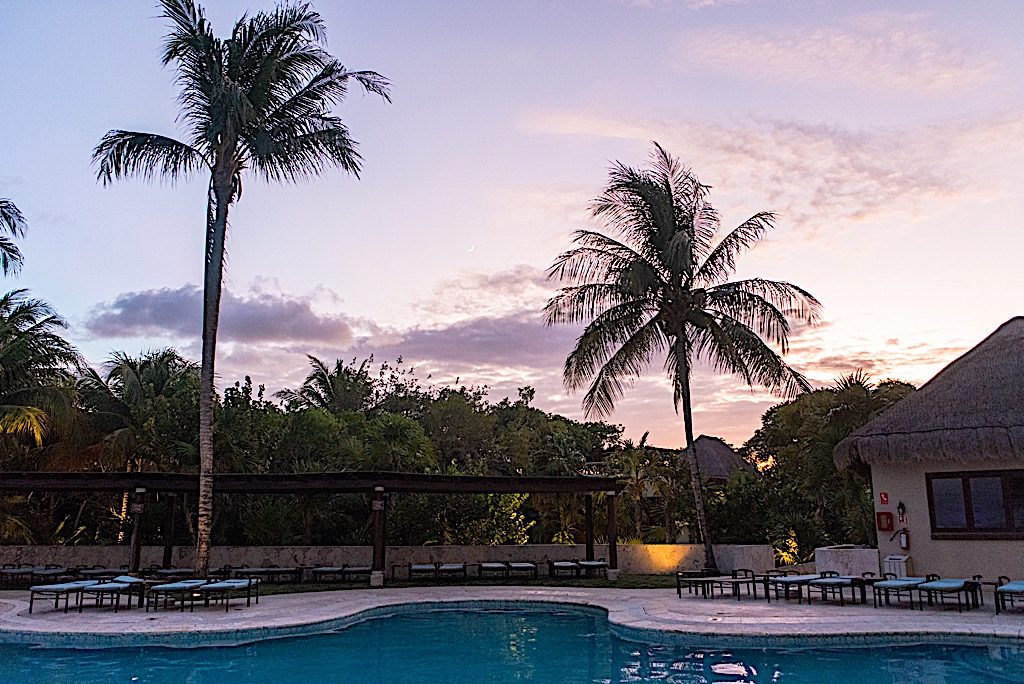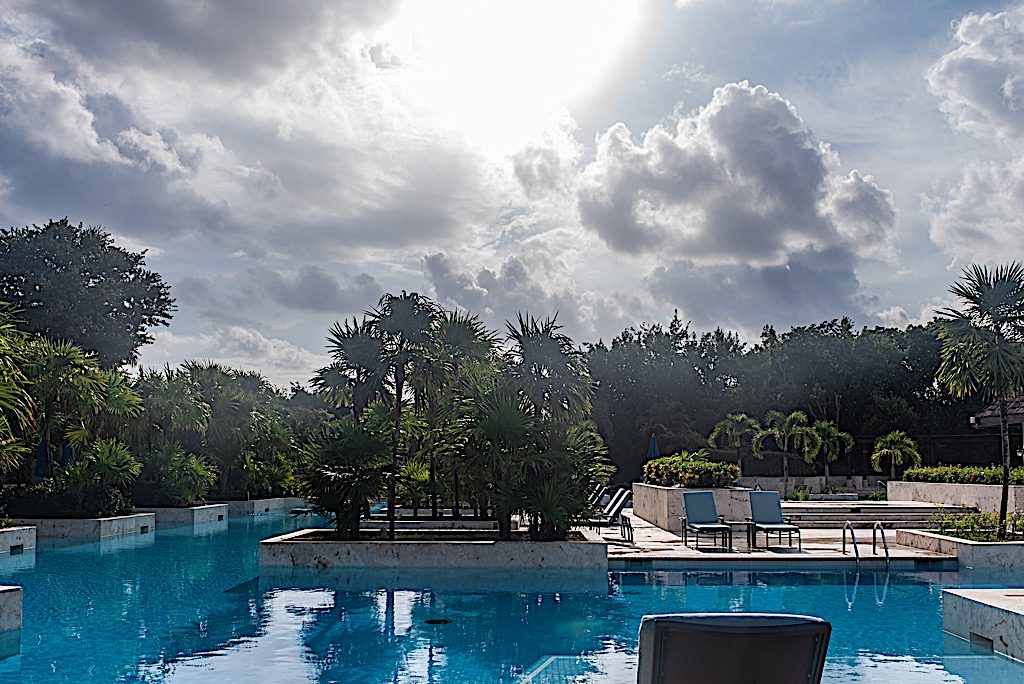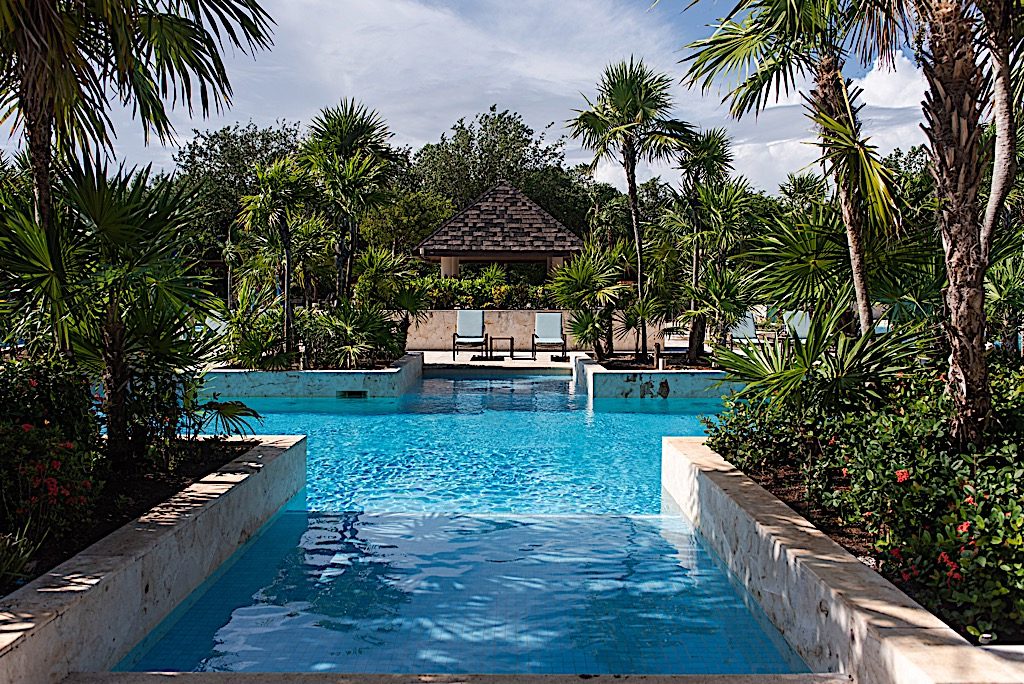 / BOAT TOUR /
One way to experience the Mayakoba jungle is via the Fairmont Mayakoba scenic boat tour. I highly recommend the boat outing to see the network of canals that integrate the luxurious properties on the Riviera Maya. The captain is not only knowledgable about the local vegetation, foliage, bird species, indigenous fish, and baby crocodiles that encompass the property, he was also kind enough to slow down at picturesque backdrops for photos and specific attractions. Gliding through the canals under the mangroves while sipping on fresh coconut water is the best way to see the resort in untouched nature.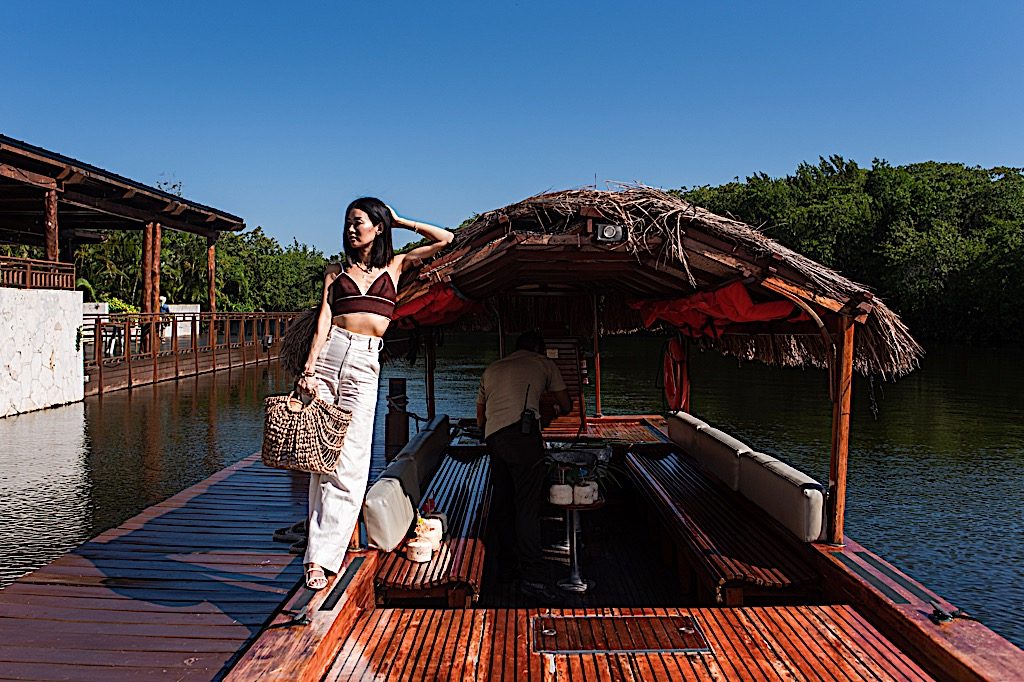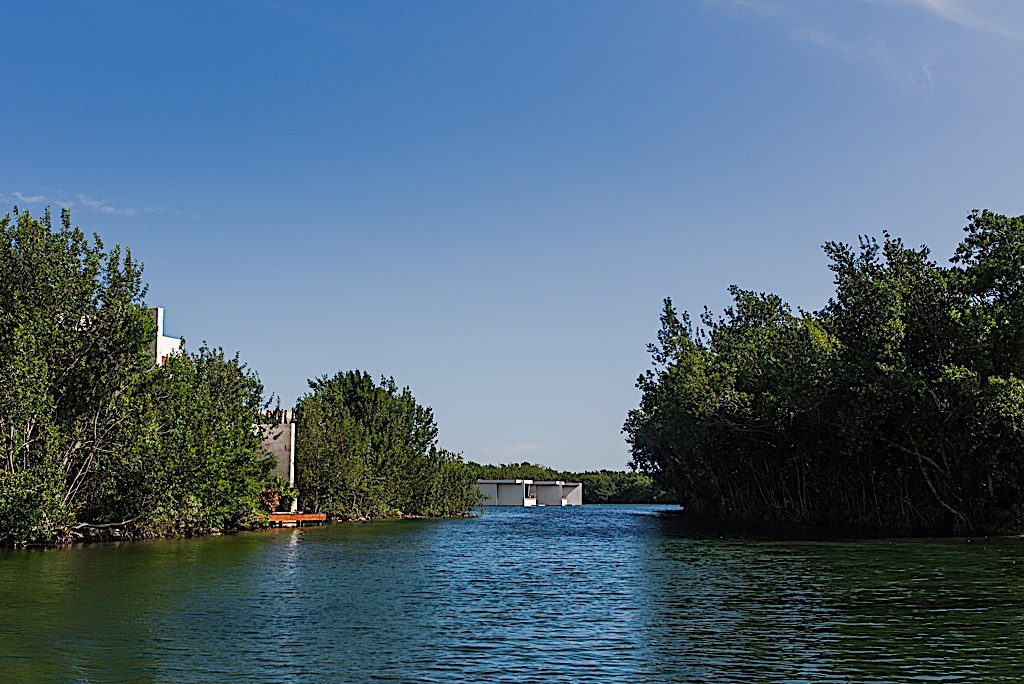 / BIKING /
Another way to discover the true beauty of Fairmont Mayakoba is to go exploring along the nature trail on bikes. The trail is a few miles long and is designed so that guests can walk, jog or ride a bike. You may get "lost" in the process to discover new pathways and hidden sanctuaries. First hesitant to ride a bike because it has been so long, I end up riding to and from my room to the beach for the rest of the trip. That feeling of getting back on a bike, feeling free with the wind blowing in my hair is one of the moments I will take back home with me.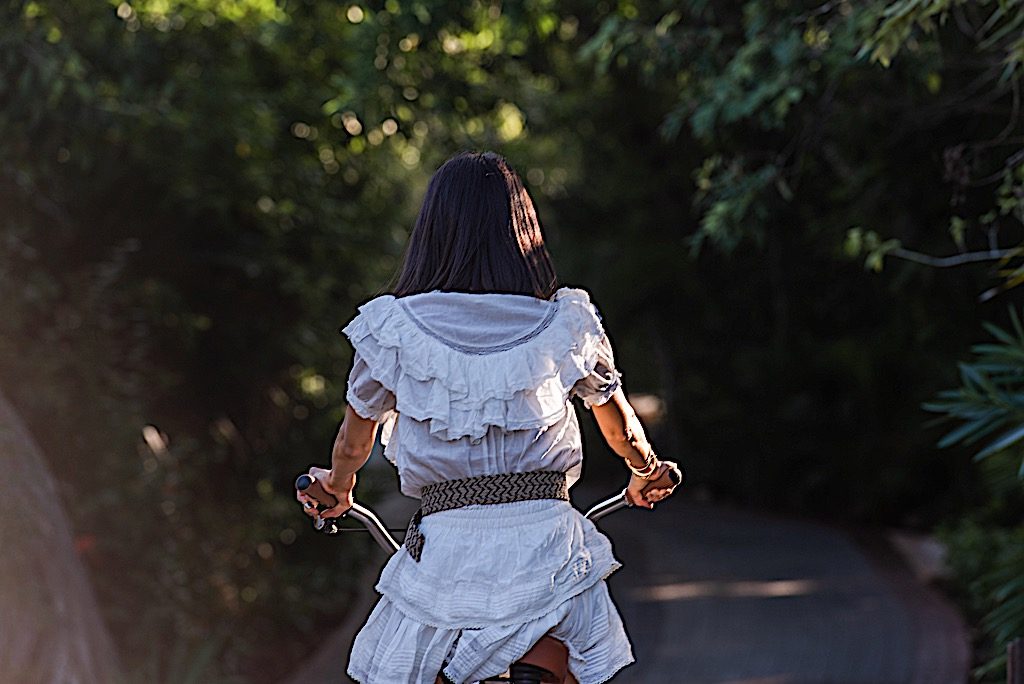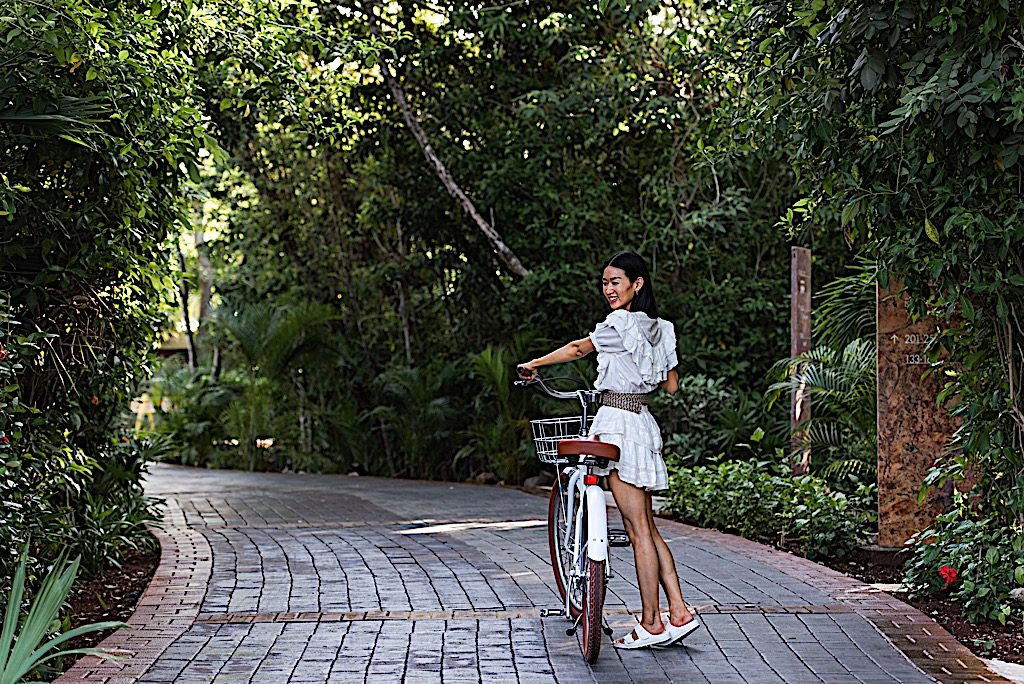 / EL PUEBLITO /
If you want to venture outside of Fairmont Mayakoba, there is a charming little square about a two-minute golf cart ride away. El Pueblito houses the local church along with a few restaurants, shops, and souvenirs. I spent most of my time diving into the adorable Sweet Spot and trying grasshoppers for the first time. Not only is it picturesque here at El Pueblito, you can shop for little souvenirs and gifts and charge them to your room!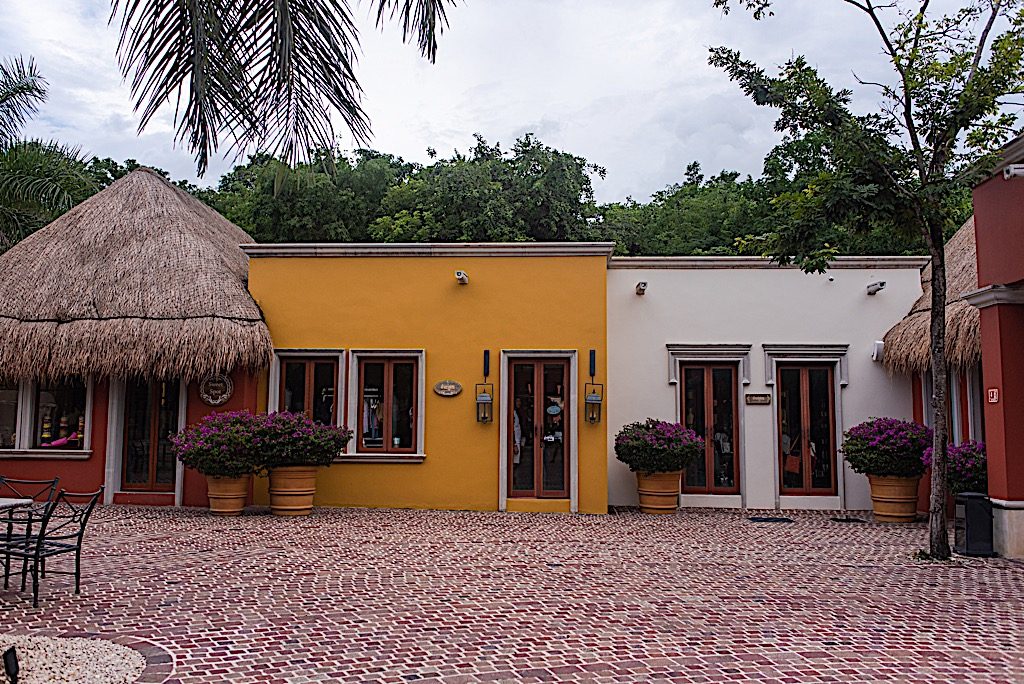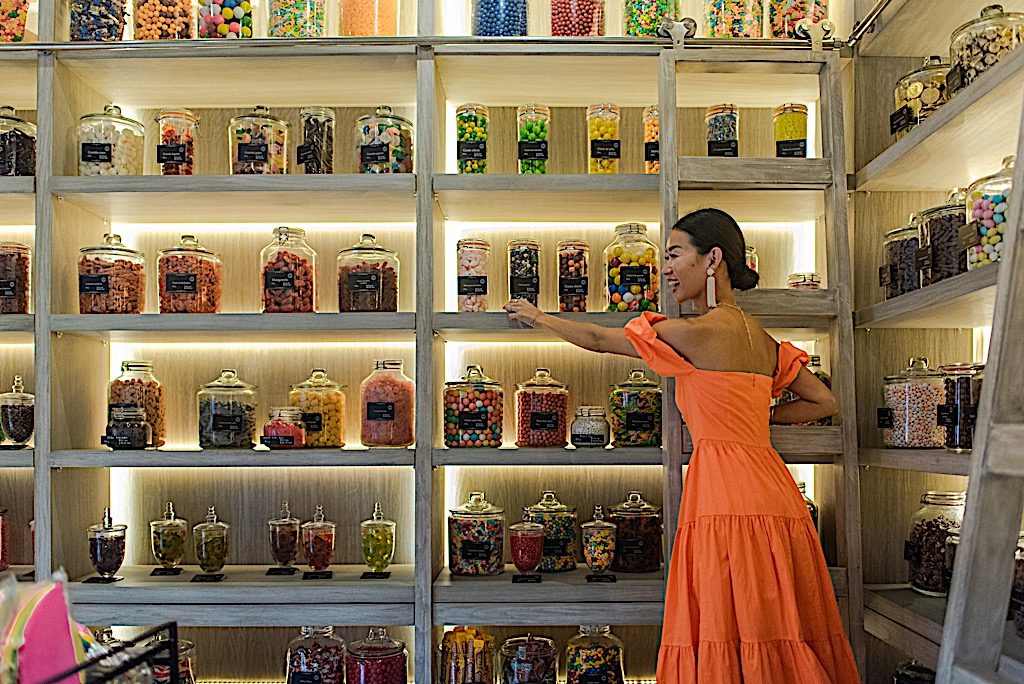 / YACHT EXCURSION /
The Riviera Maya boasts the world's second largest coral reef and the most fabulous way to get there is via the Fairmont Mayakoba Van Dutch yacht. Now this is an experience you need to try! The luxurious yacht can be rented for a private group that takes you out to the shores of Cozumel for water activities such as snorkeling, scooters, and more. They have all the amenities you need on board from towels, sun care, food and beverages. There is even a bed you can rest on! And did I mention the Hermes leather seats?!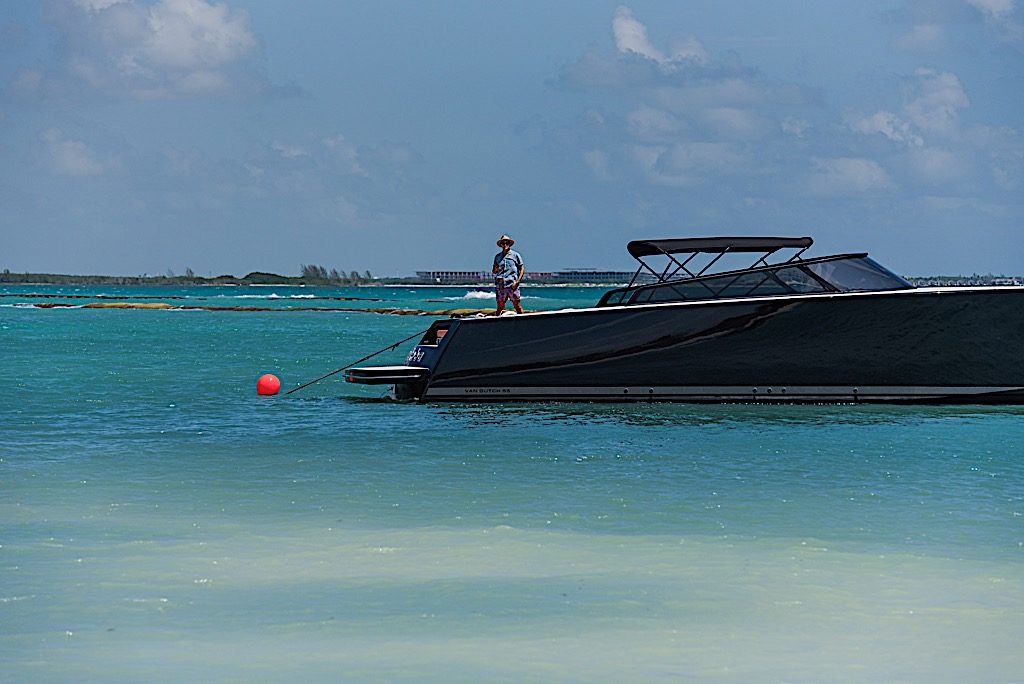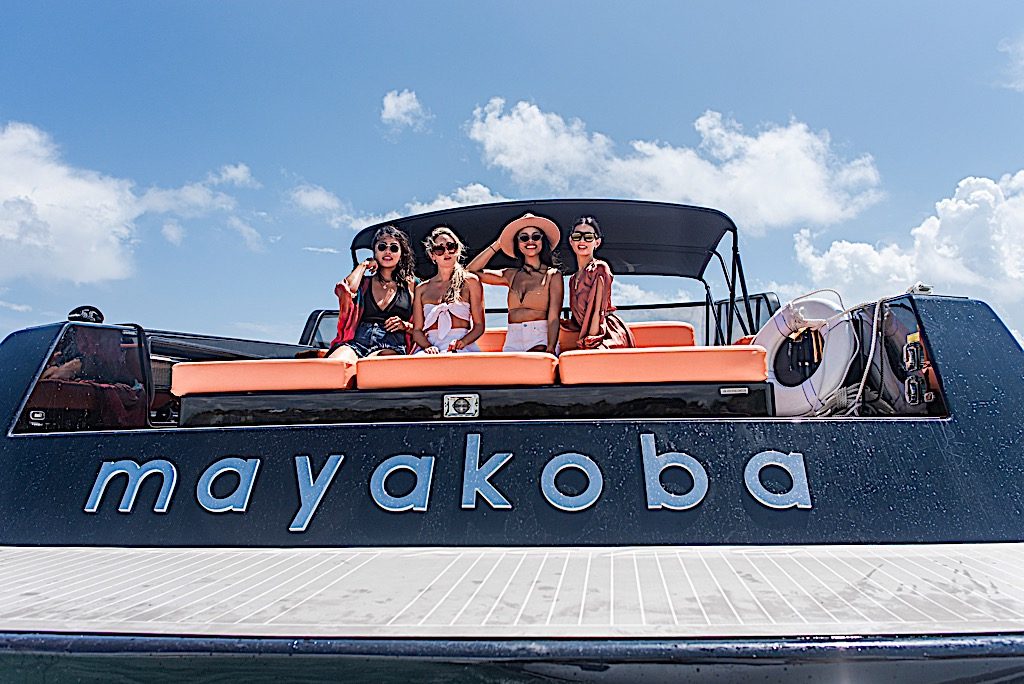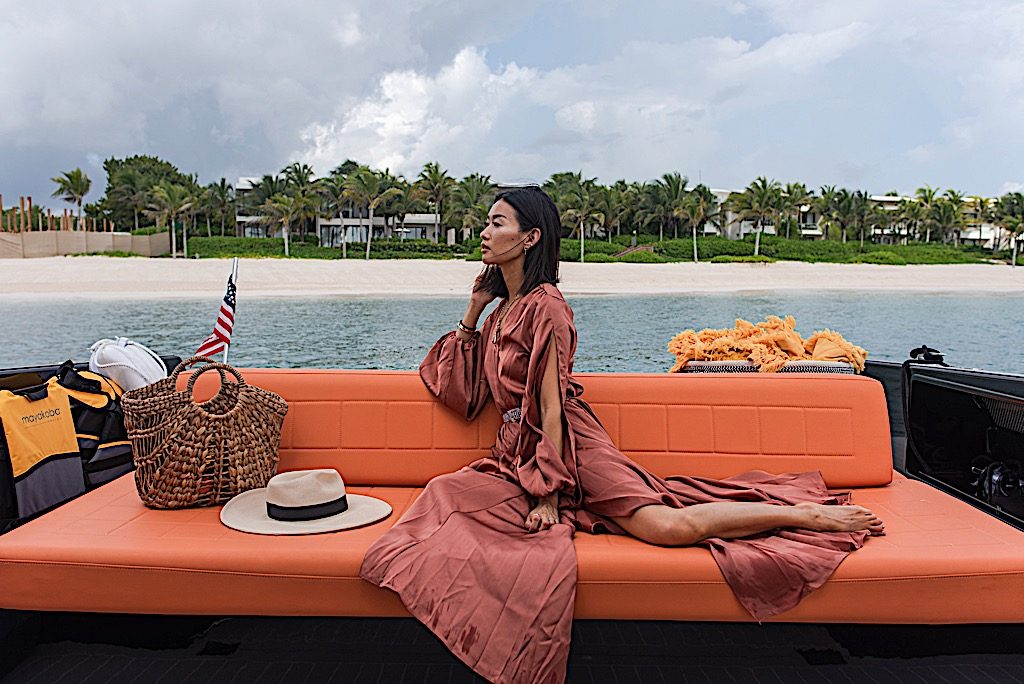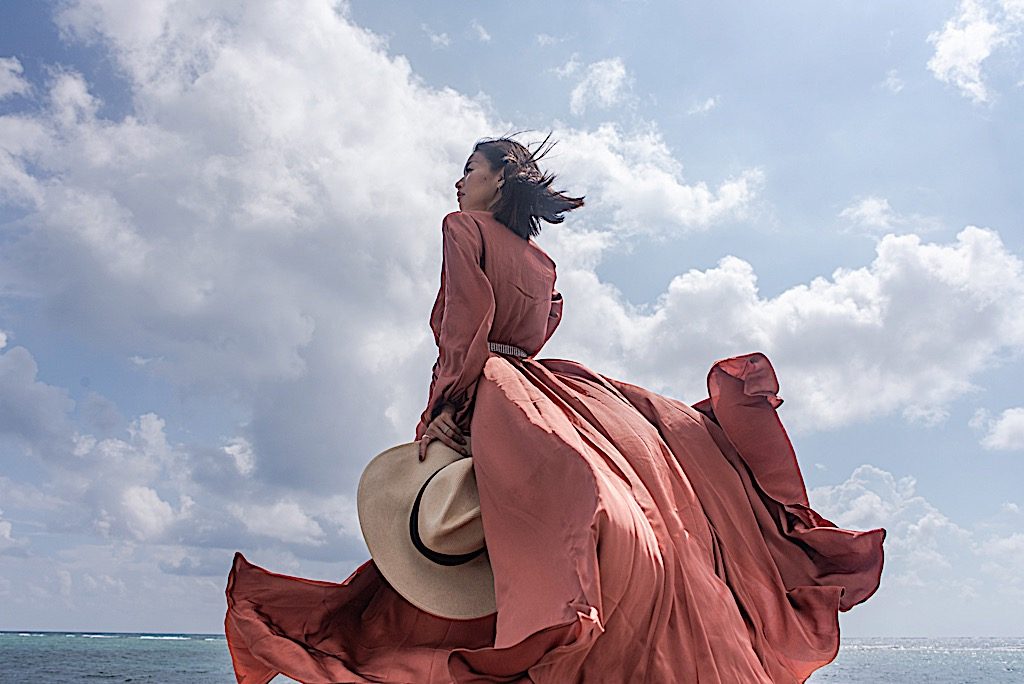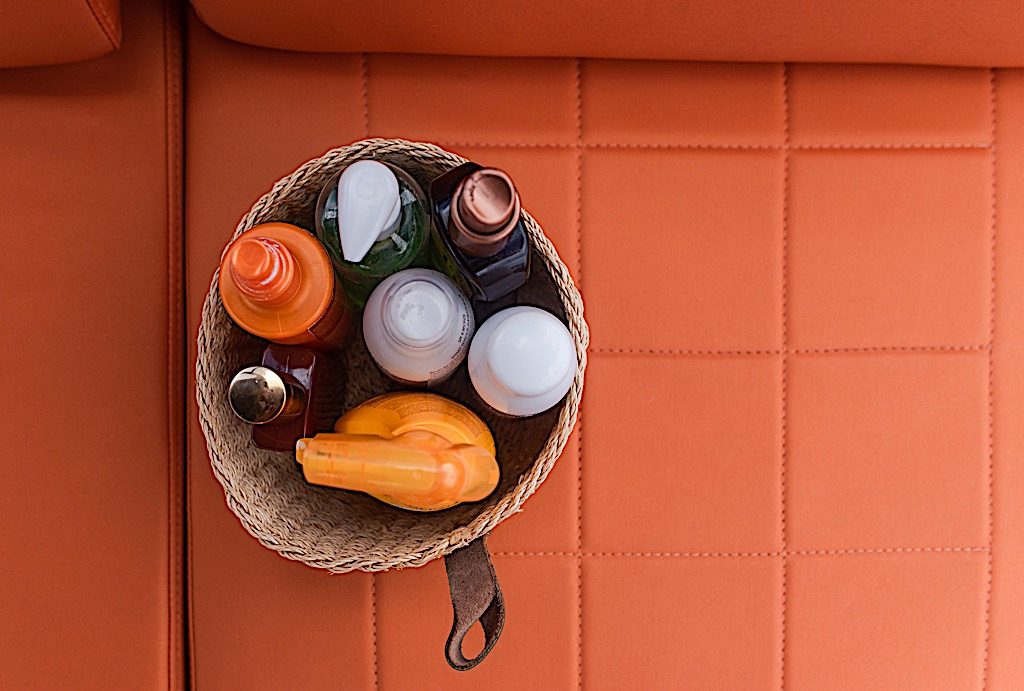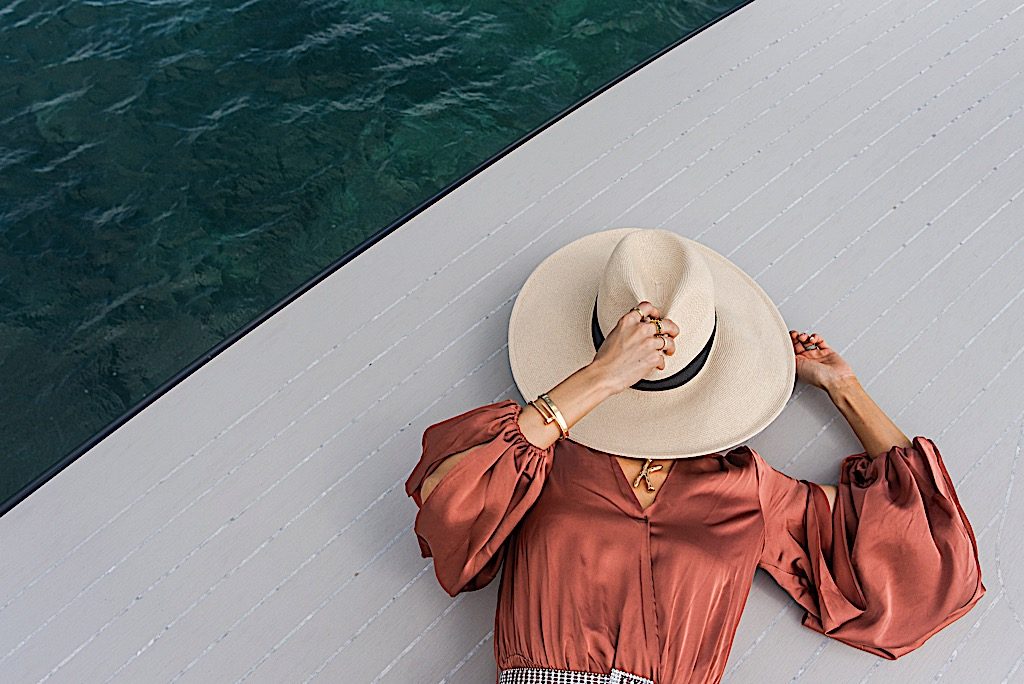 / RESTAURANTS /
Oh the food! Personally, some of my best vacations are determined by the food I try. The Fairmont Mayakoba exceeded my expectations where I had some of the best, freshest, and incredible meals. Let's not forget the service either. The food was so amazing that it deserves a separate post to highlight the 10 restaurants located on this property. Stay tuned for the food post next!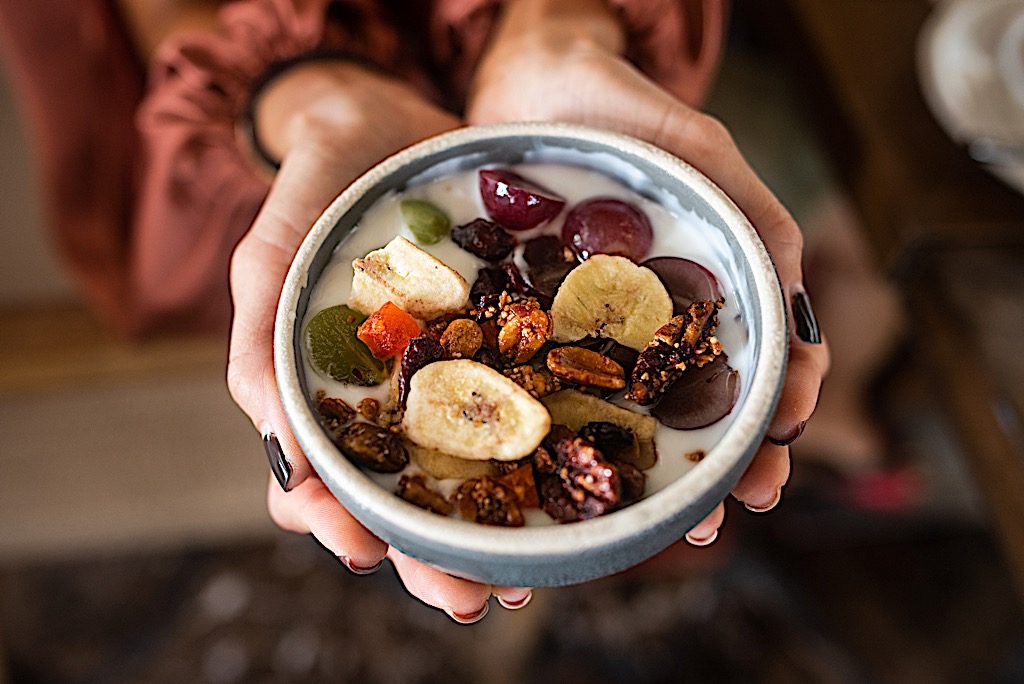 / THINGS TO KNOW /
To be honest, I haven't been to Mexico in so many years so I wanted to give you some tips and debunk some misconceptions in this post:
– The water is safe. Bottled water is plentiful at the resort. I even brushed my teeth with the sink water and did not get sick.
– Airport to hotel transfer scheduled ahead of time will save you from the unknowns and offerings lined up at the airport. We used MariturDMC.
– It's a tropical destination so expect mosquitos. The hotel has eco-friendly bug sprays in the rooms and offered at every restaurant on property (just ask).
– Best time to go (but also peak season) is December to April. We went in early October, however, and the weather was perfect and the resort wasn't crowded at all.
– Wifi is included and strong throughout the resort.
– If you have kids, they have a Discovery Club for children ages 5-11 (definitely coming back with the kids). Also, kids eat FREE (0-5 years old).
– There's plenty to do from the water activities and excursions to just trying out all the restaurants. 4 – 5 days is plenty to see, do, and eat everything!
Make sure you check out all the details on my Story Highlights under "Mayakoba."
Fairmont Mayakoba, Riviera Maya
Ctra. Federal Cancún – Playa del Carmen Km.
298 Playa del Carmen Solidaridad
Quintana Roo CP. 77710
Phone: (984) 206 3000
A huge thank you to Fairmont Mayakoba for hosting us and the incredible Zapwater team for including me on this adventure.
Photos by Lisa Chen @lisahuchen