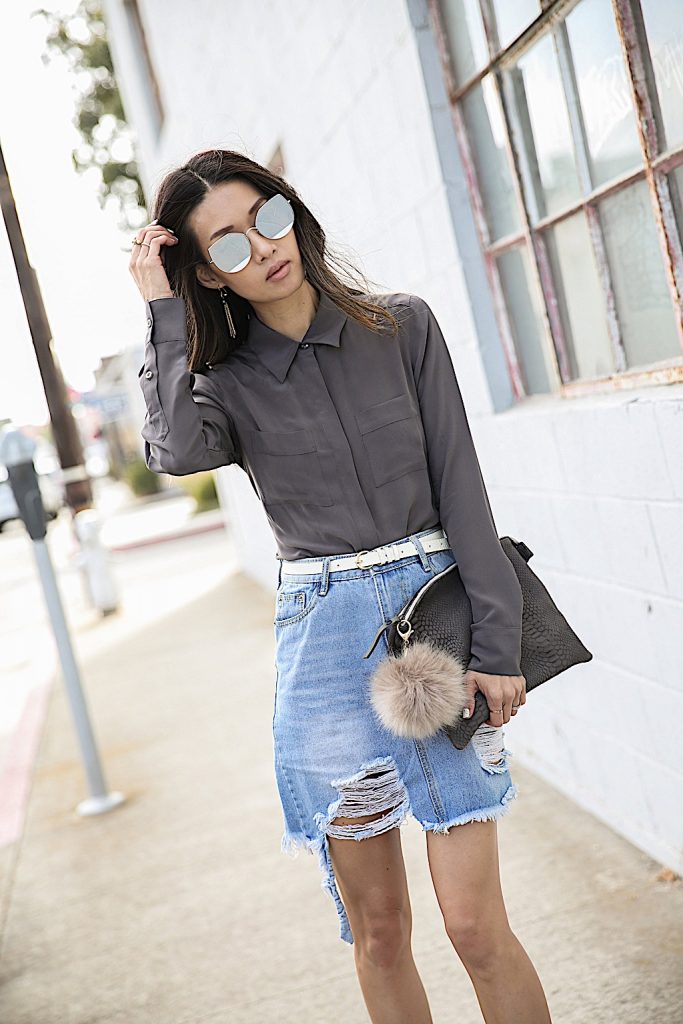 We're sitting in a local Mexican restaurant right after the lunch crowd has dissipated. Our kids are still at school as we take advantage of this is a rare moment alone together. While waiting for our tacos and salads to arrive, my husband looks to me and asks, "Do you feel pressure to dress up and look like you do on Instagram when you go out in case someone recognizes you?"
I gaze down at my "real" outfit of the day which is very different than the one I posted just an hour ago of me in a crop top and Levi's, hair perfectly curled, and face full of makeup. I am wearing my usual – Lululemon leggings, a Lululemon tank, and flip flops with a bandage wrapped around my recently sprained ankle. "Are you trying to tell me something?" I instigate as my fresh face bare of any makeup crinkles into a smile.
This brings to question is Instagram a ruse? Am I a ruse? We scroll through our Instagram feeds and often see beautifully curated photos, exotic family vacations, people smiling and enjoying life, all with perfect lighting. What about the outtakes? The bad shots with the eyes closed or all the people in the backdrop that you don't see? Those outtakes and the 50 more that exist don't ever make it to Instagram, just that one perfect photo which has been edited to some degree is the only one we see. And that's the one we compare ourselves to, get down on ourselves over, and wish our lives were just as exciting as the ones that appear on social media.
I'm guilty of it too. I look at other bloggers' feeds and wonder how they are all so perfectly color coordinated and aesthetically pleasing. I know and fully understand the time it takes to put together a flatlay yet theirs always appears so effortless and straight out of a magazine. Why can't mine look like that? Then I realize others may look at my feed with the same thoughts. And while my intent isn't to show how "fabulous" my life is or how perfect I look all the time, it may come across that way.
So here's the real deal: I use a professional photographer for most of my shots. I use filters to make the lighting more favorable, to highlight details of my outfits, and edit a pimple I may have on my face. I obviously haven't posted a photo of me and my wrapped ankle. I don't share personal aspects of my life – my kids, my family, my friends and leave those sacred moments sacred. I realize that this can come across as misleading or fake, yet it's not.
There is definite truth to my photos in that I do dress like my Instagram portrays when I go out or need to be presentable, but the outfits I wear everyday (aka Lululemon) occur with more regularity in my life than the outfits I post on my Instagram feed. I shop for my own clothes and I style my own outfits and everything you see in my photos is me.
Do I worry that people will see me in my norm and question my real life vs. my Instagram life? Do I think moms at school look at me at drop off and wonder how is she a blogger when she looks nothing like her pictures? I do. And there are moments when I care and other moments when I could care less. Sometimes it makes me feel unsettled but I know who I am. And if I need to, I could take an extra 30 minutes to curl my hair and put on makeup and become that girl they all see on Instagram.
So why not post real life instead of posed photographs? I don't know the answer to that quite yet as I am still figuring this all out as I go. I've begun to mix in a few candids and real #OOTD shots and the response has been amazing. I started this journey to inspire others through my style tips, fashion sense, and lifestyle and to one day look back and show my kids that I was cool and fashionable. And also, what you don't see on Instagram, you get here. My personality, my thoughts, and my advice.
I guess what I am saying is that no one is perfect. Me included. So if you ever see me in real life, I may have no makeup on. I will appear shorter (because I've heard that one a lot). And heaven forbid if you see me without my sunglasses on too.
Let's face it, the little squares we see on Instagram are not always true, everyday, real life. If you want to know my Instagram Life vs. Real Life, see below…
Instagram Hair (10%)
Perfectly curled and tousled
Real Hair (90%)
Hair tossed in a top knot or pony tail
//
Instagram Food (5%)
Donuts, triple scoop ice cream, fries
Real Food (95%)
Steelcut oats for breakfast, bar and avocado toast for lunch, and fish/ protein and veggies for dinner and a piece (or two) of dark chocolate for dessert
//
Instagram Makeup (2x a week maybe)
Foundation, highlighter, bronzer, lashes, lipgloss
Real Makeup (5x a week)
Sunscreen, brows, Vaseline
//
Instagram Stories (2-4x a month)
At social events, parties, unboxing free gifts
Real Life Stories (Every.Single.Day.)
Uber to my kids, volunteering at school, shopping at Trader Joes, and trying to think of meals of the family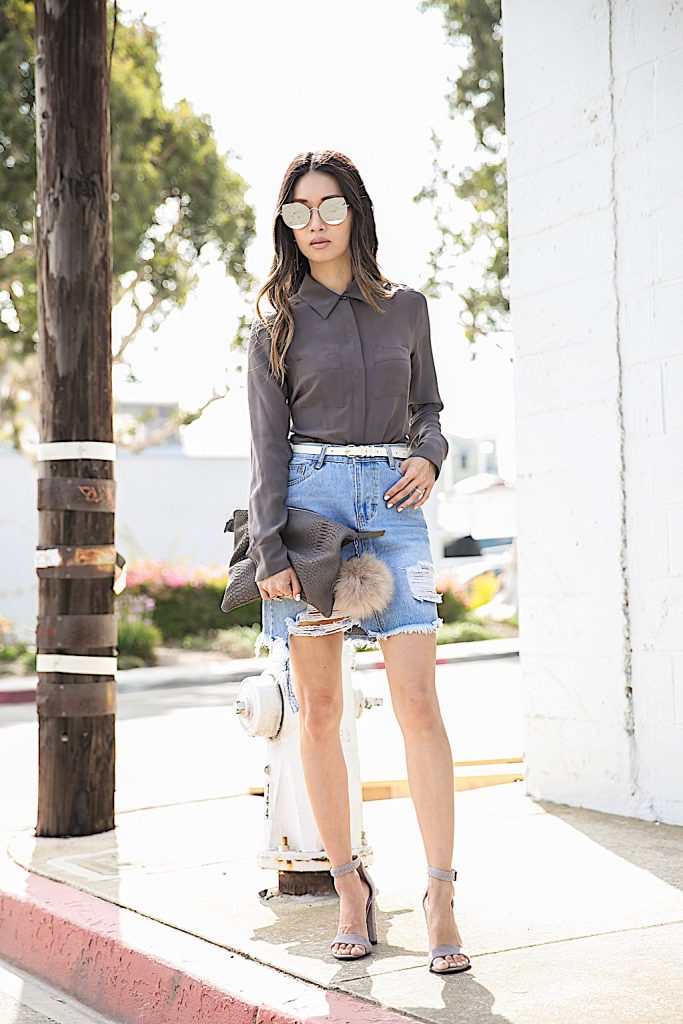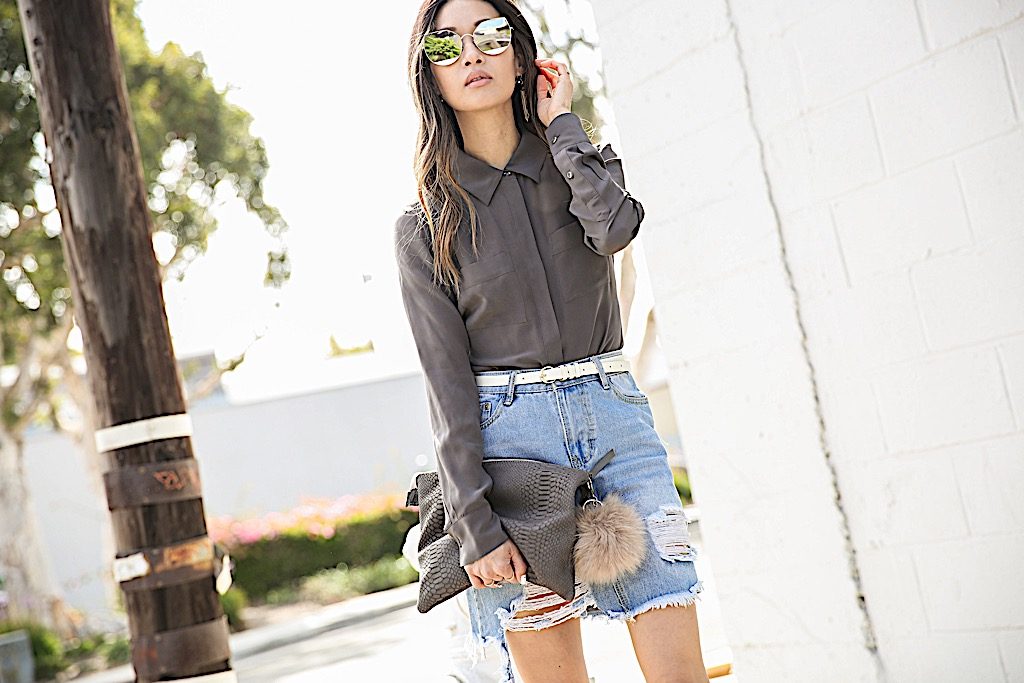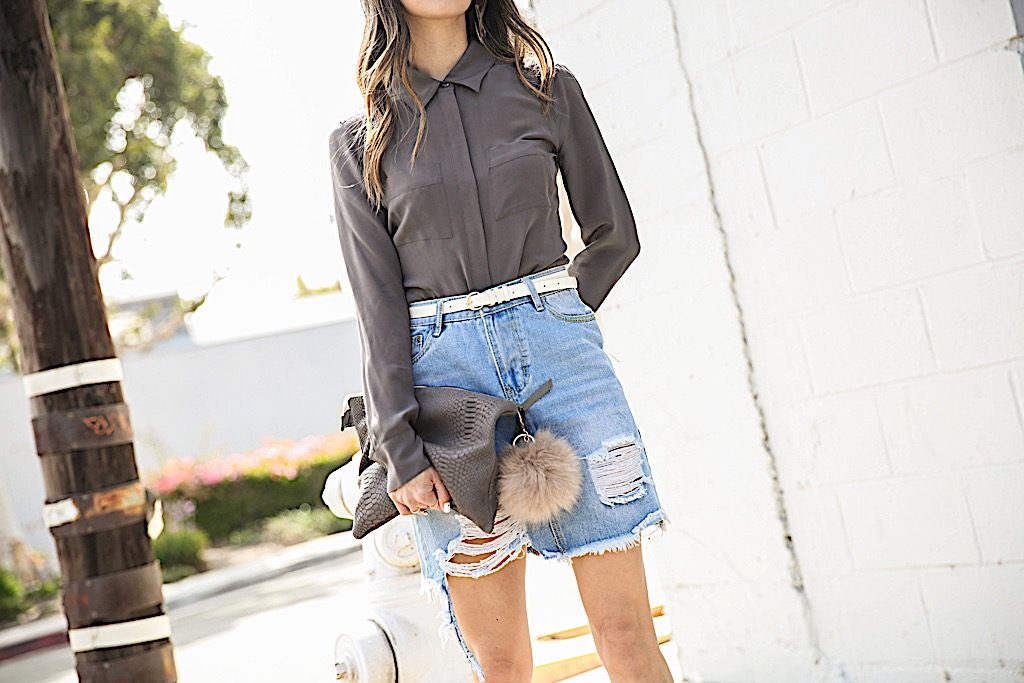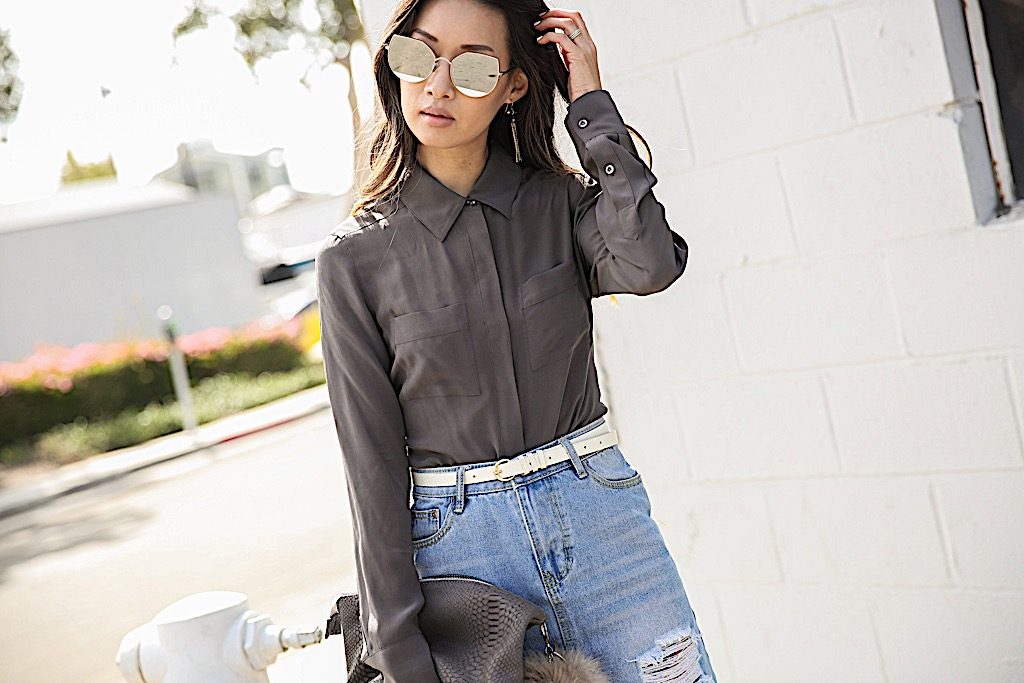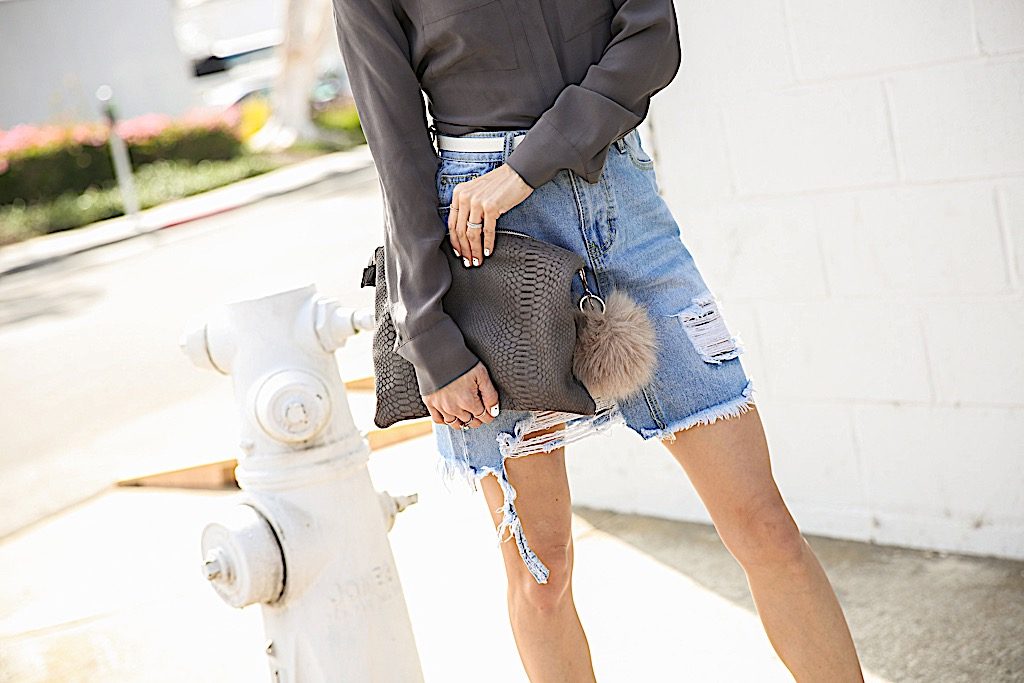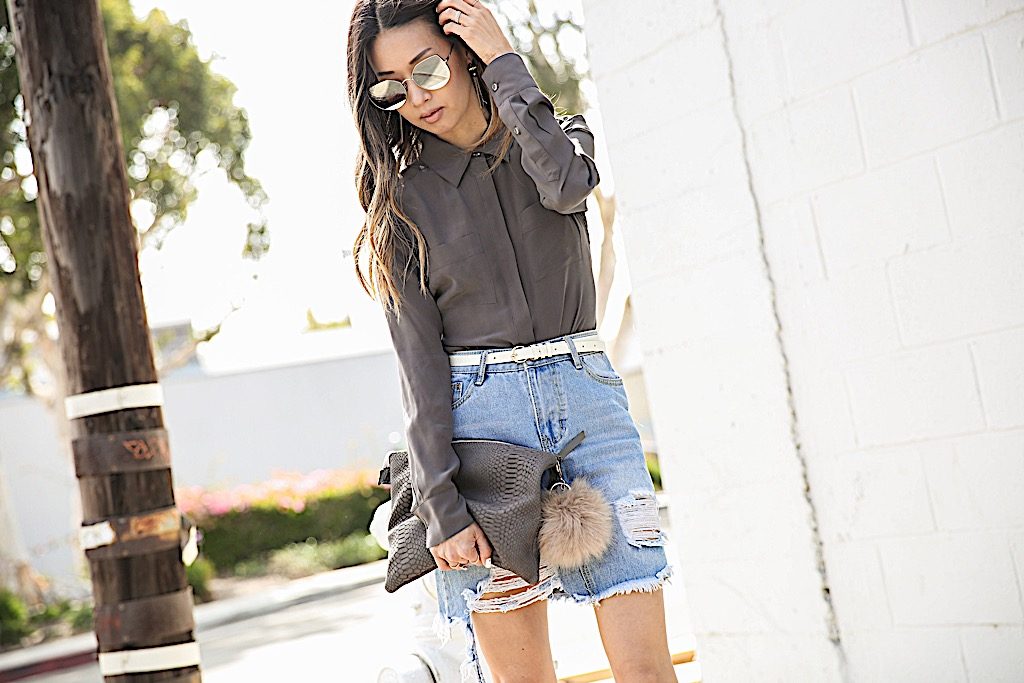 This outfit is something I put together with pieces I've had in my closet for years (blouse and belt). The clutch, sunglasses, and shoes you've seen before in previous Instagram posts dispelling any myths that bloggers only wear things once or things that they are gifted/ sponsored. The only "new" purchase is the denim skirt that I actually purchased myself.
Shirt | Madewell (old) similar styles here and here
Skirt | Shein similar styles here and here
Belt | J. Crew (old) similar styles here and here
Bag | Essex LA
Sunglasses | Gentle Monster x Song of Style
Earrings | Via Saviene
Shoes | Dolce Vita similar styles here and here