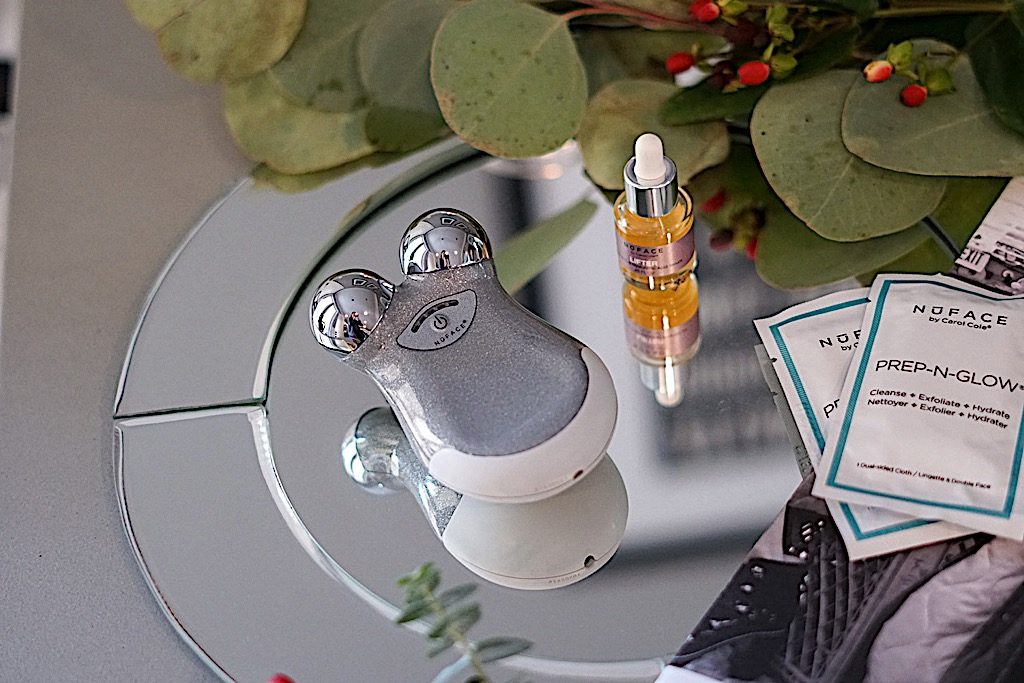 I'm going to be like everybody else here and talk about a few New Year's goals (even though I know I am a few days late). I have many goals but this post is dedicated specifically to my beauty routine. Why beauty? Because a new year means another year older and let's face it, I am not getting any younger. So heading into 2018, I am going step up my beauty game and ensure that I keep my skin as youthful as possible.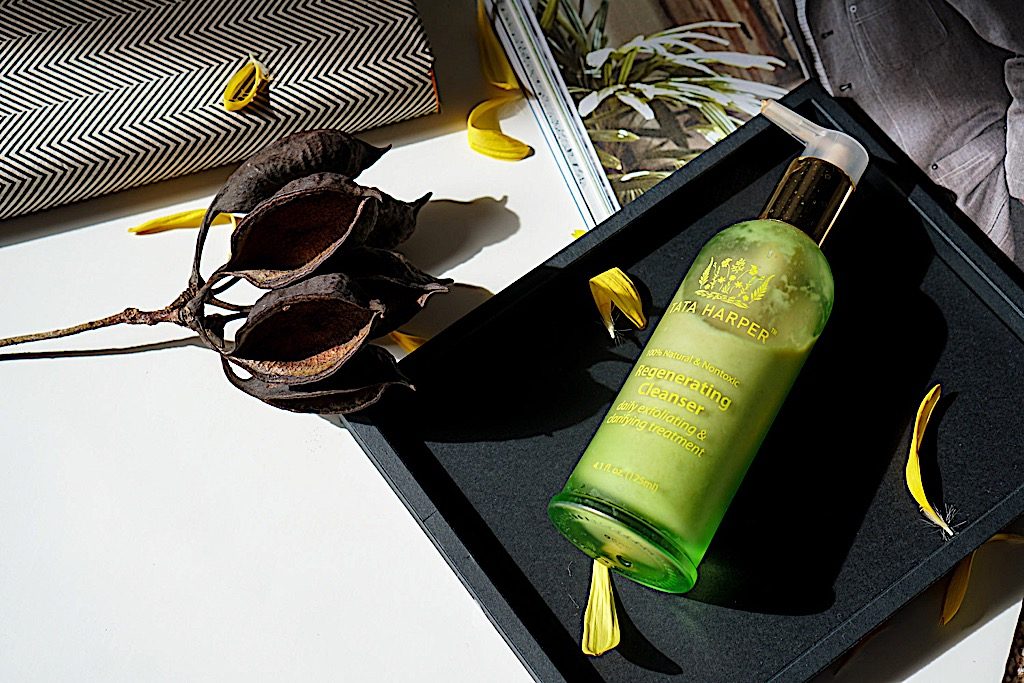 I just discovered this brand, Tata Harper, and I love that they make products that are luxurious and effective, without the use of synthetic chemicals. I have been using the Regenerating Cleanser from this line for about two months now, and I really love it.
This cleanser gently exfoliates with apricot seed powder, removes buildup with pink clay and pomegranate enzymes, and refines pore appearance with white willow bark. It's super gentle so you can use it everyday and after I wash my face, my skin feels refreshed, hydrated, and glowing.
Pros:
Exfoliates but gentle for everyday use
100% of the total ingredients in this product are from natural origin
82% of the total ingredients are from organic farming
It is vegetarian, free from toxins, fillers, artificial colors, artificial fragrances, all synthetic chemicals, and GMOs
Cons:
It's a little pricey, but you don't need more than one pump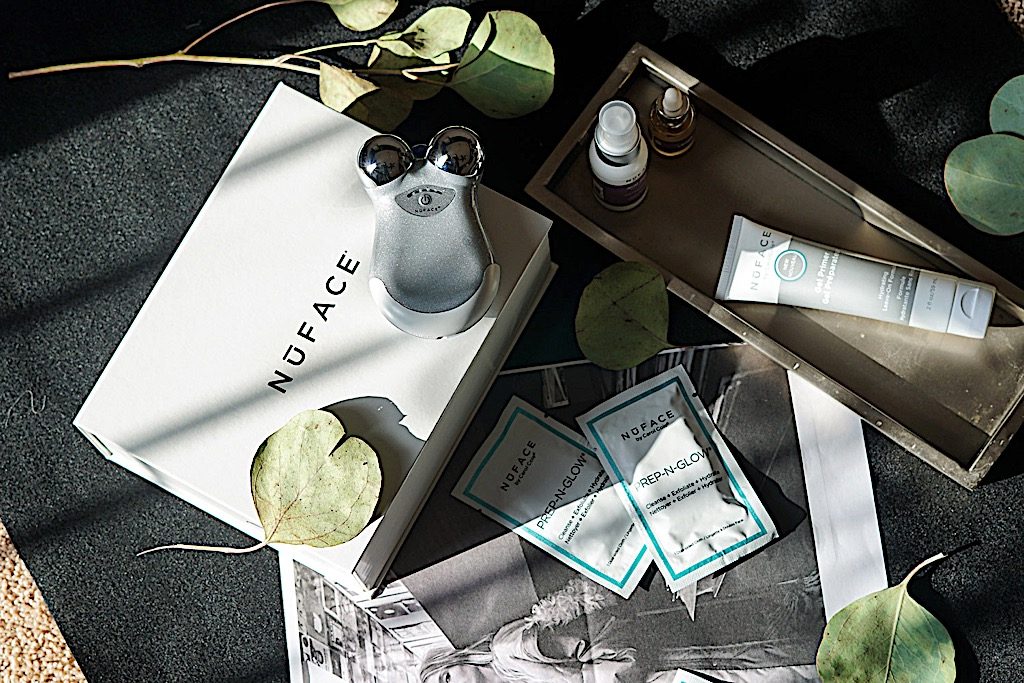 / NuFace /
What is this device? Looks cool and sleek but what does it do? NuFace delivers microcurrents to your face to go deep into your skin to tone facial muscles to improve skin tone, sagging, wrinkles, and fine lines. I actually think the mini size of this device is big enough for all face sizes so save yourself some money and get the mini versus the full size.
I've been using it for about two weeks but didn't take any "before" photos until after I started. Once I hit my 60 day marker (where NuFace says you should see results), I will take an "after" photo and compare for differences and lifting.
The On The Glow set includes a few travel sized add ons like the Gel Primer, the Prep and Go wipes, Anti-Aging Infusion Spray, and the Lifting Vitamin C & Hyaluronic Acid Serum.
Pros:
Small so easy to handle and great for traveling
Non-invasive
Five minutes a day
Different current settings
Cons:
You don't really feel much while you use it so it's hard to tell if it's "working"
Instructions say you should use the device for 60 days straight to see a major difference
The Gel Primer feels great on the skin and is hydrating but you go through it quickly (I heard a good alternative is aloe vera)
If you don't use the primer under the current it can feel a tad warm and tingly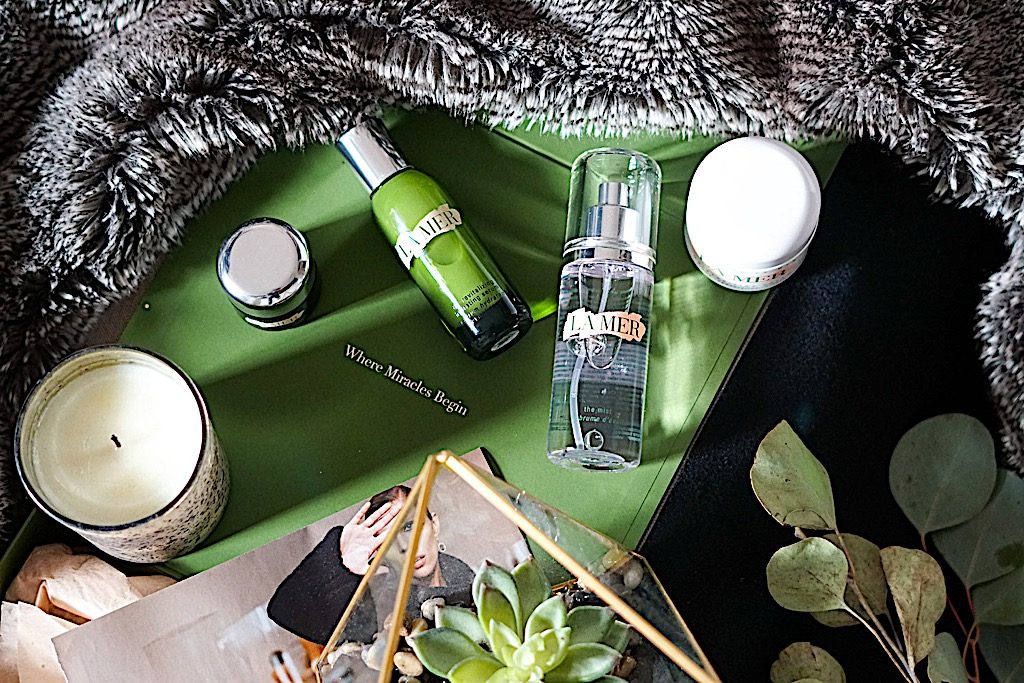 / Revitalizing Serum & Mist /
As you know, I am a huge fan of La Mer products (see my post of the La Mer hype here). While I've been using their Creme de la Mer, Eye Concentrate, and the Serum Essence, I just added The Revitalizing Hydrating Serum and The Mist to my winter skincare routine.
Prior to using the Revitalizing Hydrating Serum, I was using the Kiehl's Midnight Recovery Concentrate in the evenings. While I still use the Kiehl's serum to mix with my foundation to make my skin more dewy, I love the velvety and less oily feel of the Revitalizing Hydrating Serum. The Lime Tea Concentrate ingredient in the La Mer serum is a powerful antioxidant to protect and fight against environmental aggressors. Like all of La Mer products, this serum heals and repairs skin.
Pros:
Reduces fine lines and overall skin tone within a week
One pump covers your entire face
Very hydrating
Also use it on minor acne scars and I swear it helps to fade them
Cons:
Pricey
Has a slight fragrance to it that other La Mer products don't, but it goes away right after application
Since our skin tends to get more dry in cold weather, The Mist is great to lock in moisture after I've put on all my other skincare products. It also is a great refresher mid-day when you feel dry or need like your skin needs a boost of balance.
Pros:
Includes the legendary La Mer Miracle Broth
Leaves your face feeling refreshed
When you spray it, you feel a tinge of sting (not sure why), but I like that because it makes me feel like it's doing something
One spray is all you need
Cons:
/ Sun Protection /
As we all know, the sun is the enemy. Sun is the major cause of aging and wrinkles and even though I religiously put on sunscreen every morning 365 days a year, it's not enough. You are supposed to apply some type of sunscreen to your face every 2 hours! I know that seems often, and quite frankly, who likes to put on sunscreen on top of makeup that has been on for a few hours?!
My go-to sunscreen is Elta MD. I love the lightweight feel of this sunscreen, plus it has no "sunscreen" scent to it, and it is recommended by so many dermatologists (trust me, I've been to many and I always see this specific brand at their offices). Most days I don't wear makeup so applying sunscreen every two hours is not a biggie, but on days I do have makeup on, I put on a powder with SPF for that added protection.
Pros:
Recommended by dermatologists
Doesn't clog pores or for sensitive skin
Fairly priced at $32
Doesn't turn face white or smell like sunscreen
Has SPF 46!
One bottle lasts me almost a year
Cons:
Honestly, can't think of any
Oh, I know, it's not sponsored, I just LOVE it
So these are a few things that I've added to my skin care regimen this year. I would love to hear if you've tried any of these and your thoughts or if you have any must-try recommendations for me in your comments below!