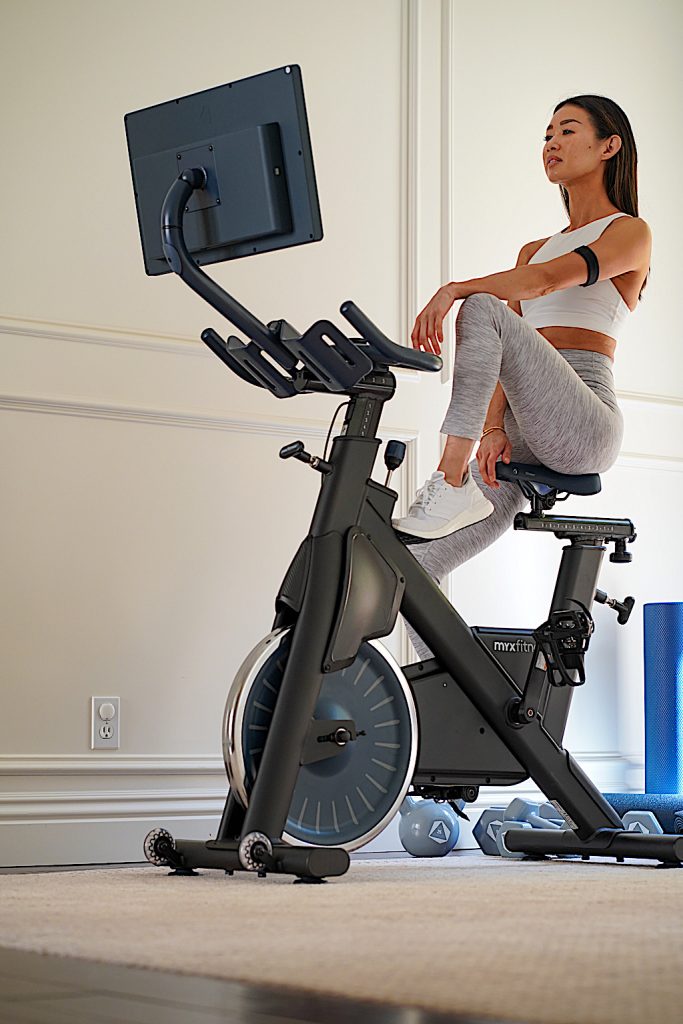 I am NOT an indoor cycler. Nor an outdoor cycler. In fact, I'm not a cyler at all. But after trying the MYX Plus Bike, I am a convert. Like a lot of you, this past year I spent building out my home gym from adding a weight bench, then a boxing bag, to a rower, and now the MYX Plus bike.
With home fitness on the rise thanks to Covid-19, many indoor cycling bike competitors popped up to take on the infamous Peloton. I was never convinced to get a Peloton mainly due to the price, but when MYX Fitness came out with a very close comparison, I was intrigued.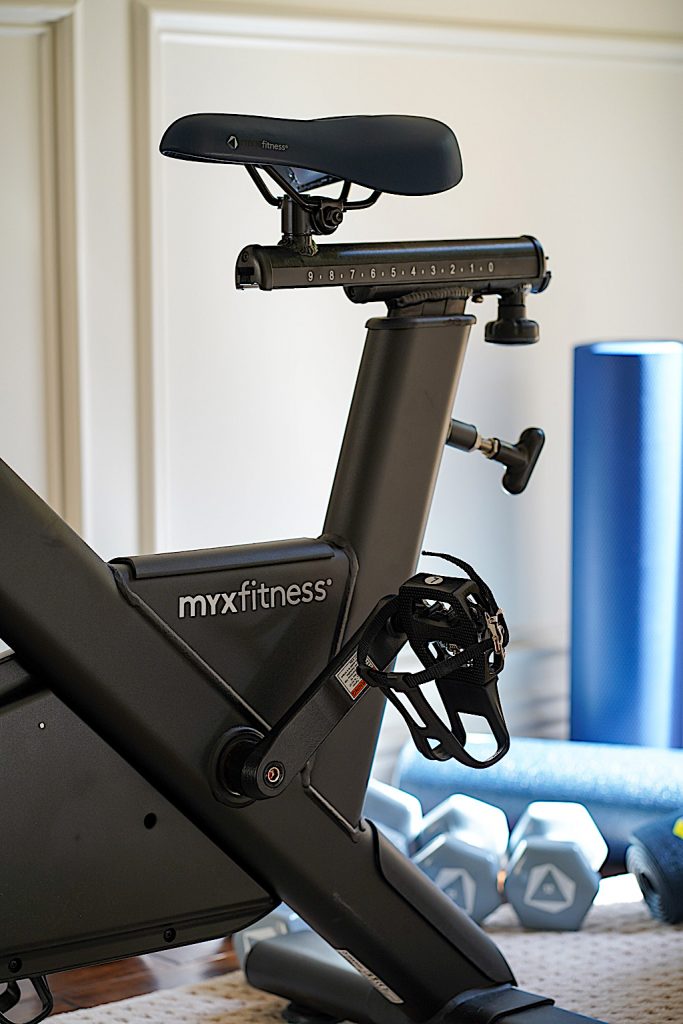 The Bottom Line…If you're a hype, status kind of person, craving name brands, competition, and need to see your name on a leaderboard (nothing wrong with any of that), get the Peloton. BUT, if you are looking for a bike that is ultra comparable, has an additional full-body workout system, comes with weights, kettlebell, mats, heart rate monitor, and more, the MYX Fitness Plus is your best bet. At almost HALF THE COST of a Peloton, MYX Fitness may not have live classes and leaderboards, but MYX Fitness is an excellent budget-friendly priced alternative and has more extras than its competitor!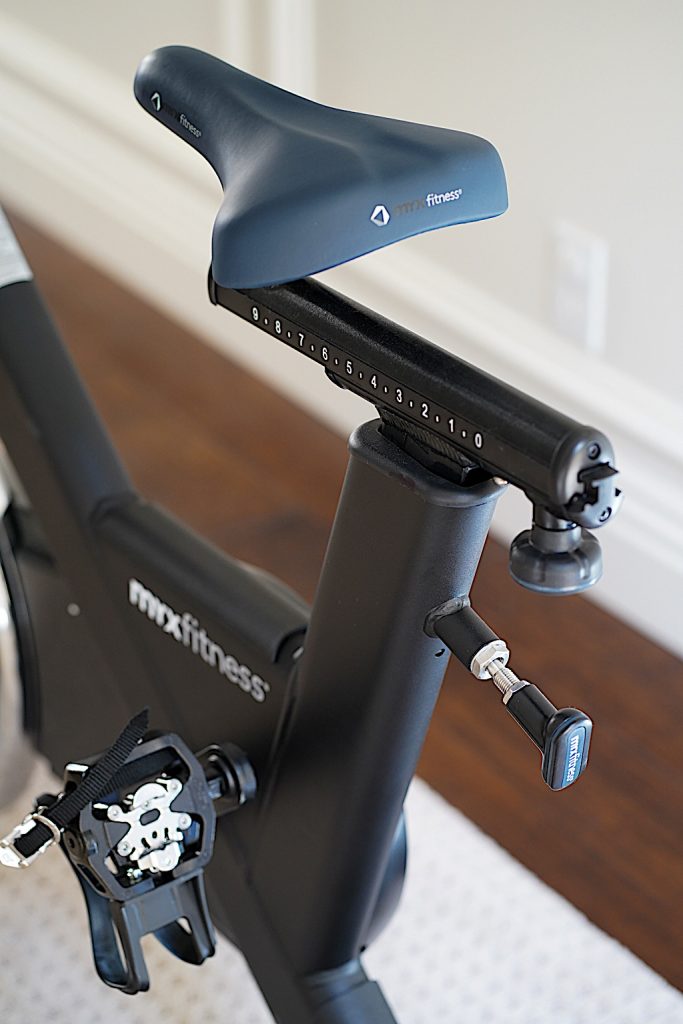 MYX Fitness has two packages – the MYX Bike ($1,299) and the MYX Plus Bike ($1,499). Both come with the MYX Bike (in charcoal or white) and a Polar heart rate monitor. The only difference between the two packages is that the Plus comes with the following add-ons and totally worth it if you don't have weights already. You can use code KONGFIDENCE for $150 off your order + free shipping ($250 value).
– An XL exercise mat
– Bike stabilizing mat
– A kettlebell (you can select the weight from three options)
– Three sets of hand weights (you can select from three options)
– A resistance band
– A foam roller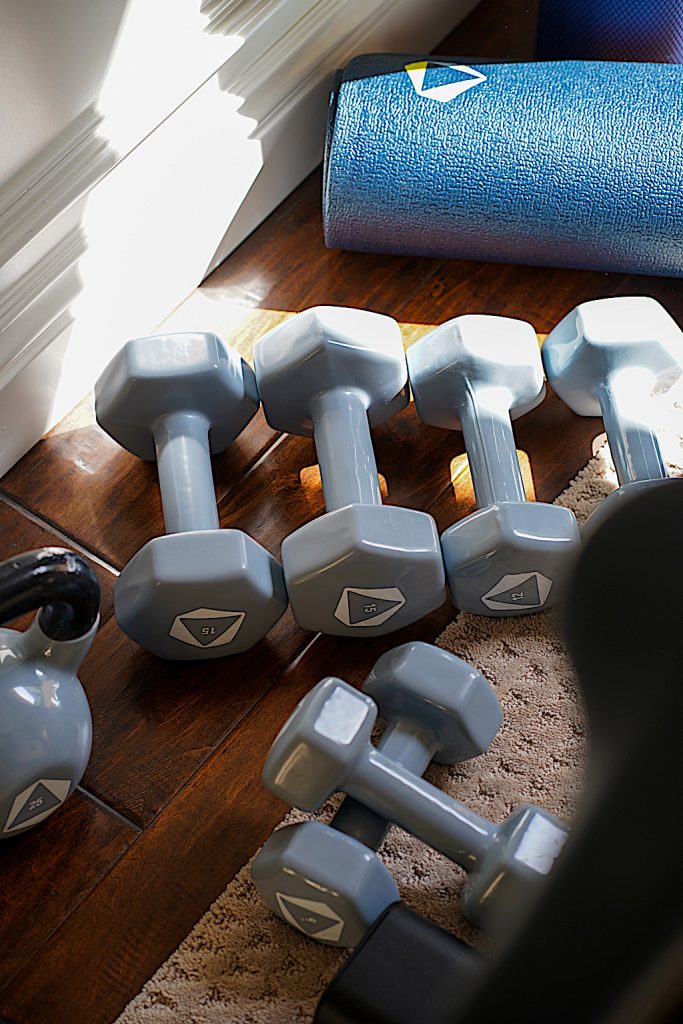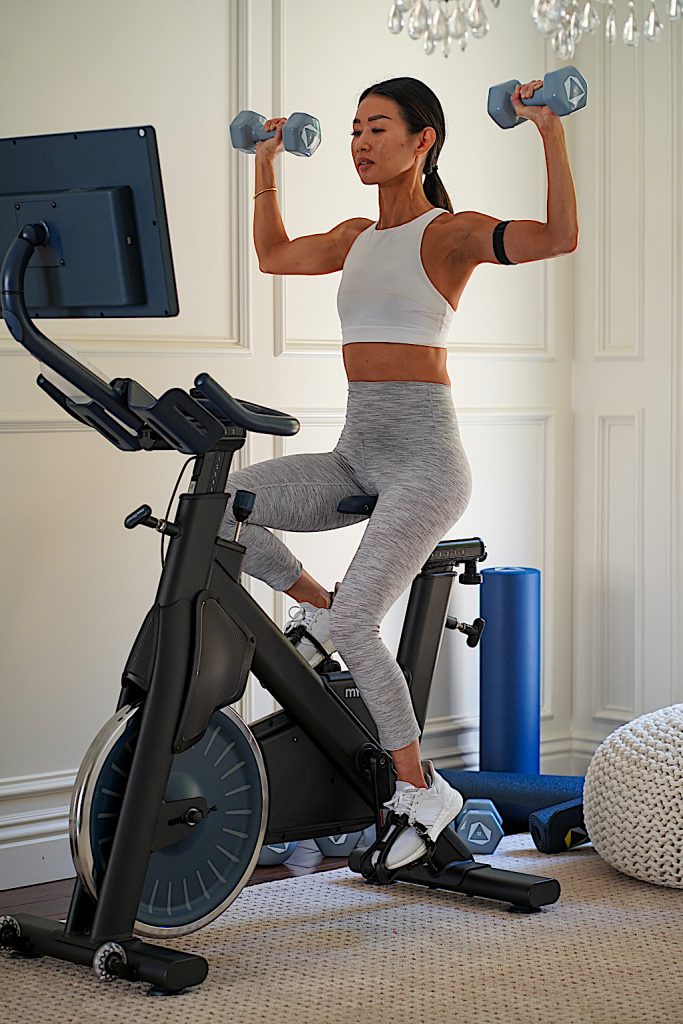 Not being a cycler, I am surprised at how often I am on the MYX Fitness Bike. I've had it for over a month now and am still trying out different instructors, rides, exercises, and all the other features (there are so many options). MYX Fitness also adds new workouts every month so you can try a new workout daily!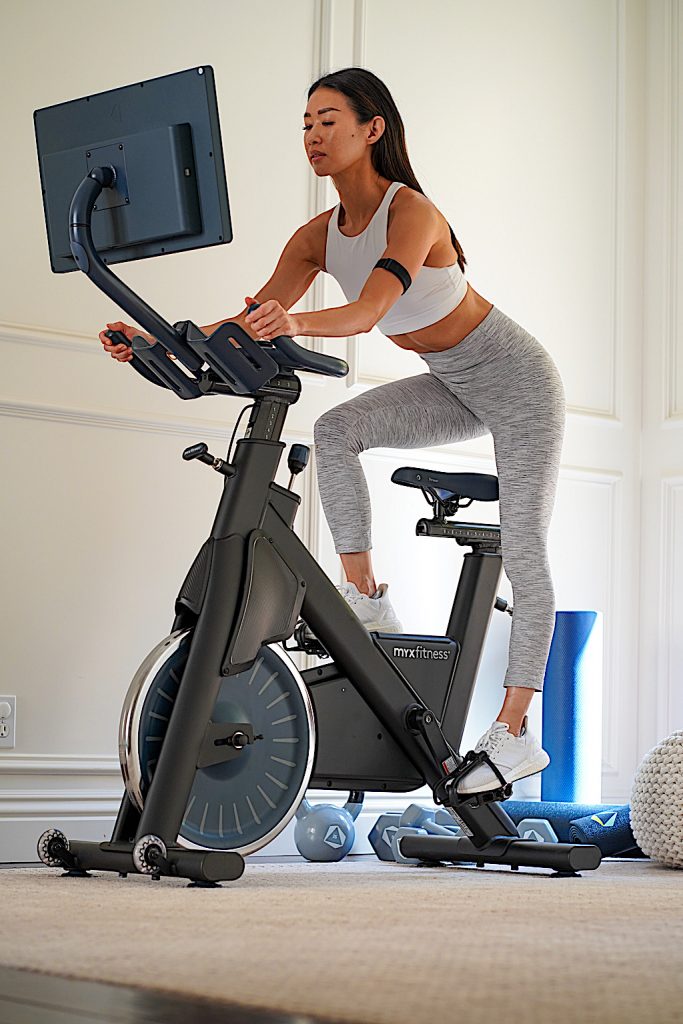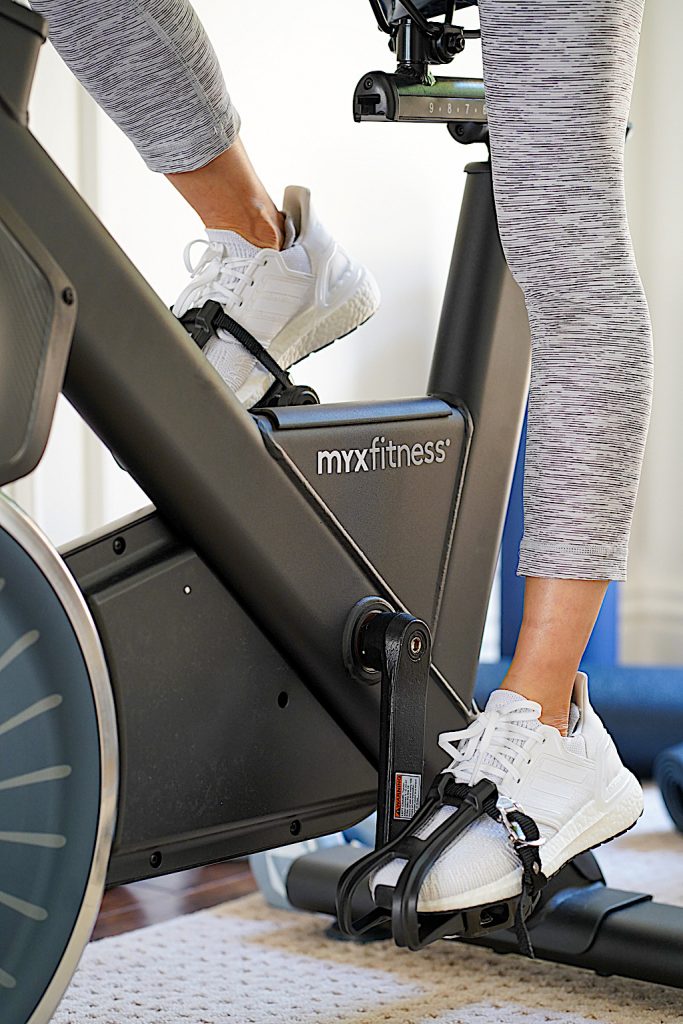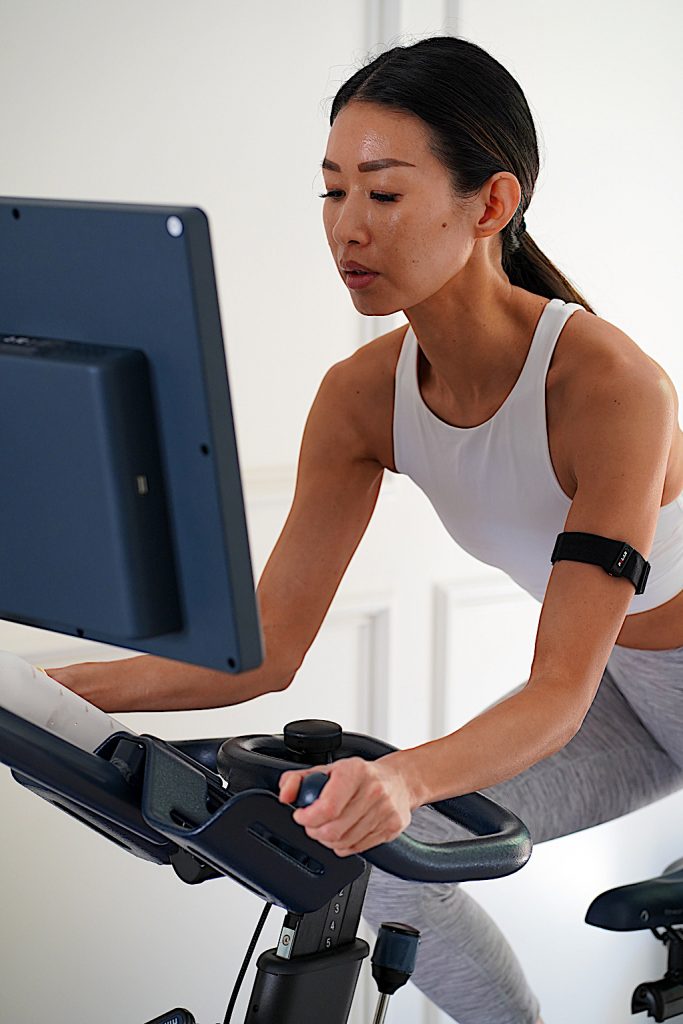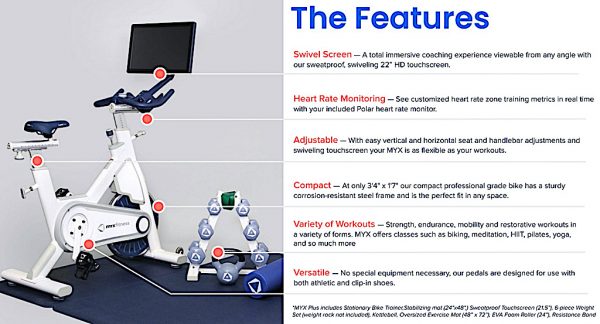 Reasons why I love the MYX Fitness Bike:
– Focuses on personalized heart rate zone training
– The 21.5" screen can be swiveled so you can turn it for floor workouts
– It's compact yet sturdy
– Supports up to 350 lbs (vs the Peloton is 300 lbs) and the bike and screen do not shake on rides
– You can wear regular sneakers (and not clip in)
– Music and instructor volume are adjustable
– You can skip music if you don't like the playlist
– Classes range from 10 mins to 45 minutes with varying degrees of difficulty
I usually do HIIT workouts at home from BBG to Alexia Clark and am used to difficult workouts. However, even being on the MYX Fitness Bike for 15 minutes has me sweating and dripping like never before. So far I've done most of the Hip Hop and Pop classes, some floor workouts like Barre, abs, and legs, as well as a foam roll stretch. All exercises have me at the top heart rate zone and challenge me to push myself each time. I also like the fact that the bike is easy on my knees. I had a minor knee injury over the past year and being on the MYX Fitness Bike allows me to get in my cardio workouts without putting pressure on my knees.
I haven't tried out all of the MYX Fitness instructors, but the ones I have tried are encouraging, remind you about form throughout the class, and always push you to get into the heart rate zones. MYX Fitness also has a customized MYX Zone Calibration Ride so you can really tailor your workouts for your own personal heart rate zone.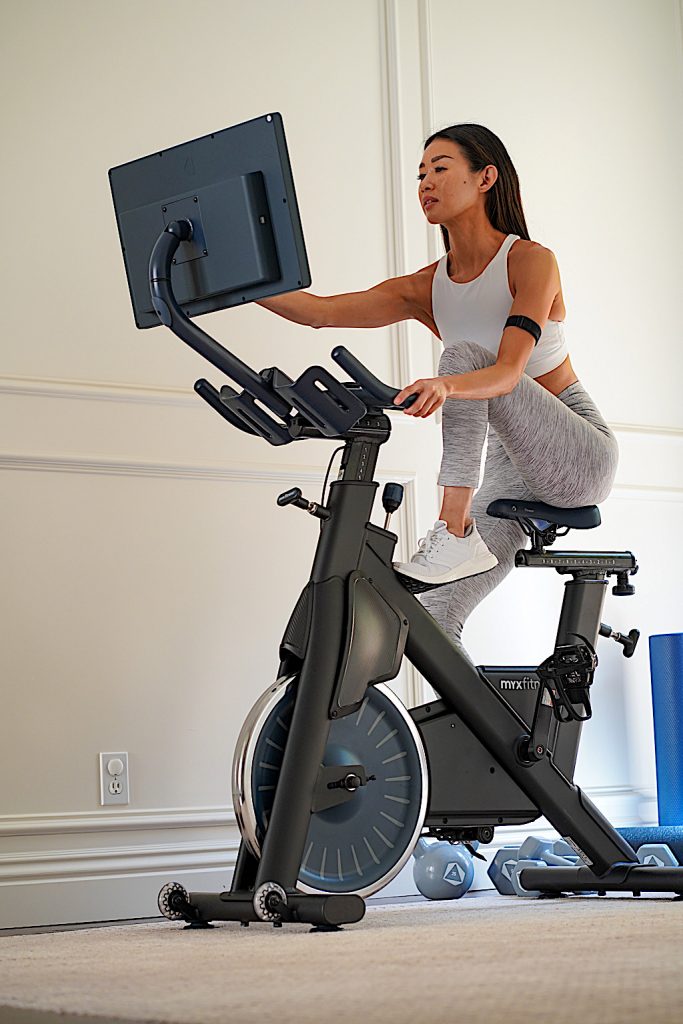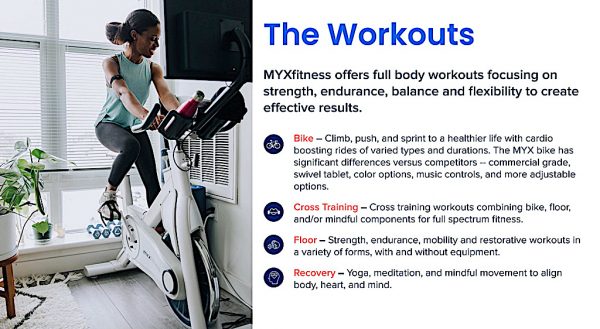 While I prefer the instructor-led classes, my husband actually likes the Scenic Ride feature. The Scenic Ride feature allows you to ride amongst stunning locations, like San Francisco, Patagonia, Alberta Rockies, Costa Rica, Northern Italy, and more. The rides are anywhere between 20 minutes to 45 minutes.
MYX Media also features a Newsy option where you can watch the news while riding to catch up on current events (my kids like this one). Additionally, they have Mat Chats with coaches and experts in fields of fitness, health, and wellness as well as Coach Diaries where MYX Coaches reveal personal obstacles they've overcome. There are so many options to ride with you definitely won't be bored!
Let's get to the downsides. The main downside is just the monthly membership cost which is $29/ month. However, most indoor bikes have an app membership cost which range from $29/ month to $40/ month. You can definitely ride without using the MYX Fitness app, but personally, I work harder if I have instructors to follow and push me along the way.
Here is a quick snapshot of MYX Fitness versus Peloton.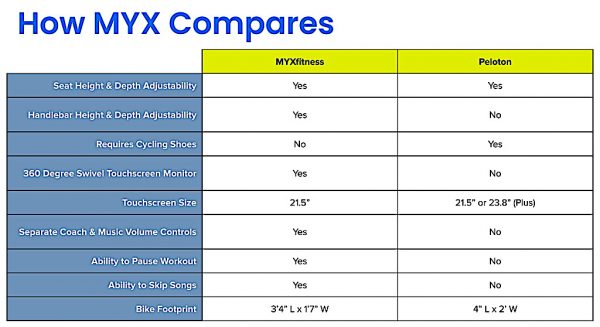 The final verdict is that I recommend the MYX Fitness Bike for those looking to get a bike for their home gym and focus on personal goals versus being in a community and competing with friends or colleagues. I love how easy it is to jump on even for 15 minutes and get in a great, sweat-dripping workout. It gets shipped quickly, delivery is included, the set-up is fast and they are in and out before you know it. If you are ready to add this MYX Fitness Bike to your home gym, use code KONGFIDENCE for $150 off and free shipping!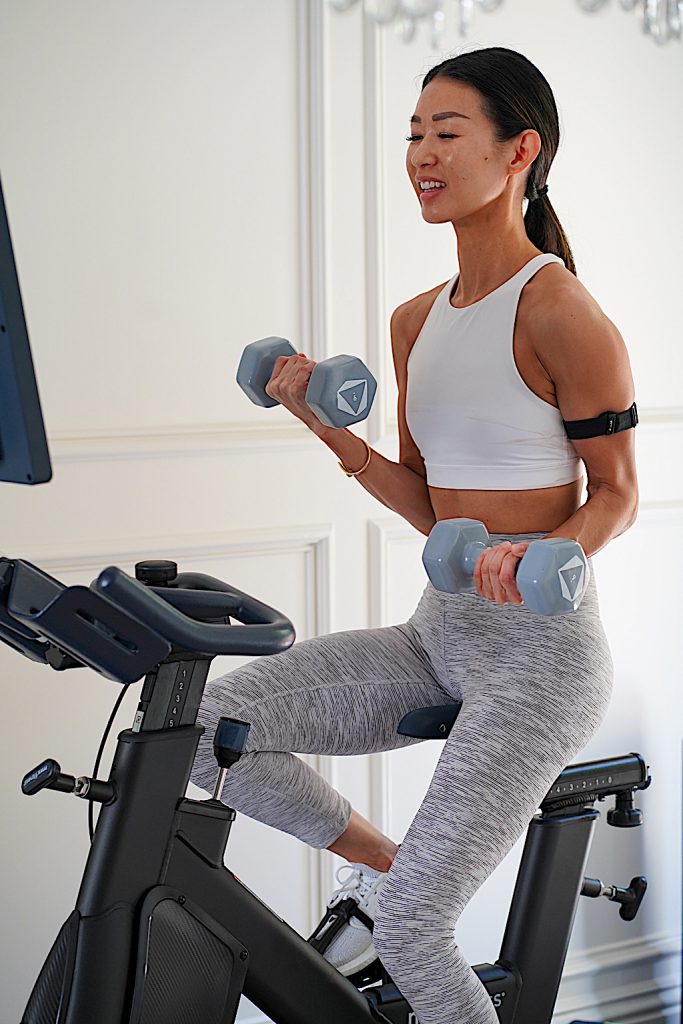 Check out my quick video on Instagram showing you some of the details of the MYX Fitness Bike. Let me know if you have any questions and I can answer them below or shoot me a direct message on my Instagram @dailykongfidence.