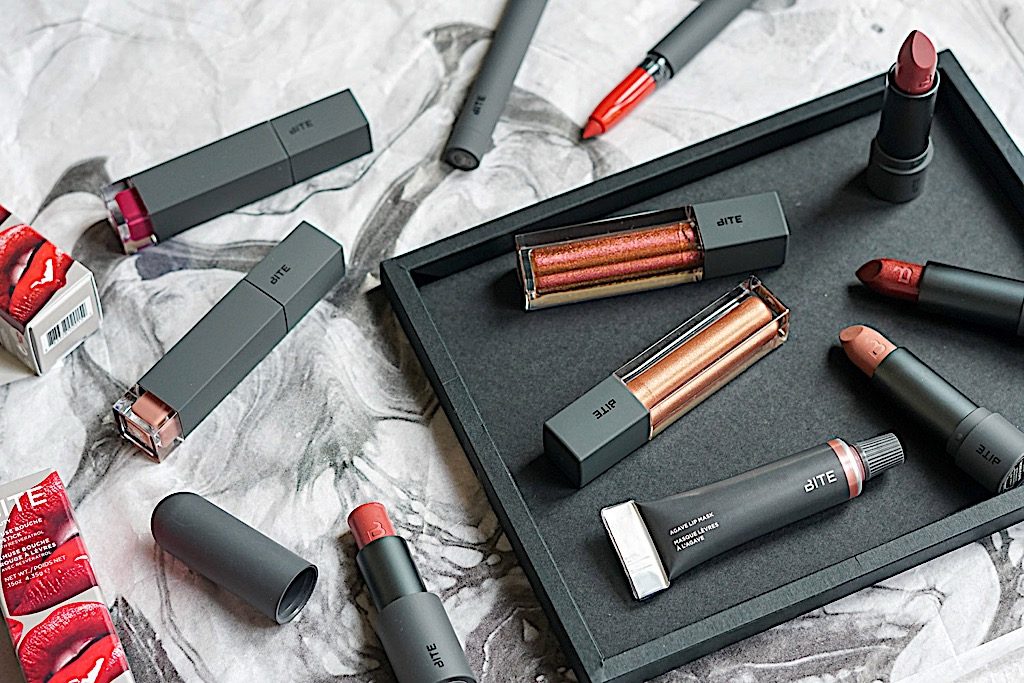 You rarely see makeup reviews from me because frankly, I don't consider myself a makeup person or artist in anyway. As I've mentioned, I am all about skincare, but as far as makeup is concerned, minimal and simple is my motto. As an Influencer, I've receive many products (not bragging, just a fact). This provides me with the opportunity to discover new brands, try out different products, and actually see what I like and what works for me.
Bite Beauty recently sent me a big box of products consisting of lipsticks, glosses, lip pencils, multisticks, and lip treatments! To be honest, I didn't even know what Bite Beauty was before I was sent all this product, but when I shared my loot on my Instagram Stories, I received so many messages telling me how much they love Bite Beauty products, so I was intrigued. The overall takeaway from trying out all these Bite Beauty lip products is that they are ultra HYDRATING which is important to me. One of my major pet peeves is dry, chapped lips (on myself and anyone else) so Bite Beauty is a great way to add color and shine without the flaky, peeling lips (woot, woot).
Bite Beauty was created by Susanne Langmuir and all the products are handmade in Toronto Canada. "Bite is beauty for lips that's good enough to eat." Bite's formulas are hydrating with food-grade ingredients and they avoid petroleum by-products and synthetic chemicals since lips absorb what you put on them. Each Bite bullet (lipstick) is handcrafted and made in small batches to preserve the hydrating benefits of organic oils, fruit butters, and bioactives (which totally explains why they are so hydrating).
To begin putting on your lipstick of choice, start with the Line & Define Lip Primer which preps the lips for lipstick application. Just like we use primer before makeup, primer before lipstick helps to retain color and prevent feathering (you know, those horrible spider lines where the lipstick bleeds out of the lip line). I personally don't use primer since I usually stick to glosses or nudes, but when I wear a bright and bold lip color, primer is a must.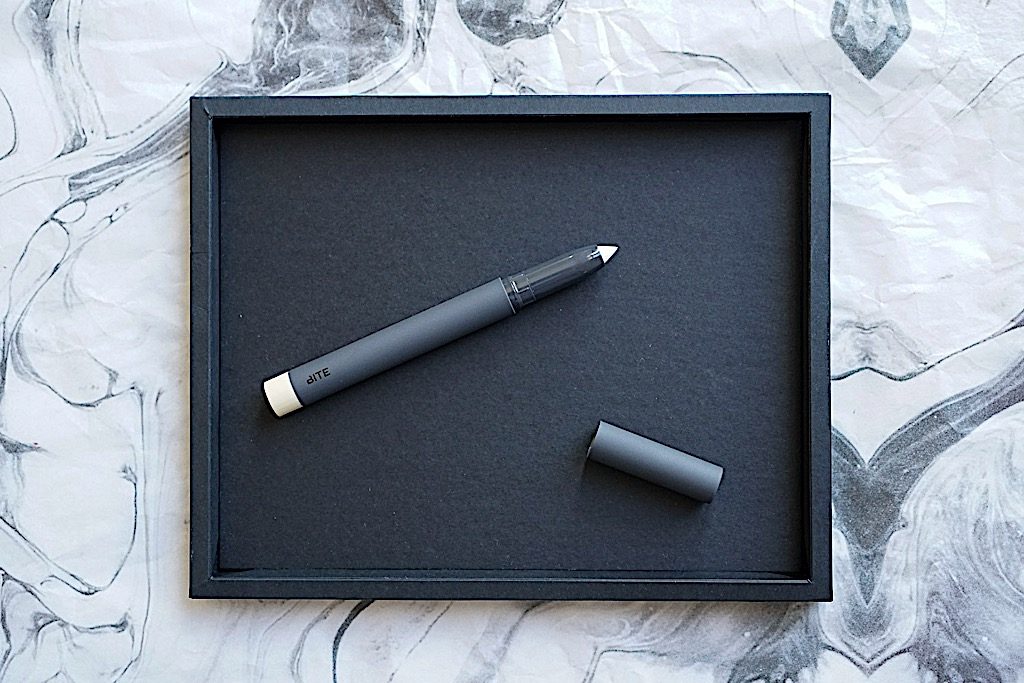 / Amuse Bouche Lipstick /
Crafted by hand, Bite has built a process where the nutrients, vitamins and omega oils are preserved in their lipsticks to achieve healthy, soft lips. These lipsticks are so hydrating because they are made with 12 edible oils and the colors are saturated due to the triple milled pigments and they don't feel heavy at all.
Pigmented
Creamy so very hydrating
Wears well after it's on for a little bit (little transfer after that)
Smells good like lemon
Wipes off pretty well (darker colors need a little more effort to wipe)
42 beautiful shades (swatched 6 out of 42 below)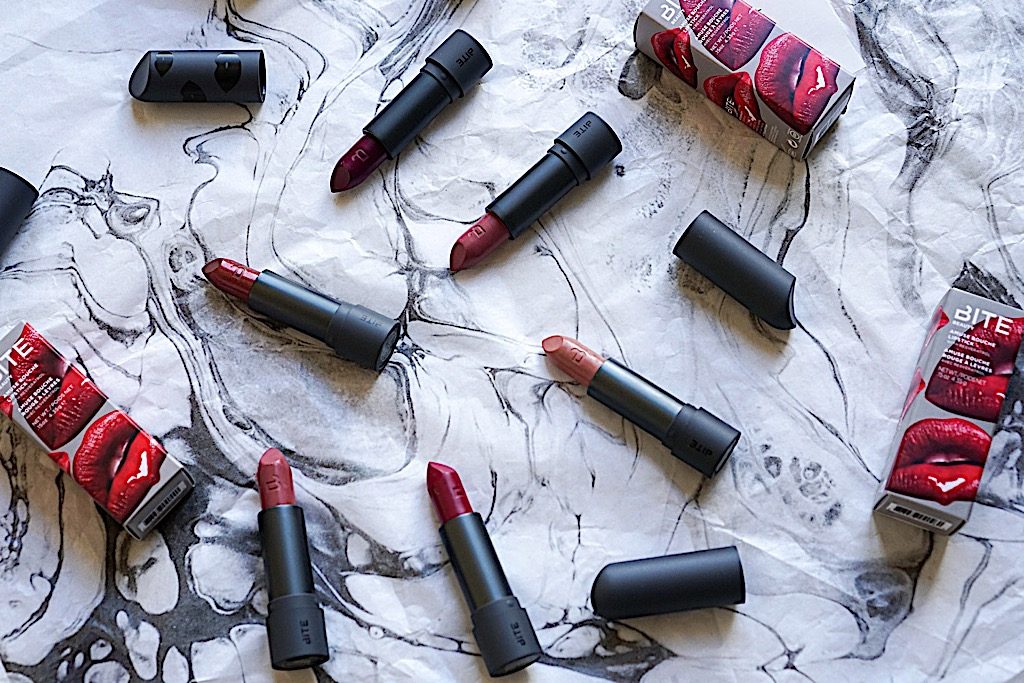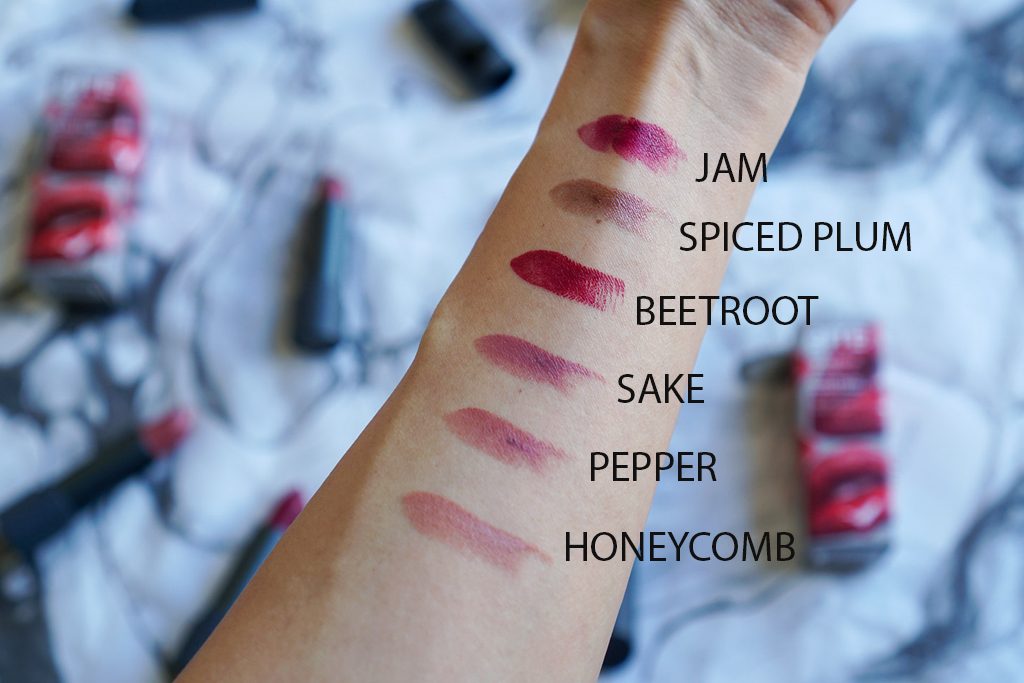 / Amuse Bouche Liquified Lipstick /
These Amuse Bouche Liquified Lipsticks takes liquid lips to a whole other level! As you can see from the color swatch below, these are very pigmented and creamy but also have a satin finish.  These Liquified Lipsticks are made with natural monoi butter and coconut oil, which melts at the temperature of your lips to glide on with a "liquid" finish.  For those seeking bold color, this is the lipstick for you!
Thick, creamy formula
High impact color (more so than the lipstick in my opinion)
Long lasting
20 vibrant shades (swatched 4 out of 20 below)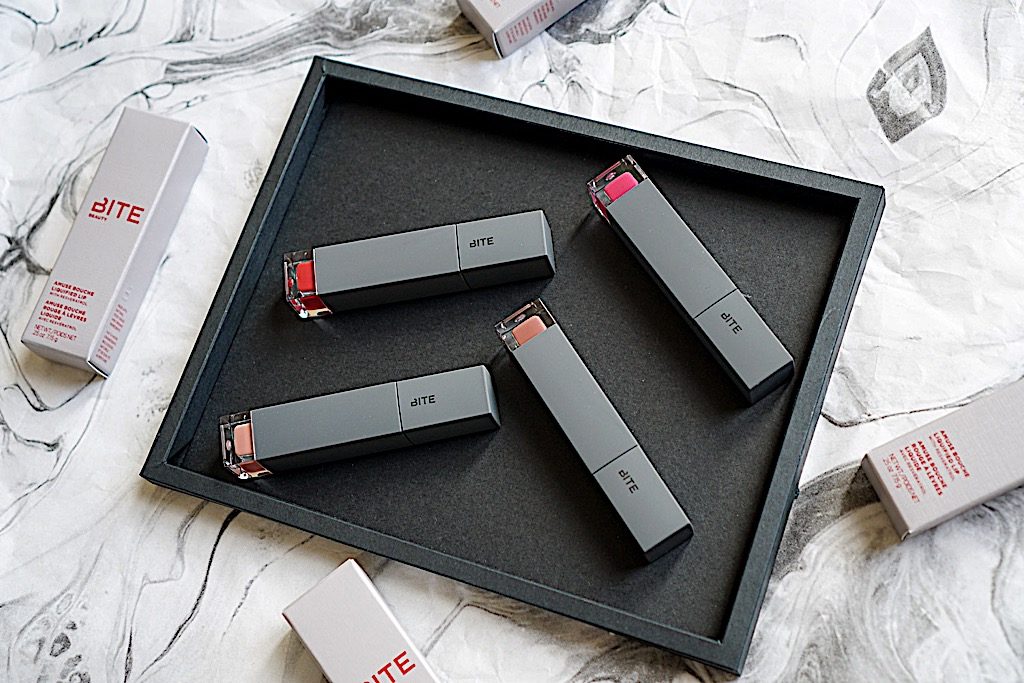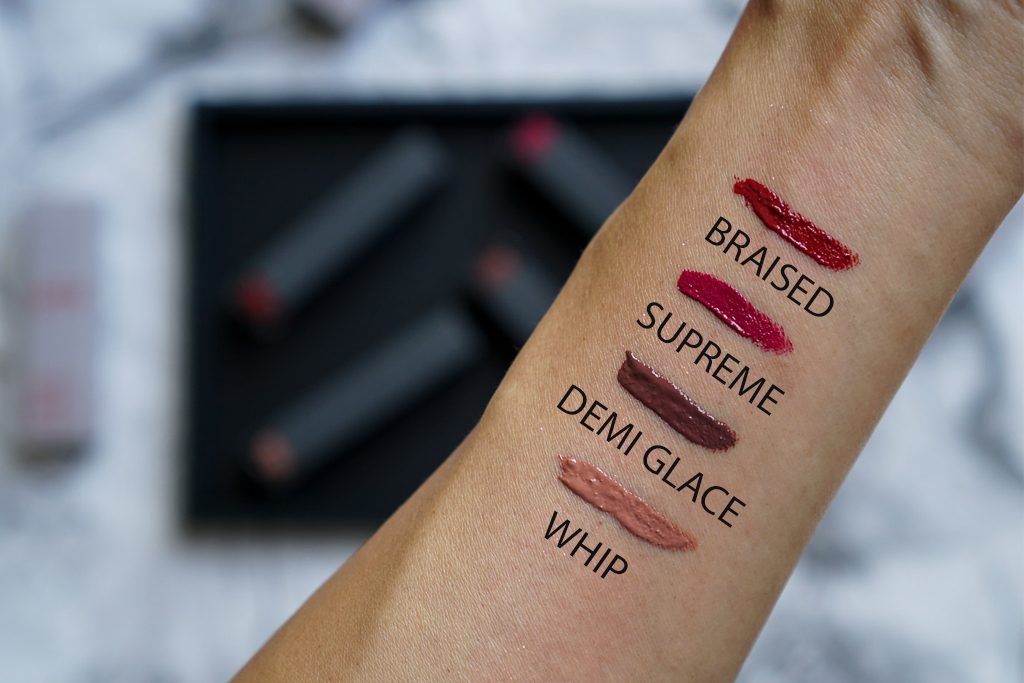 / Prismatic Pearl Crème Lip Gloss /
This is a "fun" collection of glosses because of their metallic sheen found in rare black pearls.  The shimmer, foiled lip look draws attention to your lips and is the perfect look for the holidays.  They're formulated with lip-softening shea butter for a luxurious lip finish and I love the hint of glimmer they add.  Personally, I am a fan of glosses more than I am of lipsticks just because I like shine on my lips versus a matte look. So these pearl lip glosses are one of my favorites from Bite for their metallic sparkle factor and the ultimate shine.
Shine adds a beautiful touch to lips
Not too thick
Love the Rose Pearl by itself
The Champagne Pearl looks great over another lip color or mixed with Rose Pearl
Perfect for holidays and nights out
10 shimmery colors (swatched 2 out of 10 below)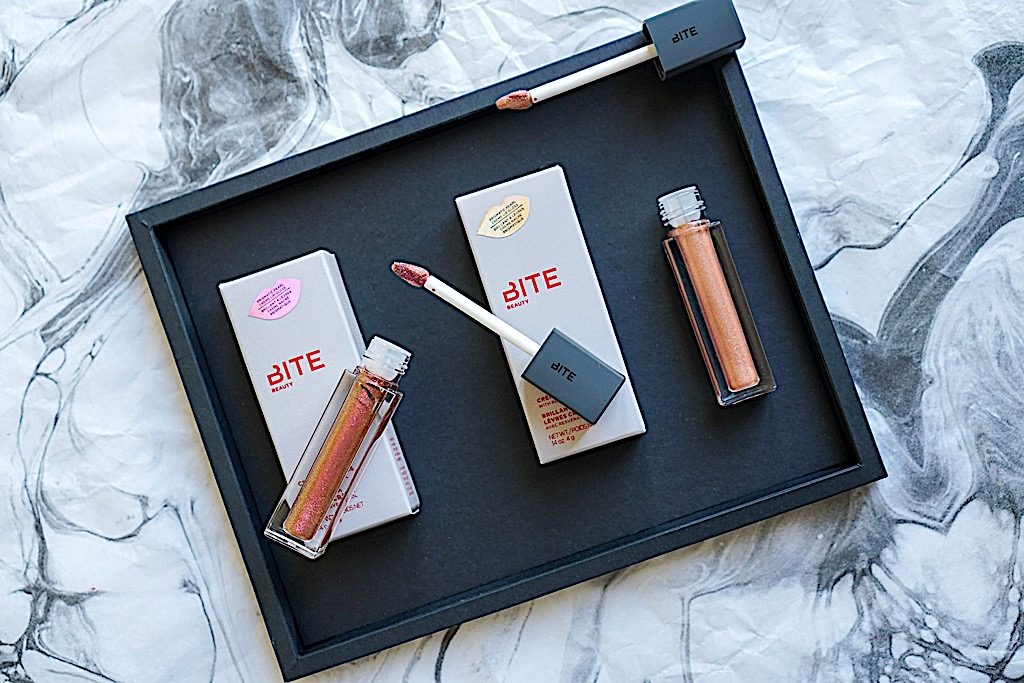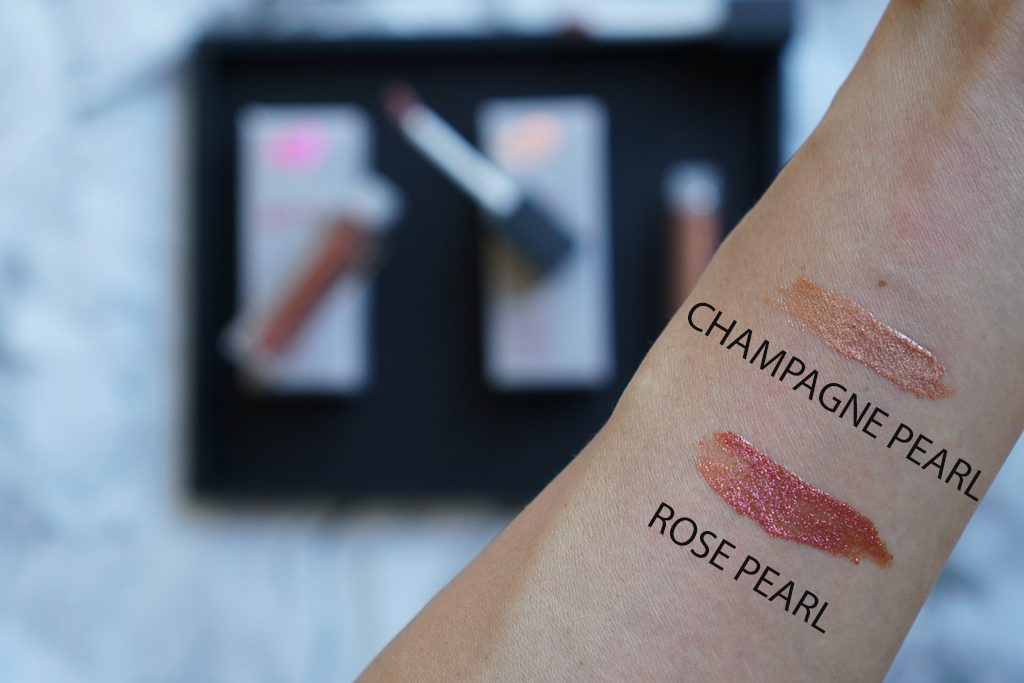 / Matte Crème Lip Crayon /
Bite Beauty's lip crayons are amazing!  The collection includes  beautiful nudes, striking reds, and deep burgundies with a matte yet moist texture. Again, I have to stress how hydrating all of Bite's lipsticks are including the crayons (which is not typically the case with most lip crayons).  The secret is the moisture-locking power of orange peel wax along with the antioxidant properties of resveratrol.
Slim enough to draw lines but thick enough to fill in lips
Creamy and pigmented
Love Peche for a vibrant lip and Molasses for everyday wear
24 brilliant hues (swatched 4 out of 24 below)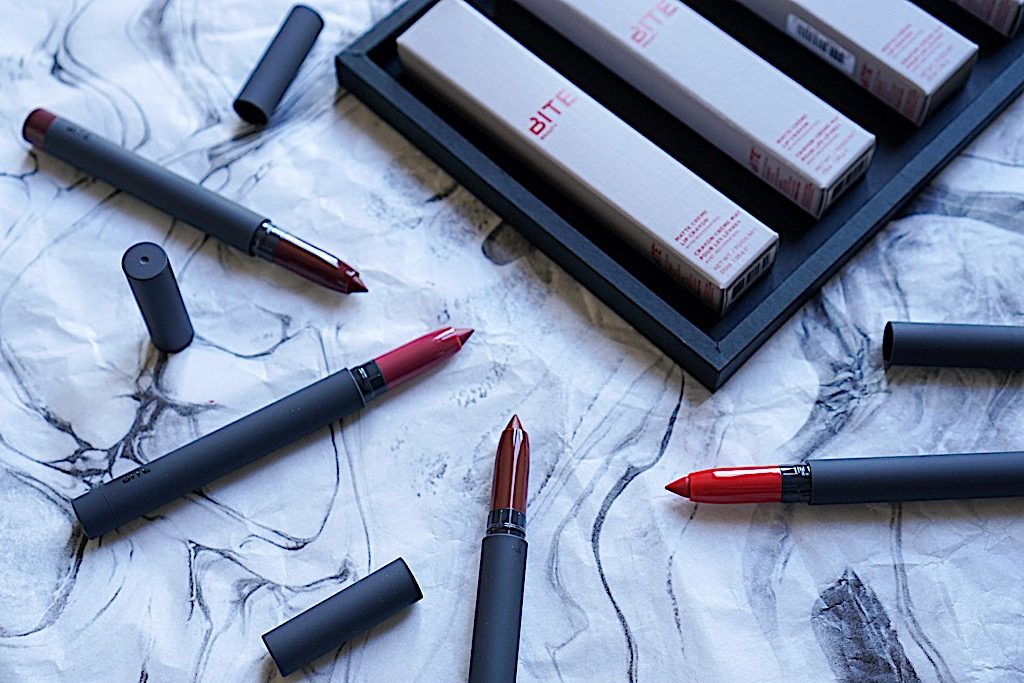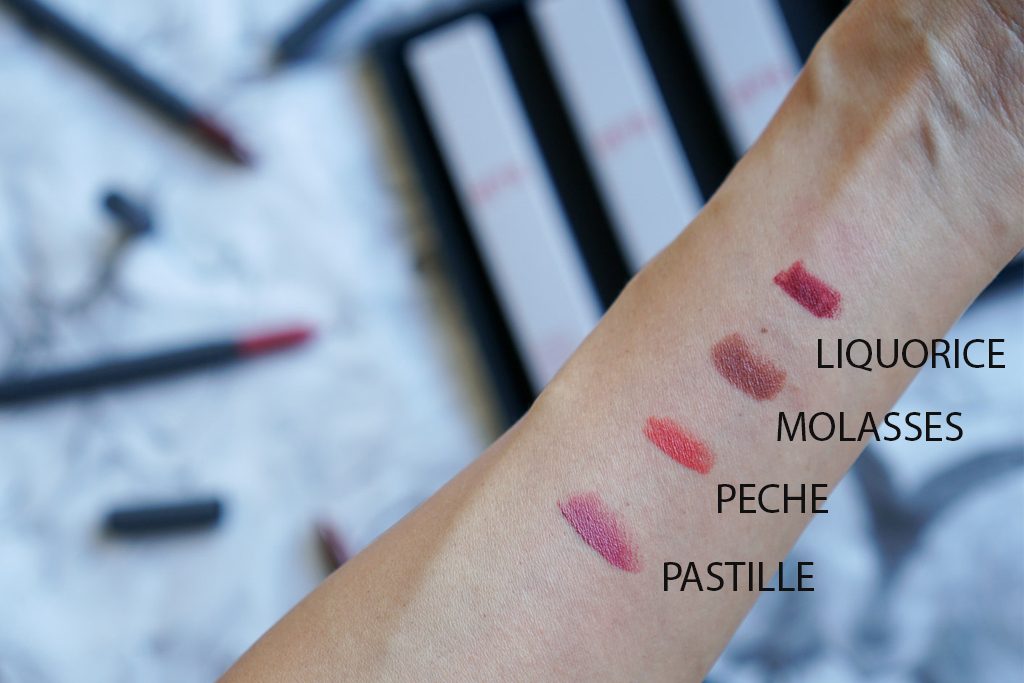 / Everyday Agave Lip Collection /
With winter approaching, chapped lips are inevitable.  In order to keep lips soft and smooth, Bite created an Agave Lip Collection which includes a three-step series of a scrub (exfoliates), mask (hydrates), and balm (nourishes).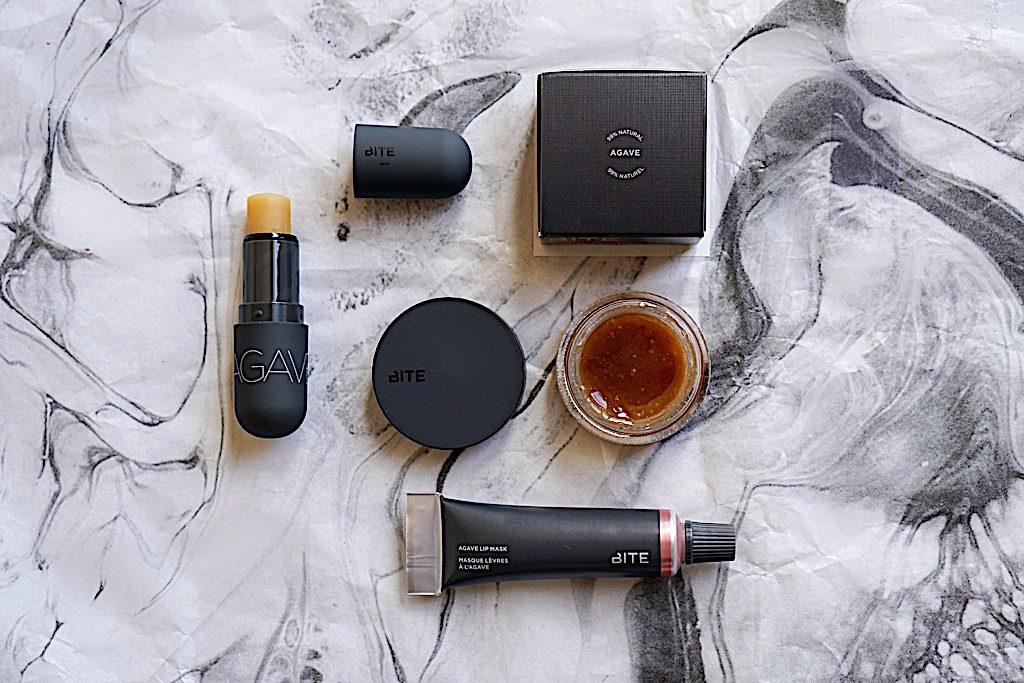 / Multistick /
We all love double or triple duty products – ones we can use in more than one place.  Bite Beauty's multistick applies like a cream and wears like a powder which makes it great for eyes, cheeks and lips.  I think this is a great concept, and I use Marscapone as blush and on the lips, but I actually prefer darker colors (not pinks) for my eyes. Basically for myself, I wouldn't use the same colors on my cheeks and lips as I would on my eyes but these are still great for dual purpose.  I don't ever finish a lipstick to the very end so these multisticks are great since you get more wear out of them by using them on your cheeks and eyes too.
Creamy, very hydrating
Layer on for more pigment
Colors are good for lips and cheek but I prefer darker colors for eyeshadow
20 universal shades (swatched 3 out of 20 below)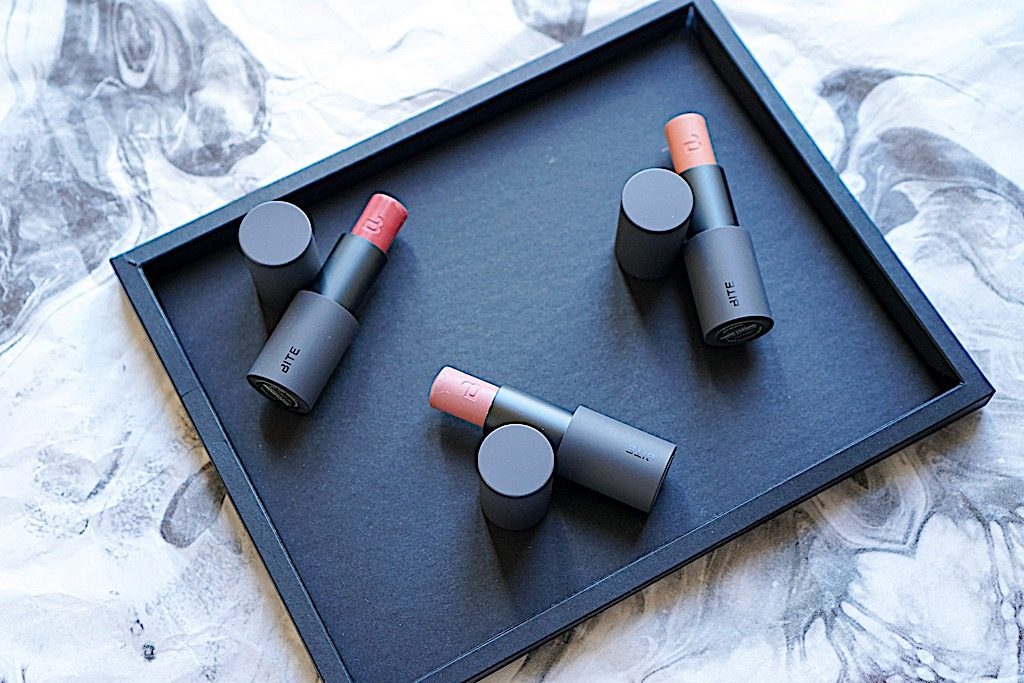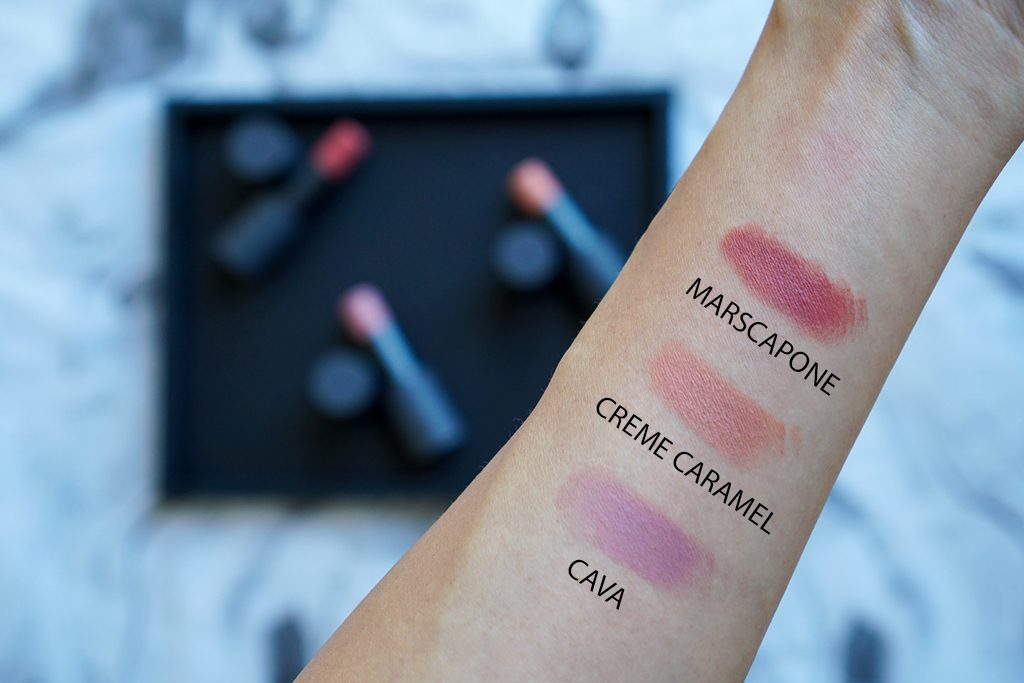 What Bite Beauty is formulated WITHOUT:
– Parabens
– Sulfates
– Phthalates
What else you need to know:
– Free of petrochemicals and silicones
– Each lipstick is infused with the age-fighting antioxidant resveratrol (the equivalent of five glasses of wine)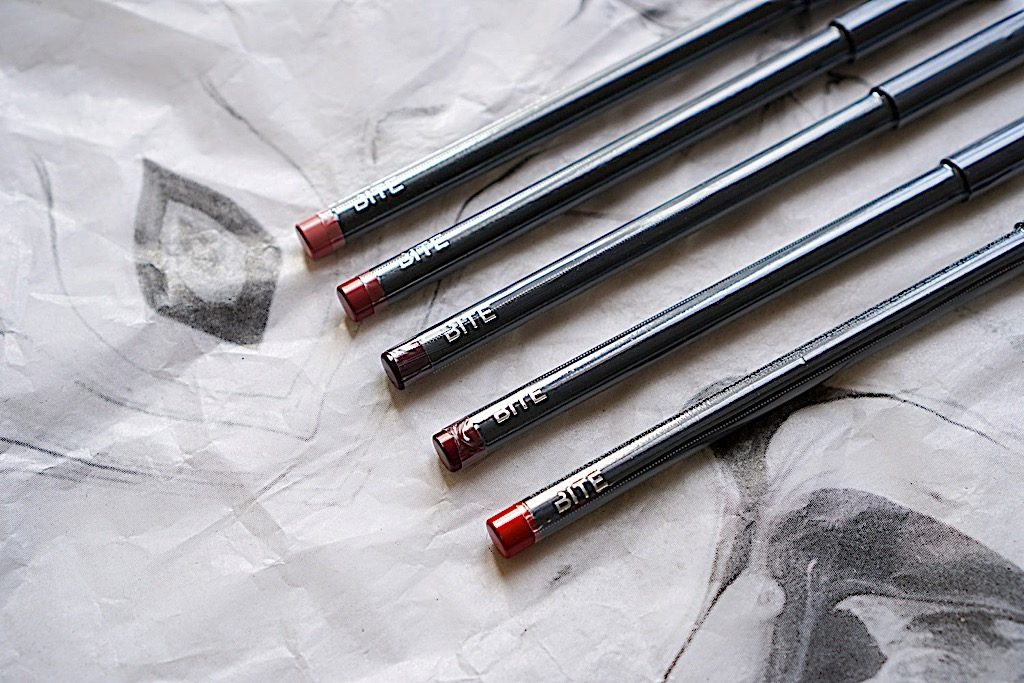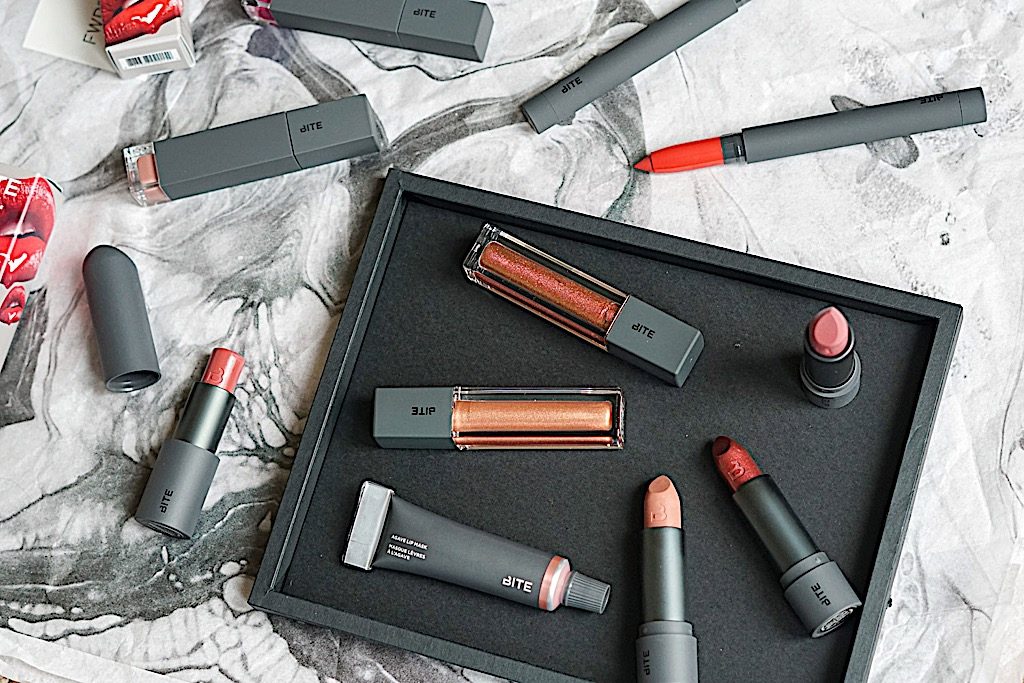 I haven't tried ALL of Bite Beauty's lipsticks, but I definitely am loving the hydration of these products. Especially with winter coming up, I will need to keep my lips hydrated, but also add some fun colors for holiday looks. In addition, I've linked some great gift sets from Bite that would make for trying out the products or fabulous stocking stuffers!