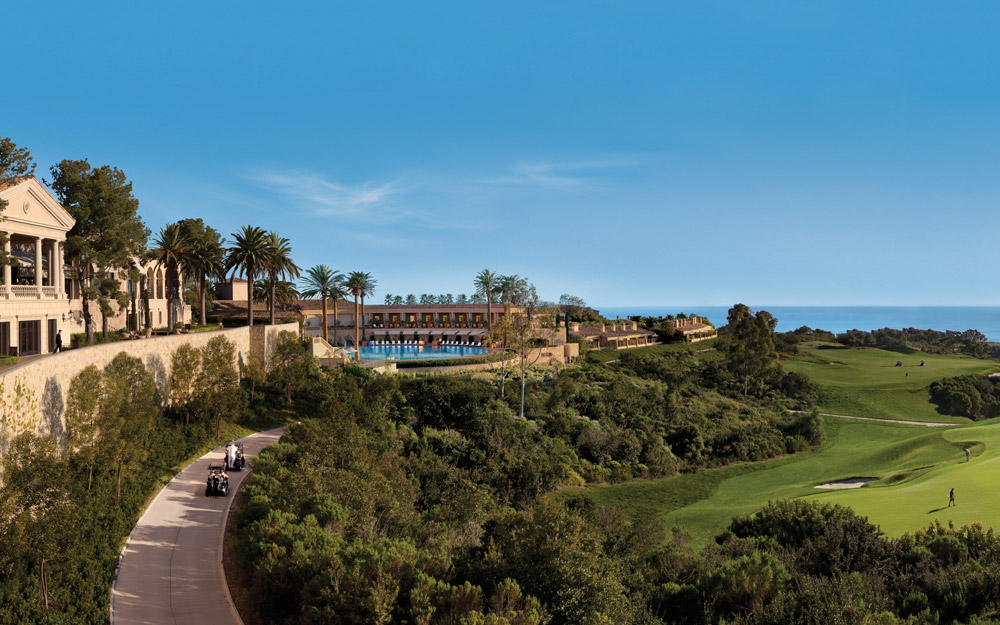 "I have a deadline. One more email. Give me a second. We're running late. Can you hurry up? We have to go!"
We live in a fast-paced world where we are always on the go. We get caught up in the day to day hustle of obligations, commitments, work, activities, and forget that while we are doing things for our family, we aren't spending time with the family. And there is a distinct difference.
While quality time can be spent at home, it's hard to completely unplug and focus on family time when there are so many distractions that beckon at you. To really get away and spend some quality time together, we headed a short 10 miles from where we live to The Resort at Pelican Hill in Newport Coast, CA. While only mere miles from home, I felt like I was in my own little world. Surrounded by the lush greens of a championship golf course overlooking the tranquil waves of the Pacific Ocean, THIS was the place for our family to spend some quality time together.
The Resort at Pelican Hill is reminiscent of Northern Italy with its Palladian-inspired architecture. The Resort offers 204 Bungalow guest rooms and 128 Villas that introduces an unparalleled level of serene luxury yet also feels like a home away from home. Situated on an elevated plateau that meets the landscape sweeping down to the ocean, the view from The Resort at Pelican Hill is nothing less than picture-perfect.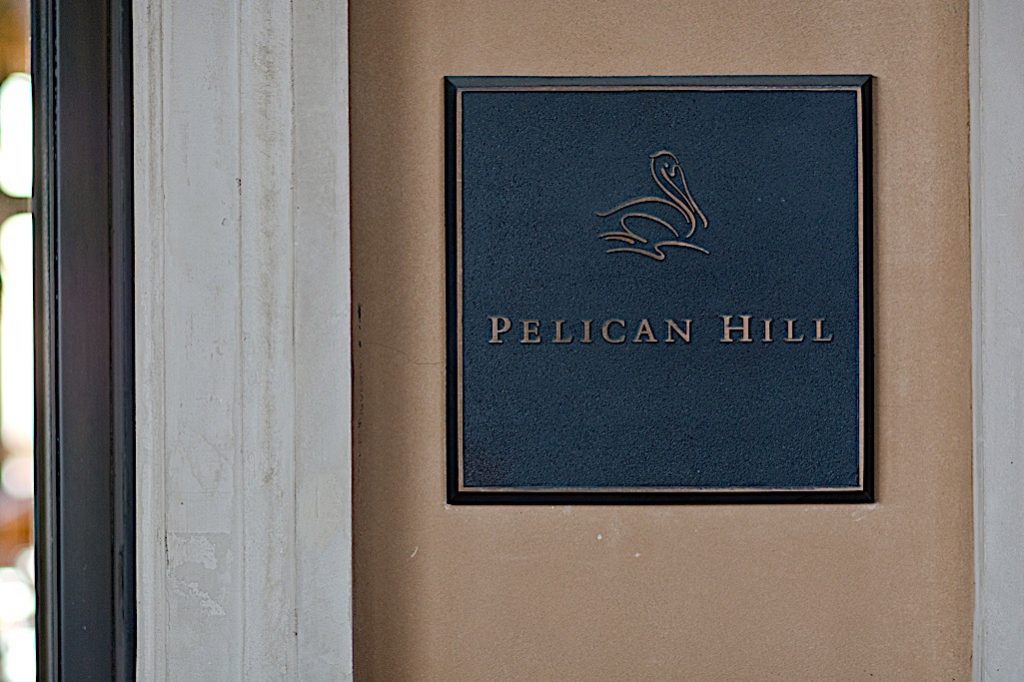 Welcome to The Resort at Pelican Hill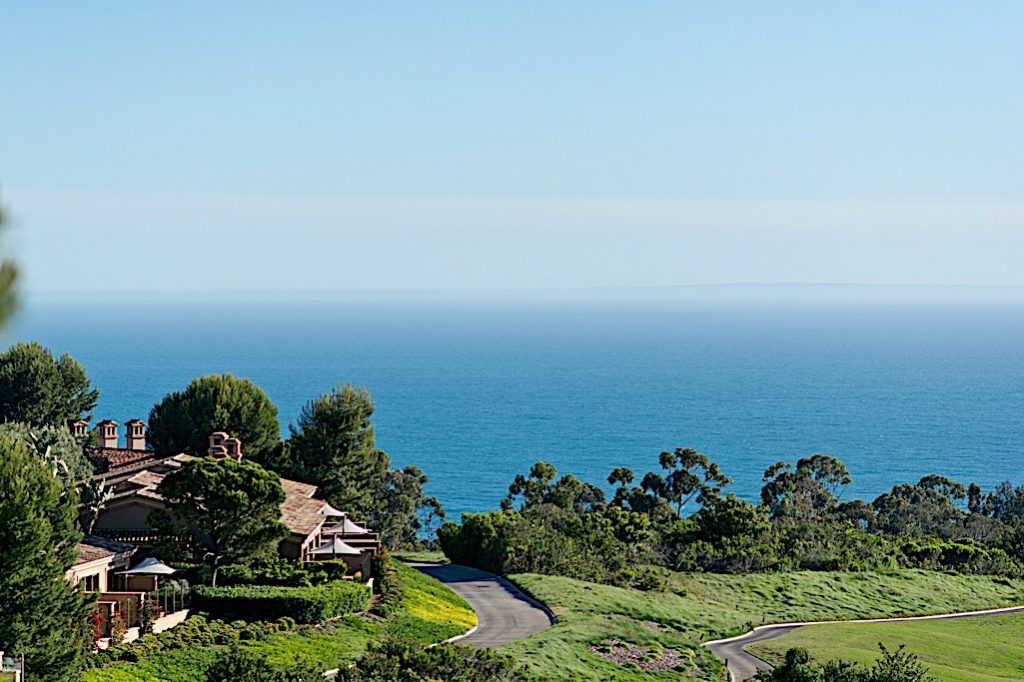 Postcard perfect views of the golf course and Pacific Ocean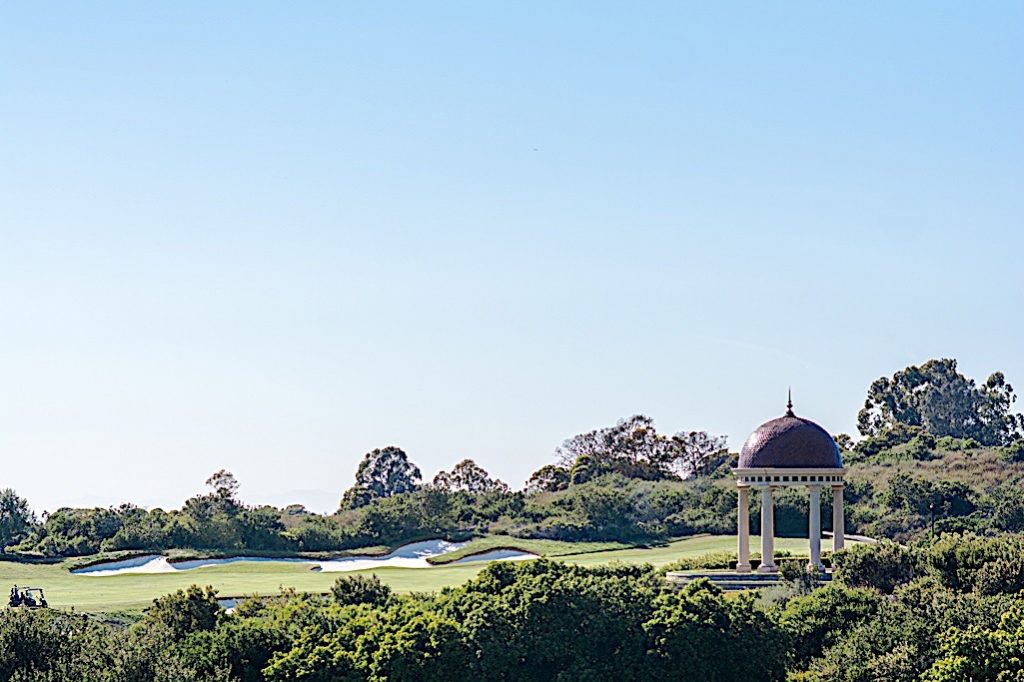 Lush landscape and panoramic views from every angle
We had the opportunity to stay in the Villas for our family staycation and these two to four bedroom Villas bring a new meaning to luxurious yet comfortable living. Our four-bedroom, 3,581 square feet Villa was incredibly spacious that it felt like a shame to be staying there with just our immediate family of five. I resisted the urge to call over my two sisters and their families to stay with us and share this enormous Villa!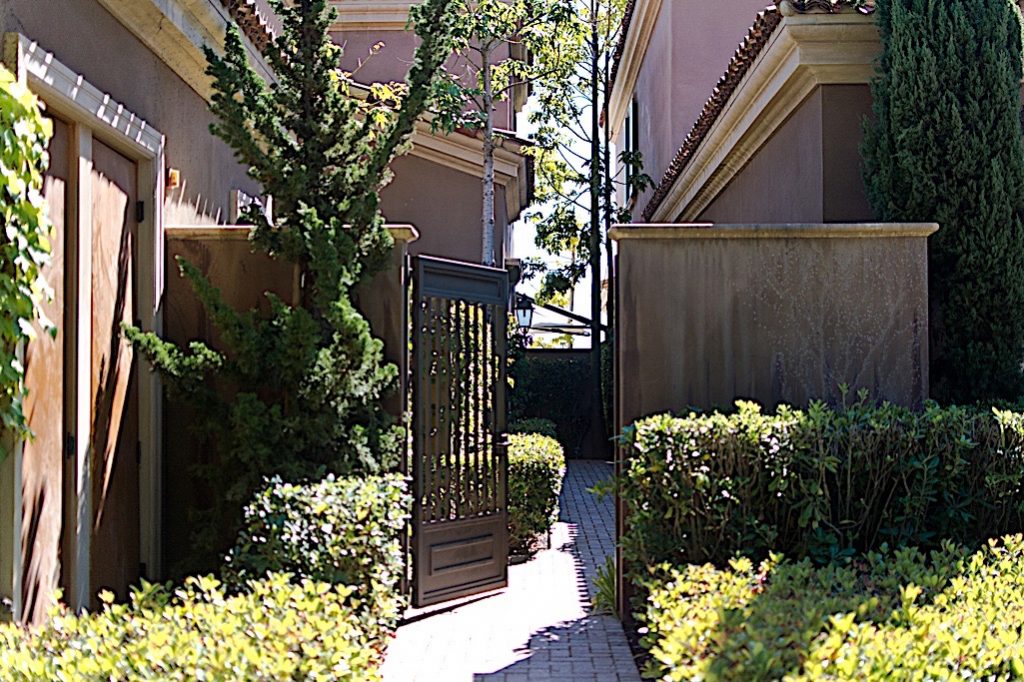 Four bedroom Villa 735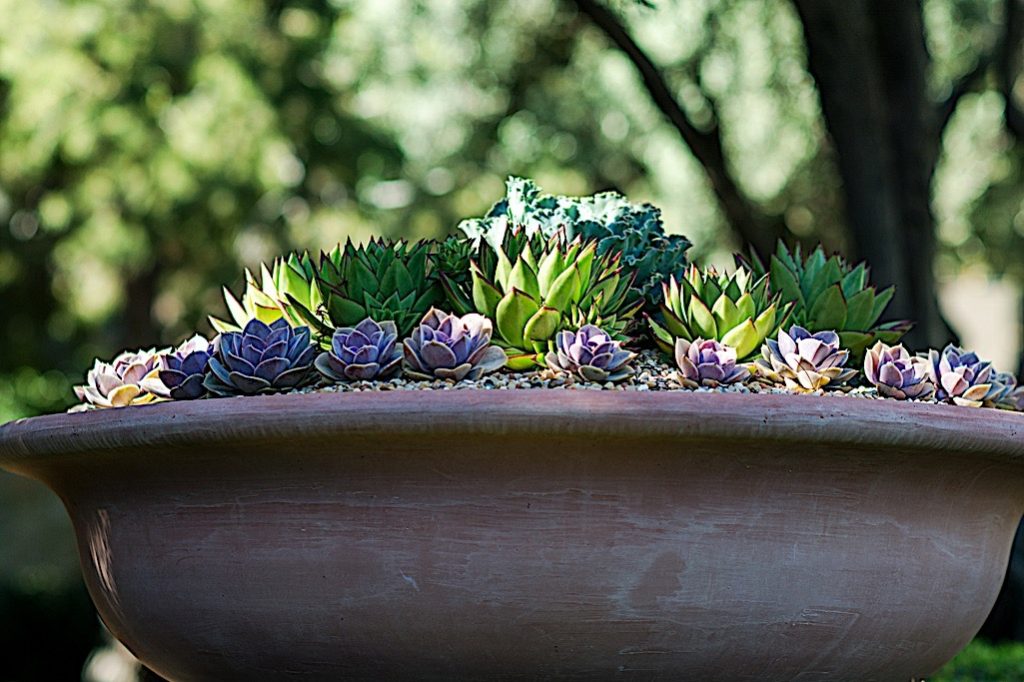 Lush greenery and succulents everywhere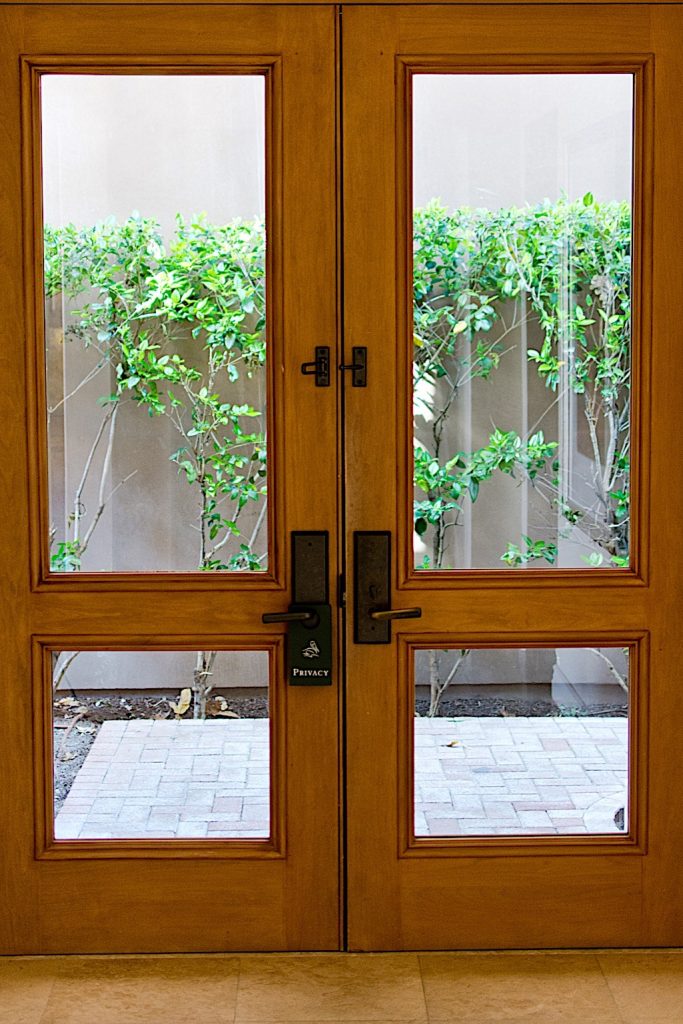 Double doors leading to the perfect staycation
The Villas at the Resort were designed to maximize views of the surrounding ocean, golf course, and fields while still maintaining a sense of privacy. While the Resort was at near full occupancy the weekend we stayed, you wouldn't have known this from the peaceful sounds of nature you heard. Each Villa was designed to have a harmonious flow between the interior and exterior space where the Great Room meets the private terrace. With such an extensive floor plan, you can definitely have multigenerational families staying at these Villas and still have so much room. Each Villa is accompanied by its dedicated Villa staff (including concierge, butler, and personal chef upon request), snacks and additional necessities provided based on a questionnaire you complete before arrival, gourmet kitchen with Sub-Zero and Wolf appliances, Nespresso machine and tea, 24-hour in-Villa dining, flat screen TVs in every bedroom, limestone fireplace, technology to enhance your stay (including high-speed wireless Internet, MP3 port, etc.), private garages, private washer and dryer, and exclusive access to the Villa Club's heated pool and cabanas.

Our Villa tour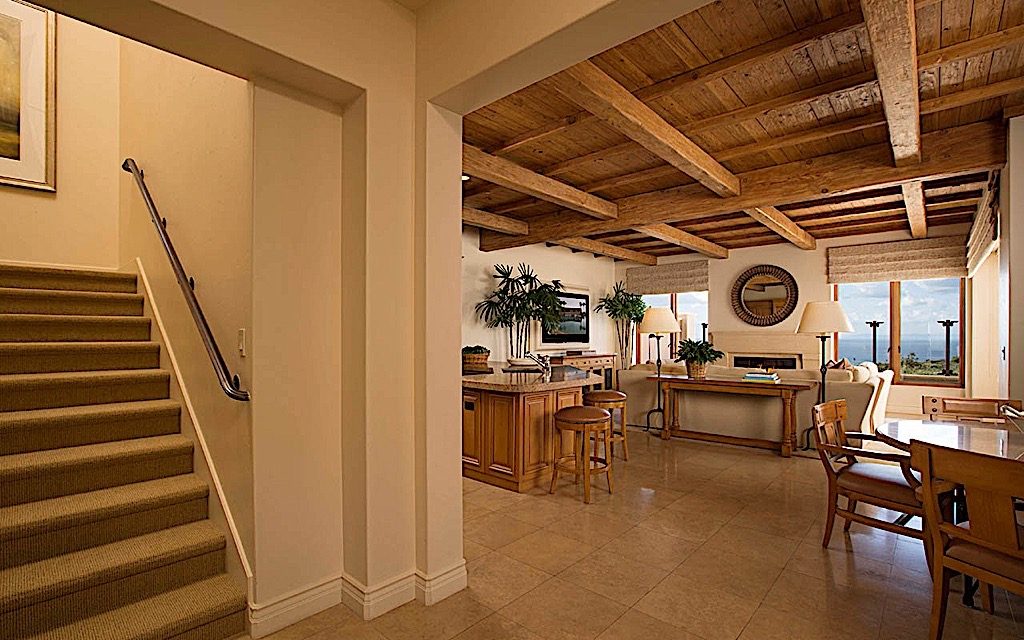 Open floor plan with adjoining kitchen and living room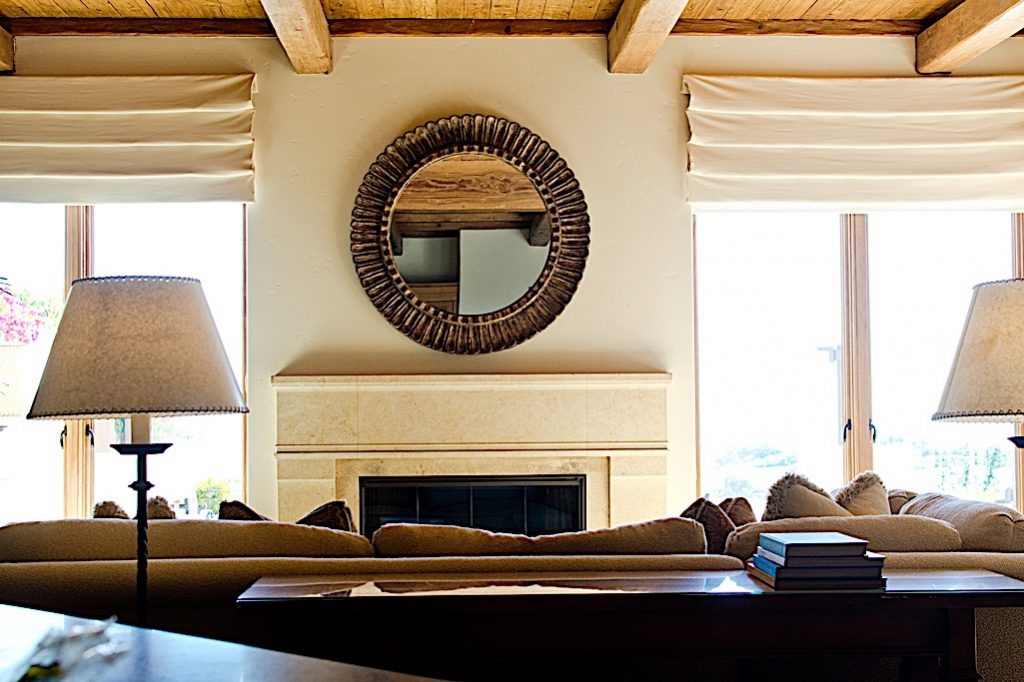 Plush sofas and limestone fireplace invite guests to comfort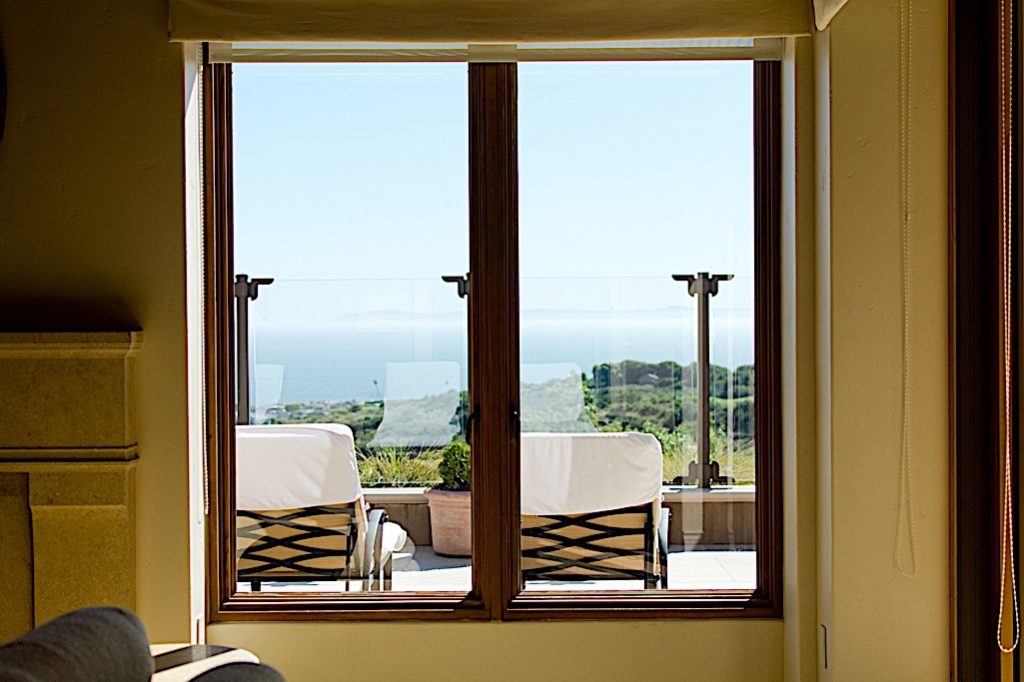 Living room view of the private terrace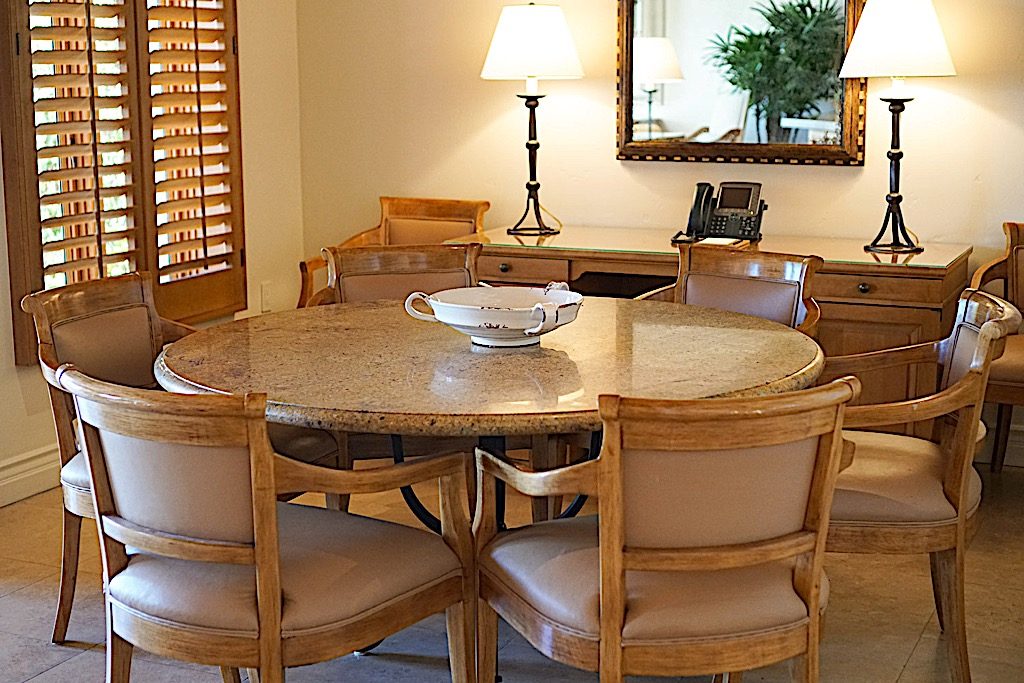 Formal dining room that can sit up to eight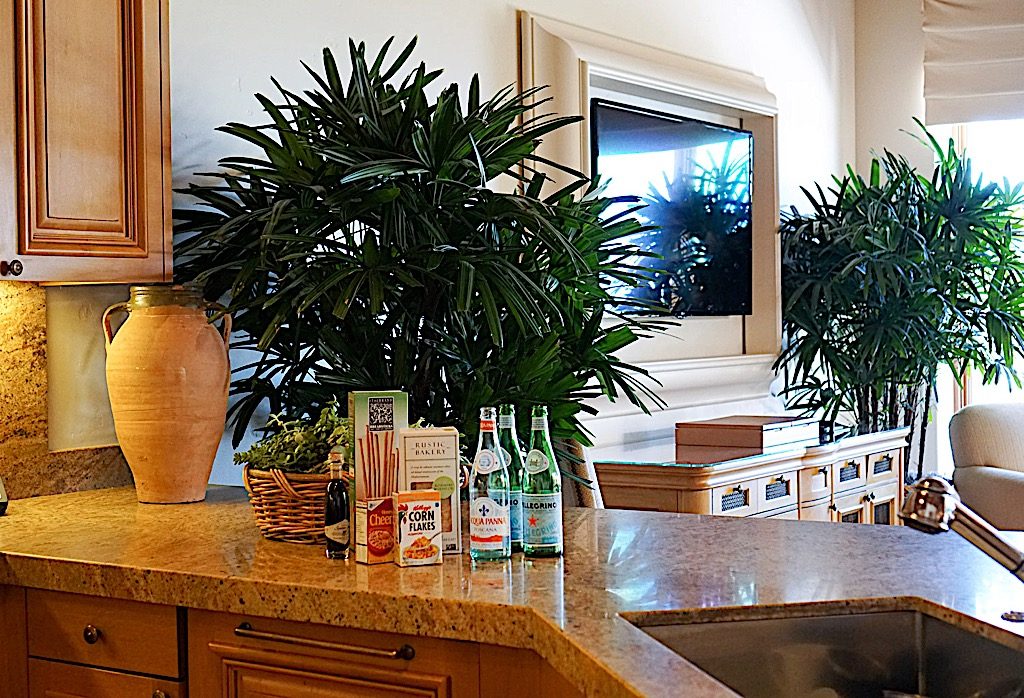 Gourmet kitchen with complimentary beverages and snacks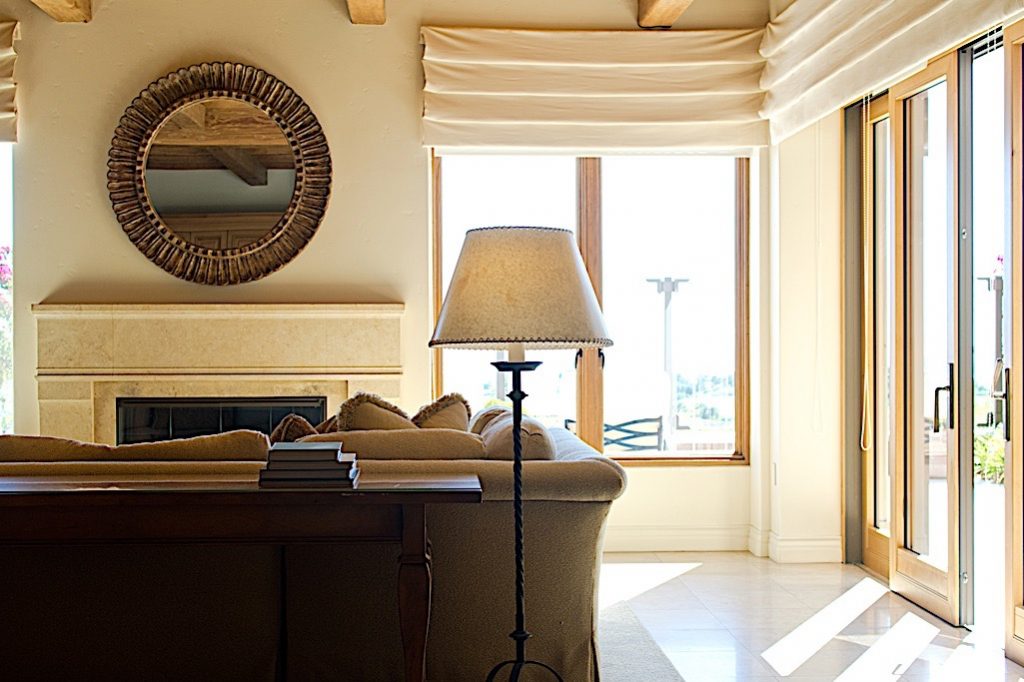 Living room access to the private terrace and ocean view

Private terrace views of the golf course and the Pacific Ocean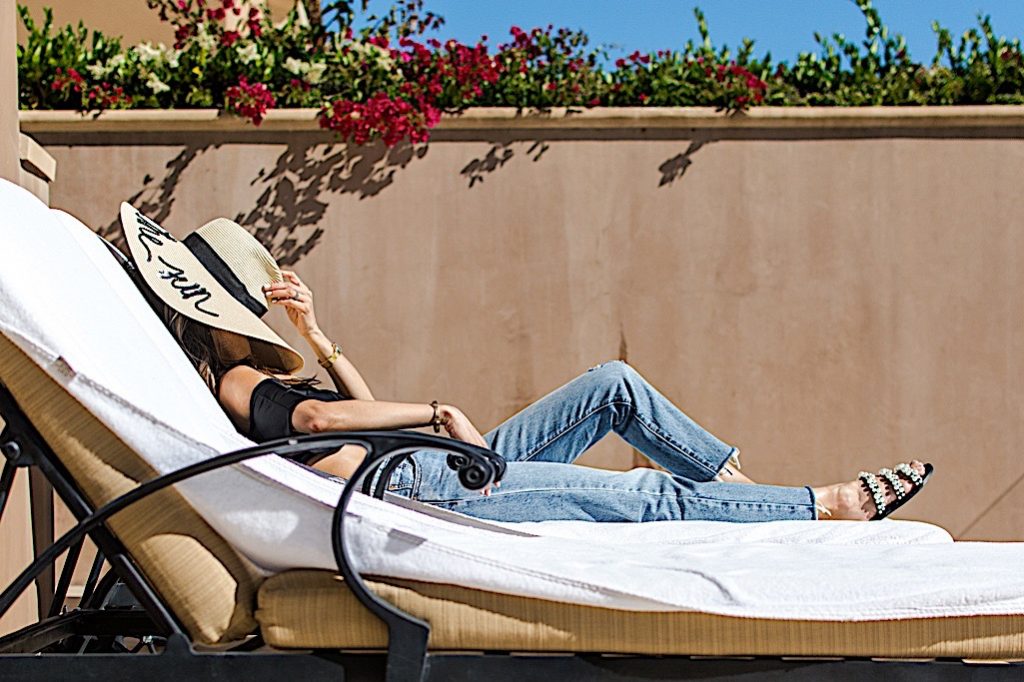 Hat: WhimThings | Swimsuit: Amazon | Jeans: Levi's | Shoes: Zara
/ DAY /
While each of our children could have easily escaped to their own bedrooms in the Villa to play iPad or watch TV, we gathered around the immense living room and gourmet kitchen to nibble on some of the prepared snacks from the Resort (thank you Butler Jesse) and drink from the well stocked fridge (including milk for the kids and beers for adults) and plan what we would do together. With plenty of options for the entire family (all succinctly summarized in the "Weekly Pelican Experiences" trifold in our Welcome Packet) from Camp Pelican, to the Coliseum Pool, the Spa, Crystal Cove, or a round of golf, we decided to head to the pool for some fun in the sun!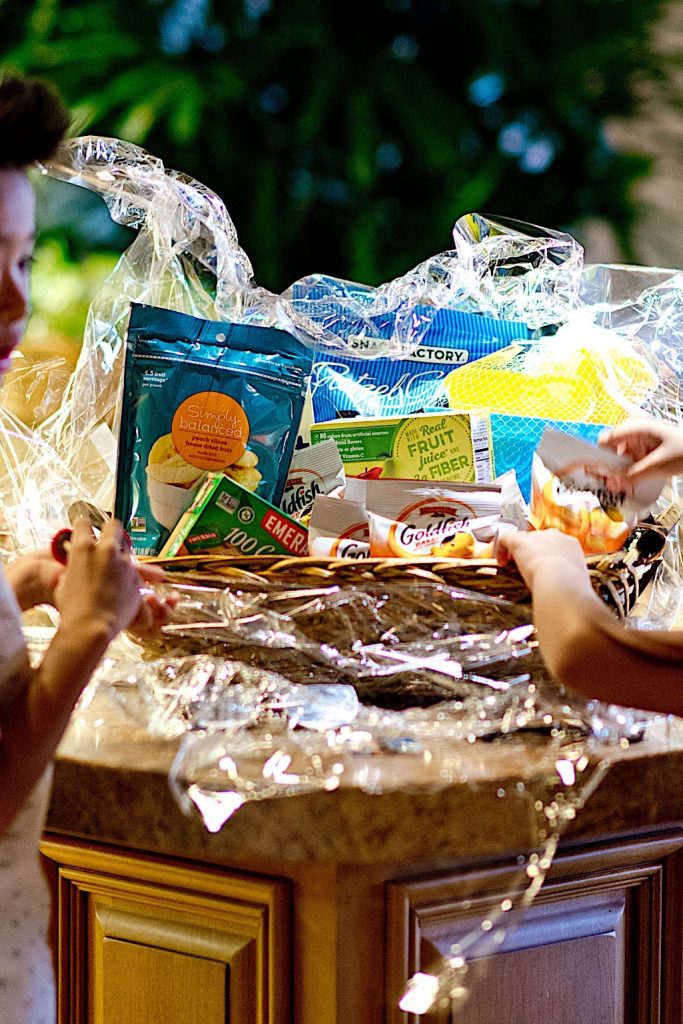 Excitement over the carefully curated welcome basket via Villa Private Concierge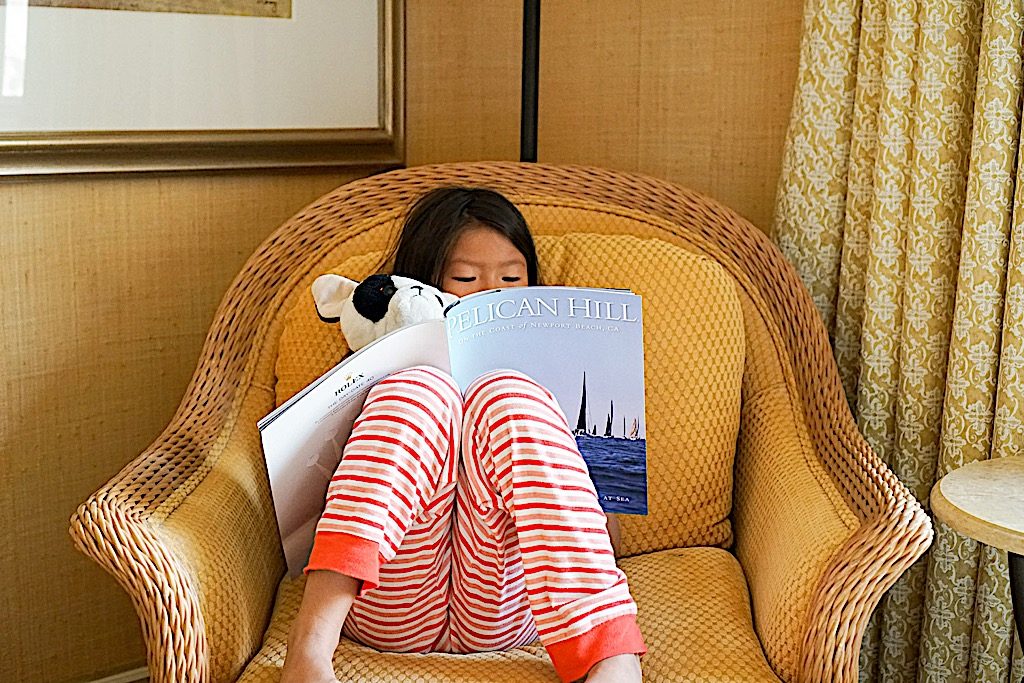 Making plans for the day
The Resort at Pelican Hill is probably most known for their iconic Coliseum Pool. Not only is it is one of the world's largest circular pools, the pool houses 1.1 million hand-cut mosaic glass tiles that were laid by hand! With its tiered decks and luxurious cabanas, guests are at a postcard-perfect location with views overlooking the Pacific Ocean and idealfor watching the breathtaking Californian sunset in the evening hours.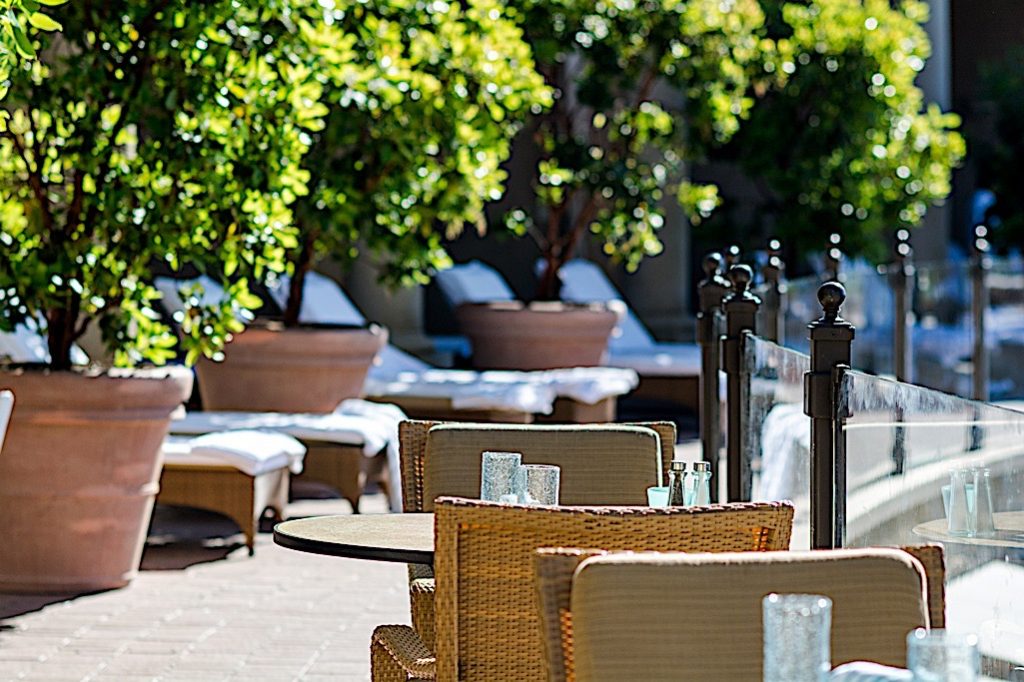 Coliseum Pool upper deck seating and cabanas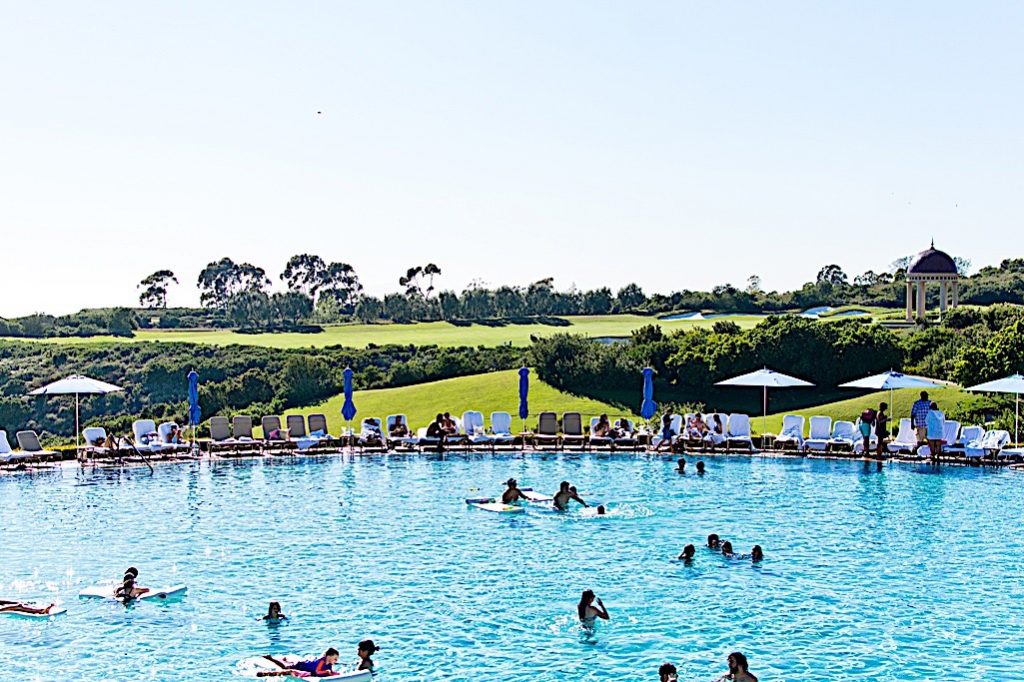 One of the world's largest circular pools

Double tiered decks line the Coliseum Pool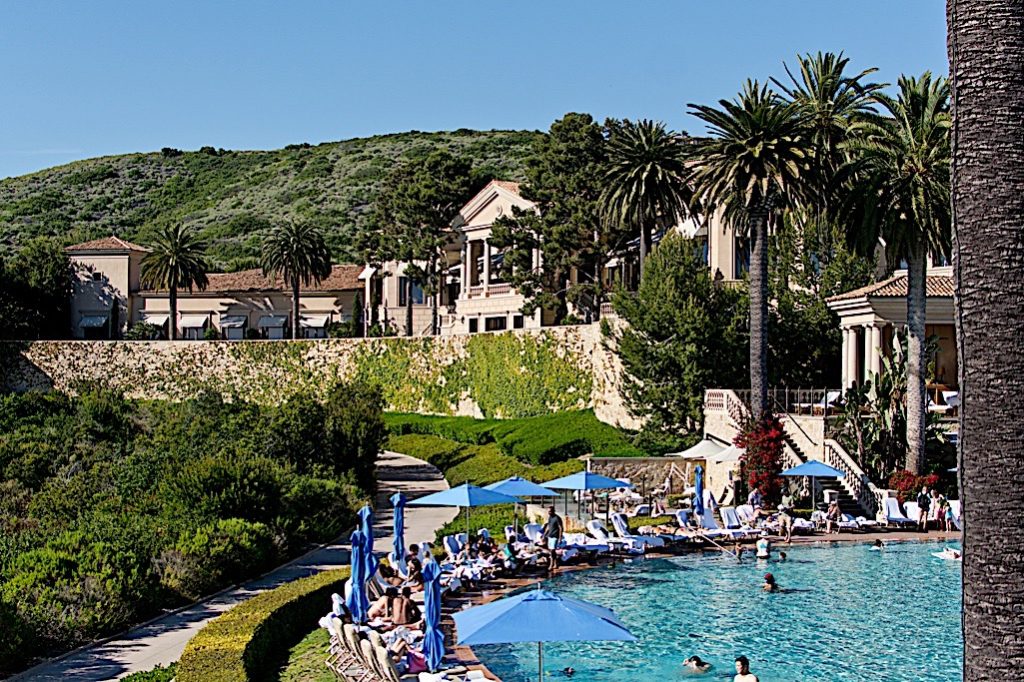 Breathtaking views of the Pallidian-inspired architecture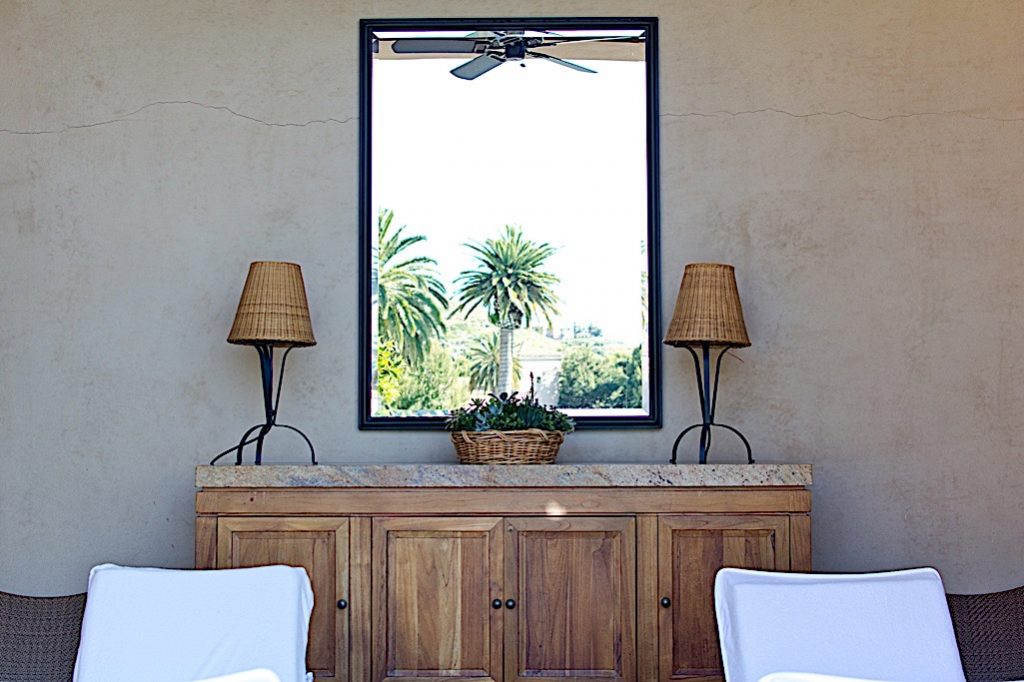 Private cabanas available at the Coliseum and Villa pools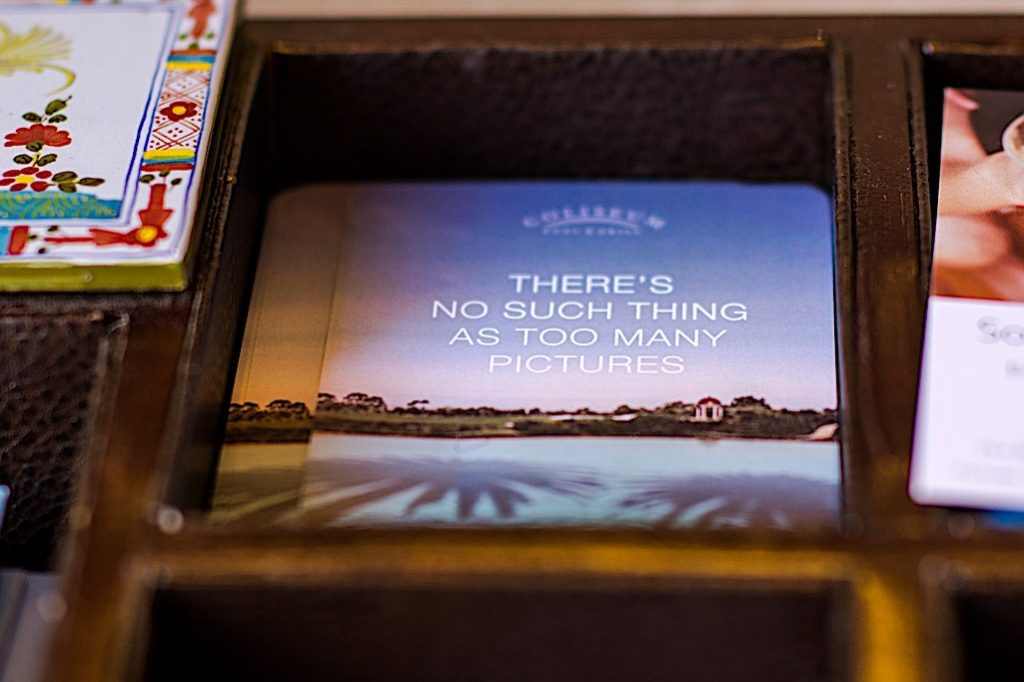 Picturesque views and memories to be captured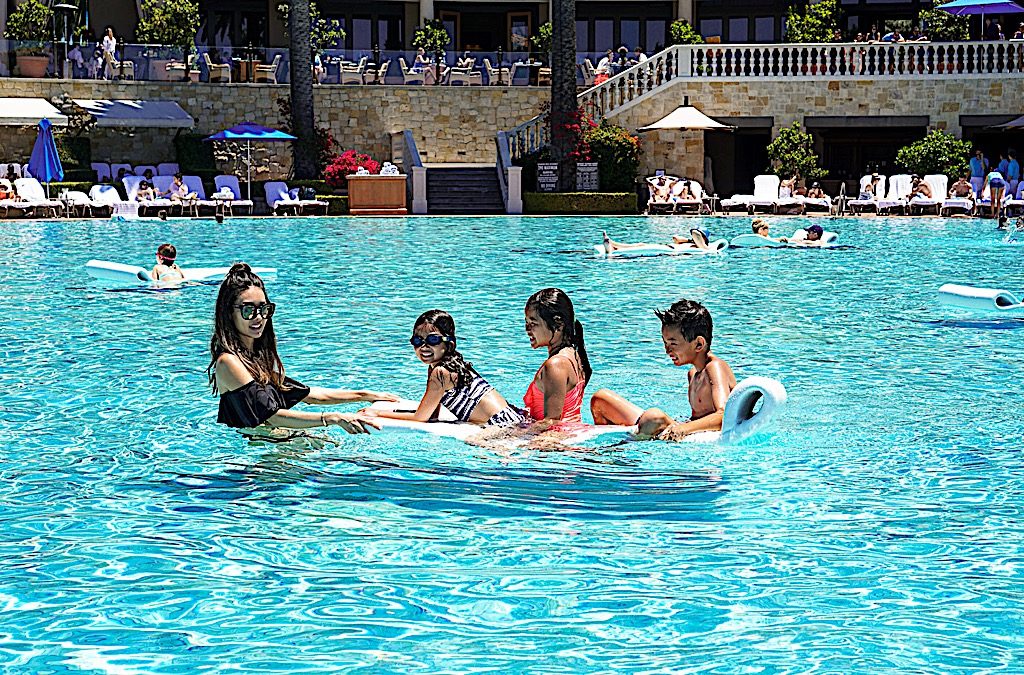 Coliseum Pool fun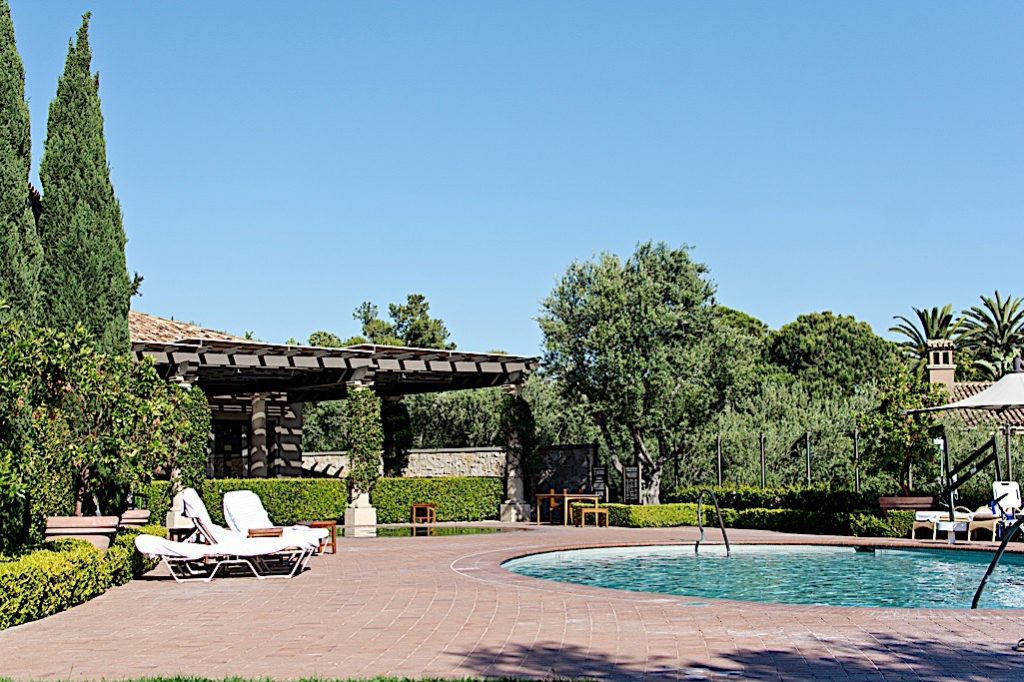 Separate kiddie pool for younger tots to enjoy some pool time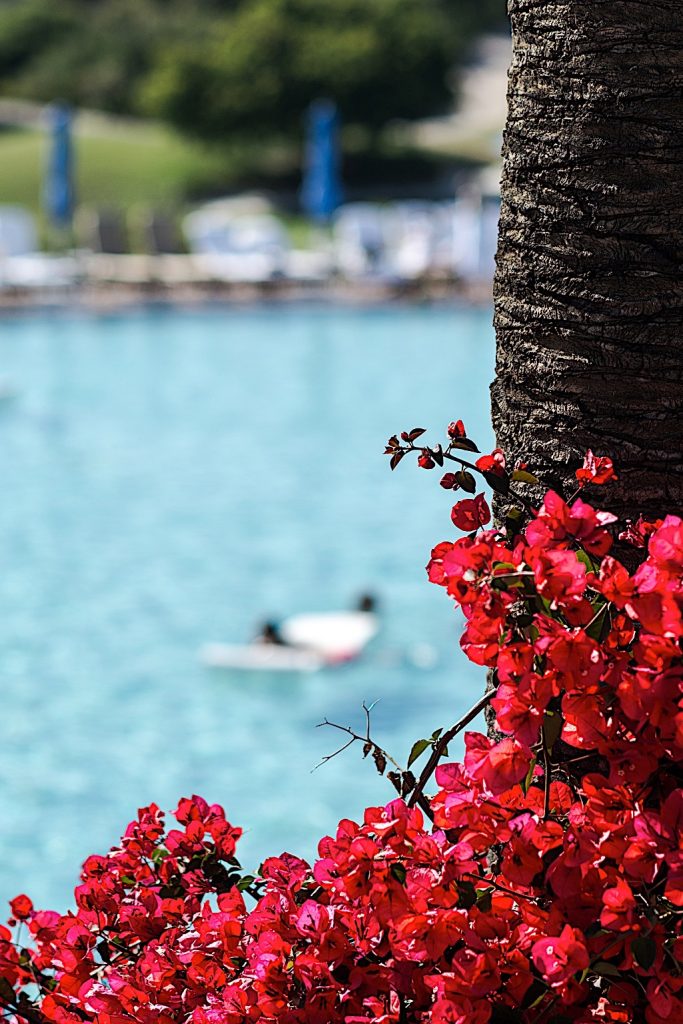 Beautiful plants and flowers line the entire property
What many guests don't know is that there is also another pool on the property. Exclusive to Villa guests only, the private Villa pool has all the luxury, staff and attention that the Coliseum Pool does, but on a more intimate scale. The pool is quite expansive for being just for the Villa guests and overlooks the Villas with a sprawling view of the ocean. This was actually our pool of choice not only because it was a short three minute walk from our Villa, but it was less crowded and the service was impeccable. When the kiddos weren't splashing in the pool, they were having foosball and ping pong tournaments off to the side of the pool. We loved not having to leave the Villa Clubhouse all day, enjoying lunch (hot dogs, burgers, and the best chicken tenders ever) poolside and also being able to rinse off in the spa-like showers in the bathrooms at the Villa Clubhouse. We literally spent the entire afternoon hanging out together at the pool laughing, splashing, little bit of fighting (let's be honest here), but making memories overall.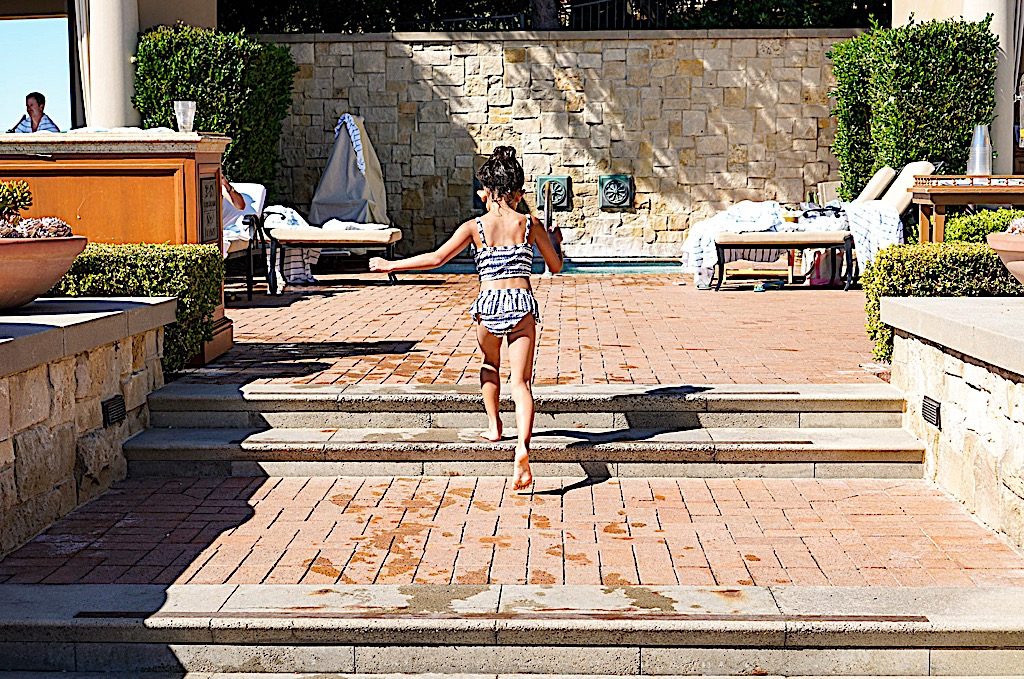 Follow me to the Villa pool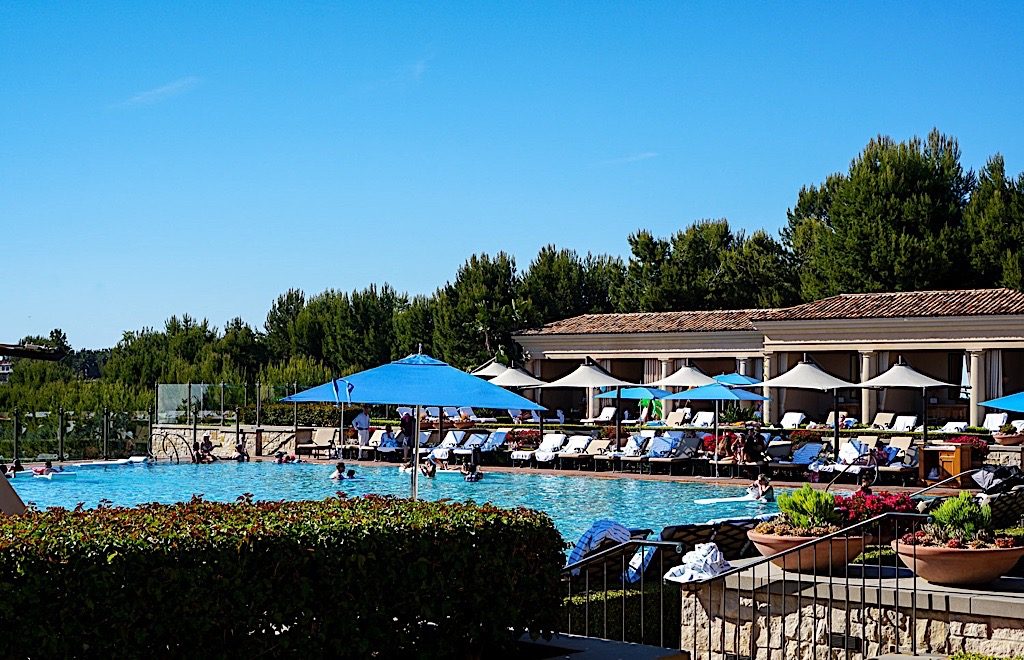 The exclusive Villa pool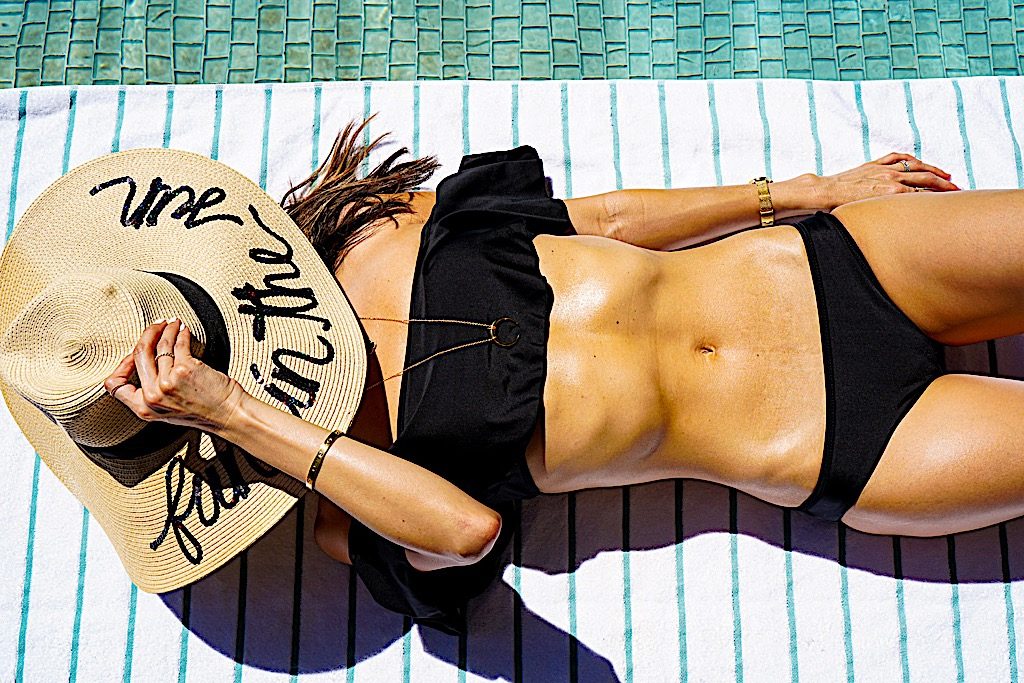 Fun in the sun, do not disturb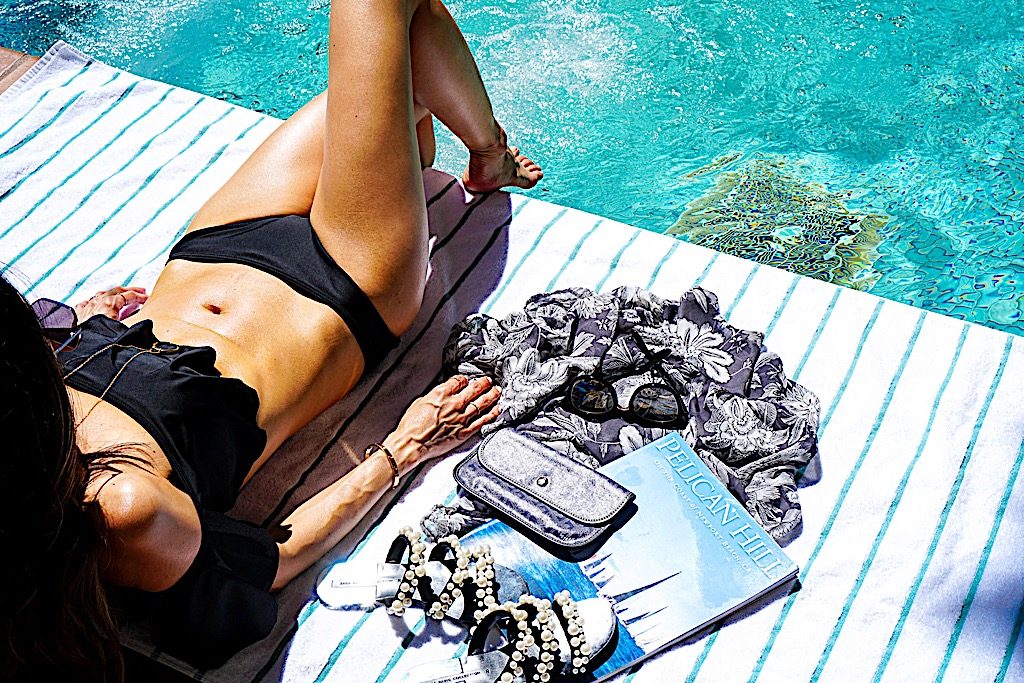 Hat: WhimThings | Swimsuit: Amazon | Sunglasses: Gentle Monster | Necklace: Gorjana | Shoes: Zara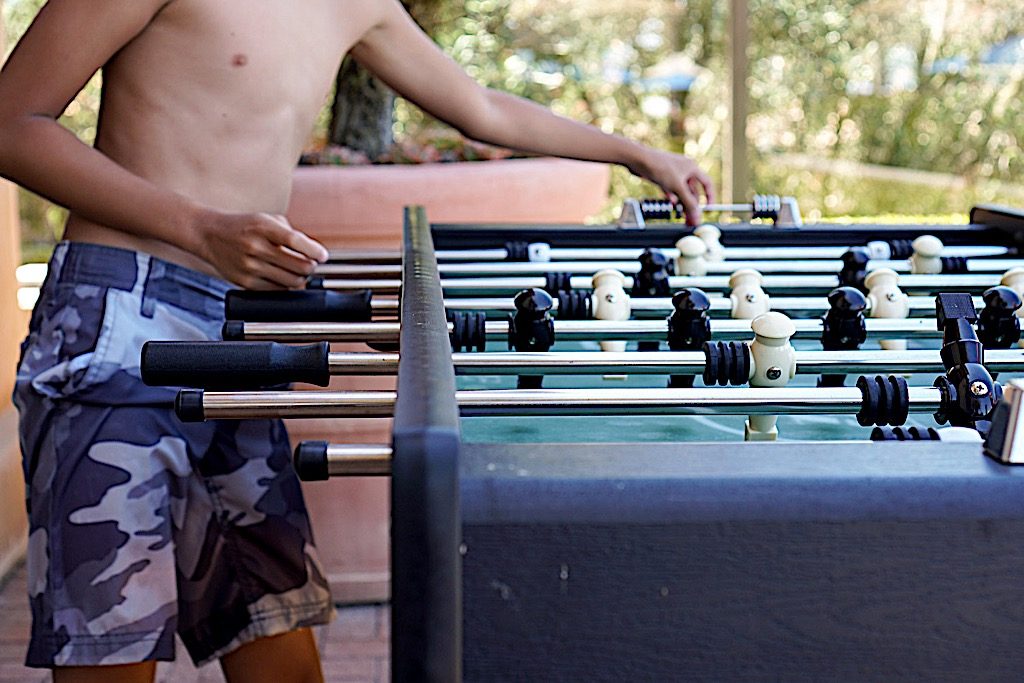 Foosball anyone?
/ EVENING /
Once our skins were bronzed with a golden tan, we called for a ride with our Butler in his Mercedes GL to the main Pelican Hill entrance and took a family stroll among the expansive property. Our conversation led to what we were grateful for and our summer plans. Needless to say, just after one day of being at the Resort, the kids were anxious to return again next month to take full advantage of Camp Pelican which offers incredible youth activities all day long and of course the pools. For a quick pre-dinner treat, I enjoyed the best iced honey latte at the Caffe & Market while the kids indulged in the Resort-made gelato. Live music filled the Great Room Social Lounge around 5PM where we relaxed before dinner and enjoyed handcrafted cocktails for just $5! The kids even danced to the live band who kept the guests entertained with their amazing covers.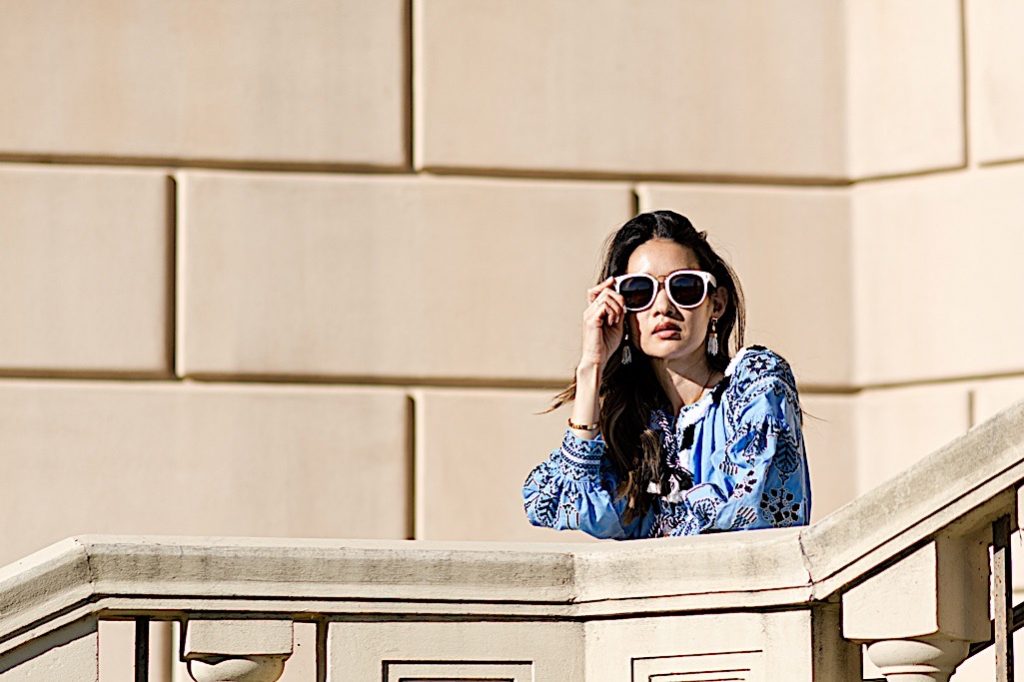 Staring out at the gorgeous views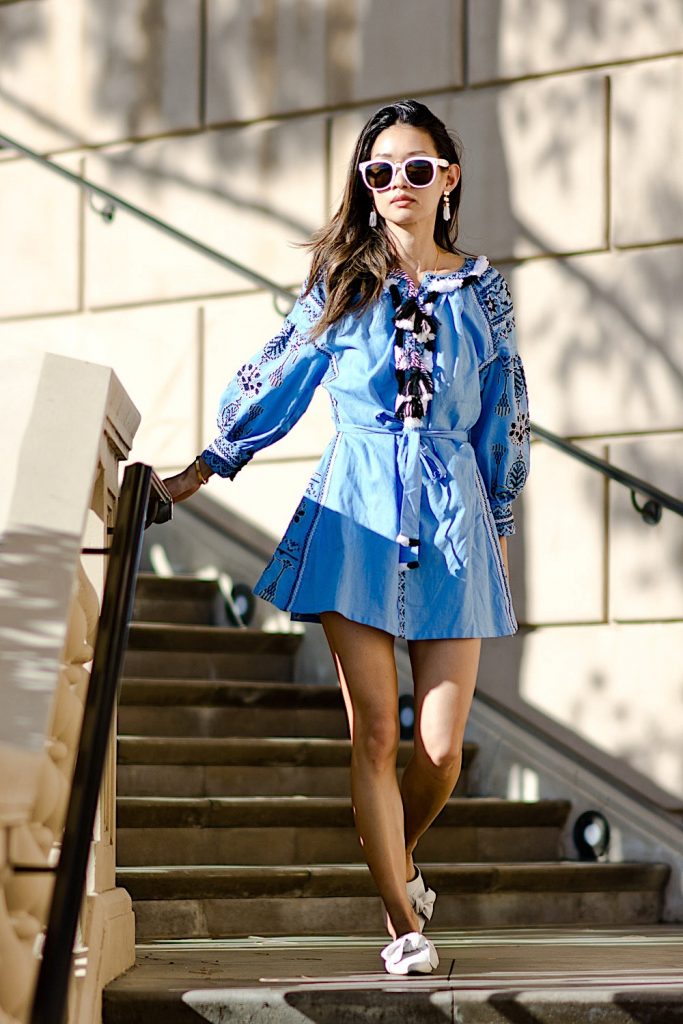 Dress: Minusey | Shoes: TopShop | Sunglasses: Illesteva | Earrings: Bauble Bar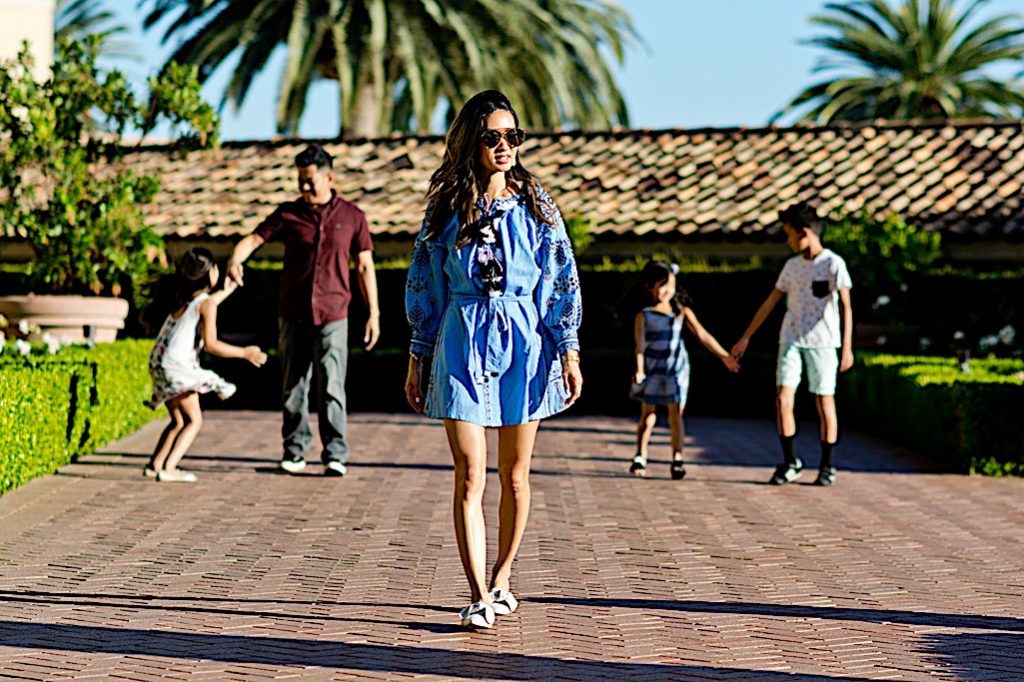 Family stroll to explore every inch of the Resort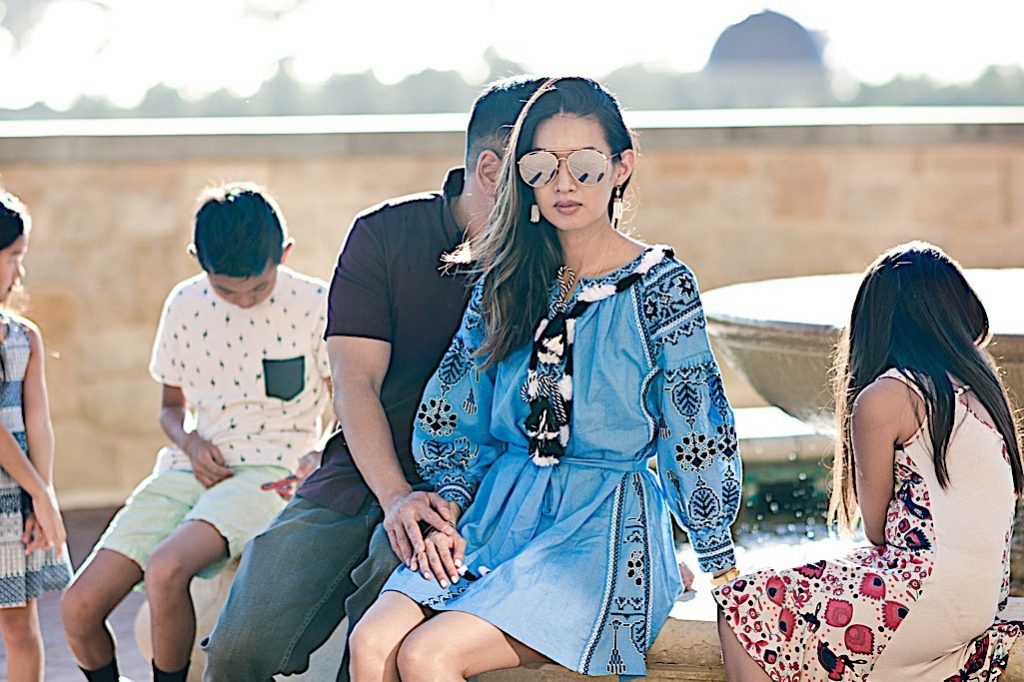 One of many beautiful fountains on the Resort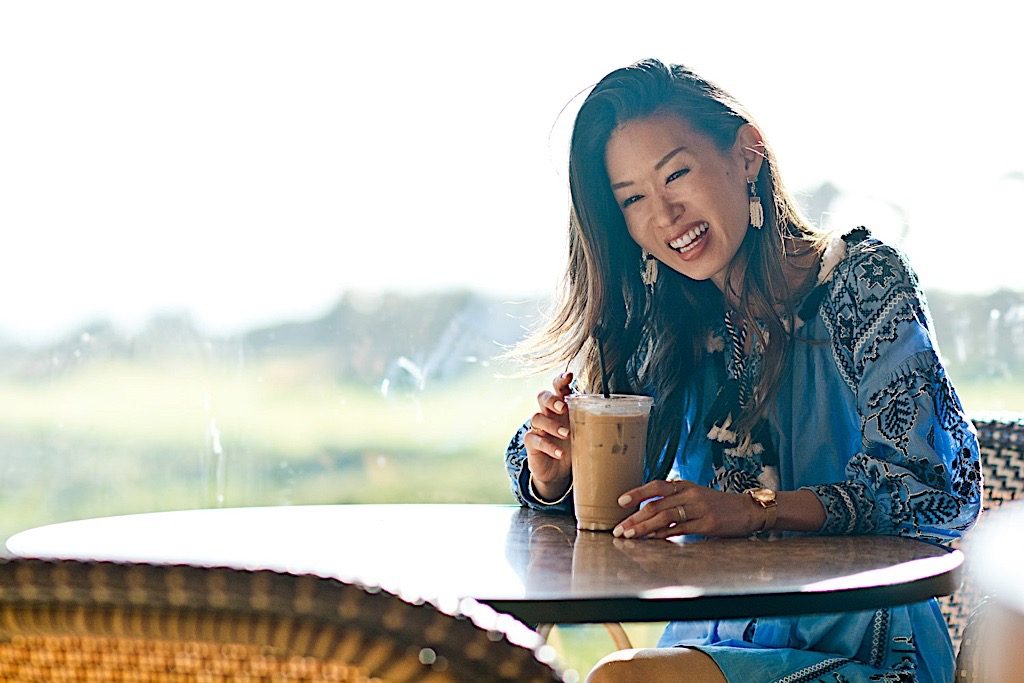 A latte and some laughs at the Caffe & Market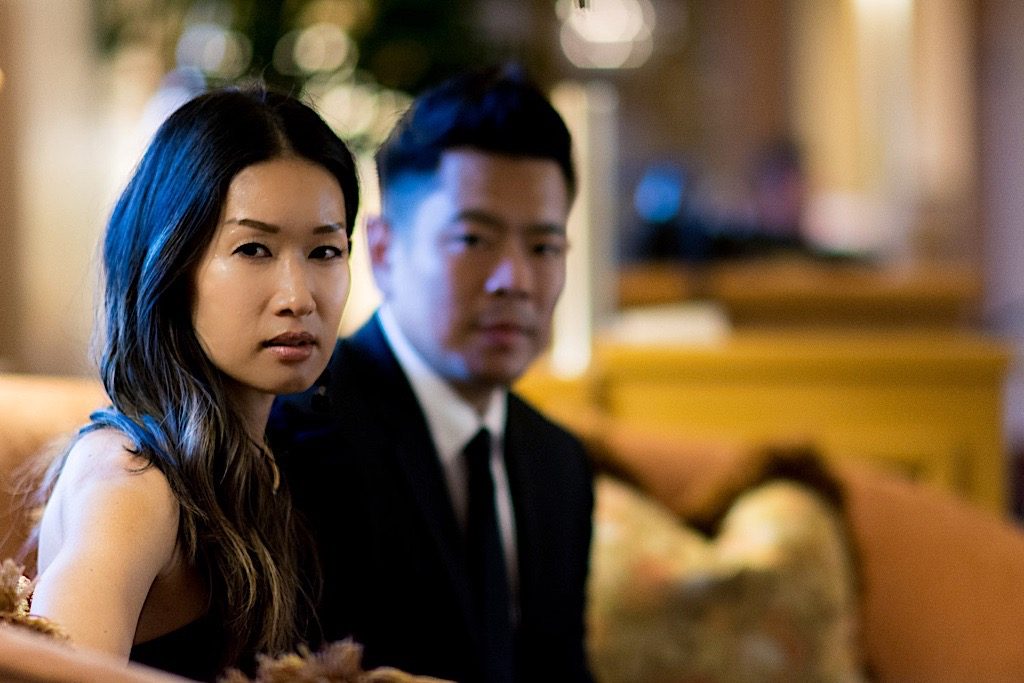 Enjoying the live band in the Great Room Social Lounge
Tired from the day's festivities, we headed back to our Villa. There is just something about relaxing back in your spacious Villa and unwinding to a bottle of wine, conversation and laughter without worrying about kids running around or getting bored while the adults talk that is so nice during a vacation. We ordered in for dinner and the gourmet kitchen had everything we needed to have a family style meal from plates to silverware to even cooking supplies (but since we were on vacation there will be no cooking). We enjoyed our dinner while watching the sunset over the ocean from our terrace.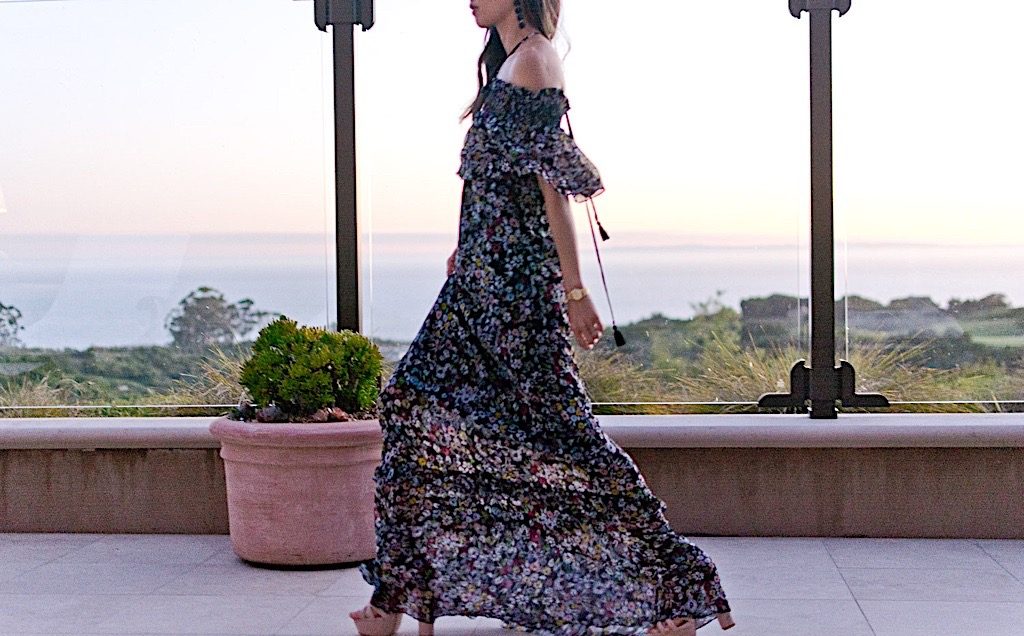 Dress: Rebecca Minkoff | Earrings: Bauble Bar | Watch: Cluse | Shoes: Saint Laurent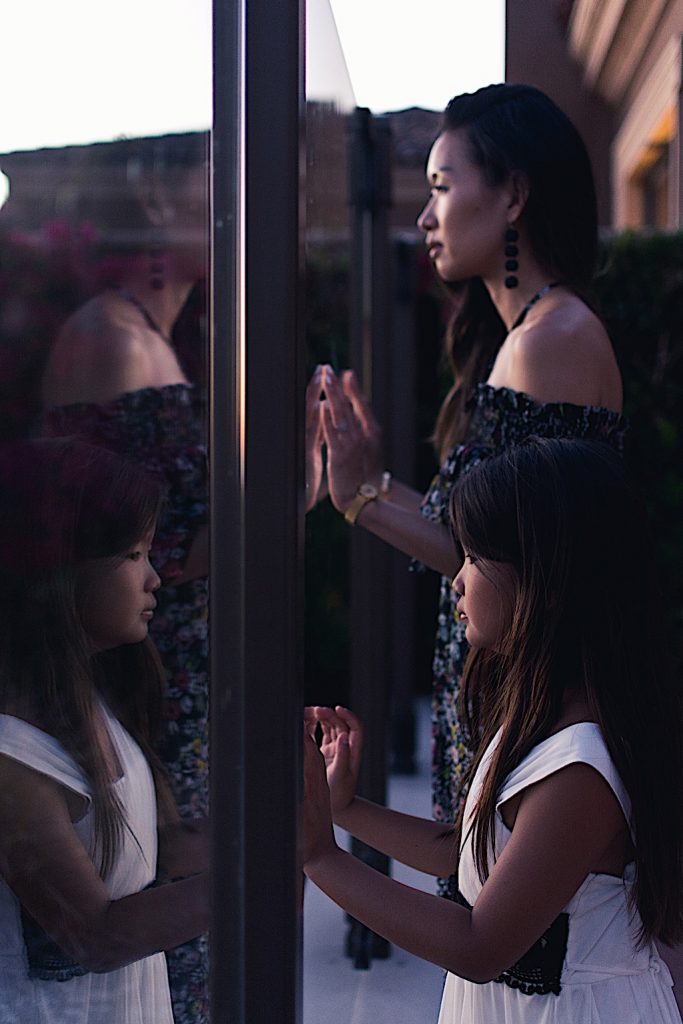 Catching the last sunlight on the private terrace
We retired to bedrooms (still shocked that we each got our own room) and slept soundly on the plush but firm mattresses and pillows as we snuggled in the cozy, plush comforter and sheets. You can only imagine the dreams we conceived for the excitement of another day filled our heads.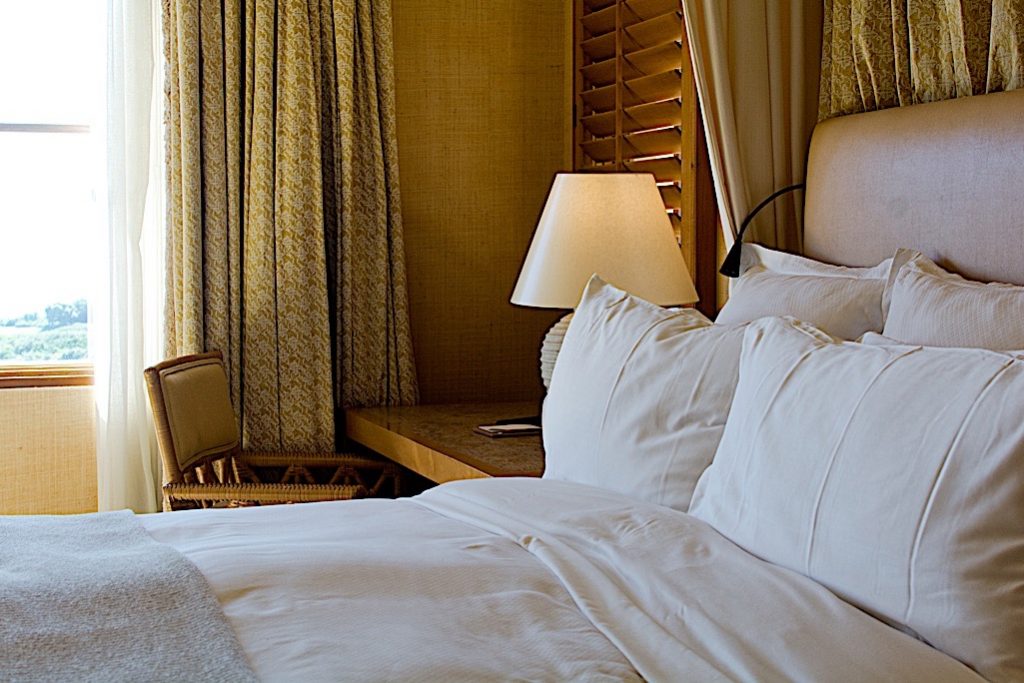 Luxurious mattresses and bedding in all of the bedrooms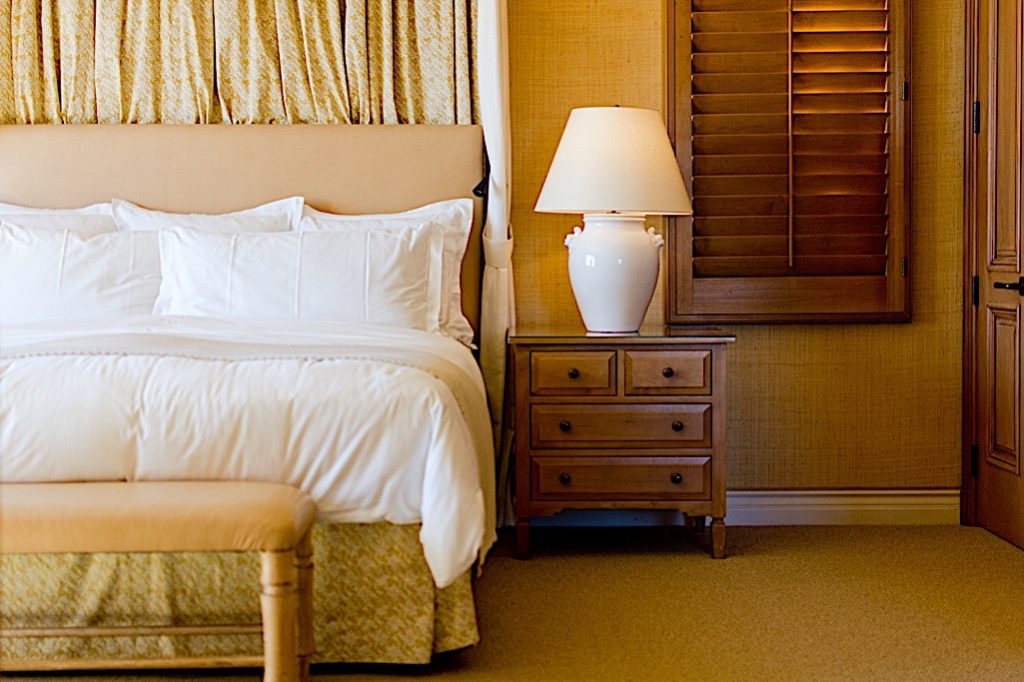 Upstairs master bedroom

Ocean view from upstairs master bedroom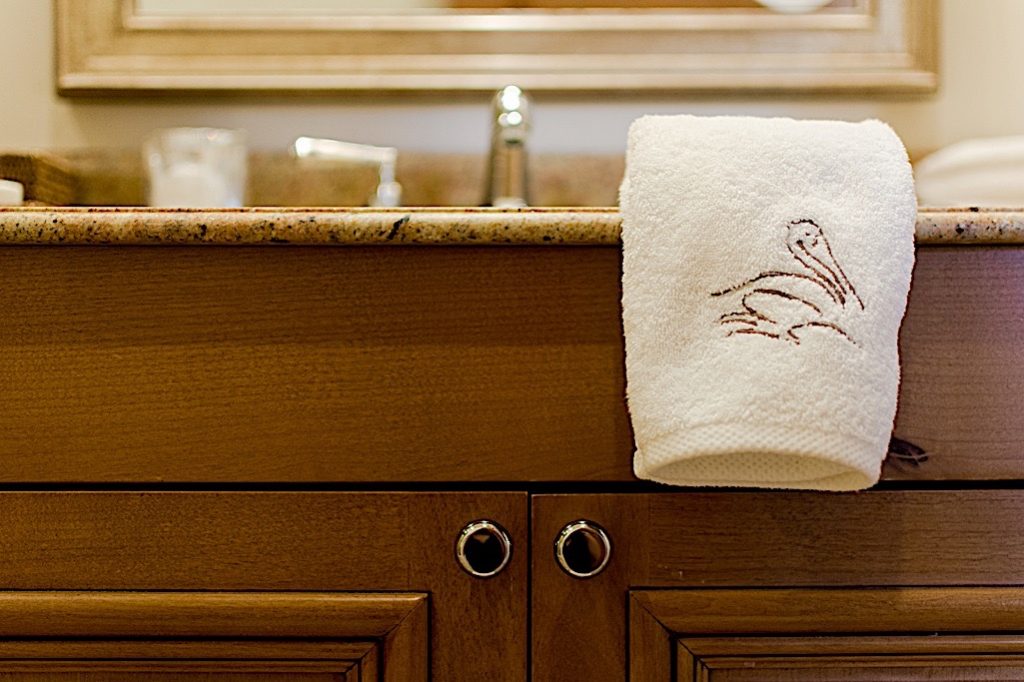 Master bathroom double vanities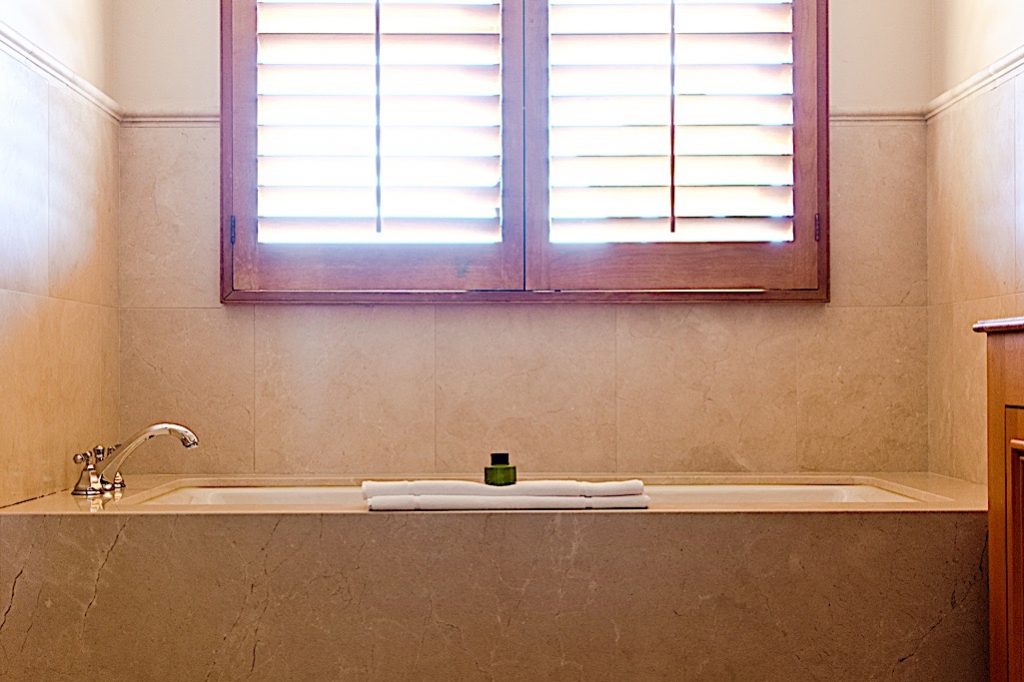 Master bathroom marble soaking tub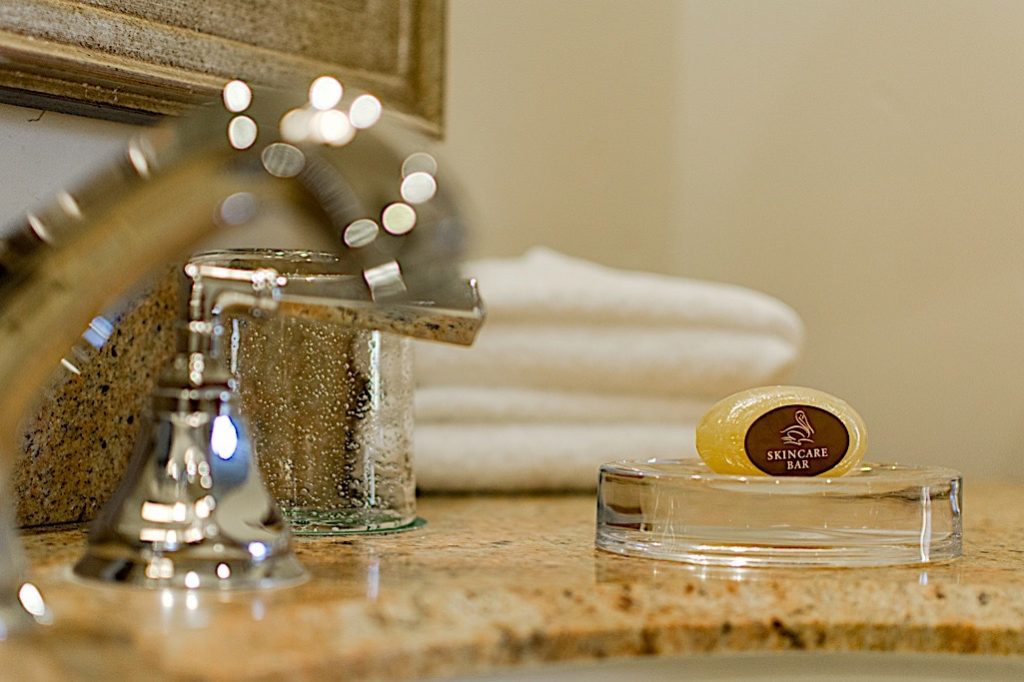 Bathroom amenities from The Spa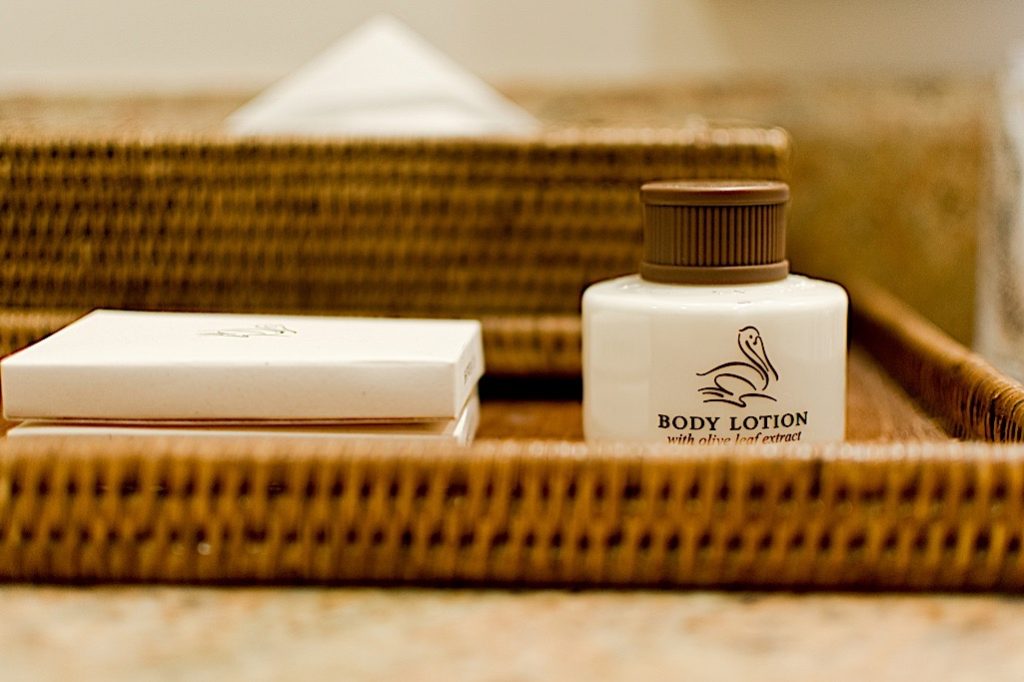 Bathroom toiletries including dental kit, shoe mitt, and shower cap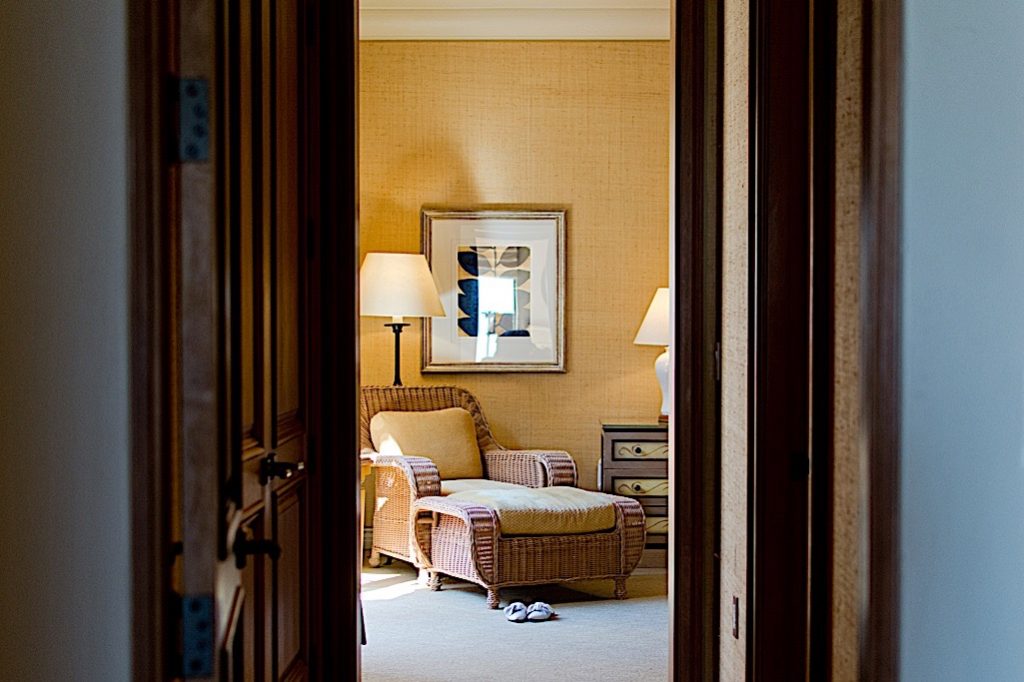 Downstairs master bedroom with separate entrance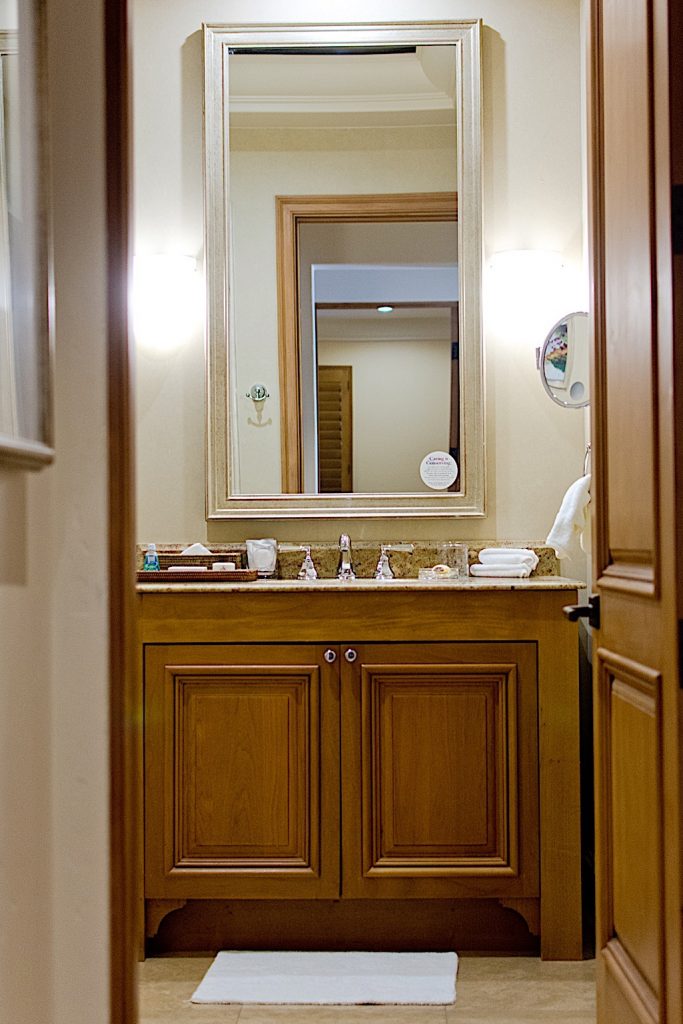 Downstairs guest bathroom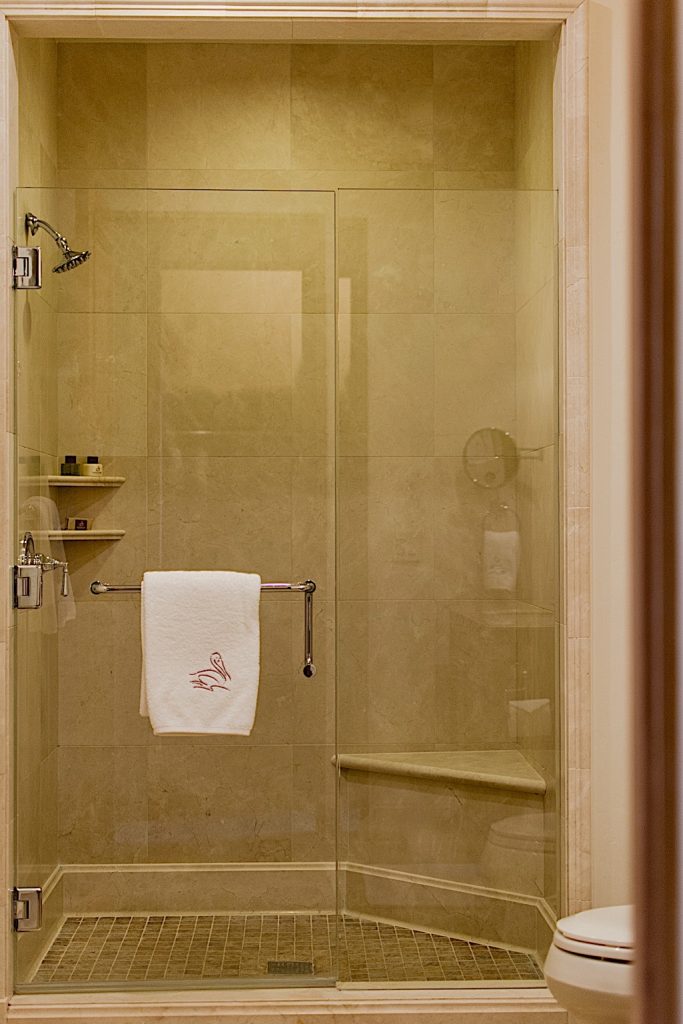 Guest bathroom with shower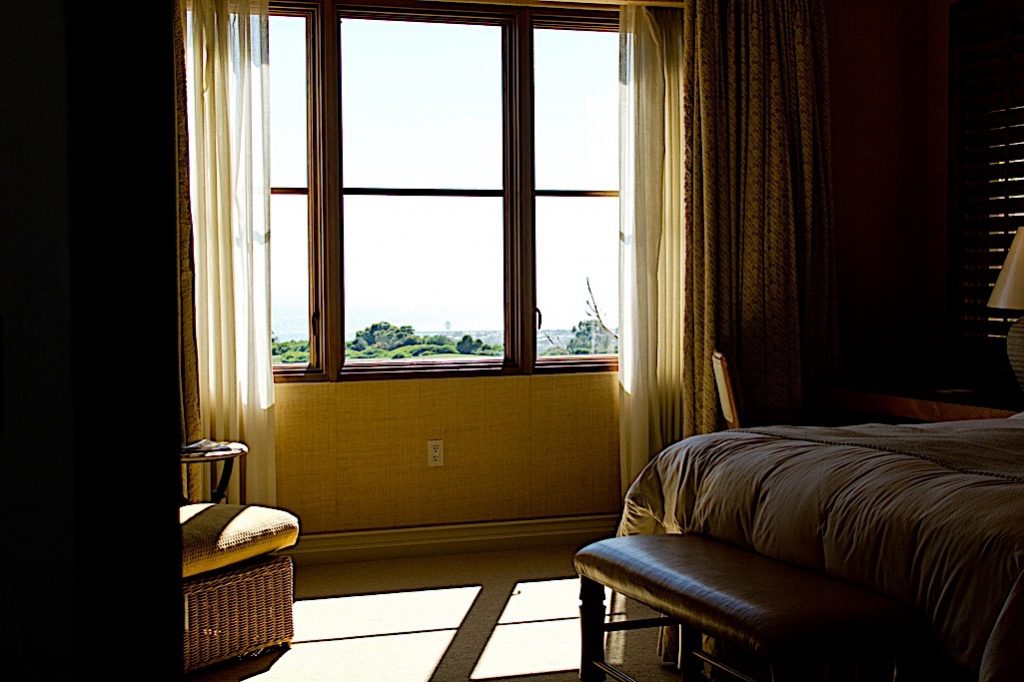 All bedrooms have a writing desk and chaise for extra room and comfort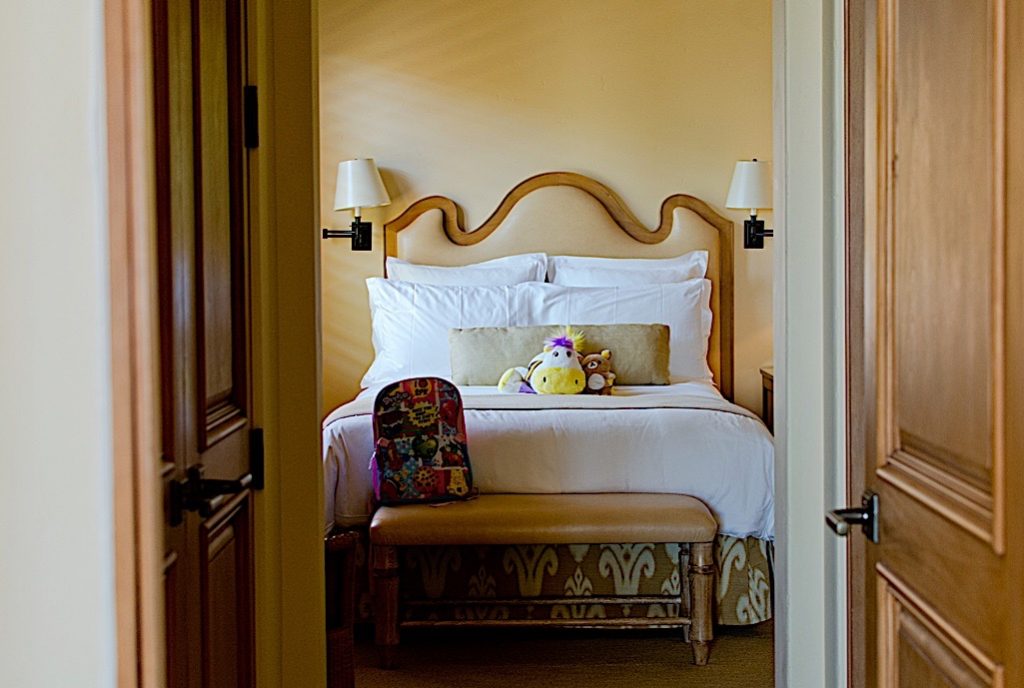 Kid's double queen room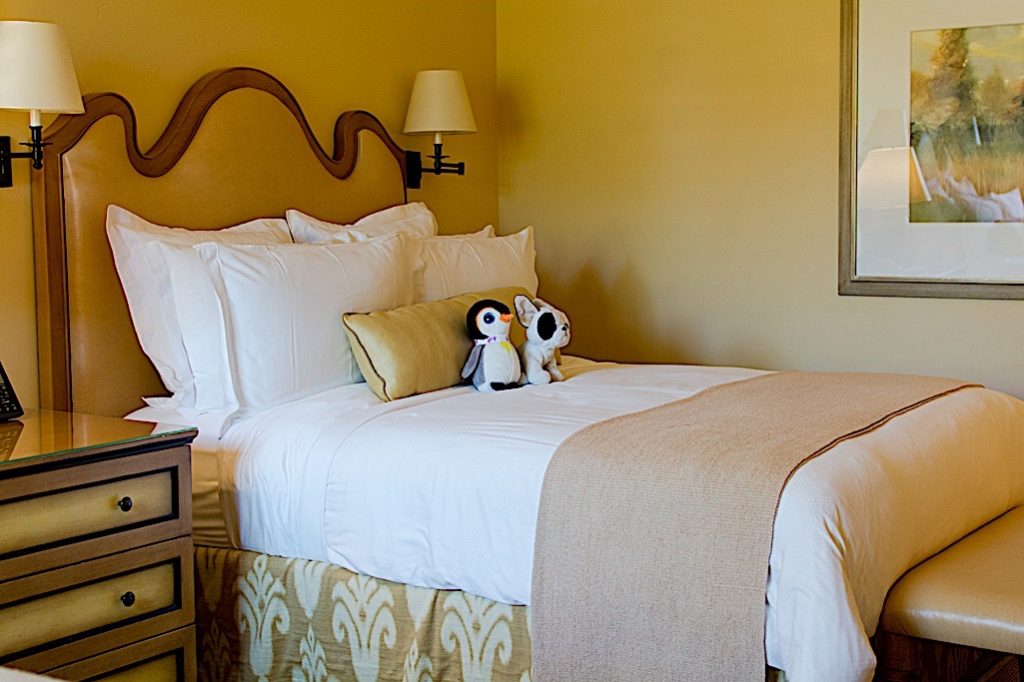 Kid's double queen room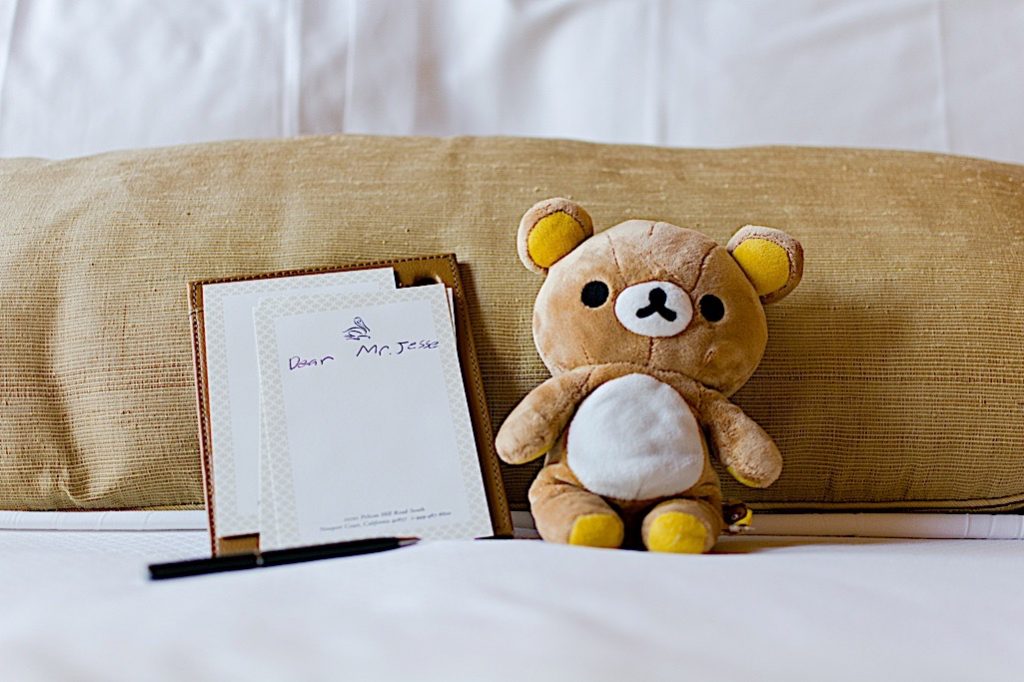 Note from my daughter to our Butler Jesse
/ MORNING /
Gorgeous natural light filled the living room of the Villa as we woke up to the remarkable views of the ocean and sounds of chirping birds. With a hot Nespresso in hand, we lingered outside in our plush robes on the terrace taking time to just appreciate it all. Being outdoors and seeing such a stunning view helps to fill your heart with gratitude, appreciate the present moment, completely savor the experience, and starts the morning off on a positive note.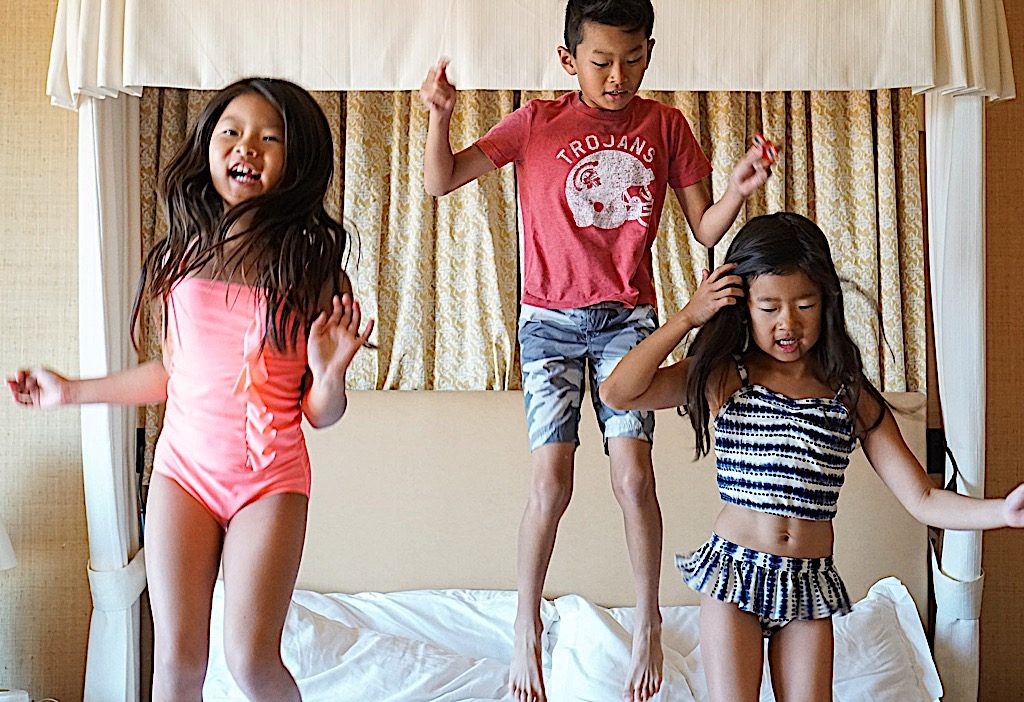 Morning shenanigans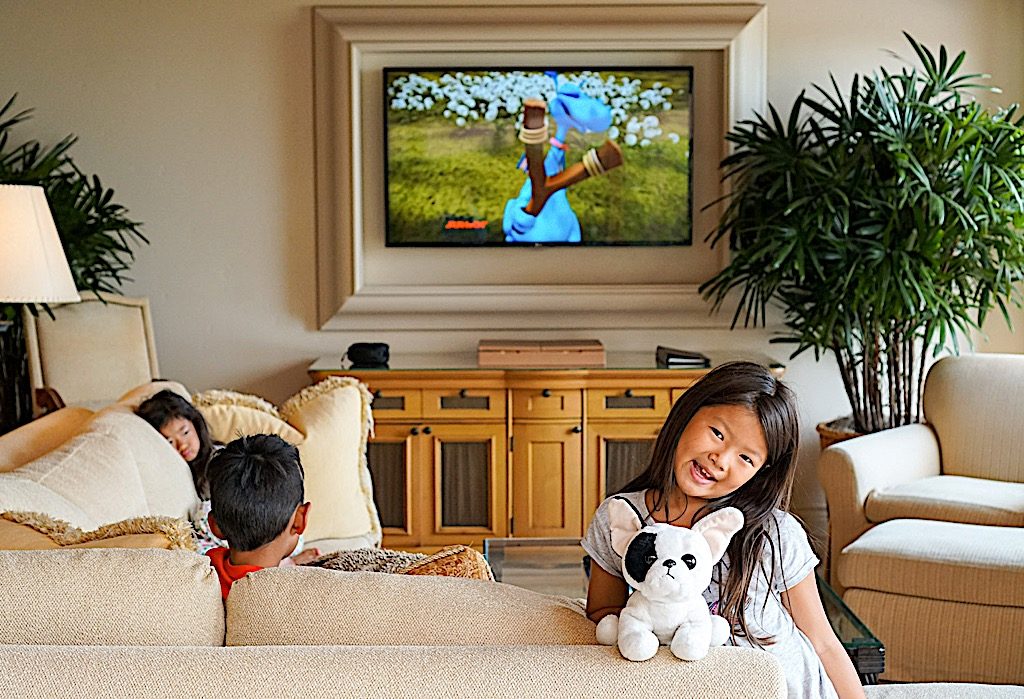 Sunday morning cartoons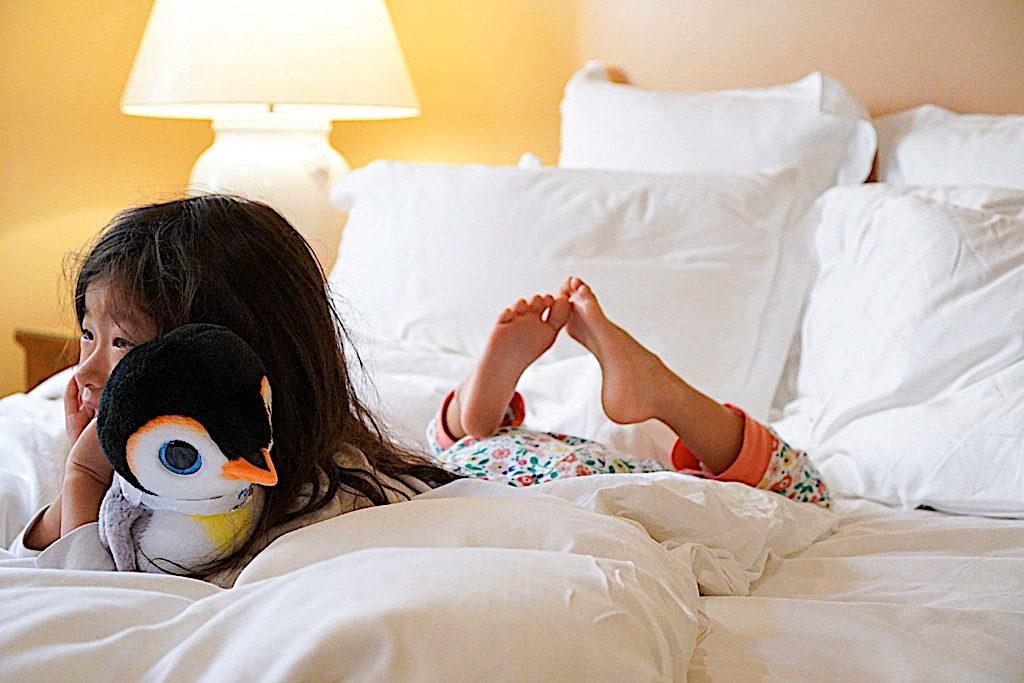 Comfy beds = more time for snuggles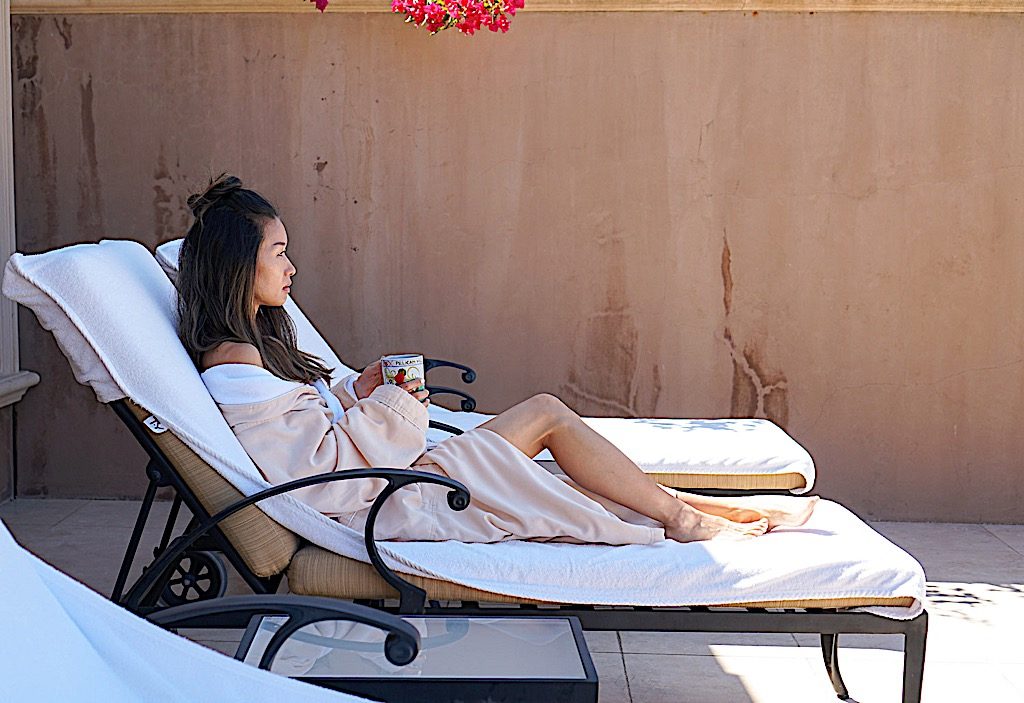 Taking time to appreciate it all
Our check-out time was 12PM, however, the Resort allows their guests to use their facilities the entire day even after you have checked out. You'd better believe the kids would not let us leave the property without a fight. So we didn't put up a fight. I mean, another day at this breathtaking resort, who are we to argue? While we could have picked any of the numerous activities going on that day at the Resort, the kids were just as excited to go back to the pool as they were the day before. So we repeated the previous day's events but it was even better. This staycation was exactly what our family needed to rediscover the joy of pure relaxation and quality time together in unparalleled comfort and space at the Resort.
The Resort at Pelican Hill is truly the ideal location to enjoy the best of everything Southern California has to offer. From daily activities to amazing dining and proximity to major theme parks, shopping and museums, it is THE luxury family destination to book.
/ ACTIVITIES /
Pelican Hill Golf Club (36 holes)
The Spa at Pelican Hill (16 years old and up)
Fitness & Wellness Classes (from Zumba, to hikes, to Boot Camp, to Yoga)
Camp Pelican (4-12 years and 13-17 years)
Coliseum Pool
Villa Pool (exclusive to Villa guests)
Crystal Cove State Park and Beach (complimentary coach service from Resort)
Fashion Island
Crystal Cove Shopping Center
Close to Disneyland, Knott's Berry Farm, Legoland, San Diego Zoo
/ DINING /
Caffe & Market
Great Room Social Lounge (cocktails, Tea Modern, Social Hour on Fridays and Saturdays only, live music)
Andrea Ristorante (lunch, dinner)
Coliseum Pool & Grill (breakfast, lunch, dinner)
Pelican Grill (lunch, dinner, live band)
Villa Club (breakfast, lunch)
Piccolo (dinner)
Southern California has its fair share of breathtaking resorts, but none feel quite as luxurious yet family friendly as the Villas at The Resort at Pelican Hill. From the resort lobby, smiling service, the manicured golf course to private terraces and shimmery Pacific Ocean views, the memories you make here will be passed down from generation to generation.
Throughout our entire staycation, not one rushed comment was made. They were replaced with, "Take your time." "Sure, I can do it right now." "Let's play again." "I'm glad we did this." "I love family time." And that my friends, is a sign of a vacation well spent.
The Resort at Pelican Hill
22701 Pelican Hill Road South
Newport Coast, California 92657
949.467.6800
With holidays and summer right around the corner, make sure you check here for information on special packages.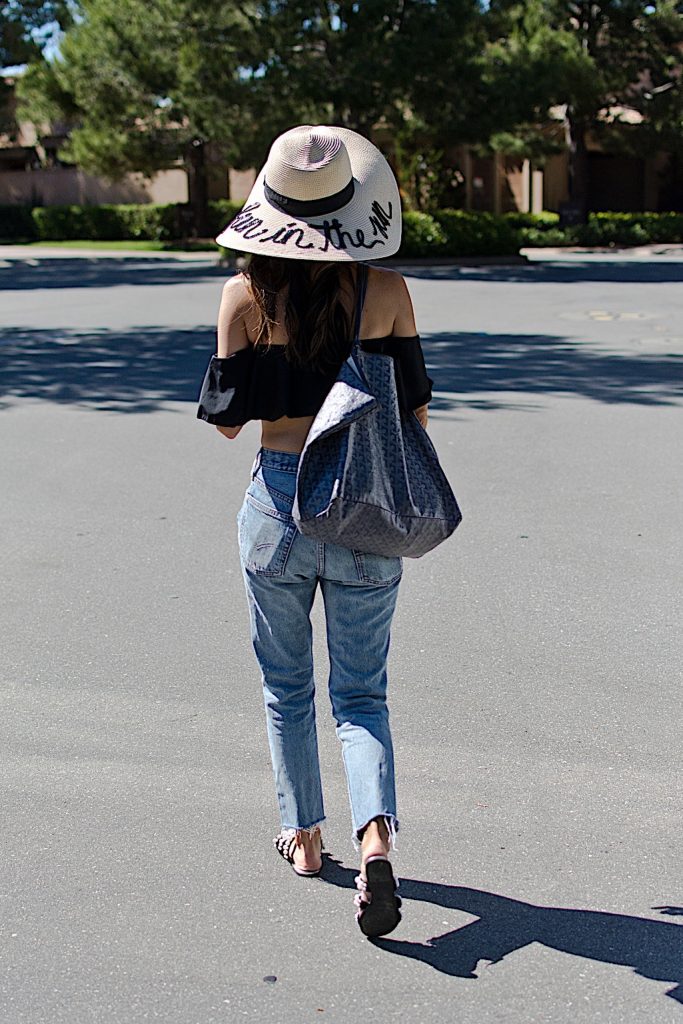 We'll be back soon!
Thank you to The Resort at Pelican Hill for sponsoring our incredible family staycation and helping us make memories to last a lifetime.
Photos by Lisa Chen