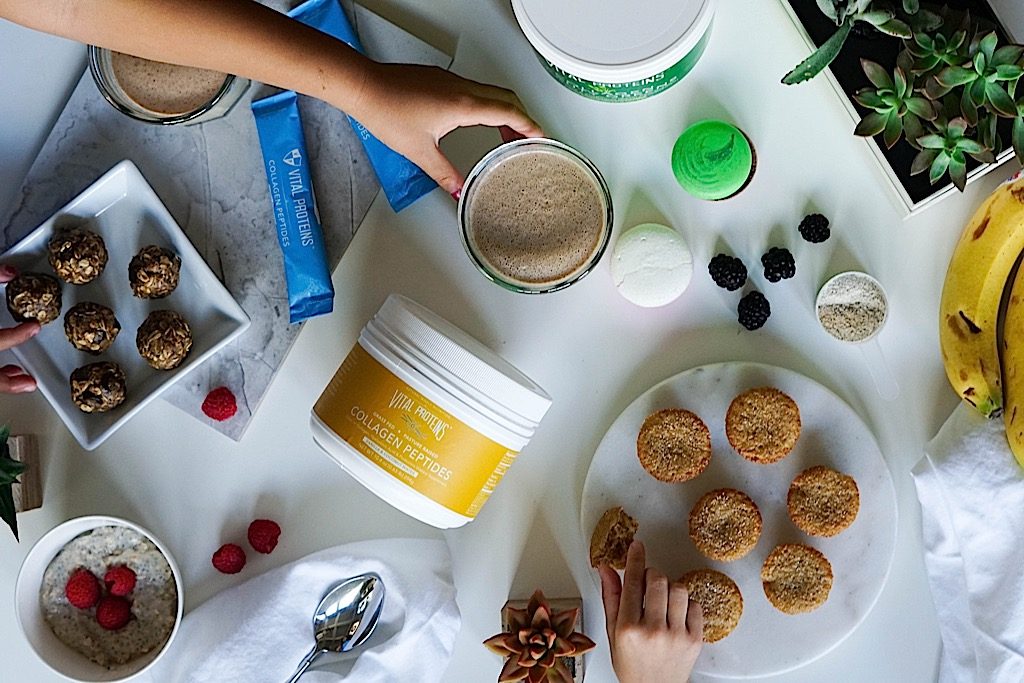 With December halfway over, it's hard not to think of starting a new year and the resolutions I will make for 2017. I am quite certain that I am not alone in listing "getting healthy" as one of my resolutions. It seems that every year we all strive to better ourselves, but more importantly we want to be healthy whether that means exercising, cutting out sugar, reducing stress, or eating better.
There is an ongoing debate on which will give you better results – diet vs. exercise. I think a combination of both will yield optimal results, however, to be honest, these days I barely have time to get a consistent workout in. While I wish I had the time to hit the gym 3-4x a week, realistically it doesn't happen. But what I can control and be consistent with is my diet and the foods I eat and what goes into my body.
I strive to eat balanced meals throughout the day and get my daily intake of fruits and vegetables, however, it is difficult to get everything I need just from meals alone. As a woman who is frightful of aging and losing collagen, I rely on my daily intake of collagen from Vital Proteins.
If you have been following me for a while, you know I am pretty much obsessed with Vital Proteins. I was first introduced to these products this past summer and have been using it daily ever since. I've done several blog posts on their products like the Beauty Greens and the Collagen Peptides, and I say this with complete and utter honesty, I would not be using or promoting these products if I did not truly believe in them or use them myself.
So when Vital Proteins released their newest flavored collagen product, Vanilla and Coconut Water Collagen Peptides, I was ecstatic. Who doesn't love vanilla AND coconut water?! When I heard that this flavor was coming out, I immediately thought of my morning latte…forget Starbucks when I can make my own latte at home with a hint of coconut flavor and a smooth vanilla taste? SOLD!
Other than adding this collagen to my coffee, it is easily soluable in cold or hot liquids like all of their products making it simple to add to basically any food or drink on a regular basis. I don't know about you, but for me the easier it is to use or add into anything, the more likely I will do it. Adding collagen to my diet is something I make an effort to do since my skin, hair, bones, nails, and joints benefit so much from it.
As part of my "get healthy" 2017 plans, I looked up a bunch of recipes that are not only healthy, but recipes I could add collagen to my meals to get the boost I need. Below are some of my favorite recipes that I wanted to share (for single serving unless stated otherwise):
Breakfast | Strawberry Cheesecake Overnight Oats
• 1/3 cup plain Greek yogurt
• 1/2 cup heaping rolled oats
• 2/3 cup unsweetened milk of choice
• 1 tablespoon chia seeds or ground flax meal
• 1/2 teaspoon vanilla extract
• Pinch of salt
• 0-2 tablespoons honey or maple syrup
• 1/4 cup chopped fresh strawberries
• 3 tablespoons softened cream cheese
• Zest and juice of ½ lemon
• 1/2 scoop of Vanilla Coconut Water Collagen Peptides
Whisk together all the ingredients in a medium sized mixing bowl. Spoon into a mason jar and close the lid. Refrigerate for at least 4 hours, or preferably overnight before eating.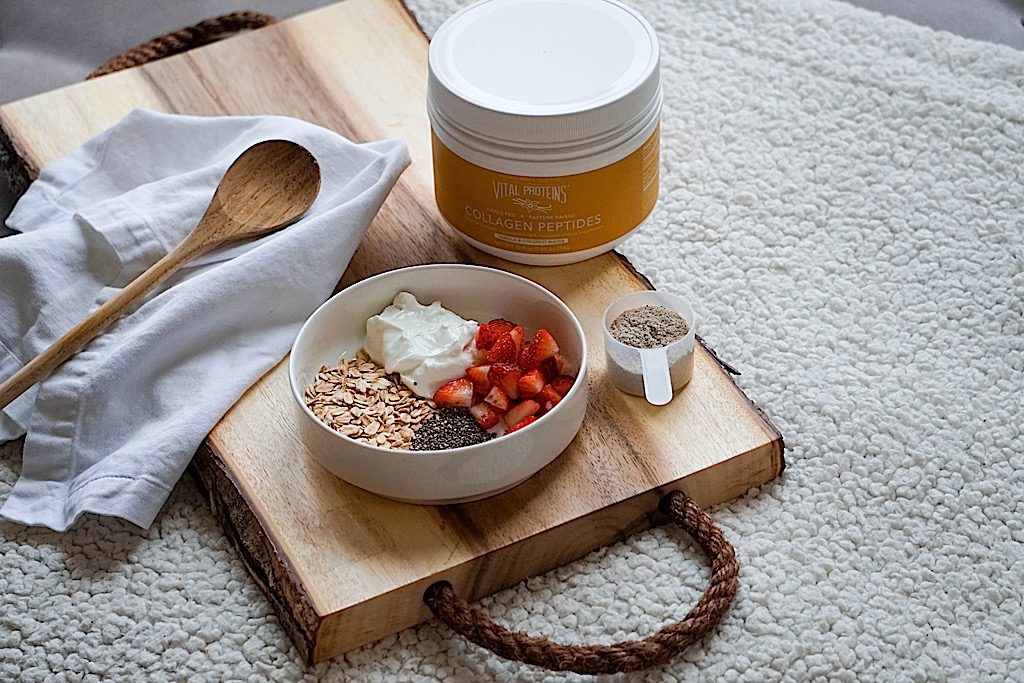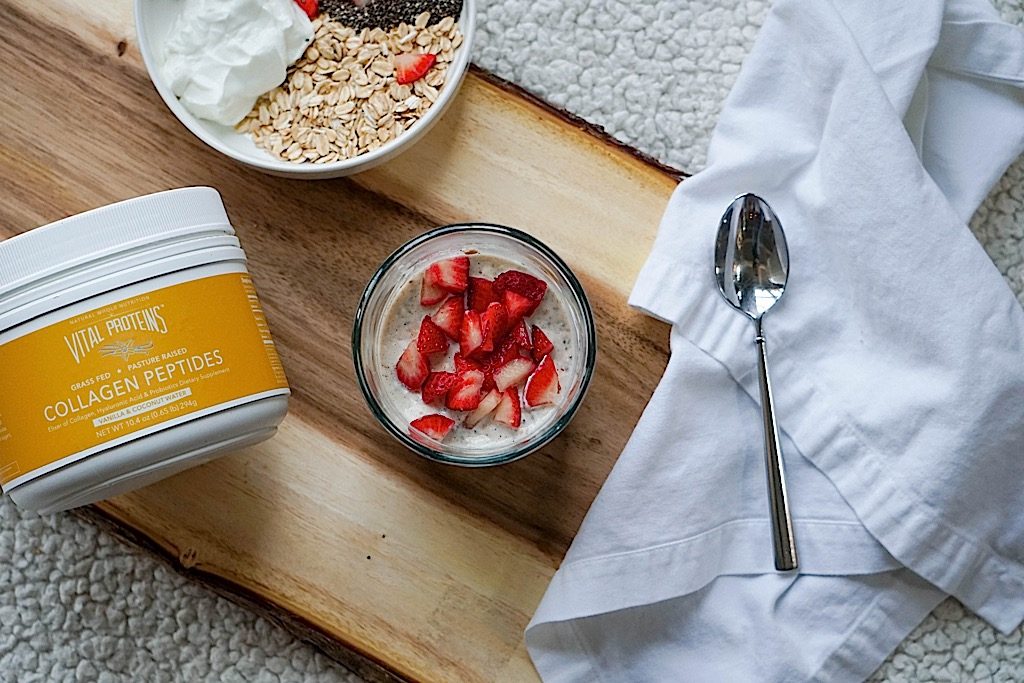 Drink | Peanut Butter & Coconut Smoothie
• 1 medium to large banana
• 1 apple, cored
• 1/2 cup Greek yogurt
• 1/2 cup almond milk
• 1/4 cup shredded coconut flakes
• 1 tablespoon chia seeds or ground flax meal
• 1 scoop of Vanilla Coconut Water Collagen Peptides
Blend all ingredients together until smooth. Add in collagen peptides and blend again. Pour into a glass and enjoy!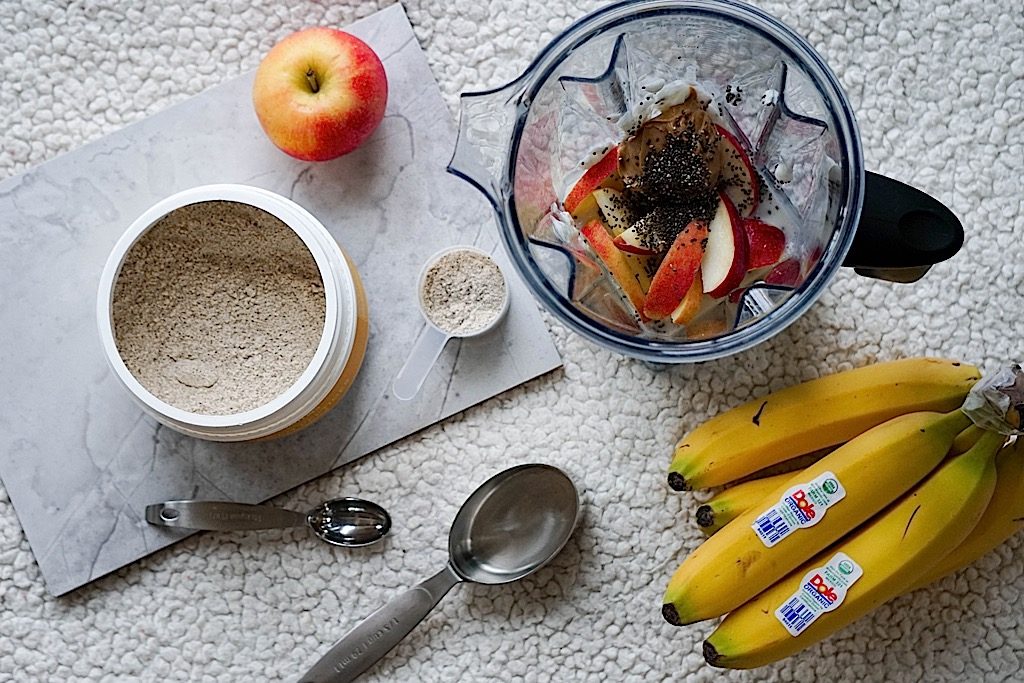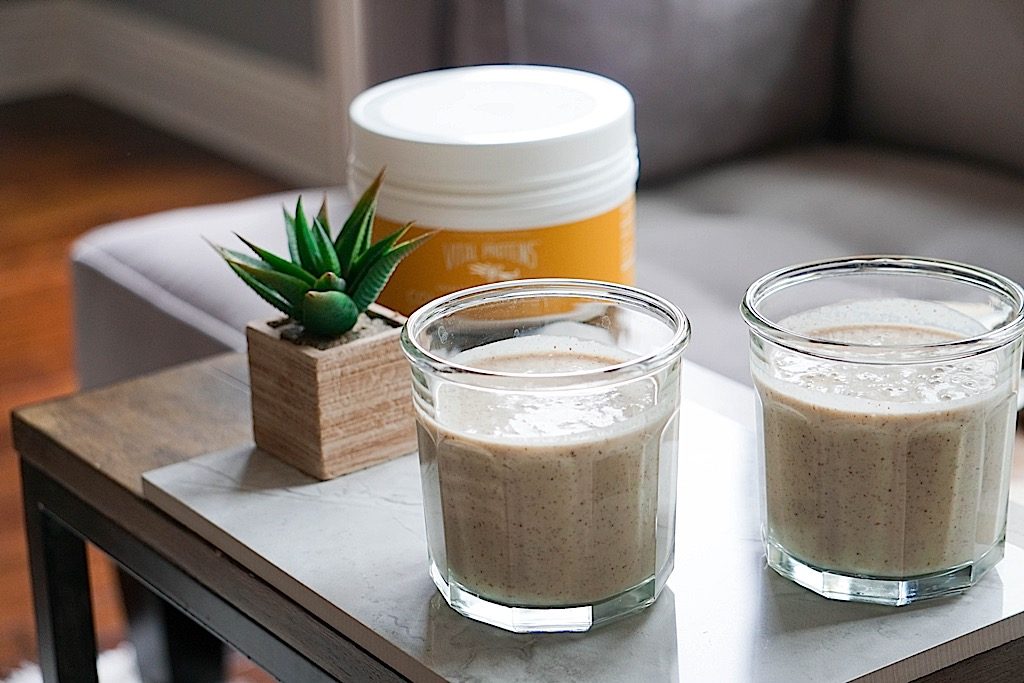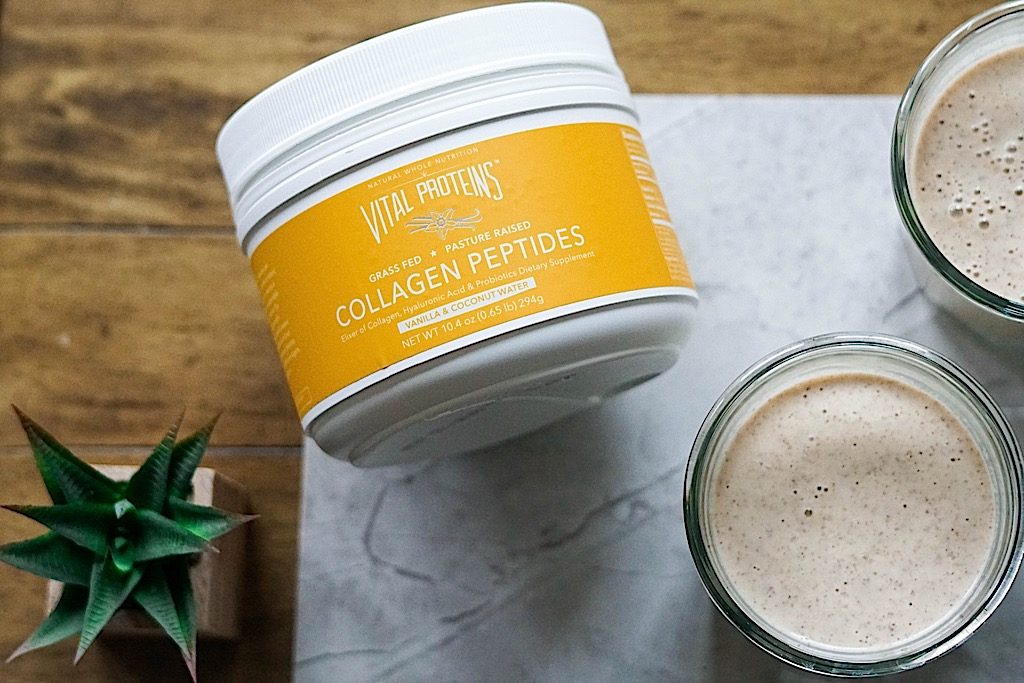 Snack | Coconut Energy Balls
• 1 cup old fashioned oats
• 1/2 cup peanut butter
• 1/2 cup ground flaxseed
• 1/2 cup semi sweet chocolate chips
• 1/2 cup toasted coconut flakes (toast first and set aside)
• 1/3 cup honey
• 1 tablespoon chia seeds (optional)
• 1 teaspoon vanilla extract
• 1 scoop of Vanilla Coconut Water Collagen Peptides
Mix all ingredients together, cover and chill in the refrigerator for 30 minutes. Remove mixture, roll into 1" balls and enjoy. Keep in an airtight container in the fridge for a week.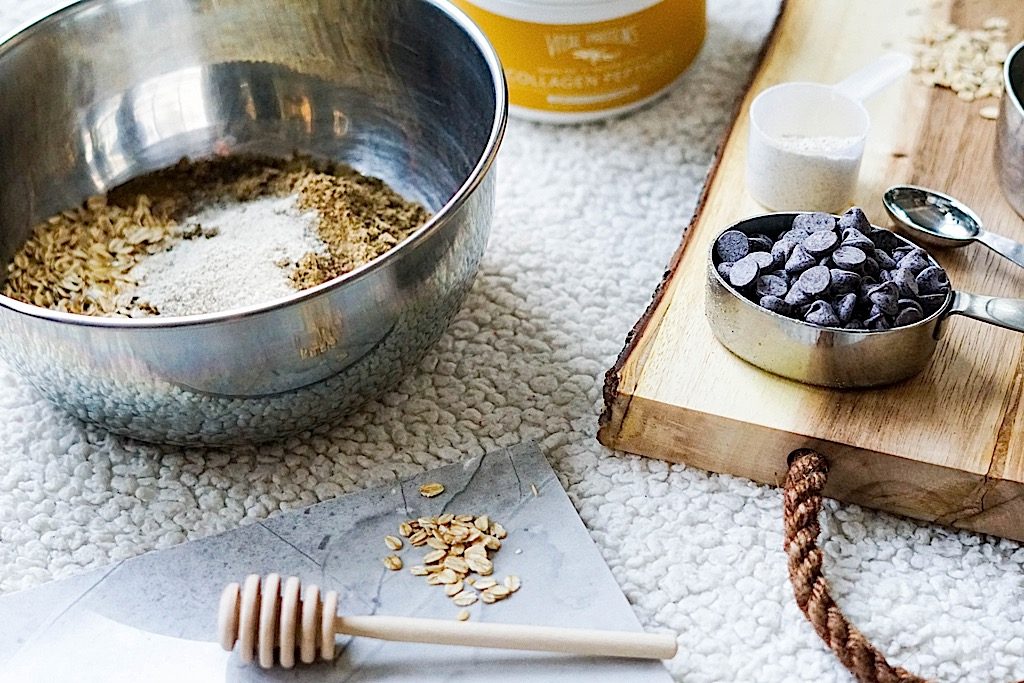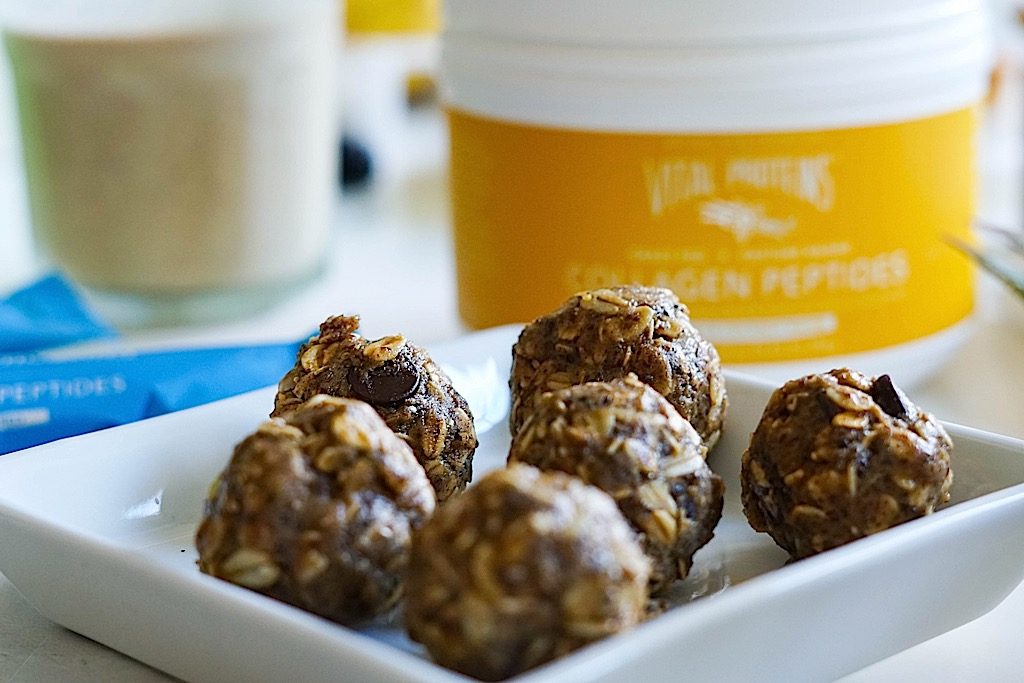 Dessert | Vegan Coconut Oil Banana Muffins
Yields 30 – 36 mini muffins, or 16-18 regular
• 1 to 1 1/4 cups mashed ripe bananas (about 3 small/medium or 2 large)
• 1 3/4 cups all-purpose flour
• 1 tablespoon baking powder
• 1 teaspoon cinnamon
• 1 teaspoon nutmeg
• 1 scoop of Vanilla Coconut Water Collagen Peptides
• pinch salt, optional and to taste
• 1 1/4 cups granulated sugar
• 1/2 cup coconut oil, melted
• 1/2 cup milk, slightly warmed (coconut, almond, soy, rice, cow's, almond)
• 1/4 cup light brown sugar, packed
• 1 tablespoon vanilla extract
• about 1/3 cup granulated sugar, for dipping
• about 1 tablespoon cinnamon, for dipping
1. Preheat oven to 400F. Spray non-stick muffin pans with floured cooking spray, or grease and flour the pans. Set pans aside.
2. In a small bowl, mash the bananas; set aside.
3. In a large bowl, combine flour, baking powder, 1 teaspoon cinnamon, nutmeg, collagen, optional salt, and stir to incorporate; set aside.
4. In a medium bowl, combine 1 1/4 cups granulated sugar, melted coconut oil (about 1 minute in the microwave), slightly warmed milk (about 20 seconds in the microwave – this prevents the cold milk from re-solidfying the coconut oil on contact), brown sugar, vanilla, and whisk to combine. Fold in the bananas.
5. Pour wet mixture over the dry, stirring until just incorporated. Make sure to get all the dry bits from the bottom of the bowl, but don't overmix or muffins will be tough. Batter is quite thick and if yours is seemingly too thick, add a splash of milk to thin it.
6. Using a cooking sprayed one-tablespoon measure for a mini muffin pan or a sprayed one-quarter cup measure for a regular sized pan (or what is appropriate for your pan size). Fill the cavities between 2/3 and 3/4 full; don't exceed 3/4 full.
7. Bake until done. A toothpick inserted in the center should come out clean or with a few moist crumbs, but no batter. Tops will be domed, springy to the touch, and will be on the paler side rather than golden. Done for me was about 9 minutes for mini, 15 minutes for regular sized. Baking times will vary widely based on size of pans used, how many pans you have in the oven at once, how moist your bananas were, and how many times you open the oven door to rotate pans. Watch your muffins, not the clock.
8. Allow muffins to cool in pan for about 10 minutes before carefully turning out onto wire racks to cool completely.
9. If desired, after they're cool enough to handle, stir together about 1/3 cup granulated sugar and 1 tablespoon cinnamon, and dip the tops (or entire muffin) into it. I didn't need to brush with melted coconut oil or (vegan) butter in order for the cinnamon-sugar to adhere.
10. Muffins will keep airtight at room temperature for up to 5 days or can be frozen for up to 3 months. They get softer and the flavor intensifies on the second and third day.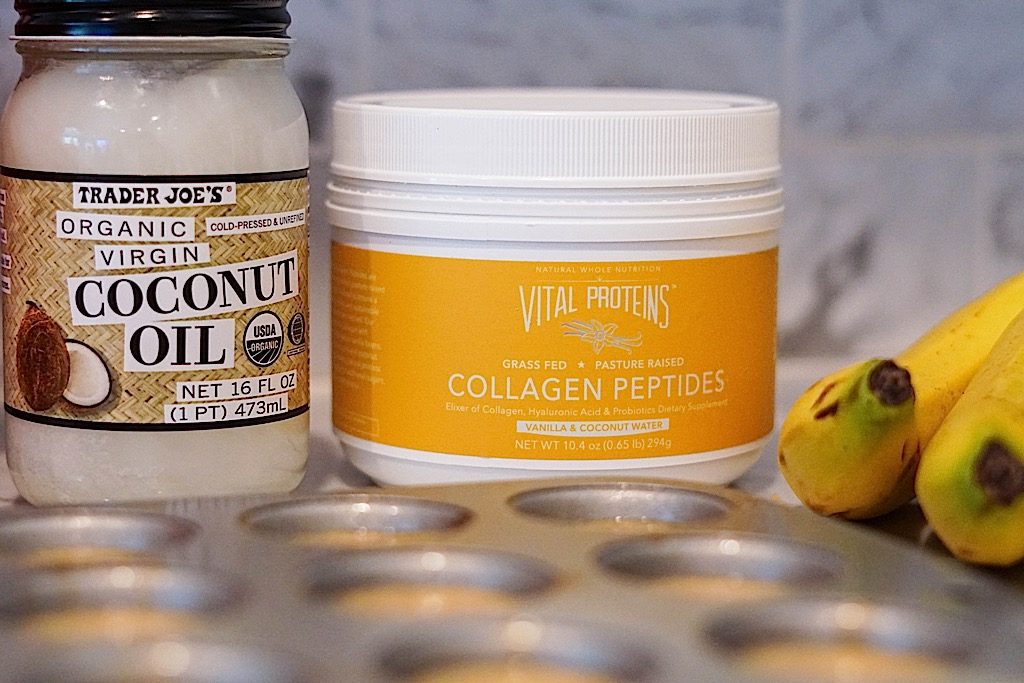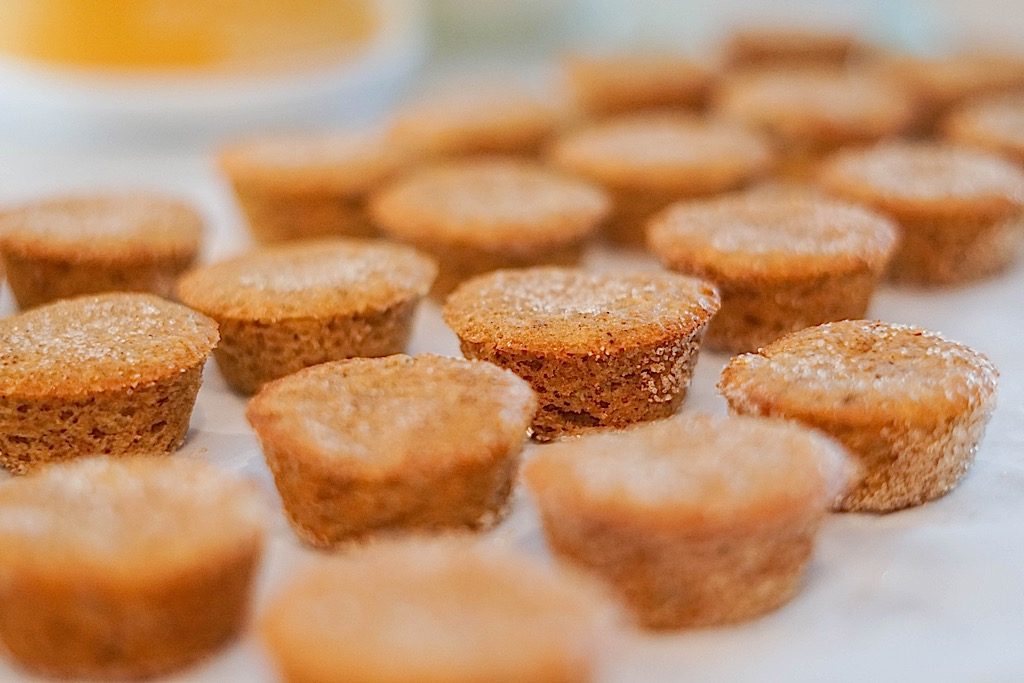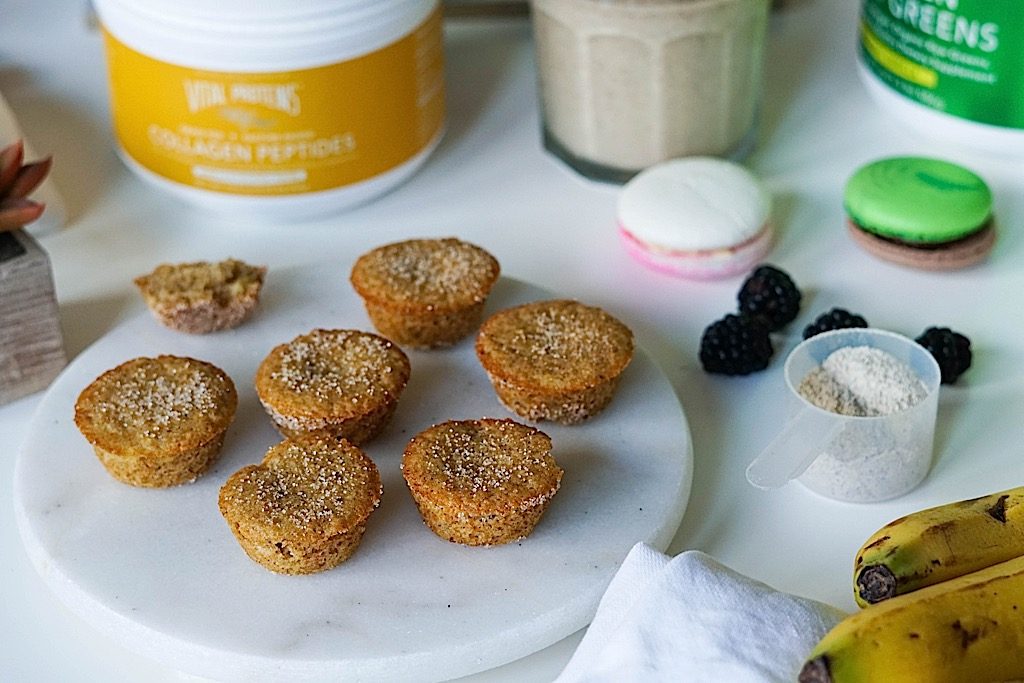 Adding collagen to your everyday meals can be easy and will become routine once you try it. I personally like to leave my Vital Proteins on the counter so that I can easily access them anytime I cook. Here are some additional recipes that can be found on the Vital Proteins blog. I hope you try the recipes with your collagen and let me know what you think!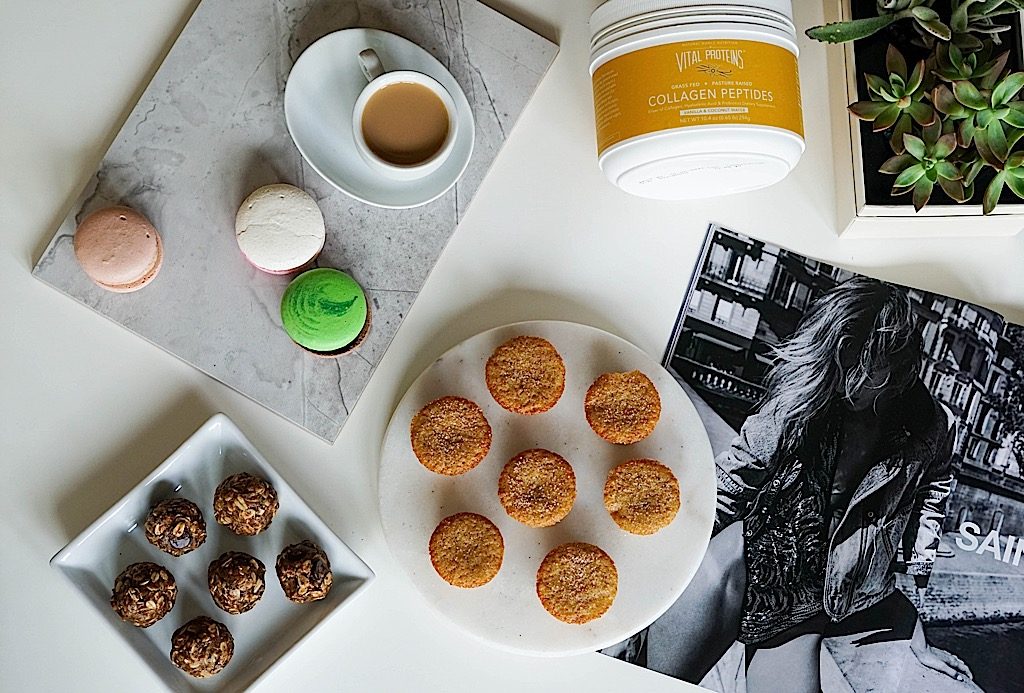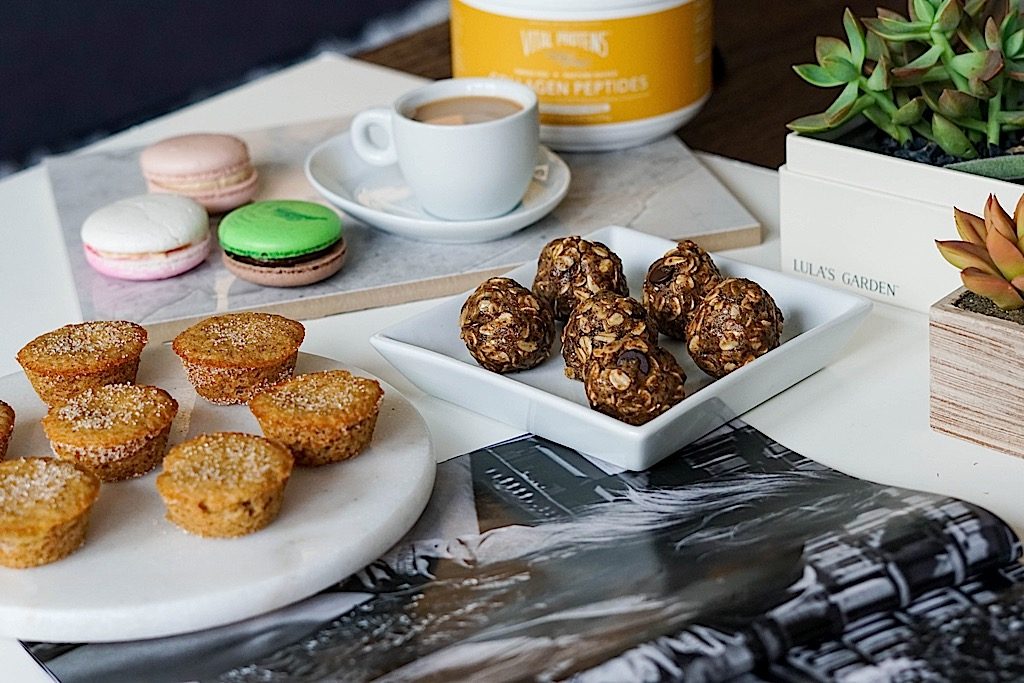 Here are my favorite collagen products!

Thank you to Vital Proteins for sponsoring this post and helping me fight aging with collagen!