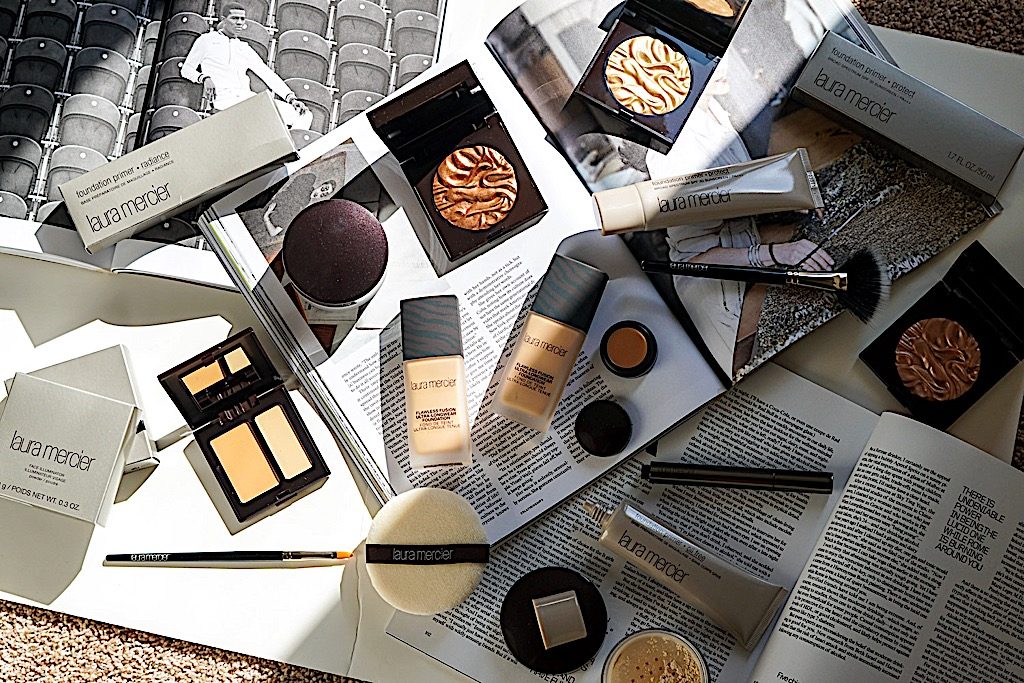 By now you know that when it comes to makeup, I like it natural, easy, and minimal. But of course I still want all of that flawless finish with minimal products and minimal time. Is it possible? YES! Lately, I've been using Laura Mercier products to achieve a smooth and even canvas to put on makeup. Especially for the summer, when it is hot and humid here in Southern California, these products have really lasted through sweat and heat without feeling heavy.  For those of you who like a weightless finish with a subtle glow, read on to see which Laura Mercier products I love best.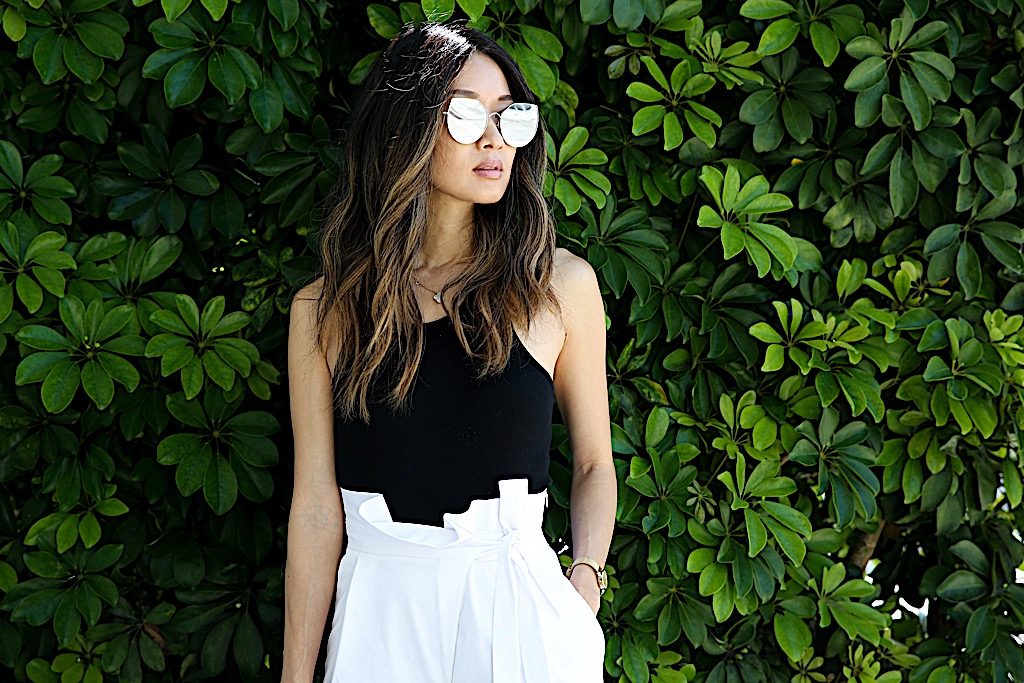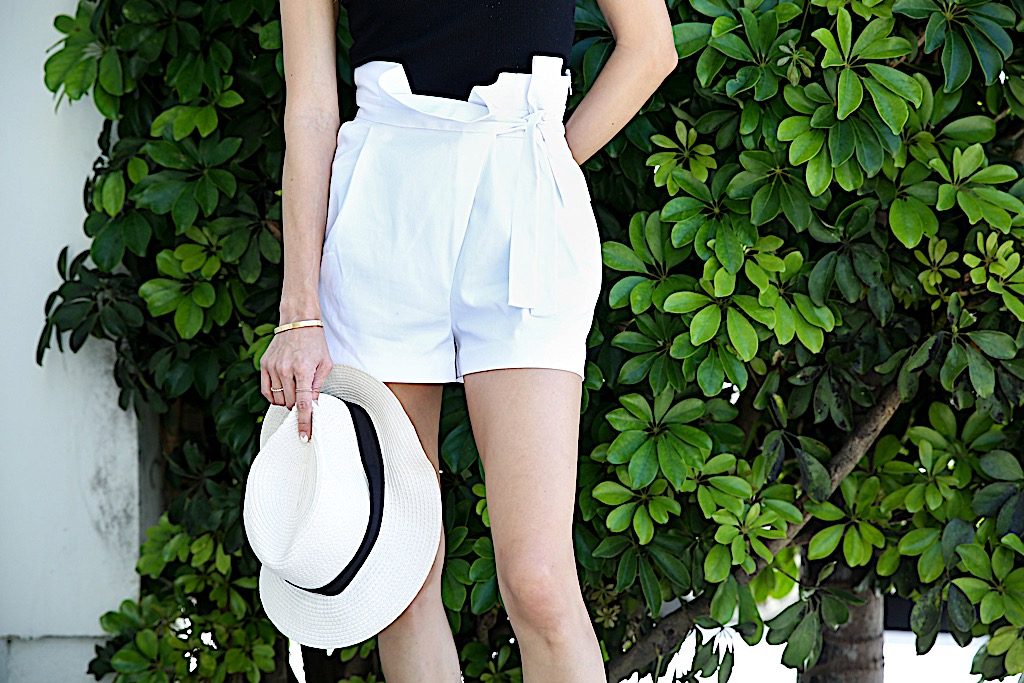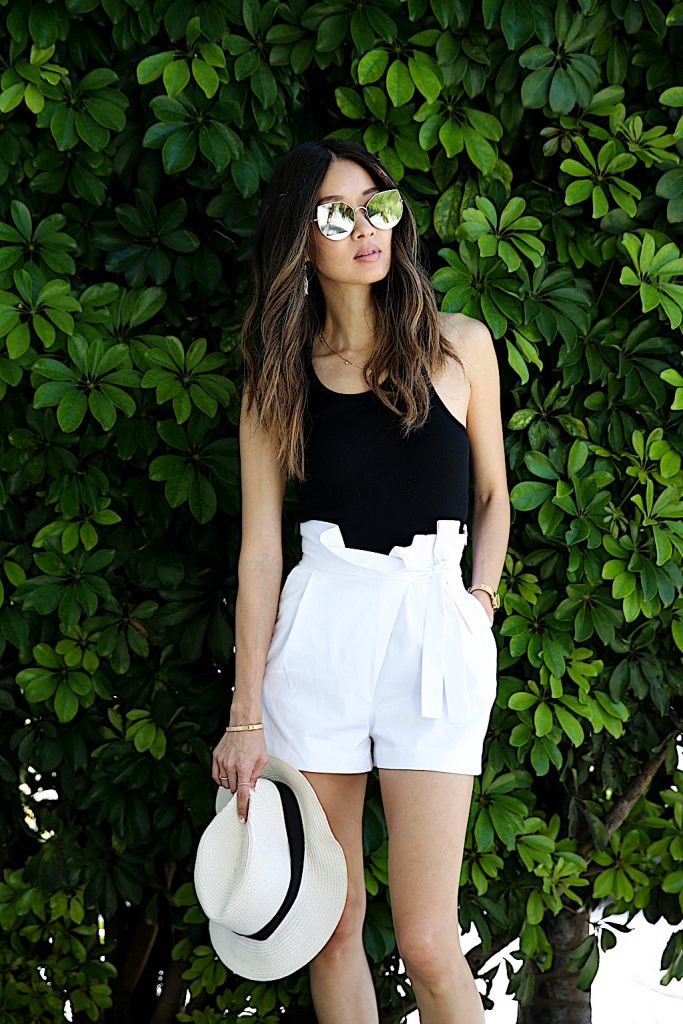 / Primer /
Primer is the starting point to achieving an even canvas to apply makeup. I know what you're thinking – is this step really necessary and will it just add one more layer of "stuff" to my face? Yes it is necessary and yes, you need it! Primer allows makeup to glide onto the skin and last longer. It also helps to minimize the appearance of pores, fine lines, and imperfections and is the perfect base to start with. It's almost as important as the foundation itself so trust me, use (primer).
Since I am so obsessive about sunblock and use moisturizer that includes sunblock and layer on additional sunblock, I also just added a primer with sunblock (Primer-Protect Broad Spectrum SPF 30). This primer is perfect for the summer months when sun rays are most harsh. For a more dewy finish or for night outs, I will switch out the Primer-Protect with the Primer-Radiance.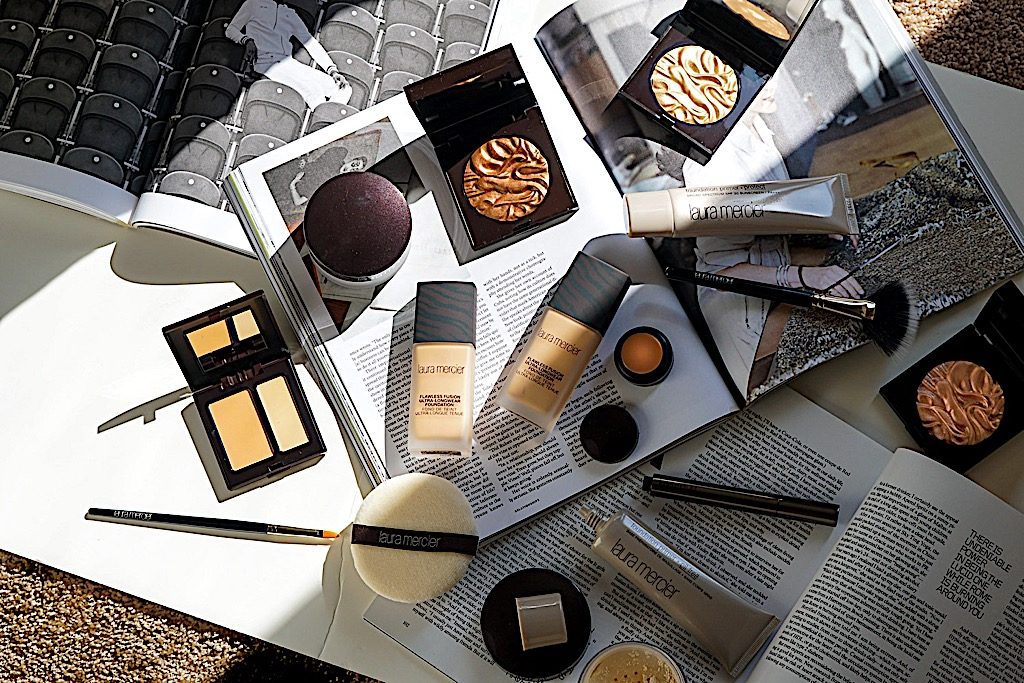 / Foundation /
I haven't worn foundation in the past just because I don't like that heavy feeling of most foundations. Laura Mercier has created a foundation formula that is 15 hours of wear that is weightless! I apply the Flawless Fusion Ultra-Longwear Foundation using a brush because I've noticed that using a brush applies WAY more evenly than a sponge or fingers. Using a brush also uses less foundation and can be used for fuller coverage.
There are 20 fully fused shades that are water, transfer, sweat and humidity resistant so all perfect for summer as well. For my skin tone, I've used both 3C1 Dune and 3N2 Honey. I truly love the weightless feel of the foundation and how even it makes my skin. There are tiny fine powders that also help diffuse light so the skin appears smooth and glows. This is great for oily skin and doesn't get cakey throughout the day. I even wore it in Las Vegas this summer and it stayed put all day long!
/ Concealers /
We all have those dark spots, discoloration, or imperfections we want to erase. With Laura Mercier's Secret Camouflage, I've been able to retouch my flaws with this two-shade compact that is customized to my skin tone. It is really creamy so use a brush (versus your fingers) and mix the two shades on the back of your hand until you find the shade that matches your skin tone. A little goes a long way so you don't need much at all.
As a mom, I've also developed dark circles that need to be masked. For a heavy concealer, I opt for the Secret Concealer which comes in 12 shades for most skin tones. Just like the Secret Camouflage, a little goes a long way. What I love about this concealer is that it doesn't fold into fine lines and creases under the eyes, it hydrates and covers as it should. The best way to apply this concealer is using the the 6.5" brush because the bristles are angled to a point for optimal coverage application. Note that this concealer is really creamy, so if creamy isn't your thing,btest it out first or get a sample before you commit.
For a more soft finish which is more my everyday style, I go for the Candleglow Concealer & Highlighter. I love how this has the applicator included and the concealer is dispensed with a click of the pen. You can also use this on top of the Secret Concealer for added brightness. There have been some complaints that this gets cake around the eyes and that the product dries out after a few weeks, but I haven't come across those issues in the two weeks I have been using this concealer.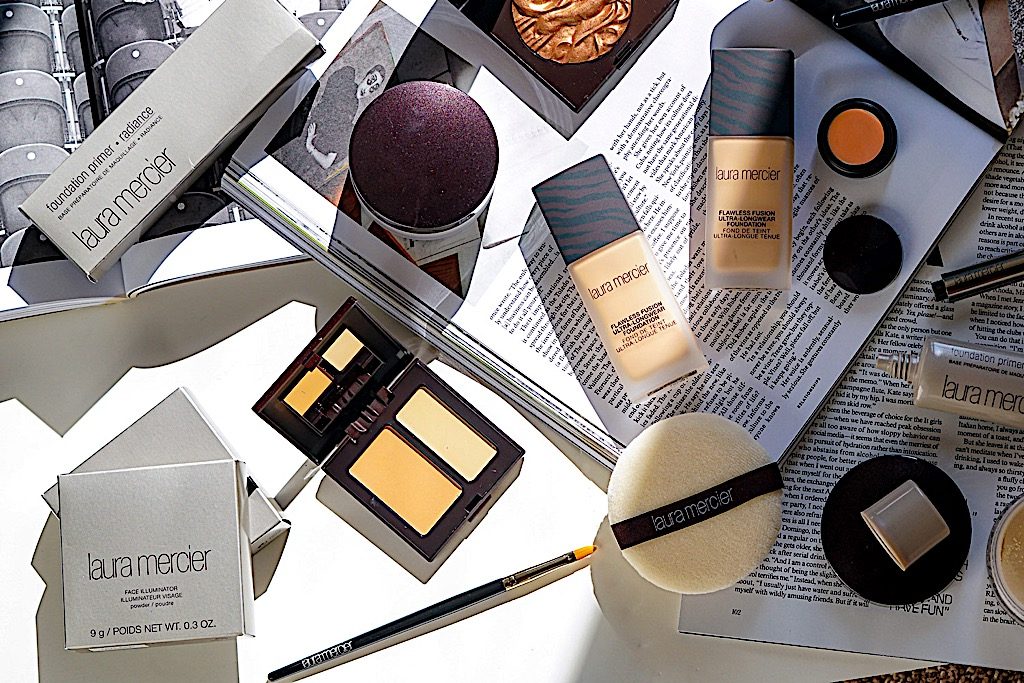 / Glow /
Once my face is fully prepared and the canvas is "ready," I just add some glow using the Face Illuminator which comes in four shades. This highlighting powder draws light to your eyes, face, and décolletage. The shades themselves are beautiful, but the palette is just something else. What's fabulous about this powder is that you can build upon the intensity. For a subtle shine use a finishing brush, but for a more intense illumination use a denser brush. For my skin, I prefer "Devotion" for that subtle highlighting glow.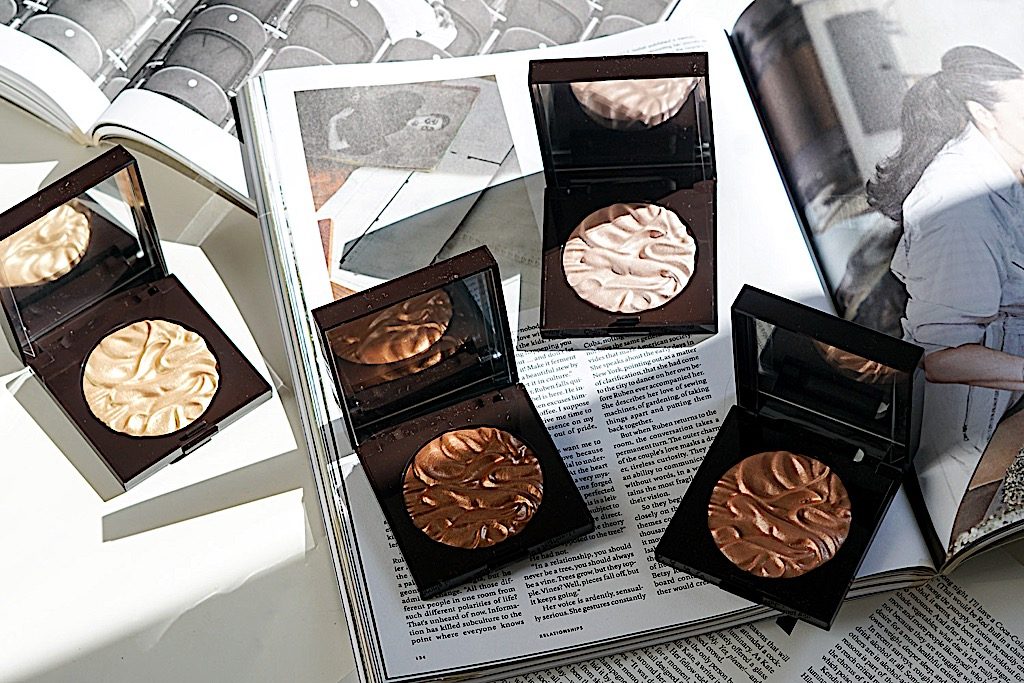 Once you've gotten that glow, add a touch of sculpting with the Matte Radiance Baked Powder for the high points of your face (cheekbones, center of your nose, cupid's bow, and forehead). DO NOT APPLY EVERYWHERE unless you want to look like you fake baked. =). This is just a subtle sheen to accentuate some angles on your face.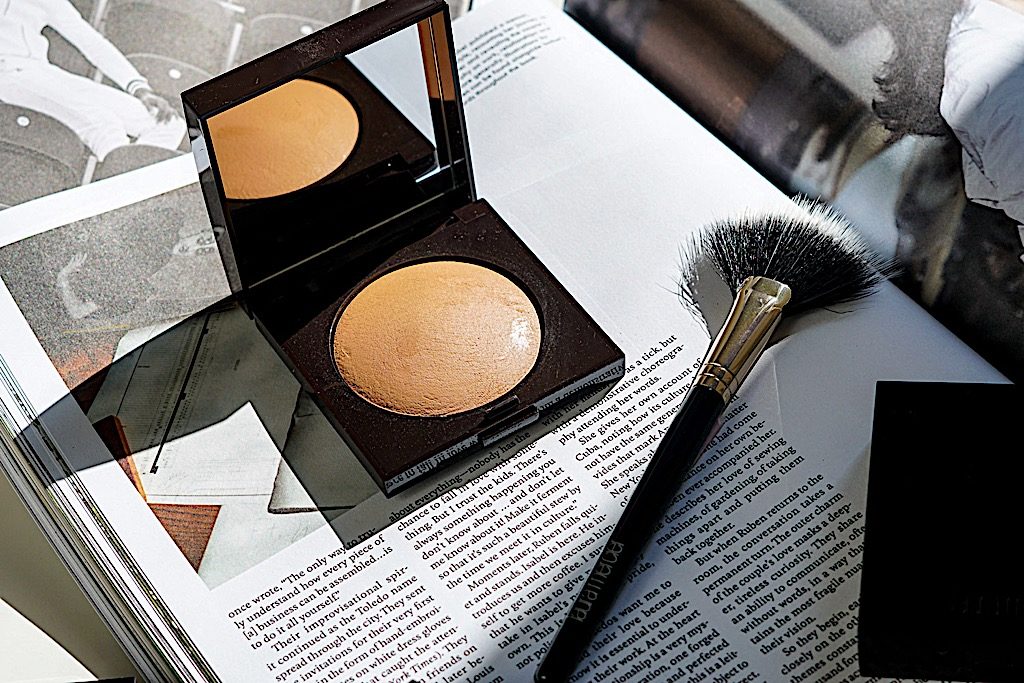 / Set /
Now that your face is primed, even, concealed and glowing, it's time to set it all in so it stays that way all day long. If there is any one product to get from Laura Mercier, it is the Translucent Setting Powder. It is literally the only way to set your face after you've put on your makeup. The silky, lightweight setting with a sheer coverage and matte finish leaves your face with a soft-focus finish. The key is in the Velour Puff that you apply the powder with. Press the powder puff into the loose powder, then work the powder into the puff by folding and rubbing the halves together or by tapping the powdered side vigorously on the back of your hand. Gently press the puff onto your skin, using a rolling motion to work the powder in.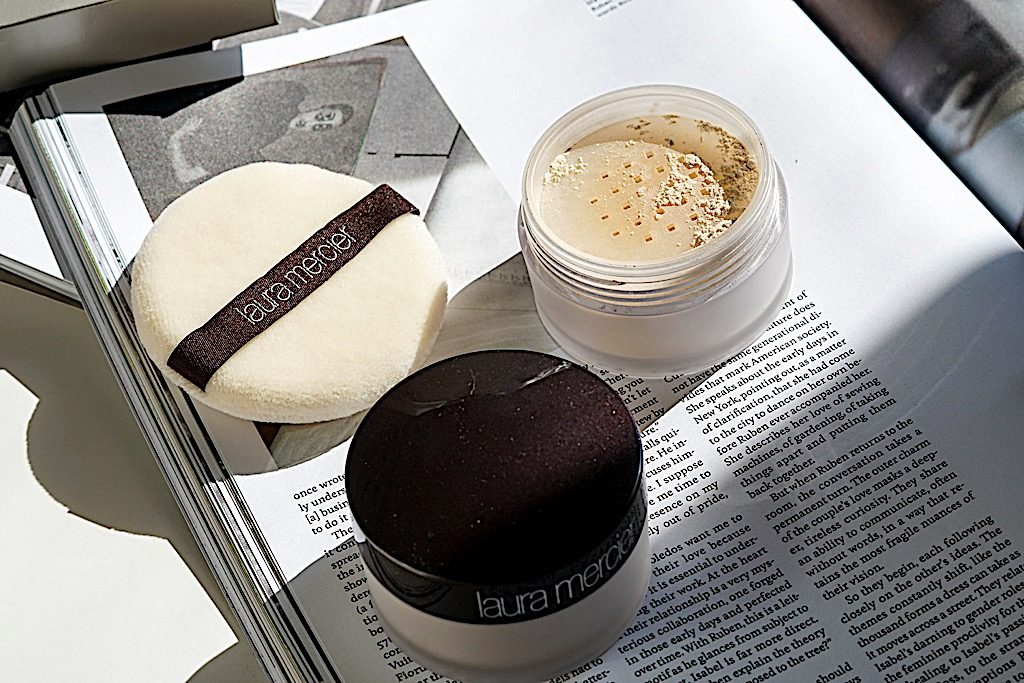 Now you are all set! It seems like a lot, but it's really just five products:
1. Primer
2. Foundation
3. Concealer
4. Highlighter/ Bronzer
5. Setting Powder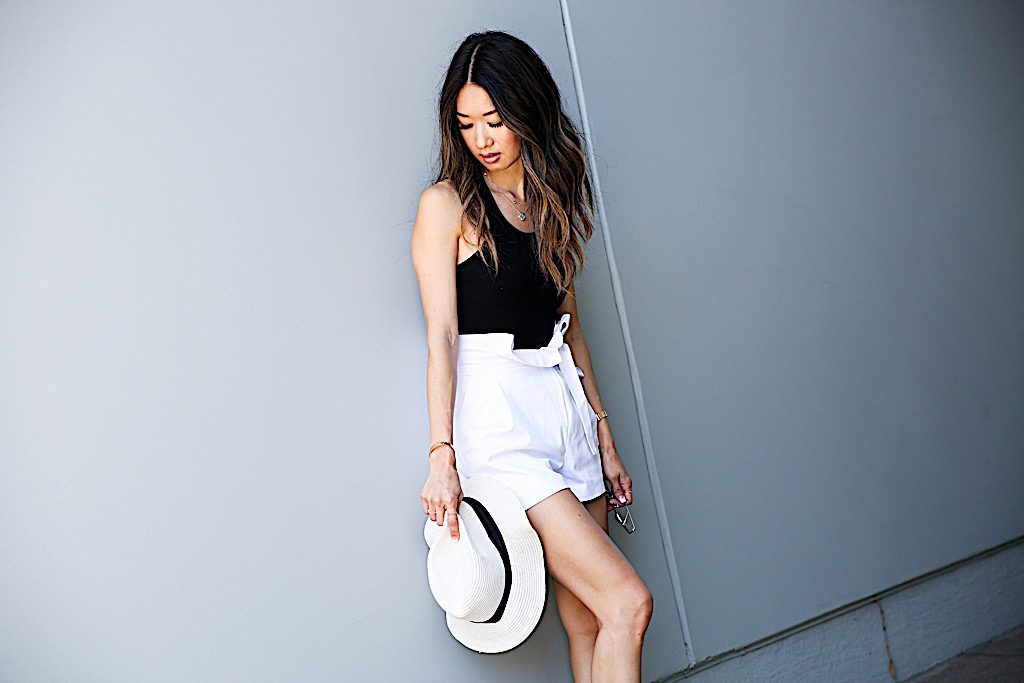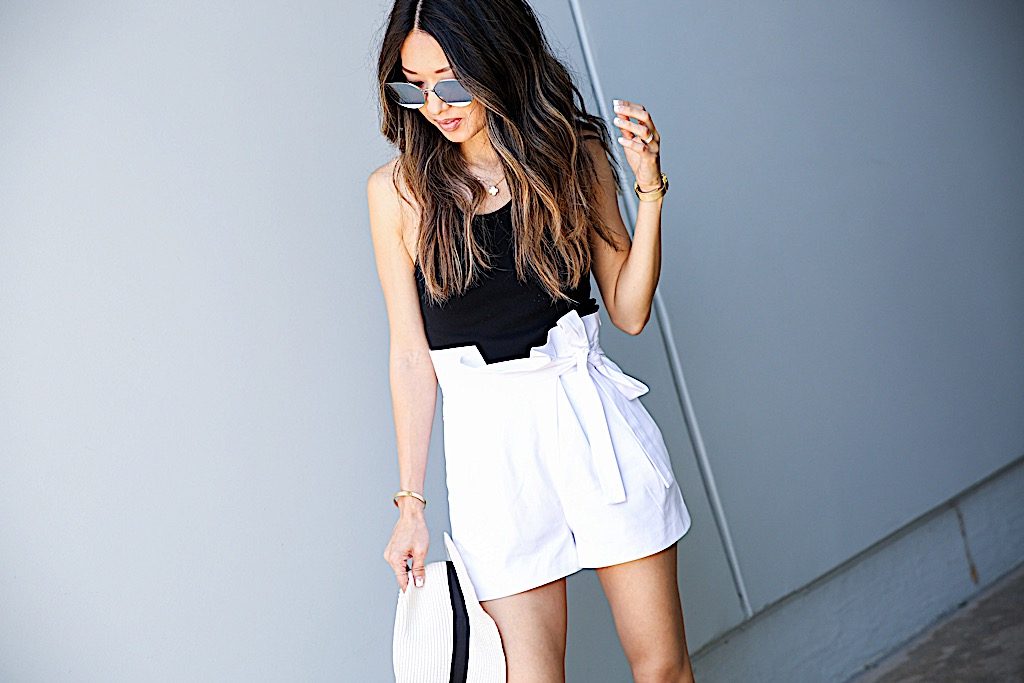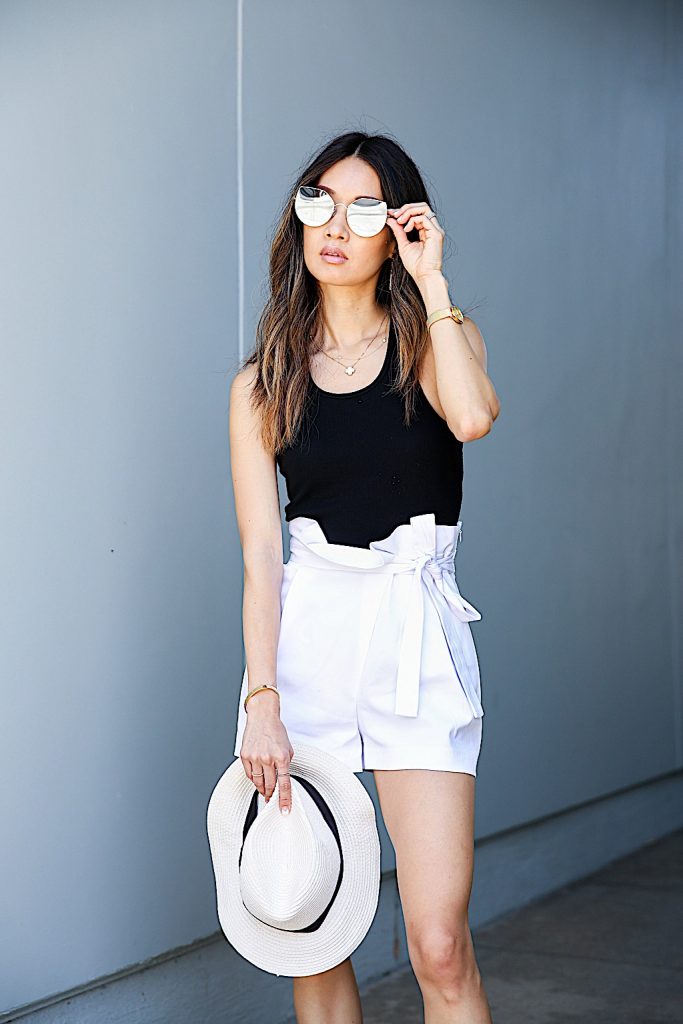 Let me know if you've tried any Laura Mercier products before and what are your favorites!
Top | Splendid similar style here
Shorts | Zara similar style here and here
Earrings | Bauble Bar similar here and here
Sunglasses | Gentle Monster x Song of Style similar style here
Hat | J. Crew similar style here
Shoes | TopShop similar style here