This post is sponsored by Pantene, but all reviews and opinions are my own.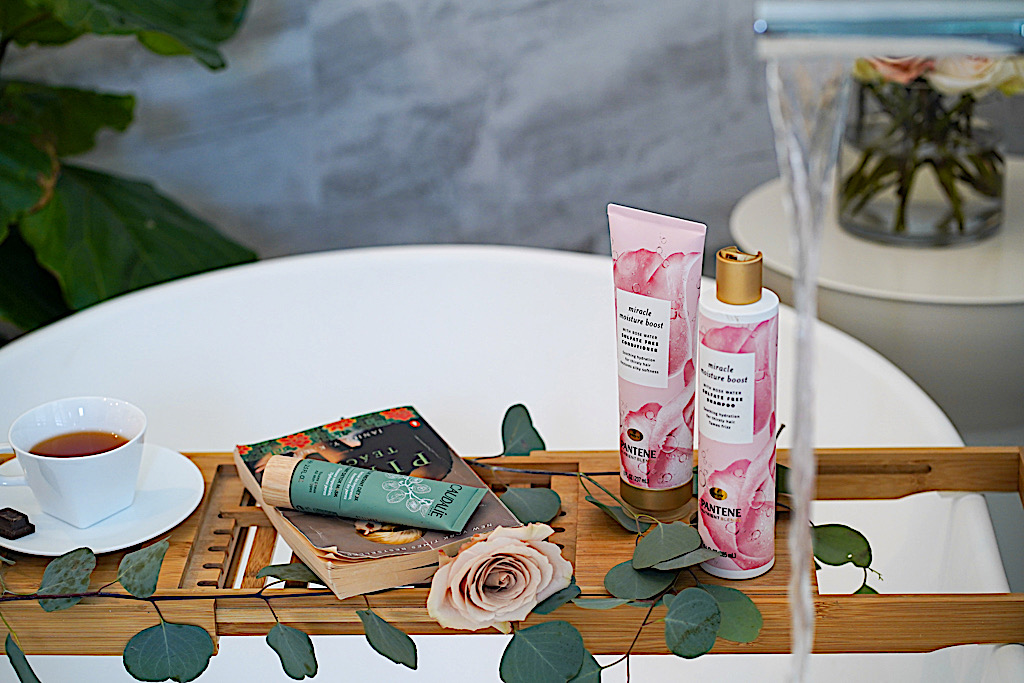 Fun fact: I've probably taken a bath about three times over the past 10 years. It's somewhat of an indulgence for me that I just haven't had the time for. So, when Pantene challenged me to take an hour to myself for self-care, the idea of a warm bath, face mask on while reading a book immediately appealed to me.
We hear and read about self-care a lot recently because many of us are always on the go. Checking off to-do lists, tending to little children, managing a full-time job while creating another side business. The projects are endless and as we pursue our passions, we often neglect ourselves in the process. This needs to STOP. We need to take care of ourselves, even if it's little moments during the day, so that we can take care of everything else.
Self-care doesn't have to be something grandeur, it can be as simple as 10 minutes of meditation in the morning, going to the gym for a 30 minute run, or in my case, drawing a warm bath and enjoying some down time.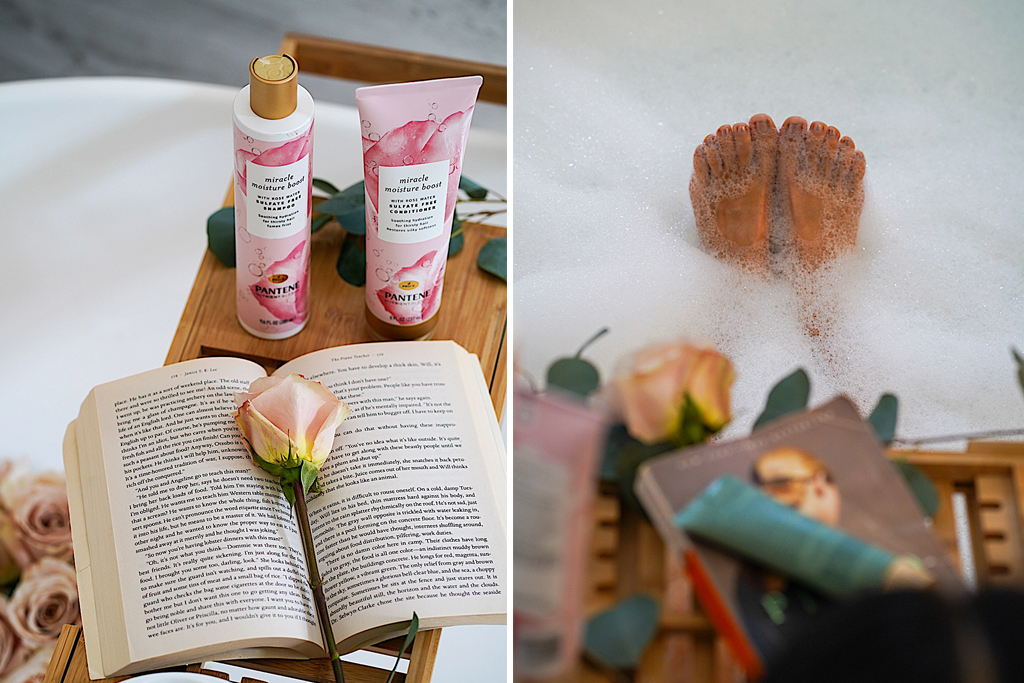 Since I am a multi-tasker by nature, I love taking a bath while masking and reading all at the same time. Bath time is also a time where I really enjoy washing my hair and taking the time to massage my head while cleansing. I've been using the new Pantene Nutrient Blends Collection lately, specifically the Miracle Moisture Boost with Rose Water shampoo and conditioner for hydrating and nourishing my dry, brittle hair.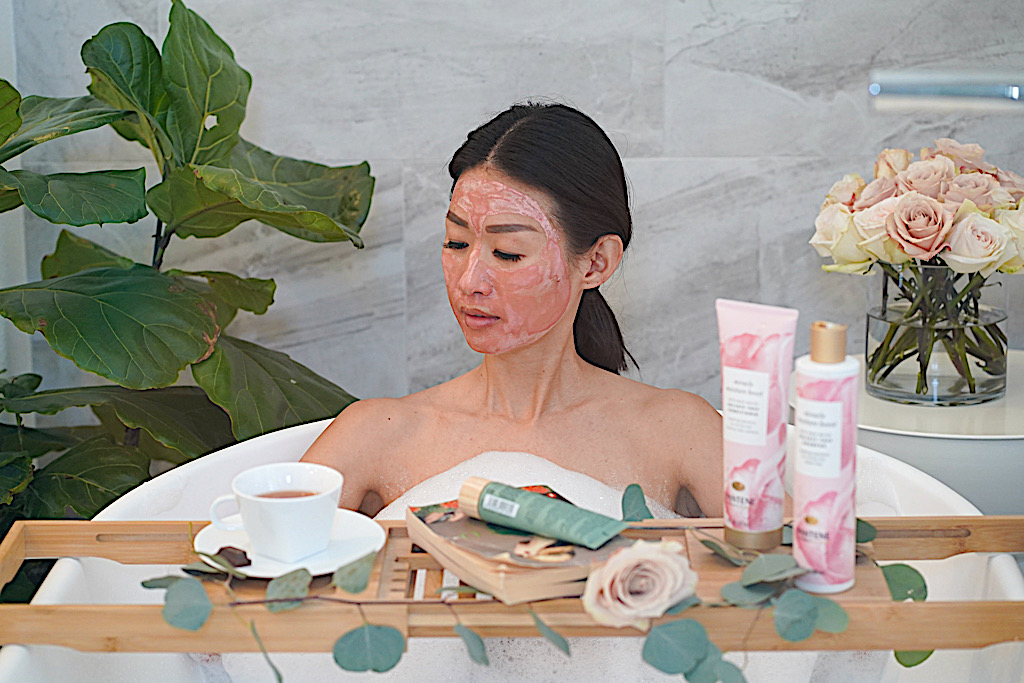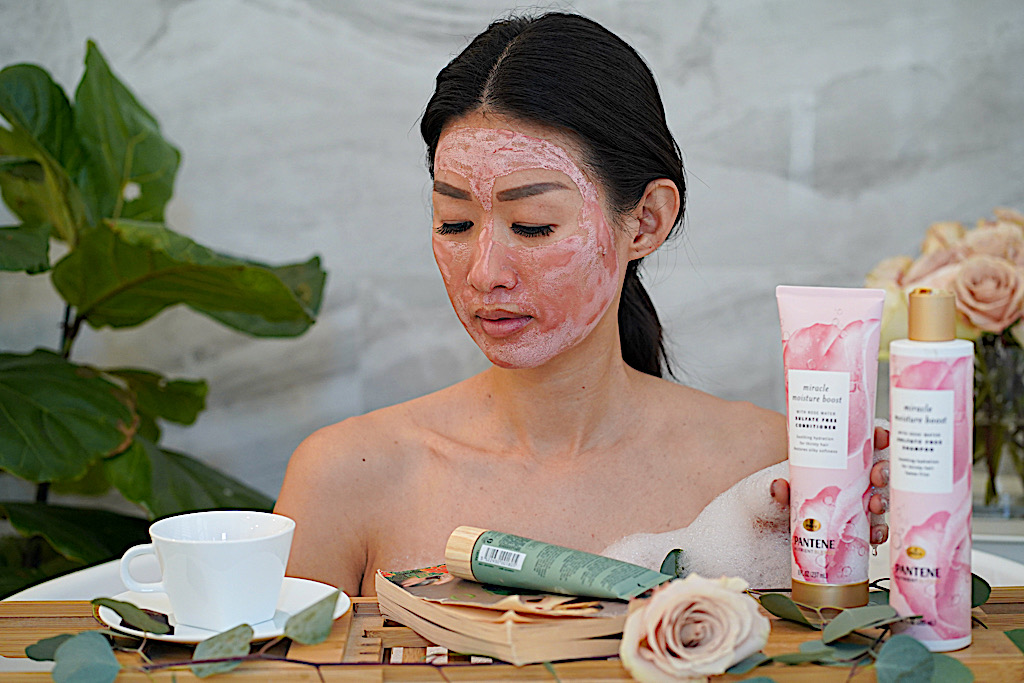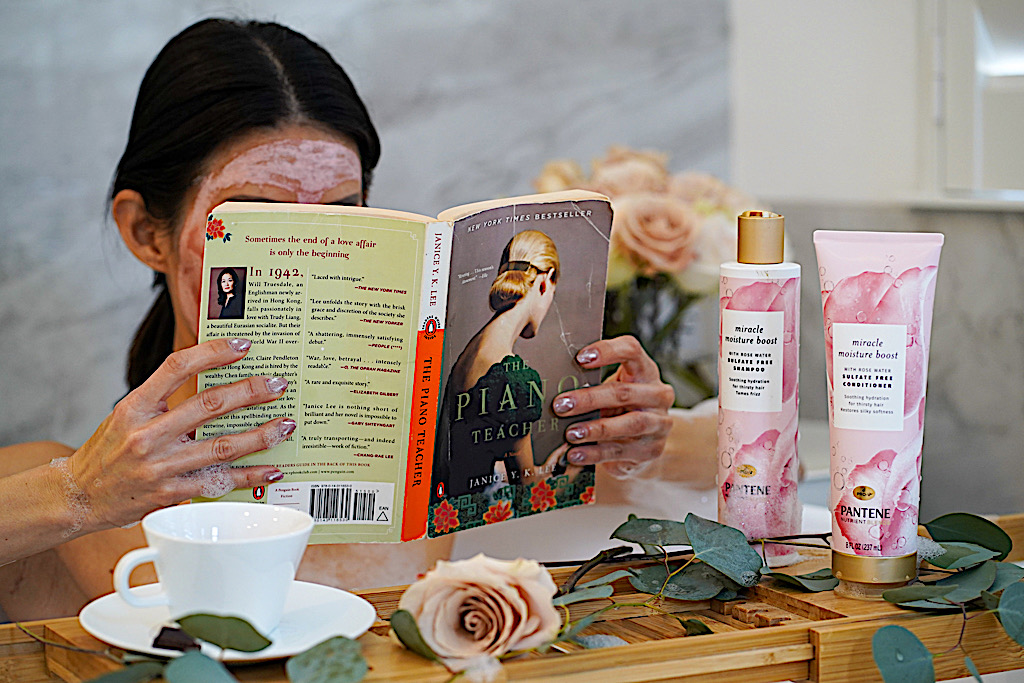 The Miracle Moisture Boost Collection with Rose Water is different than other Pantene shampoos and conditioners because the ingredient blends have been sourced from cultures far and wide. The ingredients in the Miracle Moisture Boost Collection with Rose Water are free of sulfates, parabens, dyes and mineral oils, and includes rose water which is an incredible ingredient that provides so many benefits!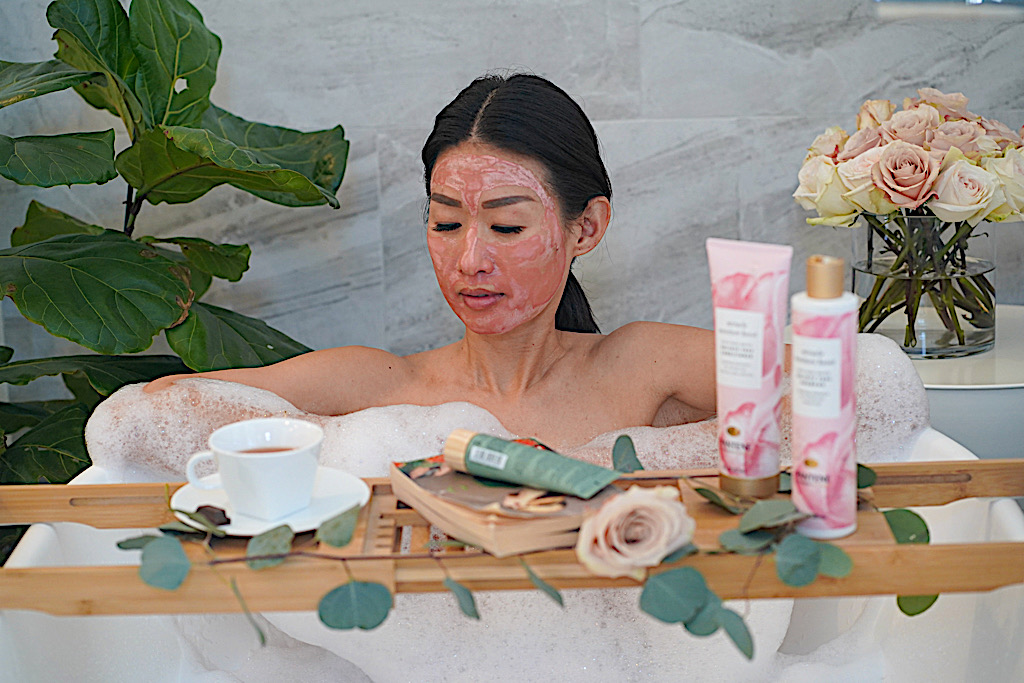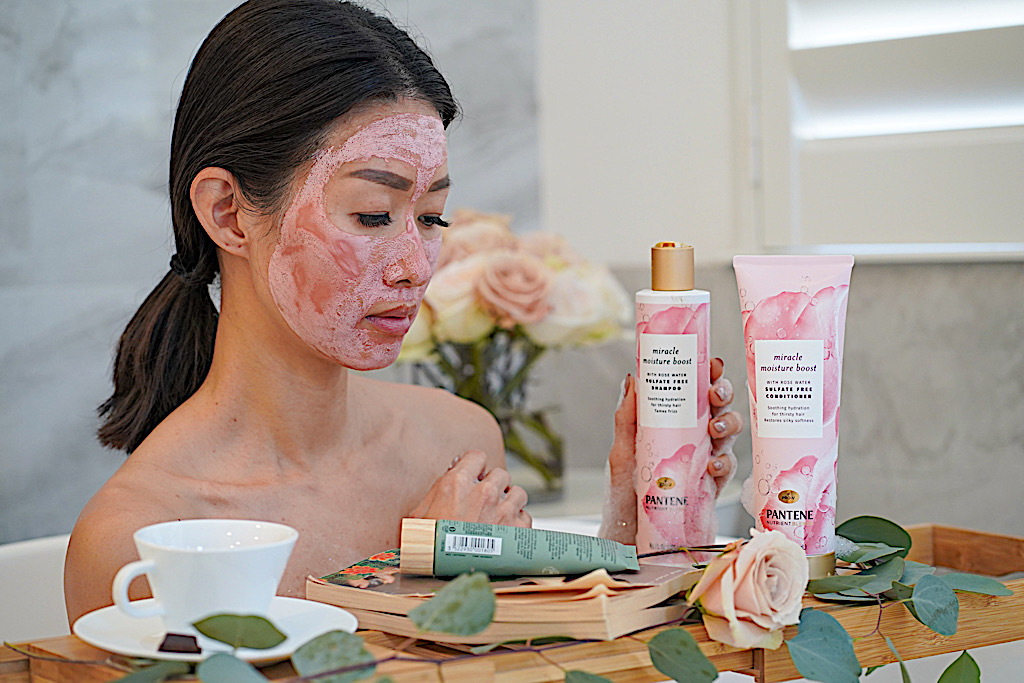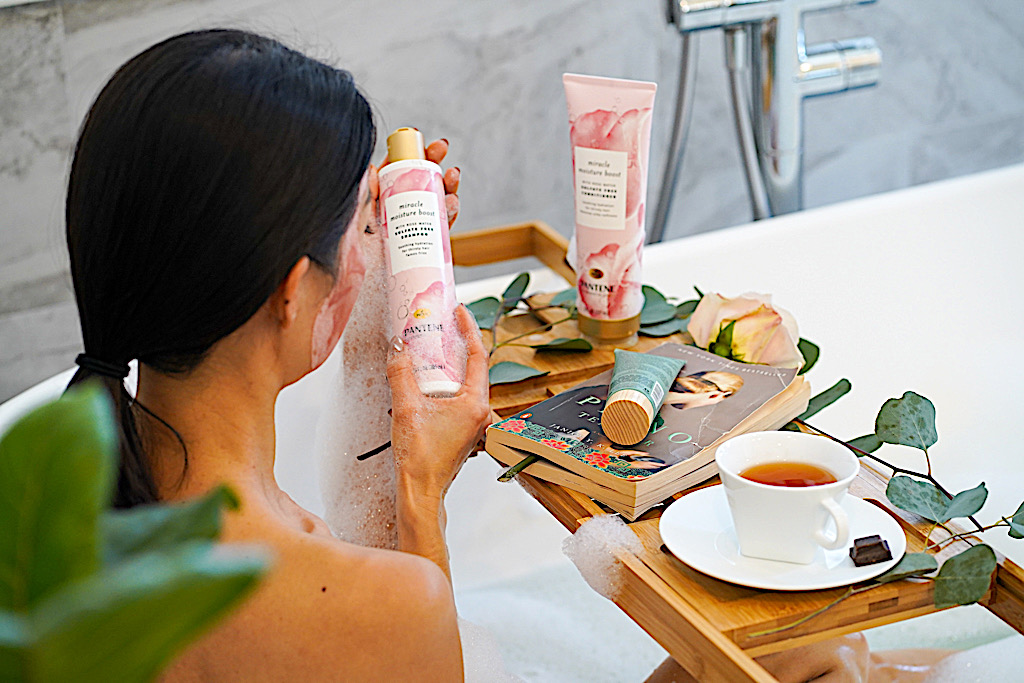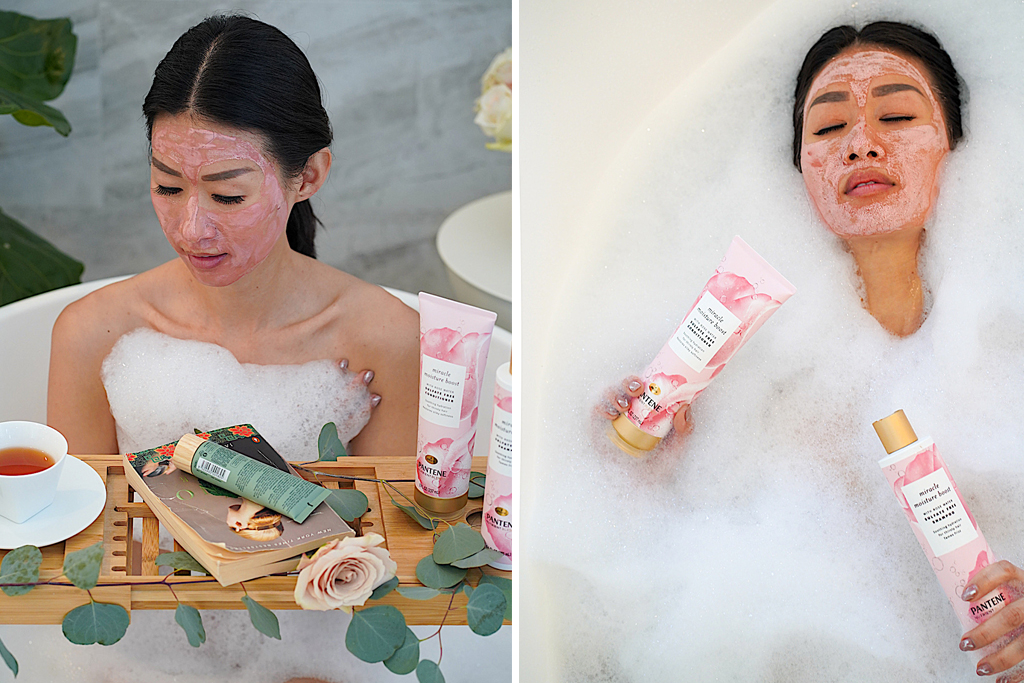 We often hear about the benefits of rose water in skincare and drinks, but it's important in hair care as well. Rose water contains vitamins which help purify and moisturize your hair. I am loving the Pantene Miracle Moisture Boost Collection with Rose Water shampoo and conditioner because of the added hydrating and soothing benefits it provides as well as cleansing my hair.
The rose water shampoo not only smells fresh and clean, it is gentle, leaving my dry hair silky and smooth. The rose water conditioner is great for hydrating and also helps tame my frizzy hair. I wash my hair every other day to help lock in the moisture on my hair wash days. In addition to the nourishing formula and rose water benefits of this collection, the packaging needs to be appreciated too! The Miracle Moisture Boost Collection with Rose Water shampoo and conditioner bottles make my bathroom look feminine and romantic that I even placed a set in my guest room to show them off!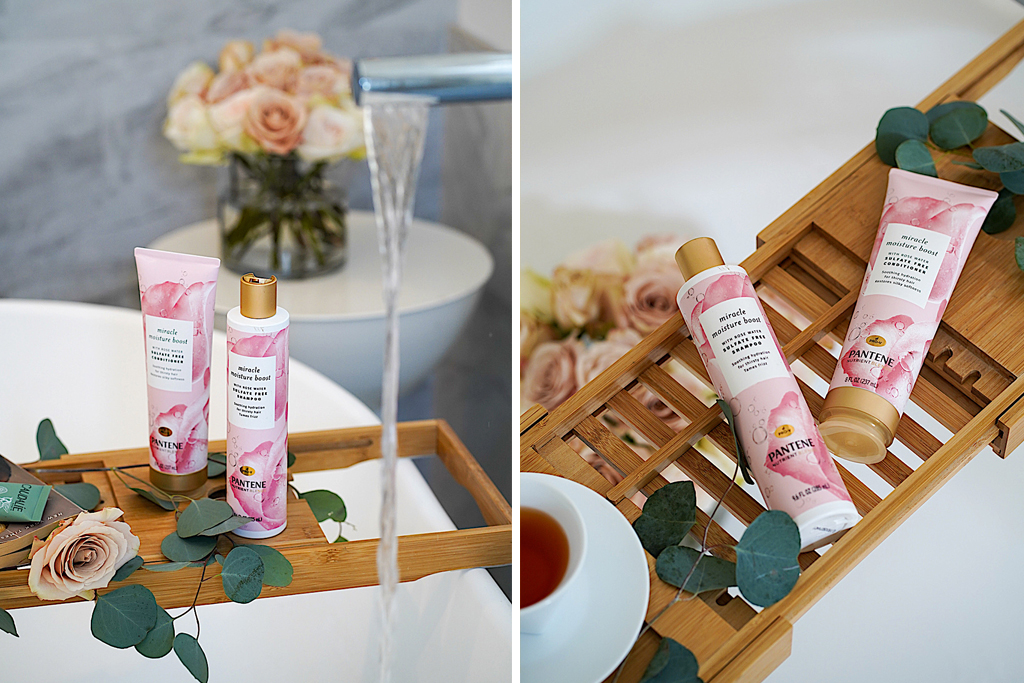 After taking this time to myself and really enjoying the moment and how I feel afterwards, I am looking forward to taking baths at least once a week to help improve my mind, body, and soul.
Have you tried any of the new Pantene Nutrient Blends Collection products yet? Included with the Miracle Moisture Boost Collection with Rose Water products, Pantene created various collections to address all hair types and haircare needs.
Check out the Hair Volume Multiplier with Bamboo and Fortifying Damage Repair with Castor Oil, to see what best suits your haircare concerns and share your thoughts below!