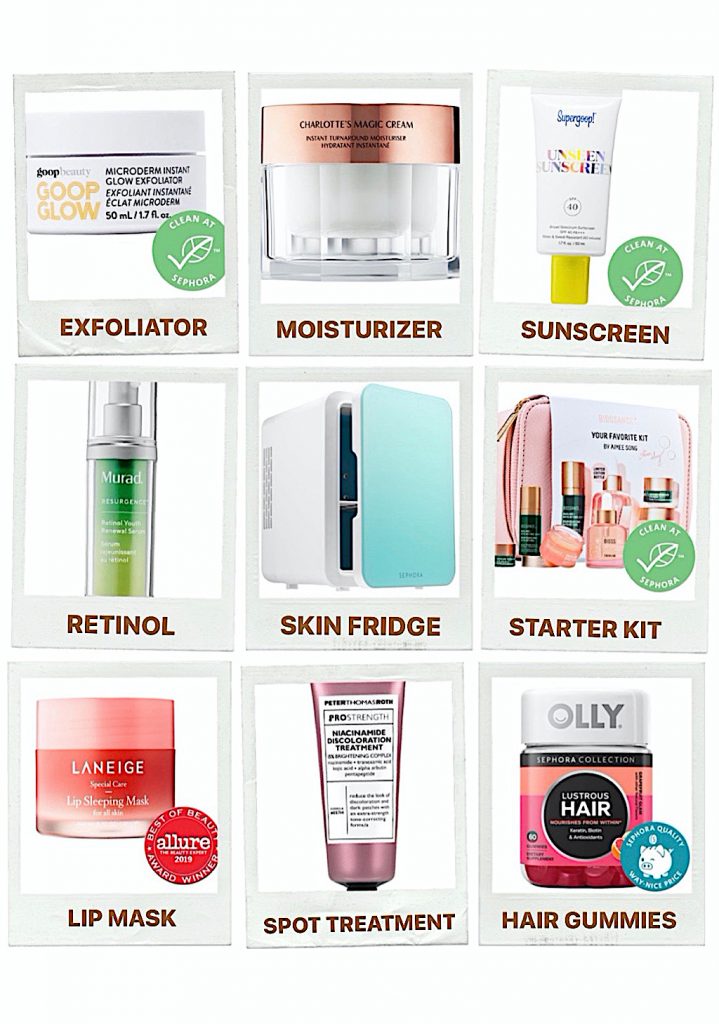 The Sephora Spring Savings Event is on from 4/17 – 5/01 for Rouge members (20% off), 4/21 – 4/29 for VIB members (15% off), and 4/23 – 4/27 for Insider members (10% off) and it's your chance to stock up, try new things, and perhaps even get some Mother's Day gifts on sale!
I wanted to create a list of Top 10 Things I am loving and wanting from Sephora. The first list includes items I LOVE and CURRENTLY USE and will restock on. The second list are items I am purchasing for myself (things I've been wanting to try) and gifts for my mom and sisters for Mother's Day.
PRODUCTS I USE AND LOVE

After cleansing, I have been using the First Aid Beauty Facial Radiance Pads in the evenings. These gentle, daily treatment pads have lactic and glycolic acids to help exfoliate, tone, and brighten. They are super gentle so I use them every night. I love that they are clean beauty pads and honestly like them better than the Dr. Dennis Gross peel pads because they are clean and also much more affordable.
I've been using this Murad Retinol Youth Renewal Serum in the evenings.  Retinol is great for anti-aging and skin renewal.  I've been using this for over two months and need to restock.  It's a gentle retinol and haven't seen any redness, irritation, or dryness using it nightly. I also like it because it has hyaluronic acid to plump skin and minimize dryness.  Side note, it does have a bit of shimmer to it, not sure why, but doesn't have any fragrance at all.  Goes on smooth and silky.
For exfoliating, I am loving the Goop Glow Microderm Instant Glow Exfoliator. It reminds me a lot of the Summer Fridays Overtime Mask, but a tad gentler and you only leave it on for 2 – 3 minutes (all about saving time). This is a clean beauty product and I use this 2 – 3 times a week for a gentle exfoliator. Right after use, I can see that my skin looks and feels softer and fresher.
This Charlotte Tilbury Magic Cream Moisturizer is literally one of my favorites for night time. It is magic at first touch. I can't explain how amazing, silky, and smooth this moisturizer feels. It is definitely one that as soon as you try it, you see why they call it Magic Cream. It is not for all skin types though, it is a heavier moisturizer that provides ultimate hydration. So if you are into heavier moisturizers like La Mer's Creme de la Mer, this one is a must-have.
With warmer temperatures on the way, sunscreen is an absolute must. I've been a die hard Supergoop! Unseen Sunscreen fan ever since I first tired it. Again, it is one of those things that as soon as you try, you're hooked. I love that it's clean, doesn't smell, isn't white, goes on smooth, and has a high SPF of 40! They also have a new Glow Screen Primer with SPF 40 that I am curious about, but for daily sun protection, you can't go wrong with this sunscreen.
PRODUCTS IN MY CART

Alright, now for my IN CART items. Since the big sale is happening (only twice a year), it is the perfect time to try out these products I have been eyeing. The best thing about Sephora is that even if you try products and you don't like them, they will take them back. Even in quarantine, they will take back once we are allowed to go out again.
My favorite Song, Aimee Song, has been a longtime Biossance user. She created a Your Favorite Kit of curated Biossance products in a cute little pack that I am purchasing. I've been dying to try their Squalane line for a while now after seeing so many fave reviews so this is the perfect time to gift this for myself and see for myself.
One of my main skincare concerns is dark spots. As I age and am out in the sun, it's hard to avoid getting spots. Even from acne scars. I've heard amazing things about this Peter Thomas Roth Nicacinamide Discoloration Treatment and am willing to give it a try. This treatment is to reduce the look of dark patches, post-acne scars, and uneven skin tone. It has a high-potency 15 percent active brightening complex of niacinamide, tranexamic acid, kojic acid, alpha arbutin, and pentapeptide but is hydroquinone-free. I've also seen people rave about this Potent-C™ Vitamin C Targeted Spot Brightener that's full of Vitamin C (10%) , but heard it only works on fresh or new acne scars. It also has Vitamin E and ferulic acid to help reduce and brighten the look of dark spots. It's more affordable than the Discoloration Treatment but seems more like a Vitamin C serum so perhaps worth a try to kill one bird with two stones.
I was an avid Vaseline user until I finally caved and tried a lip mask and now I will never go back to Vaseline. I wasn't a fan of how gooey and thick a lip mask is, but it's like that for a reason! It really protects lips overnight and actually all throughout the day. I put it on before I sleep and then once when I wake up and have not had dry lips since using it. I currently use the Awake Lip Mask but have heard great reviews on this Laneige one so taking advantage of this sale and getting this for myself too! $20 seems pricey compared to Vaseline, but you only use it twice a day and a little goes a long way because it is thick! I am also trying out the Biossance lip balm since it is included in the pack above.
Maybe it's because I am at home and have more time to pay attention to my hair, but I feel like it is thinning! I know it is a sign of aging, but say it ain't so! I also have that growing out hair stage where it's right past my shoulders so I need it to grow a bit. I've always been a fan of Olly vitamins (over HUM for sure). Adding this Lustrous Hair gummies to my cart too so once we are out of quarantine, maybe my hair will grow out a bit and look fab.
And finally, this has been on my wish list for a while now and since I am focusing on self care and skincare a lot these days and it's on sale, I am going to get a skincare fridge.  There are mixed reviews on if you need one at all, but since warmer temps are coming, I figure this would be a great time to store my Vitamin C serum, face roller, retinol, masks, and eye creams.

So those are the skincare products I'm loving and purchasing during the sale. Did I miss any must-haves that YOU LOVE? Leave in the comments below!