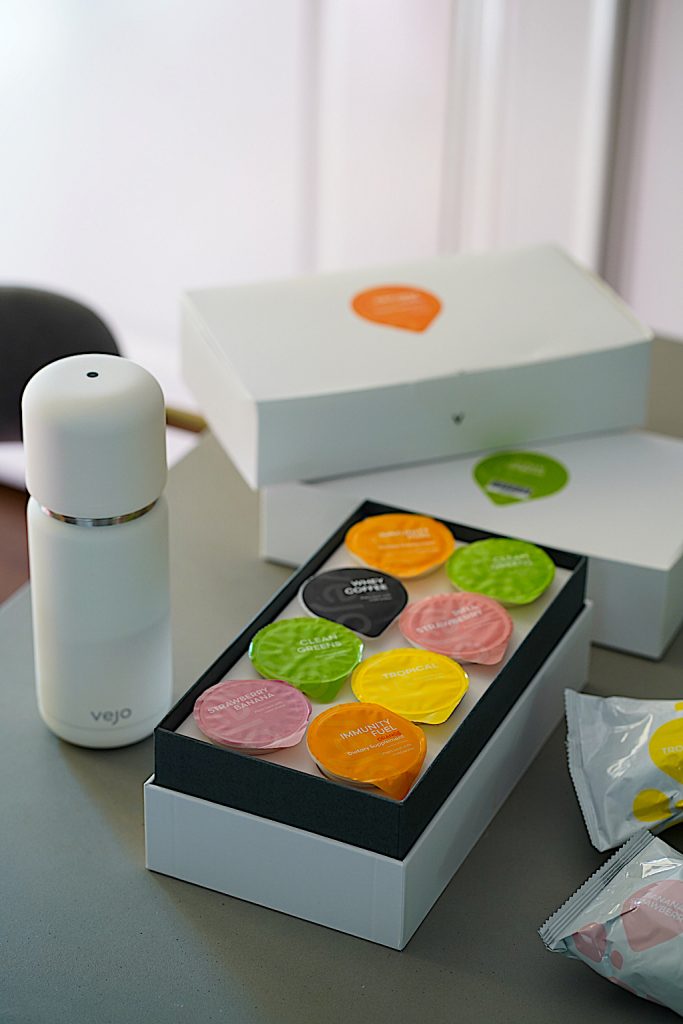 I am so obsessed with my latest gadget, this portable blender from Vejo! Let me just start by saying this is NOT SPONSORED. I actually saw this blender on Instagram and reached out to the company to try it for myself. And I cannot say how much I love it! I've been posting about this fantastic little device on my Stories, because I legit use it every single day (if not 2 – 3 times a day). In fact, I created a Vejo Highlights on my Instagram profile because I have been getting so many questions about my Vejo blender.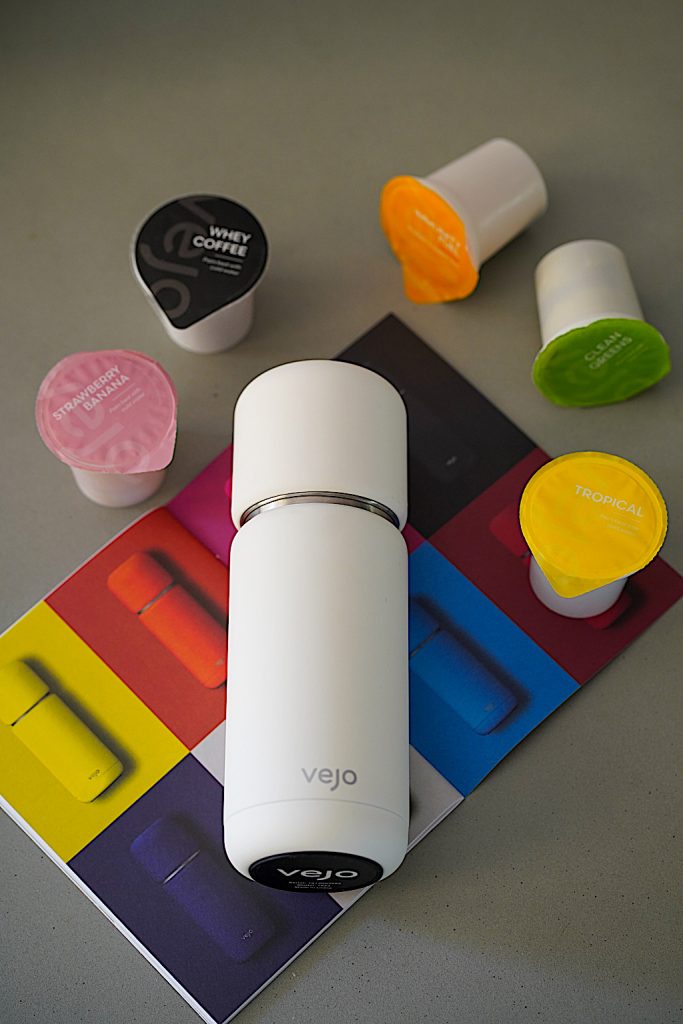 Vejo is a portable, blender that uses blender pods for all your smoothie needs. It is so easy to use, meant to take with you anywhere (think travel when we can get back to that, work, gym, anywhere on the go). Even though we are at home for the time being, I love the fact that it is QUICK (30 seconds to blend), EASY TO USE (even my kids can use it), and almost all of the pods are ORGANIC! No more needing to make sure you have fresh fruits and veggies on hand to make your smoothie.
So let's start from the beginning. You can order a starter pack which includes a blender (you have 7 color options), 8 blend pods, a cleaning brush, AND you get a FREE 8-PACK of pods when you use my code KONG8PACK. When you use your Vejo blender for the first time, charge the cap for at least three hours before using. One charge allows you to mix about 30 smoothies so it can be used even if you take long travel trips!
Once your battery is charged, select a smoothie blend pod. Most of the pods are meant to mix with water, but some pods will indicate "pairs best with almond milk" (like the Vanilla Bean blend). Fill your Vejo blender with the required liquid, place the pod upside down in the blender, then twist the cap. THAT'S IT. The second best thing about the Vejo blender is that is is SO QUIET. I used to use the Vitamix and boy this is barely audible compared to that. In 30 seconds the green light on top of the cap will stay lit, indicating your smoothie is ready. Just open, discard the pod and your smoothie is ready to drink straight from the blender!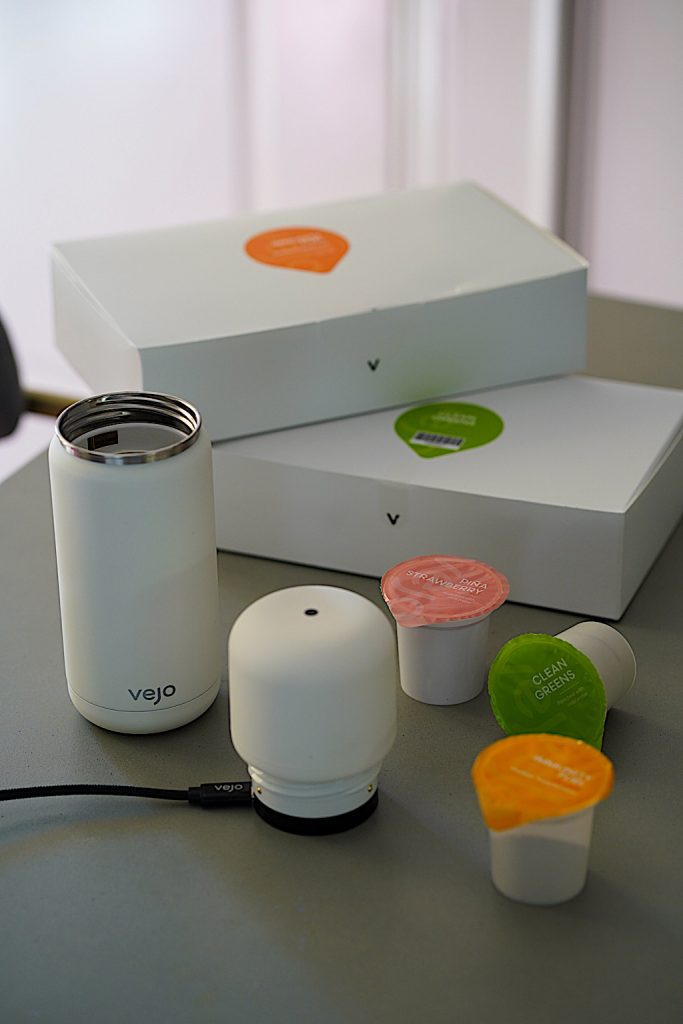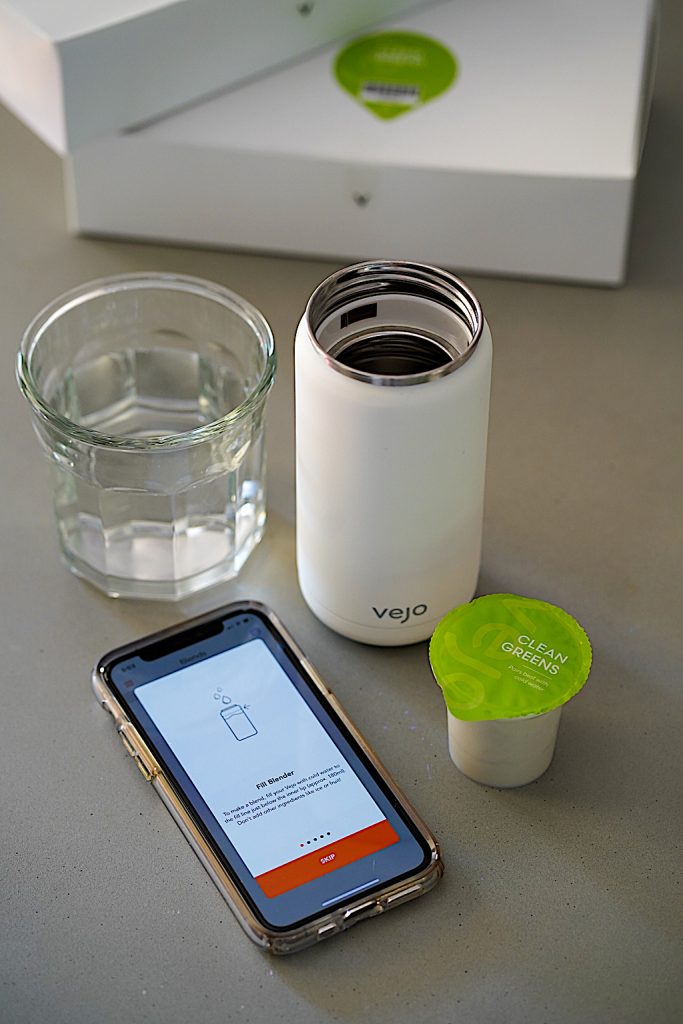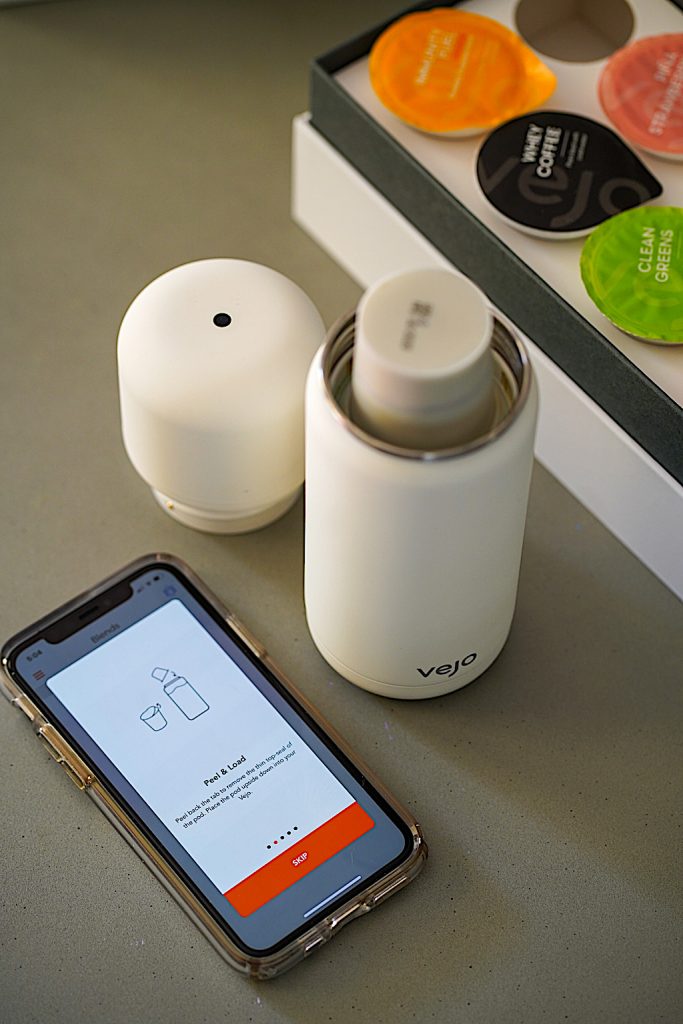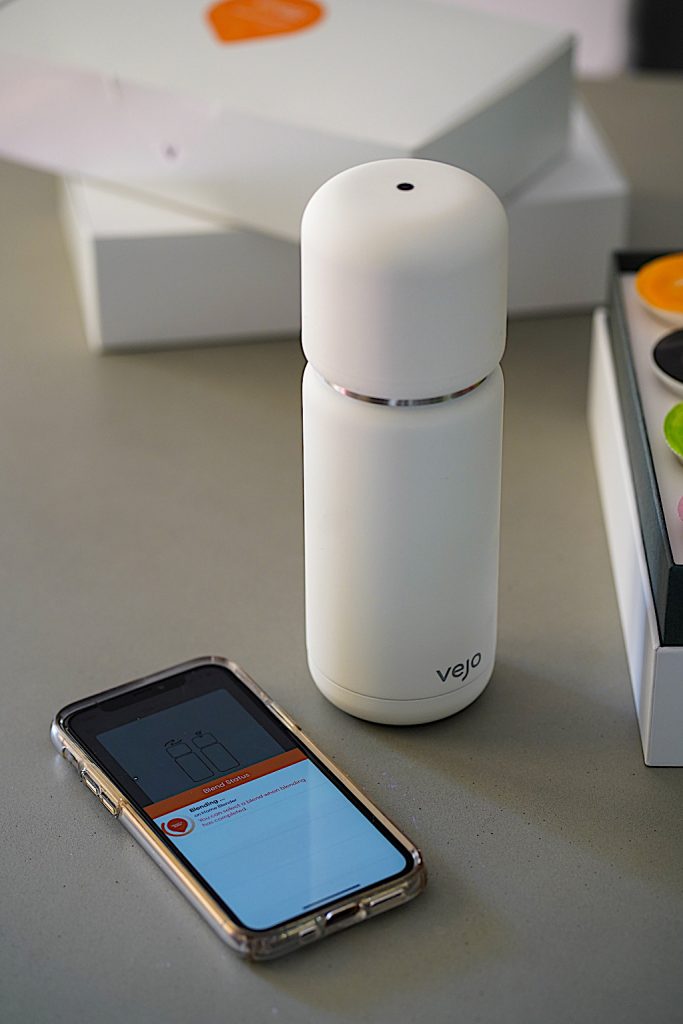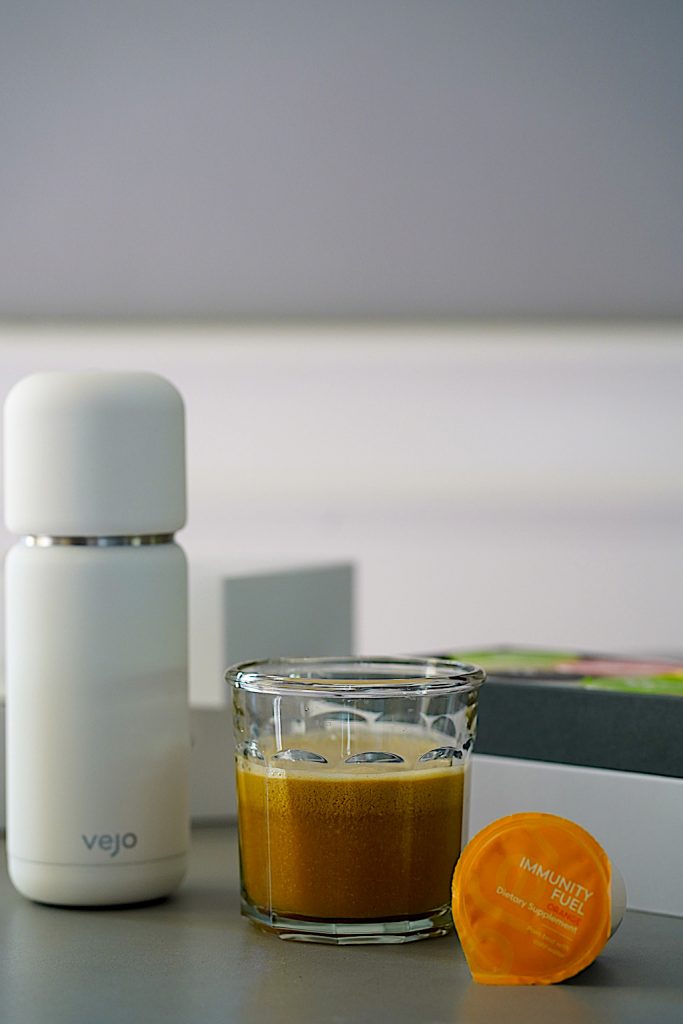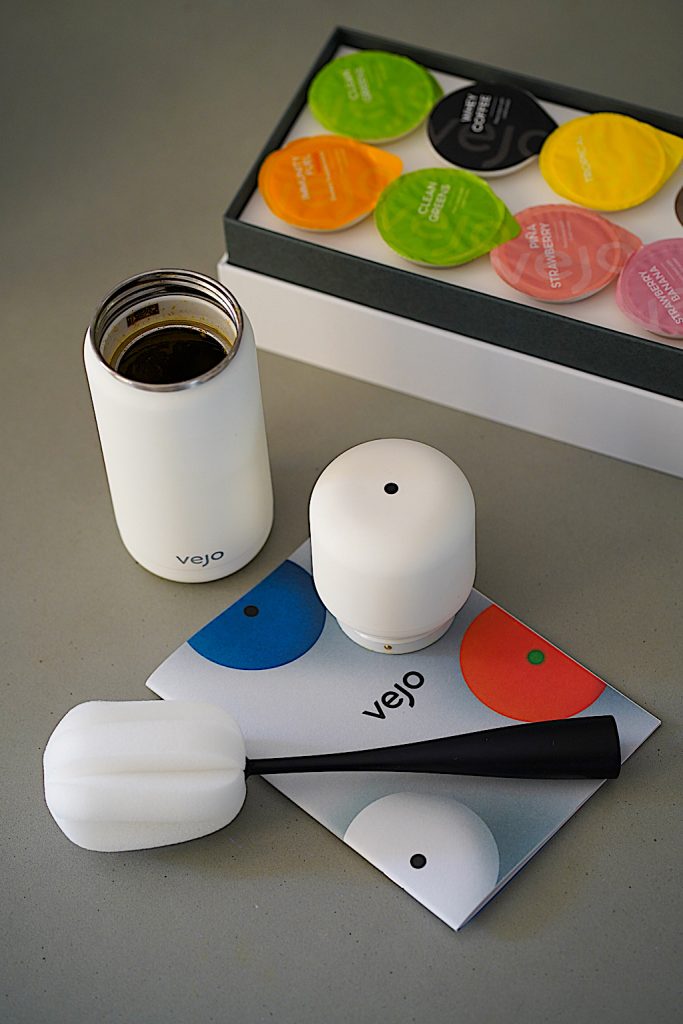 Now let's talk about the blends. There are so many different options for daily antioxidant smoothies (fruits, greens, and even coffee), functional blends (like immunity and stress), performance blends for workouts, and protein blends (with PLANT-BASED proteins). Vejo is also adding more blends as we speak and the next ones will be a watermelon collagen blend and matcha oat milk blend! Most of the blends are ORGANIC picked at the peak of harvest and freeze dried. The pods themselves are 100% biodegradable too. The blends are $2.50 – $4.00 depending on the blend and make approximately 8 oz. of liquid post blend. While the pods seem pricey, they are still cheaper than your juice at Nekter, Pressed Juicery, Suja, etc. and also are ORGANIC. I haven't tried all the blends yet, but my favorites are Clean Greens (70 cal), Immunity (20 cal), Banana Almond (100 cal), and Pina Greens (100 cal). My kids love the Strawberry Banana (90 cal) and Tropical (90 cal) and this Vejo has them getting their daily intake of fruits and veggies too! Did I mention also how low calorie they are compared to some of the other juice places out there?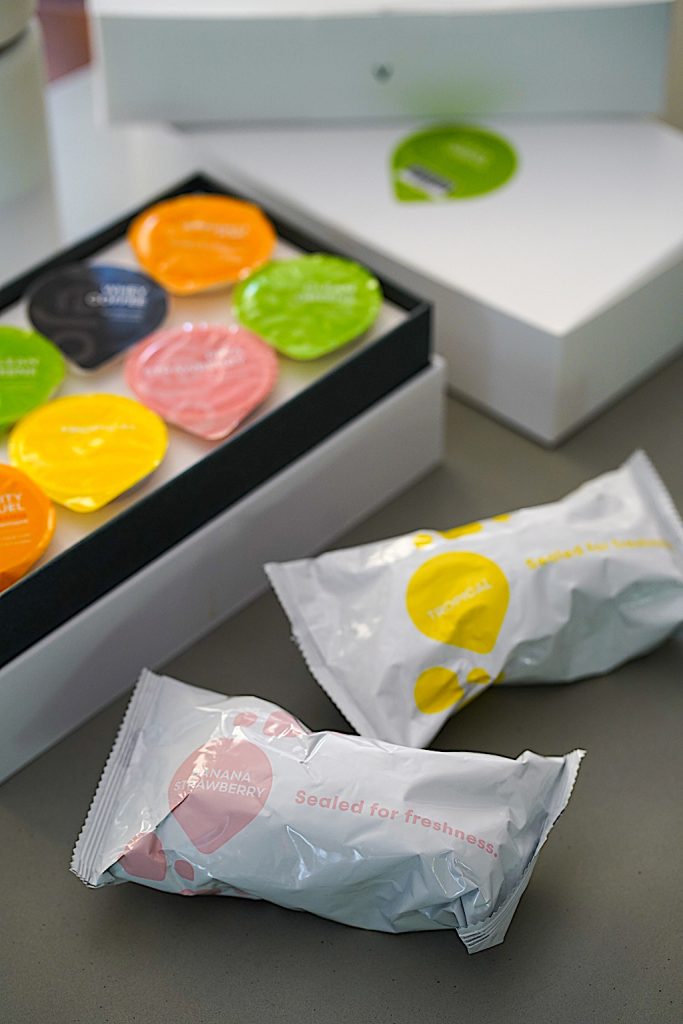 Not only is the Vejo blender portable, it's a smart blender too! You can connect the blender to the Vejo app (iOS and Android) and it will register your blender, keep track of your blends intake, re-order blends, and sets helpful reminders when to take your blends! You can even set up your favorite Vejo blends as a subscription service so you are never out of them again.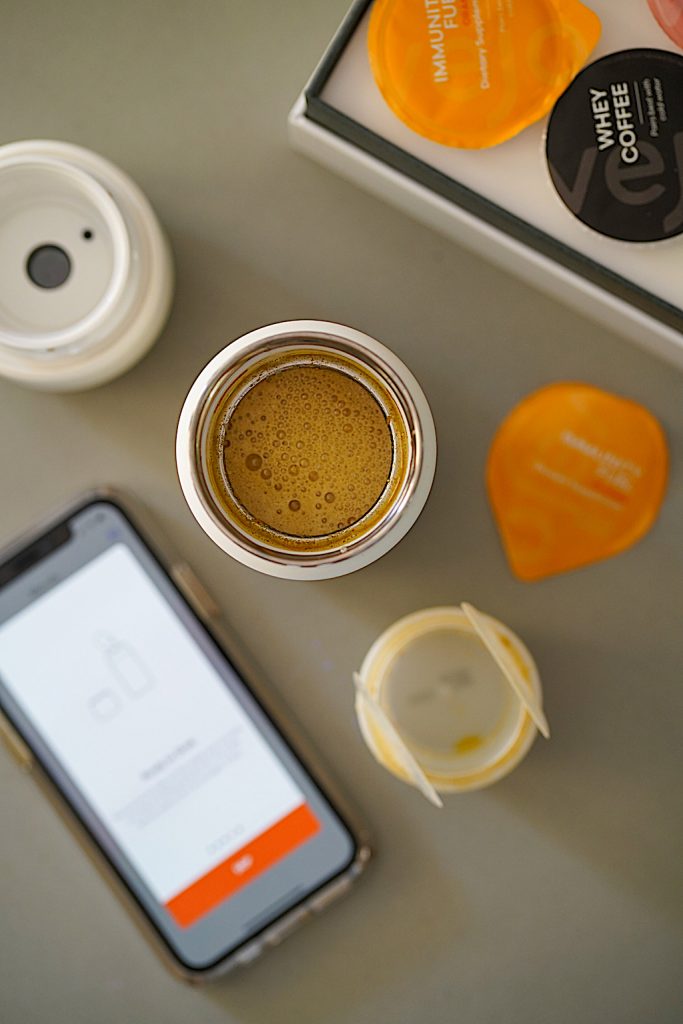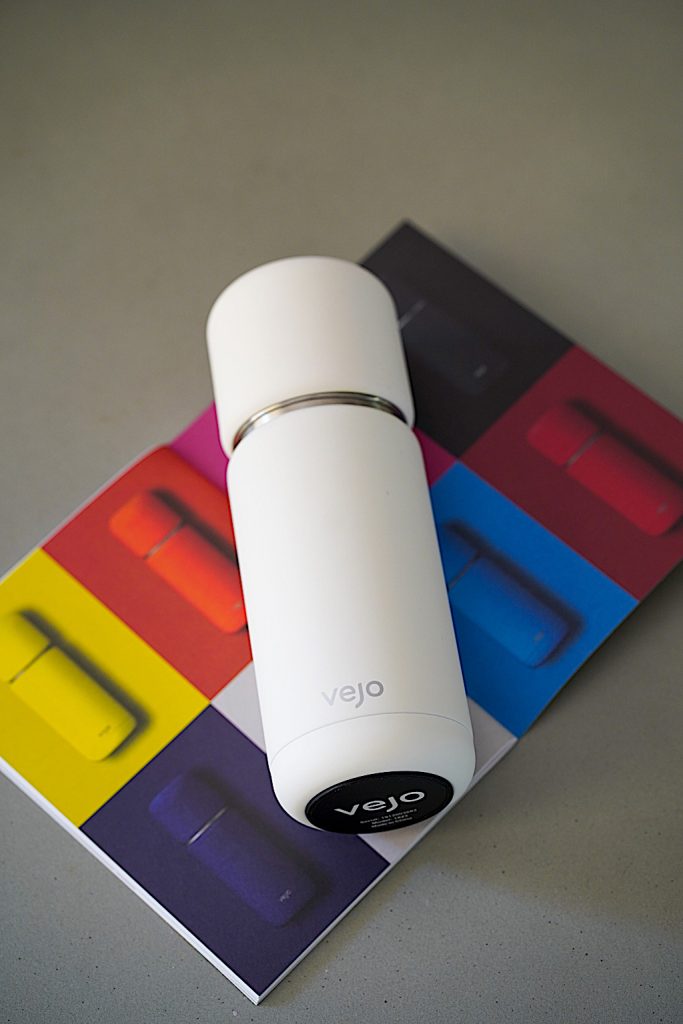 This Vejo blender is truly an incredible product and I am impressed with the technology, ease, design, and taste of the blends! While it is a tad pricey, the ease of use, portability, no need to purchase organic ingredients, design, all of that is COMPLETELY WORTH IT. You can even save 10% on blends if you Subscribe & Save. I highly recommend the Vejo blender to all of my family and friends and am blown away by it.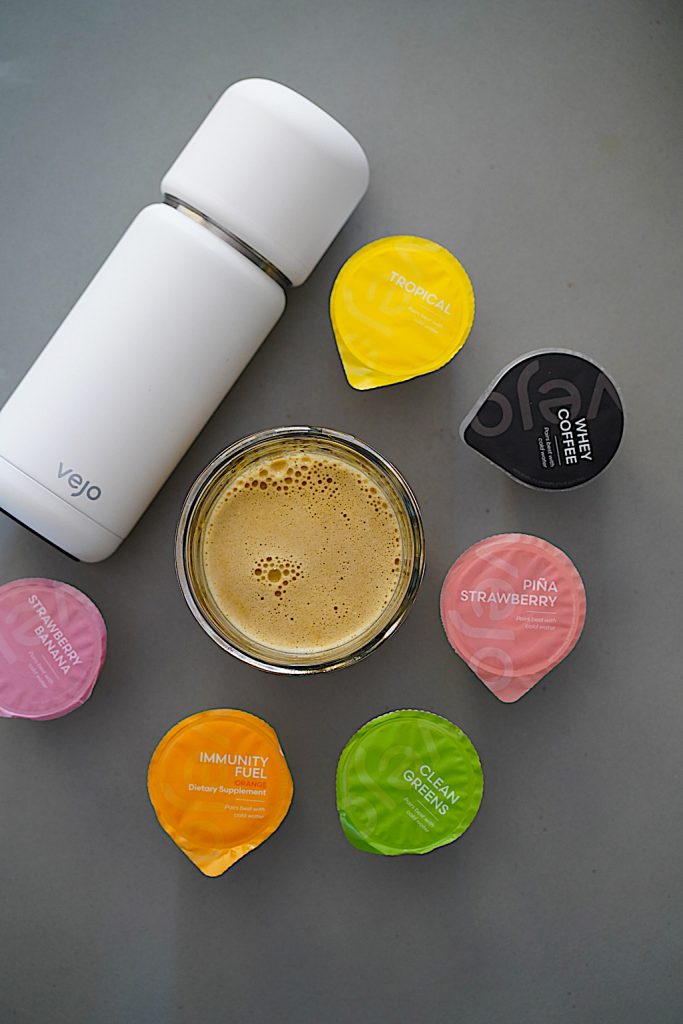 In case you want one for yourself, as a Father's Day gift, graduation gift, you want to save time, or because you buy juice everyday from a store and want to save money, click here to learn more about Vejo! I promise you won't be disappointed (that's how much I stand by this Vejo blender). If you do order, use KONG8PACK for a FREE 8 PACK OF BLENDS!
Portable to take anywhere
Easy to use (even for kids)
Organic pods
Blends quietly
Super quick (30 seconds)
Each blend is 50% of daily fruit and veggie intake
Kid approved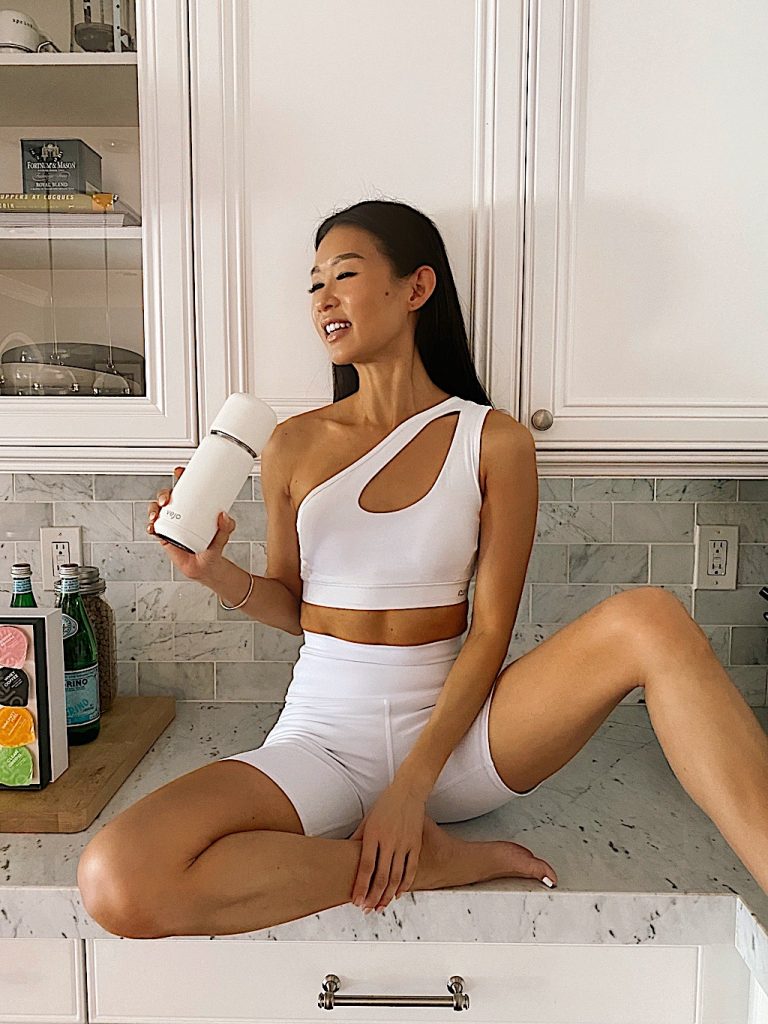 Happy blending!