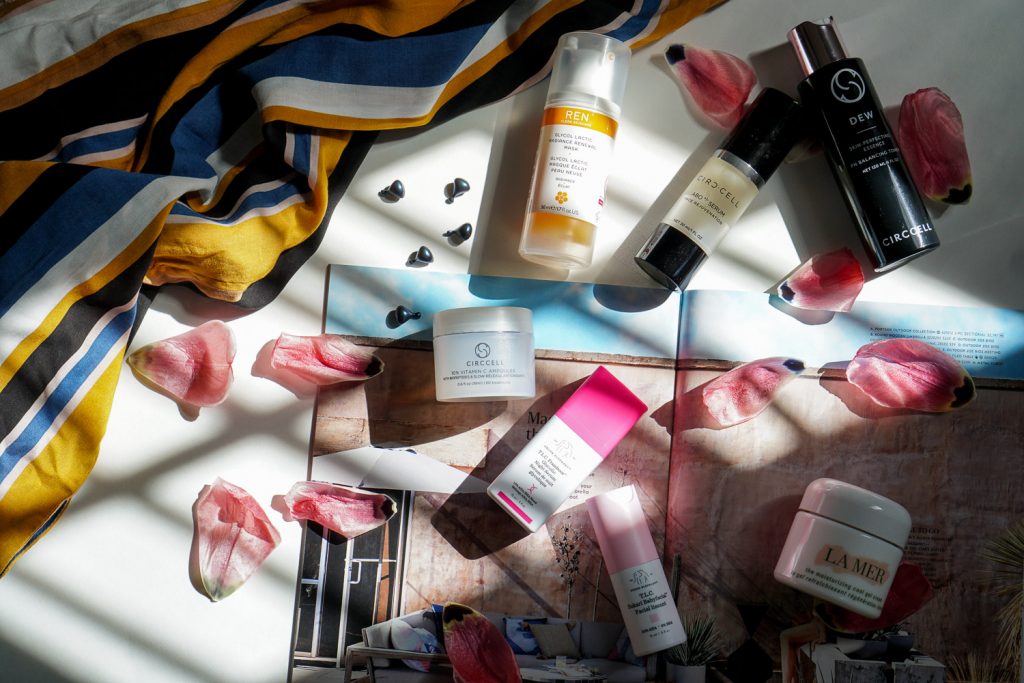 This is something new that I am going to start doing monthly of all my skincare favorites. As you know, I receive tons of beauty and makeup products and it would be great to share with you which ones I end up really liking and using (and repurchasing).
Before I share my April Skincare Favorites, I just want to highlight my skin's profile and concerns. I have combination skin which is oily on the T-Zone area and dry everywhere else and I don't have sensitive skin. I get the occasional breakouts especially during that time of the month, but I wouldn't say I have acne prone skin. My main area of concern is anti-aging and all that it encompasses including brightening, plumping, hyper-pigmentation, fine lines…you know, all the stuff that 30-year olds need to start worrying about.
Okay, so let's get to it. This month I've tried several brands from smaller, Indie brands to department store brands and here are some of my favorites.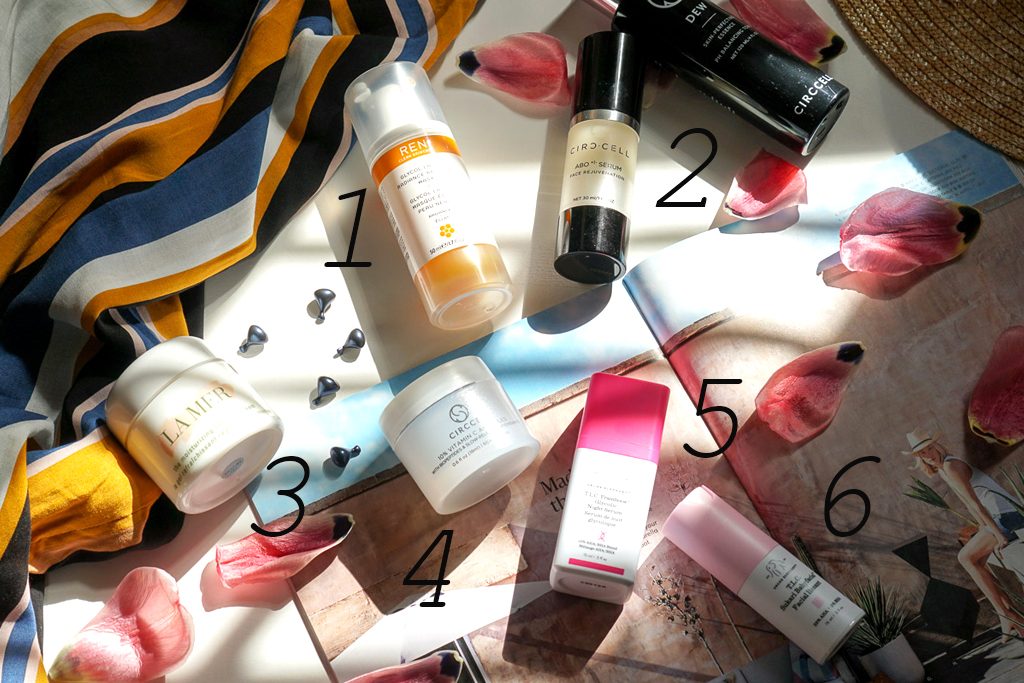 1. REN Glycol Lactic Radiance Renewal Mask
I love masks. I mask 3 – 4x a week using anything from clay, peel, sheet, you name it I've done it. What I love about the REN Glycol Lactic Radiance Renewal Mask is that it only takes 10 minutes to work and it really works. The consistency is quite thick but it doesn't dry your face so you are still able to move it (unlike clay masks). You immediately feel some tingling going on as you apply it and it smells so delicious. After ten minutes I wipe it off using the cloth provided with the mask and my skin feels fresh, clean, and looks amazing. RIGHT AFTER. This mask is not for daily use though, so make sure you use it 1-2x a week and use sunscreen after.
2. Circcell ABO+|- Serum
If you remember my post from the Indie Beauty Expo, Circcell is a brand that I really fell in love with. From the passionate founder who also has a background in engineering, to the real science behind the products, I love so many items from this brand. But if I had to pick my favorites, the ABO +|- Serum is something I use right after I apply toner. The silky serum feels and goes on extremely smooth. It has an ingredient called Perfluorocarbons which mimics blood cells to increase circulation. This increased oxygen has improved my overall skin texture and smoothed fine lines in the past six weeks I've been using this. I can tell that my skin in general has a renewed luminosity since using this serum. It is quite pricey, but worth preventing and improving fine lines and firmness and elasticity.
3. La Mer The Moisturizing Cool Gel Cream
As you know, I am a huge La Mer fan. I've been using their Creme de la Mer for numerous years and I decided to give the new Cool Gel Cream a try. This gel is much lighter than the Creme de la Mer which makes it perfect for spring and summer and also for those who don't like the heaviness of the original creme. This is also great for those with oily skin. I like the "cool" feel of this moisturizer and it almost feels like a sleep mask to me. Coming from using the Cream de la Mer, I like the lightness of this new Cool Gel but once seasons change to cooler temps, I think I will go back to the Creme de la Mer for extra hydration.
4. Circcell 10% Vitamin C Ampoules
Right after the Circcell ABO +|- Serum, I follow it up with the Vitamin C Ampoules also by Circcell. If I had to pick a hero product for this brand, the Vitamin C Ampoules would be it. I love the single dose (I've been able to use one dose twice though) ampoules because it truly protects the potency and efficacy of the Vitamin C. What many people don't know is that Vitamin C must be stored and packaged properly as it is an unstable molecule that oxidizes over time with exposure to light and air making it ineffective. The fact that this Vitamin C is stored in individual ampoules assures me that they will not be exposed to light and oxidize. The consistency of the serum is creamy and soft, and upon application I notice a slight sting (nothing uncomfortable) which makes me feel like it is working immediately. It goes on super matte and very velvety.
5. Drunk Elephant TLC Framboos Glycol Night Serum
One thing that I've noticed when it comes to aging is that you want your dull, dead skin to shed off to improve overall texture and fine lines. This Glycol Night Serum is amazing! It has 12% AHA/BHA Blend which makes it quite effective in resurfacing skin to reveal a more even and radiant complexion. By effectively taking away dead skin, it also allows your skin to better absorb other products more efficiently. After using it for a few weeks I've already noticed that it has lightened old acne scars and some smaller spots. It is not drying at all and I like the thin consistency of the serum. I started using this every few days in the beginning and now use it nightly without any redness or noticeable peeling.
6. Drunk Elephant TLC Sukari Babyfacial
I've been wanting to try this product for a while now after a friend swore by it. Don't let the baby pink fool you, it is potent. Only to be used once a week, this Babyfacial is exactly that – a facial to resurface skin as it exfoliates. It has a whopping 25% AHA and 2% BHA which will dramatically improve skin texture, minimize lines, and boost clarity leaving your skin glowing and baby soft. It definitely tingles upon application, but again, that means it's working in my definition. You leave the mask on for 20 minutes and after you wash it off, trust me your skin immediately looks better and brighter. Lets just say that I cannot wait for the week to be over to use this Babyfacial again! Some people have said they get a little redness after using this product, but so far any minimal redness goes away by morning for me.
So there you have it, my April Skincare Favorites. I hope you enjoy this new addition to the blog and look forward to reading my new reviews each month. If there are any products you are curious about, please let me know in the comments as I would love to provide any input I have. Also, I do my skincare routine and highlight different products in my Instagram Stories as I am using them, so make sure you are following me and watching my Stories to see videos and live reviews!