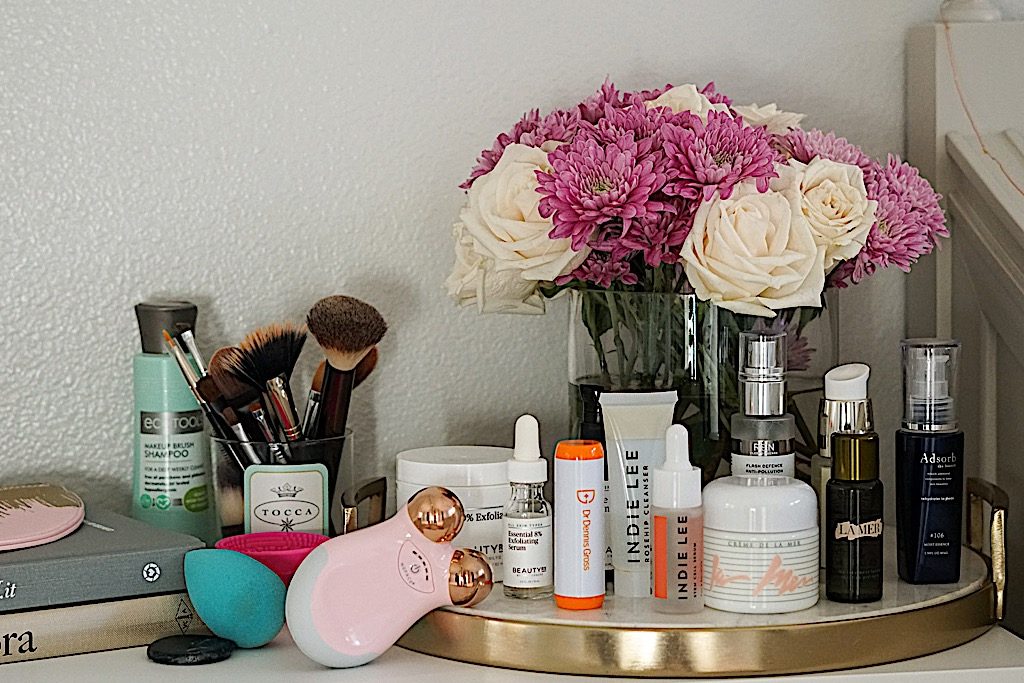 Back about three months ago I mentioned how my skin had been breaking out, especially on my forehead. It wasn't something I was used to as I have occasional breakouts but wouldn't characterize my skin as acne-prone. And especially at my age, acne should not be something I should be worried about over anti-aging! In any case, I was breaking out and I needed to figure out how to stop the breakouts and get my skin back on track.
Over the course of six weeks I used the below devices, products, and methods which I truly believe helped banish the breakouts and have managed to stop them from coming back. It's been over two months since the breakouts and I've been traveling (which also usually causes skin to flare up) and I haven't seen them surface again!
/ DR. DENNIS GROSS | SPOTLITE ACNE TREATMENT DEVICE /
I happened to get sent this device in the midst of my breakouts and thought why not give it a try. I actually tried light treatments before but had to go to a dermatologist's office to get them done so having this little device is so convenient to do at home! The Spotlite Acne Treatment Device uses the power of LED technology to rapidly reduce inflammation, redness, and blemishes. After cleansing, you turn on the device and put it on top of your breakout spot and hold it there for 3 minutes where a red light penetrates on the pimple (the device beeps when the 3 minutes are up). You do this until you treat all your acne spots.
Pros:
IT ACTUALLY WORKS!
I use it on the larger pimples or ones I can see starting to form and within 1-2 treatments, I could see them get smaller and flatten
Cons:
It is not rechargeable and you have to use batteries (thankfully it comes with the first one). If you use frequently, you will need to replace batteries after use for 30 minutes
If you are treating a lot of pimples at one time, this will take some time
Advice: If you have the occasional big breakouts you want to keep at bay, this is the product for you. If you are super acne prone, you will need to invest in batteries and patience to use all over your face. As I mentioned, my forehead is now all clear and has been for over a month. If I get the occasional pimple here and there, I pull out my Spotlight device and after three minutes and a good night's rest, it's gone by the morning.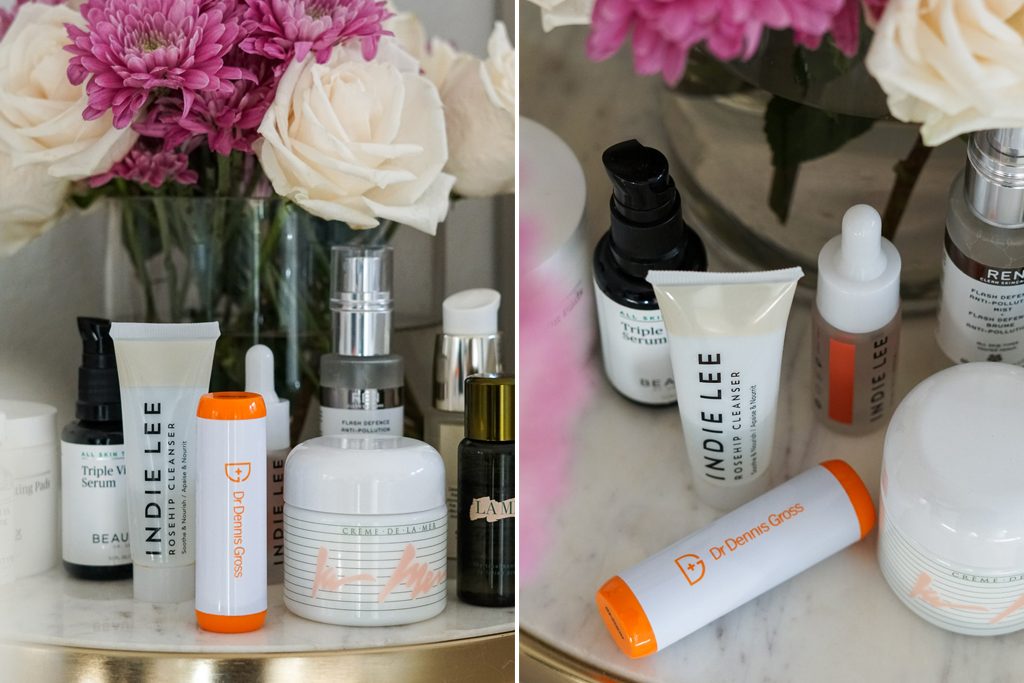 / BEAUTY Rx | THE PROGRESSIVE PEEL /
I am all about using a daily peel. Not only does it help with anti aging, but this also helped with my breakout. I've been using the Dr. Dennis Gross Peel Pads which I'm a fan, but I wanted to switch it up and try something different that's a tad stronger. I love Beauty Rx's Triple Vitamin C Serum and can't say enough great things about it, so when they came out with the 2-Step Peel, I definitely needed to see what it was all about. What I love about Dr. Schultz's products is that they are created through science and medicine (he's a chemist first then a dermatologist). And this Progressive Exfoliation technique enables daily exfoliation that delivers amazing results, without the downtime or irritation of traditional peels. What they recommend is that you start the peel with the 8% Serum every night. I did this for two weeks. Then on week 3 you use the 10% Exfoliating Pads. You alternate the Pads and the 8% Serum for weeks 3 to 4. It seems like a lot of steps but remember this is a PROGRESSIVE PEEL which means you are gently taking the steps to peel on a daily basis and not irritating your skin because that is the last thing you want to do when you have breakouts.
Pros:
I definitely see a difference in my overall skin texture
Helped diminish breakouts and decrease pores
No downtime of typical glycolic peels
Cons:
It takes patience to go through the weekly steps but it's worth it
The Progressive Peel pads sting a little when you use them and they are a tad harsh against skin (but figure that's part of the exfoliating process)
I haven't seen any of my spots lighten, but fingers crossed with time they will
Advice: The starter kit price is actually not bad considering other peel pads cost over $100 and if you were to go into an office to get a single treatment of glycolic peel it would cost you way more than this starter kit.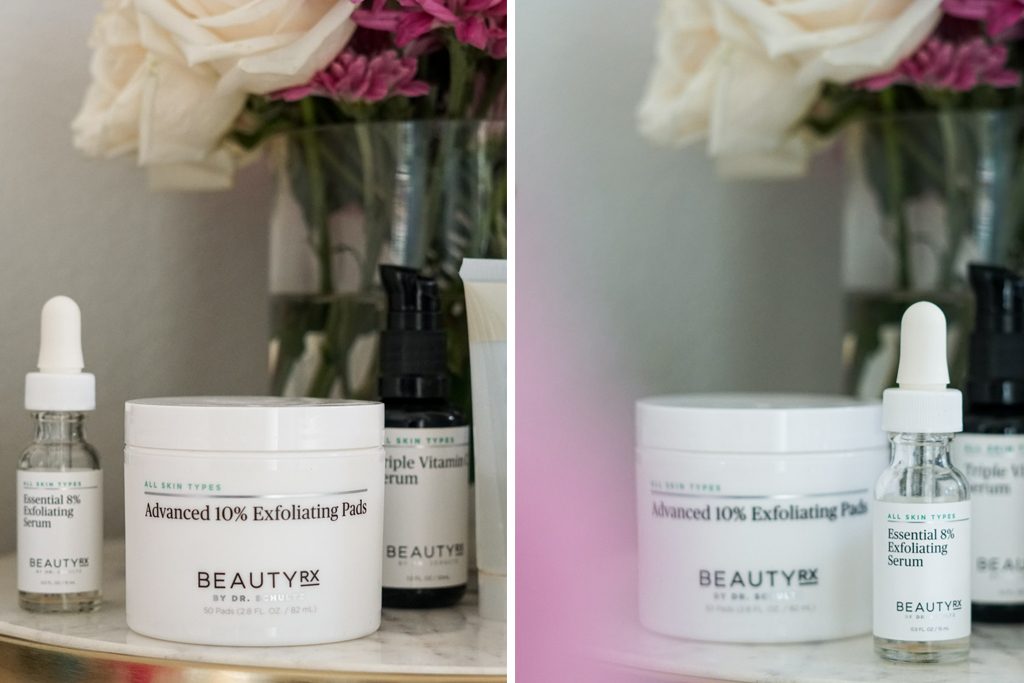 / INDIE LEE | ROSEHIP CLEANSER /
Because I was using the Progressive Peel and spot treating my pimples, I wanted to switch my cleaner to a more gentler one. This Indie Lee Rosehip Cleanser was perfect calming cleanser to balance the peels. What I love about the Indie Lee brand is that they are clean products so you feel good about them on your face. The Rosehip Cleanser is made with natural ingredients like Rosehip Seed Oil, Red Seaweed extracts, and Vitamins A, C, and E it left my skin calm and is also great for sensitive skin. Another great thing about Indie Lee is that they make many of their products in travel size or "trial" sizes so you can use them long enough to see a change and then move onto the full sized versions. I tried the $10 travel size cleanser version and have been using it for two months now (yes a little goes a long way), and once I am done, I will definitely purchase the full sized as it also helped keep my skin hydrated and protected while I travel.
Pros:
Natural and clean product, cruelty free, vegan free
Great for sensitive skin, dryness, and redness
Cons:
Does not take off waterproof mascara without using separate eye makeup remover
Advice: It's just as important what you put into your body as what you put onto it so Indie Lee is a great brand if you are looking for vegan, clean, natural products. I would start with their travel size products which are super affordable and test it out. I'm pretty sure you will love it as much as I do.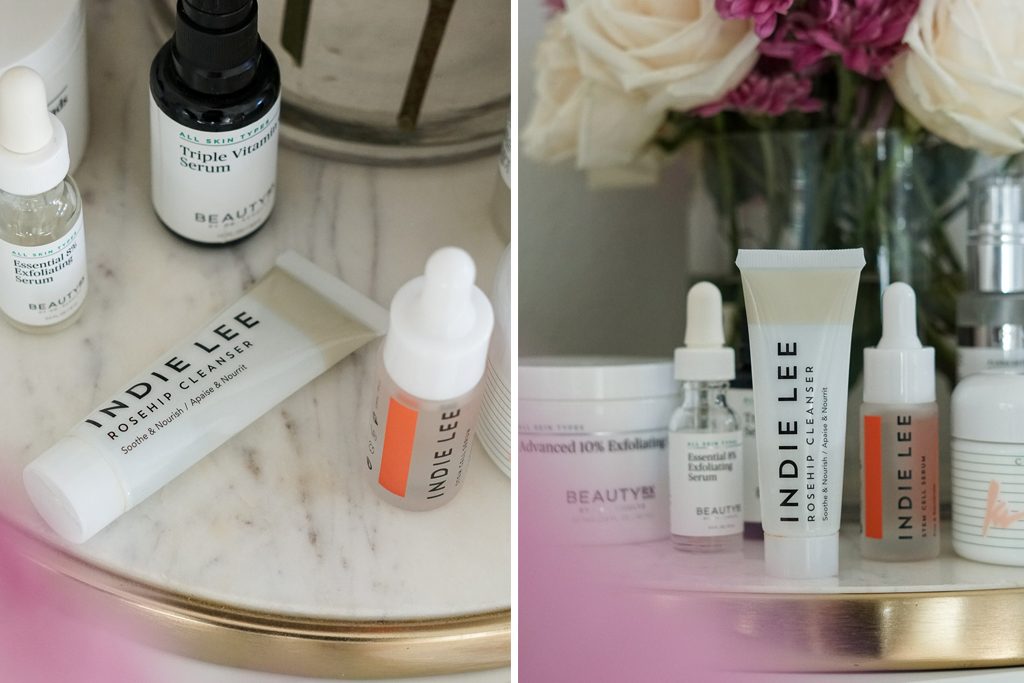 The next tips are basically common sense but things we don't really think about or take time to do but make a huge difference.
/ CLEANING BRUSHES /

This actually sounds like a no-brainer but really, how often are you cleaning brushes? I use the excuse that I don't wear makeup everyday, but still I should be cleaning my brushes at least once a week (and totally didn't used to do that…maybe once a month if that). Starting this habit not only helped clear my breakouts, I just felt cleaner about what I was putting onto my skin. Just set aside 10-15 minutes on a weekend and just get it done and trust me, your skin will thank you.
The best way to clean my brushes has been using the Ecotools Makeup Brush Shampoo. I love how soft it makes my brushes after each wash and literally no hairs are falling out. It's gentle and I don't have to use much to get the brushes clean. I also use this silicone makeup brush pop up that I randomly bought at Justice when I was with my girls to "scrub" the brushes. It works for me because I don't use a variety of brushes, but if I did, I would definitely get a mat. I also love the Beauty Blender Solid Pro cleaner for my Beauty Blender sponge. This really gets out all the foundation that gets soaked up into the sponge (so much so I am disgusted that I didn't clean it more often before).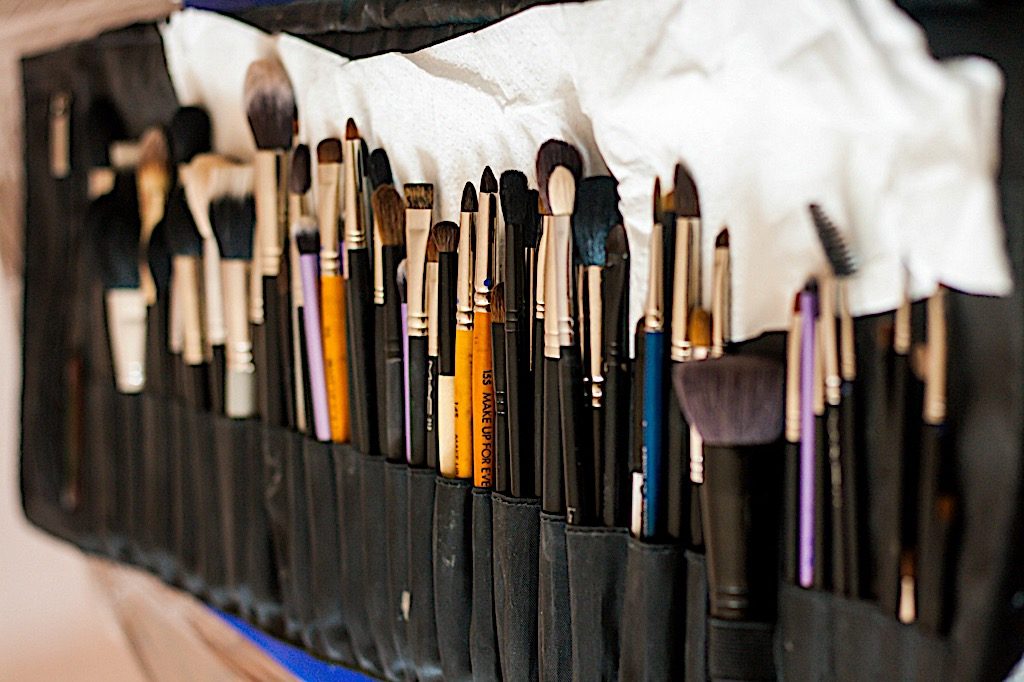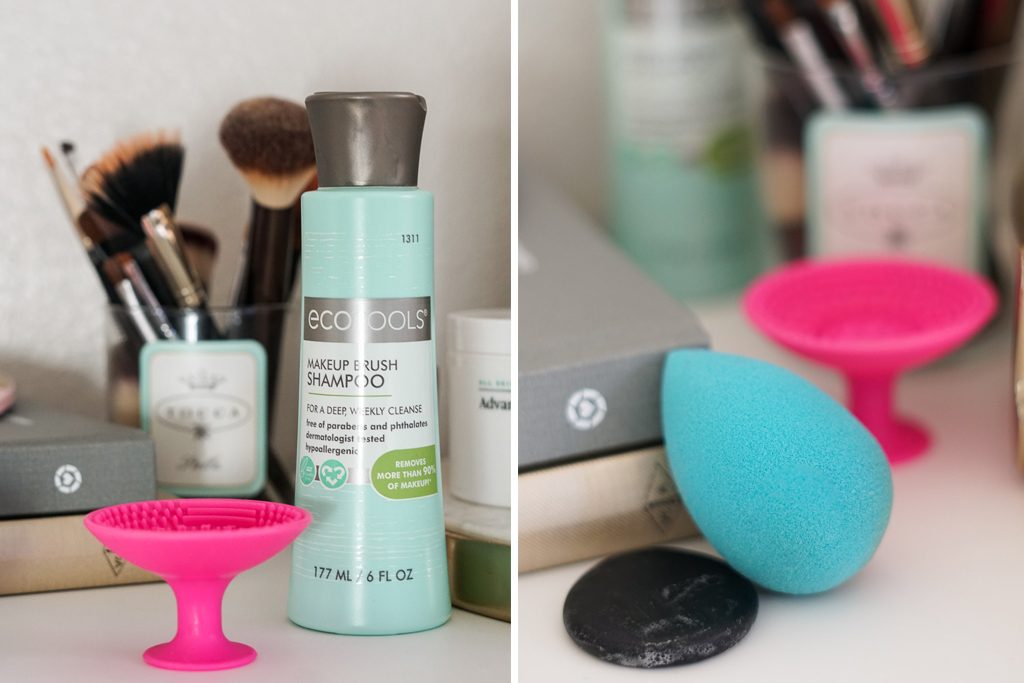 / THROW OUT OLD MAKEUP /

For someone who is very basic and minimal with makeup, I actually use the same makeup until it runs out. While this is being cost effective, beauty products go bad. Not only do they stop working as they should, they can cause skin to act up. I realized that I was using the same powder for over three years just because I still had some leftover. I tossed it, bought a new powder and I swear it helped clear up my skin.
Just as a rule of thumb, these are timelines of beauty products:
Face Makeup: 6 months for liquids, 2 years for powders
Mascara: 3 months
Eyeliner/ Eye Shadow: 3 months for liquid, 3 months for cream eye shadows, 6 months for pencil, and 2 years for powders
Lipstick/ Lip Liner: 2 years for lipsticks and gloss, 2+ years for lipliner
Nail Polish: 1-2 years
Skincare: Most have expiration dates, if not 6 months, 1 year if in a pump bottle
Sunscreen: 6 months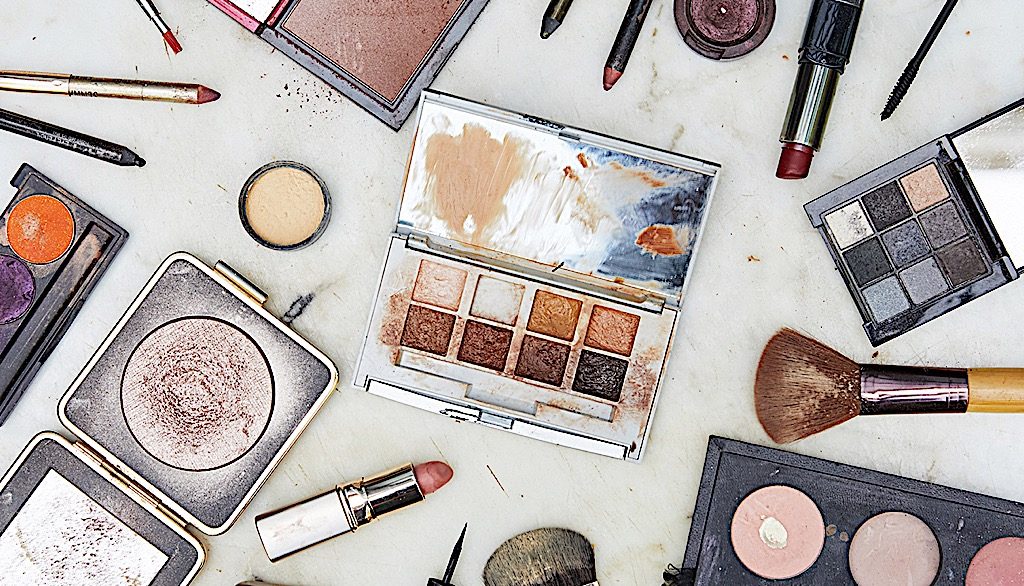 / DRINK LOTS OF WATER /

I am not a water lover, it doesn't come naturally to me. In fact, I actually have to force myself to drink water and count the ounces I chug down because I drink so little (unfortunately coffee and tea don't really count since they also dehydrate you). I noticed the more water I drank, it helped my skin clear up. As a general rule, one should be drinking eight 8-oz. glasses a day (2 liters or half a gallon). Adding lemon juice to warm water and drinking it first thing in the morning has also helped my skin improve. So one way I make sure I drink some water is that I won't allow myself to have my tea in the morning until I drink 20-40 oz. of water first. I fill my Hydro Flask full and drink at least half and rush through that so I could get to the good stuff. Also carrying a water bottle with you in your bag or in the car helps you to remember to drink throughout the day. And of course at night, I try and chug another 40 oz. thirty minutes before bed (even though it means I'll have to wake up in the middle of the night to go to the bathroom).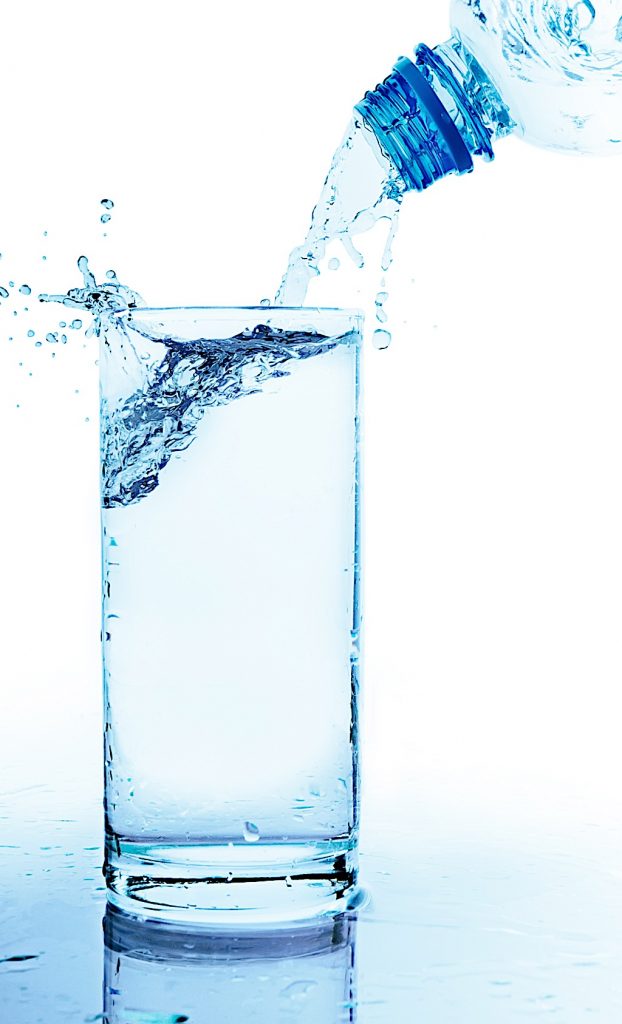 Well, there you have it, the products and regimens that I used over the course of six weeks to clear my skin from breakouts and most importantly keep it clear. I would love to hear what works for you in the comments below!
Shop all the products I use here: