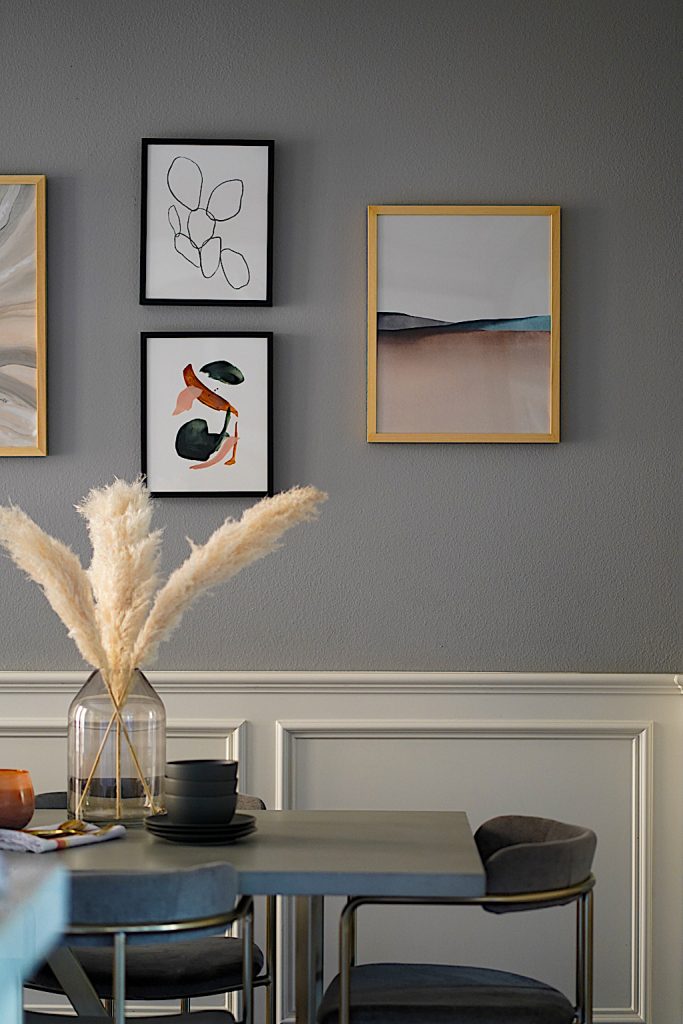 Being at home more these days means doing some minor home improvement projects. Since we moved into our house about eight years ago, I kept the same wall prints over my informal dining room and decided I wanted a change. The prints I had were of New York City subway stops and while I thought they were cool when I picked them, I wanted to brighten up the space with some neutral, lighter prints.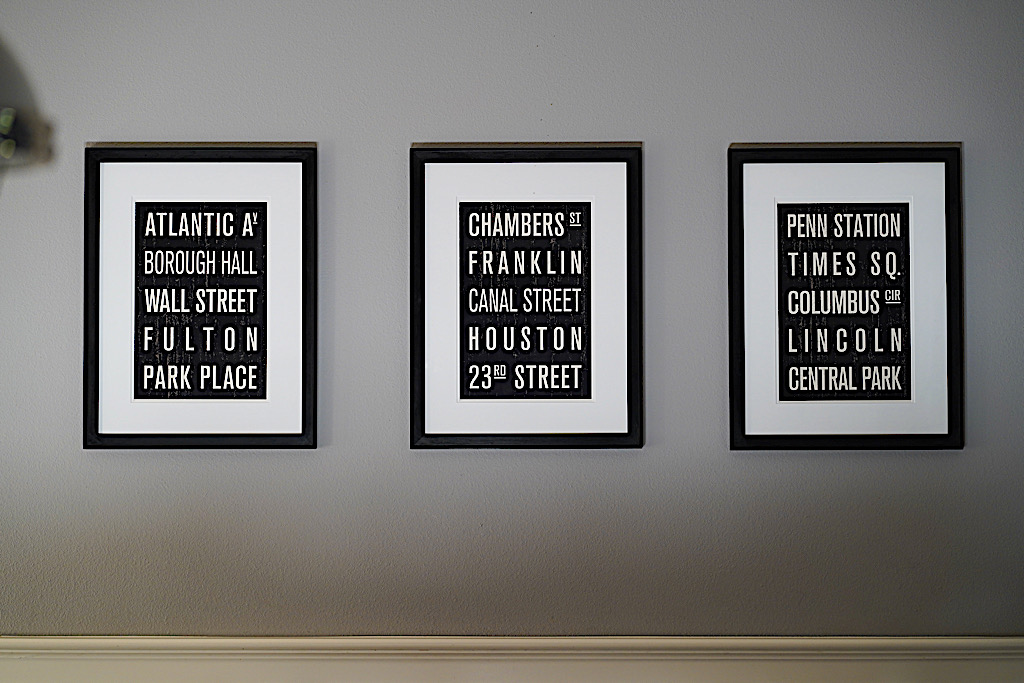 After scouring Pinterest, Etsy, and Instagram for art prints ideas and inspiration, I decided to go Minted.com. Minted's selection of art prints is unparalleled and has so much of what I was looking for. I love that Minted collaborates with over 10,000 independent artists from all over the world. The Minted selection process is made simple too. You can filter art work by art pairs, photography, paintings, drawings, and more. And then you can further filter those searches by size, orientation, theme, style, color, etc.
I decided to go with a gallery wall since my dining room wall space is pretty large.  I love a gallery wall because you can show off multiple pieces at once and infuse colors and pattern onto one space.
COLOR
Color is typically what ties the gallery wall together. I knew I wanted neutral tones for my wall and chose warm tones tan, brown, rust, and beige, with some black.  Don't be afraid to have different color frames too as another way to add color.
THEME
Walls that have a general motif help to tie everything together. All the prints do not have to incorporate the theme, but it helps when picking pieces to stay in a general concept. I wanted more modern and abstract prints for my gallery wall, but also wanted to include some nature vibes. I was able to find so many Minted prints for my home, but narrowed it down to the five prints below in different sizes and frame colors. Note: You don't have to have the prints framed through Minted but it's such a nice option to have. Personally, I knew if I didn't frame them through Minted, it would probably take another 3 months before I got them framed myself.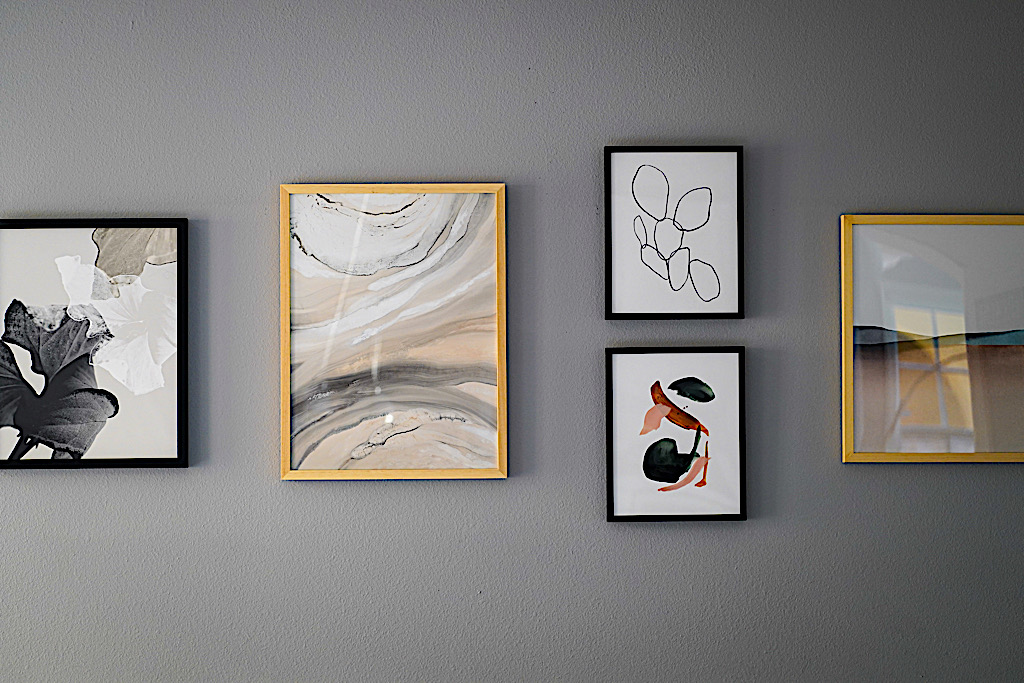 These are the five Minted prints I ended up picking for my gallery wall:
LAYOUT
When putting together a gallery wall, play around with the layout and levels. You can cluster the pieces together, spread them across the wall, mix horizontal pieces with vertical pieces, etc. When deciding on the Minted art prints, I copied and pasted the 5 – 10 Minted pieces I liked the best and put them in a document to move around and play with to make sure of my options. While this took some time, I am so glad I did it because it helped me visualize not only my space but also where each print would go on the wall as well as which sizes to order. I had a "main" piece which was the largest art work I wanted, then I chose additional prints to surround the main piece. Playing with levels helps to add depth and layers to the room.
Once I made up my mind, I selected the Minted art pieces, ordered, and within less than a week, my prints arrived! I was so excited to open the boxes. The packaging was super sturdy, professional, not one dent in any of the five boxes (they were all individually boxed), and very secure. I love that each print comes with a note about the artist and their inspiration, a Certificate of Authenticity, along with two rubber bumpers to put on the bottom of the frames so that they don't scratch the walls.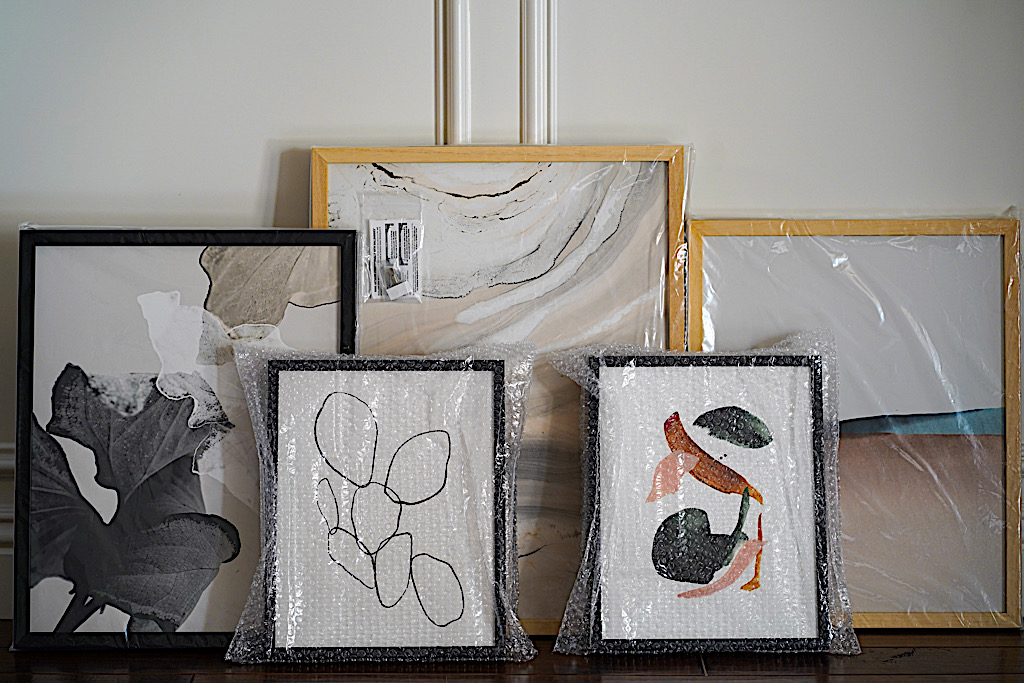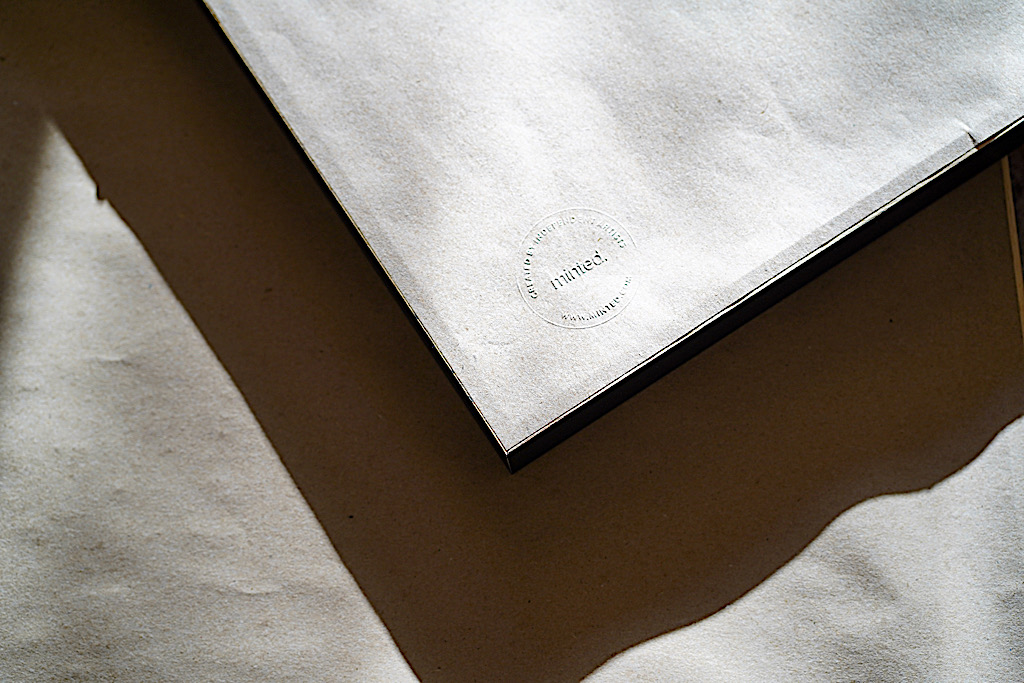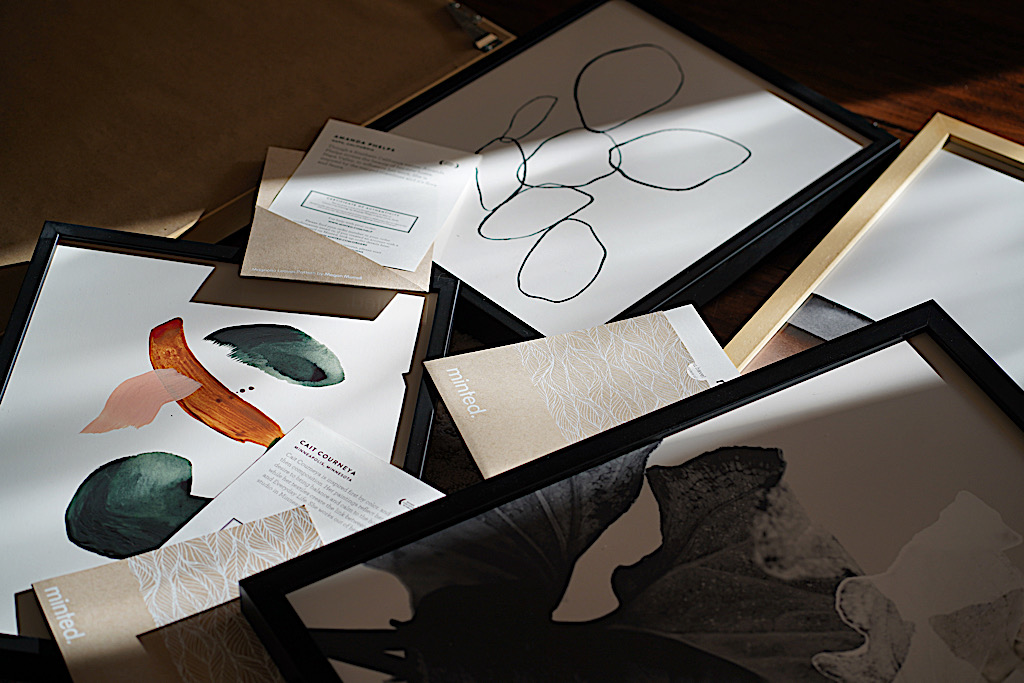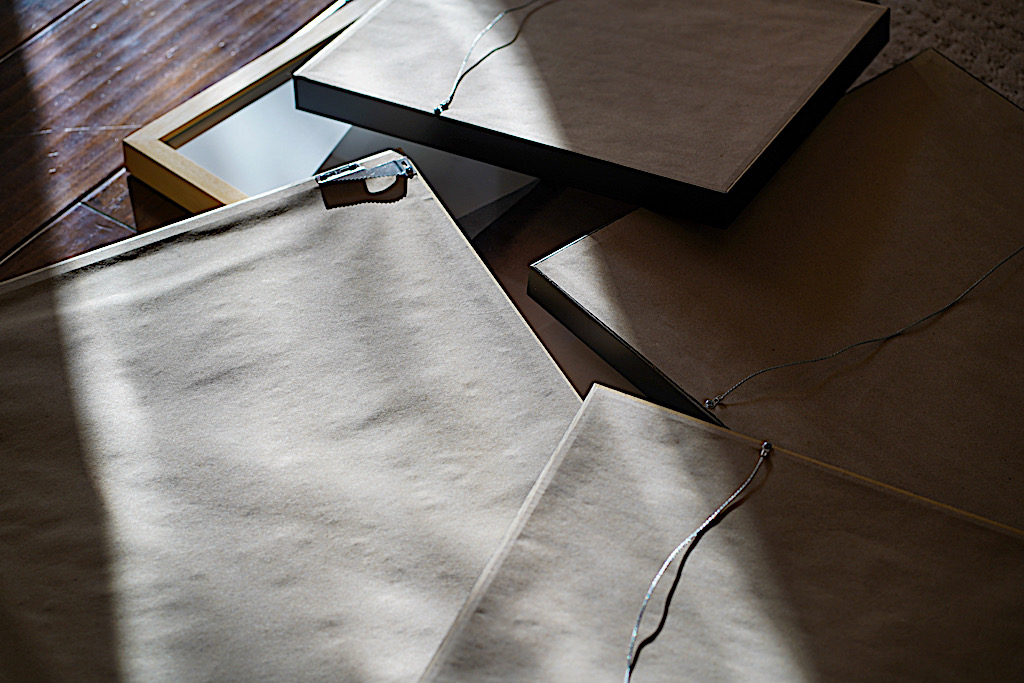 HANG THE EASY WAY
Now comes the second hard part – putting up the frames.  I've put up a gallery wall before and the easiest way (but takes a little planning) to put up frames is to make paper sizes of each frames and place those on the wall. This is a great hack to ensure the placement of the frames is how you want it. It took a few tries but once the placement was set, it made putting up the frames so much easier. Trust me, use this hack and you will thank me.
The easiest way to hang picture frames and if you don't want holes in the walls is to use these Command velcro strips. I use these in the kids' rooms just in case of earthquakes (so the frames don't fall off the walls). The Minted art pieces aren't that heavy so these velcro strips are more than sturdy enough. I've also found these picture hanging nails super easy to use as well.
Check out my Reels video on Instagram to see the steps I took to put up the Minted art pieces.
I am ecstatic about my Minted gallery wall and love seeing this artwork every single day. Not only does it brighten up my space, they are conversation pieces as everyone tries to interpret what each Minted artist created. I plan on ordering more Minted art work for the rest of my home as well as holiday cards as those will be coming up right around the corner!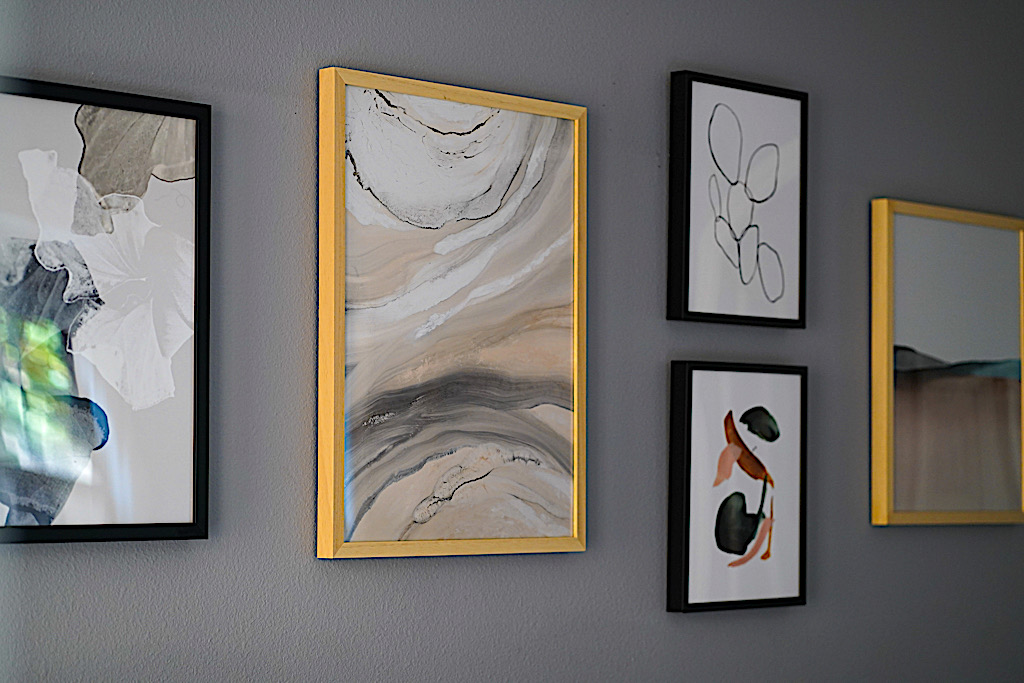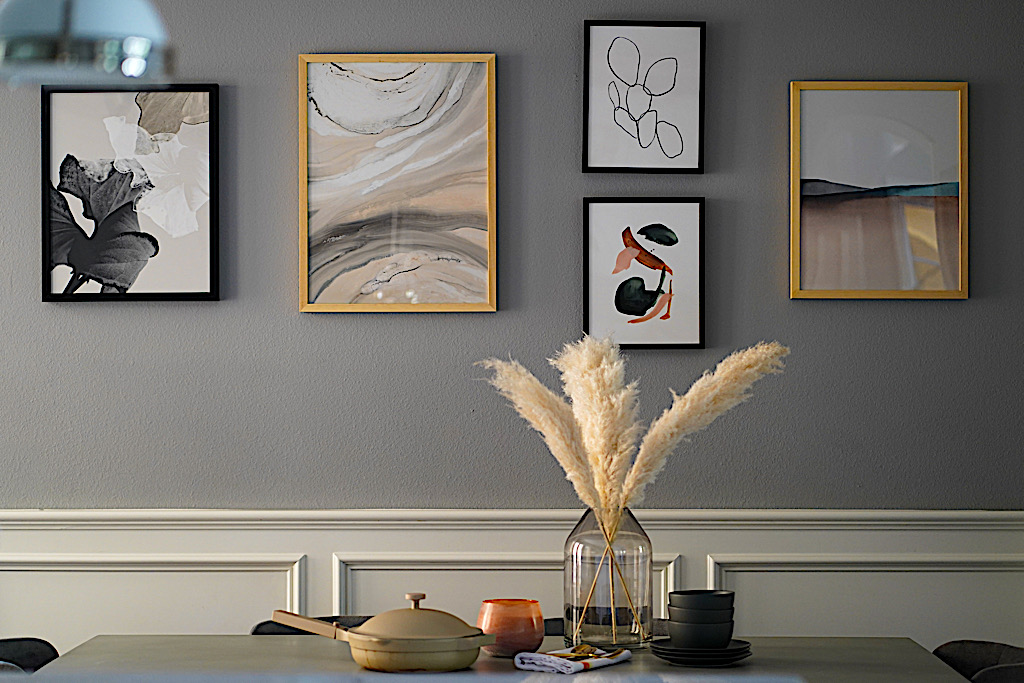 Shop my Minted artwork below along with some of my other favorites.

Shop my dining table, chairs, and setting below.

Thank you to Minted for gifting me these pieces.  To be completely transparent, I reached out to Minted after doing my research and wanted to partner with them for my home.  I couldn't be happier and definitely plan on getting more pieces for all of my other rooms!