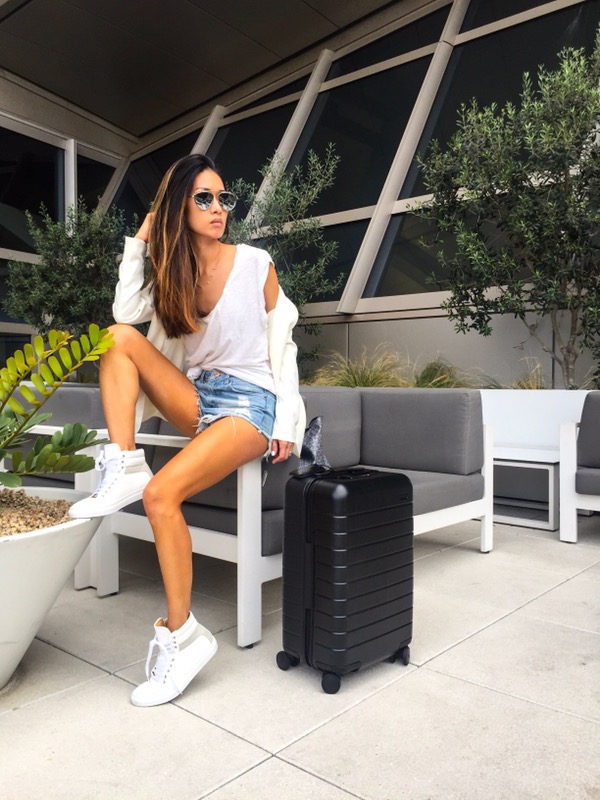 When it comes to my fashion style, I am all about minimalism. This minimal concept also applies to my travel style. Believe it or not, I like to pack light, efficiently, and smart. When choosing a luggage to take on my recent three week vacation, I wanted a carry-on that was stylish (obviously), minimal in design, lightweight, yet also durable and functional.
Away Travel was literally the answer to my luggage needs. The sleek, polycarbonate, hardshell exterior makes a fashion statement as I strut my way through the airport. I say "strut," because the double-wheel spinners roll so smoothly so I don't need to struggle or readjust as I have with other luggage in the past.
The carry-on complies with most airline regulations, and I have to admit when I first started placing my clothes in it, I was doubtful it would hold much. I was beyond thrilled when I saw that it had a compression system at the top of the luggage which made it even more roomy to pile on the clothes. Not only was I able to fit two pairs of shoes inside, I was also able to pack five pair of sunglasses without having to worry about them being squished in the luggage since the hard exterior protects everything inside.
Aside from the chic design (which is sadly one of the main reasons why I went with Away Travel), one other major feature that I love is the built-in battery that my phone was pretty much attached to all trip long. Not only can I charge my phone with this luggage, I can also connect my laptop (yes, there are two USB ports). Ingenious!
Away Travel has really come up with something fabulous when designing luggage. I love their tagline "First class luggage at a coach price" because it truly compares to luxury luggage but literally at a fraction of the cost. If you haven't checked them out already, you definitely need this for your next vacation!
Features:
• Complies with most airline regulations
• Multiple USB ports to charge electronics
• Hard shell but lightweight
• TSA approved lock
• Compression system and interior mesh
• Smooth, double-wheel spinner wheels
• Leather luggage tag
• Inside divider and removable laundry bag
• 100 Day Trial + Lifetime Warranty
Ideally I only wanted a carry-on luggage, but after traveling with Away Travel through three countries in three weeks, I am convinced that I need the entire Away luggage set including The Medium and The Large for my next adventure.
* Away Travel just added The Bigger Carry-On luggage this week! This is slightly larger than the original carry-on and complies with most US major airlines.*