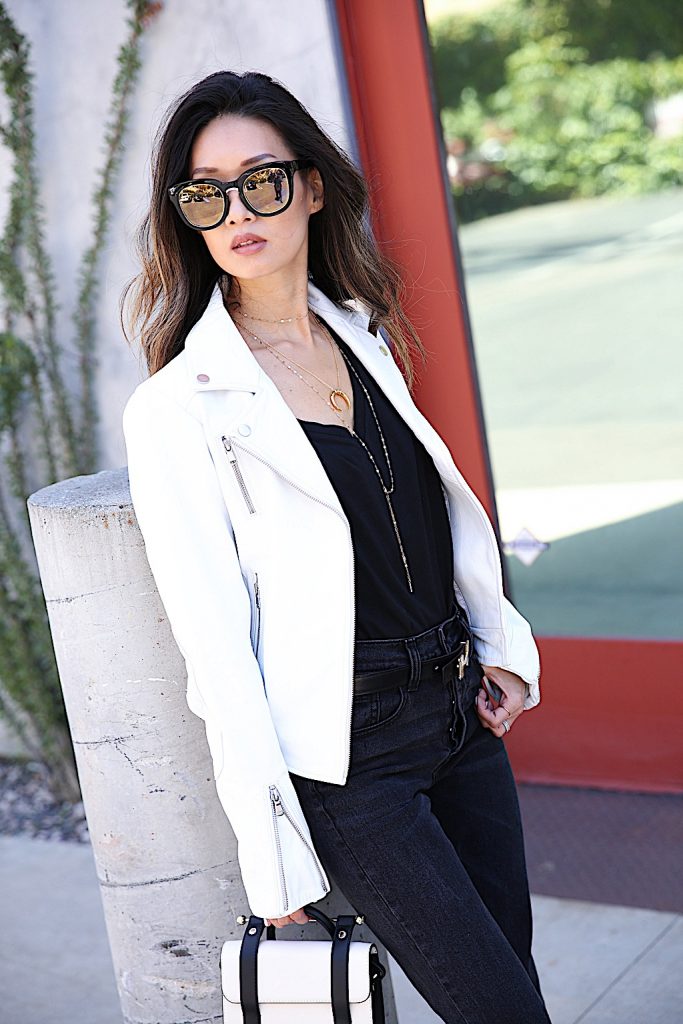 "Though I might travel afar, I will meet only what I carry with me, for every man is a mirror. We see only ourselves reflected in those around us. Their attitudes and actions are only a reflection of our own. The whole world and its condition has its counter parts within us all. Turn the gaze inward. Correct yourself and your world will change."
 Kirsten Zambucka
We live in a world where we are surrounded by negative news and the frenzy of everyday life. But what if we only heard good news? Only positive things that happened around us? Would our outlook be different? How would our emotions change? Would there be more happiness instead of sadness, excitement instead of fear, support instead of discouragement?
I believe that while we can't control everything, we can control our feelings and how we choose to see things. We can be positive and spread that positivity around just by sharing some good news. Happiness is contagious so if you share positive daily experiences, others will feed off that happiness and feel better about their lives too.
Sharing your good news might seem like a small gesture but it can have a big effect and provide people with a glimmer of hope in a world filled with negativity. Your good news positively influences your friends, who in their turn positively influence their friends. With one positive word, thought, or post you can brighten up the day of someone you have never met. Now isn't that a wonderful thought?
To get started and share a little positivity, I asked a few of my favorite bloggers to tell me something good – big or small. I have no doubt that by hearing their experiences and perspectives that you in turn will see your daily anecdotes in a more uplifting light. And if you aren't following them yet, check out their blogs and Instagram accounts, they're all pretty darn inspiring!
Amy Zhang | The Luxi Look | @theluxilook
"Been focusing on building my network this year, working out consistently 3x a week and finally seeing results, adjusting my mindset and attitude through meditation, yoga, and unplugging from tech, and connecting with amazing women such as yourself and hearing their stories."
Caroline Taylor | Currently Caro | @currentlycaro
"Last week by bestie, who has three kids under the age of 5, was having a hard day so I picked up her kids and took them for the day and gave her a gift certificate to the spa at Pelican Hill for a day of pampering. I am not a mom, so at first it was SUPER intimidating being with 3 kids alone and being responsible for them. But I kept thinking she does it EVERY day, so clearly I should be able to handle one day. We went to Balboa Island on the ferry, got Dad's bar, and spent the day playing on the beach over there. I even took them all to dinner solo somehow!! It was craziness, but so so rewarding to see how relaxed and happy my friend was when I dropped them back off! To me, that is what life is about though, being there for your friends and family and always pushing yourself outside of your norm. I have SO much respect for all my momma friends (including you!! I still can't believe you have three!!)."
Lavenda Memory | Lavenda's Closet | @lavendascloset
"Made s'mores this weekend with Ella (my daughter)! Enjoyed some much needed sunshine on our new garden furniture too."
Adelina Perrin | The Charming Olive | @thecharmingolive
"I believe in taking initiative to live a good life. In 2012 I was suffering so much from allergies – my seasonal allergies turned into year-round ones and they began to take over my life! Doctors would say, "nothing is wrong with you" and would give me allergy medication to mend the problem. However, during this time I was also having horrible stomach issues that left my body feeling wiped out. Turned out I had something called a "leaky gut." Sounds gross I know! It took me a while to find out that everything I had going on was caused from eating a diet full of gluten and preservatives. After reading the WHOLE 30 book and a dozen others on nutrition, I switched to a paleo diet and kicked gluten + grains to the curb! I also stopped buying anything packaged that had more than 3-5 ingredients. With the help of some supplements and my new diet, I became a brand new person within 30 days!! I couldn't believe the effect that food has on our bodies, it really has the ability to help us heal if used correctly! Every body out there is so unique and I encourage you to listen to it! You will find your answer to living a good life!"
Gergana Ivanova | Fashion Is My Forte | @fashionismyfortee
"I worked pretty hard all Memorial Day weekend on my app and am one step closer to releasing it (coming Summer 2017)! Pretty proud of myself for saying no to partying and yes to being an adult."
Sirin Isik | Creative Echo | @creativeecho
"We were all once faced with unexpected events or circumstances that are difficult to overcome. These could be things like financial issues or personal issues … there are countless challenges…I grew up in Turkey where at age of 18 years you usually have to pick your college. You have to factor in many things before making a clear decision. You had to think about future salary and if you will find a job with this education. I had to all these thoughts in my head but I forgot to ask the most important question. "Am going to be happy?" With all that planning I didn't realize that this is going to be my future. I wanted to follow my passion but wasn't sure if I would be able to earn enough money. I finally picked a college and it was one of the best colleges in the nation. It was a big challenge to be accepted there. I applied and was selected. My plan was to work for the Turkish government but wasn't really sure if I really wanted to pursue that path. I graduated from University at the Age of 22. It seems like I was always looking for another opportunity while I was working there. I wasn't really enjoying it. In Turkey it is really hard to change your career after the Age of 22. Age is really important during the application process. If you graduated in your 30's then you are most likely too old to build your career. This situation made me feel stuck. One day I decided to move to another country. There was this one tiny little issue, I didn't speak any other language. There was a school in San Francisco that would teach me English. So I decided to leave my job and bought my ticket to California the same month. I moved to the United States. It was one of the most challenging times in my life. Starting from the beginning with a new culture, learning a new language and leaving everything familiar behind. I started speaking English already within 3 Months. I was feeling great. I felt so empowered. After one year being in the States I stated studying at another college in San Francisco. After finishing my business degree I started working in the fashion industry. It would have been hard to imagine where I am now 10 years ago."
Lucy Connelly | Florals and Corals | @lucyflorals
"In terms of positivity, the past few weeks my boyfriend and I have been taking an hour everyday to go on a walk together. When working at home or in an office it's just great to be outside, be active, and clear your head. I also find it keeps me inspired."
Alexandra Potora | Alexandra Potora YouTube | @alexandrapotora
"The positive thing happening in my life right now is the development of my own brand. This month I kickstarted the brand design efforts and product formulas discussions & the good news I got was the positive feedback from people, believing in the future success of what we're creating. I've been working toward this for over a year and now to finally be able to fully start the process, no matter how exhausting, it's been the best news ever!!"
Venessa Kaufman | We The Classy | @wetheclassy
"A few weeks ago I was on the brink of a meltdown, which is embarrassing to admit for me. It took major soul searching to realize I was criticizing myself more than I was feeding myself positivity, which in turn was driving me downwards. I was listing my failures at the end of the day, and feeling like I couldn't accomplish anything. I had made negative self talk a habit and it was destroying me slowly. To change this bad pattern I started making conscious efforts to list things I did well during the day before bed. Anything that makes me feel inadequate, I acknowledge and let it go. Point blank. It's crazy that it took a meltdown at 35 for me to realize I needed to be nicer to myself. It's so important to lift others up, but we must remember to allow ourselves the same grace and love. It's so important to recognize our own amazingness just by being ourselves. Cheers to feeding our souls positivity."
In addition to sharing your positive daily experiences, there are other simple ways to spread positivity.
Smiles – can't give one without getting one back
Compliments – make it genuine and you'll feel just as good as the person receiving it
Encouragement – be a cheerleader
Silver lining – there's always one, you just have to find it
Random act of kindness – this will make your heart happy
Pay it forward – return the kindness back to the world
Post it – Share something good on social media
Over time you tend to get what you give and wouldn't you rather get a world full of positivity than negativity? By spreading positivity we show the world our confidence, confidence in our talents, our abilities, and our future. What are some good things happening in your life? I would love to know…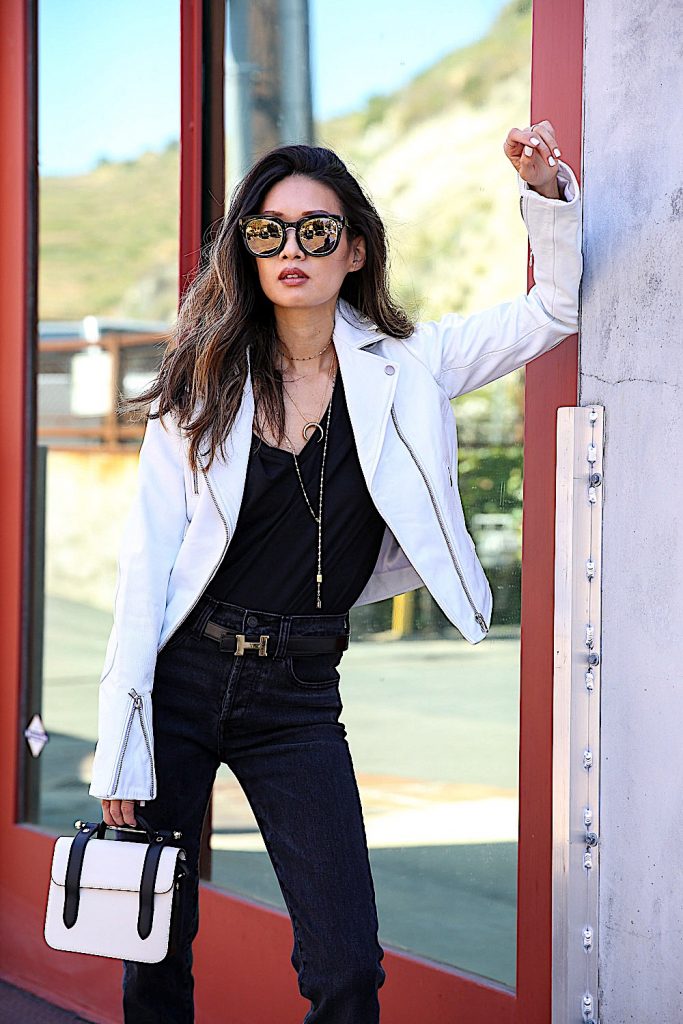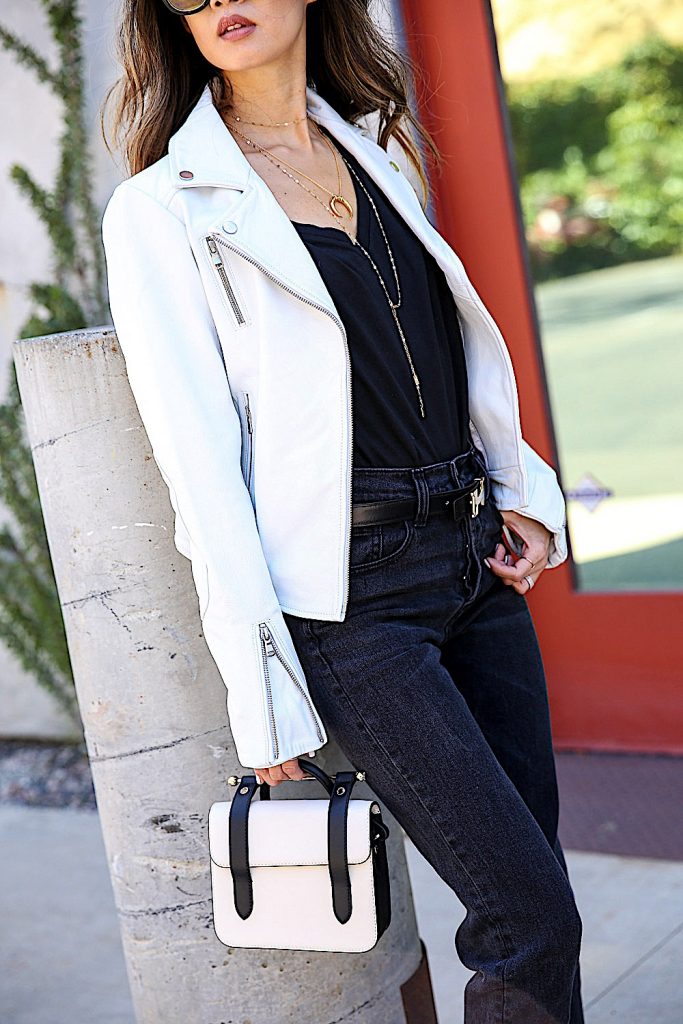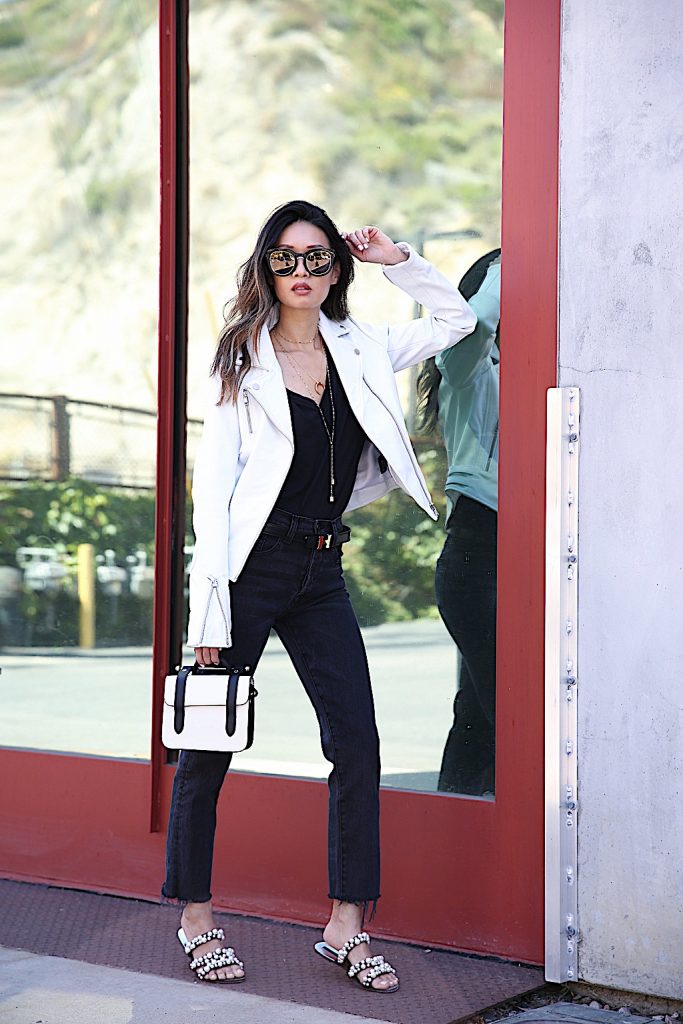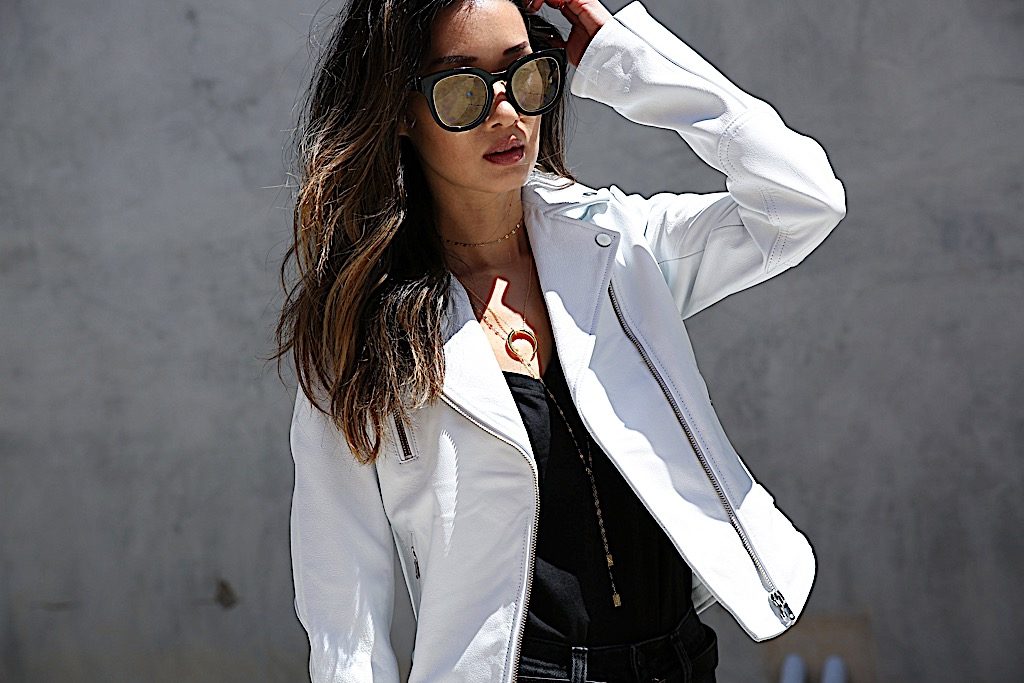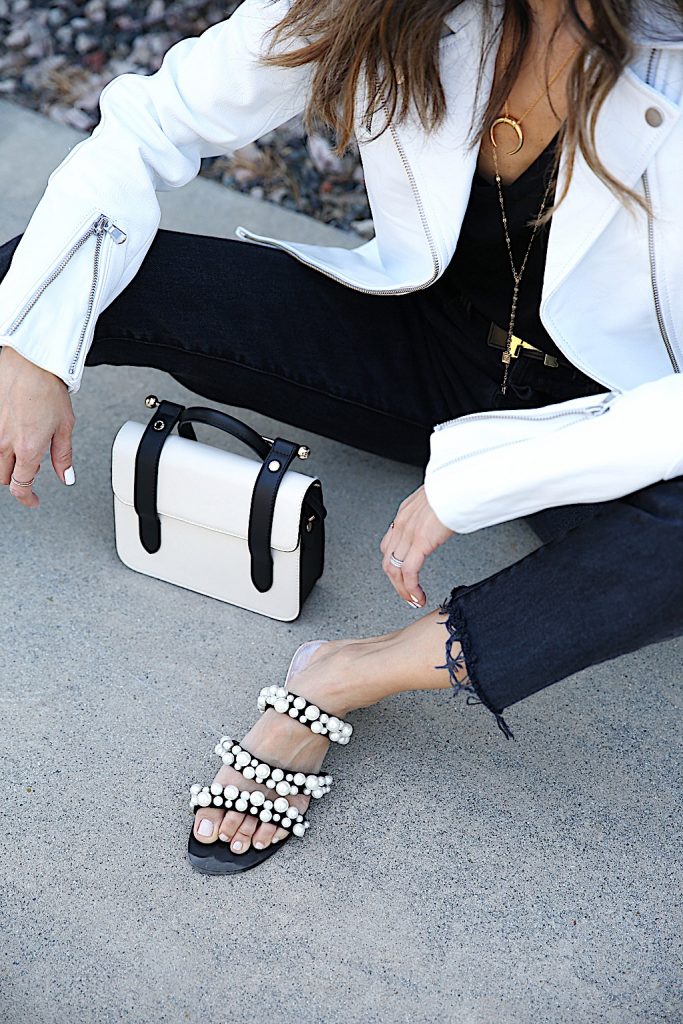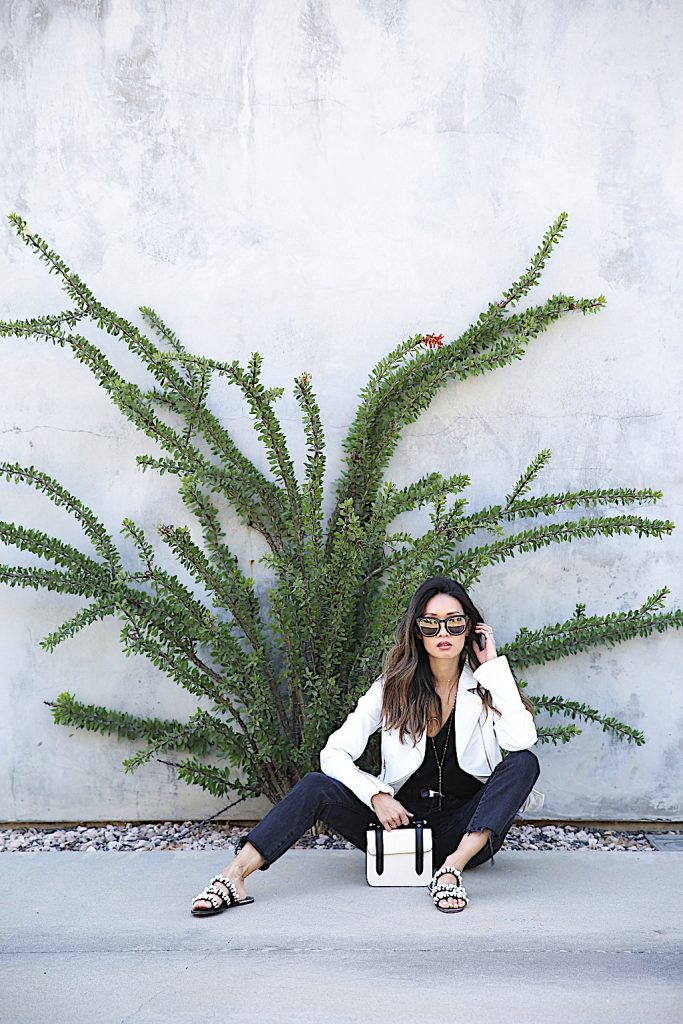 Shirt | DSTLD similar style here
Jeans | DSTLD similar style here
Jacket | DSTLD similar style here
Crescent Necklace | Gorjana
Lariat | Miranda Frye Jewelry
Bag | Strathberry similar style here
Sunglasses | ZeroUV similar style here
Shoes | Zara