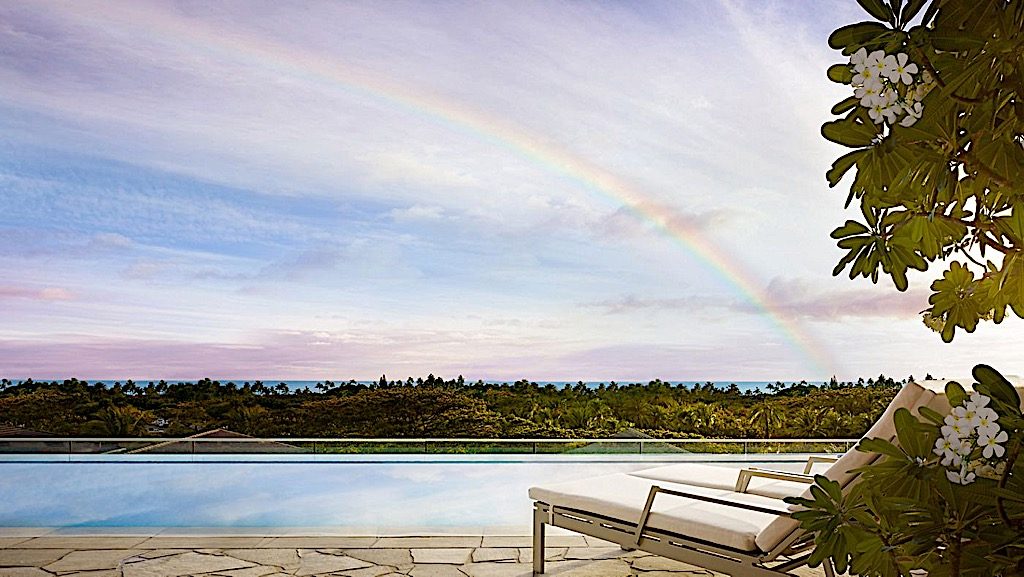 Designed to reflect the luxury, beauty, and unparalleled customer service that encompasses all of the Ritz Carlton properties, The Ritz-Carlton Residences, Waikiki Beach lives up to the iconic, luxury hotel brand while also incorporating the paradise that surrounds it. Every heartfelt smile, every detail, every amenity reminds you why you are here – to create your own Ritz Carlton memories with the local O'ahu touch.
The best thing about vacations and why we love them so much is because of the memories they create. It's amazing to see the adventure though your childrens' eyes and building these memories together are what makes vacations so priceless. As the vacation ends and you head back to the routine of daily life, you are reminded of your travels as stories unfold. Stories of how your youngest child swam across the entire length of the pool for the first time at the The Ritz-Carlton Residences, Waikiki Beach, or when your middle child lost her 9th tooth on vacation and the tooth fairy magically appeared surprising her with local snacks and Hawaiian souvenirs, or when you took the kids fishing for the first time and that thoughtfully prepared fishing bag from Lisa the Concierge came in handy when it started to rain. It is not only about making the memories, but where you made them as well.
From the moment you turn into the water inspired porte cochere, the welcoming aloha spirit surrounds you. The flourishing landscaping of The Ritz-Carlton Residences, Waikiki Beach serves as a backdrop to the tropical paradise, inviting you to experience the Hawaiian heritage and colorful traditions. Valets clad in aloha shirts with friendly smiles receive you with fresh orchid leis and gentle island spirit. From here your soul stirs and the magic of O'ahu and The Ritz-Carlton Residences, Waikiki Beach transcends over you.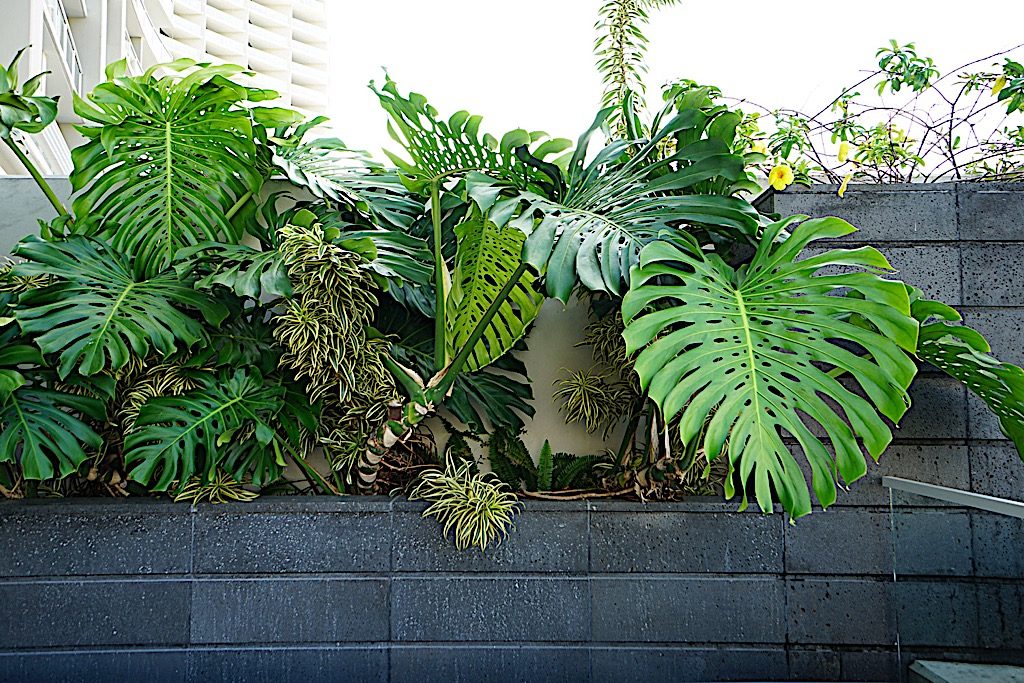 Lush landscaping everywhere you go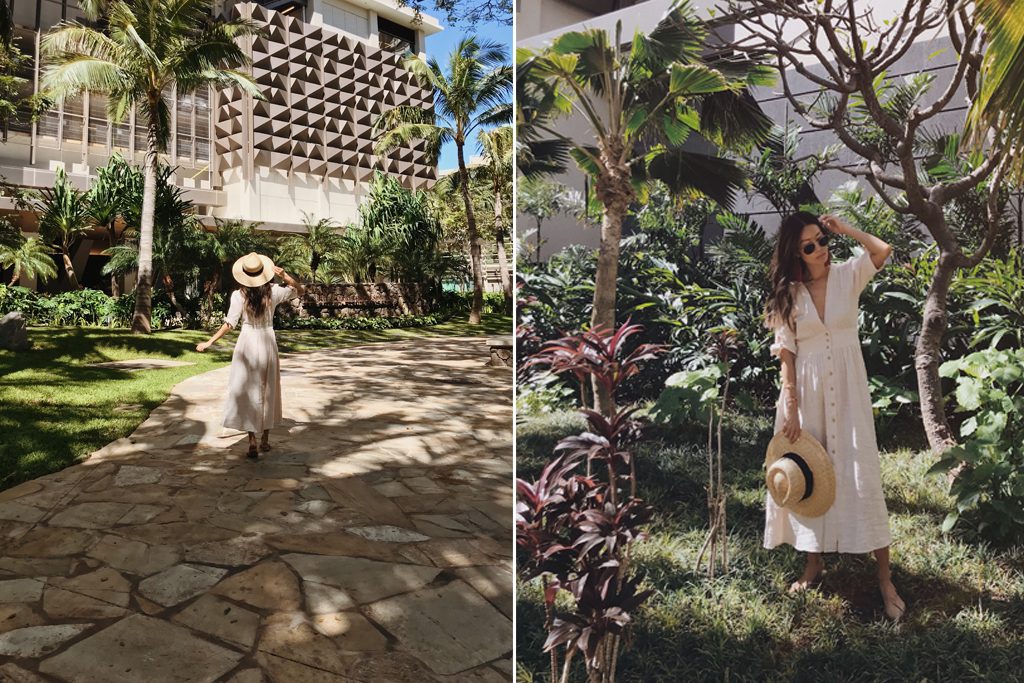 Tropical gardens at the entrance of the resort
Dress | Hat | Sunglasses | Earrings | Shoes
Upon being welcomed by name (yes, this is a place where the entire staff knows your name), you are quickly whisked to hotel's main lobby on the 8th floor, designed after the opulence and luxury reminiscent of an Hermes store. Here you first see the glimmering ocean views and natural beauty of Waikiki Beach. While you check in you are offered cool, scented towels to wipe away the challenges of travel and recharge your senses. A fresh fruit smoothie cools and relaxes your body to prepare you for a memorable Hawaiian vacation. Despite arriving hours before the local check in time, the hospitable staff was quick to accommodate us and get our room ready for an early check in.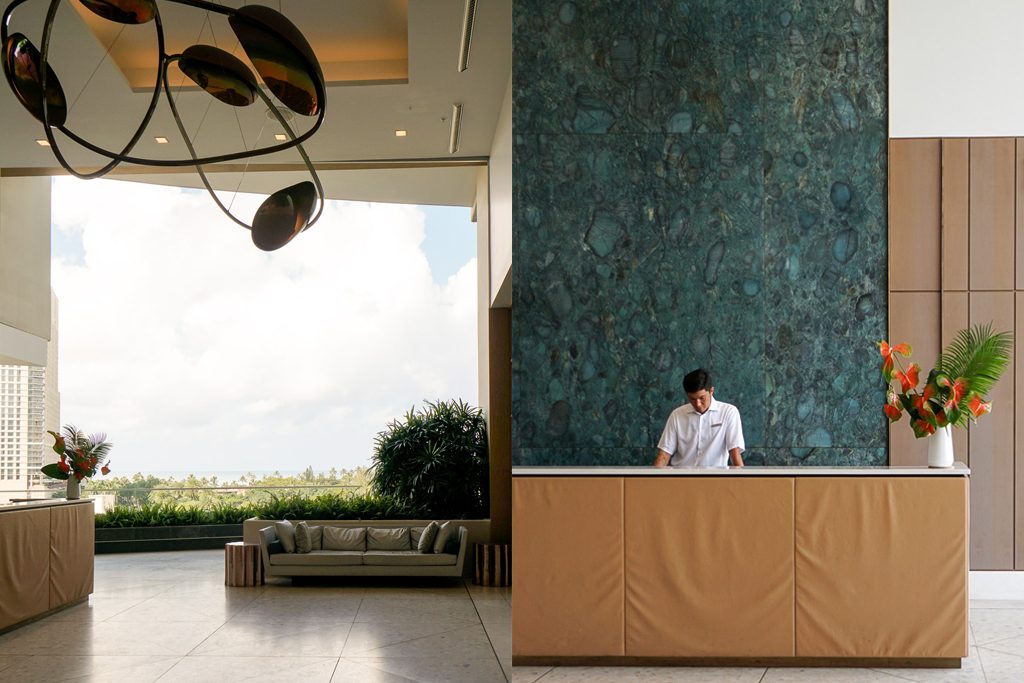 Hermes inspired 8th floor Lobby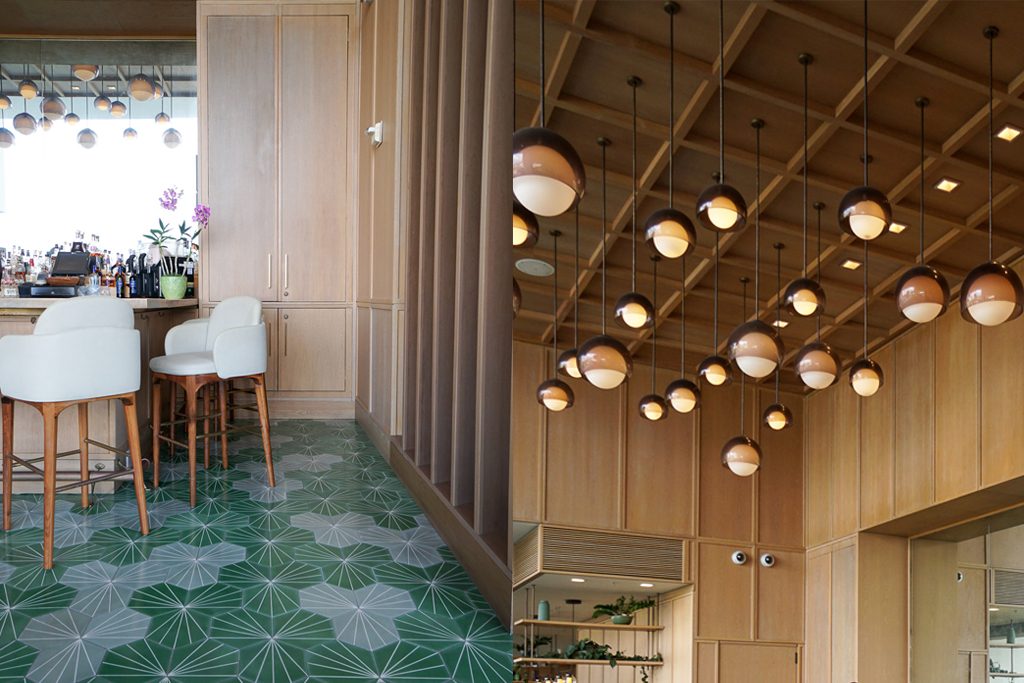 Adjacent BLT Market which features farm-to-table dining all day
The Ritz-Carlton Residences, Waikiki Beach features 307 residences, ALL with an ocean-view. You really can't go wrong with any of the studio, one-, two-, and three-bedroom floorplans at this Waikiki Beach resort. We stayed in the two-bedroom suite, but I had an opportunity to visit all of the residences, and trust me when I say that they are all very spacious and well appointed. Yes, even the studio is surprisingly very roomy. All accommodations are equally beautiful with modern, luxurious features such as marble kitchenettes or full kitchens, Nespresso coffee machines, oversized bathrooms with state of the art washlet toilettes, smart TVs with entertainment apps including Netflix, and sleek, upgraded decor. What separates The Residences Ritz-Carlton, Waikiki Beach from other luxury hotels is that while you experience the first class service of a five star hotel here, you also feel all the comforts of home. From the gourmet kitchen stocked upon arrival (pre-arranged with the attache), Miele appliances, Sub-Zero refrigerator, in-residence washer and dryer, spacious dining spaces indoors and outdoors on the furnished terrace overlooking the ocean, you truly can experience all of the benefits of a resort while living comfortably during your vacation.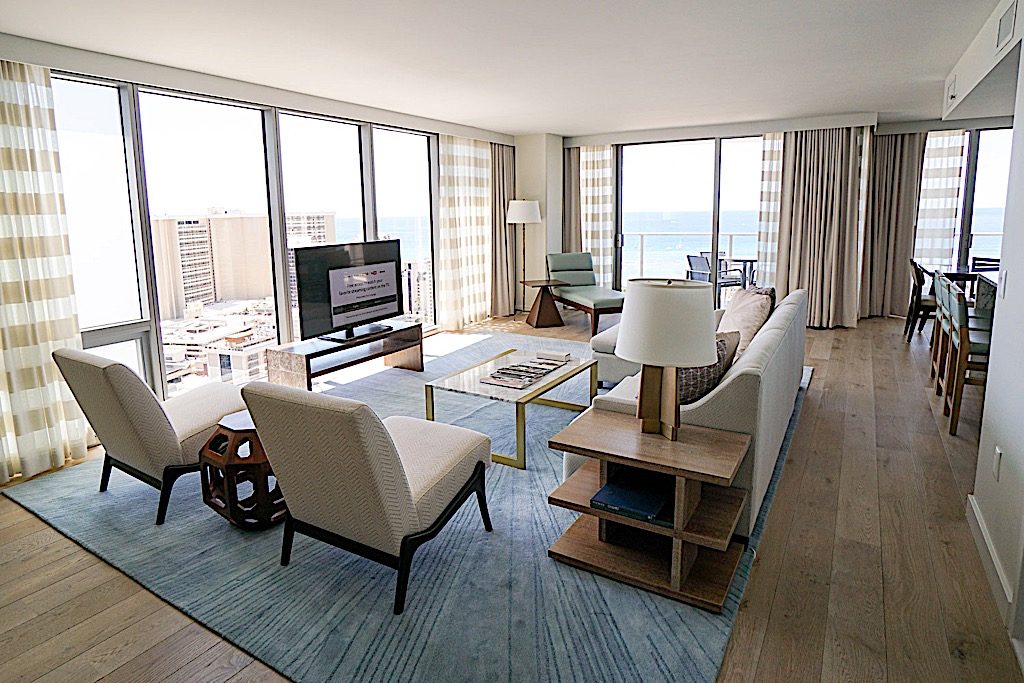 Expansive living room space with pull out sofa bed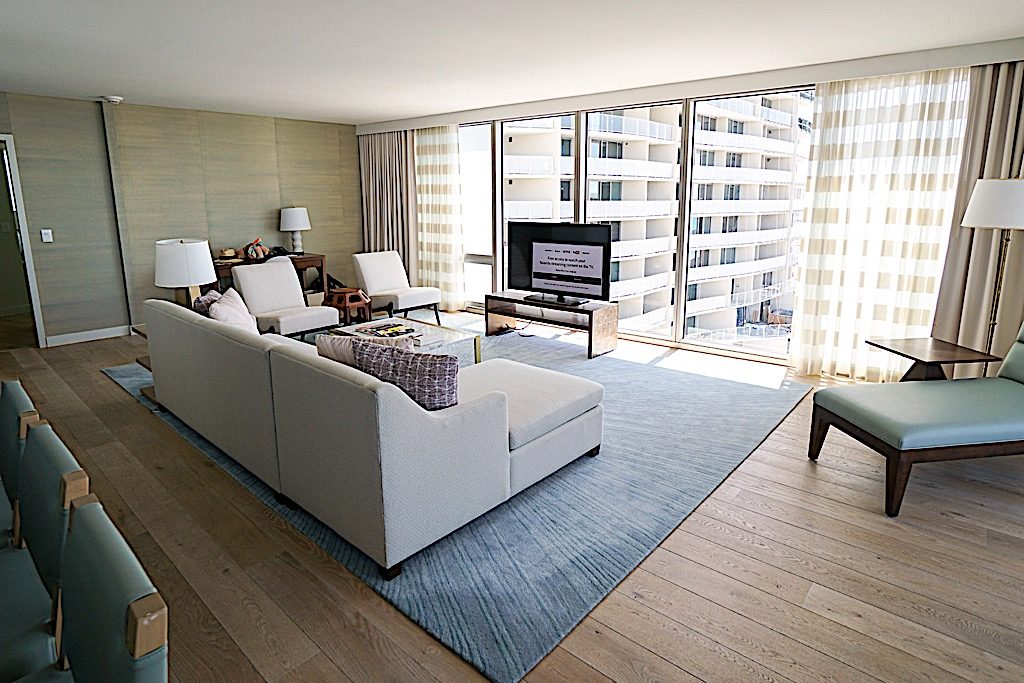 Views of the second tower and Diamond Head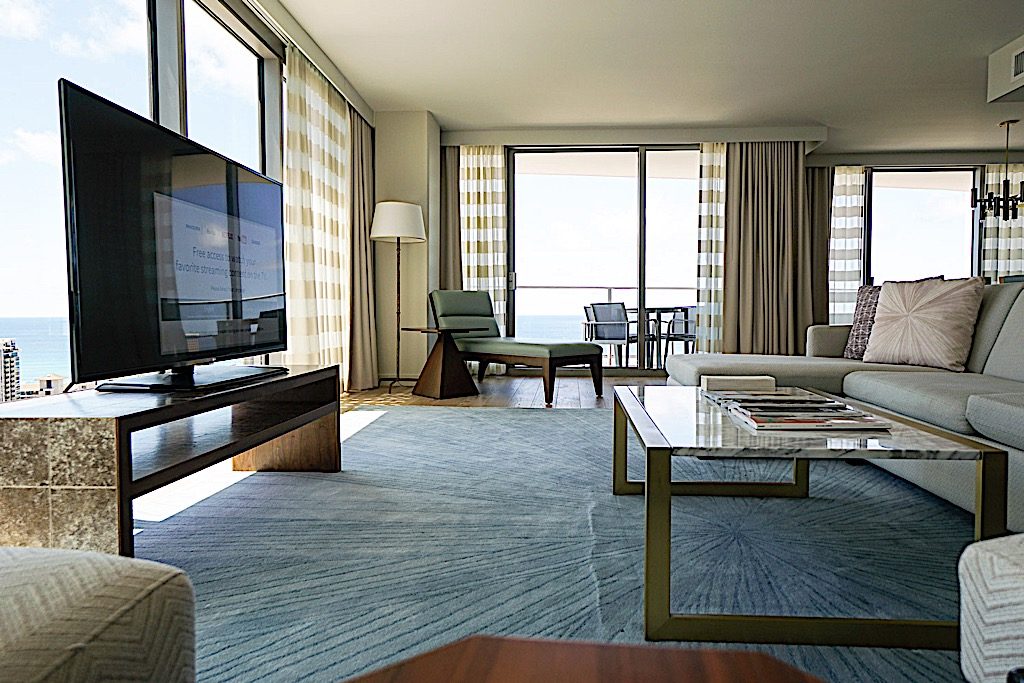 Seamless indoor and outdoor living with large, furnished balcony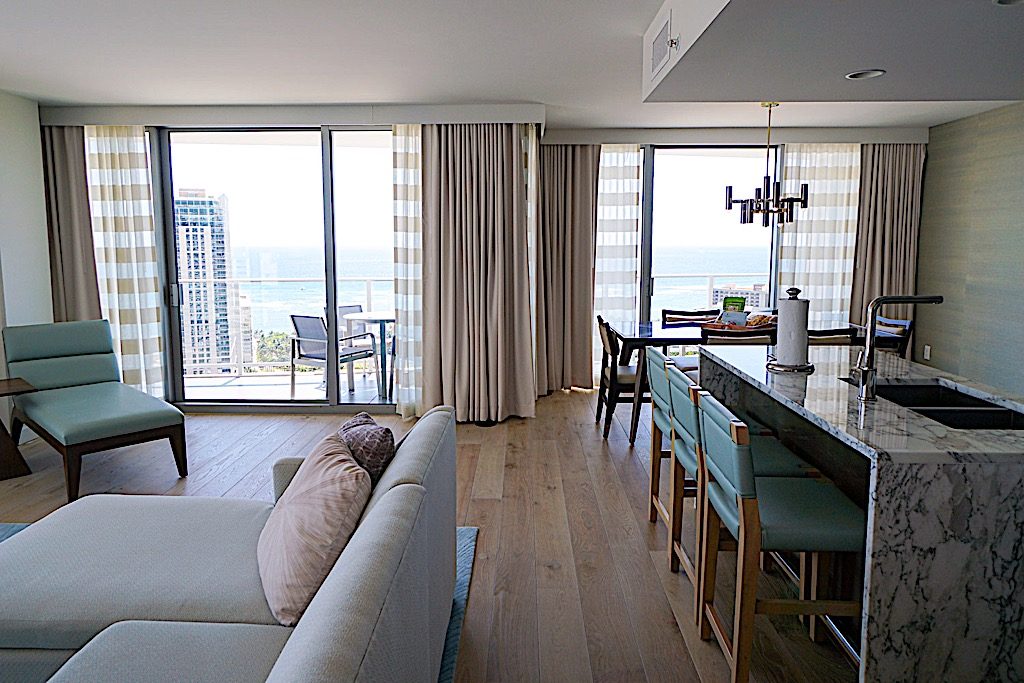 Floor to ceiling windows from the entire living area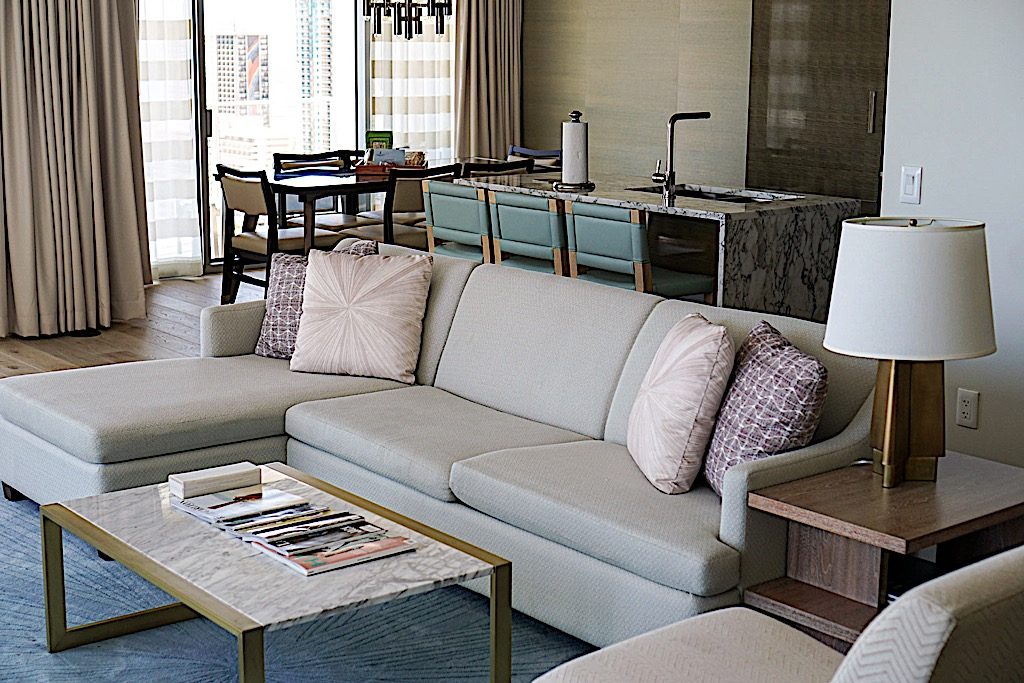 Separate kitchen and dining room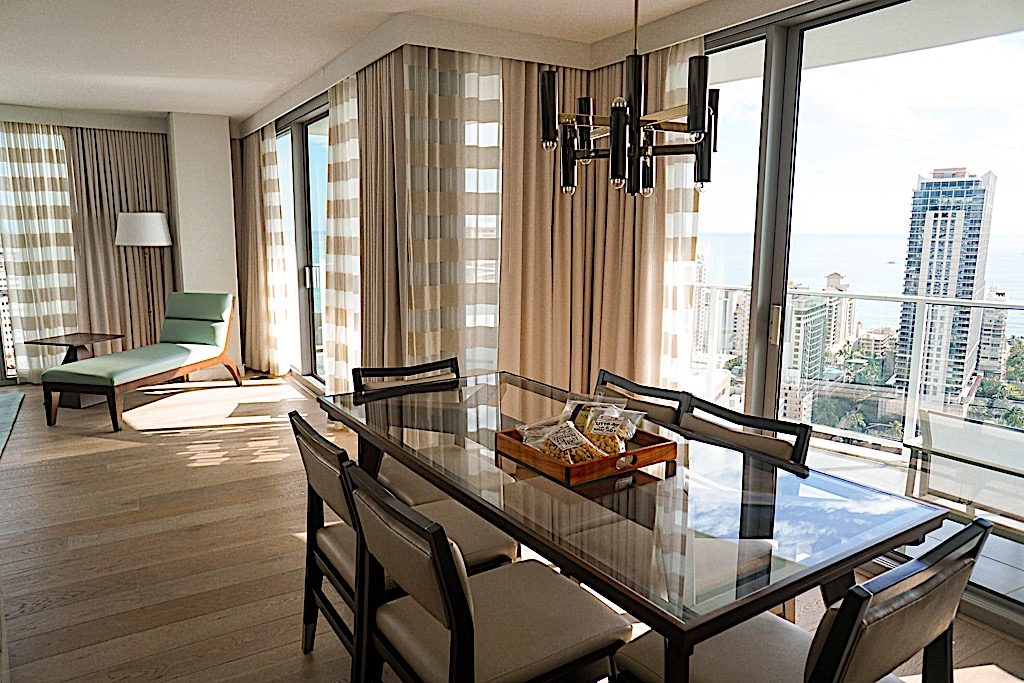 Dining table for up to six guests (welcome snacks included)

Incredible ocean view while dining indoors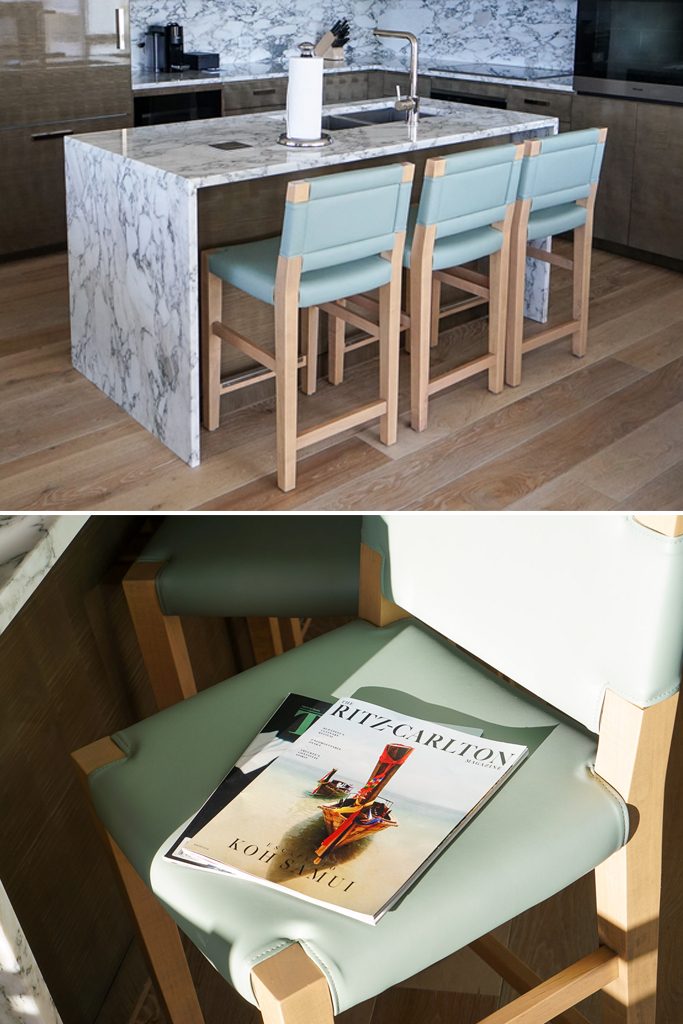 Kitchen island seating for three guests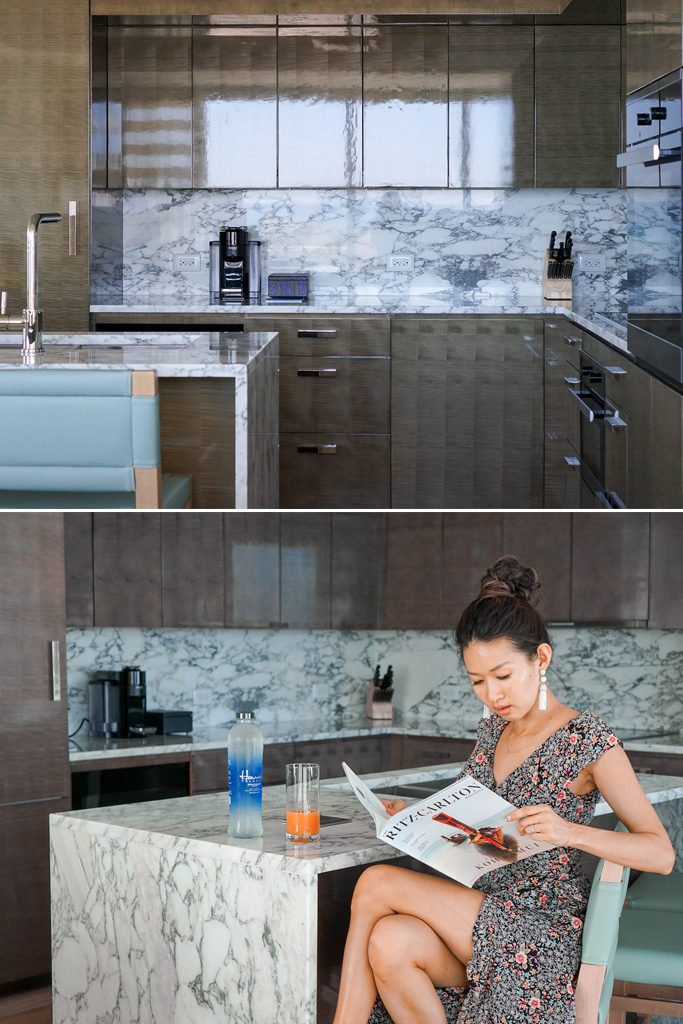 Upgraded marble kitchen with waterfall island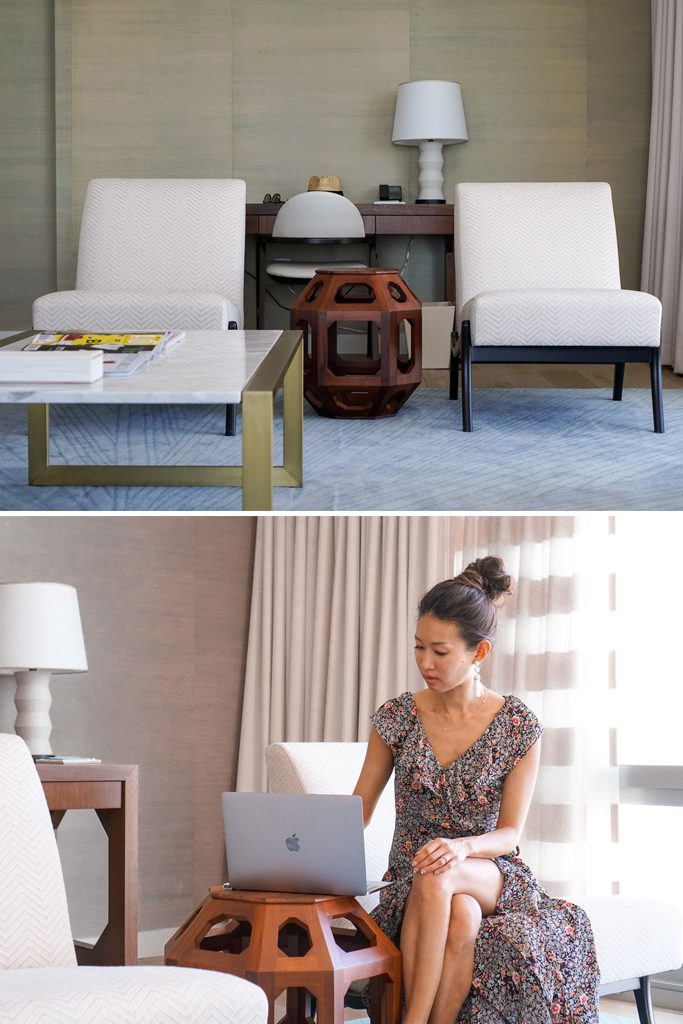 Working desk and sitting area
Dress | Earrings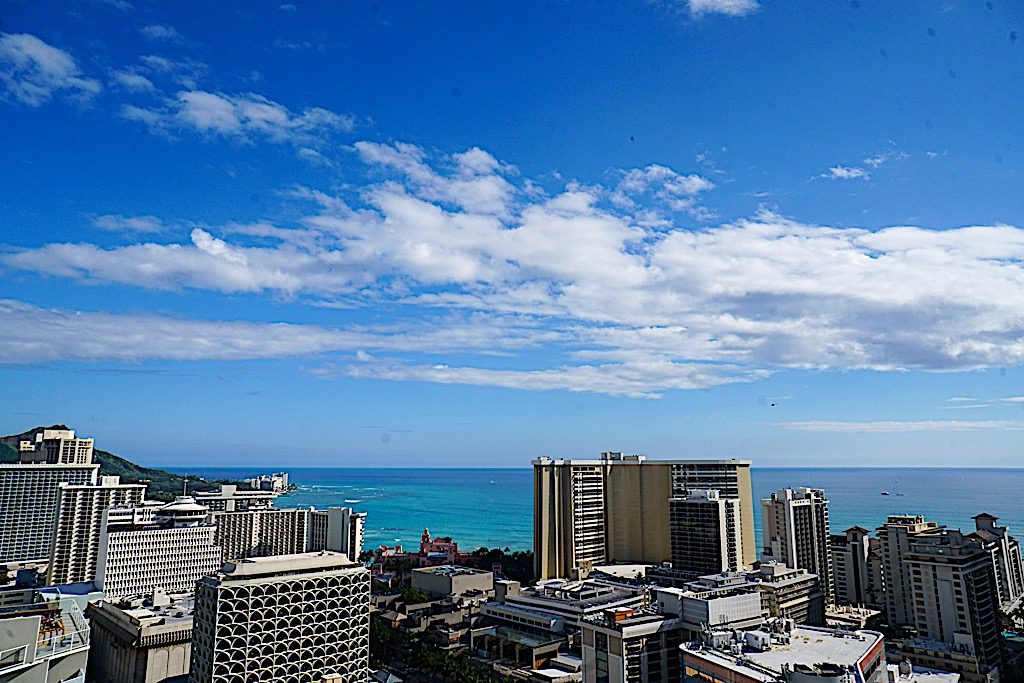 Diamond Head and Waikiki beach views from the balcony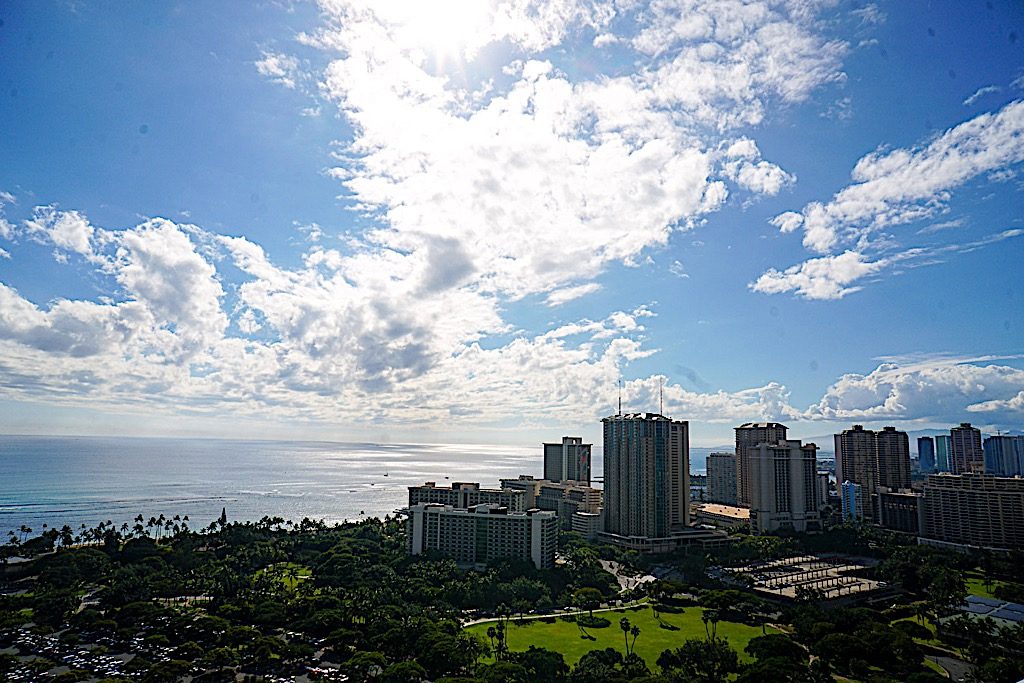 Waikiki Beach and Fort Derussy views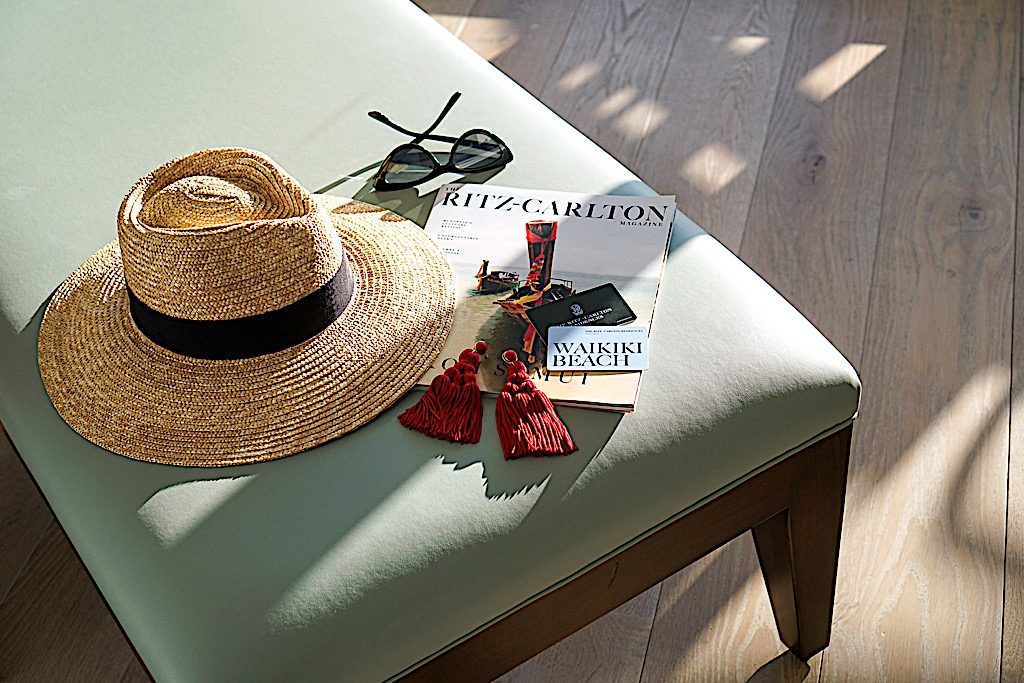 Hat | Sunglasses | Earrings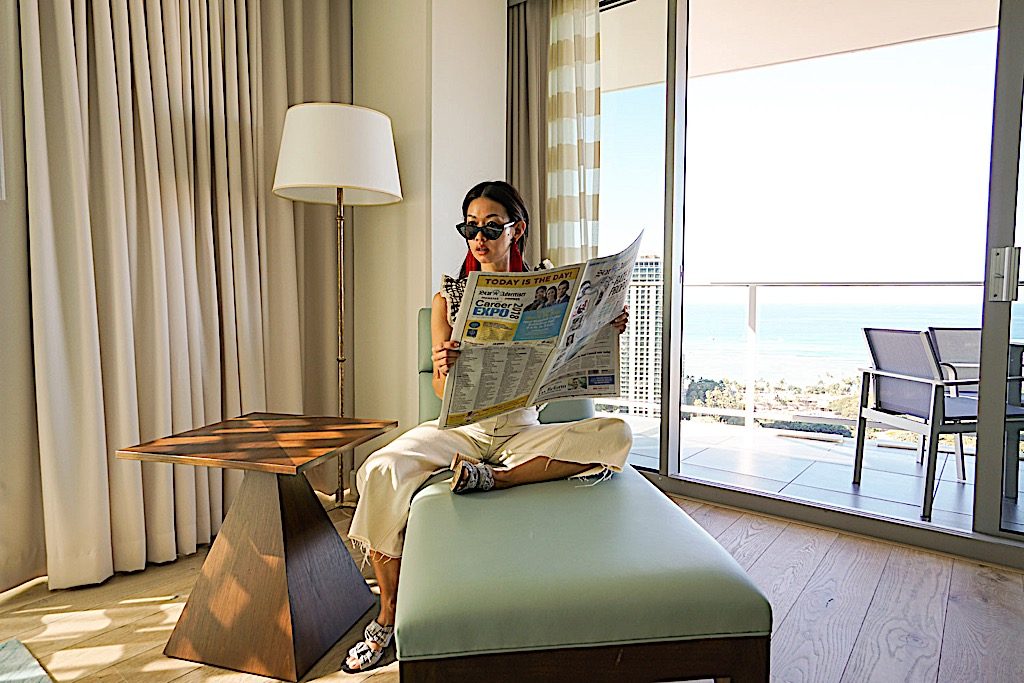 Morning paper delivered daily
Top | Jeans | Sunglasses | Earrings | Shoes
The luxurious Superior Grand Level two-bedroom suite features over 1,200 square-feet of living space with panoramic views overlooking Waikiki Beach and Diamond Head mountain from its floor to ceiling windows. With such vast windows, the suite is filled with natural lighting. The expansive living room includes a full sized sofa bed, chaise and work area. The spacious dining area seats up to six guests and the gourmet kitchen with waterfall marble island is the perfect gathering spot for families. If you prefer to relax or dine outdoors like we do, the large furnished lanai provides for a seamless indoor-outdoor living. The master bedroom features a King bed with hand-crafted Italian Frette linens, an elegant, white Tibetan marble bathroom with dual vanities (helpful to spread out all of your toiletries), a walk-in shower with adjacent soaking tub. The large walk-in closet and additional hanging closet houses plenty of drawer space to freely unpack for extended stays. Needless to say with three beds and three bathrooms (one in each bedroom as well as one in the living room) in this opulent two-bedroom suite, there was no shortage of space for our family of five.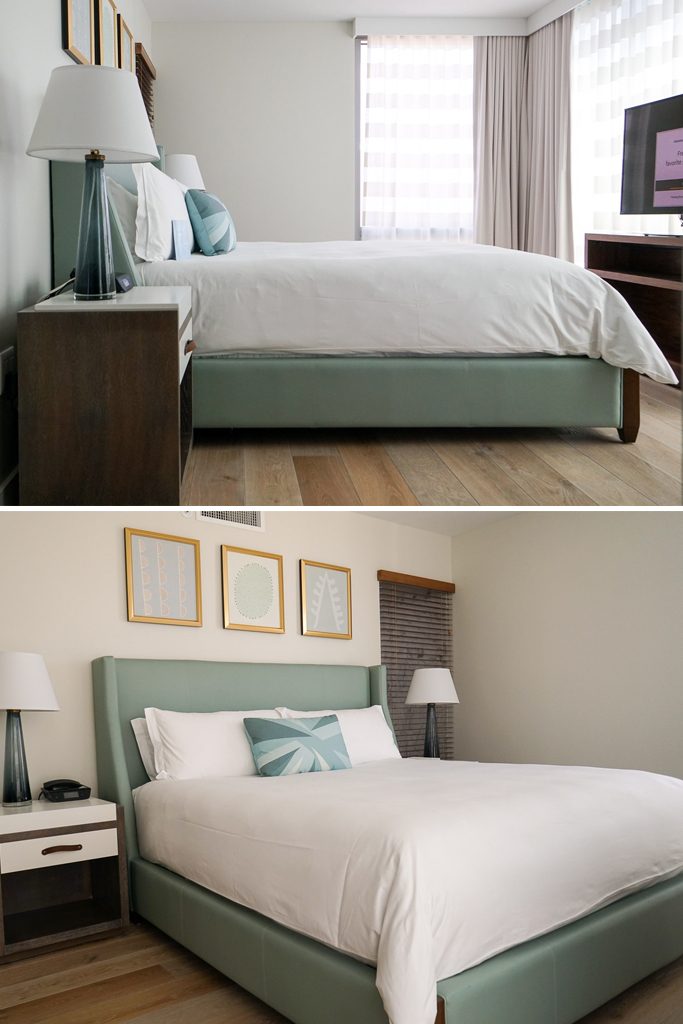 King size bed in master bedroom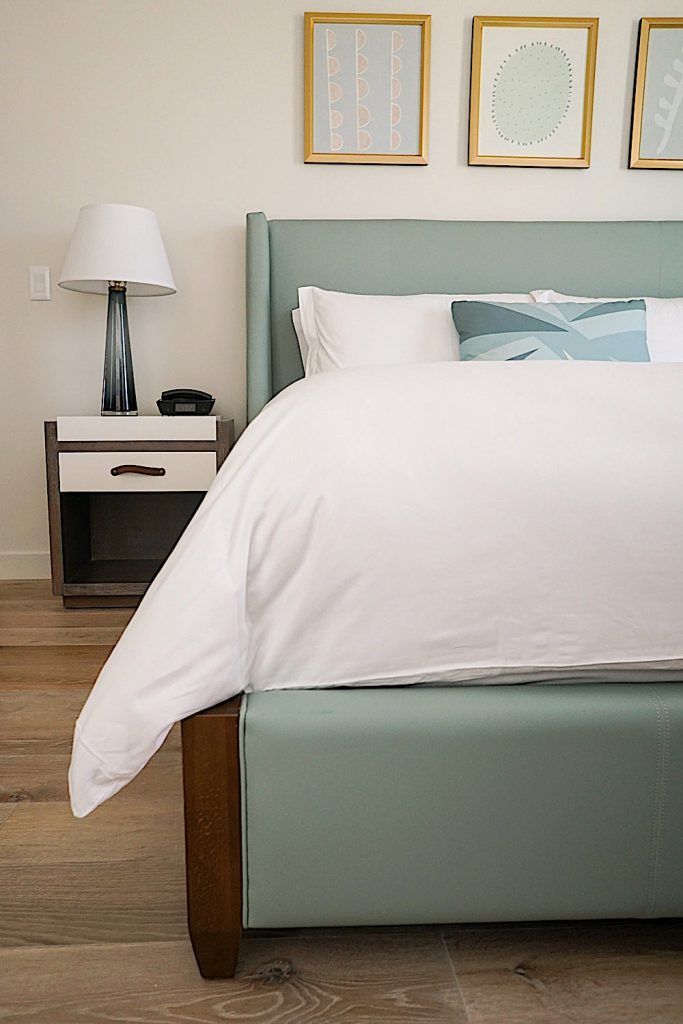 Italian Frette linens and twice daily turndown service with Ritz Carlton chocolates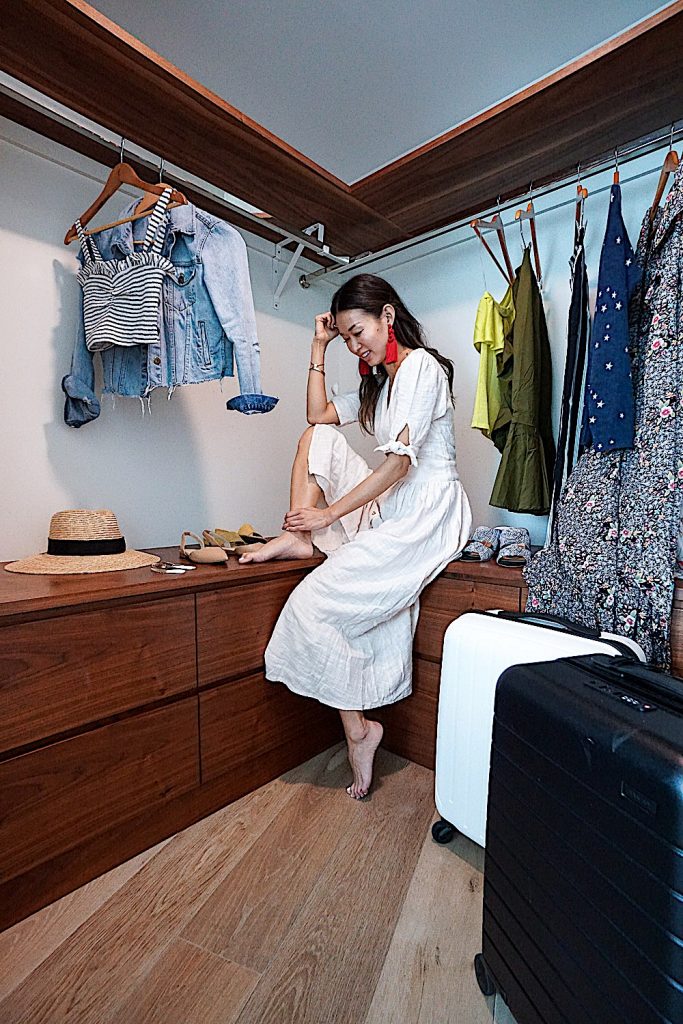 Spacious walk-in closet with drawer space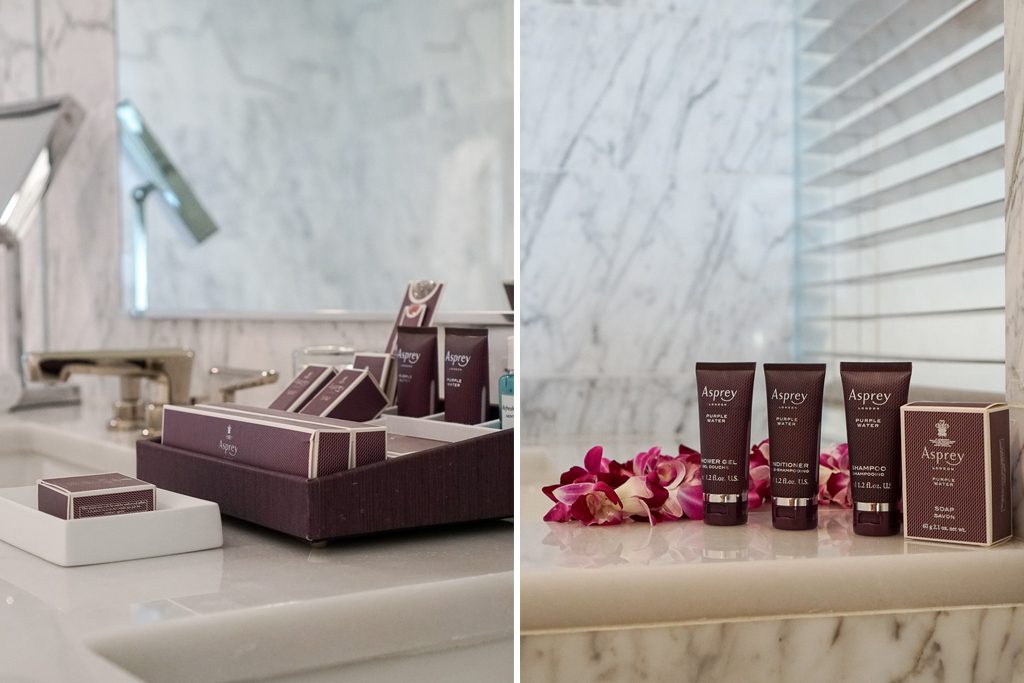 Master bathroom double sink vanities and amenities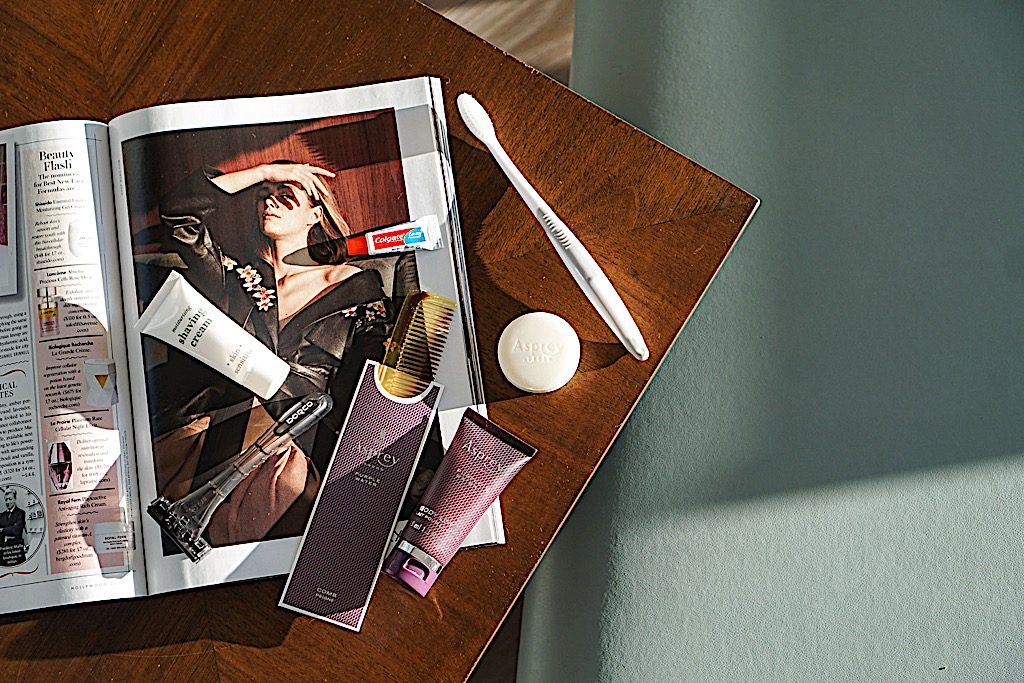 Additional toiletries such as shaving kits and dental kits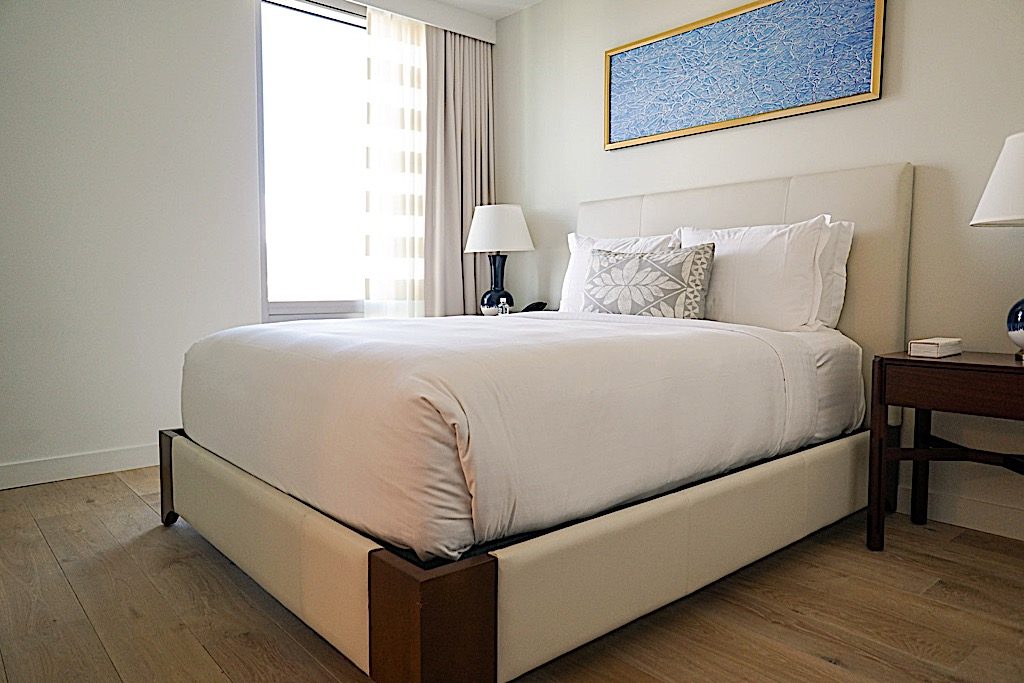 Secondary bedroom with full bathroom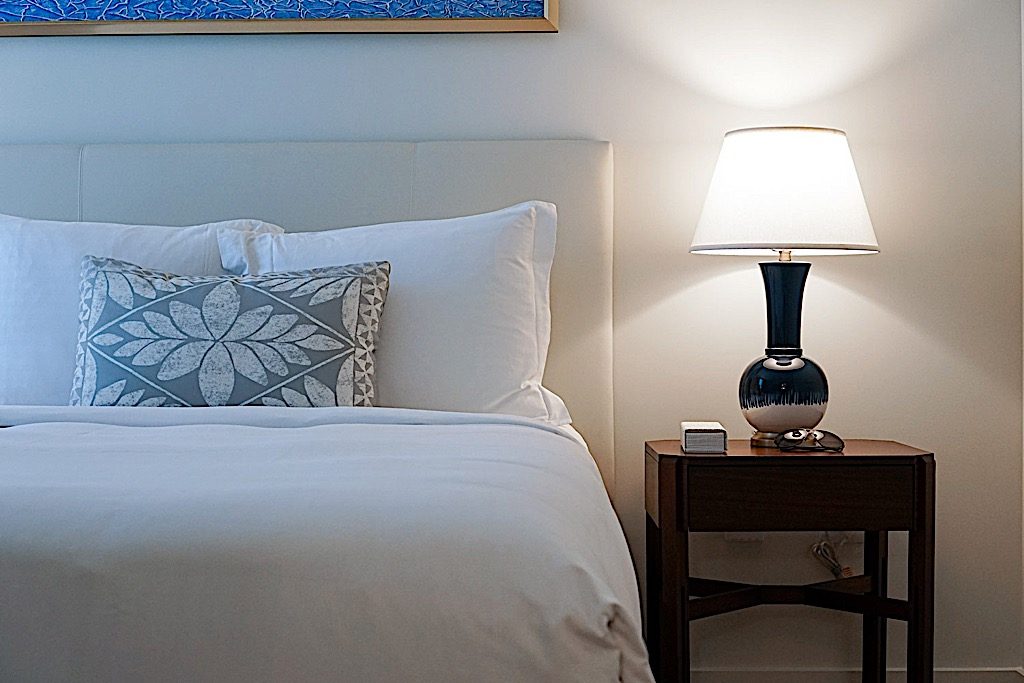 Clean, modern decor with additional Smart TV in bedroom
After devouring the welcome basket of local Hawaiian snacks filled with coconut strips, dried mango and cinnamon sugar popcorn provided by The Ritz-Carlton Residences, we were ready for the pool. The eighth-floor infinity pool is the highest in Waikiki Beach featuring two jacuzzis and private cabanas with TVs (which of course was a major highlight for my kids), as well as various pool noodles and floaties. The pool staff is extremely attentive, quick to provide you with anything you need, and even found goggles for all three of my kids to borrow! Here my youngest swam the entire length of the pool unassisted for the first time while we all cheered her on (even some of the guests joined in on the encouragement). Currently this is the only pool at the resort and getting a lounge chair can be a bit of a wait during busy season, however, the pool attendants are apologetic and try their best to quickly accommodate you as soon as a guest leaves. Construction for the second Ritz Carlton tower will be completed at the end of summer where they will feature a much larger, kid-friendly pool and the current infinity pool will become an adults only pool.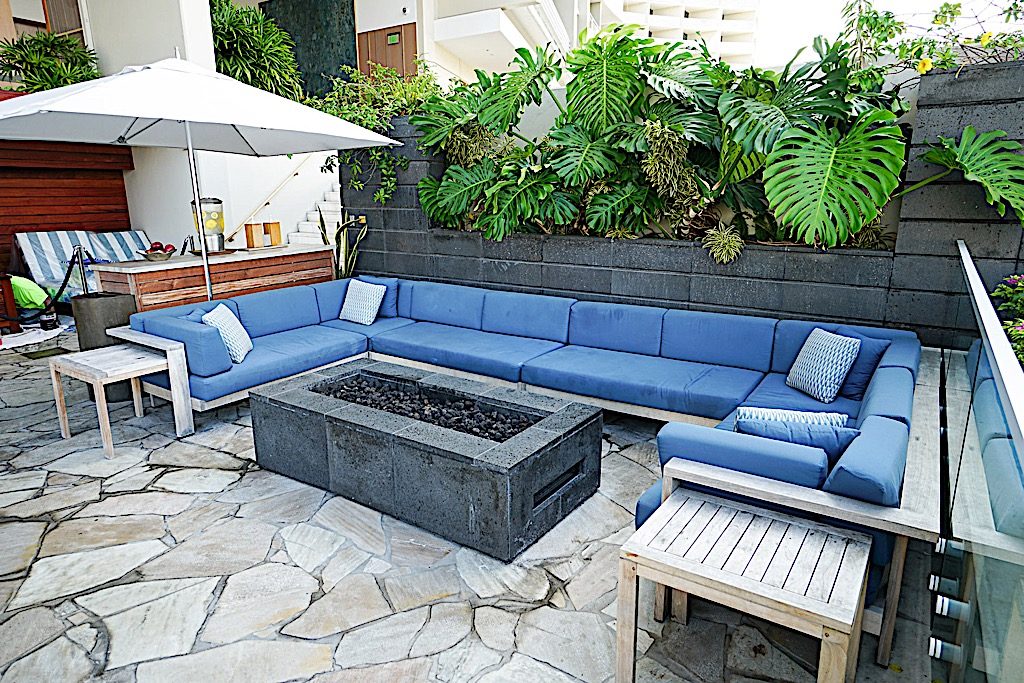 Poolside lounge area with fireplace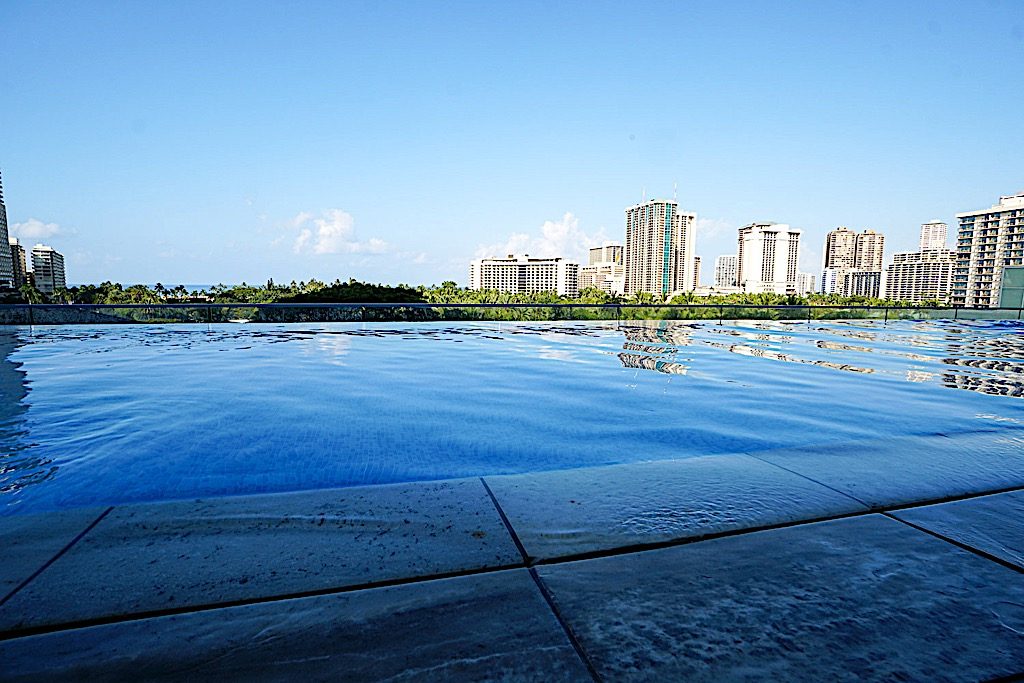 Highest infinity pool in Waikiki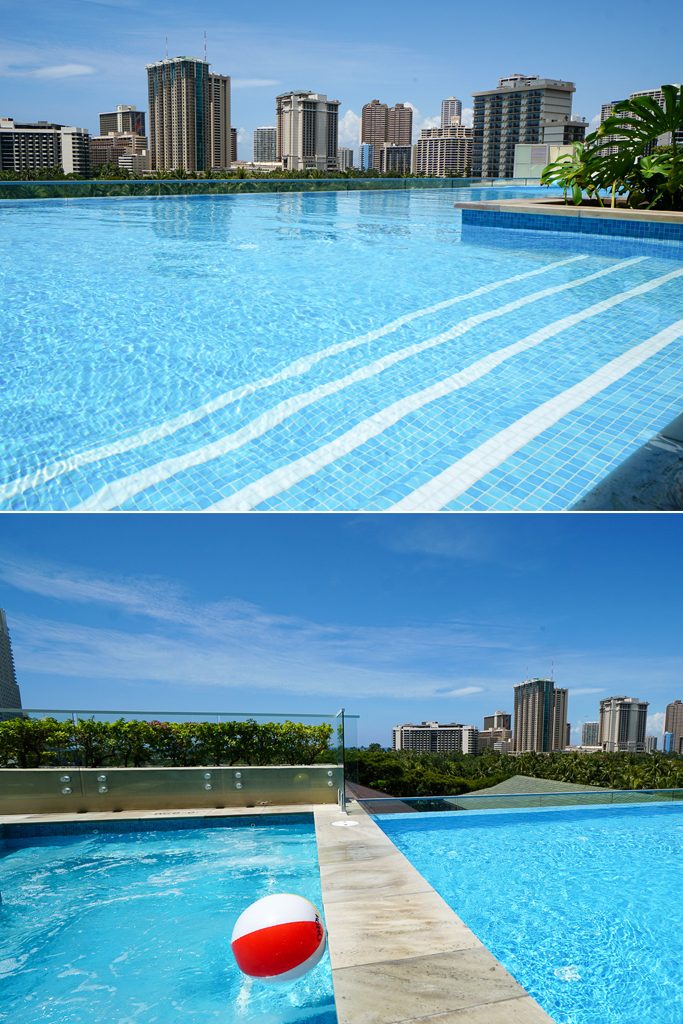 City and Pacific ocean views and two jacuzzis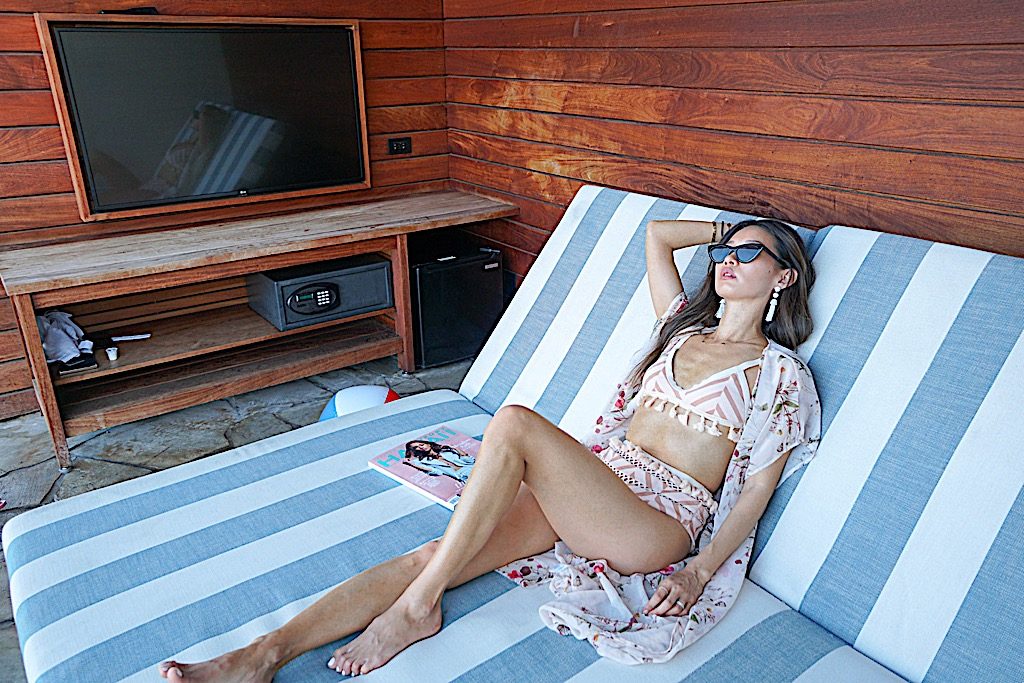 Cabana with personal mini fridge and TV
Swimsuit | Coverup | Sunglasses | Earrings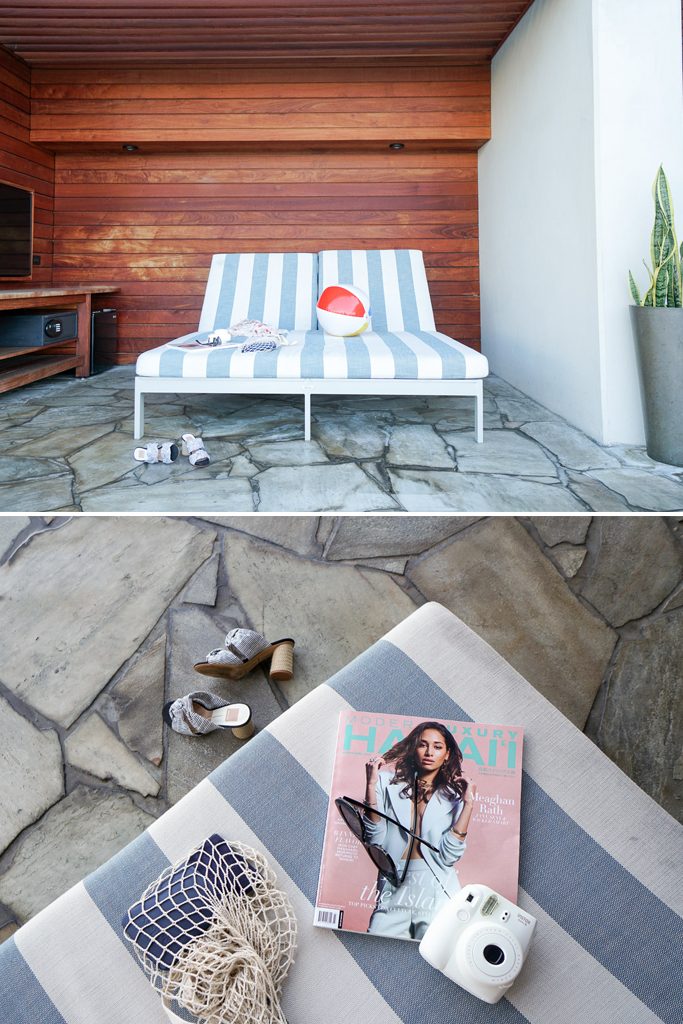 Bag | Shoes | Sunglasses | Polaroid
For some extra fun in the sun, we spent a few afternoons at the beach. Despite not being a "beachfront" property, the five minute walk to the ocean was so quick and easy that even the kids did not have time to complain. While some may be disappointed that the resort is not right on the ocean, we actually preferred the more set back, tranquil setting at the hotel in comparison to the hustle and bustle of some of the other ocean front properties we have visited in the past. The Ritz-Carlton Residences also provides handy beach bags filled with towels and bottled water to take with you and even a beach umbrella upon request.
In addition to the beach bags, we were surprised beyond belief when Lisa, the Concierge, thoughtfully packed us a bag of essentials for a fishing trip we had briefly discussed with her. The curated Ritz Carlton canvas bag contained "Goldfish" crackers for the children, bread to feed the fish, five plastic raincoats in case of unforeseen weather, and bug spray for potential mosquitos. Literally everything came in handy as we took our kids on their first ever fishing trip. And as the rain came down softly during out trip, we were eternally grateful to Lisa for the raincoats she packed for us as they allowed us to stay out a bit longer and enjoy the rest of the fishing trip.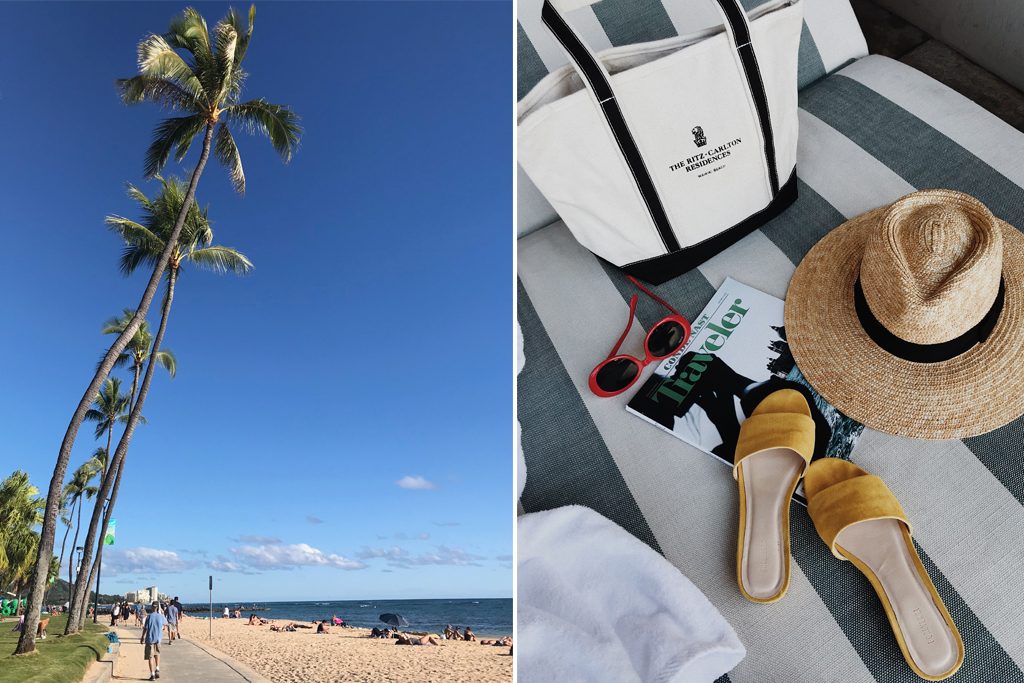 Quick walk to Waikiki Beach | Fishing trip bag filled with goodies
It's memories like these, special touches and personalization that we will recall when we look back at our vacation to Hawaii – the friendliness of the staff, the extra turndown chocolates left for our entire family every night, the constant refill of water bottles in our fridge, and the effort to locate misplaced sunglasses by our daughter. When staying at a hotel under the Ritz Carlton brand, you have certain expectations and The Ritz-Carlton Residences, Waikiki Beach aims not only meets all of your luxurious expectations, but surpass them by tenfold.
/ Other Notable Resort Features /

Quiet floors and rooms (you cannot hear other guests nor any of the construction going on)
Breakfast, lunch, happy hour and dinner at BLT Market
Hawaii's first Dean & DeLuca
Sushi Sho's first location outside of Japan led by master chef Keiji Nakazawa
Luxury spa offering locally inspired treatments
24-hour fitness center designed by celebrity trainer Harley Pasternak and private yoga studio
Adjacent to shopping at Luxury Row (Tiffany & Co, Chanel, Saint Laurent, Gucci)
Complimentary Wi-Fi
24-hour in-room dining
Concierge and multilingual team
NO resort fee
NO extra person charge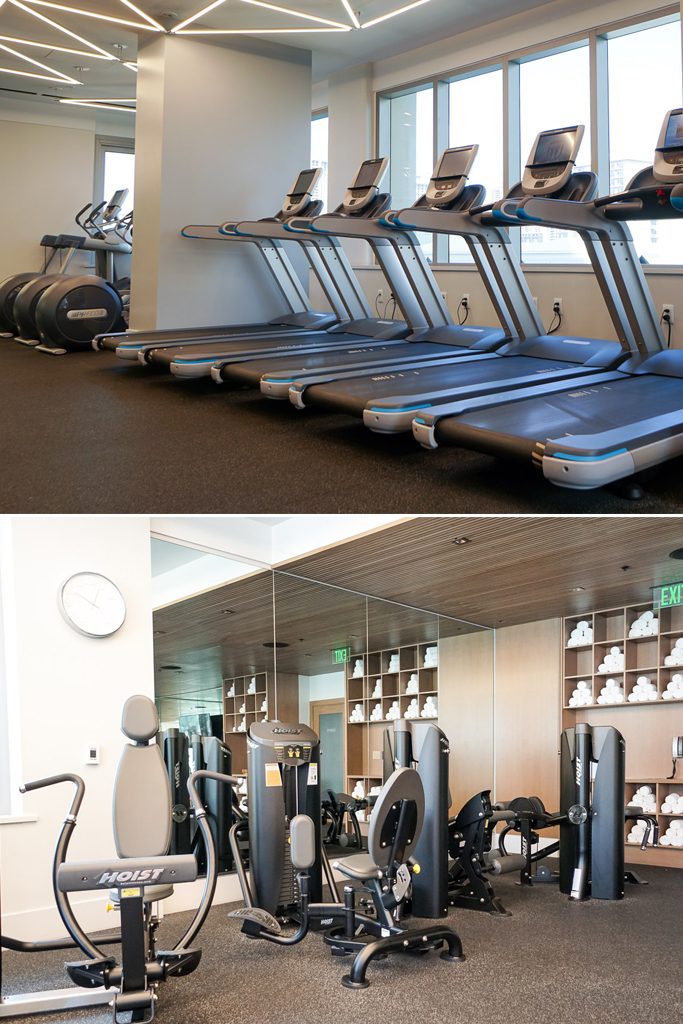 Premier fitness center designed by celebrity trainer Harley Pasternak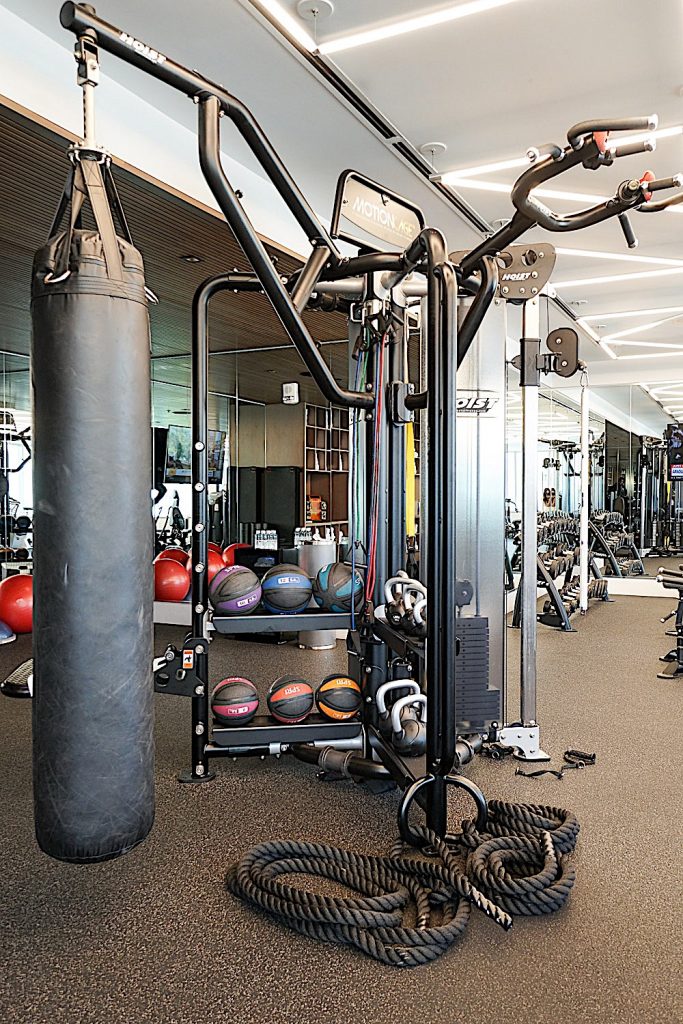 HOIST MotionCage for boxing, strength training and step-ups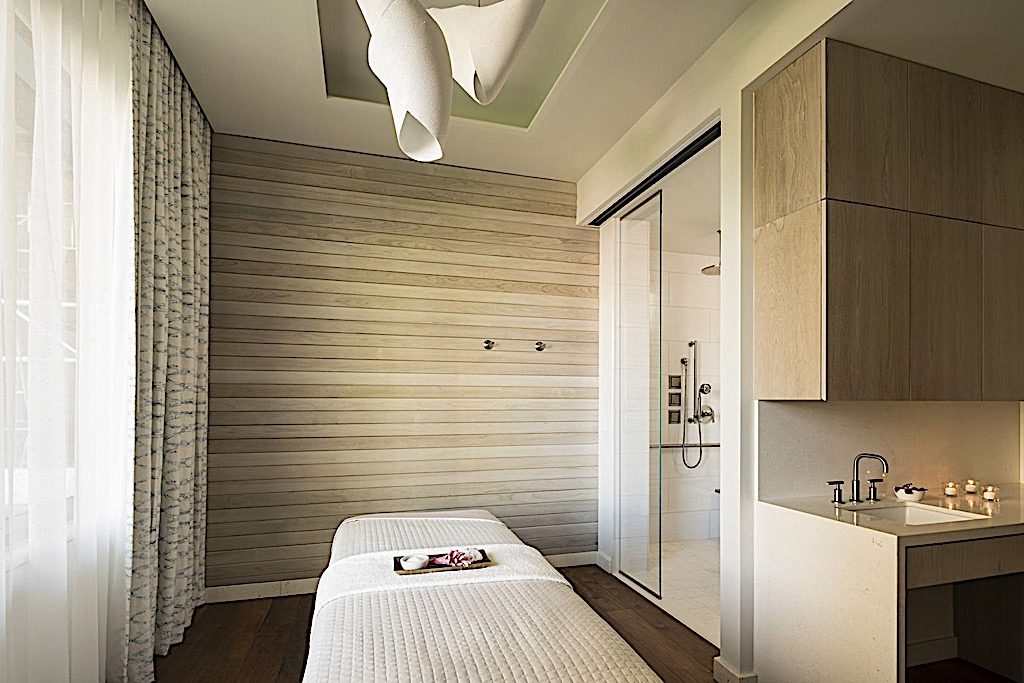 The serene Spa which uses local traditions to heal and revitalize the body and spirit
The second tower will be complete by Fall 2018 where the following additional features will enhance your stay.
245 additional ocean view residences
Larger resort pool (3x larger than current infinity pool)
Extended spa treatment rooms
Movie theatre
Gourmet market
Two acres of lush landscaping and gardens including stages for community performances and events
New dining options by BLT Grill
With gorgeous beaches, tropical landscape, and warm sun serving as The Ritz-Carlton Residences, Waikiki Beach's stunning backdrop, the welcoming environment of the resort beckons you to experience its intriguing heritage, immerse yourself in its local traditions, and meet its genuinely joyful people.
Thank you to The Ritz-Carlton Residences, Waikiki Beach for being our home away from home and helping us create magical memories with our family.