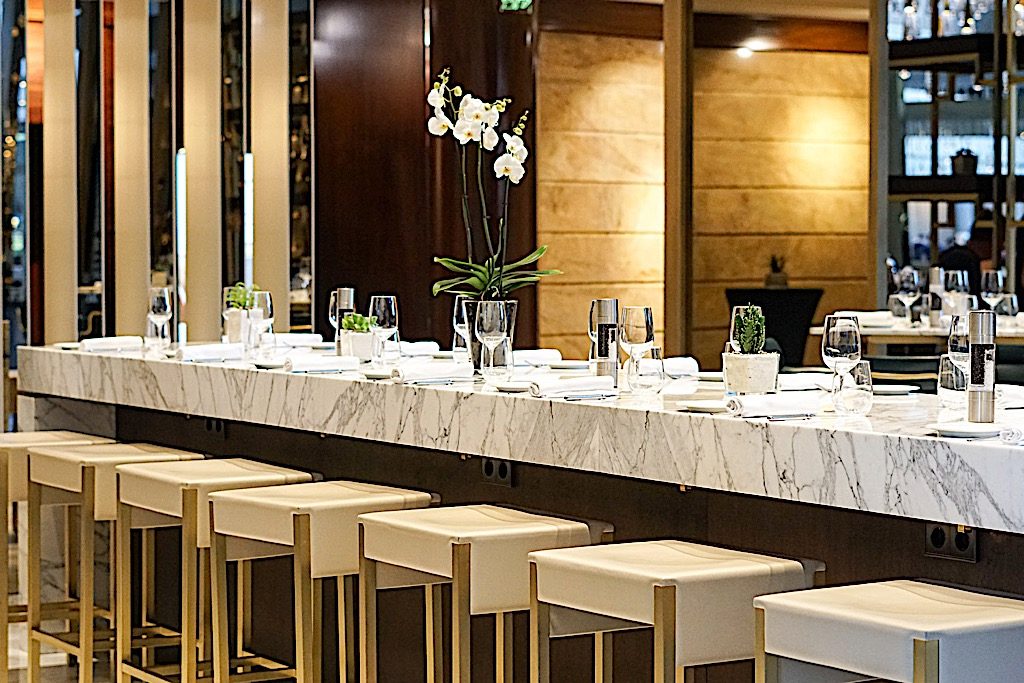 Walking into the Fairmont Rey Juan Carlos I in Barcelona Spain, I already knew we would be well taken care of here. The sprawling, breathtaking hotel sits on 25,000 square meters with views of the Barcelona skyline. The hotel is 25 years old, but you wouldn't know it with the recent renovations that took place.
Spectacular marble floors, brass fixtures and dazzling chandeliers, plush sofas and intimate open seating, to an elevated ceiling with views of all 15 floors of this hotel, the Fairmont Rey Juan Carlos I is an interior design dream! Every inch of the lobby is photographable and impressive beyond words.
We were escorted to our rooms after a quick check-in by the Duty Manager, Doriane, who was extremely courteous and pleasant. We saw her again a few times during our stay and she always remembered us and made time for a quick conversation to ensure our stay was enjoyable. She is just one example of how amazing and attentive the staff at the Fairmont Barcelona is including the service at their restaurants The Terrace and especially Mr. Marco at B-24 (who got along so well with the kids that they insisted on taking a photo with him).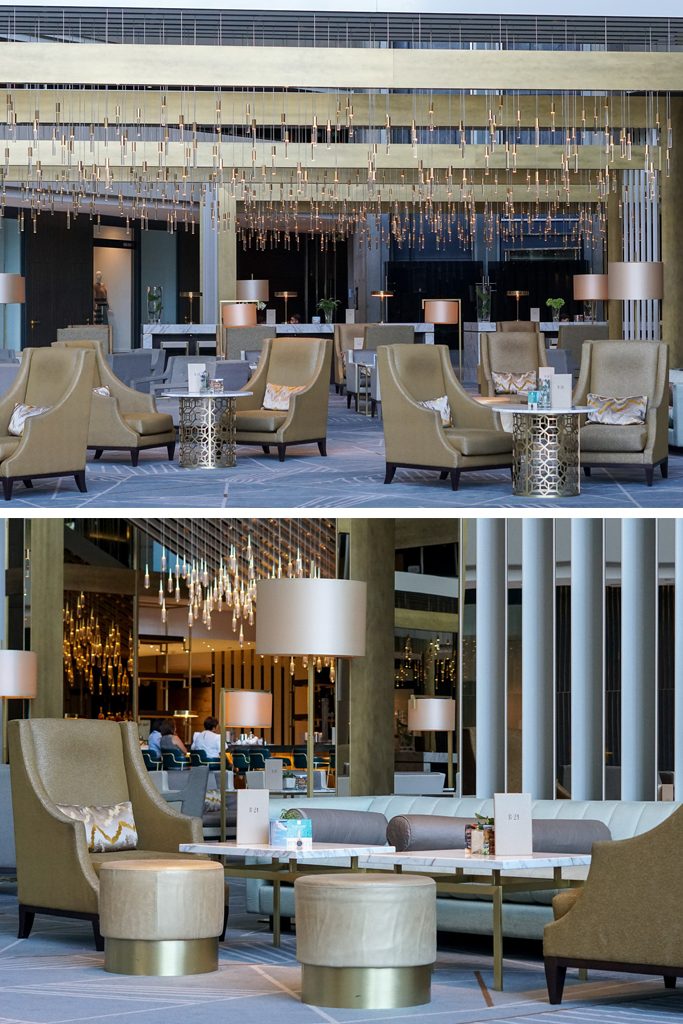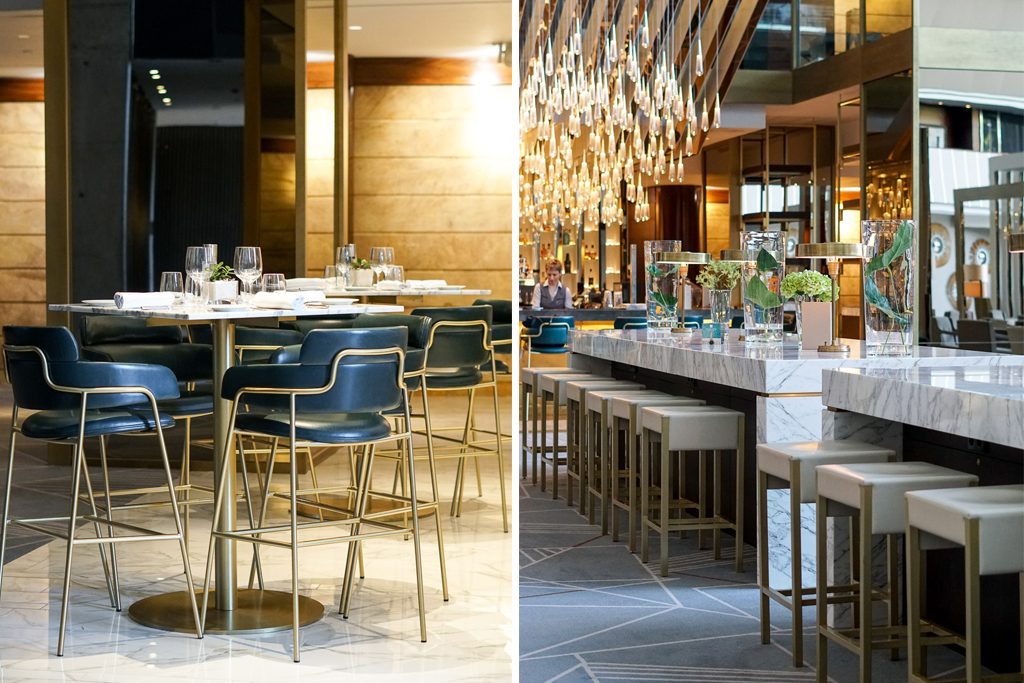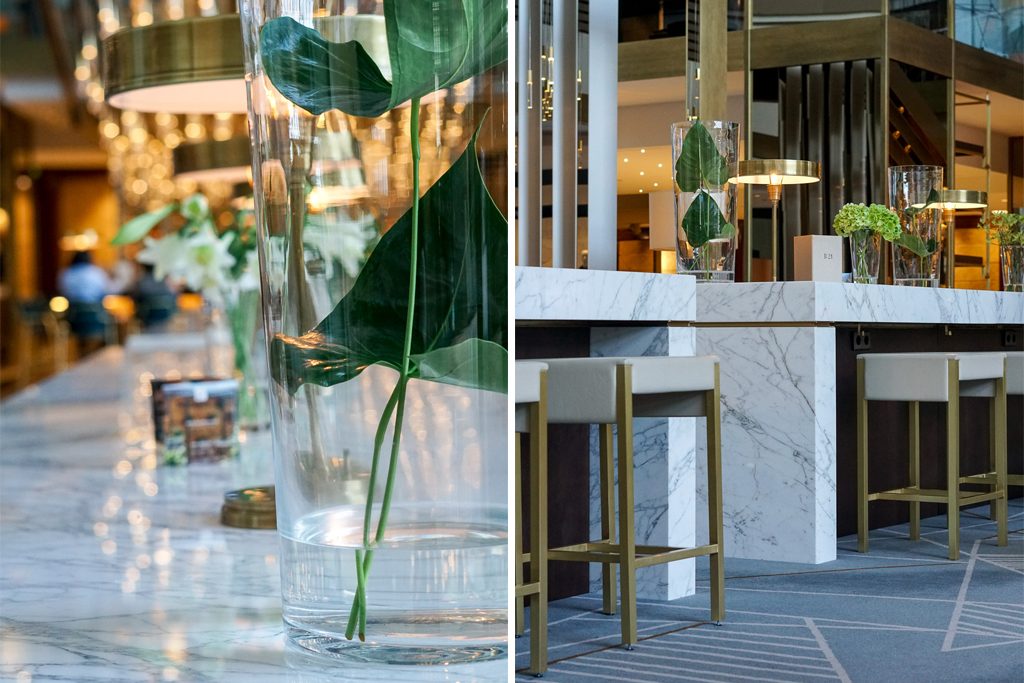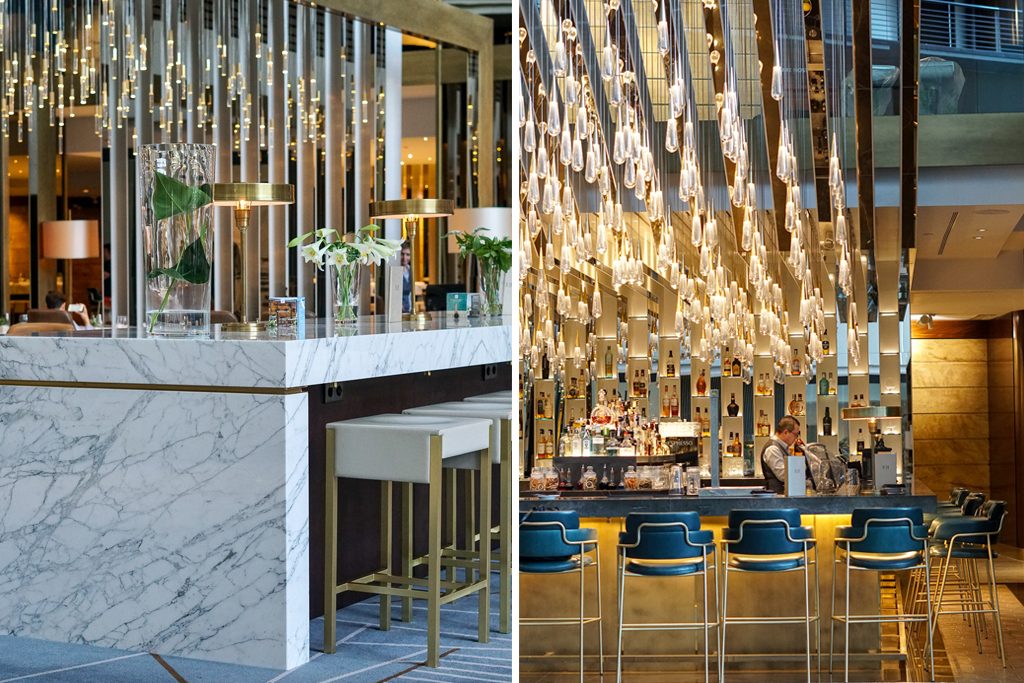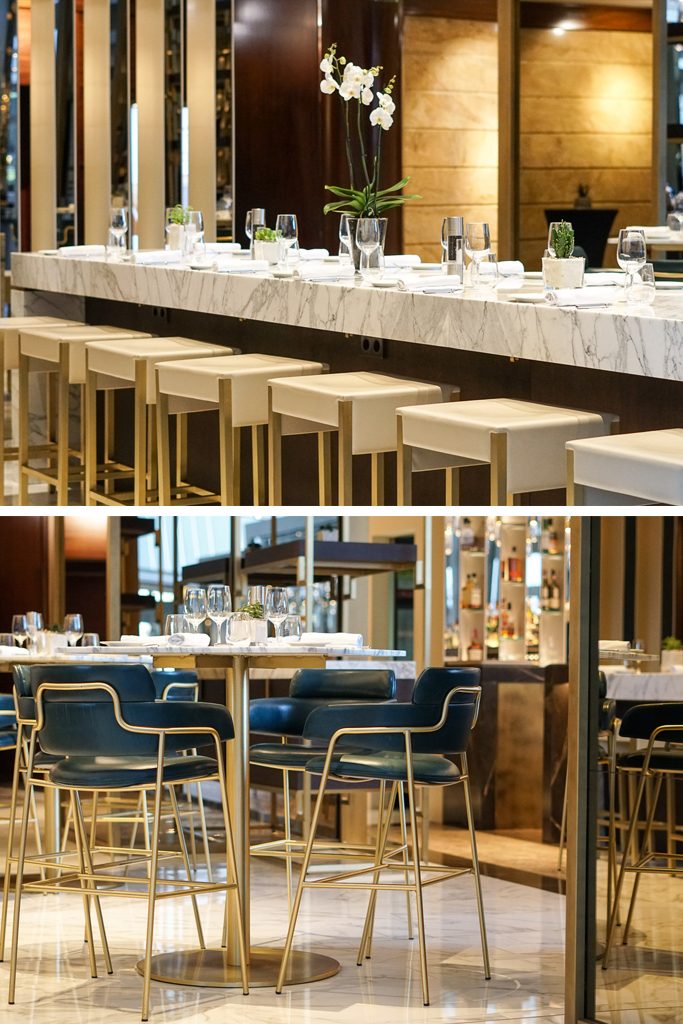 We stayed in the recently renovated Deluxe King and Deluxe Double Queen guest suites to accommodate our family of five. A large bowl of fresh fruit greeted us in our rooms along with a bottle of Cabernet Sauvignon and bottled waters. Both rooms are similar with the exception of the bed sizes. The cool color palette of light grey, white, and marigold is reflective of the lobby decor with rich, dark wood furnishings. The beds are firm yet comfortable that you will feel like you are sleeping in your own bed. The bathrooms are small but efficient with a full bathtub, shower with waterfall shower head (with strong water pressure which is bonus points in my book), and toilet with separate bedet. I was surprised to find that toiletries include not only the exclusive Le Labo brand which I personally use and love, but also includes a shaving and dental kit which is not common these days in even luxury hotels. The rooms are spacious which is rare for European hotels, but I will have to admit that the shower itself was a bit tight and that's from the perspective of a 5'3" Asian woman. Other that that, the room was a dream with gorgeous natural light, views of Barcelona's Camp Nu stadium (where FC Barcelona plays), the Barcelona Polo Club, and the lush landscape and pools of the hotel.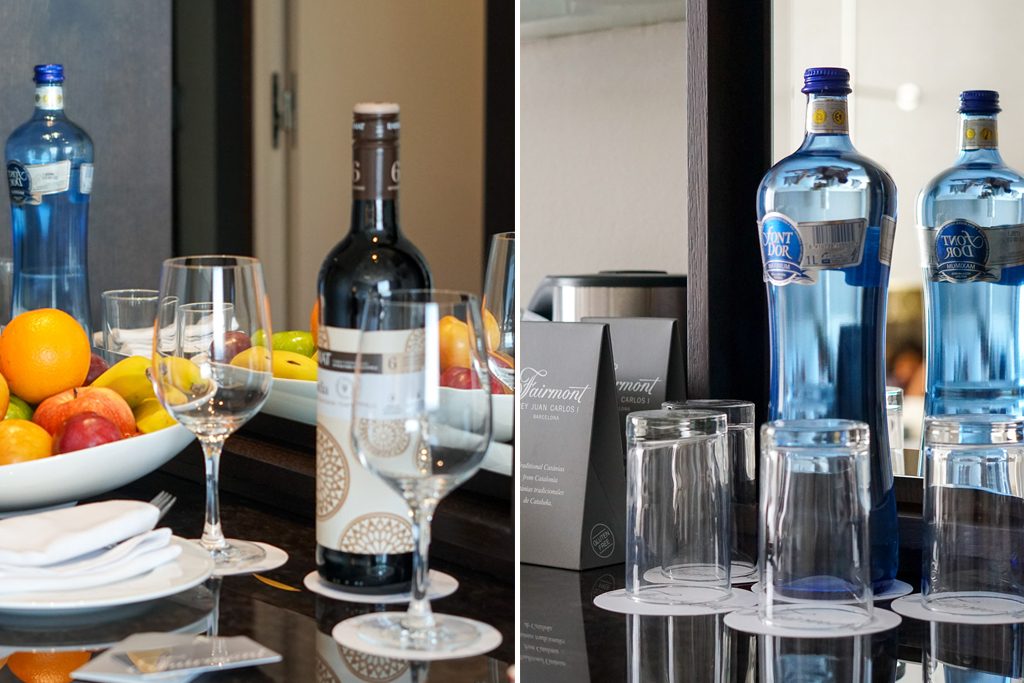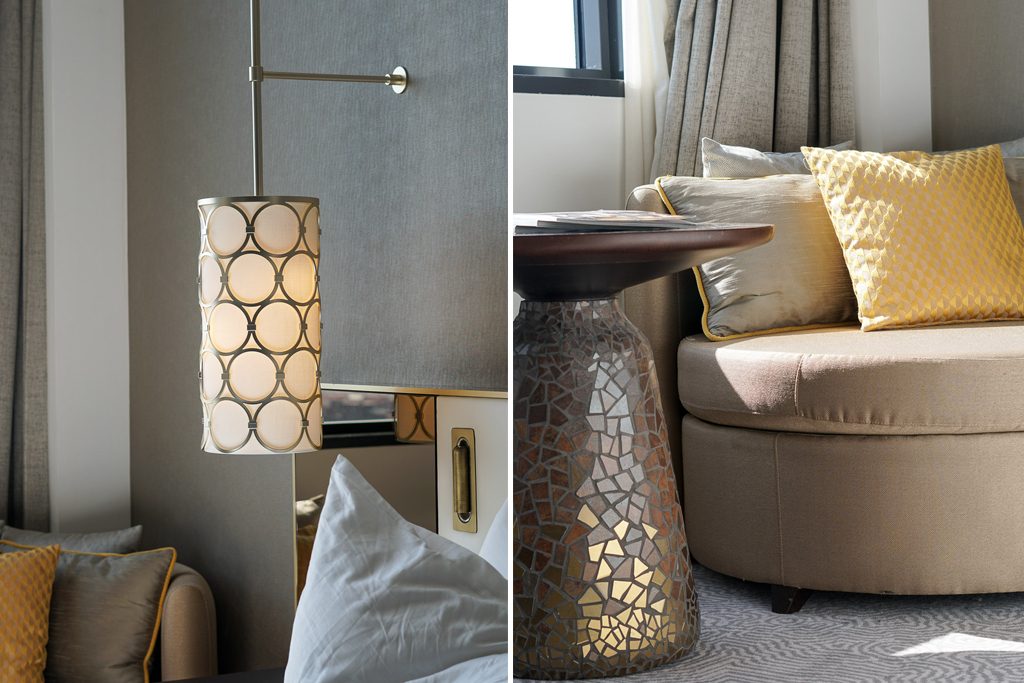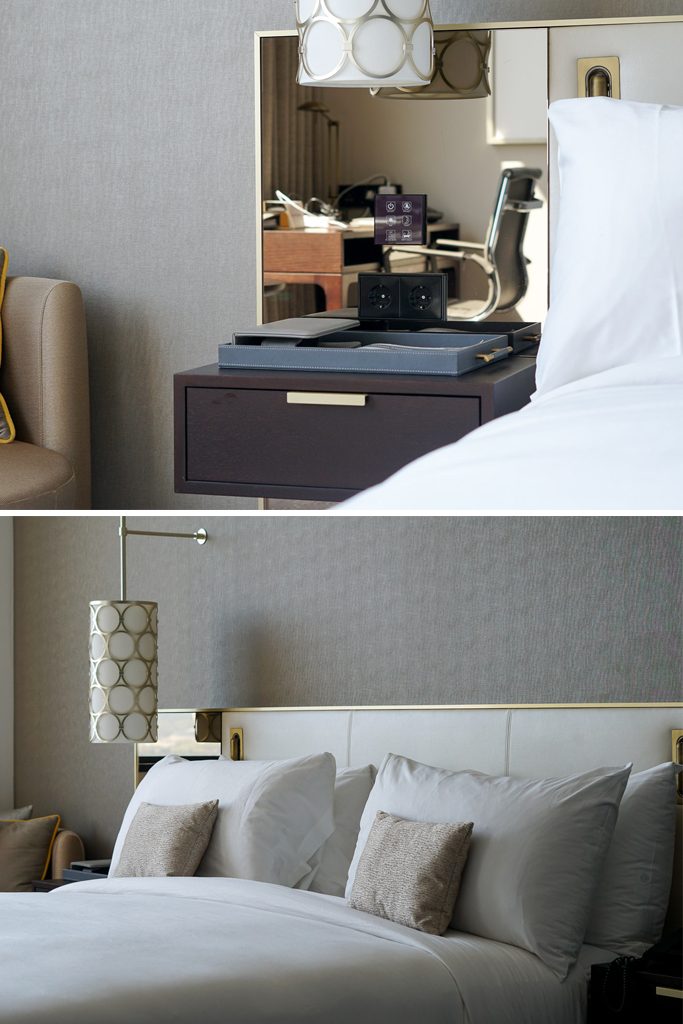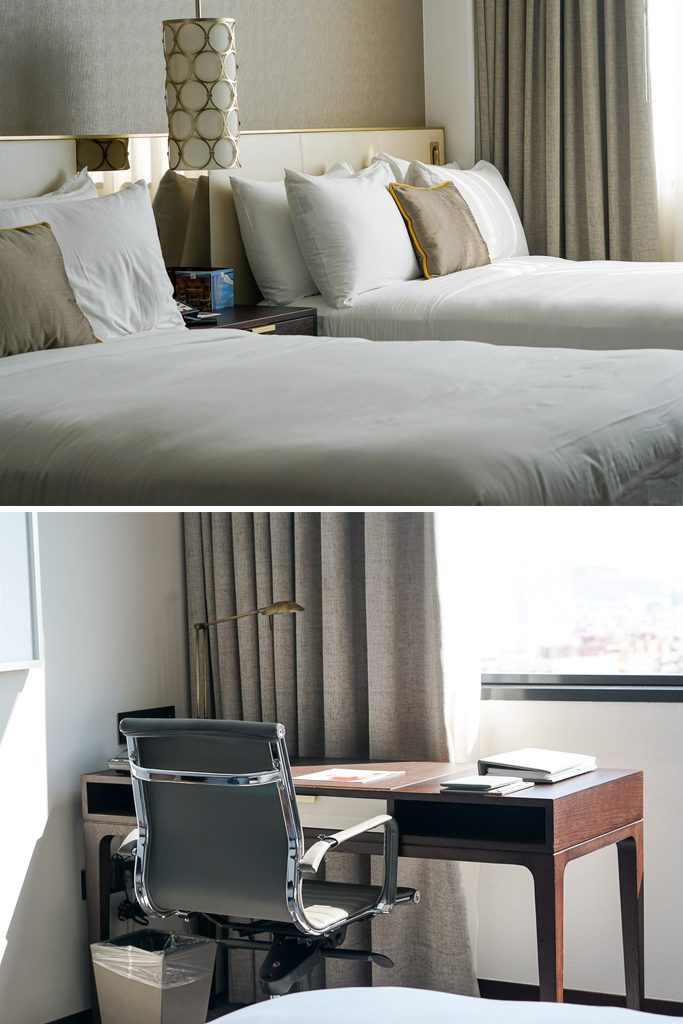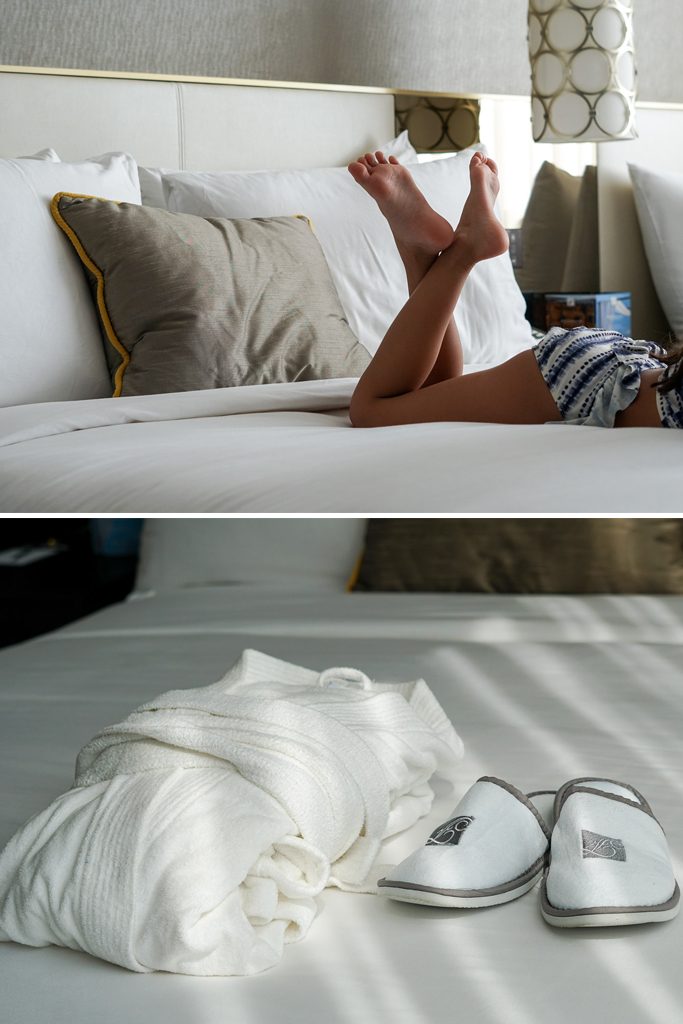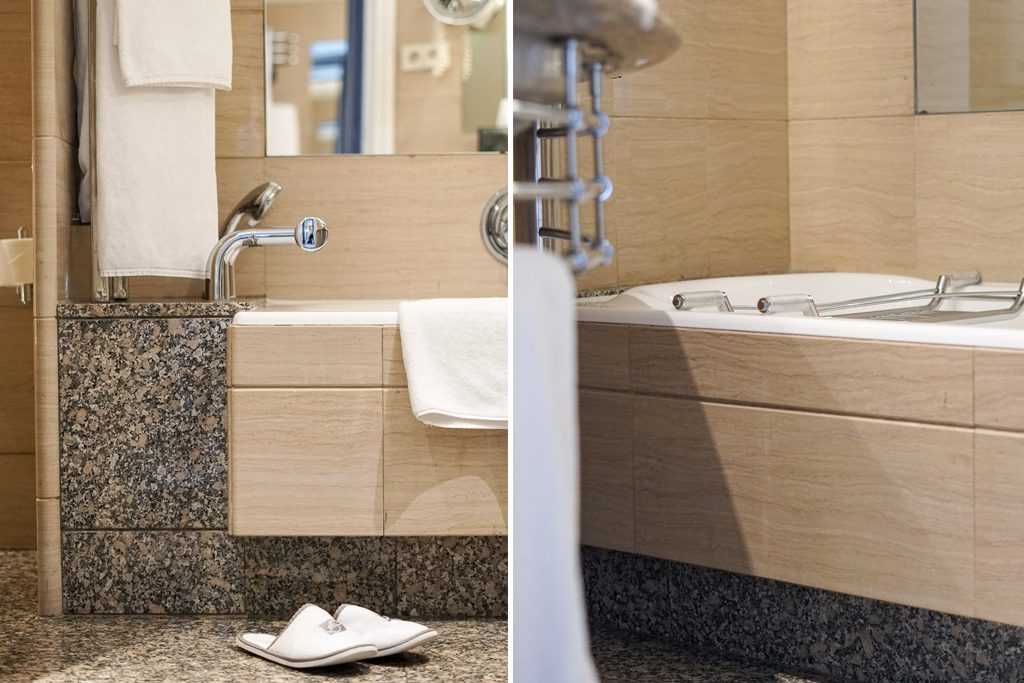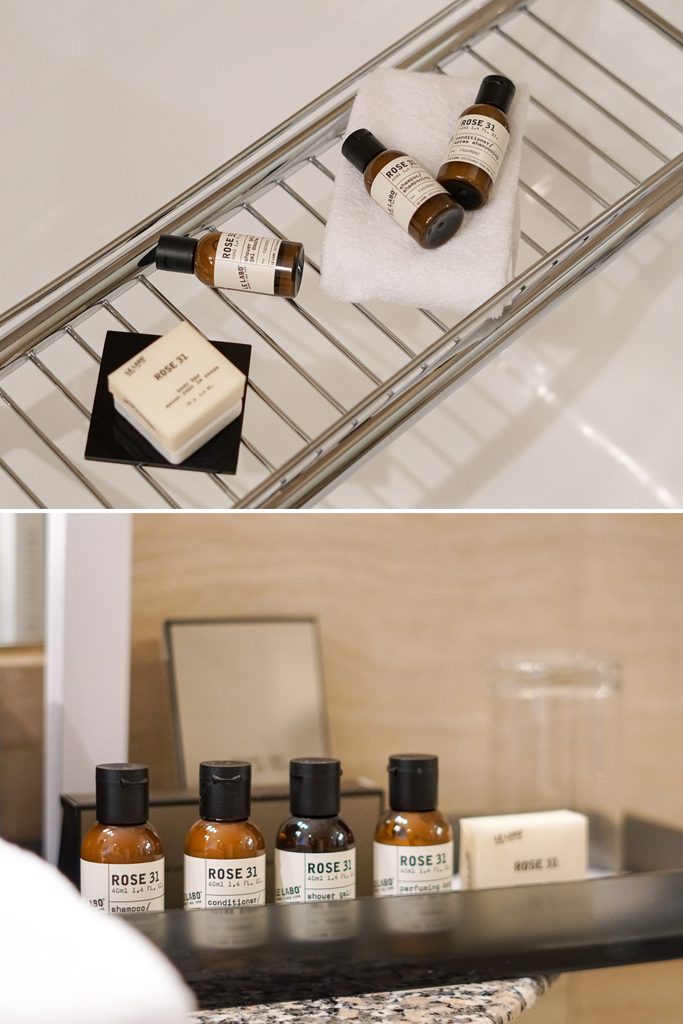 We spent two nights at the Fairmont Barcelona where we basically just enjoyed the good life and took a break from sightseeing. The kids thoroughly enjoyed swimming in the three swimming pools on the property, their favorite being the main pool with its own Veuve Cliquot bar. We were able to rent complimentary kickboards, pool noodles, and googles while sipping on frozen strawberry and lemon slushies. The drinks were plentiful including glasses of Veuve's finest, but no food is served here (only during the summer). We also had the entire indoor pool to ourselves that is located inside the fitness center and spa where the kids created their own boats with pool noodles, water weights, and floaty balls. Needless to say, their pool experience was two thumbs up!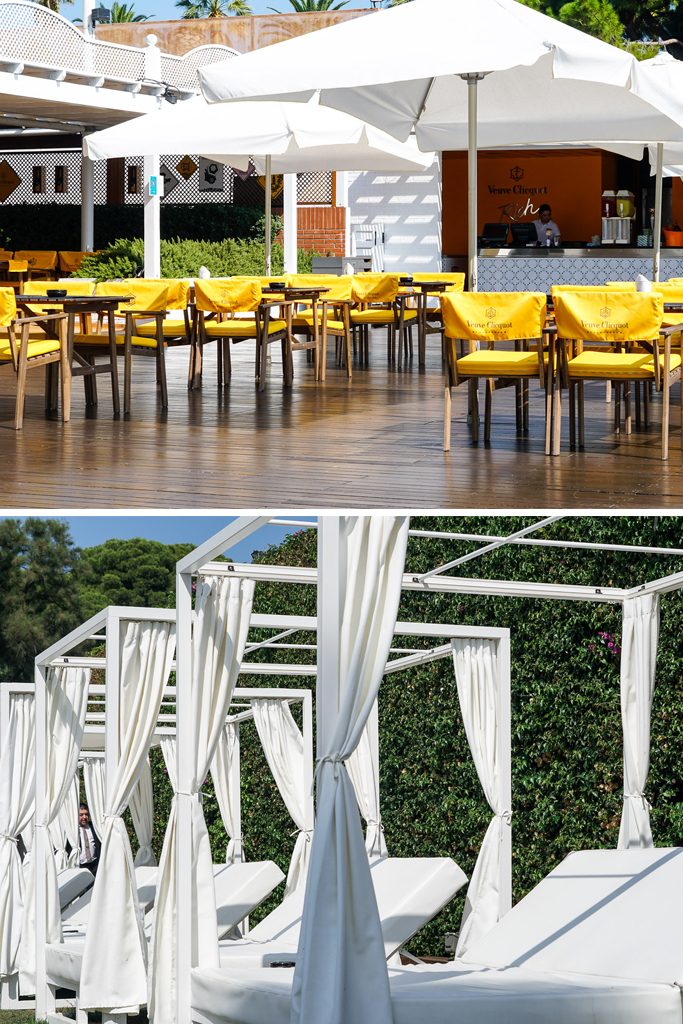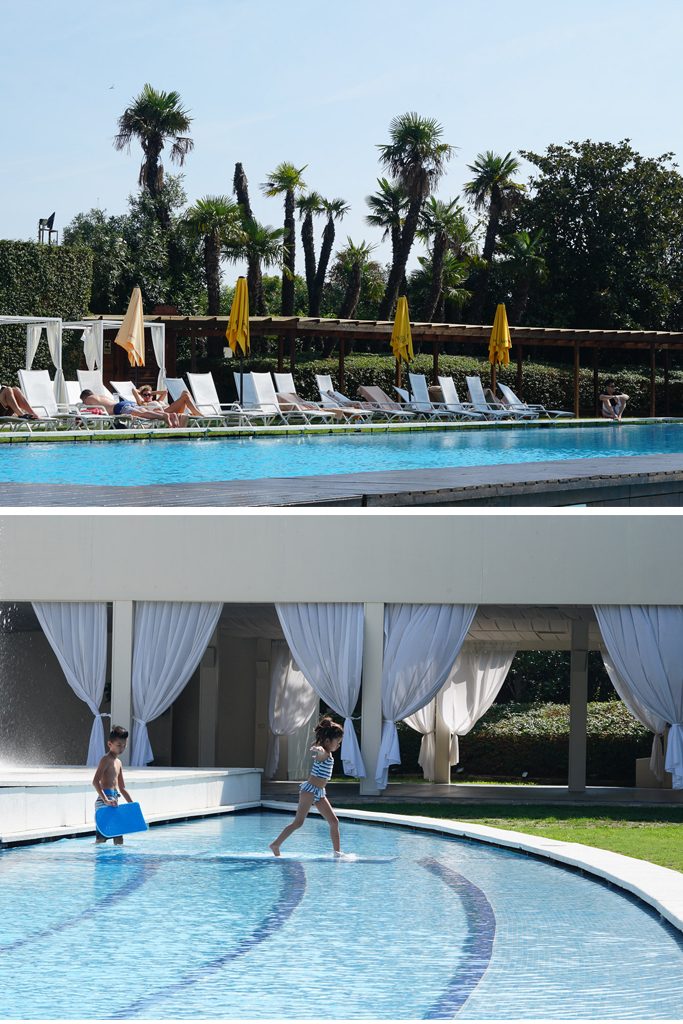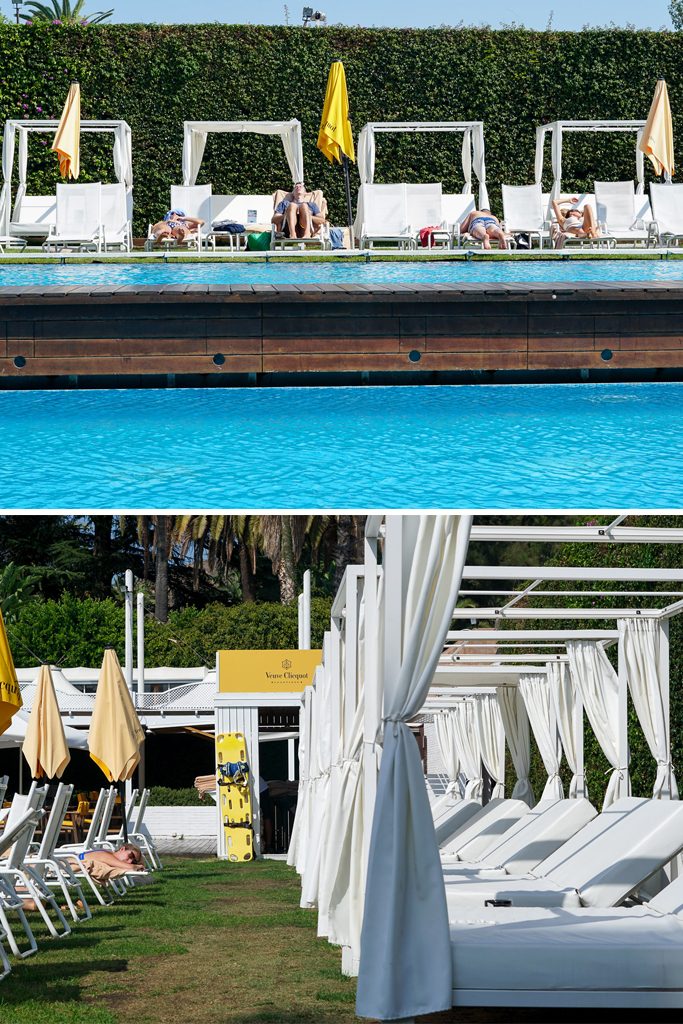 The hotel is located about 15 minutes from Barcelona's city center and is a great escape from the hustle and bustle of the city. The downside is that there are not very many restaurant options outside of the hotel. Fortunately the hotel's restaurants and bars are amazing and offer many options for every palette including our kids! The breakfast buffet was included in our room price so we started each day with fresh pastries, eggs Benedict, charcuterie meats, cereals, bacon and sausages at the Breakfast Venue. Their freshly made strawberry and kiwi juice is a must-have as well as their latte macchiato. For dinner, we dined at The Terrace which is an outdoor restaurant overlooking the Wine Lounge and one of the pools at the hotel. The outdoor dining admist string lights makes it the perfect oasis to enjoy their delicious seafood paella and sangria. We also dined in the refurbished lobby at B-24 which provides a relaxed setting while enjoying the remarkable decor of the lobby atrium (in case you can't tell, this is literally my absolute favorite part of the hotel). Open 24 hours, B-24 offers local Spanish cuisine and cocktails. The octopus and paella (yes, again) were not only beautifully plated, but delectable with every bite.
Our stay at the Fairmont Rey Juan Carlos I was brief but just the perfect escape we needed after our first leg of our European trip (we arrived from Paris). I can't speak enough about the stunning decor of the hotel and really felt pampered and well taken care of during our stay. I highly recommend spending a few nights here while stopping by Barcelona.
/ Pros /
The entire staff is proficient in English
Clean, renovated rooms
Modern and minimal decor
Located close to Camp Nu stadium
/ Cons /
15 minutes away from city center of Barcelona
Restaurant options are limited except at hotel itself
Water is hard to come by except at the hotel which costs 7 Euros
Fairmont Rey Juan Carlos I
Av. Diagonal, 661-671
Barcelona
Spain
08028
+ 34 933 644 040
Thank you to the Fairmont Rey Juan Carlos I and the entire staff for making our stay memorable and so enjoyable.