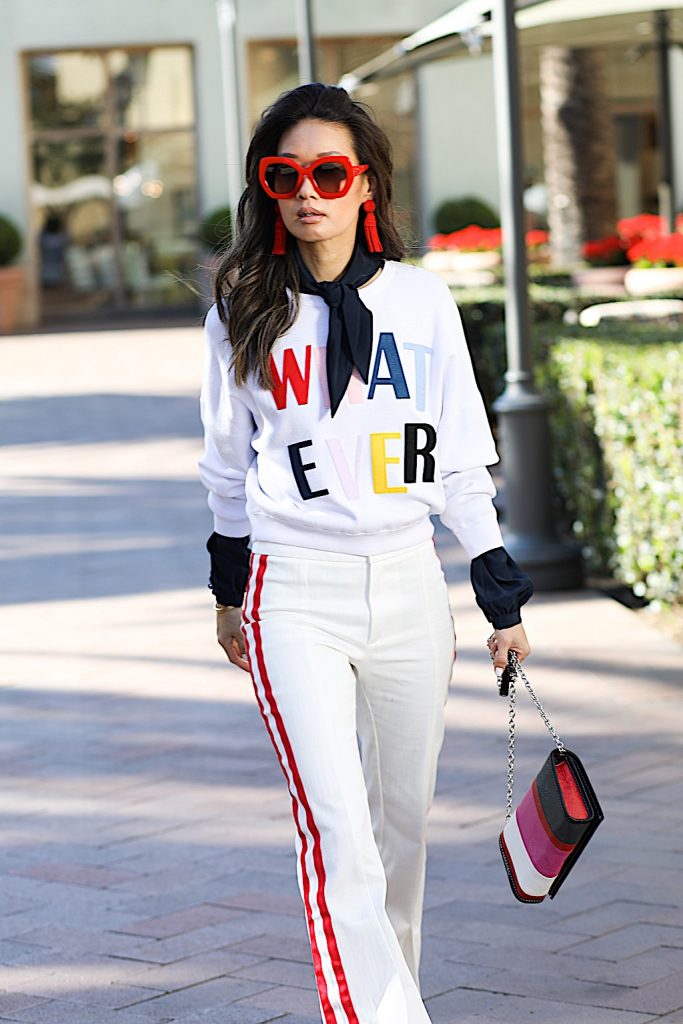 Fall is typically my favorite season, but after seeing all of the spring trends for 2018, I'll have to admit, I am pretty excited for the upcoming season. I partnered with one of my favorite stores, Neiman Marcus at Fashion Island in Newport Beach, to share some of the must-haves for this spring. From classic stripes, eye-catching colors, soft sunglasses, rainbow jewelry to glittery glam, spring is looking as fabulous as ever!
Stripes seem to always make a presence in spring. Vertical, pinstripe, horizontal, diagonal, there was no shortage of stripes on the runway proving that stripes are a major print trend for spring and summer. As you can see from the pinstriped two-piece I'm strutting to the stripes on my game changer denim with bold track-inspired stripes, this classic pattern is always in style.
Two pieces are so popular right now as we approach spring. There's also something about a matching set that instantly elevates a look. The stripes on this Alice and Olivia set crossing diagonally in different arrangements adds an updated twist to the classic print. To really make a statement, just add a fantastic, glitzy, embellished bomber. This one literally rocks as it is part of the Beatles collaboration with Alice and Olivia. I love the sporty chic stripes on the collar and sleeves which again incorporates the stripe trend.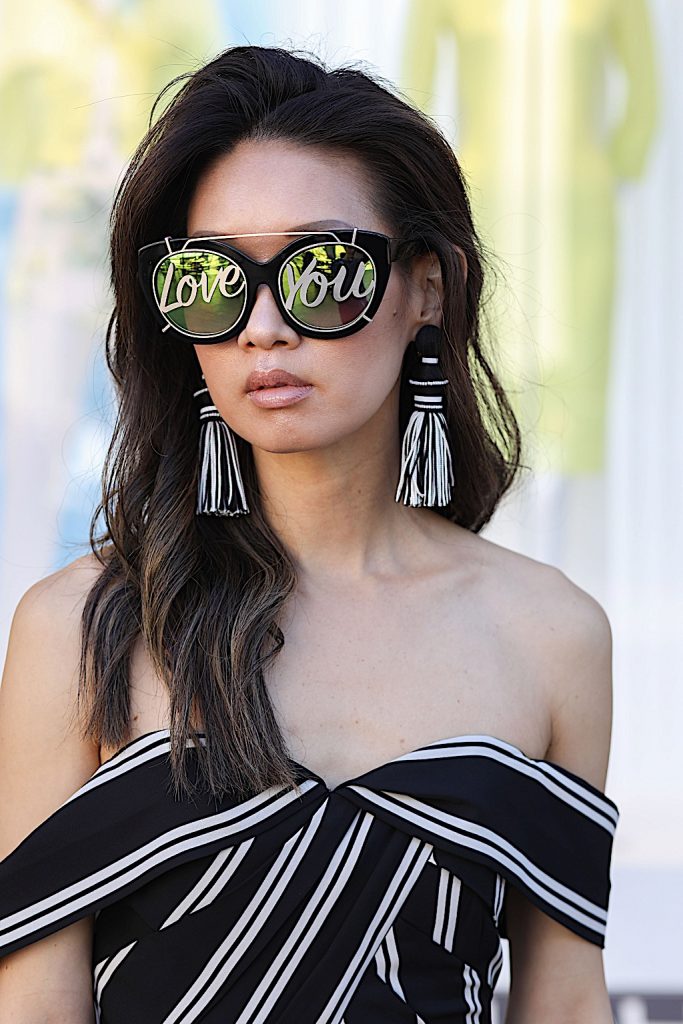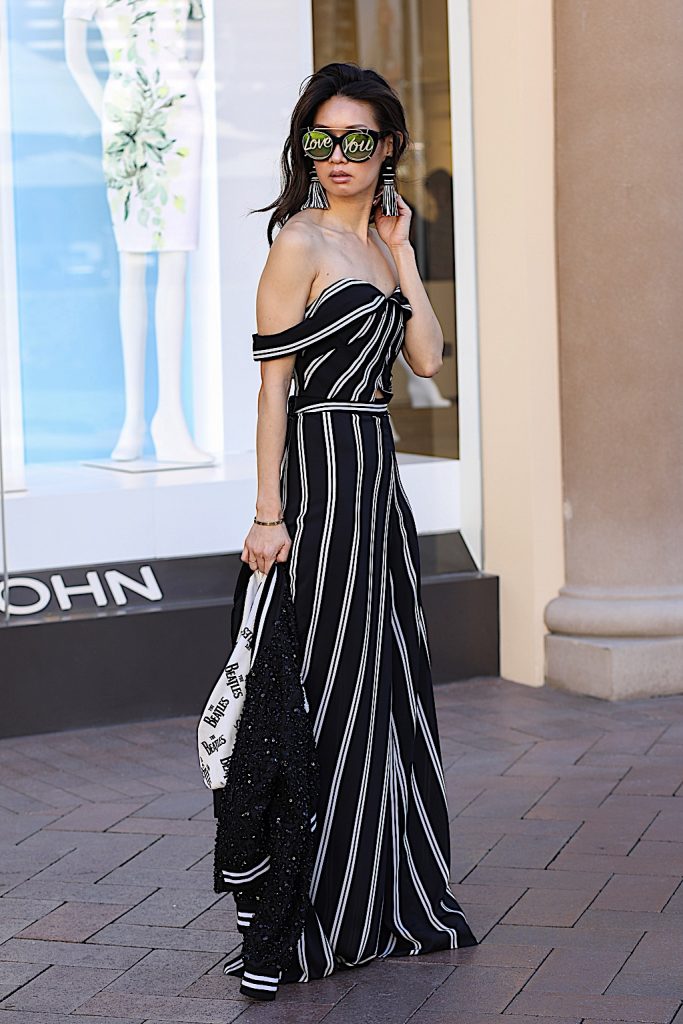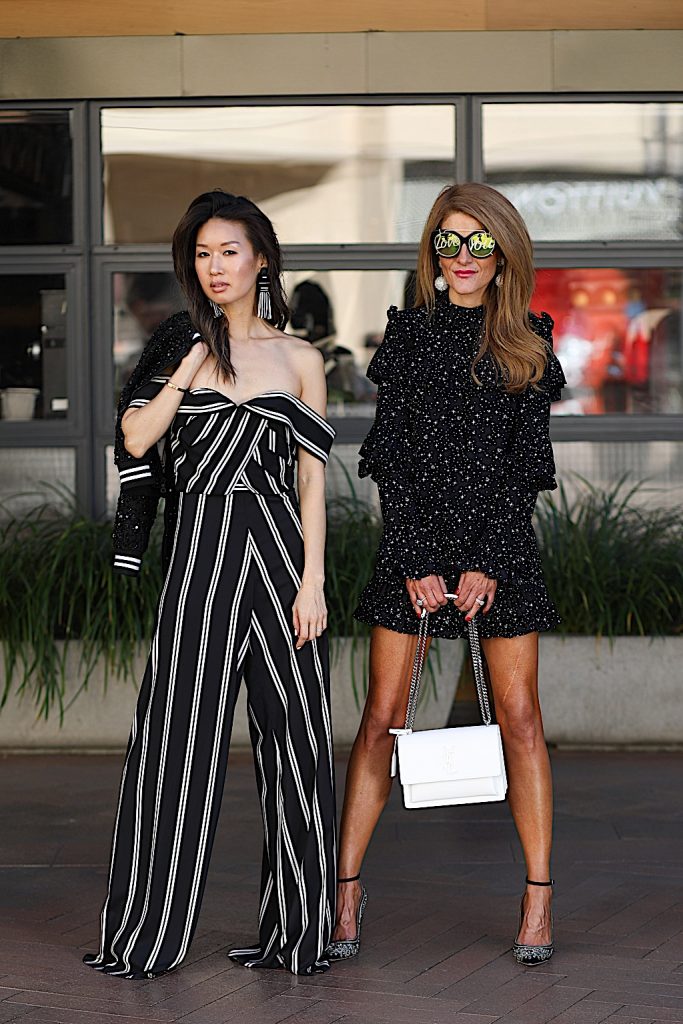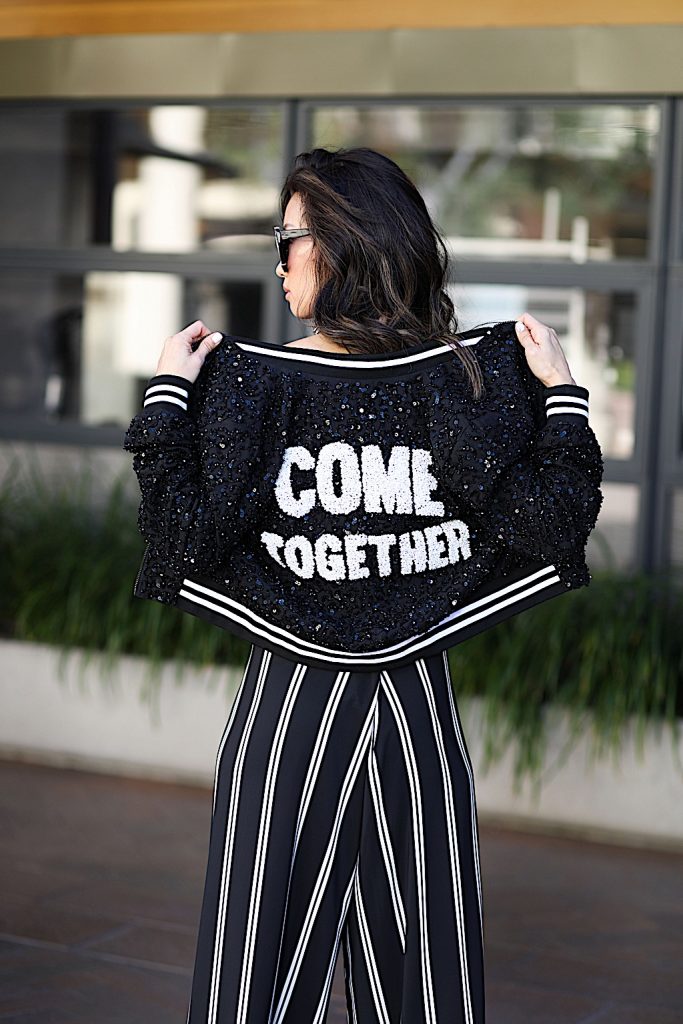 Top | Alice and Olivia
Pants | Alice and Olivia
Jacket | Alice and Olivia
Earrings | Oscar de la Renta
Sunglasses | Alice and Olivia
Shoes | Saint Laurent
And what's spring without color?! Punchy pinks, sunny yellows, and vibrant reds brighten up any look. And if you are pretty neutral with your outfit like I typically am, you can always join in on the bright colors with vivid accents like this "Whatever" sweatshirt by Alice and Olivia, fun accessories such as these statement earrings from Oscar de la Renta, geometic red sunglasses from Alice and Olivia, along with my new favorite bold heels from Gianvito Rossi. And why not throw in a colorful bag while you're at it to tie everything in?!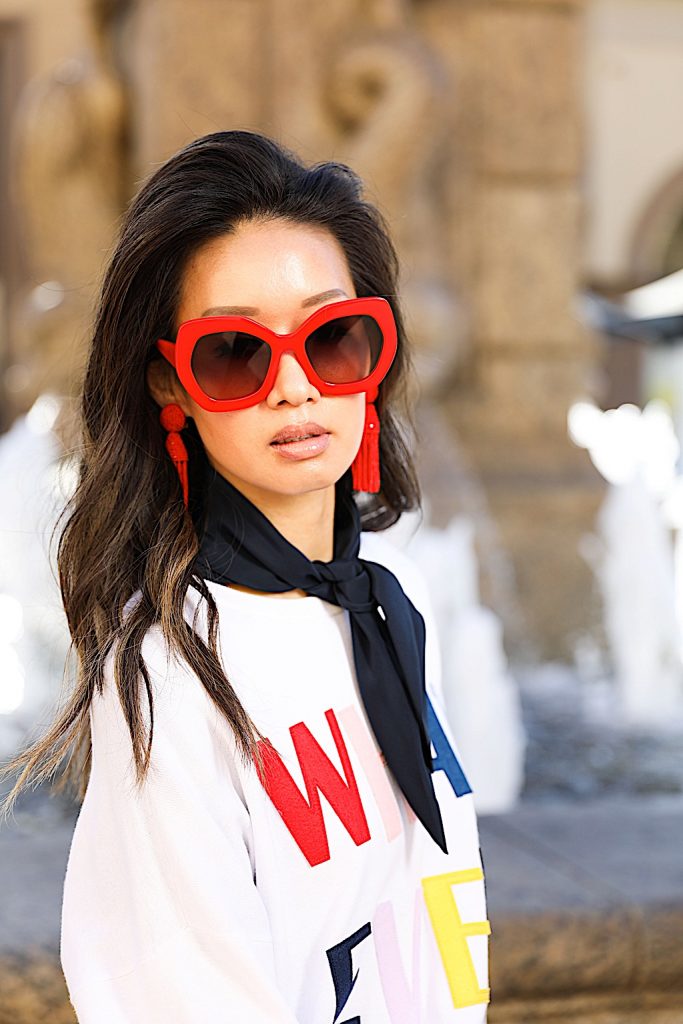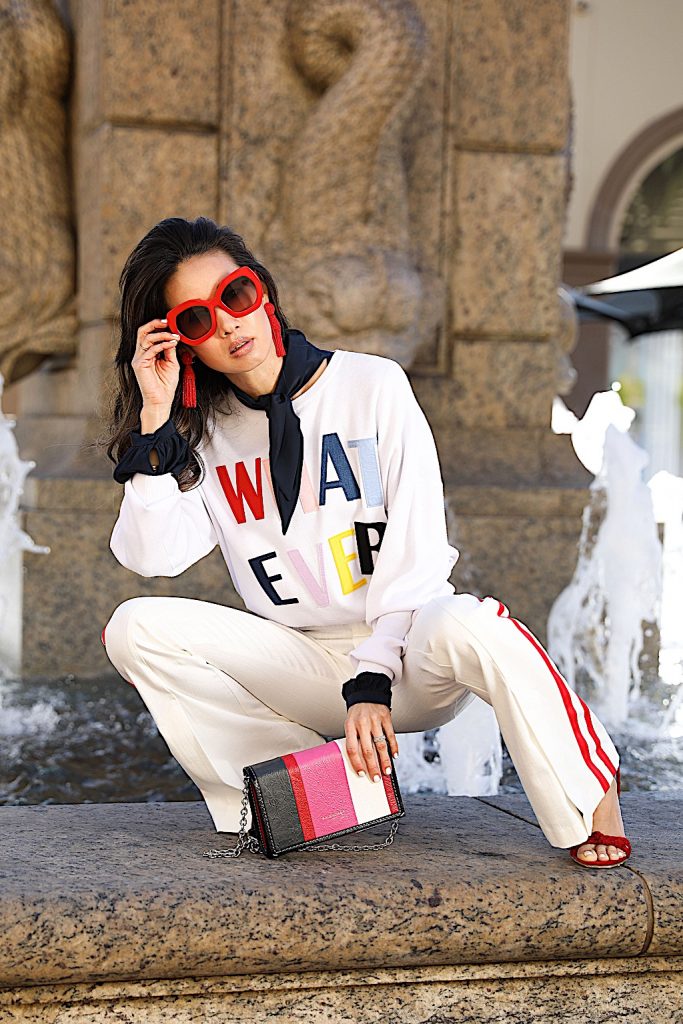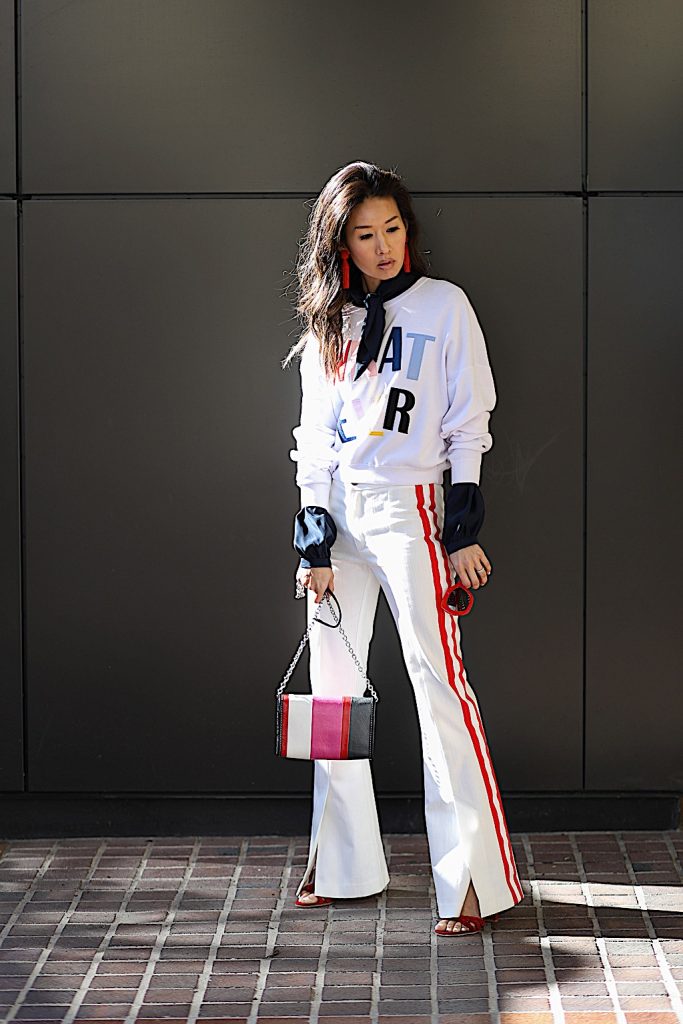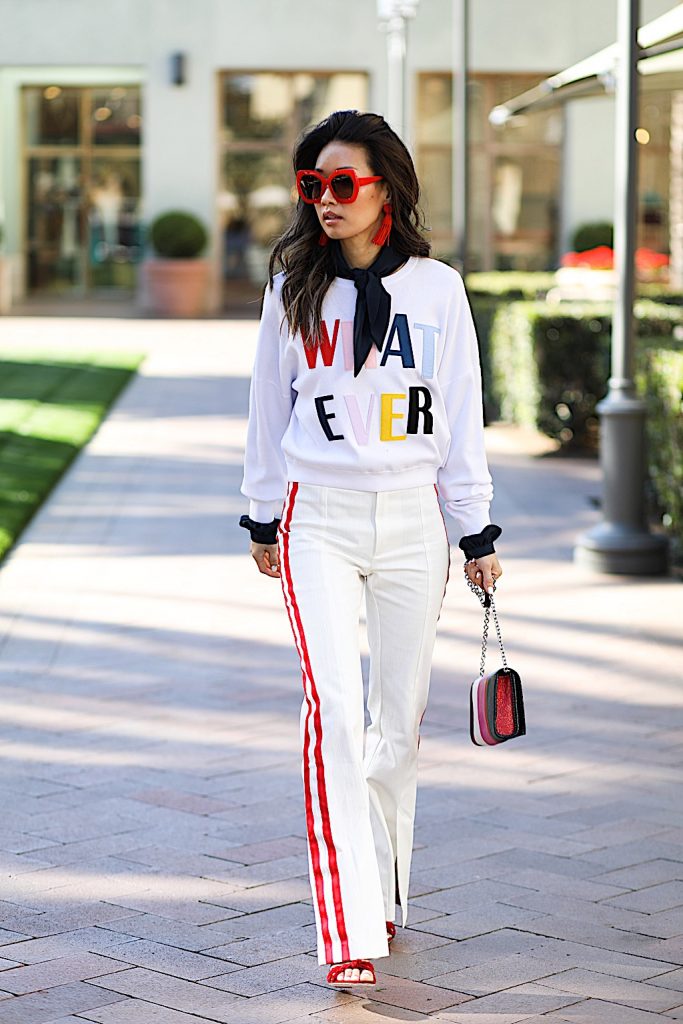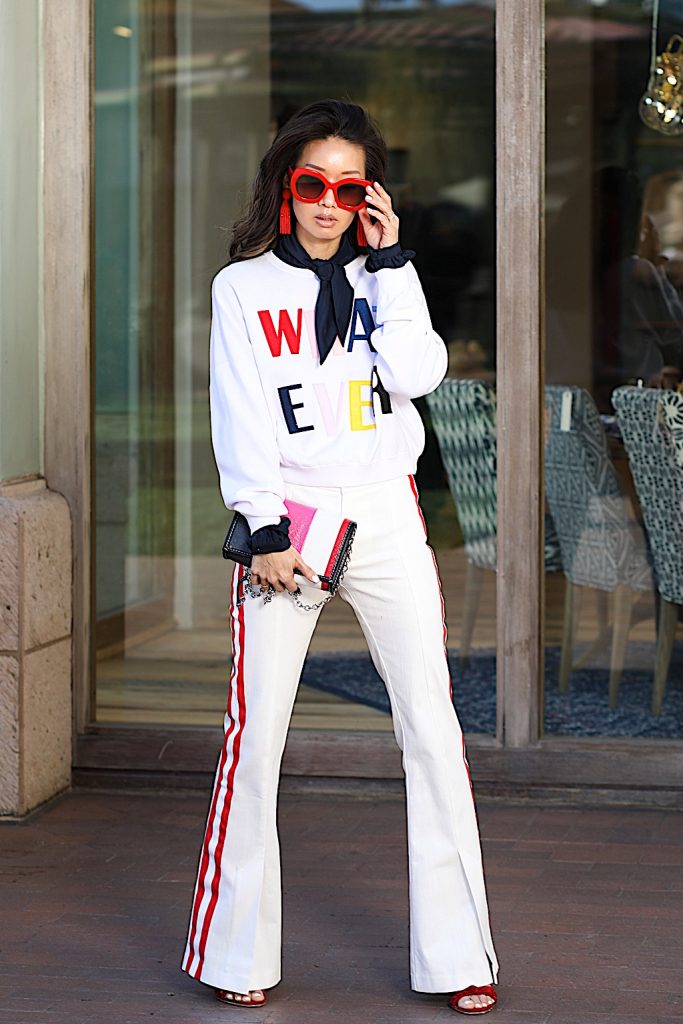 Sweater | Alice and Olivia
Blouse (under sweater) | Frame
Jeans | Maggie Marilyn
Earrings | Oscar de la Renta
Sunglasses | Alice and Olivia
Bag | Balenciaga
Shoes | Gianvito Rossi
Everything I'm wearing is from Neiman Marcus at Fashion Island. I literally do not have to go anywhere else to shop because they carry every designer label on their second floor to more contemporary, trendy brands at Cusp on the first floor. There's even a restaurant on the third floor, Mariposa, which is the perfect brunch spot for you and some friends. The outside terrace overlooks the ocean or you can dine inside where natural light fills the contemporary space. The food is all amazing, but I truly go for the popovers. They are so delicious with the accompanying jam that you have to take one to go (yes you can, just ask). After dining, you must check out the luxury boutiques on the first floor from Chanel to Van Cleef and Arpels to Saint Laurent and more. Neimans has everything, including personal stylists if you ever need anything for a special occasion or just want to have clothes curated for you to save on time. Their stylists are amazing and really get to know and understand your style. My fellow OC blogger, Caroline Taylor of Currently Caro, and I am obsessed with this store!
Speaking of Caro, I die for this denim top and leather skirt look she wore. The denim shirt reads "I Want To Hold Your Hand" in red on the back which complements her red Mansur Gavriel bag perfectly. And how fabulous are those pointed toe denim heels (pointed toes are another major spring trend)? She has the best legs ever and literally rocks this look head to toe!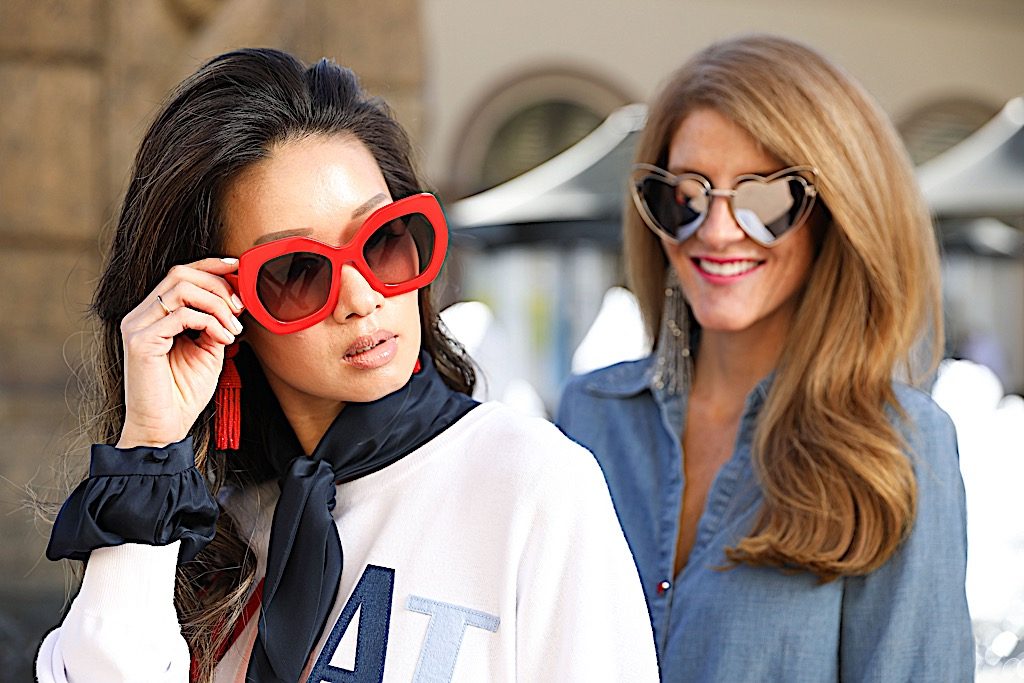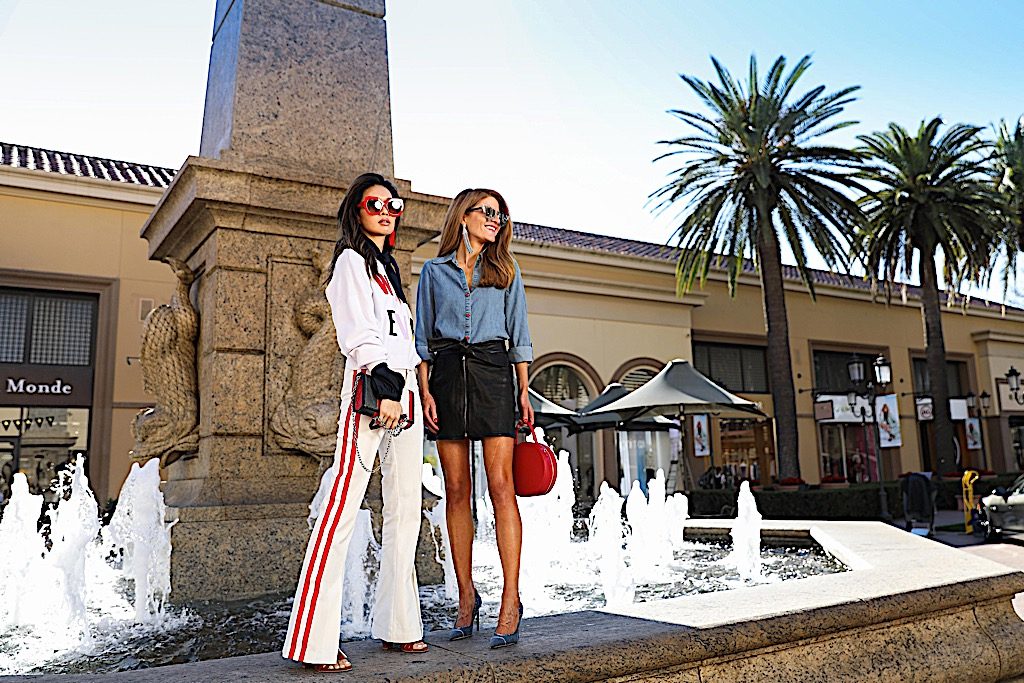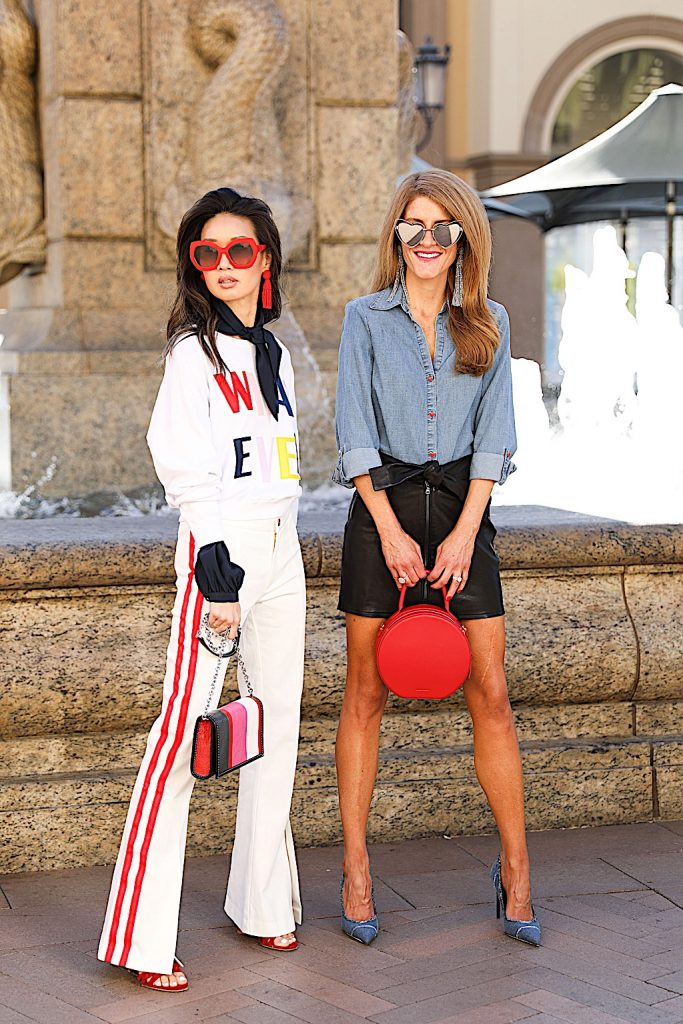 If you haven't been to Neiman Marcus at Fashion Island before, there's no better time than now. Currently they are offering up to a $150 gift card with qualifying purchases AND their Beauty Event promotion where you get tons of samples and the cutest tote (perfect for summer) if you only spend $125.
Hope to see you there!
Neiman Marcus
601 Newport Center Drive
Newport Beach, CA 92660
949.759.1900
800.395.1036
Thank you to Cheresse Pentella for picking such amazing styles and to Reza Allah-Bakhski for the beautiful photos.