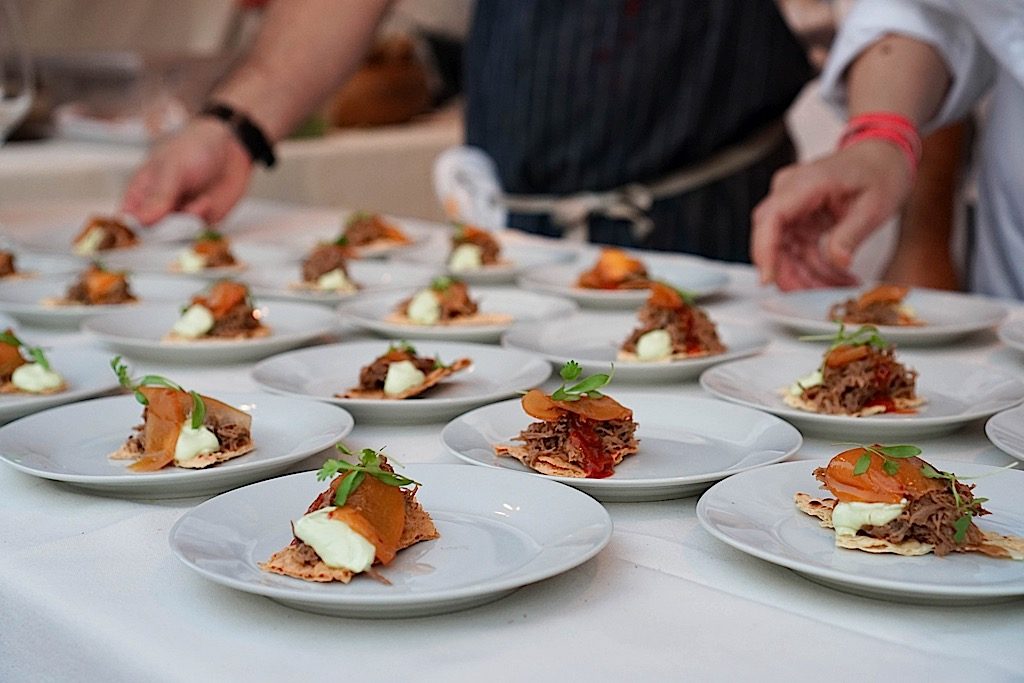 There is something about food that brings people together. Whether it is the taste, the presentation, or deciphering that special ingredient, food is a vehicle for community. It is a time when people get together, share life stories, travels, hopes and dreams all over the course of a meal. Food just brings people together. Whether it is local or international, the phenomenon of great food has people willing to travel to get that savory bite and experience.
I had the amazing opportunity to attend the sixth annual Los Angeles Food & Wine Festival this year with Lexus, the founding partner of Food & Wine. This event was hosted by renowned chef, Tyler Florence, in DLTA where I was able to taste from 30 remarkable chefs and 50 prominent wineries. The venue was stunning as we nibbled and sipped amongst the cityscape of the Broad, Walt Disney Concert Hall, MOCA, The Music Center, and Grand Park. Surrounded by the extravagance of such celebrated food and wine, to the luxury Lexus vehicles that were available for viewing, I truly felt inspired. And adding to an already incredible night, De La Soul helped to enhance the festive and jovial ambiance with their energetic beats and lyrics.
Walking throughout the red carpeted venue, I was able to sample from California's hottest restaurants and sip from many local wineries. My absolute favorite tasting hands down was from the host himself, chef Tyler Florence of Wayfare Tavern. His shrimp and grits just melted in my mouth. Pure and utter perfection. A close second was the freshly rolled pasta from Patina that was perfectly al dente and topped with crème fraiche. The most entertaining display came from Starry Kitchen, where chef Nguyen Tran served up crispy tofu balls in a banana suit and blowhorn. As far as wine goes, I had one too many to count, but I definitely enjoyed the rose sangria from Barcito, the private collection from Glenlivet, and the recently released Silveroak 2012 Cabernet Sauvignon.
The food selection was phenomenal, but let's not forget the desserts! They too were represented from Bree's Cakes to Jon & Vinny's Italian cookies. My personal favorite was the curried, sugar doughnut from ICDC which was fried to excellence with just the perfect hint of curry in the sugary topping. As a lover of ice cream, I also couldn't pass up spending time at the Lexus lounge. There, in all one space, contained a variety of ice cream flavors from an adorable, vintage cart, adult ice cream floats from the fabulous Small Town Brewery bar, and delectable ice cream sandwiches from Sweet Lucie's iconic blue truck. It was like my ice cream dreams had come true!
Despite the hours I spent tasting from booth to booth, there was still so much I didn't get to enjoy. Fortunately these restaurants are located in California and I have the accessibility of simply getting into a car and driving to get my culinary food fix.
I came to the LA Food and Wine event knowing only my husband. Yet I left having met two friends – a stranger from the Bay Area and another blogger from Los Angeles. Two people who I not only exchanged phone numbers with, but exchanged pasts, present, and future plans with. That is the beauty of food. Regardless of culture, social economic status, or gender, we all need to eat. And when we eat, it tastes much better when it is shared.
Thank you to Lexus USA and the IW Group for allowing me this incredible culinary experience.