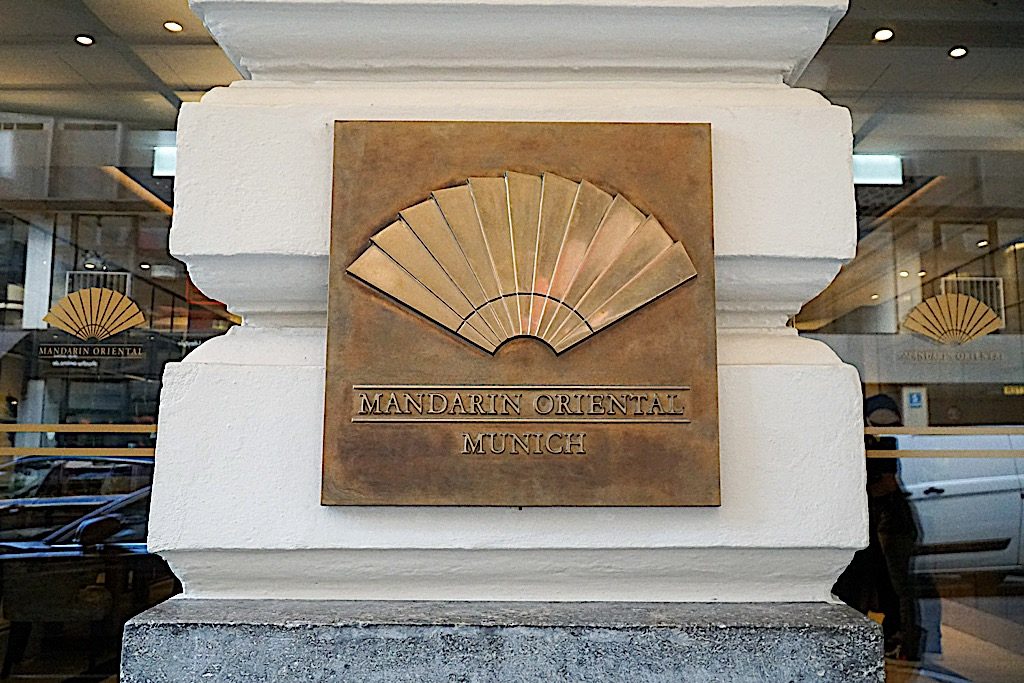 In the heart of Old Town lies a luxury retreat, minimal in signage, but maximum in luxury and service. The Mandarin Oriental, Munich is a five star, boutique hotel located within the luxurious Maximilianstrasse (think Rodeo Drive, Beverly Hills) as well as walking distance to many tourist attractions. It is the first and only hotel in Germany to receive the prestigious recognition of a Forbes Five-Star rating and based on our experience here, I can see why.
Immediately upon arrival, the bellmen embraced us with a bright smile and swiftly took us to check in. My mouth fell open as I entered the lobby where high ceilings and rich, earthy tones welcomed me. Friendly faces at the front desk greeted us with cool tea to replenish our bodies and warm cloths to wipe away the stress of traveling. The children were ecstatic as a goodie basket filled with toys was brought forth. They spent a few minutes pondering their treat of choice while our check-in was taking place. Needless to say the warm welcome with added gifts was truly unexpected, thoughtful, and appreciated.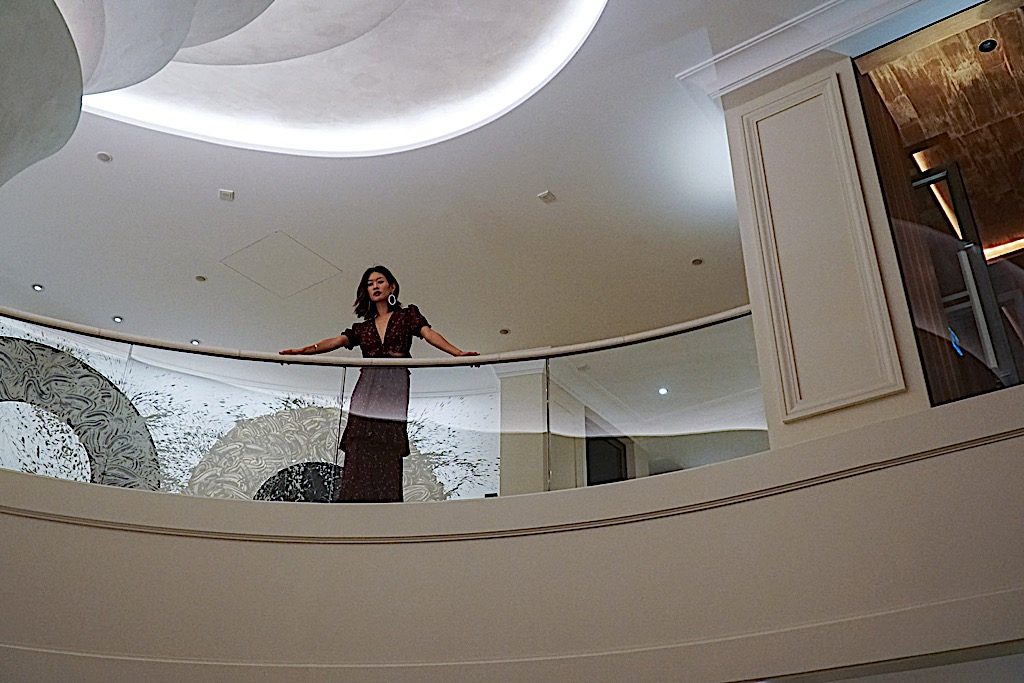 Natural light with high ceilings adds to the luxury of the hotel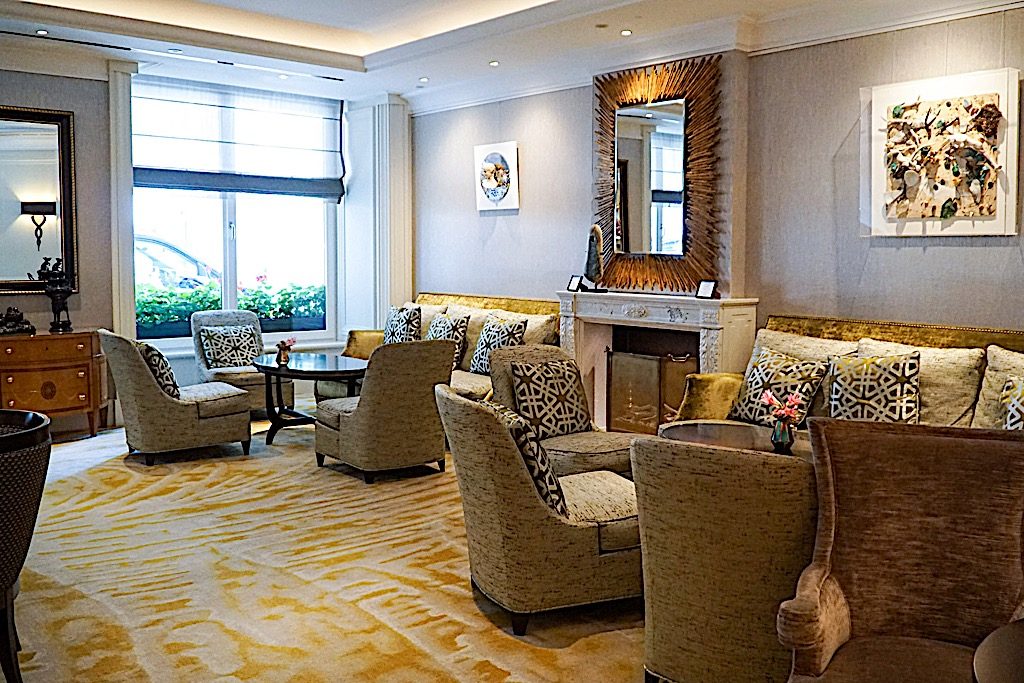 Intimate lounge seating adjacent to Lobby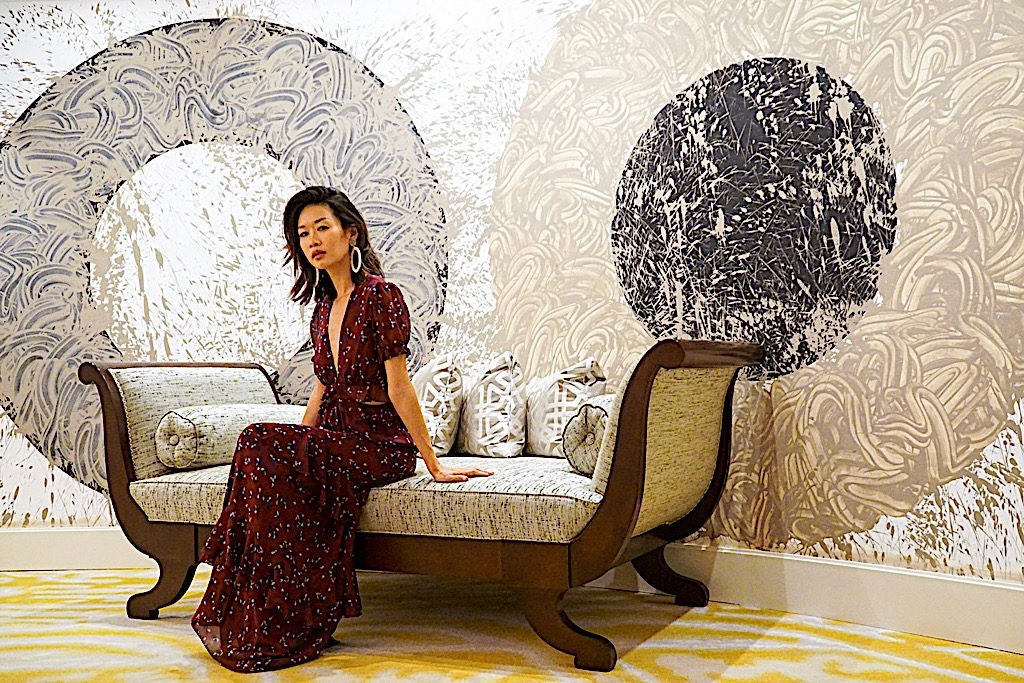 Elegant decor with Asian influences
We arrived a few hours before the official check-in time and was pleased to see that our rooms would be ready shortly. I browsed the stunning lobby while we waited, taking in the magnificent staircase as well as the intimate, luxurious seating in the lobby area. Coffee, teas, and pastries were plentiful for guests coming through, and a fabulous, Jimmy Choo tea service was getting underway amongst the two toasty fireplaces and intimate lounge seating. I couldn't help thinking that this was the perfect spot to unwind after a day of sightseeing or to relax after work.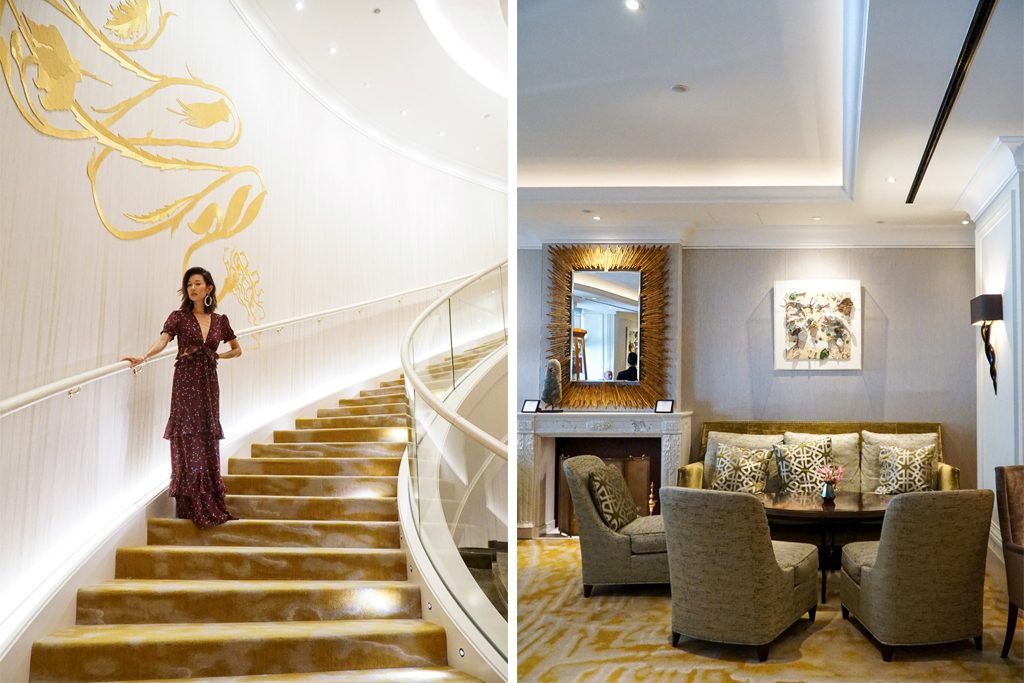 Majestic Staircase | Lounge Seating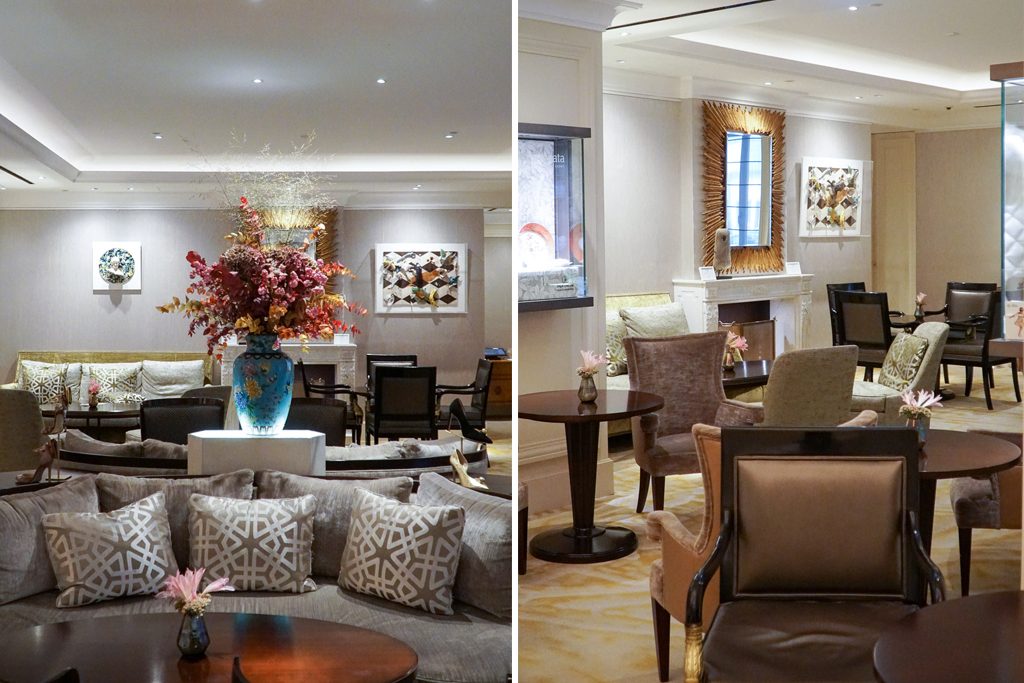 Afternoon Tea and Lounge Seating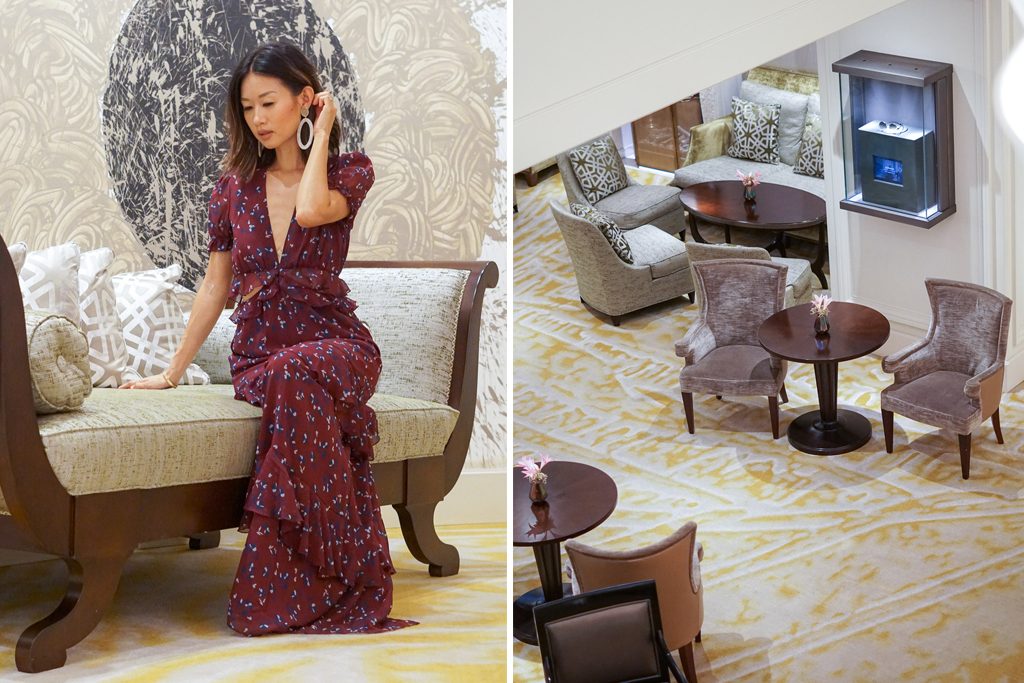 View from above Lobby
I learned that before Mandarin Oriental opened, the previous space served as the city's opera house and ballroom. Because of this fact, each of the 48 guest rooms and 25 suites at the Mandarin Oriental Munich are very unique and different from one another. As a family of five, we occupied two rooms, the first room being a Superior Room with one king bed and the second room being a Deluxe Room with king bed and an extra roll away bed. Both rooms were surprisingly spacious, with charming, sloping eaves and city views, elegant seating area with desk, beautiful neo-beidermeier style cabinets with plenty of closet space (and a yoga mat for morning stretches as well), parquet floors with thick, comfy Oriental rugs, and fully stocked, complimentary minibar. We definitely took advantage of the delicious Haribo gummy bears, coffees, bottled water, and even beers that were restocked everyday. In addition, fresh fruit was presented daily in each room. The rooms are generous, elegant, and comfortable with subtle Asian influences, and most importantly sound proof. We didn't hear anyone and hopefully no one heard our kids as they squealed with delight over gummy bears, milk and cookies, and playing with their new toys. This is hospitality we could get used to!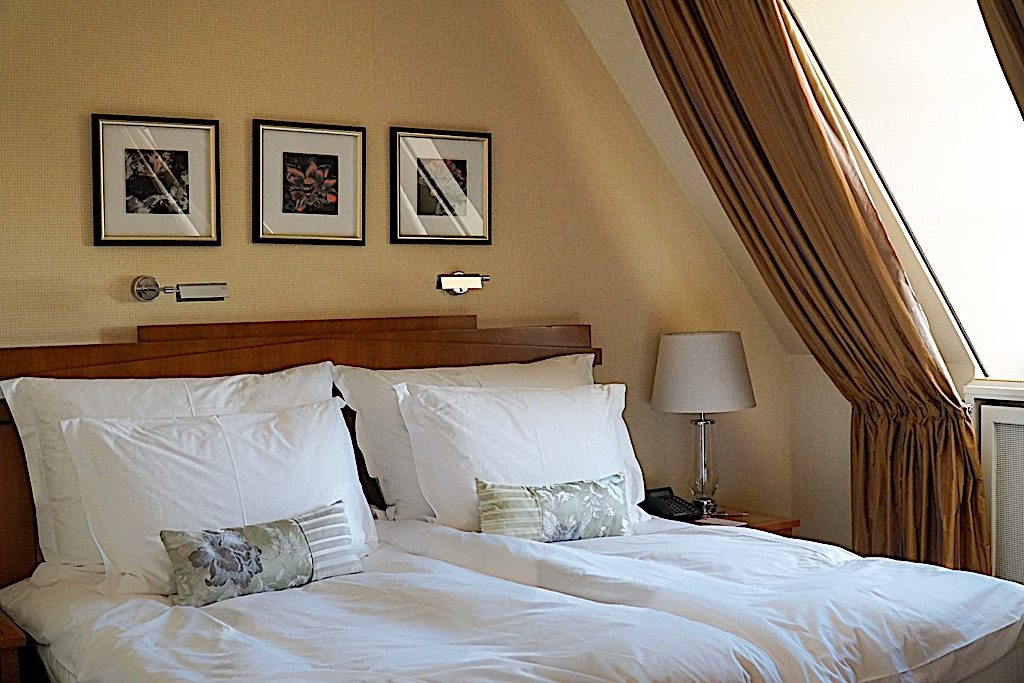 Deluxe room with king sized bed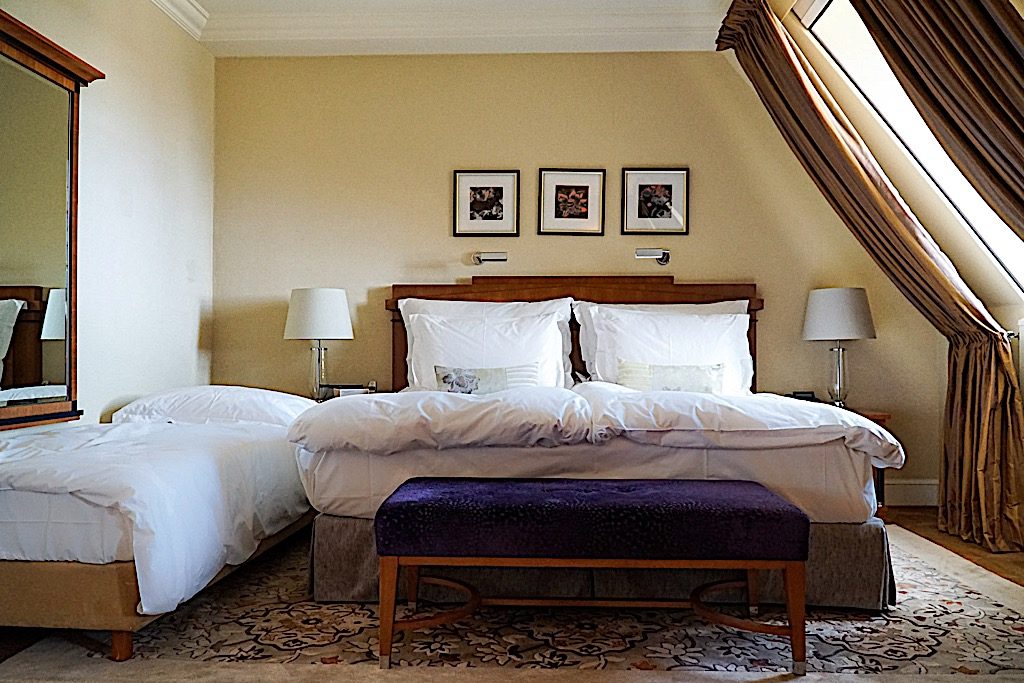 Deluxe room with king sized bed and roll away bed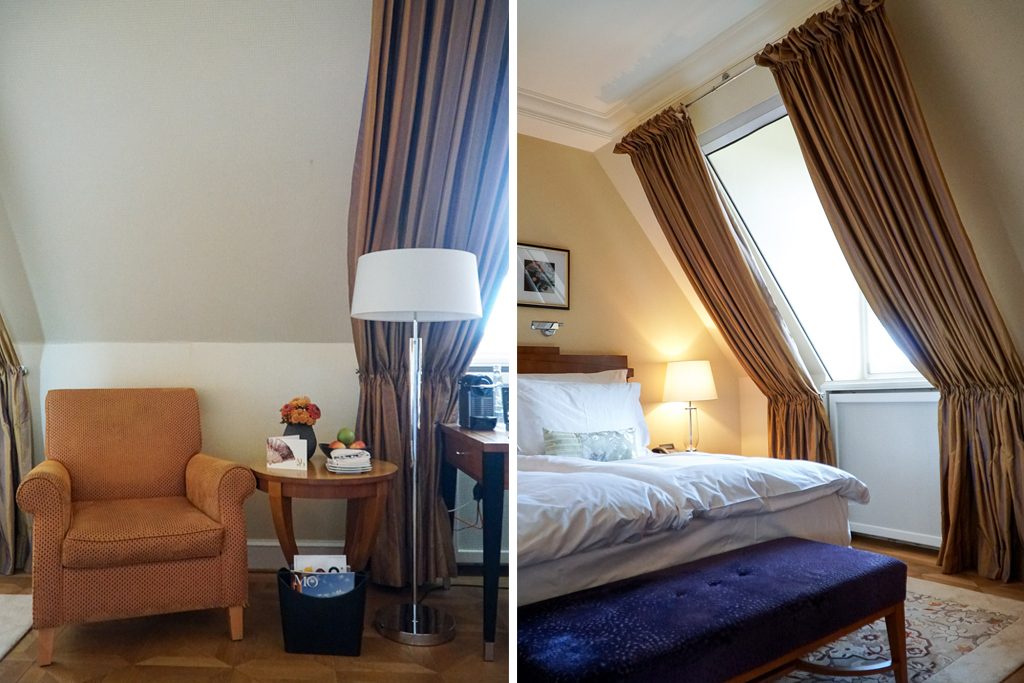 Deluxe room seating area and sloping eaves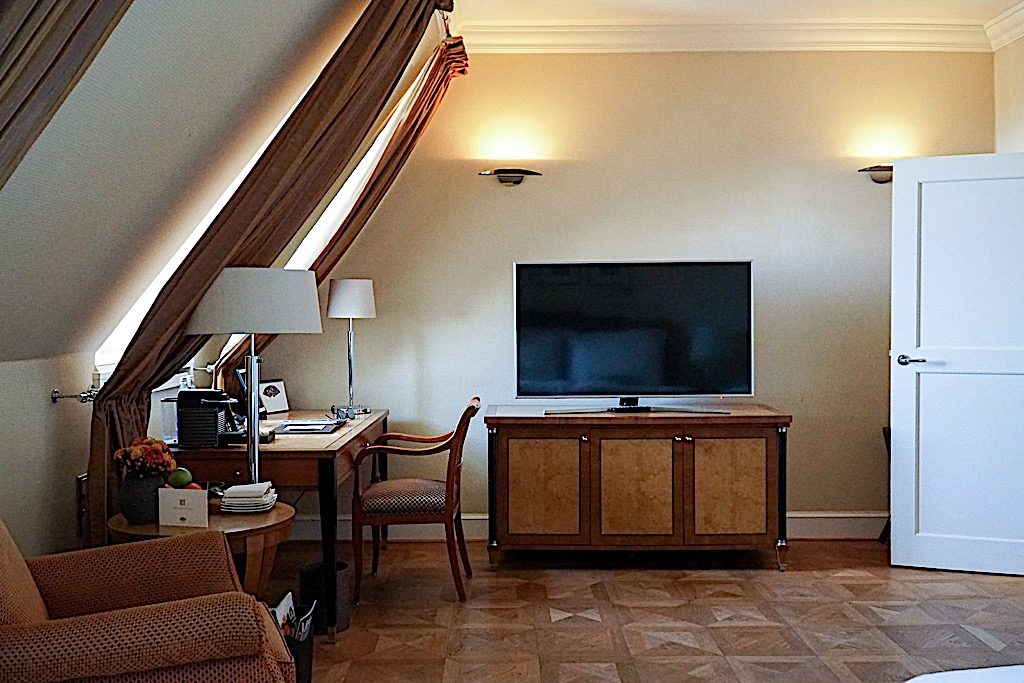 Spacious Deluxe room with writing desk area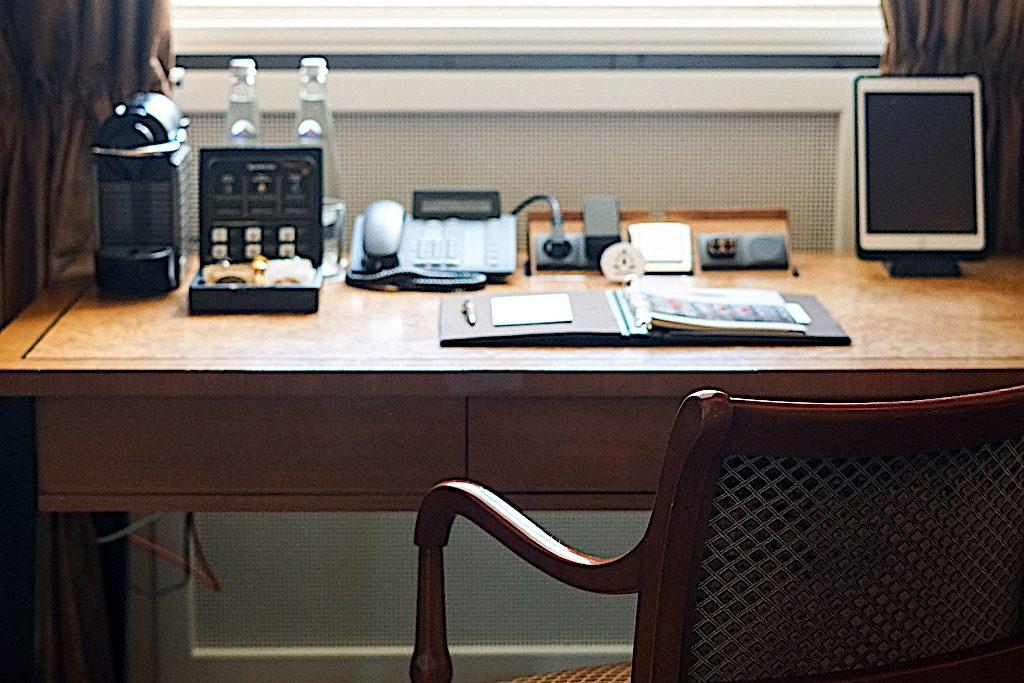 Full sized writing desk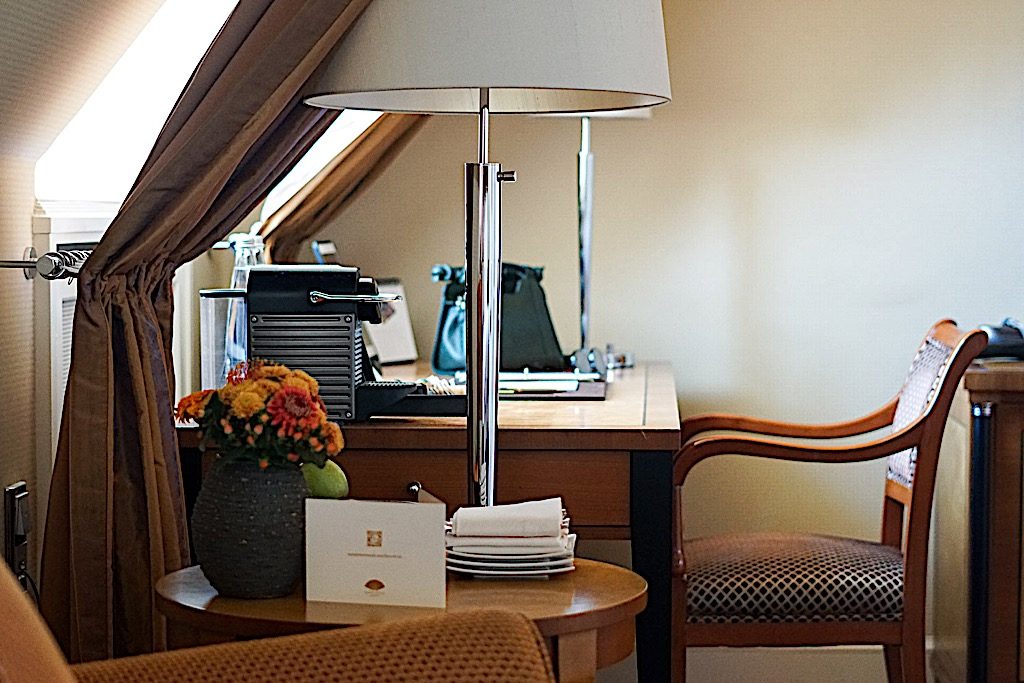 Comfortable chair adjacent to desk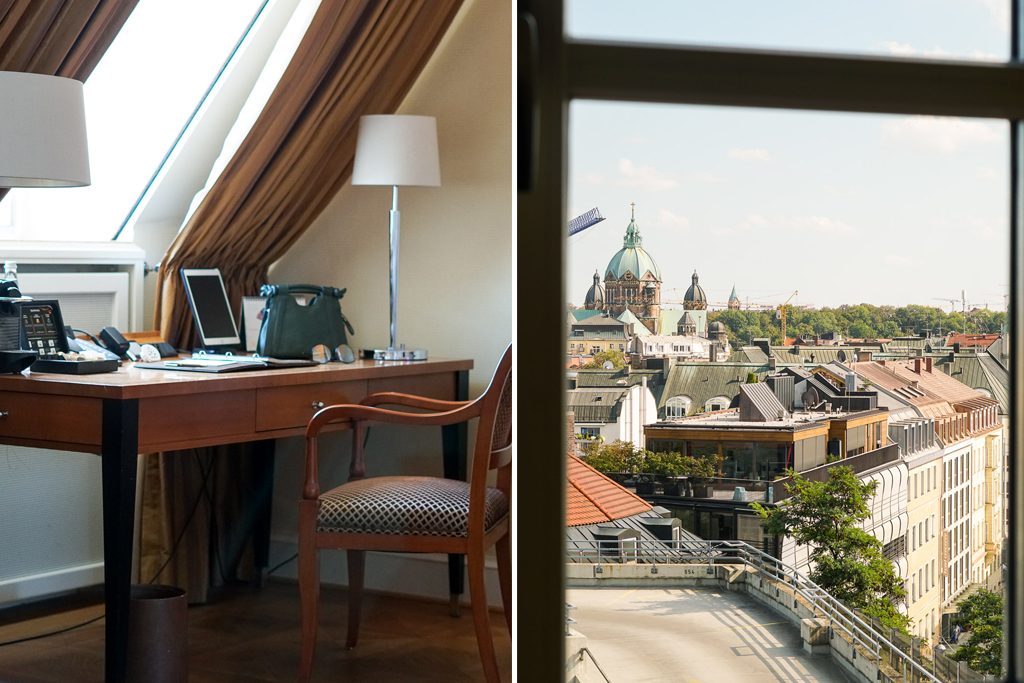 Deluxe room desk and city views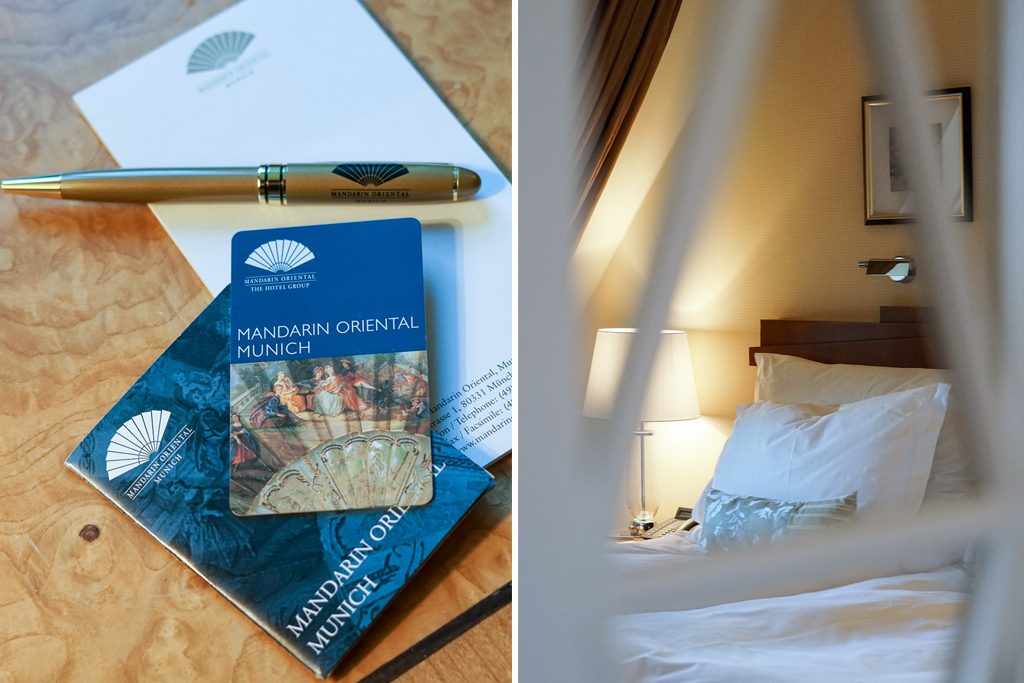 Room keys and Superior room king bed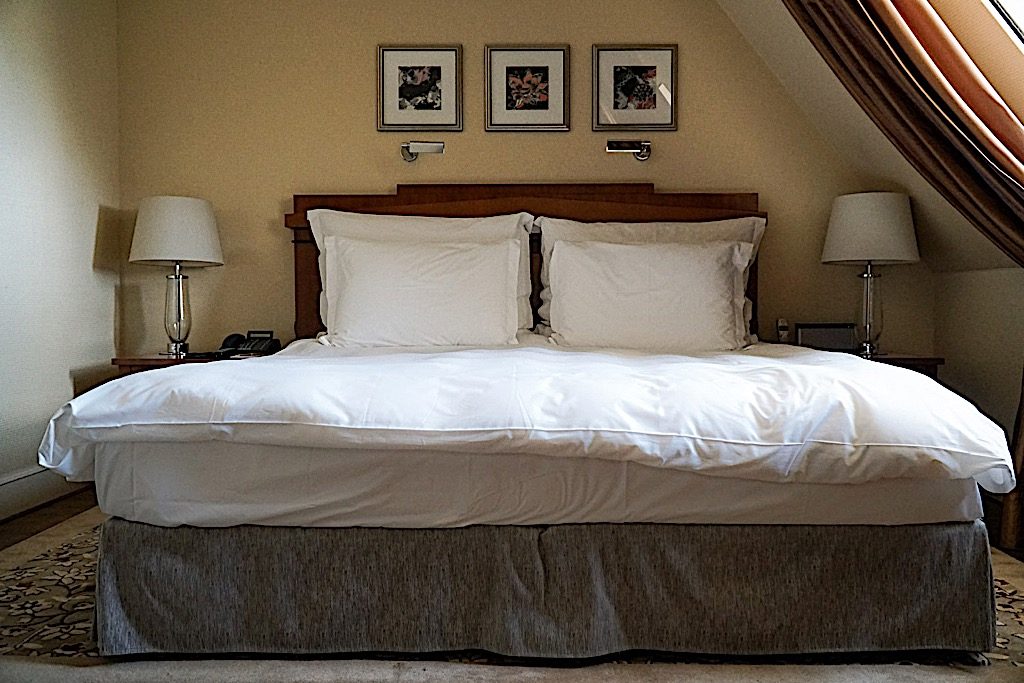 Superior room with king sized bed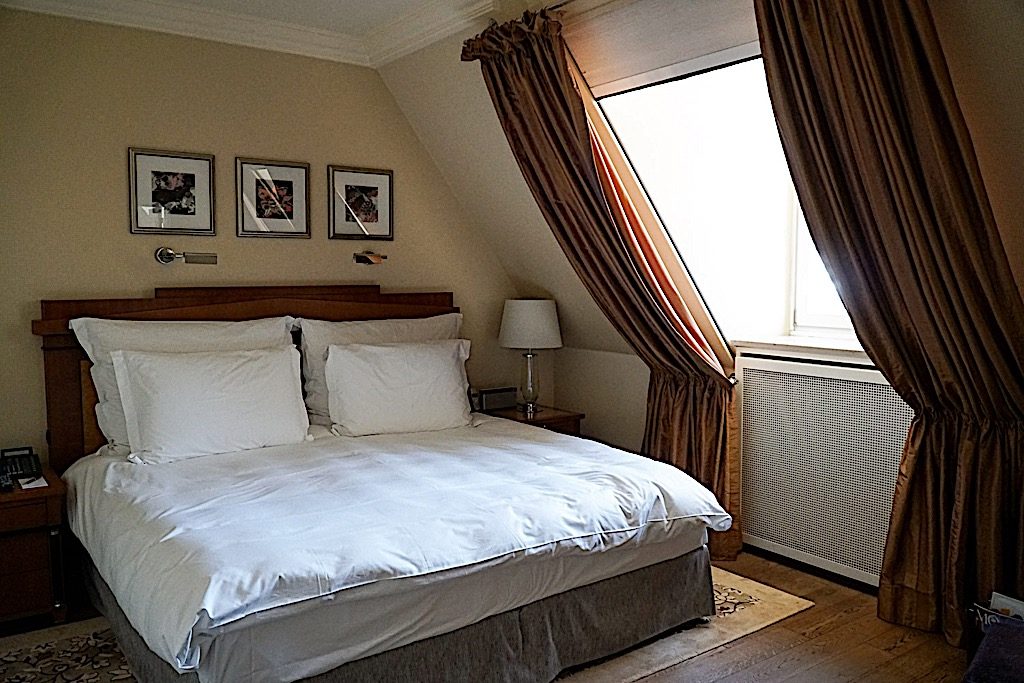 Charming Superior room with eaves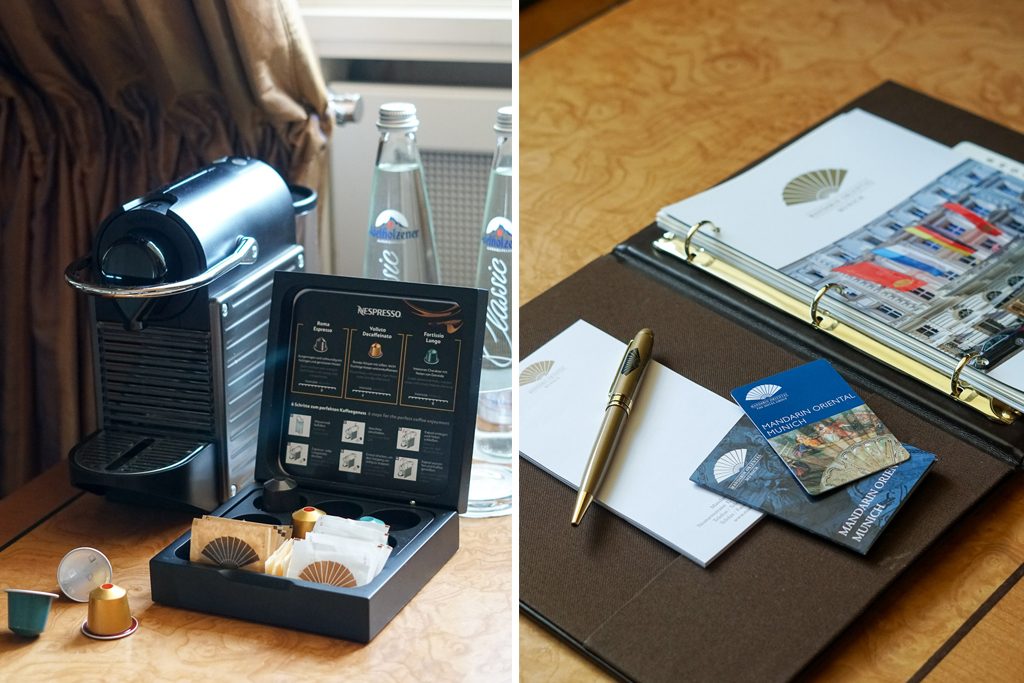 Nespresso machines | Hotel details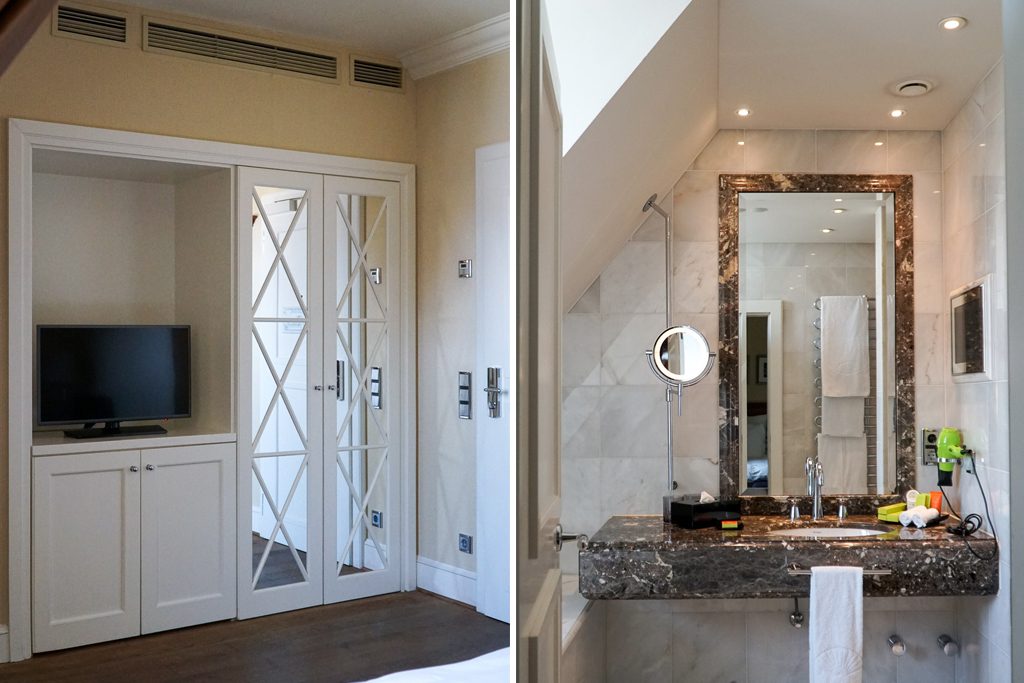 Superior room cabinets | Bathroom view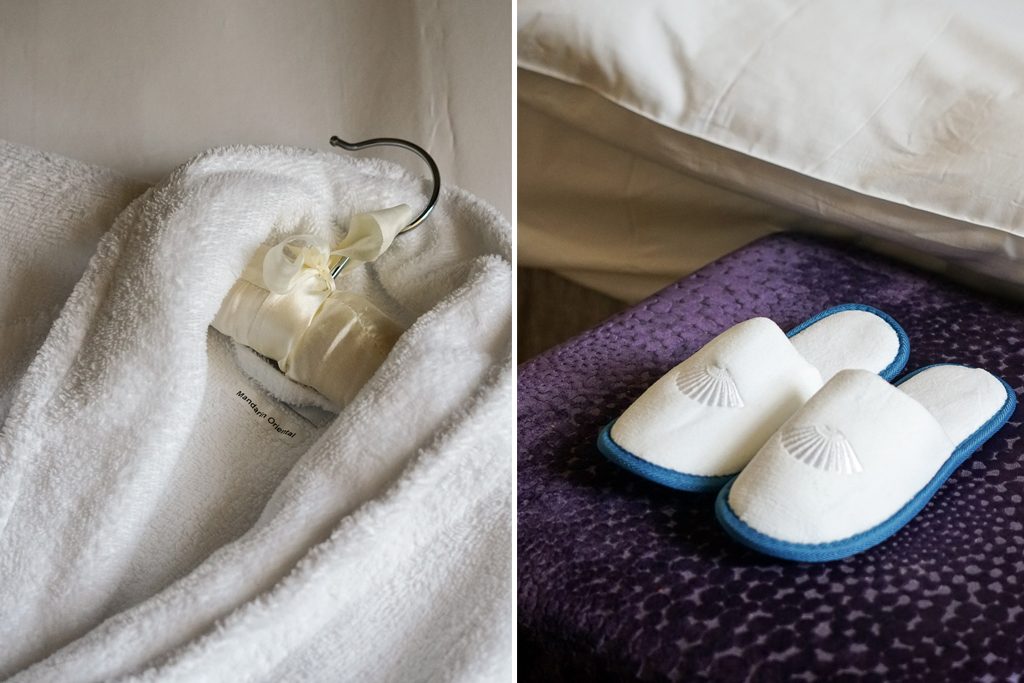 Plush robes and slippers for every guest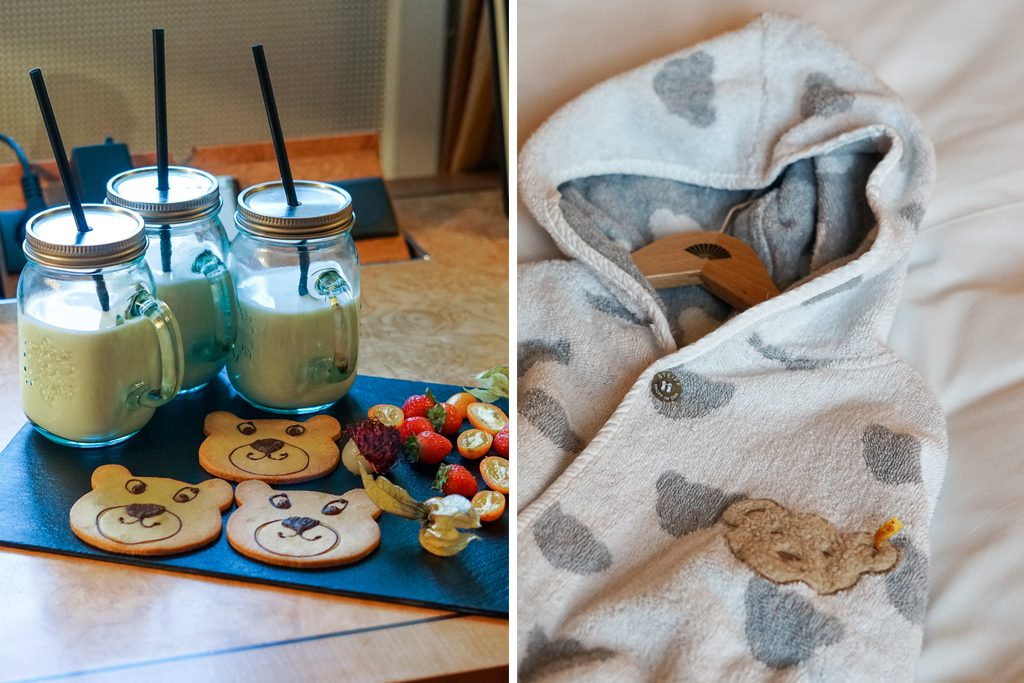 Milk & cookies and kid-sized robes
Both rooms have large bathrooms with marble countertops, modern fixtures, separate bathtub and walk-in showers. The bathrooms felt spa-like with delicious smelling amenities, thick, comfortable robes and slippers, underfloor heating, and full toiletries such as toothbrushes and toothpastes, shaving cream and razors, and even a TV. We really appreciated the toothpastes as we ran low on the ones we bought for our travels and it was that added convenience of having them provided rather than us having to go out and purchase more that made all the difference.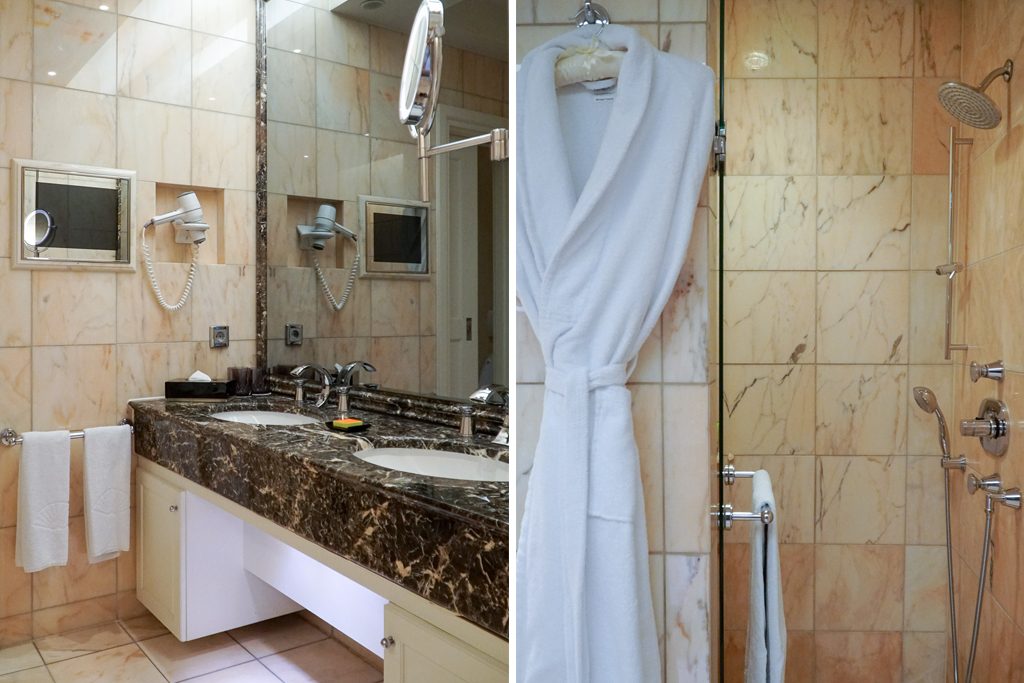 Deluxe room double vanity and walk-in shower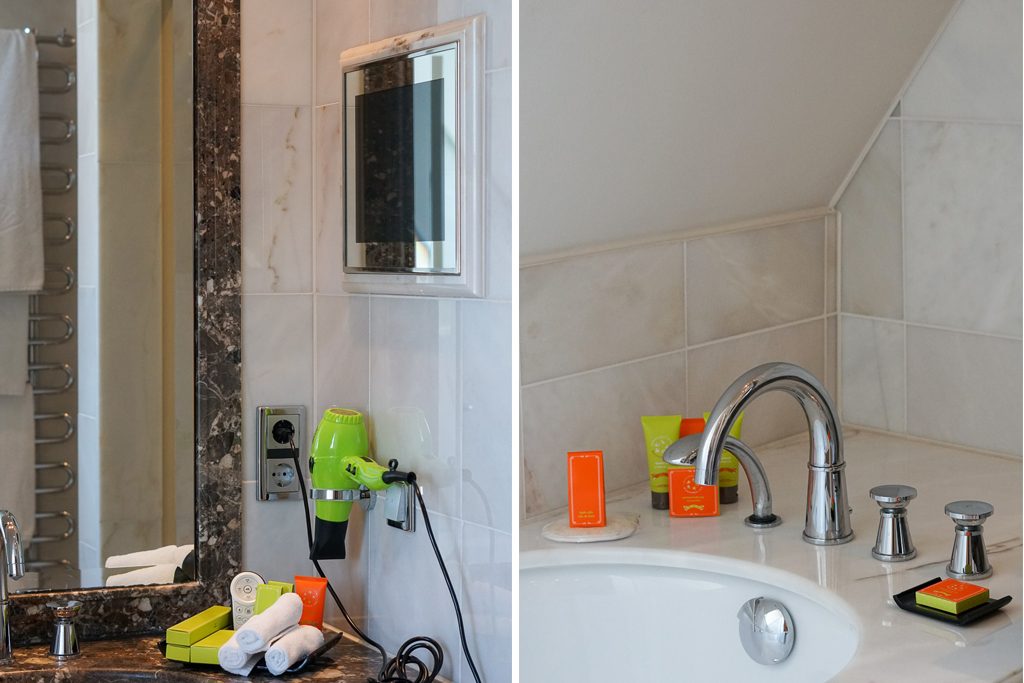 Superior room bath amenities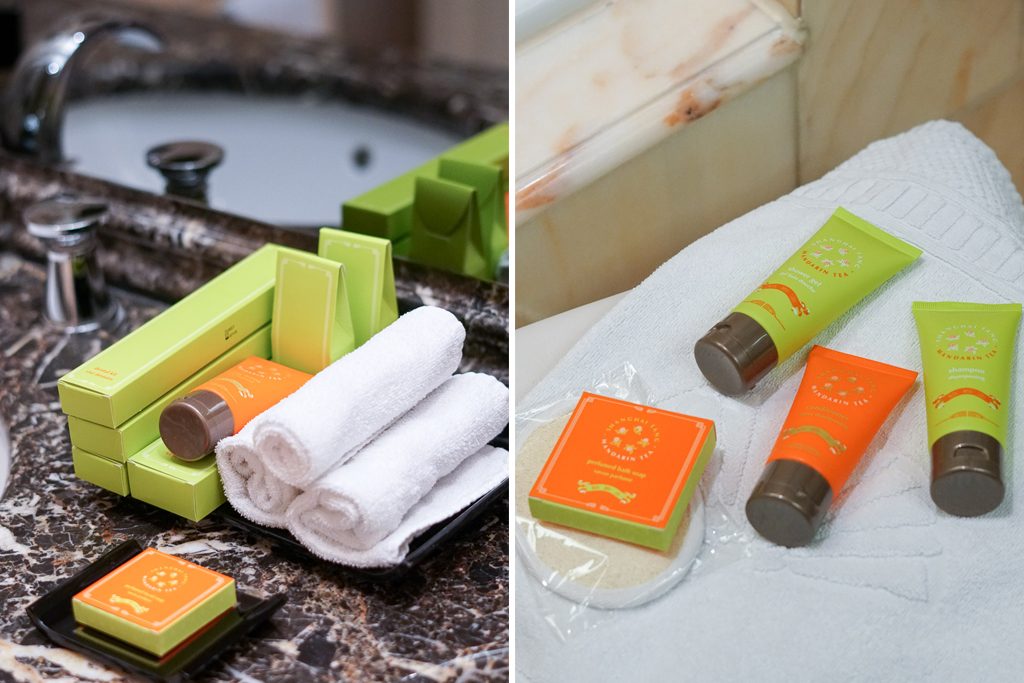 Shanghai Tang toiletries and dental kits
Another major convenience was the included breakfast buffet with our stay. Every morning we looked forward to entering the elegant restaurant where Matsuhisa is located for lunch and dinner, and feasting on Bavarian sausages, breads, fresh, exotic fruits, pastries, daily smoothies, wheat beer, and beautiful charcuterie meats. There were even kid-friendly options available such as a variety of cereals, yogurts, and fruit pouches. And for those that prefer heartier meals, you can order of the menu where we enjoyed oatmeal and scrambled eggs as well. The restaurant itself is breathtaking with the warm interiors of woods, leather and stone. Every breakfast station offered an exquisite presentation and was refilled often. It was a great start to our mornings and especially convenient with the kids.

Matsuhisa interior decor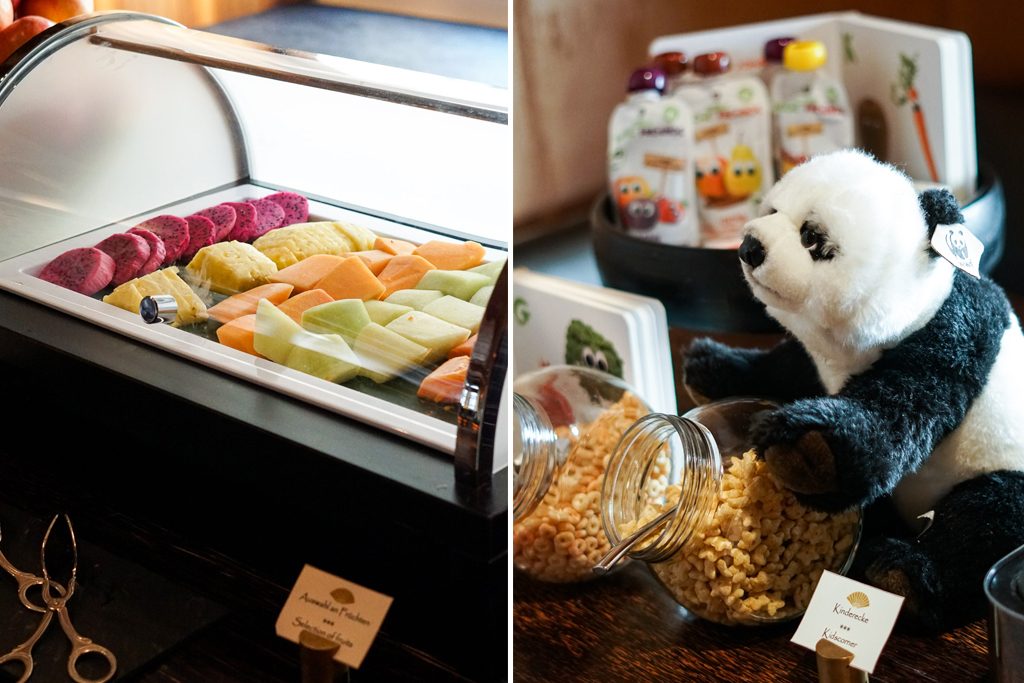 Exotic fruits and Kids Corner options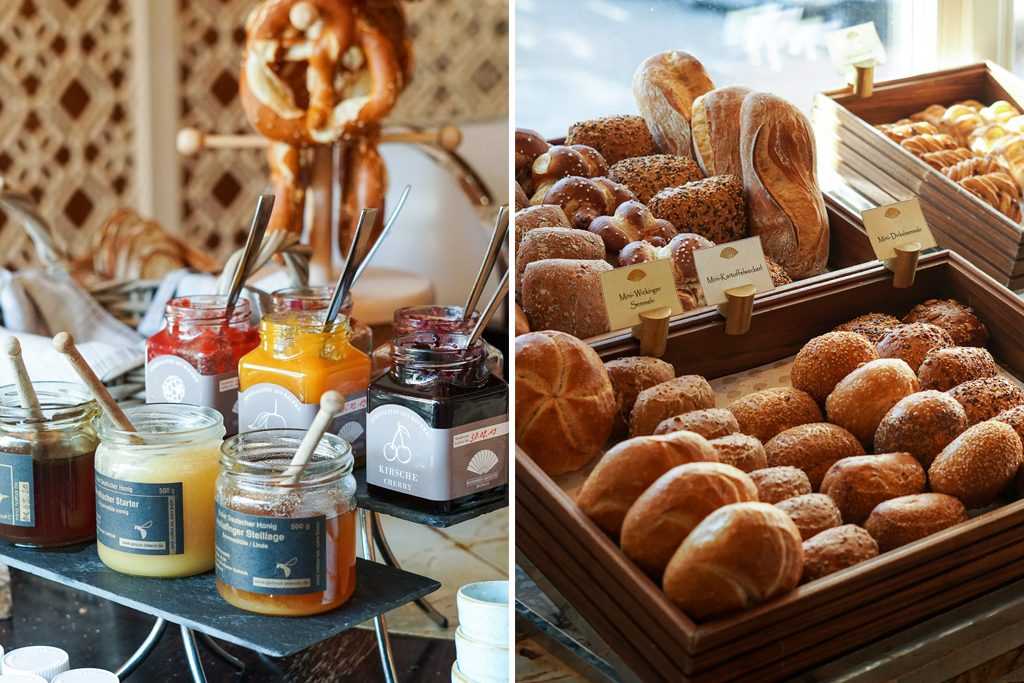 Bavarian pretzels and variety of pastries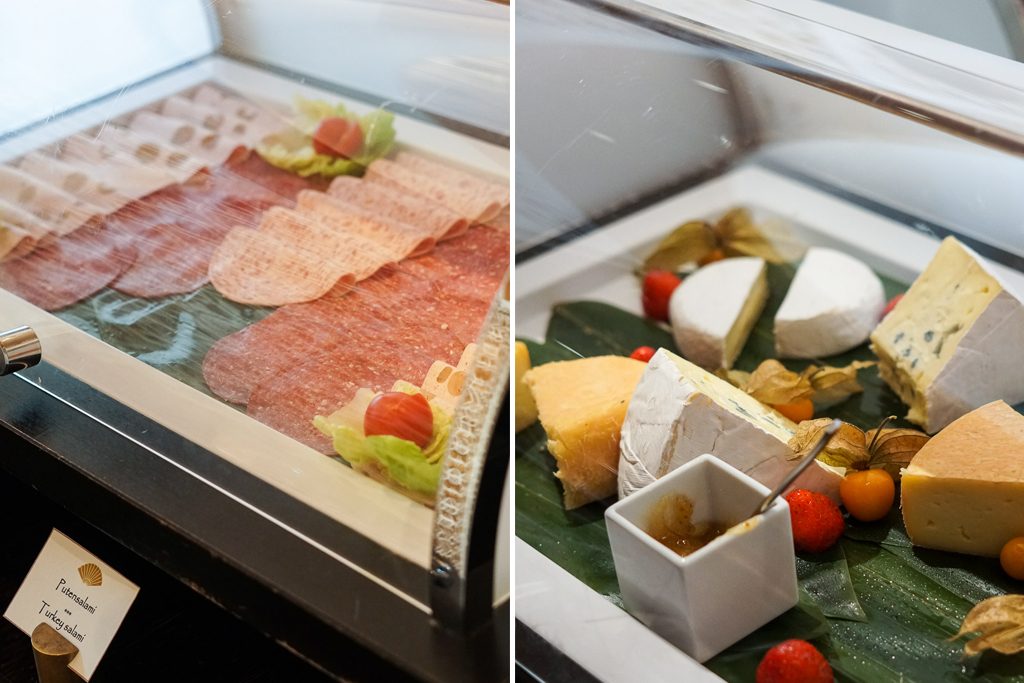 Meats and cheese of every type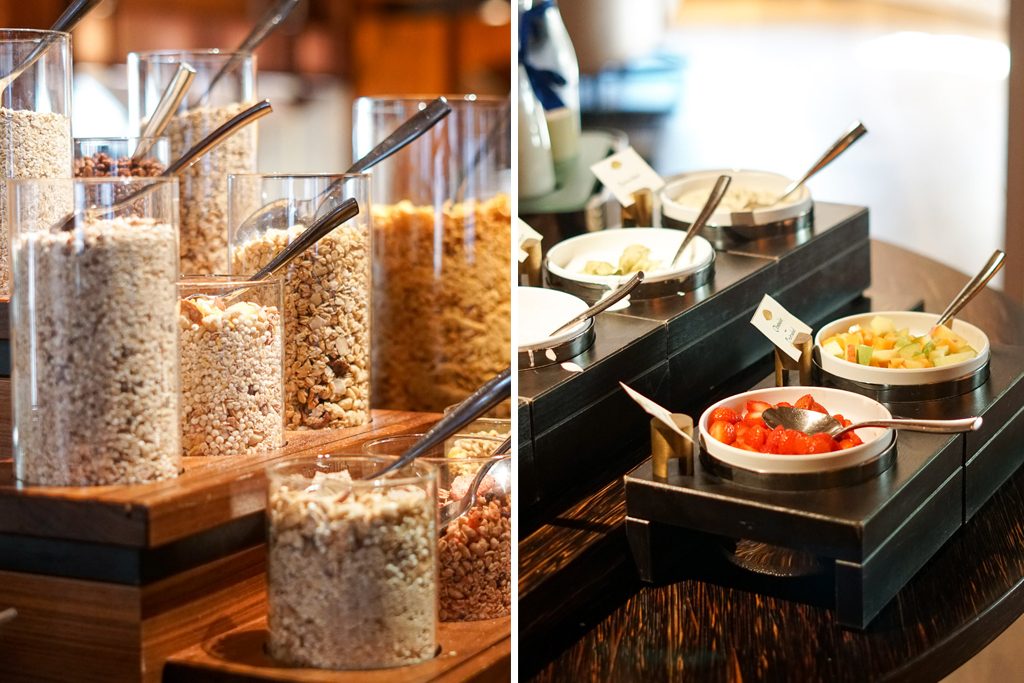 Cold and hot cereal options with fruit toppings
Other than the excellent service, smiles, and helpful tourist directions that Mandarin Oriental Munich offered, the next best thing is their location. The Mandarin Oriental is located walking distance to major tourist destinations such as The Residenz Muenchen, Marienplatz, English Garden, State Opera, and the subway. In addition it is within one block of the best luxury shopping in Munich, Maximilianstrasse, where you can shop to your hearts content at famed boutiques such as Van Cleef & Arpels, Chanel, Gucci, and many more. And of course don't forget the famous Hofbrauhaus for the most authentic German beer house experience which is right behind the hotel!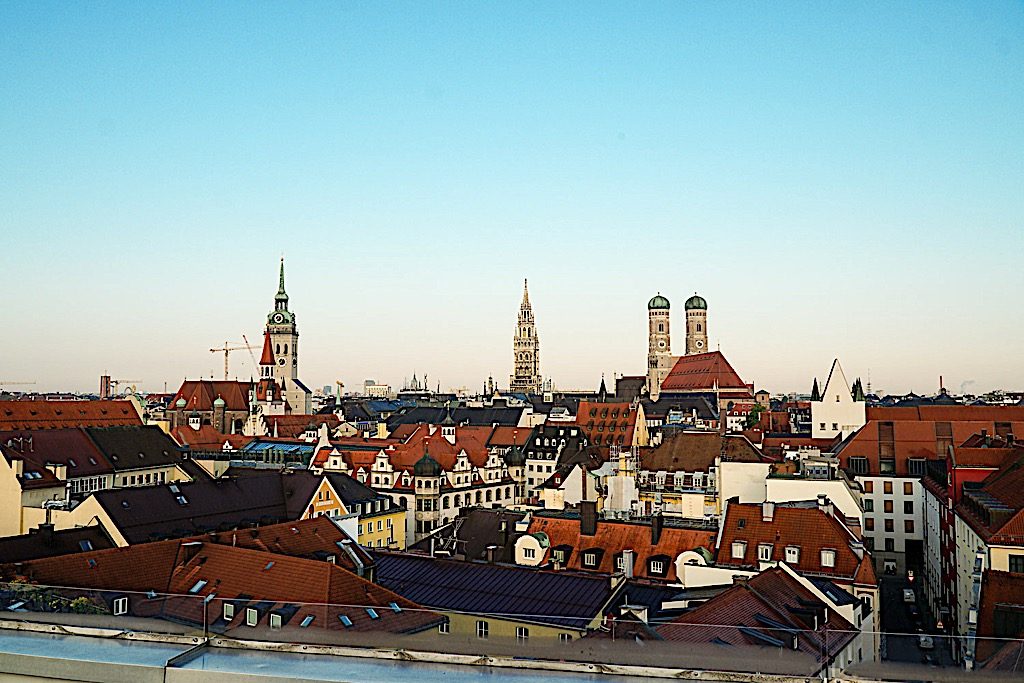 Walking distance to famous cathedrals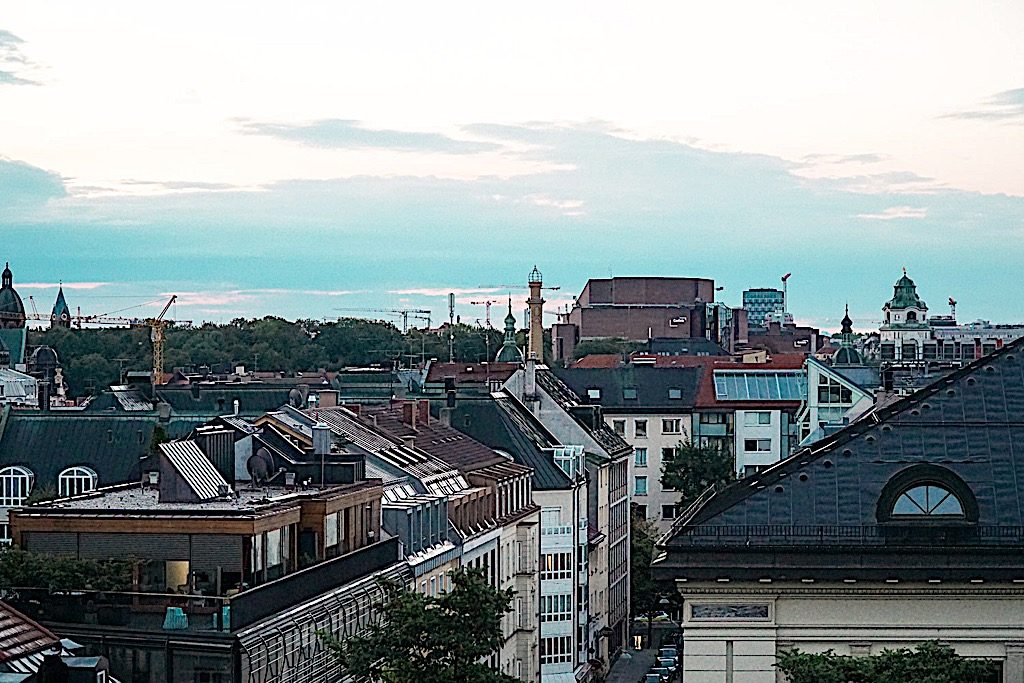 Centrally located to many tourist destinations
After a full day of sightseeing, it was so enjoyable coming back to the Mandarin Oriental to relax and unwind in comfort. One of the nights we were able to unwind upstairs in the magnificent rooftop lounge, The Terrace (opened from May to September), which is the only rooftop bar that has 360 degree views of Munich and the Alps. The drinks there were delicious as they were pretty and the sunset between the iconic twin domes of the Munich cathedral was breathtaking. Spending time out here was definitely one of the highlights of our stay and made up for the fact that their pool is under construction.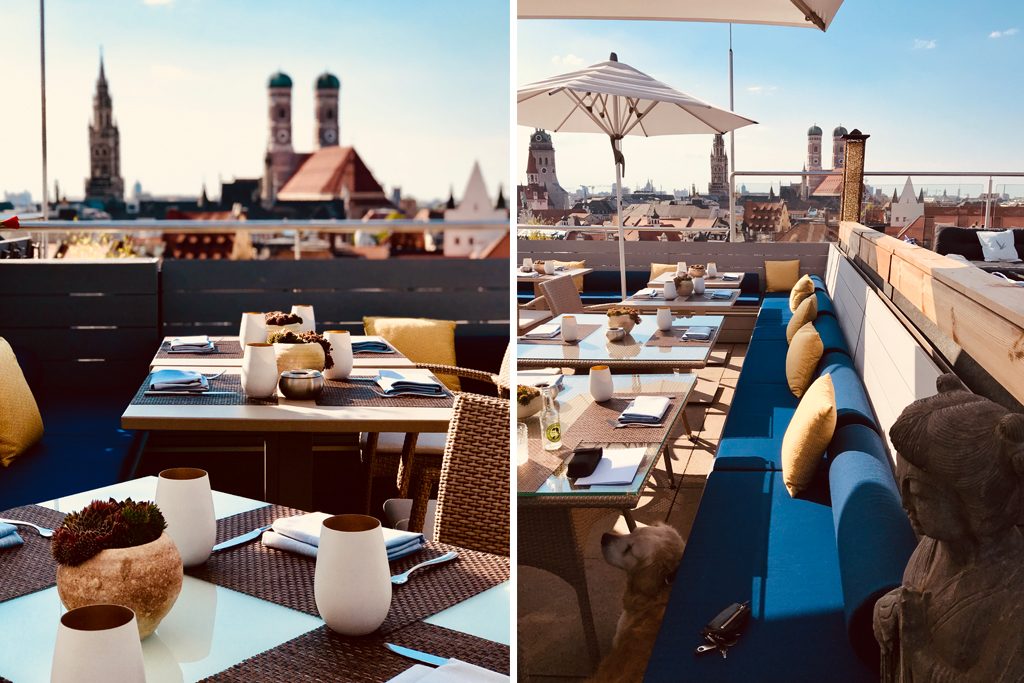 360 degree views of Munich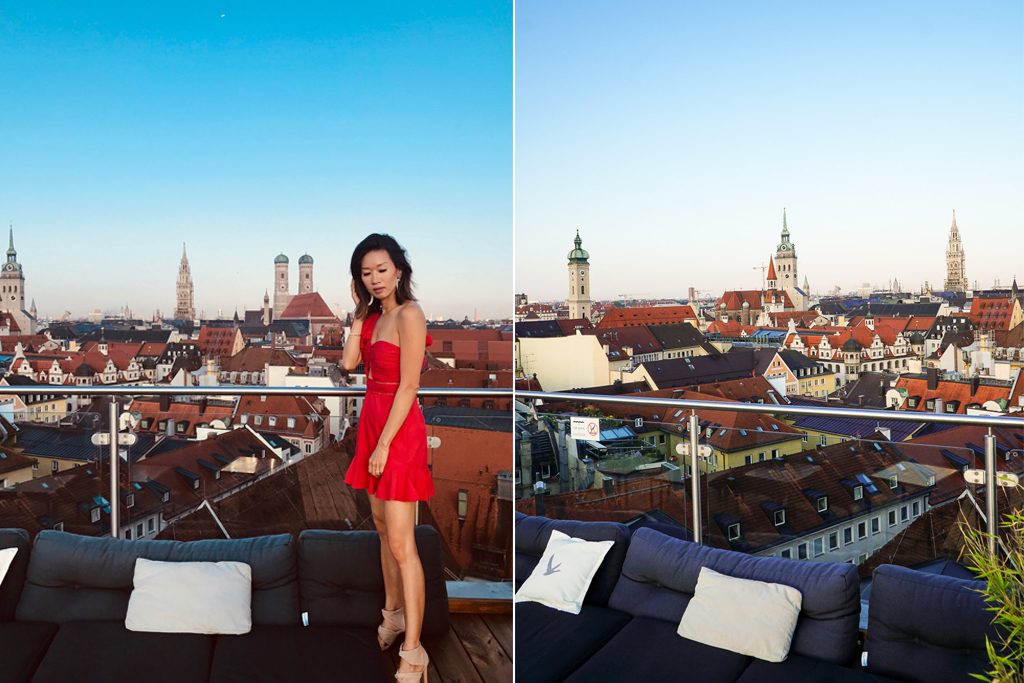 The sun sets right between iconic Munich landmarks
Yes, currently the pool is closed and their much anticipated Bar 31 will be opening shortly. While still a beautiful work in progress, the Mandarin Oriental Munich exceeded our expectations tenfold. From the top notch service to the many added conveniences that enhanced our stay, Mandarin Oriental Munich is certainly a gem with sophisticated charm and a blend of Bavarian elegance and Oriental influence. We created lasting memories here for our family and highly recommend anyone visiting Munich to enjoy comfort, personalized service, kid-friendly details, and true elegance at the Mandarin Oriental Munich.
You can also catch room tours and more details about my stay at the Mandarin Oriental Munich on my Instagram Story Highlights titled "MO Munich."
Mandarin Oriental Munich
Neuturmstrasse 1
80331 Munich, Germany
+49 (89) 290 980
Thank you to the Mandarin Oriental Munich for making family travel still a luxury!