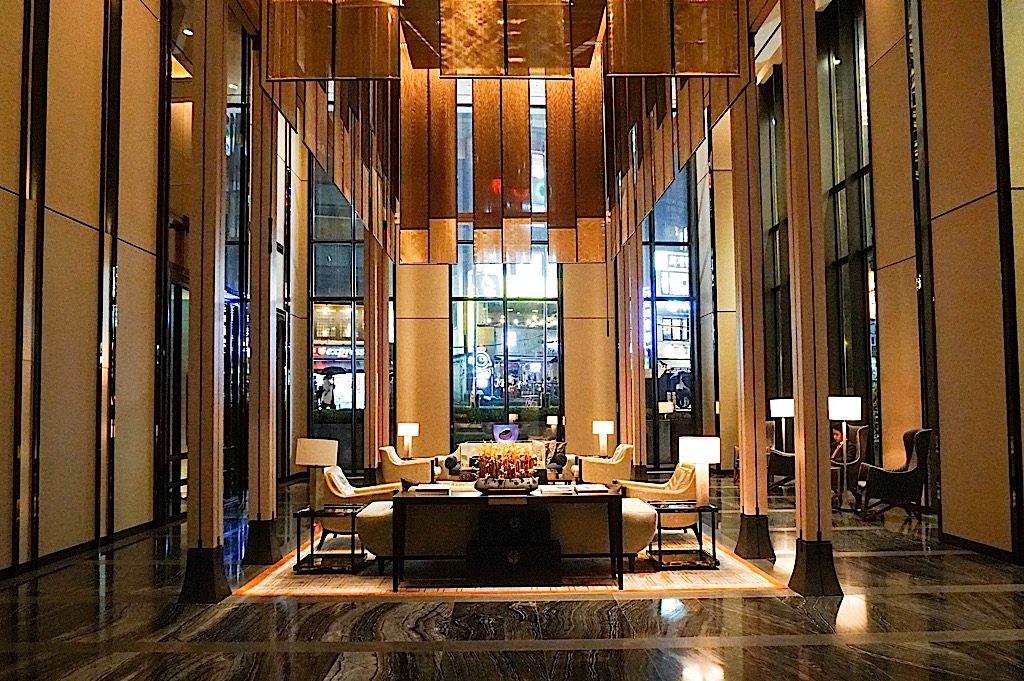 Stunning guest lounge area at the lobby entrance from valet
Just barely a year old, The Four Seasons Hotel Seoul in one word is breathtaking. Every floor, every corner, every detail…just so stunning. It doesn't take long to realize that no expense was spared in building this hotel and likewise, nothing was placed anywhere without purpose. My words nor photos will not do this hotel justice, however, I will attempt to paint you a picture of my wonderful stay there.
I literally walked into the hotel and my jaw dropped to the floor. It pretty much remained on the floor even as we entered our rooms. The high ceilings of the hotel entrance, the exquisite floral arrangements by Bergmann, the in-house flower shop, the modern but chic plush sofas and chairs, the sharply dressed hotel staff, and white marble encompassing almost everywhere, everything was what you would expect from a five star luxury hotel.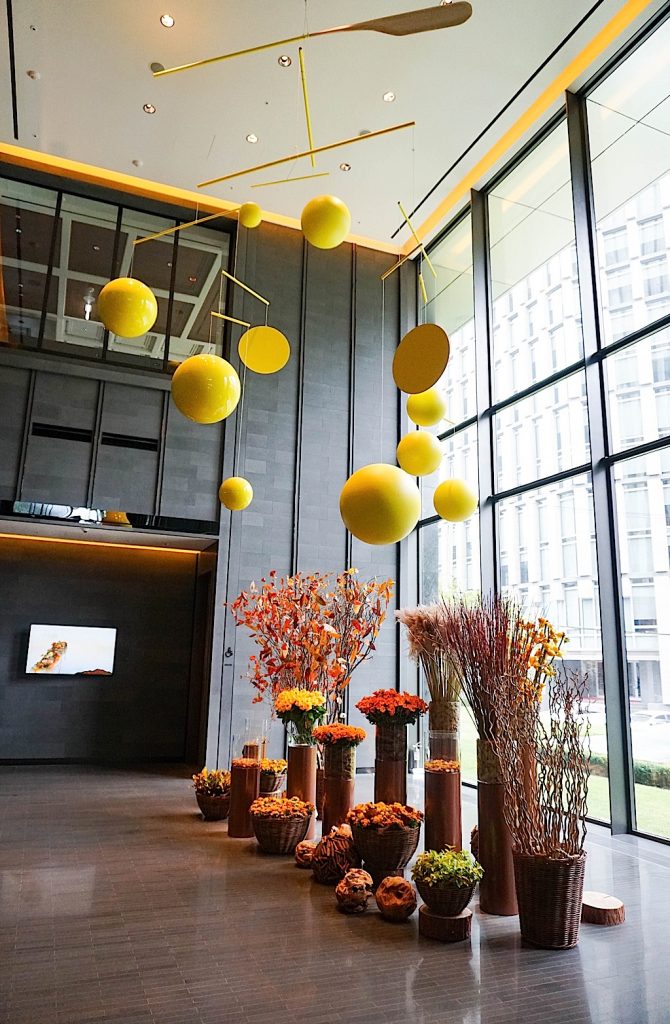 Amazing floral display and high ceilings near the check-in area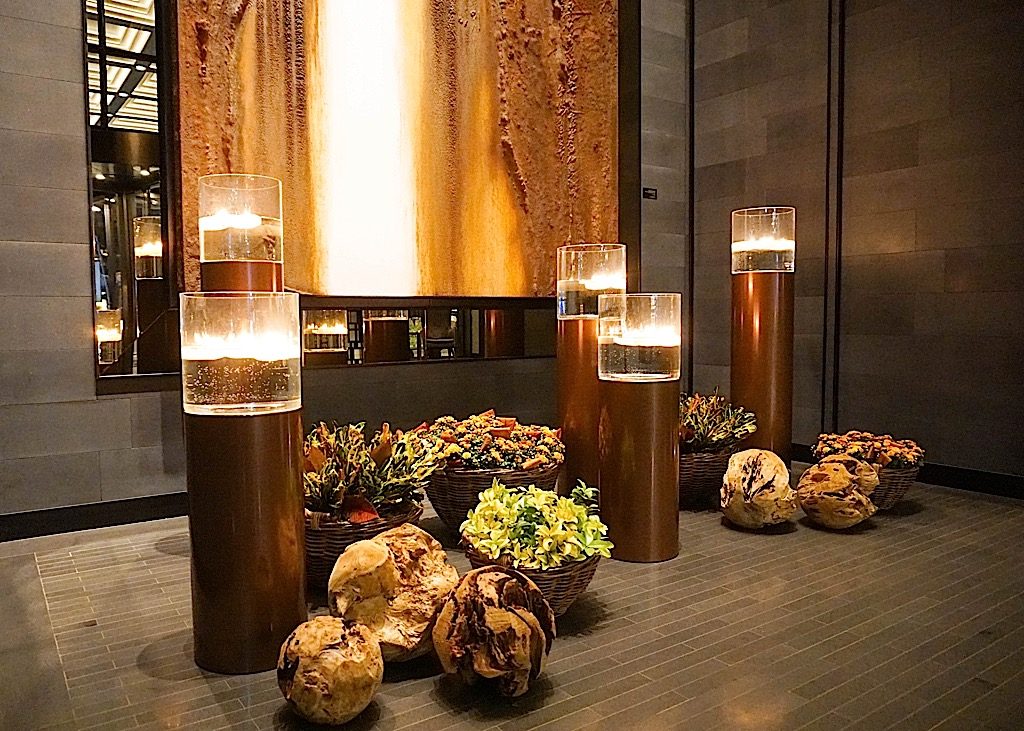 Another floral display when entering the revolving doors from the valet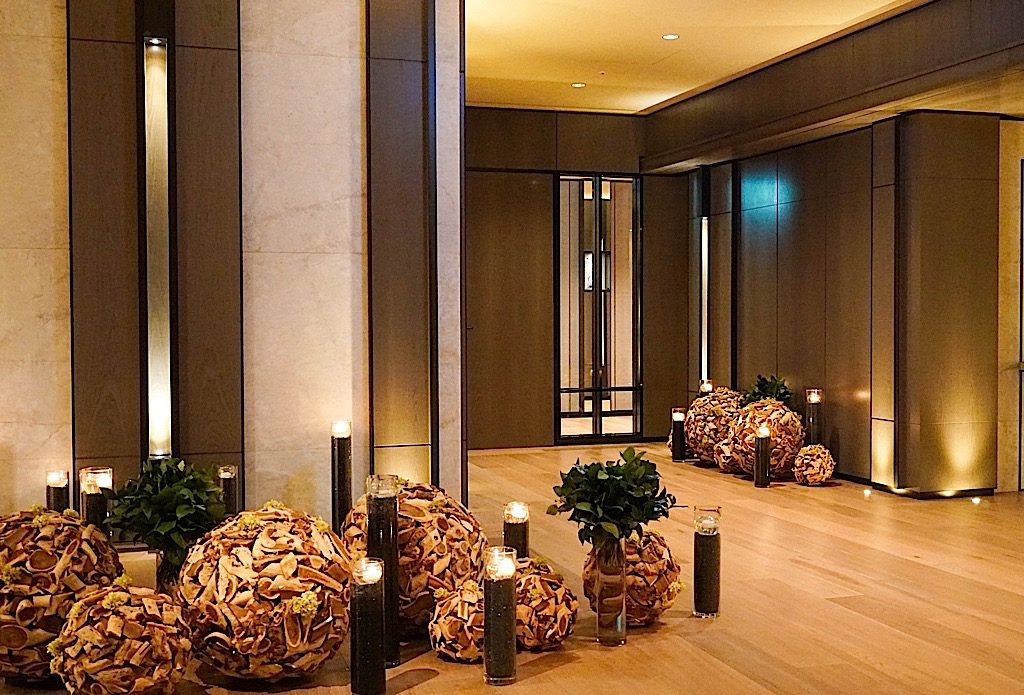 Spa and pool floor check in display
We booked two adjoining club rooms on the Executive Club Lounge Level floor, meaning we had access to the Executive Club Lounge for breakfast, afternoon tea, and hors d'oeuvres and light dinner snacks available throughout the day. The rooms are extremely sizeable (we got one King room and one double room), with plenty of space between the beds, writing desk, and chaise lounge. Everything from the beds to the in-room amenities were very luxurious and high tech (they even have a Nespresso machine for morning lattes and iPad minis to request hotel services). We were greeted with handwritten notes on the mirrors and milk and cookies for the children. Fresh fruit and sugared dried fruits also welcomed us to our rooms which are always a nice touch after a long day of travel. Other than the generous size of the rooms, I love the large floor to ceiling windows that provide radiant natural light and views of the bustling city below. To see more information on the spacious rooms, click here.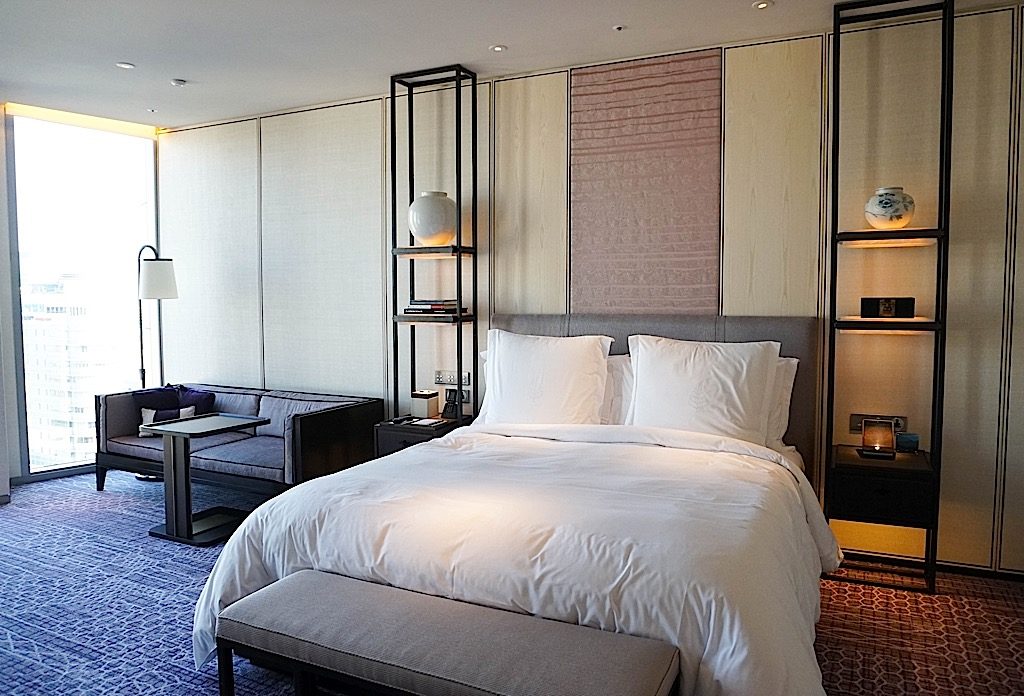 King size club room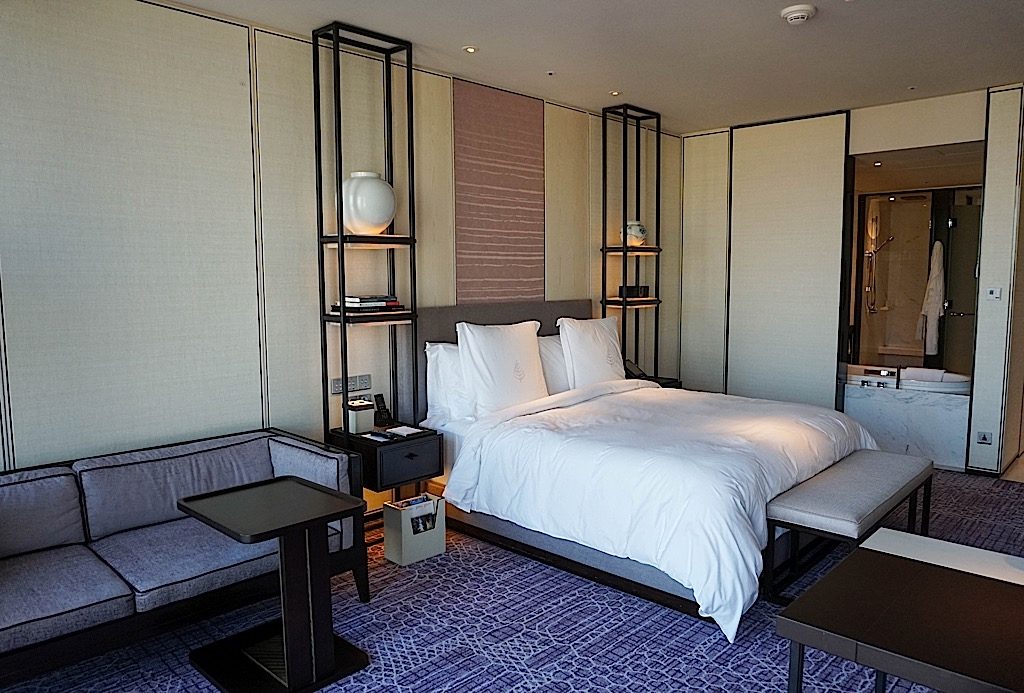 King size club room (another view)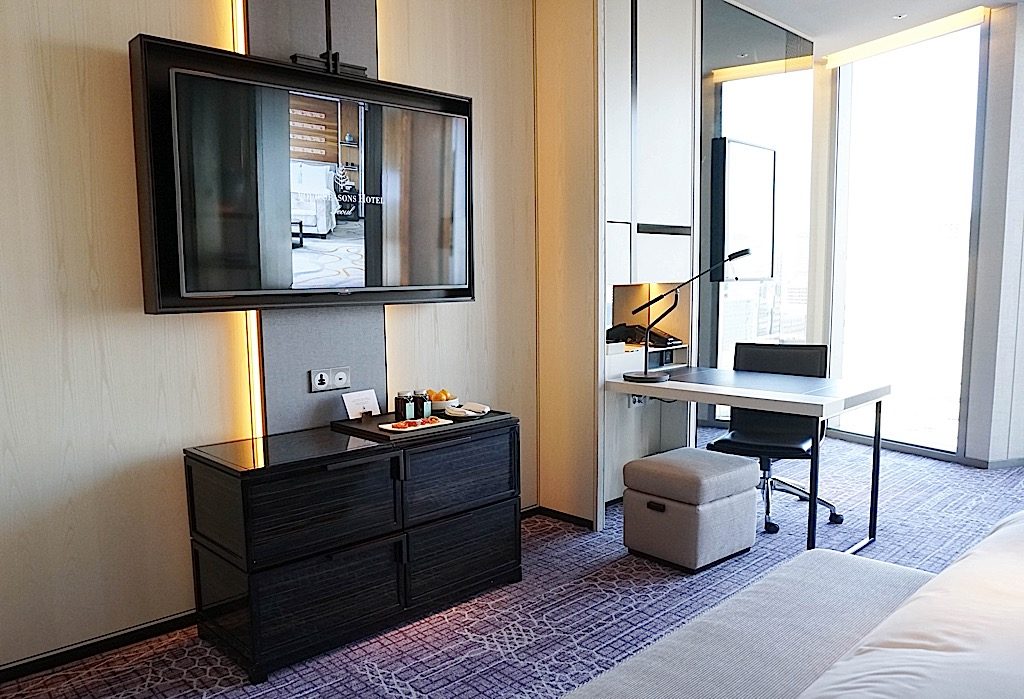 Writing desk inside each room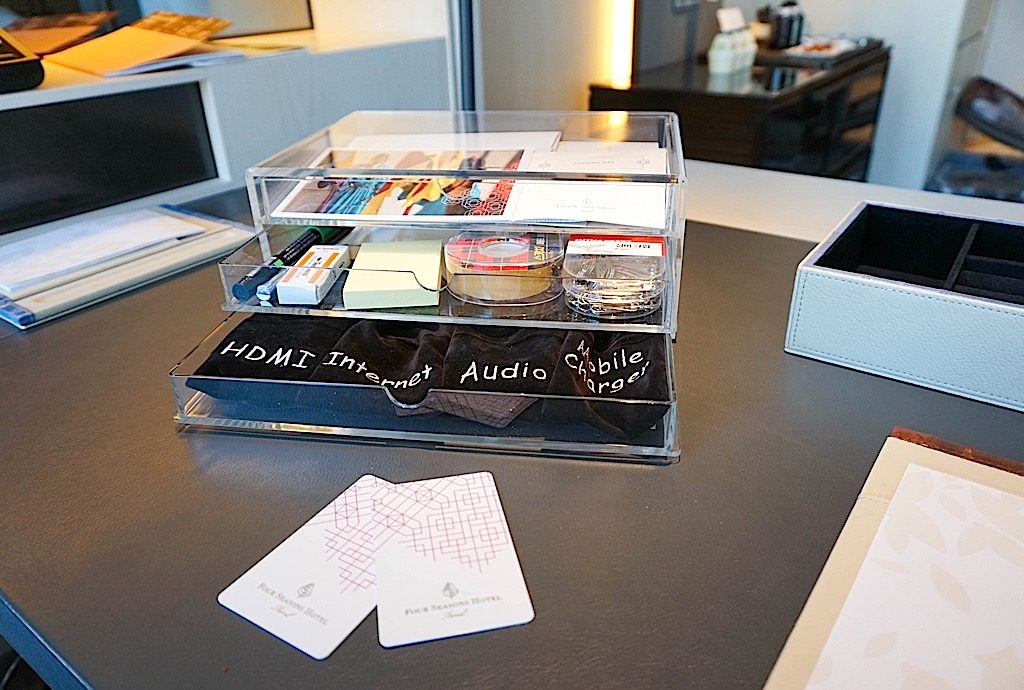 Stationary and multiple electronic cables for your use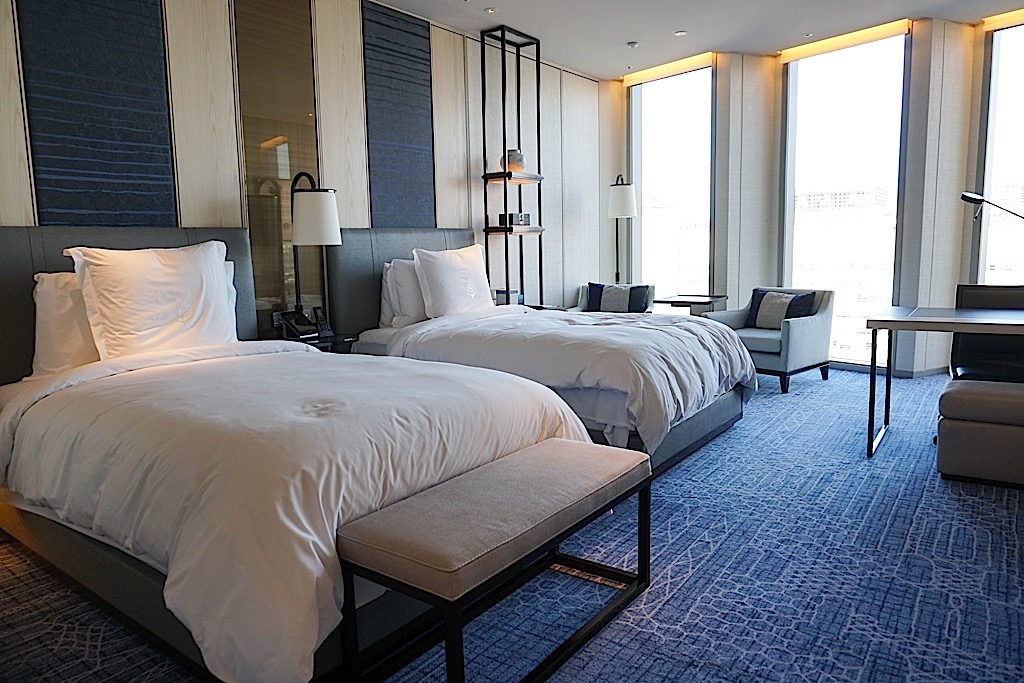 Double queen club room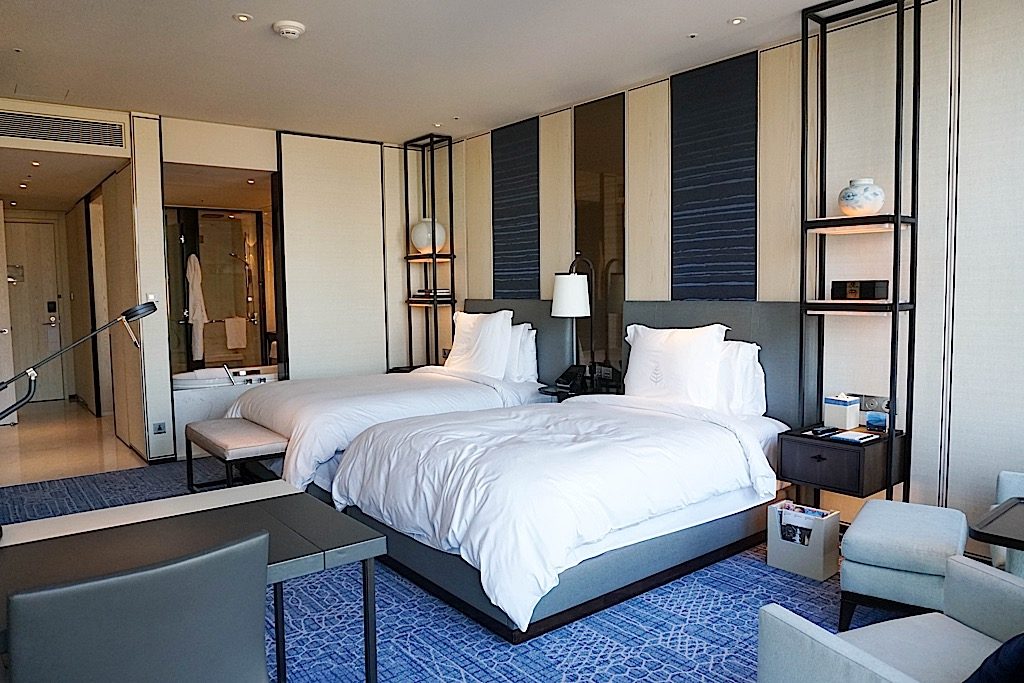 Double queen club room (another view)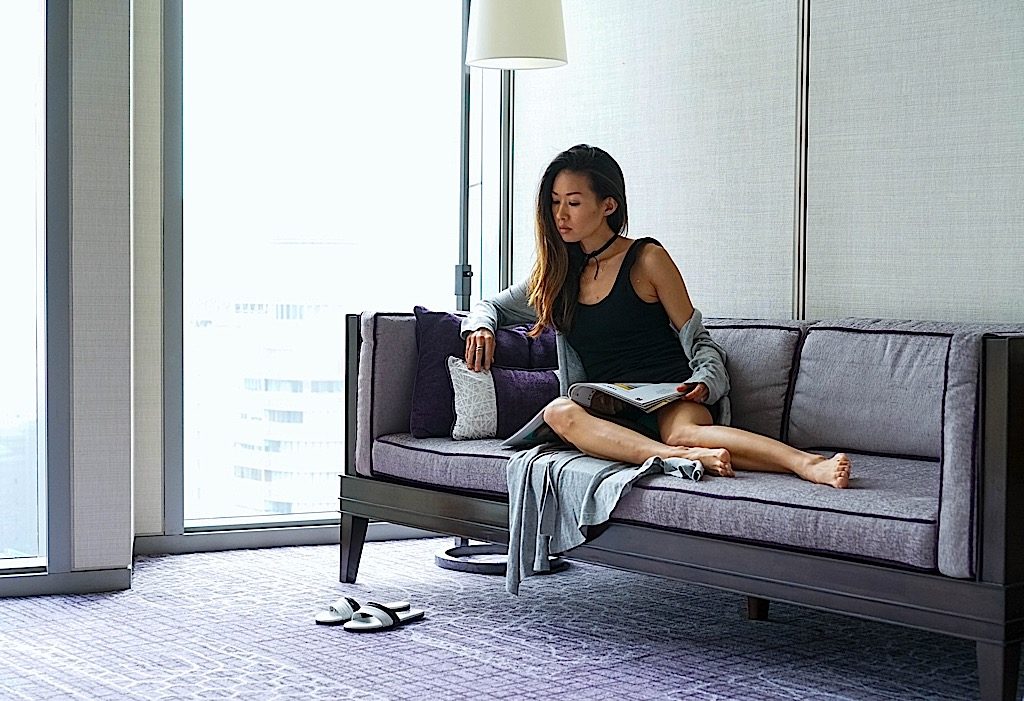 Chaise lounge in sitting area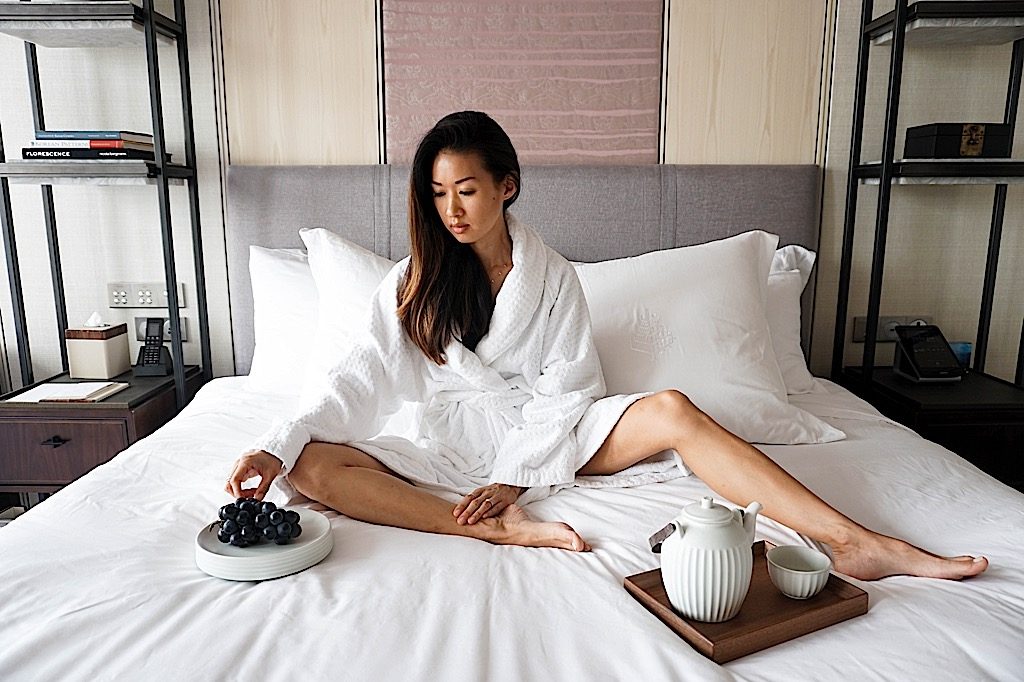 Signature Four Seasons beds with daily fresh fruit provided by the staff
And can we talk about the bathroom? Italian white marble heaven! A opulent freestanding tub complete with bath salts, bath tray, and premier bath products by Lorenzo Villoresi Firenz steals the show. I spent many nights in the spa tub relaxing away while gazing into the bedroom watching my children through the sliding partition. The walk-in shower is exquisite as well with the rainfall showerhead delivering just the perfect amount of water pressure.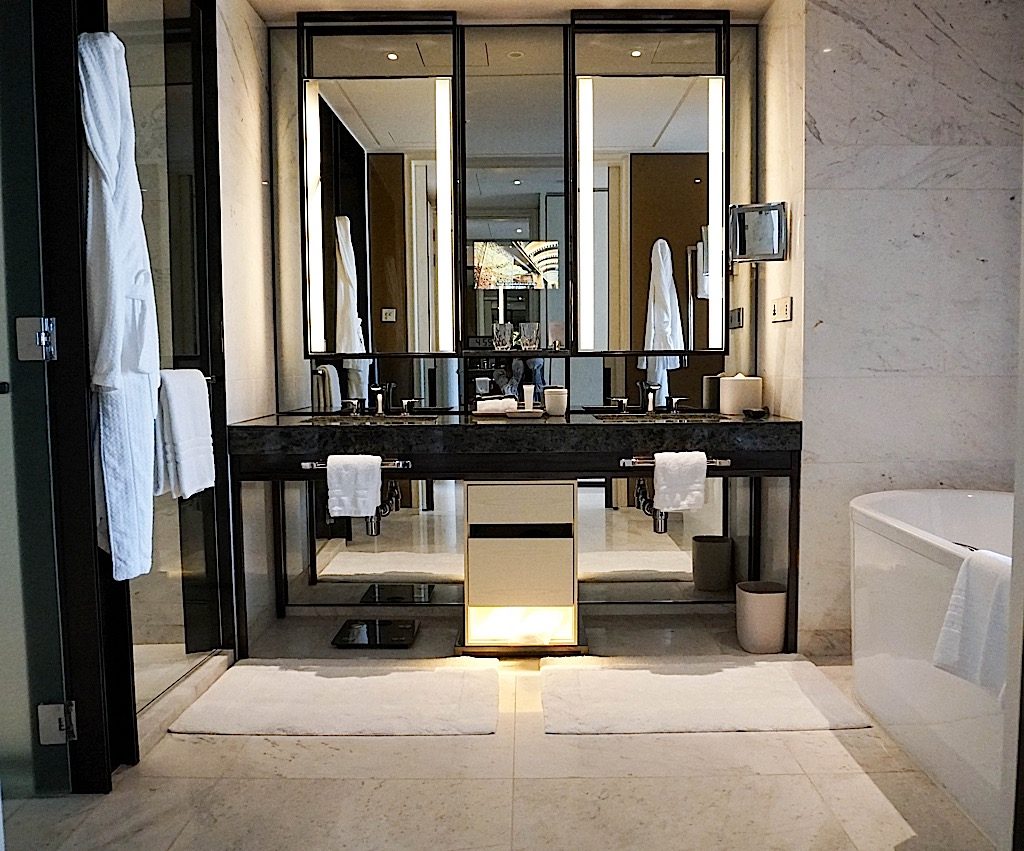 Beautiful bathroom vanity with double sink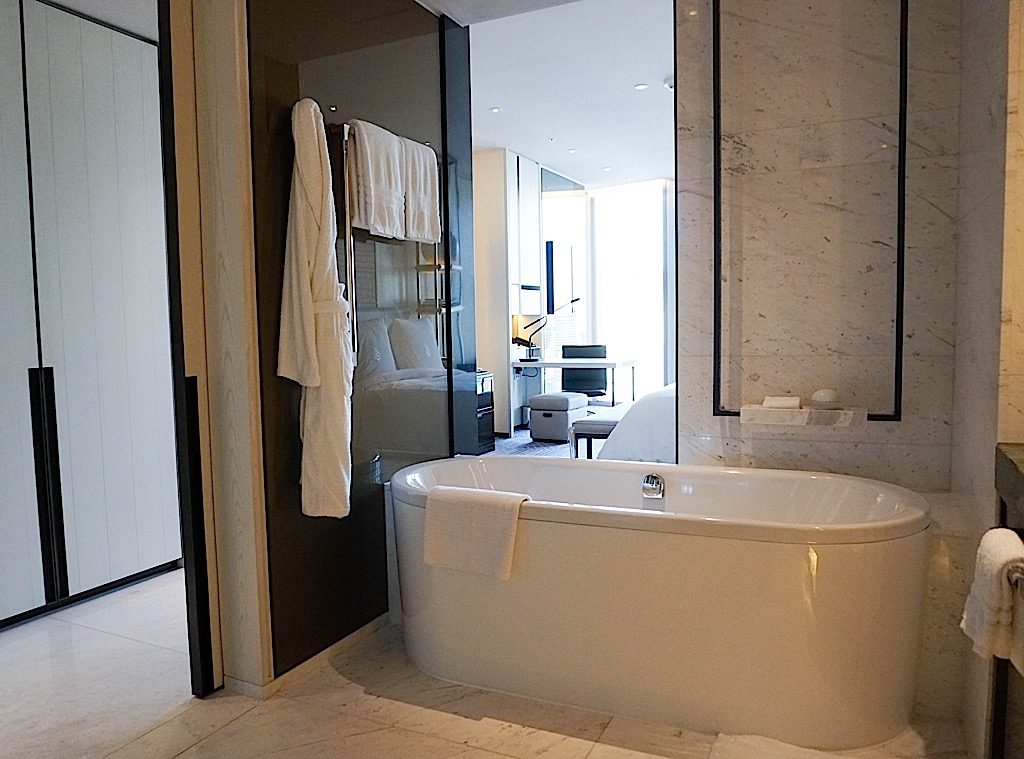 Freestanding tub surrounding by marble
We spent a lot of time at the Executive Club Lounge and I would have to highly recommend reserving the lounge level for families with young children just for the ease of feeding them. The lounge is one of the nicest and sizable lounges I have been to with amazing floor to ceiling windows showing views of Namsan, Seoul Towel, and Gwanghwamun. The breakfast is more continental, not the Korean food I would have expected, but still a good assortment of yogurts, pastries, made to order eggs and pancakes. I love that they have an espresso machine with easy to figure out directions on all sorts of coffees, lattes, Americanos, etc. Tea time is the most sparse out of the meals offered, but nevertheless an adequate selection of finger sandwiches and quick bites if you are around the hotel and want to satisfy your tummy for a bit. The light supper has an ample variety of wine and spirits as well as champagne. We stayed at the hotel for about a week and the food served at the Executive Club Lounge hardly changed which made for many repetitive meals (my only complaint), but it was still more convenient to use this lounge than to go out and get food otherwise. In addition to all the food and drinks, there is also a private concierge available at the Excecutive Club Lounge to address any minute needs.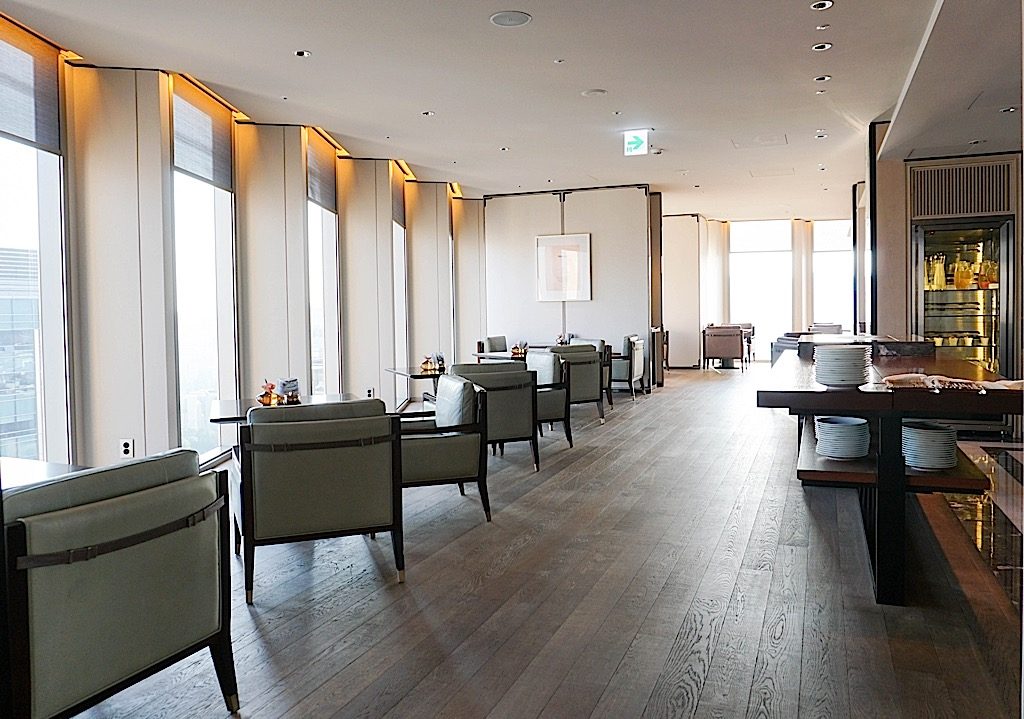 Executive Club Lounge main dining area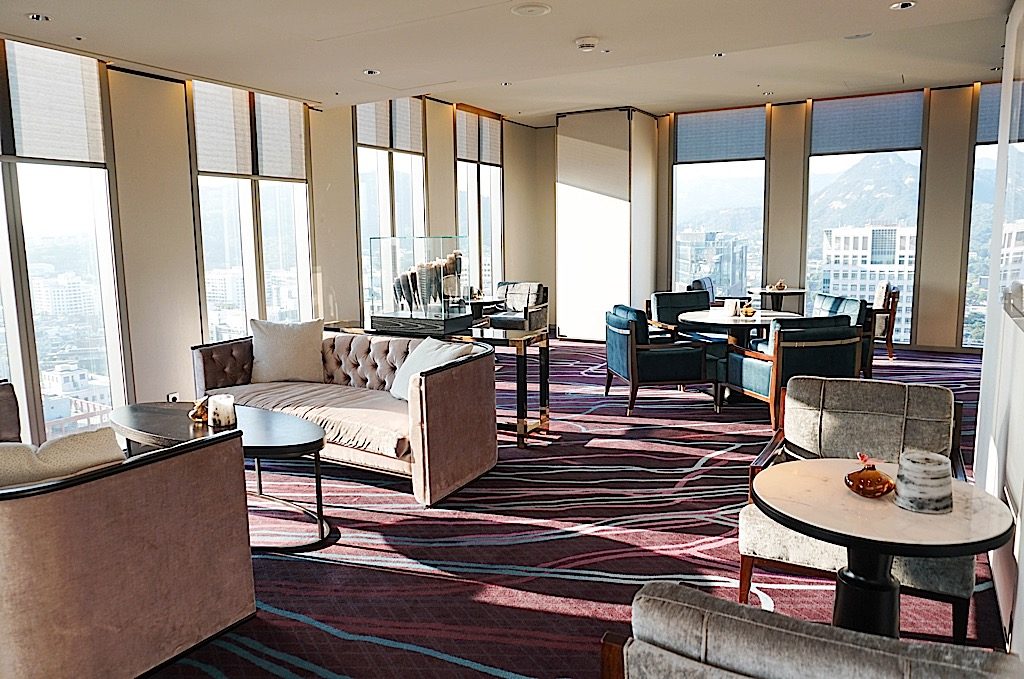 Spacious rooms in the Club Lounge for more private dining and conversations
The fitness center is unlike any hotel gym I have ever seen. It covers almost the entire floor and is enormous! There is a large selection of free weights, cardio machines, TRX, and anything you would need in a regular gym (not just hotel gym). It also has a juice bar located towards the hotel's indoor pool. For the golfer in you, there is also the Golf Experience where you can "play" on the world's best courses and a simulator analyzes your swing and posture.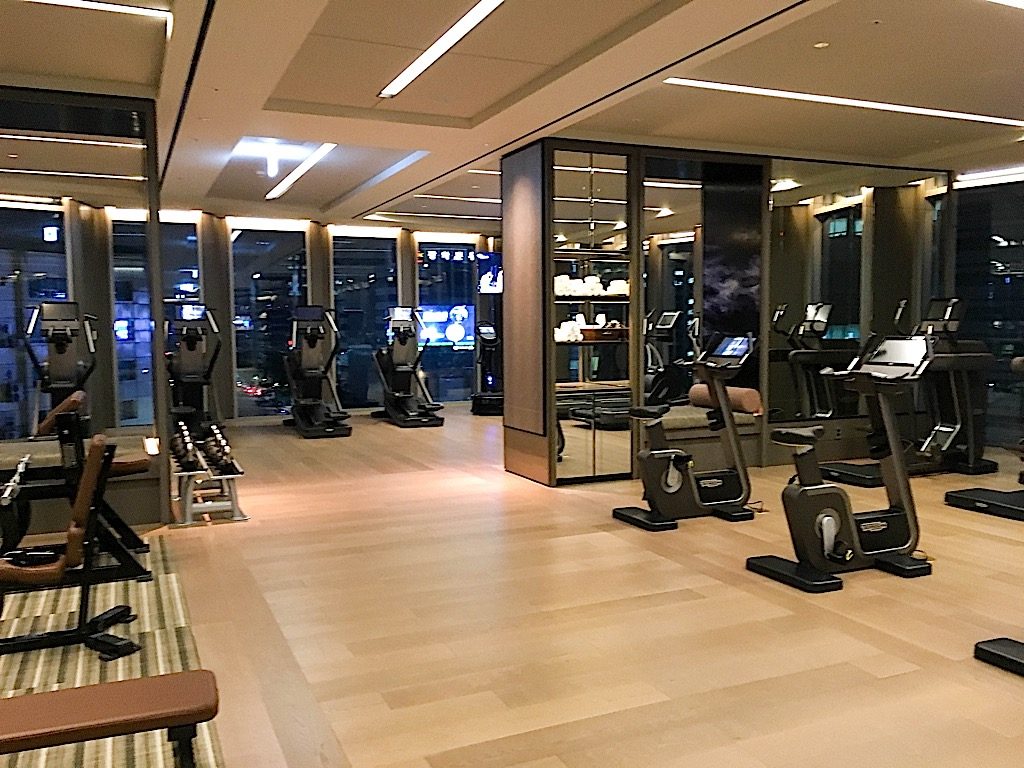 Enormous gym with plenty of machines and weights for guests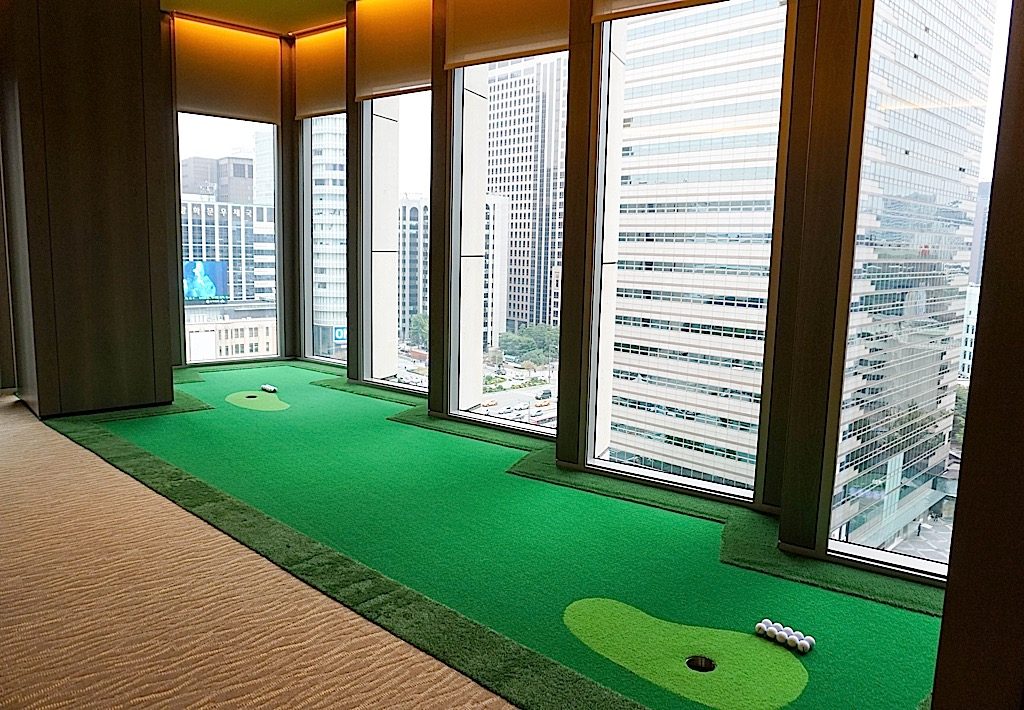 Putting green inside the Golf Experience
The indoor pool is just as stunning as the rest of the hotel with panoramic views of the Gwanghwamun area, but be warned, if you are swimming in the main lap pool, swim caps are a must. Fortunately, they can be borrowed from the hotel at no charge along with child floaties, slippers, goggles, and even swimsuits (totally full service here). There is a small, shallow, wading pool for toddlers that has beautiful lights that shine under water looking like stars in a night sky. There is also a "Vitality" pool which features three metal lounge chairs inside the jacuzzi which have their individual jets for a bubbling massage. The pool also features a sauna room where you can dry off and relax after a day of swimming. Other than the sheer fact of not having to put on sunblock, the pool was lovely to spend a few hours and relax while being catered to by the staff.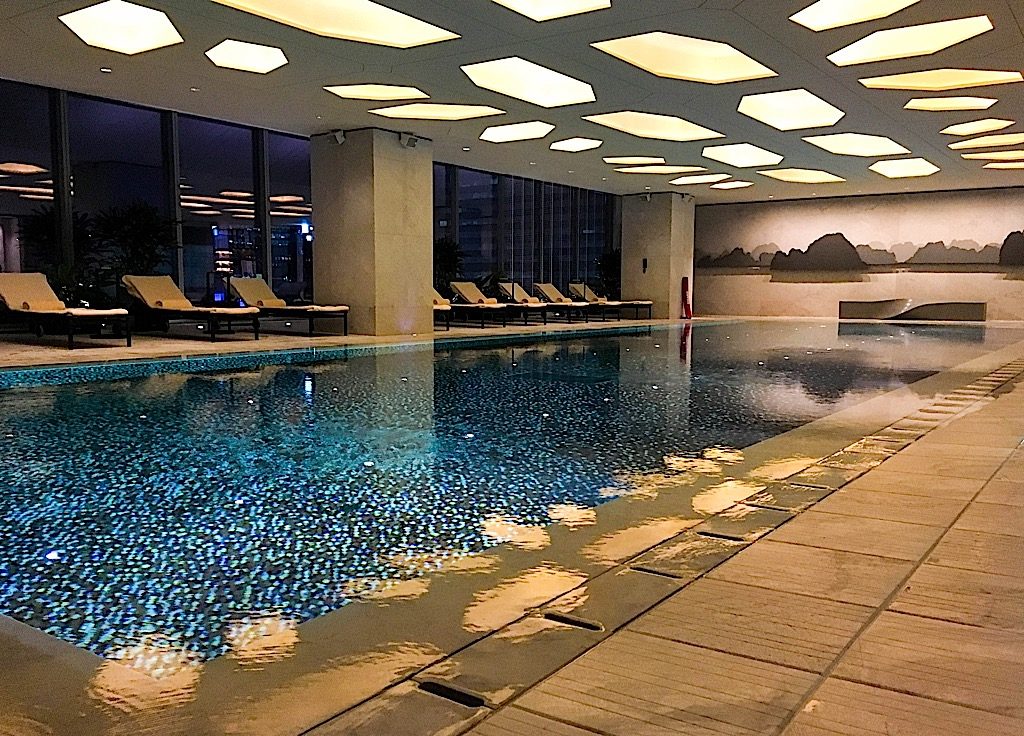 Main indoor lap pool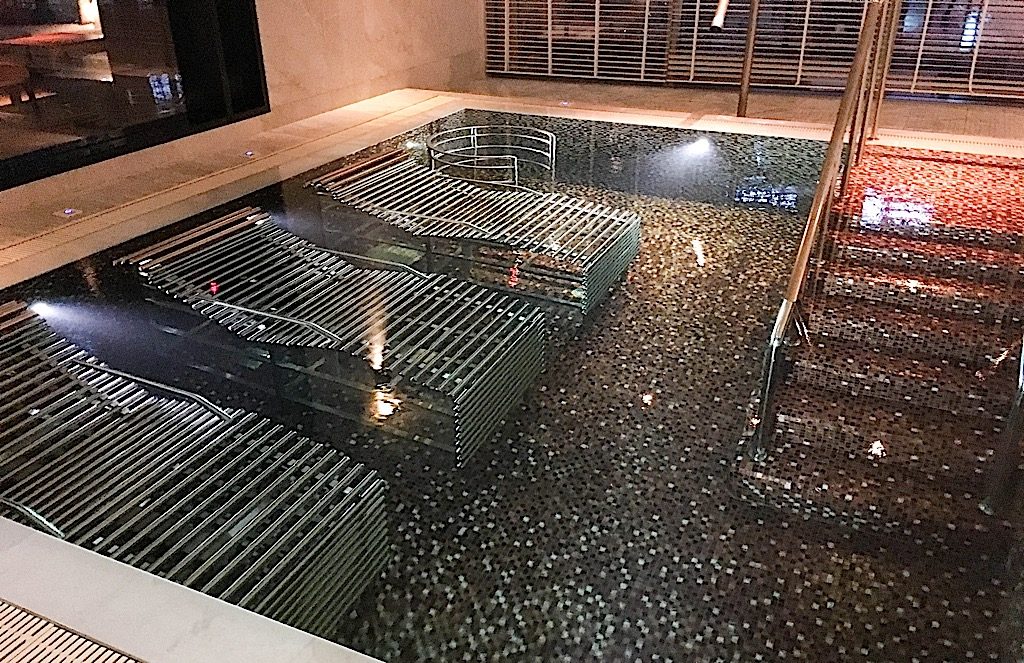 Vitality pool with lounge chairs and individual jets
While many meals were eaten at the Executive Club Lounge, The Four Seasons Seoul houses seven notable restaurants, all different in menu and style, yet all equally impressive in interior décor and thoughtful presentation. Kioku is a Japanese multi-level restaurant designed by infamous Andre Fu. The mezzanine and upper area encompasses the sake bar and the intimate sushi counter while the booths are on the level below admidst beautiful bamboo screenings. If there is one restaurant you have to try while staying here this is the one.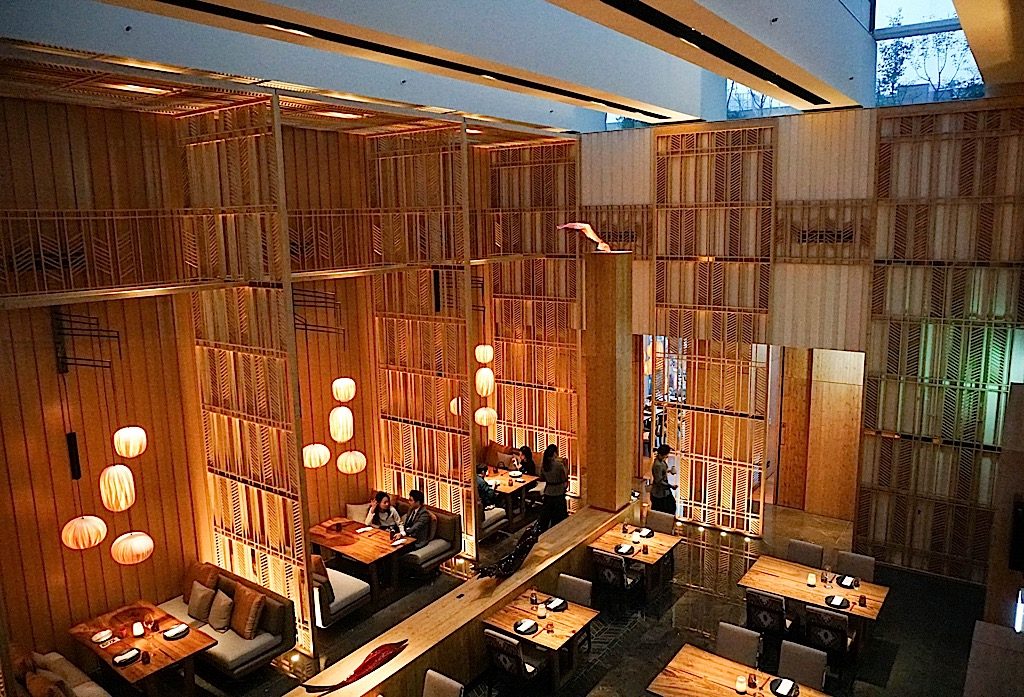 Koiku main dining floor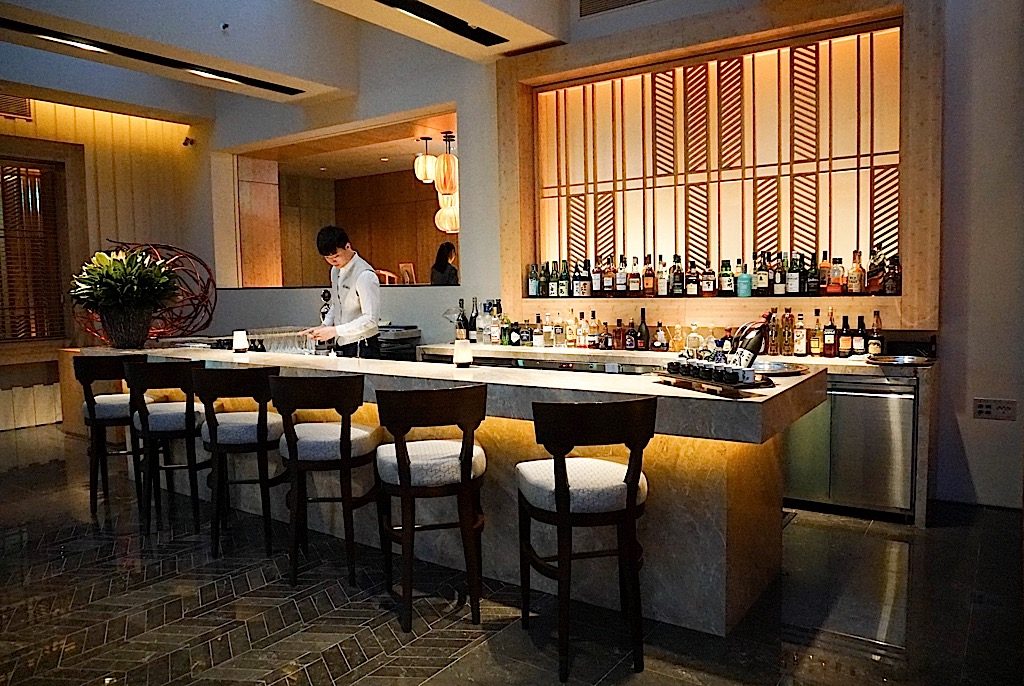 Kioku sake bar
Boccalino is the hotel's Italian restaurant and the interior decor just left me speechless. Floor to ceiling white marble fills the enormous space. Rich, elegant, dark leather chairs and booths make for intimate conversations in comfortable luxury. Across the hall is the Boccalino Wine Bar for a more informal gathering during the day, which turns into a lounge and opens till late in the evening.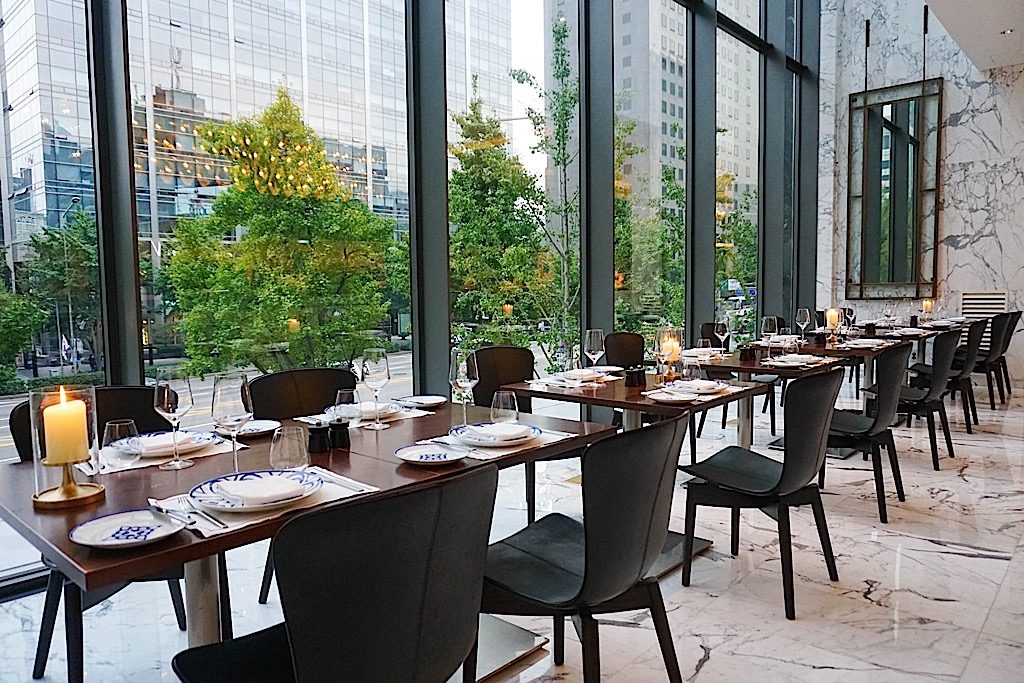 Boccalino table seating with street views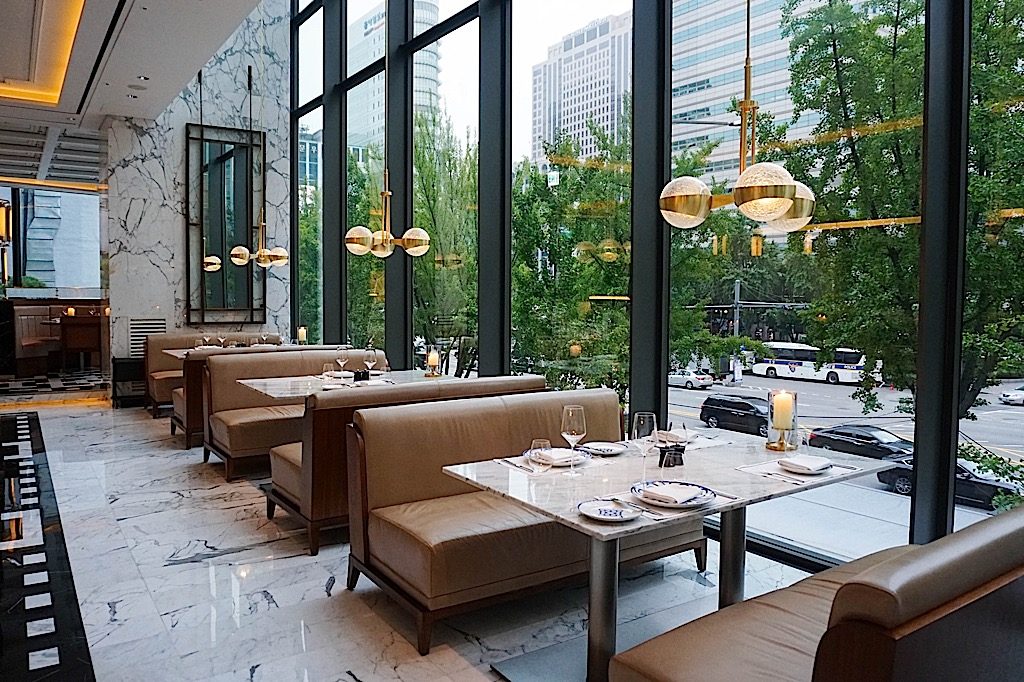 Boccalino booth seating with floor to ceiling marble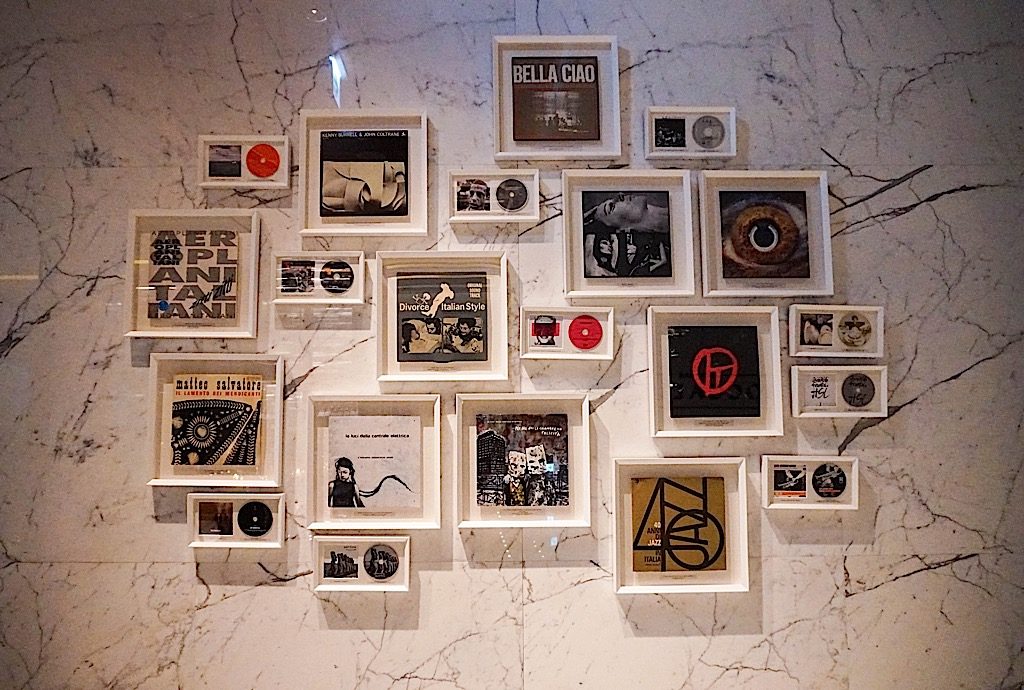 Boccalino Wine Bar decor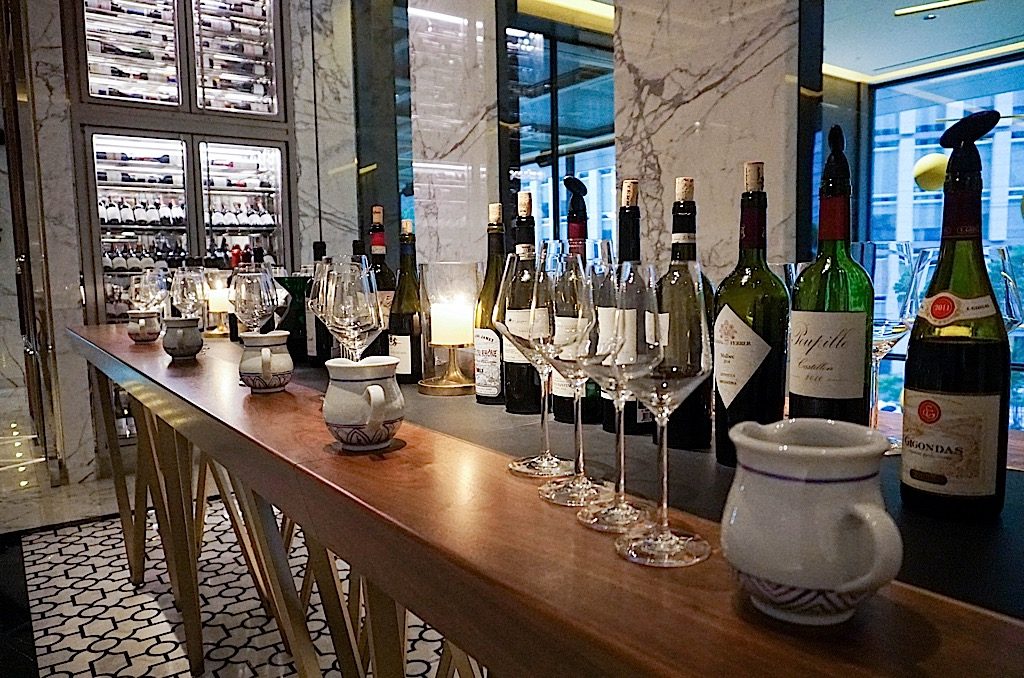 Baccalino Wine Bar room and wine fridge
Yu Yuan is an upscale Cantonese restaurant with its entire decor reflecting the opulence and glamour of Shanghai in the swinging 1920s. As you enter the restaurant you are greeted by a window showcasing Yu Yuan's signature Peking ducks. The restaurant has a very opulent vibe, and it's intimate space makes you feel like you are royalty dining there.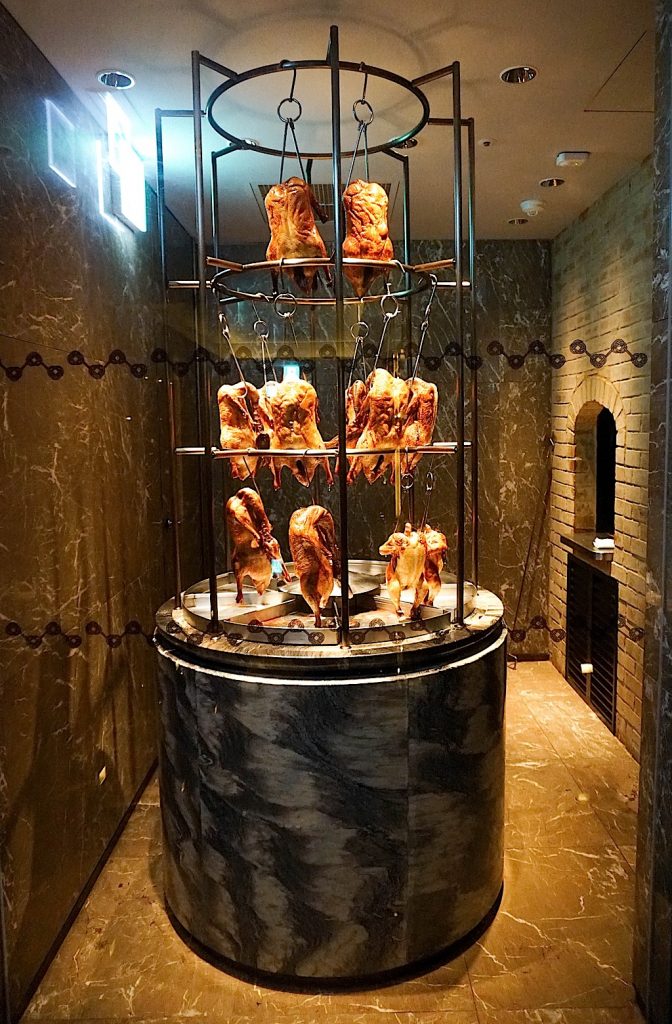 Yu Yuan's Peking duck display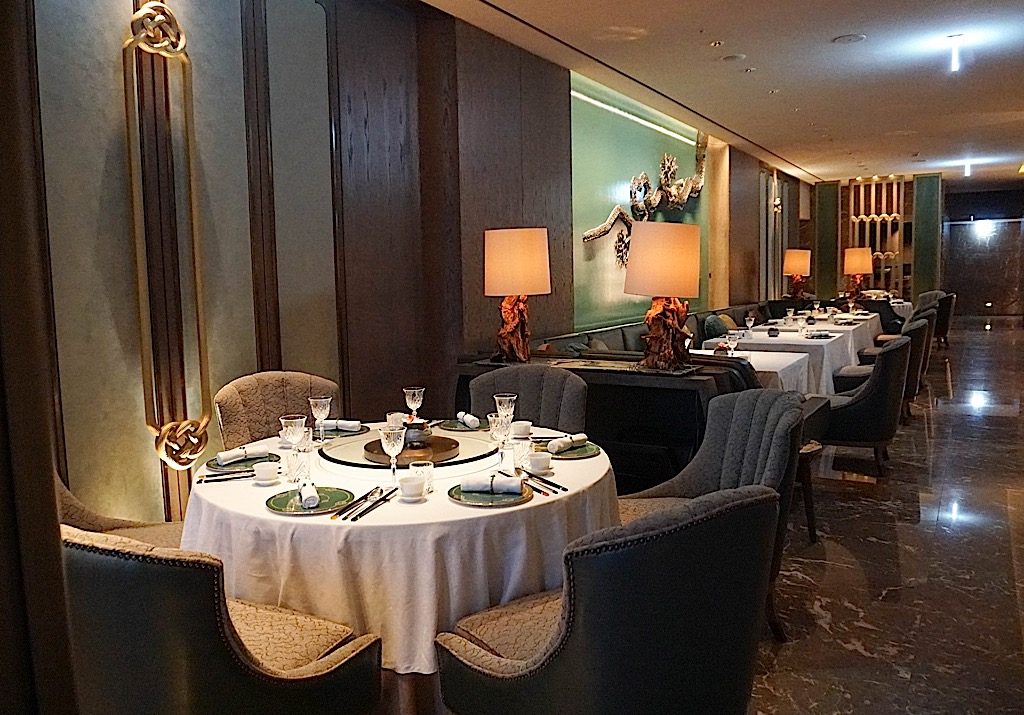 Yu Yuen main dining room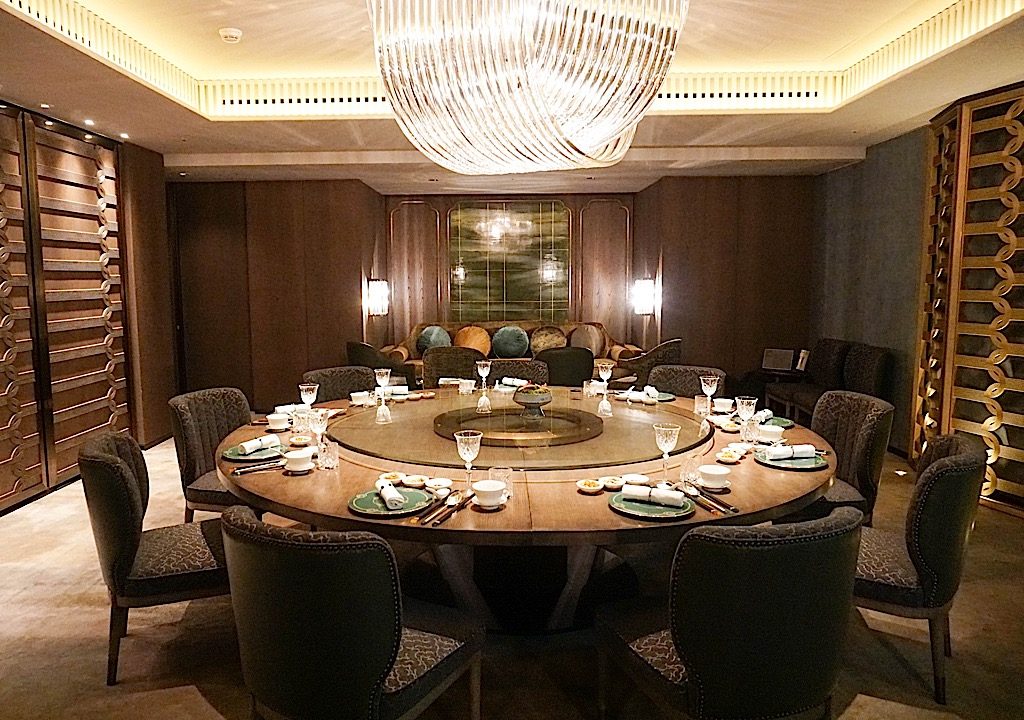 Yu Yuen private dining room
On the bottom floor of the hotel lies The Market Kitchen, which gives Las Vegas buffets a run for their money. Here they feature a show-stopping buffet that serves pan-Asian and international cuisine at "build-you-own" stations and a massive selection of meats, fresh sushi and seafood, variety of charcuterie cheese platters, and made-to-order selections from the noodle and pasta bars. One of my favorite features of this restaurant other than their expansive food options is their flooring. Clear, window-like sections of the floor throughout the restaurant reveal the underground parts of the hotel showcasing the groundwork of the building.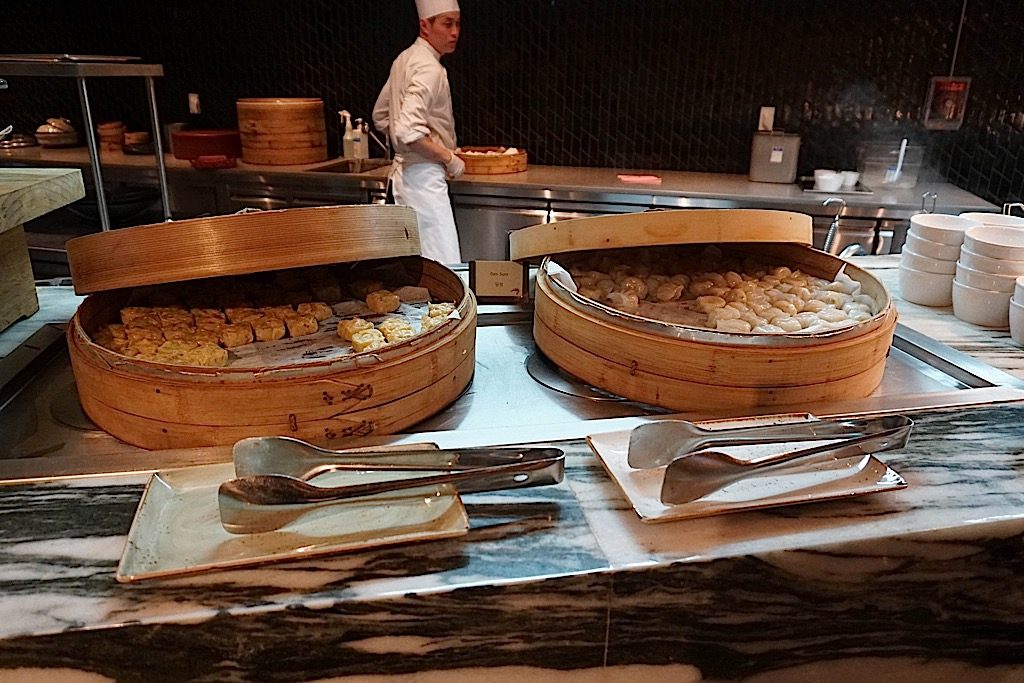 The Market Kitchen's dim sum display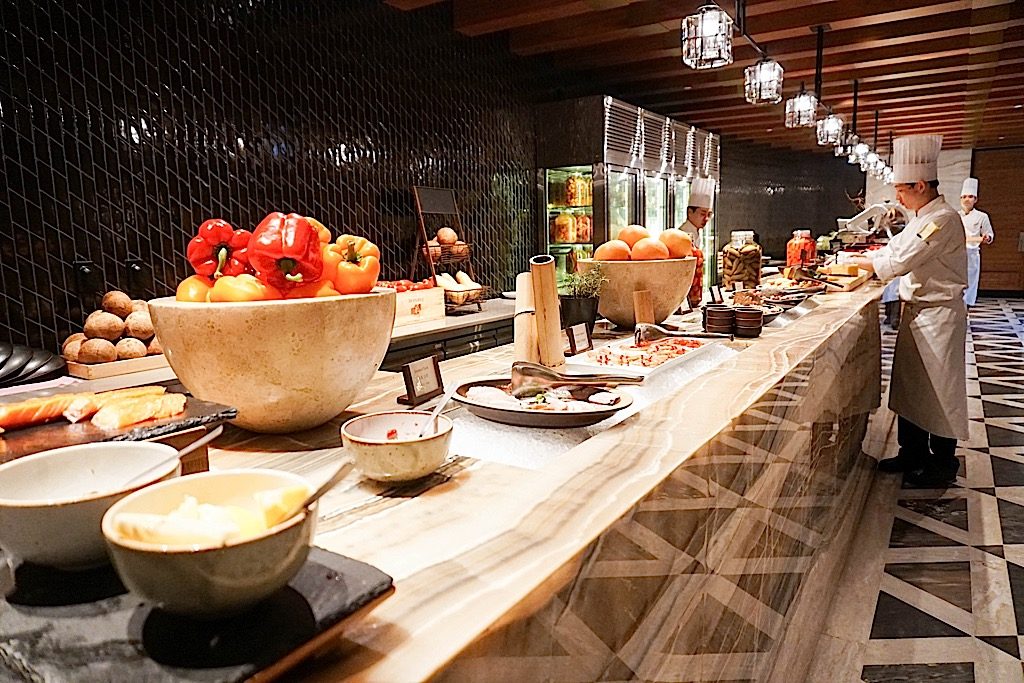 Sushi and seafood display

Pastries, fruit, and juice display
The Four Seasons Seoul also has lounges such as Maru, on the lobby floor, and Charles H., a speakeasy concept bar named after the American cocktail writer Charles H. Baker. Needless to say with kids on this trip, I didn't get to explore these lounges and bars as I would have liked to (there is always next time).
I've stayed at several Four Seasons hotel properties before, but The Four Seasons Hotel Seoul is by far the most incredible hotel thus far. The reason we chose this hotel was not only for the implied luxury and excellence that all Four Seasons properties are known for, but also for the location of the hotel. The Four Seasons Seoul is close to many of the historic attractions as well as to the Dongwha Duty Free Store and many local eateries right outside of the hotel. We were walking distance to Gyeongbokgung Palace, Cheonggyechweon Stream, and Bukchon Hanok Village. Not only does the Four Seasons Seoul check off all the requirements of a luxury hotel, it also checks off all the requirements of a blogger's dream with so many Instagrammable walls and furnishings. The cool and modern décor blends well with Seoul's past and present and it truly is a property where not only travelers come to stay, but also where locals come to eat, drink, and mingle. I am seriously planning my next trip to Seoul just so I can stay here again!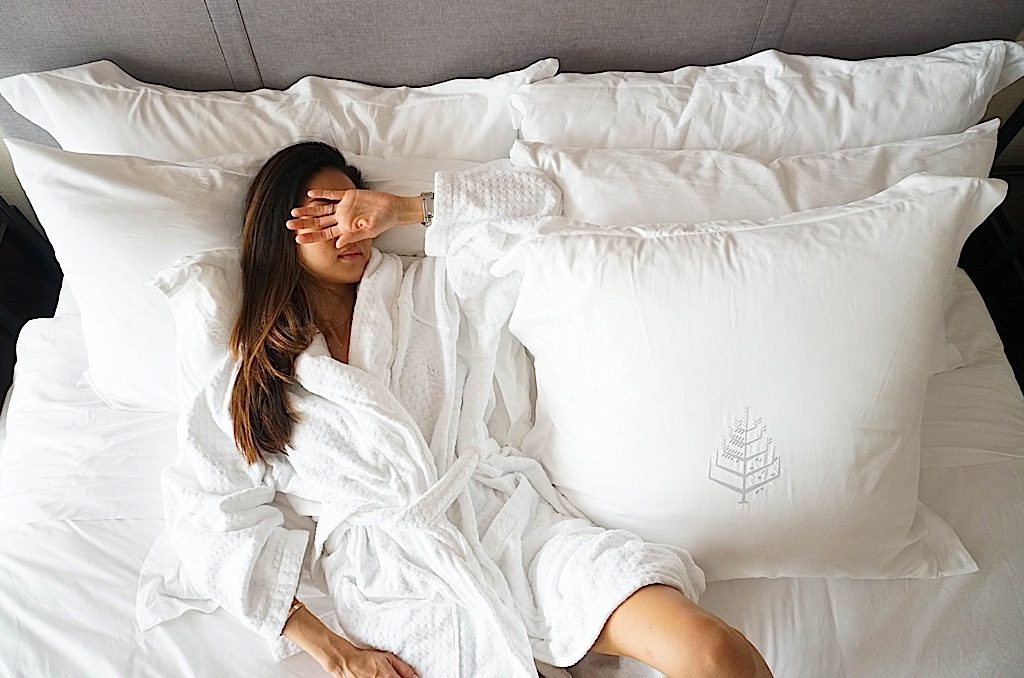 I don't ever want to leave!
// Pros and Cons //
Pros | Location, Restaurants, Luxury and Service, No Tipping
Cons | Staff could be a little more smiley (perhaps the culture)
Would I Recommend | Yes for sure!
Would I Stay There Again | Emphatic Yes!
Four Seasons Hotel Seoul
97 Saemunan-ro
Jongno-gu, Seoul, 03183
+82 (2) 6388-5000