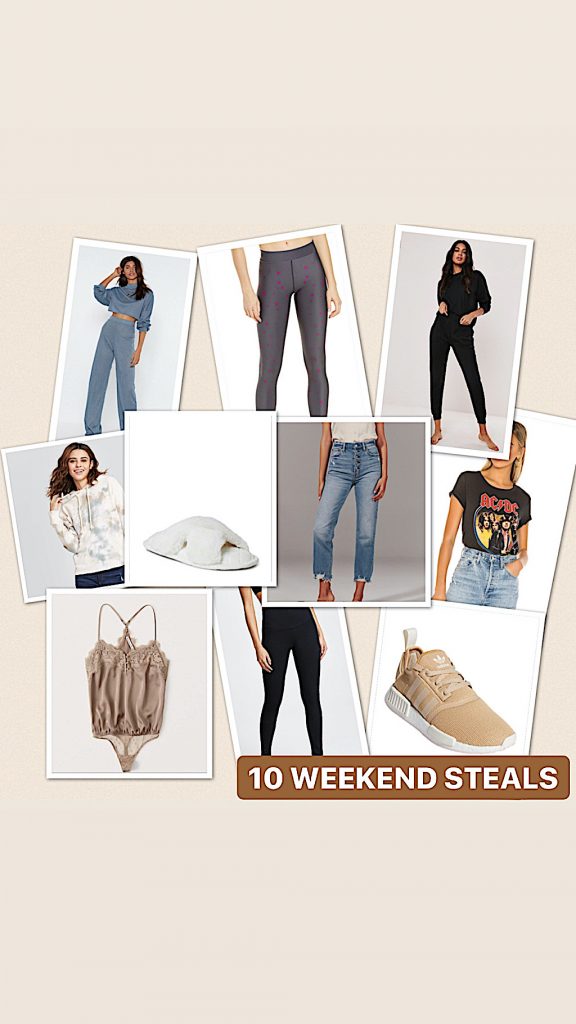 I normally don't do weekend steals but with so many great sales going on as well as the downtime to do some online shopping, I thought I would put together a list of the TEN THINGS I am buying this weekend.  Mind you, these are all related to being at home and being comfy given our current quarantine situation.  
I, like everyone else in the world, have been living in cozy loungewear sets.  This all black one that's more casual as well as this blue one that's a bit more chic are both on my list and on major sale. Both SETS are under $30 (meaning, each piece is less than $15)!  There is something about monochrome sets I've been obsessed with.  I think it's because matching sets always look a little more chic than separates.  I also love a good tie dye piece and can't resist this hoodie for under $20.

For those date nights in, I am adding these ultra high waisted jeans (to hide that quarantine food belly) and this lace, camisole bodysuit to my cart. This camisole comes in six colors!  These are both on major sale for 50% off!  I personally haven't tried these jeans yet, but everyone swears by the fit and for 50% off, they're a must try.

As you know, I've also been working out from home.  I am on week 4 and to be honest, I am losing a bit of motivation. These cute workout leggings will definitely help boost my mood and incentivize me to keep at it.  I LOVE Ultracor leggings but they are quite pricey.  These are made by Ultracor but a more affordable line PLUS on sale for 40% off.  For size reference, I wear an XS in Ultracor and will be ordering these in XS too. I have also heard great things about this leggings brand and how they suck that tummy in so giving these a try for under $35. You can never have enough black leggings!

Who doesn't need more graphic tees?  Tees are great with any look and saw this fab band tee on sale for under $45.  This brand makes the softest tees ever and will definitely be wearing this tee with my loungewear, shorts, skirts, and my new jeans.

And finally shoes.  Let's face it, we aren't wearing many options since we can't go out but I always need a good pair of sneakers for those grocery runs and working out at home.  I have these in black and can't resist this color and price for spring (under $80).  And if you don't own one yet (like me), you must have some cozy, fuzzy slippers for the home.  If you don't want to splurge on the Uggs or Emus, these are a great option at under $20.  Comes in four colors too!

So that's it.  My Top 10 WEEKEND STEALS FOR AT HOME.  What sales are you shopping right now?  Please share in the comments below!