Let's be real. I feel better when I look good. Call me shallow, but it's true. This also holds true for when I go to the gym. In some twisted way, stylish workout clothes that fit well and make me look good inspire me to hit the gym more often.
After wearing only one brand of workout attire for nearly five years, I came across a new company that I am so enthusiastic about. Albion Fit not only has a broad range of everything from fitness attire, to swimsuits, to leisure wear, their pieces are designed by women who know and understand a woman's body (I mean, you can't go wrong with that one).
When it comes to workout attire, there are a few must-haves for me to wear them.
A cute butt is essential
It has to suck it all in
Prints or design should be minimal yet modern
Quality fabrics to last years of washing
Clothes can be worn outside of gym
These Mesh Tech Leggings are my new favs. They are high waisted and have a wide waistband at the top which is excellent for keeping everything tight and pulled in. The most crucial thing is that my backside looks cute in them! The mesh panels on the back of the legs add a little sexiness to the leggings and also helps to flatter the calves. I wore this with the Go Long Crew which is lightweight and perfect for the winter. The length of the tee is long and sits perfectly at the hips (or can be knotted like I did) and the wide neck of this tee can also be worn slightly off the shoulder. I love the versatility of the tee because it can be worn several different ways for different looks. See below for links to full outfit details and 15% off!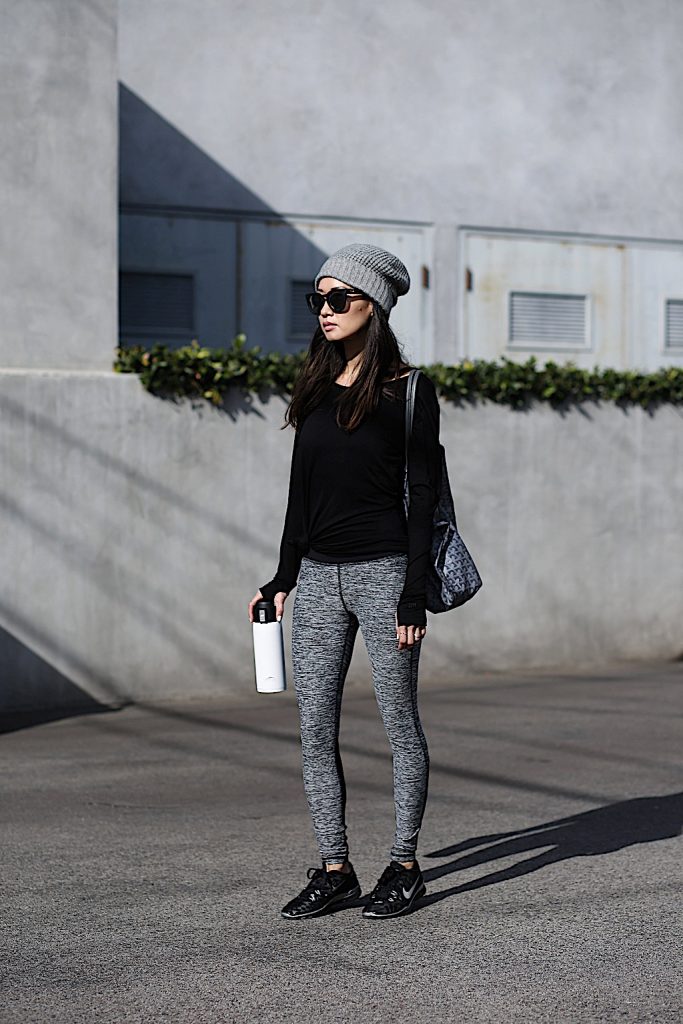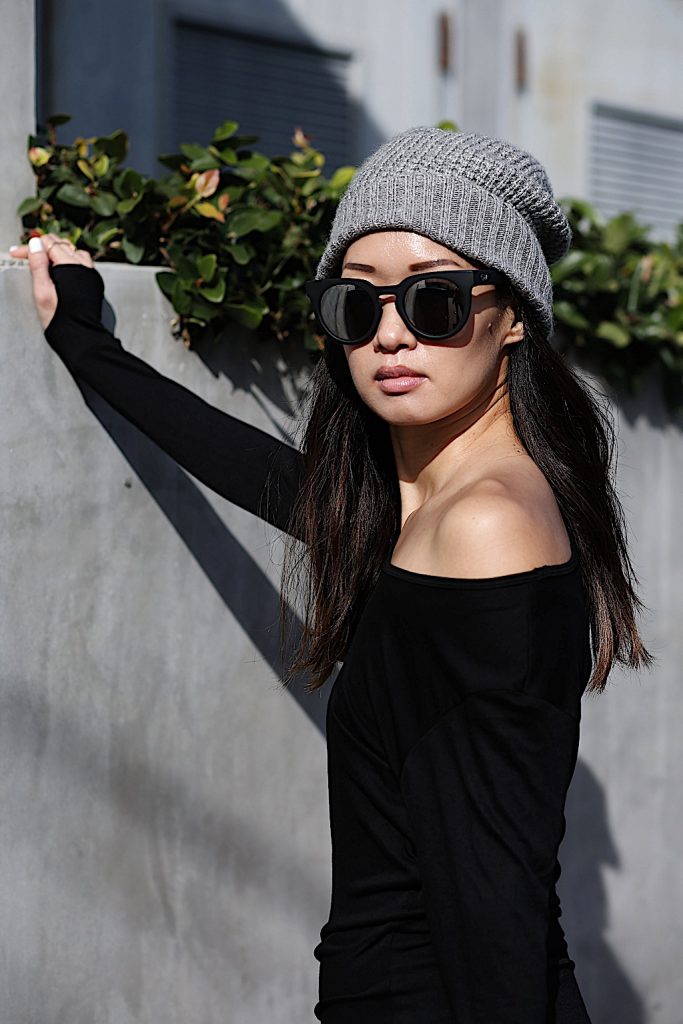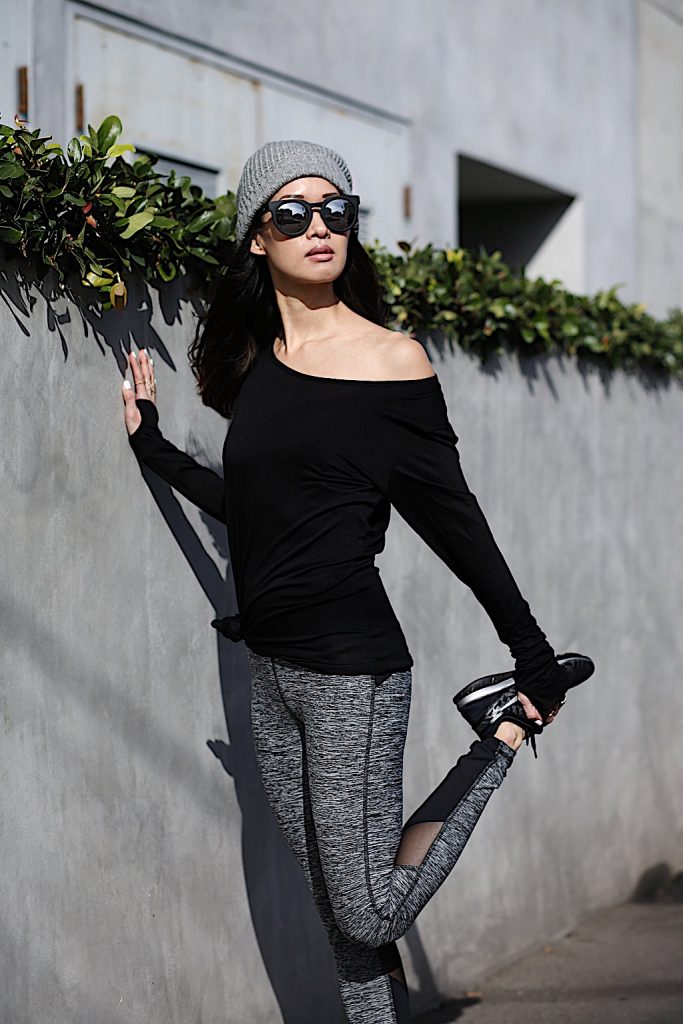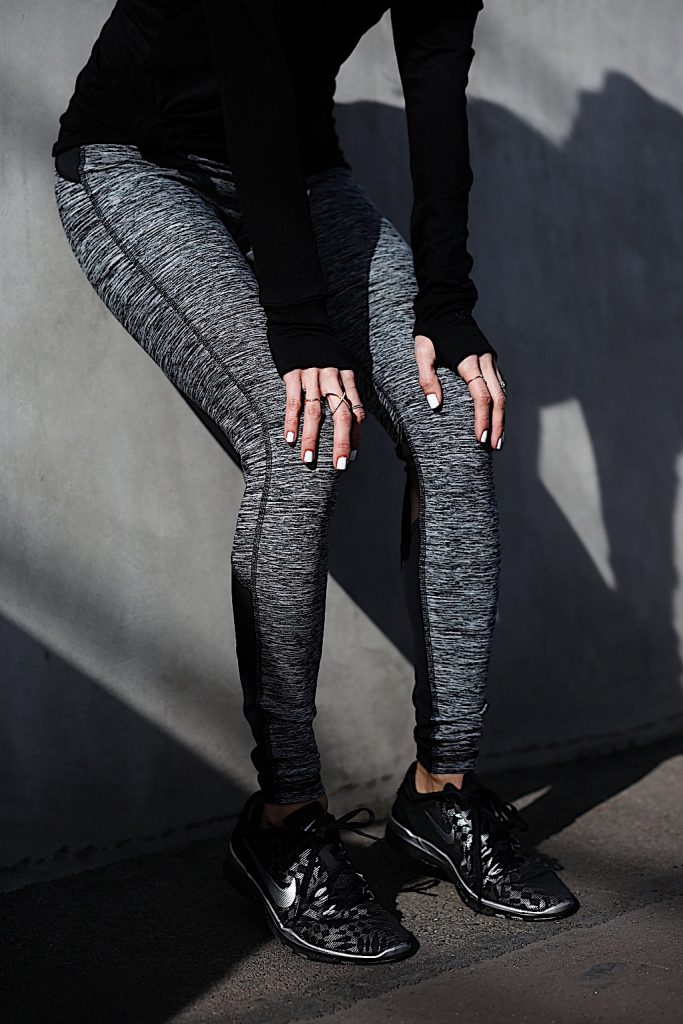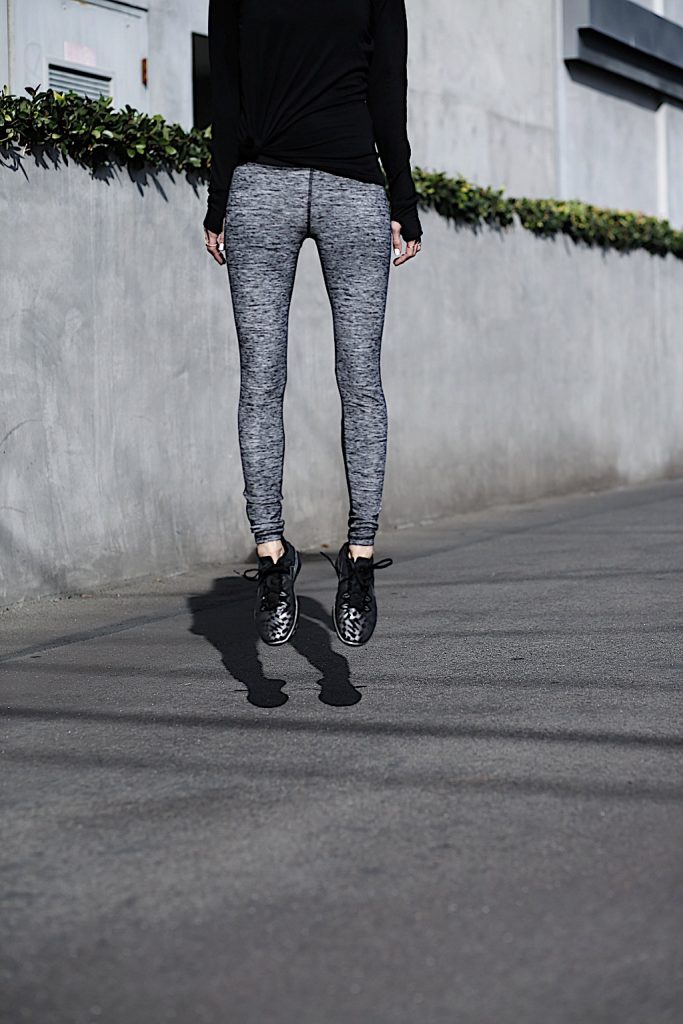 / Workout Look /
(Get 15% off using code: DAILYKONGFIDENCE till February 6th)
Top | Albion Fit (sold out in black) striped pattern and honeycomb pattern
Leggings | Albion Fit
Sunglasses | Quay Australia (sold out) similar styles here and here
Beanie | J. Crew similar styles here and here
Shoes | Nike (old) similar styles here, here, and here
Water Bottle | Aquatix
And for those days when you just don't feel like working out or dressing up, you would appreciate Albion Fit's loungewear. I live for athleisure wear because it's easy, comfy, and can still be pulled off as street chic.
The At Ease Joggers are my go-to pants for just about anything. The drawstring waist makes for easy on and off and the detailed stitching throughout the joggers adds minimal design. Nothing says sporty chic like a bomber jacket. This slate floral bomber jacket the perfect throw on to any workout look or off duty style. Underneath this amazing bomber, I am wearing the Exhale sports bra. For me, the selling feature of this bra is that it is longer than most sports bras (so it doesn't tug up and you can wear it as a top too without it being overly revealing). The bra is lightly padded but also has a hole for inserts just in case you need to slip in additional padding (no judgement here). The back of the bra features a modern design and is a racerback style. The joggers and the bomber can be worn with so many other pieces outside of workout clothes which makes them even more functional for your closet. Full outfit details are below along with a code for 15% off!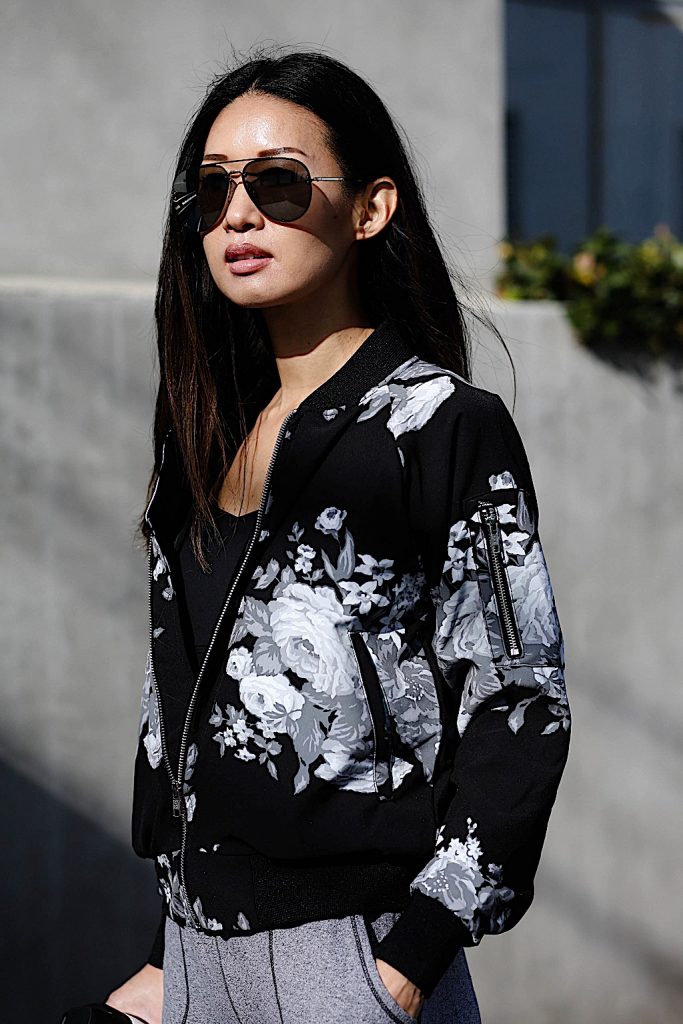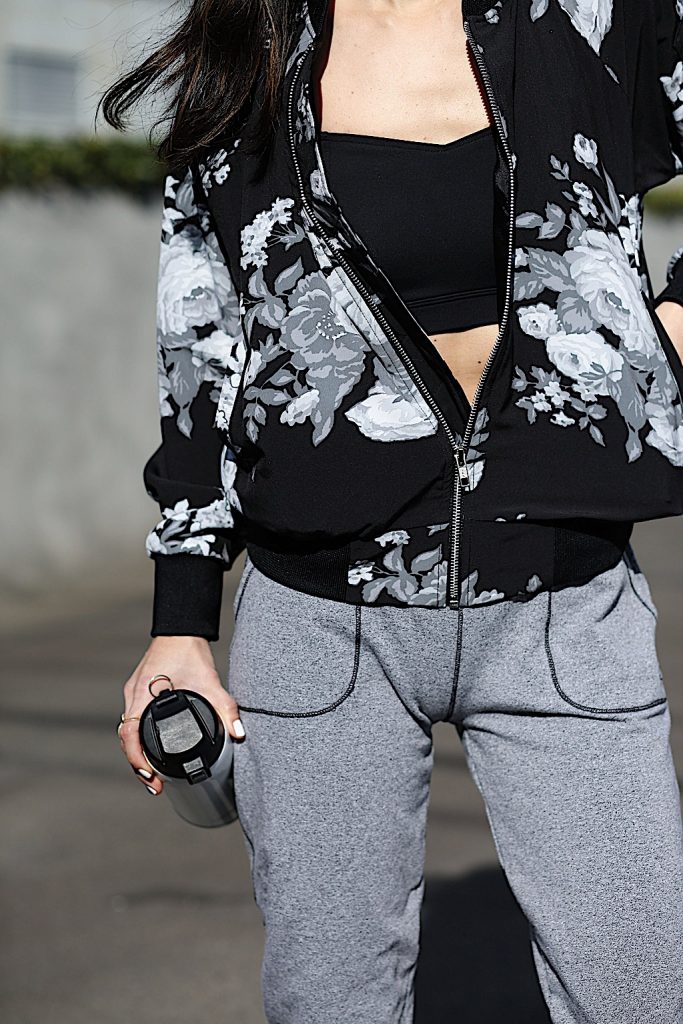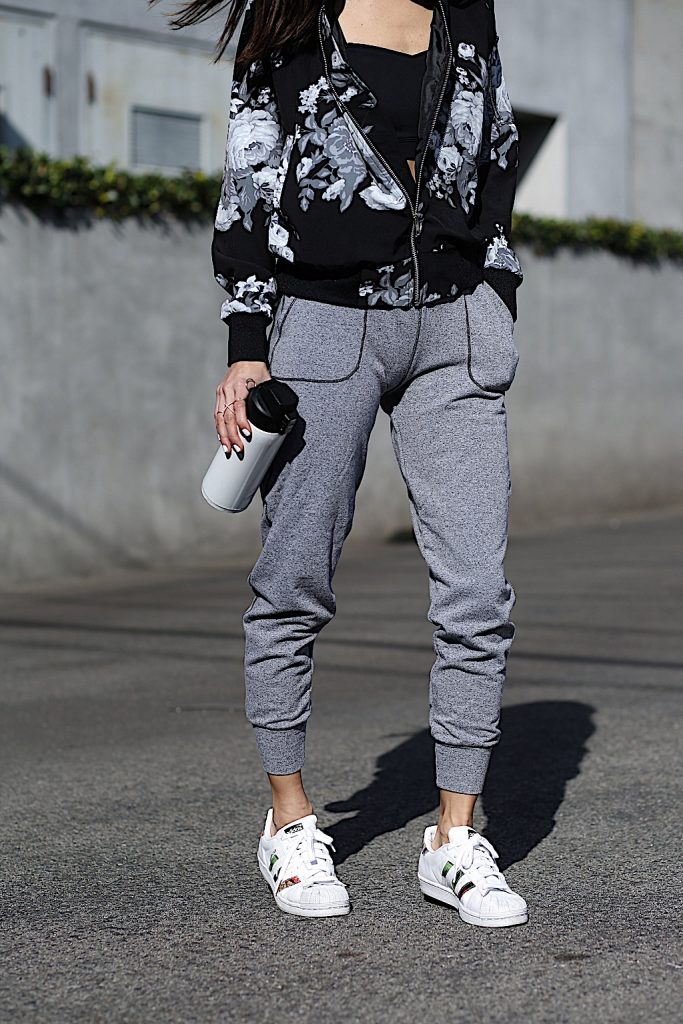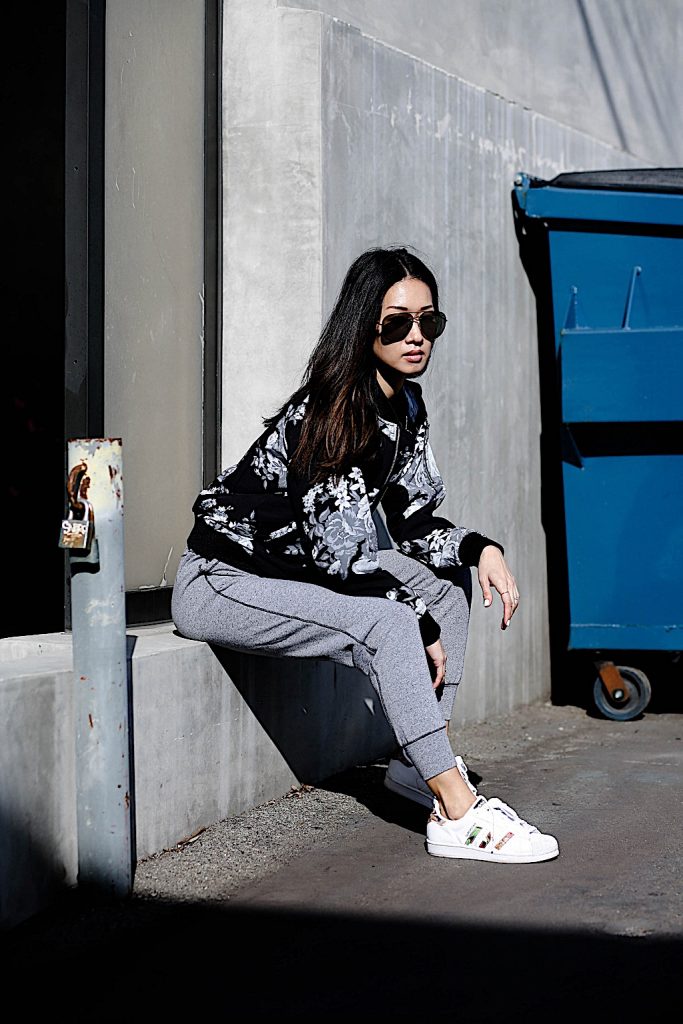 / Athleisure Look /
(Get 15% off using code: DAILYKONGFIDENCE till February 6th)
Jacket | Albion Fit
Sports Bra | Albion Fit
Joggers | Albion Fit (size down, I am wearing a XXS)
Sunglasses | Celine similar styles here and here
Shoes | Adidas (sold out in floral stripes) similar styles here and here
What draws me to Albion Fit is that they make quality, earth friendly products that are breathable and can last for years to come. Especially since you are wearing them, stretching them, sweating in them and washing them nonstop, it is nice to know that you won't have to replace your workout attire for many, many years.
/ Tips to Motivate you to Workout /
Create a playlist of songs that pump you up
Wake up with the mindset that you will exercise today
Workout first thing in the morning to get it done
Look at inspiring photos of strong and fit people
Eat a healthy breakfast so you start the day off right
If all else fails, put on some workout clothes and see where it takes you!
Thank you to Albion Fit for sponsoring this post and keeping me fit and looking fabulous while at the gym and running errands!