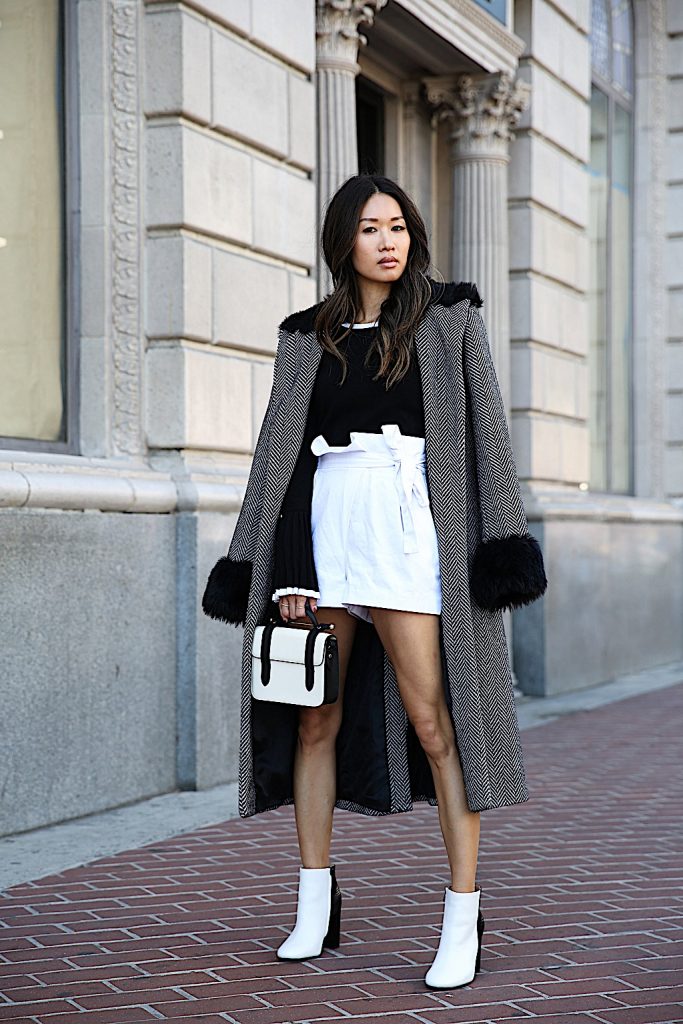 For those of you that don't already know this about me, I love shoes. I don't discriminate and love them all equally. From sneakers, to mules, to boots, to heels, I can't get enough of them. But it's not always easy finding the right shoe for my small feet (I wear a size US 5 or 35 and sometimes up to a US 6 or 36). Most brands typically carry only one or two pairs in my size of each style and they usually run out. Forget about finding my size during a sale either. So when I discovered Shoes of Prey I was beyond ecstatic. Not only do they carry so many amazing styles of shoes, they can be customized (yes you design them yourself), and they are so affordable! Shoes of Prey lets you channel your inner Carrie Bradshaw and design shoes the way you want them from style, to fabric, to embellishments, to even a personal inscription. To see how they make your design come to life, check out this quick clip here. The best part of this custom design process is that it ships within two weeks so you don't even have to wait long to strut in your original designed shoes!
With fall upon us and winter quickly approaching, I wanted shoes that I could wear for colder weather (think closed toed shoes). I couldn't decide between a pair of boots and slingbacks so I got them both.
The process for designing your shoe is so easy!
Select the style or body of shoe you want (i.e. boots, flats, mules, etc.)
Pick your size (based on the two pairs I ordered, these are pretty true to size)
Options for toe types (such as rounded, cap toe, pointy, etc.)
Selections for heel types
Choose the main fabric for your shoe from leathers, fabric, vegan leather, etc.
You can pick another color and fabric for your shoe too (as I did with my boots and cap-toe slingbacks)
Other options you can choose from are trim, color of the inside of the shoe, heel color, etc.
A fun and personalized feature includes writing an inscription in your shoe (use code: DAILYKONGFIDENCE for a free inscription)
I've been wanting a pair of white boots for fall but I wasn't sure if an all white boot would make my outfit look too mod. Since I was the one designing my boots, I decided to try something different and chose a white leather for the front and a black leather for the back. The two toned boot is not only my favorite colors but is sure to make a statement or start a conversation.
Style: Mercer 100
Materials: White Napa Leather in front, Black snake print in back
Price: $169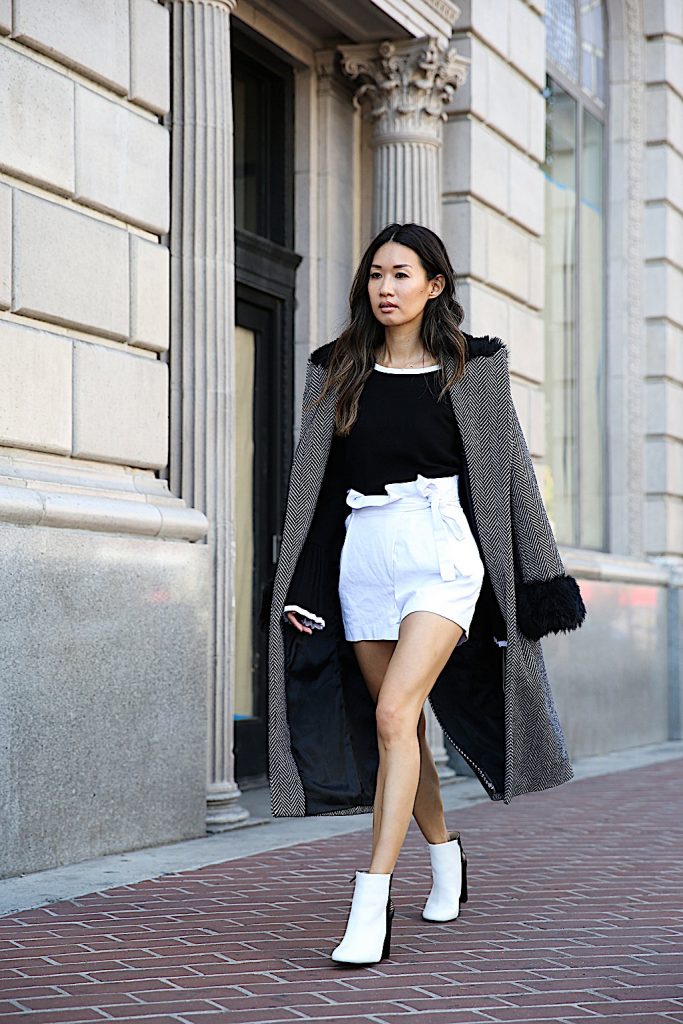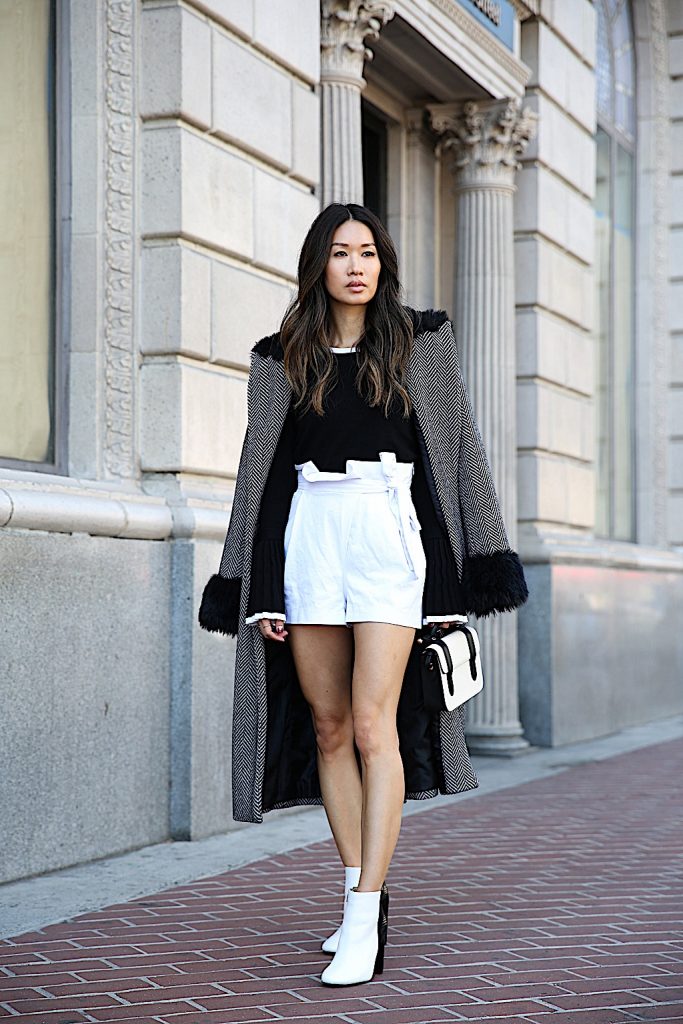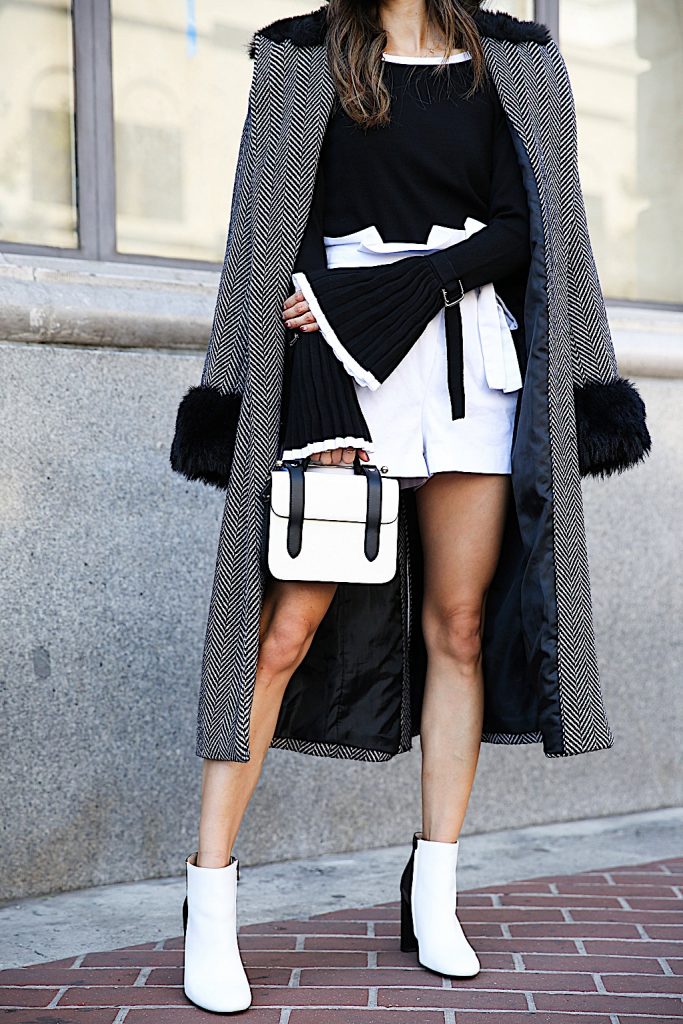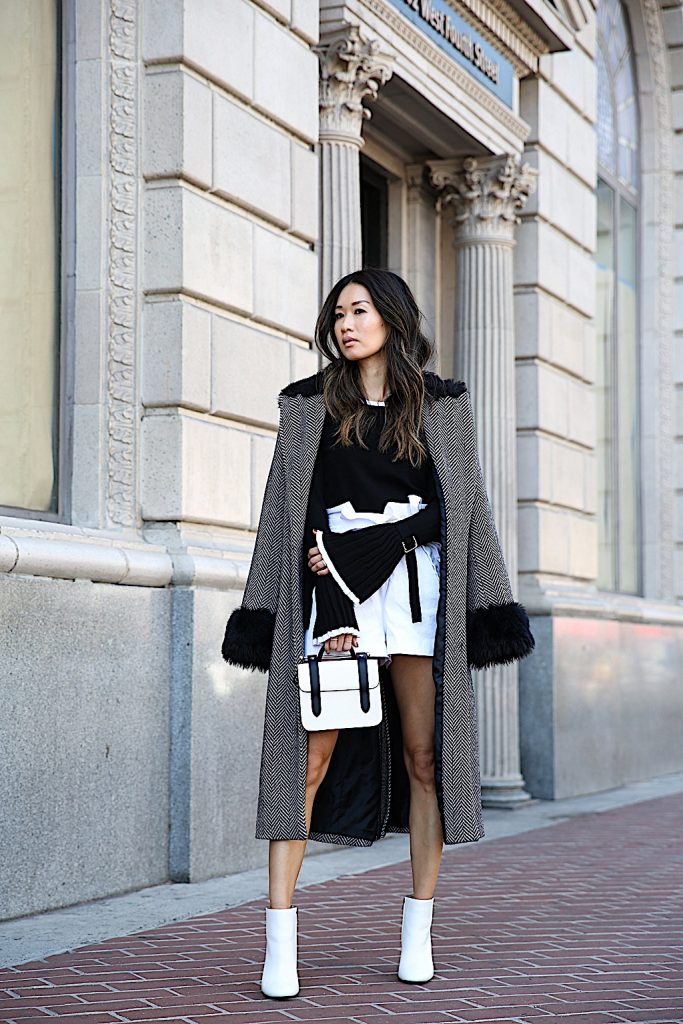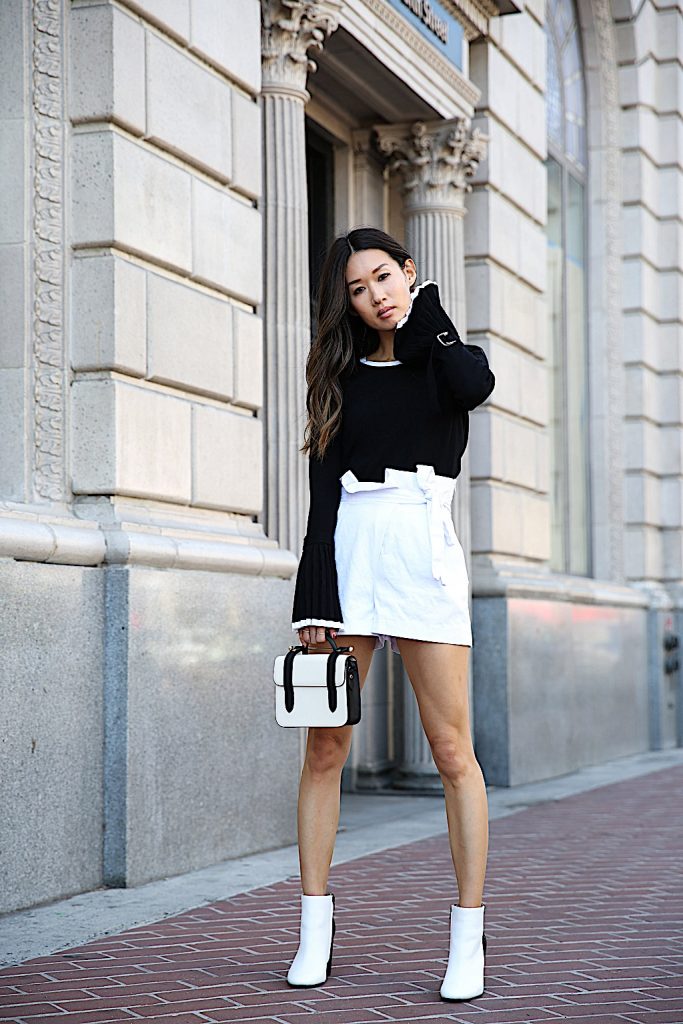 / Outfit Details /
Sweater | Marled similar style here
Shorts | Zara (sold out in white) similar style here
Jacket | Vintage
Bag | Strathberry
Shoes | Shoes of Prey
For the slingbacks, I decided to go with a Chanel-inspired design using the cap toe feature. I've been a fan of the Chanel slingbacks for a while but have been disappointed that they never have my size. Shoes of Prey allowed me to design a pair similar to the Chanel style and at a fraction of the cost. I also took advantage of their custom inscription option and added a little personal touch that makes me smile each time I wear these slingbacks, "Shoe love is true love" (isn't that the truth). You can use code: DAILYKONGFIDENCE to get a FREE inscription valued at $49!
Style: Oscuri 70
Materials: Grey Napa Leather, Black Silk (for cap toe), no piping
Price: $149 + $49 custom inscription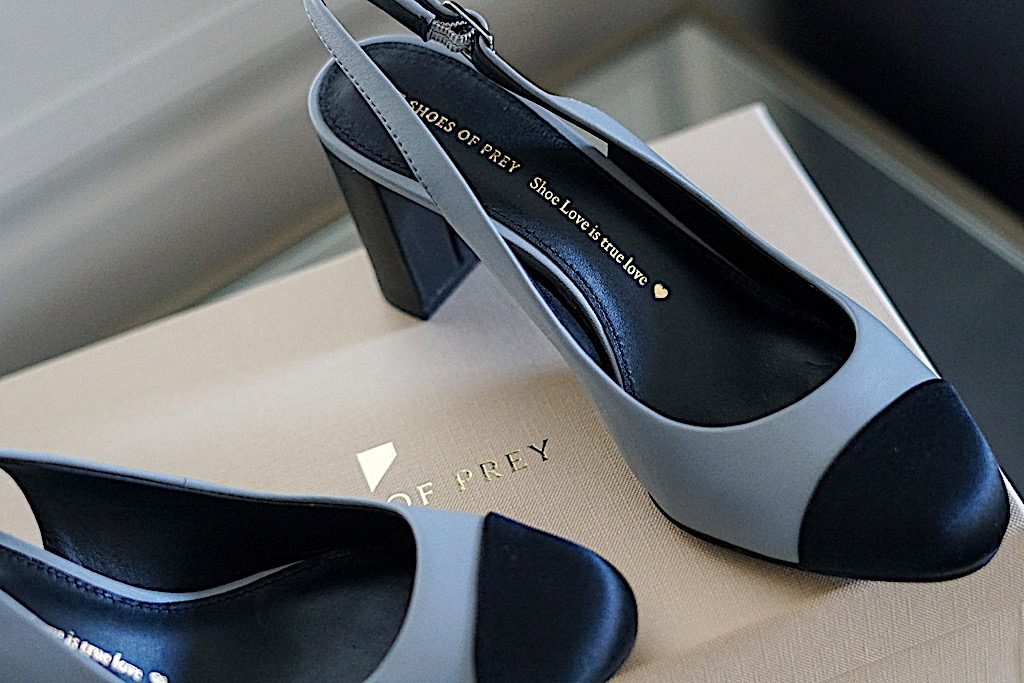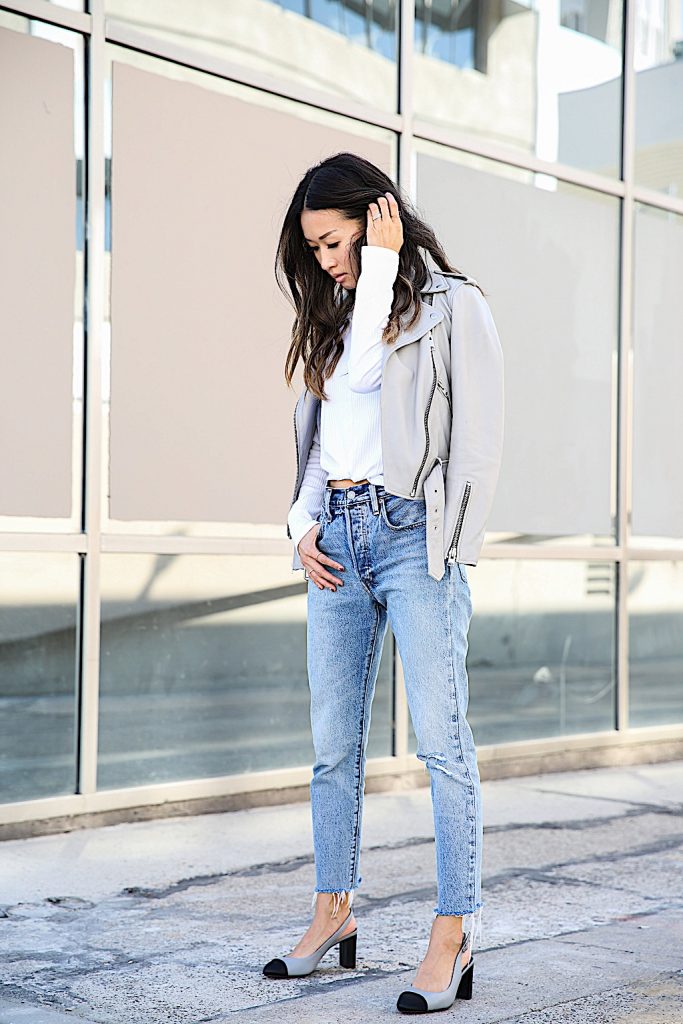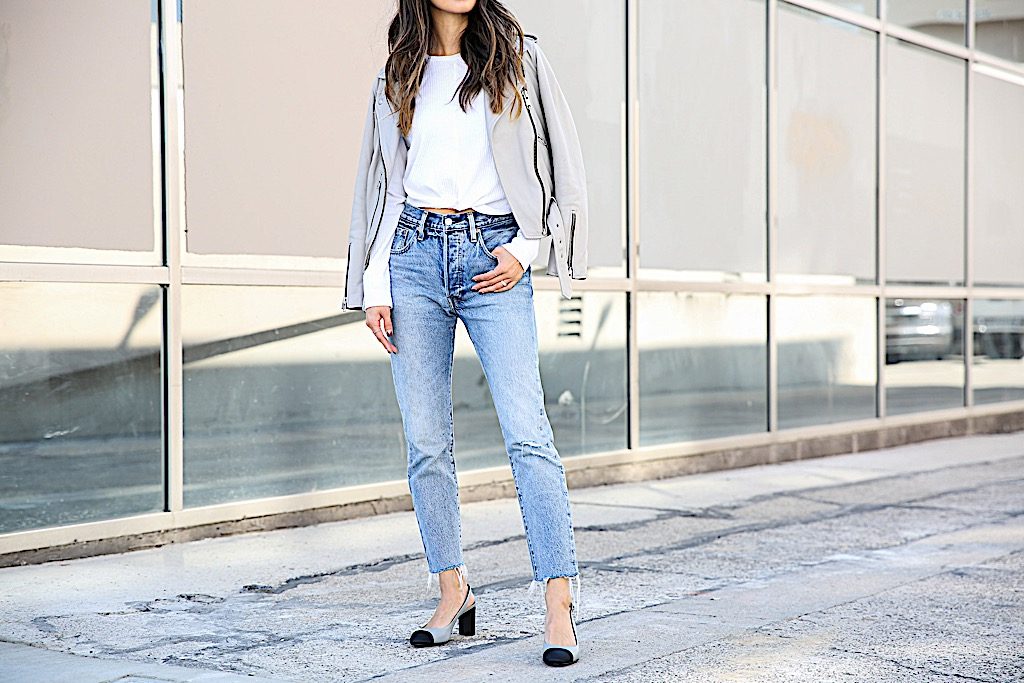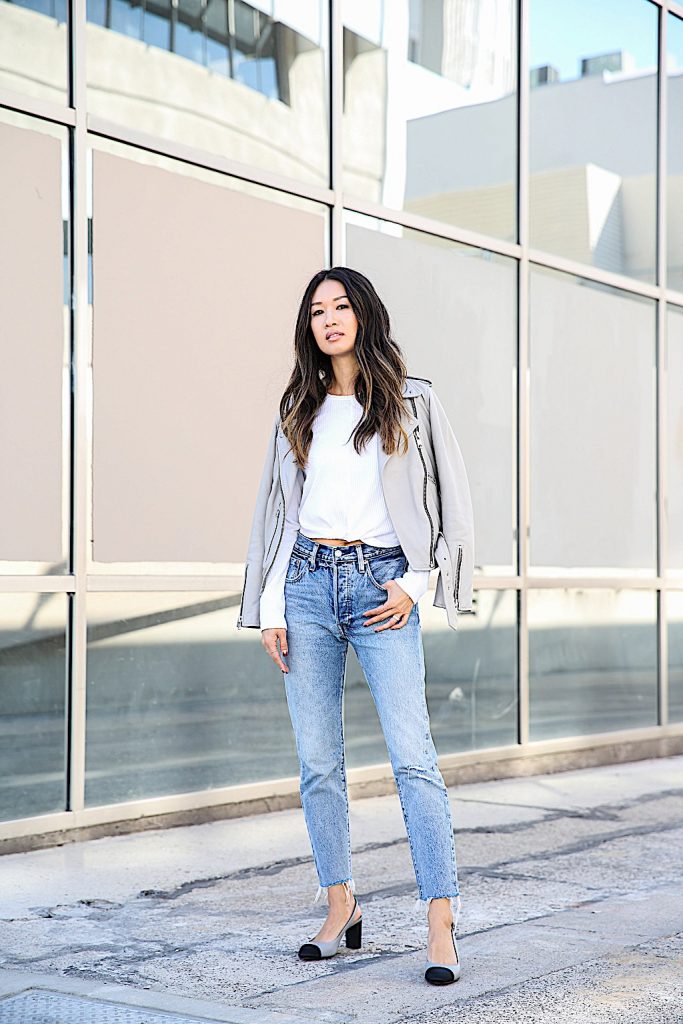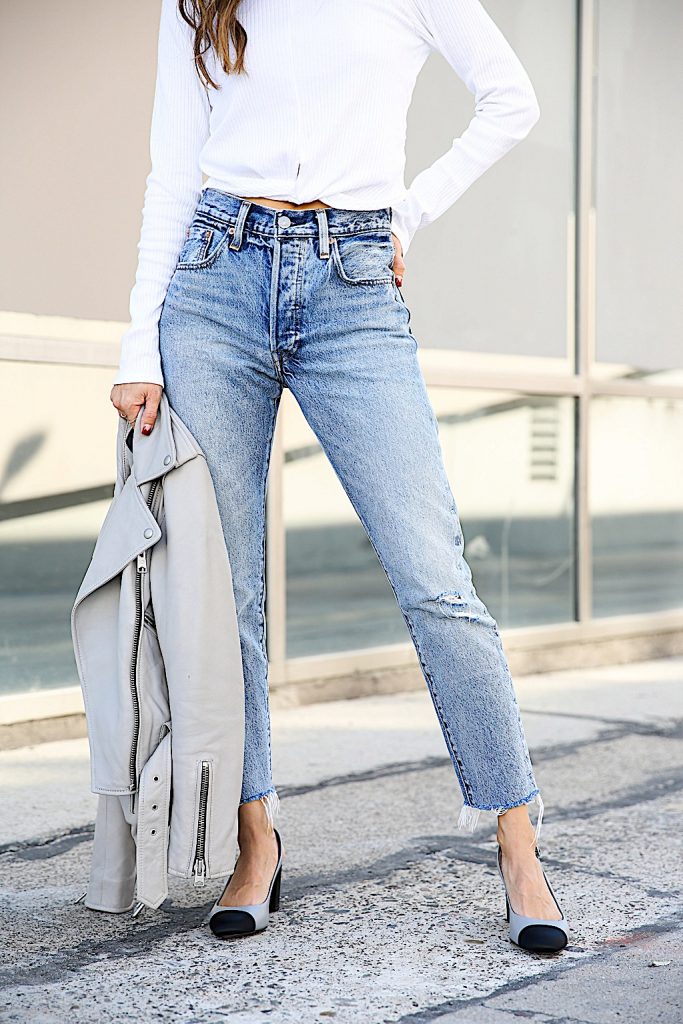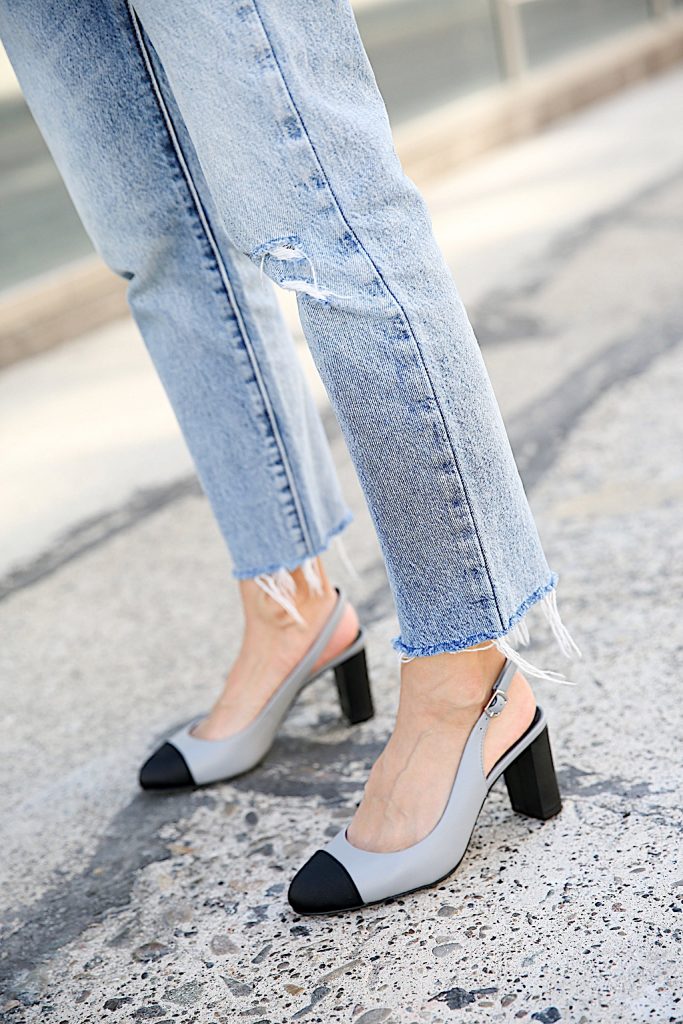 / Outfit Details /
Top | River Island (sold out) similar style here
Jeans | Levi's similar style here
Jacket | All Saints similar style here
Shoes | Shoes of Prey
With new shoe styles launching almost every week, you have to check out Shoes of Prey to design your own pair of shoes.  Like I mentioned, it's easy, fast (less than two weeks), returnable 365 days a year (unless you inscribe them), and free shipping (within US). Honestly, it doesn't get much cooler than this!