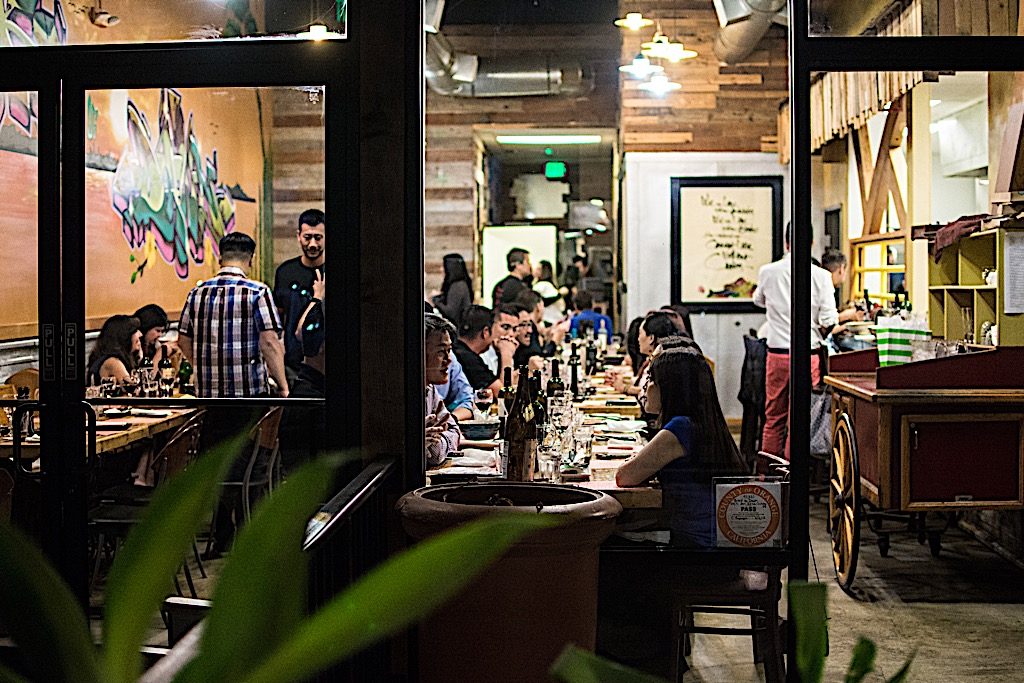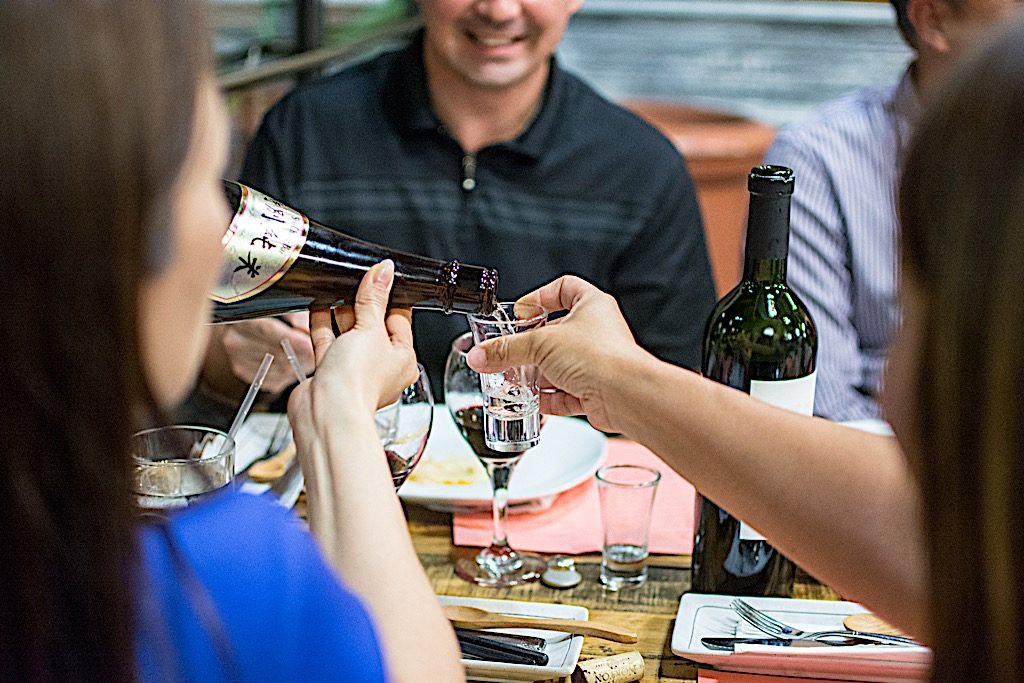 Have you ever heard of a pop-up restaurant? If this term is unfamiliar to you, a pop-up restaurant is generally a temporary restaurant held at any location where a chef can showcase their talents and create unique menus to a private audience.
Popular since 2011, many notable chefs have opened pop-ups but it's pretty rare to hear of them in Orange County, CA. Not to take anything away from the restaurant scene in the OC because it is definitely getting more urban and hip than before, it's just that Orange County used to consist mainly of chain restaurants and the sort. But thankfully this is changing as we speak and the OC is finally getting it's fair share of dining experiences inlcuding pop-up restaurants.
Recently I had the privilege of attending such an experience hosted by Break of Dawn's chef, Dee Nguyen.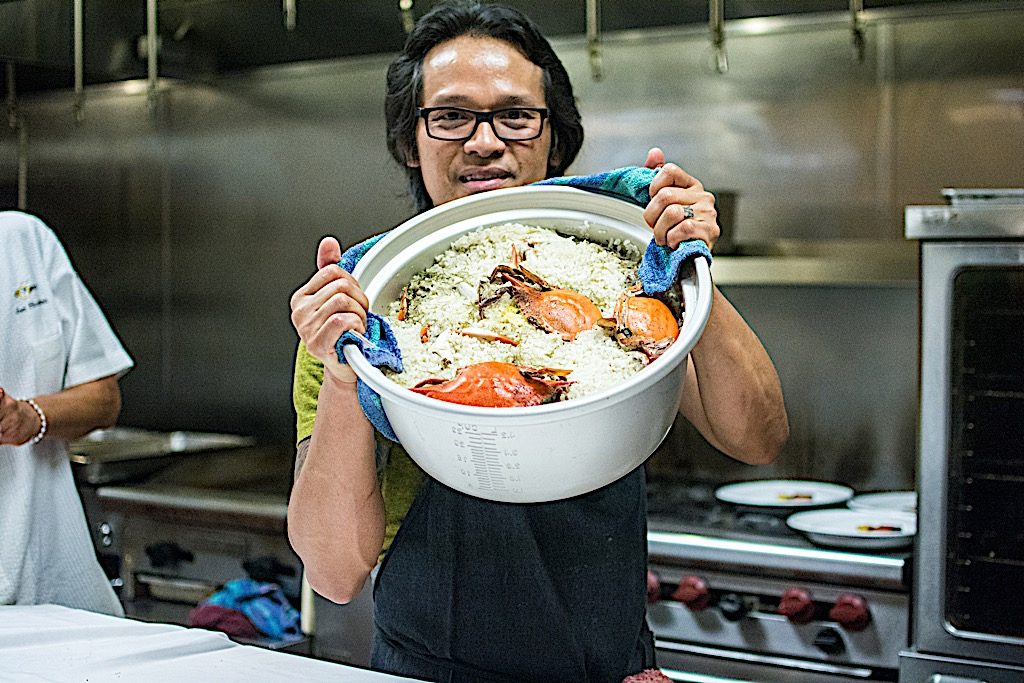 Chef Dee Nguyen
/ Dee Nguyen /
A little history on the chef, just because I love hearing people's stories…where they're from, what decisions they made to get to where they are, what inspires them. Everyone has a story, but Chef Dee's story is a testament to his love and passion.
"Break of Dawn was born out of a lifetime of unexpected twists and turns. For Dee Nguyen, whose culinary journey began at the San Francisco-based California Culinary Academy and rapidly rose to the Executive Sous Chef position at the Ritz-Carlton, Laguna Niguel, his was a career destined for success.
Then, unforseen tragic circumstances beset his son Berlin who was discovered to have Eagle-Barrett syndrome, and while undergoing one of the procedures, his breathing tube was mistakenly blocked by uncleared mucus, causing him to go without oxygen for more than ten minutes. He was in a coma for a month. Miraculously, he survived the episode, but the effects were devastating.
At a major crossroad in his career, Nguyen chose to follow his heart and his true passion – his family. He left behind his lucrative and prestigious position to open a modest 50-seat breakfast and lunch restaurant, located only three miles from home, to have a more manageable schedule to better care for Berlin."
Hence, Break of Dawn was born circa 2006. And breakfast and lunch in the OC has never been the same since.
/ Pop-Up Dinner /
Break of Dawn is open Wednesday – Sunday from 8:00am – 1:00pm. First thing to note here, the hours are limited. But for those who can't live by these rules, lucky for you, there are special hours. Dinner hours. Intimate, off menu, and exclusive. If you are a foodie, or if you want to try a different experience, or if you just need to feel special, THIS IS FOR YOU.
Chef Dee opens his doors for dinner only at his limited pop-up dinners. Seats are very limited, being offered to the previous patrons of his pop-up dinners first. And if you have a coveted seat, you don't give it up, you just don't. So you see why obtaining a seat is so difficult. But every once in a while, when the stars align and the mood is right, you get a golden ticket. And I just got mine.
Upon entering Break of Dawn, the vibrant, modern, and diverse decor is reflective of Chef Dee's cuisine. A range of colors, traditional elements, and unexpected twists are splattered against the walls and also on his plates as you will see. I found my seat and took it immediately as if sitting down would mean the festivities would start sooner. Literally the envy of everyone else seated at the tables, I got a front row view at the chef's table. I could see the 60+ bowls and dishes laid out between every course, the immaculate precision where each ingredient was carefully placed, the final touch of a petal or garnish that was intentionally set before the course was deemed perfect enough to send out. Whatever I did to earn this seat, I must find out and do it again. For after experiencing the behind the scenes activities of how Chef Dee efficiently, calmly, and deftly gets out his entrees, I don't ever want a backseat to this show.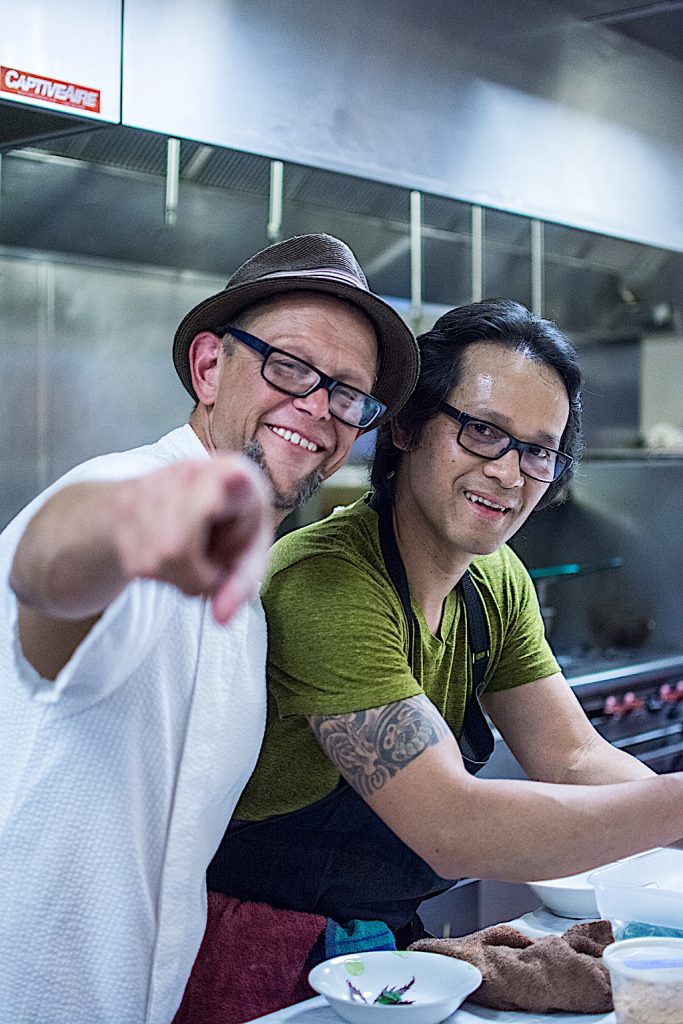 Chef Dee and one of many Sous Chefs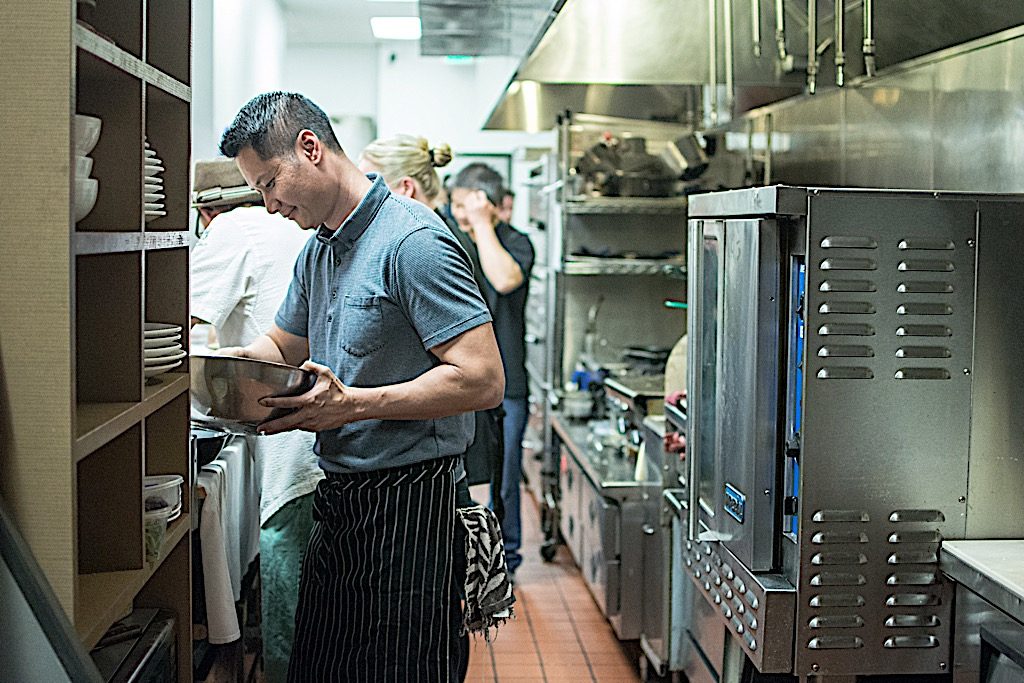 Behind the scenes look at the kitchen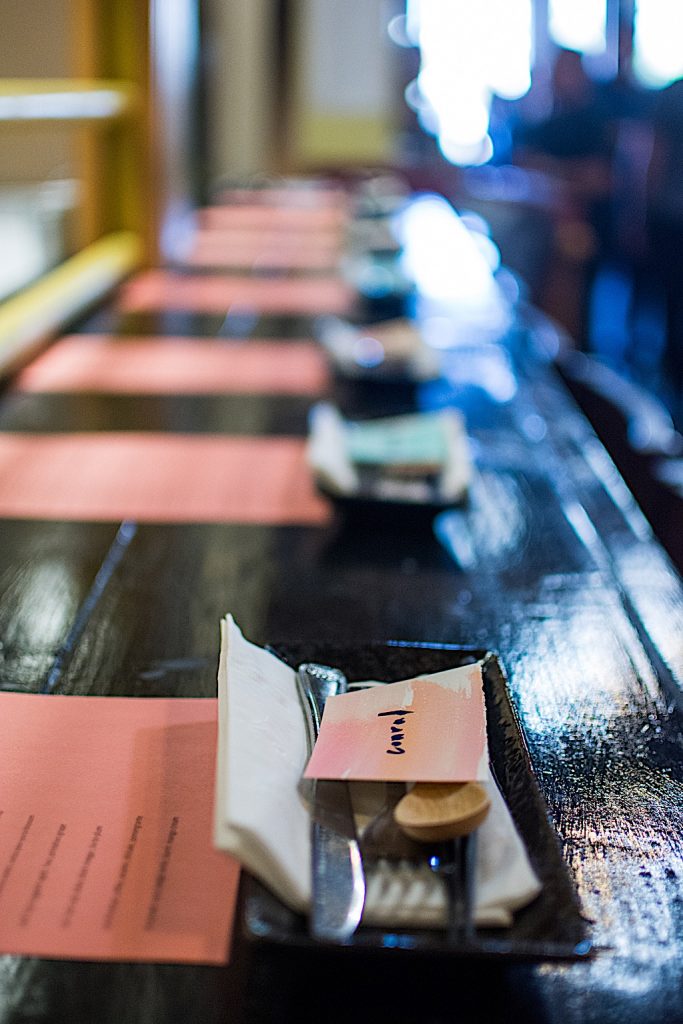 The coveted chef's table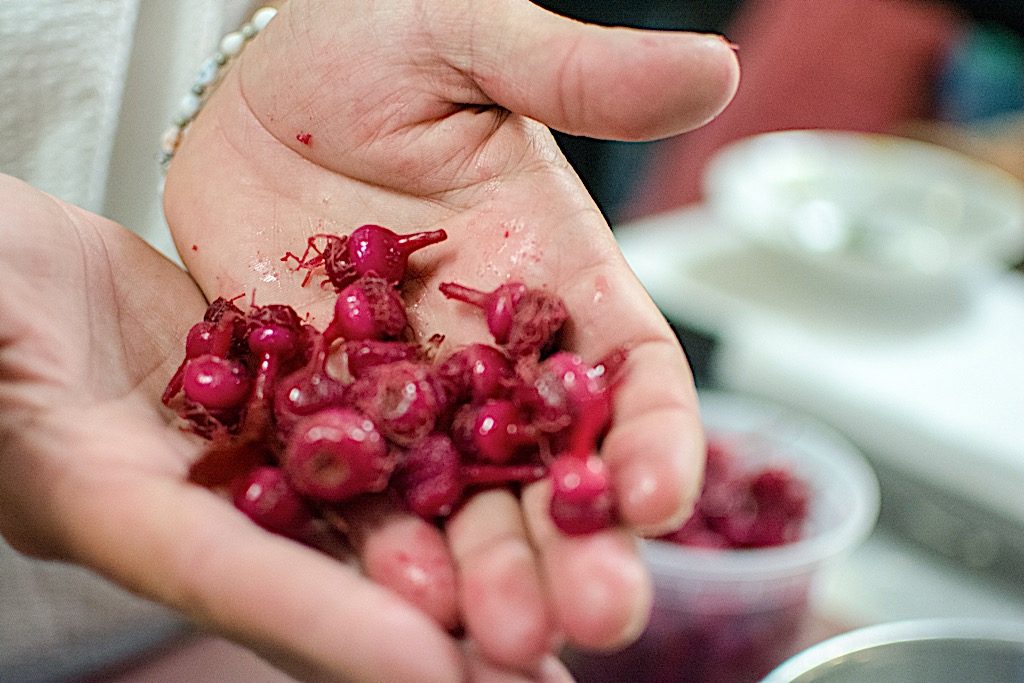 Blue dick used in dish 5 (we had lots of fun with this ingredient)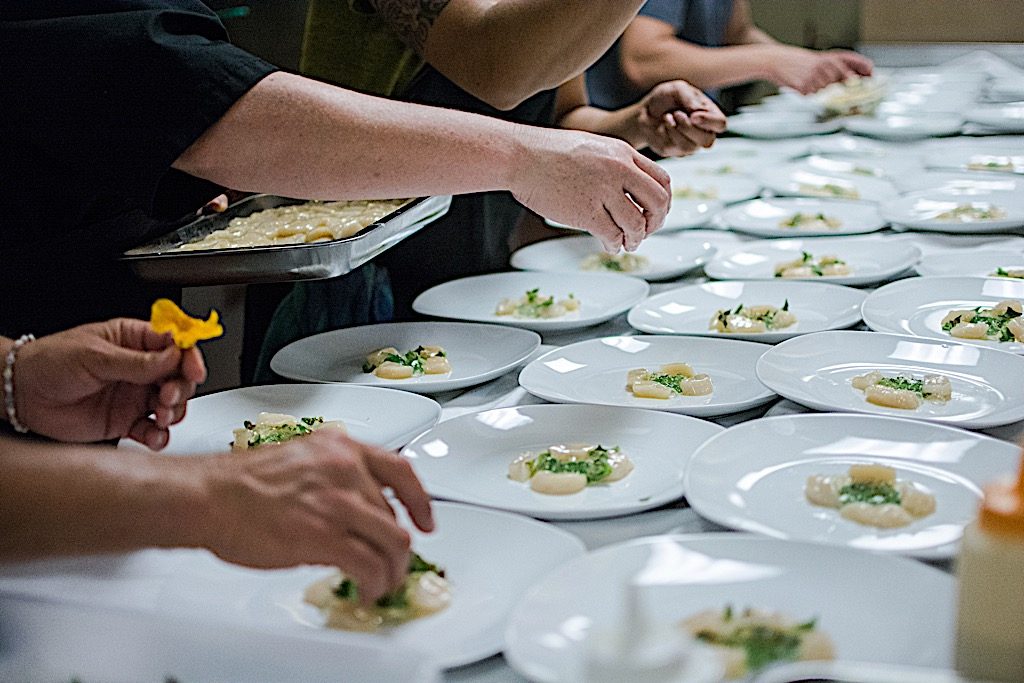 Prepping the scallops (dish 8)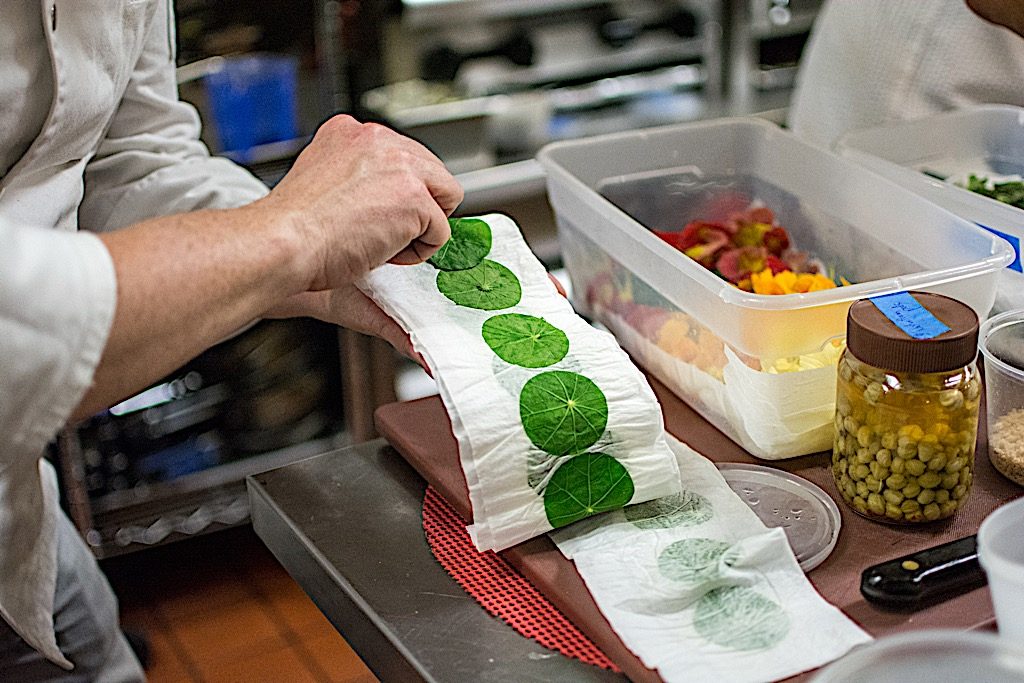 Every detail prepared and planned to perfection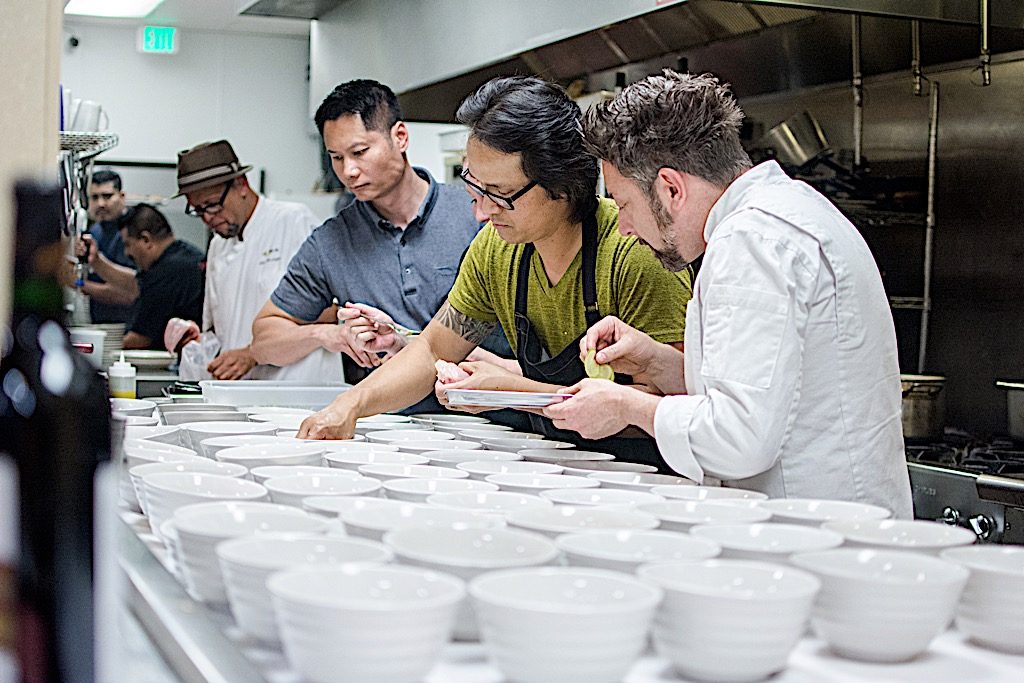 Efficient, systematic, and effortless
I can't say enough about the food itself. There are just no words to explain the immersion of flavors. What I can say is that after almost ever course I took a bite of, I kept muttering to myself, "amazing," "this is my favorite." I didn't think anyone else could hear me, but when I would look up, I could see the Chef lingering nearby, close enough to make out the words that escaped my lips. He's used to this, he hears it all the time, but still each time he does, it makes him smile. It's validation that once again he's made magic happen. The fusion of ingredients, the mixture of textures, the pairing of uncommon flavors, all combined into 17 different courses, it's as one person described, a symphony of food, where every piece, every note, is in perfect harmony.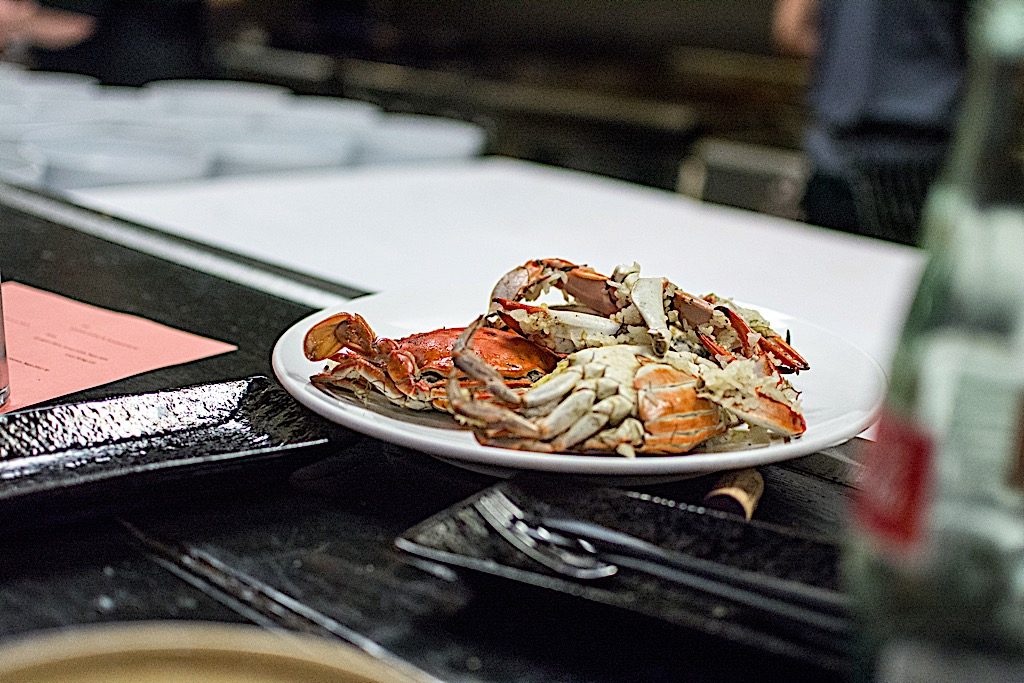 Extra crabs for those at the chef's table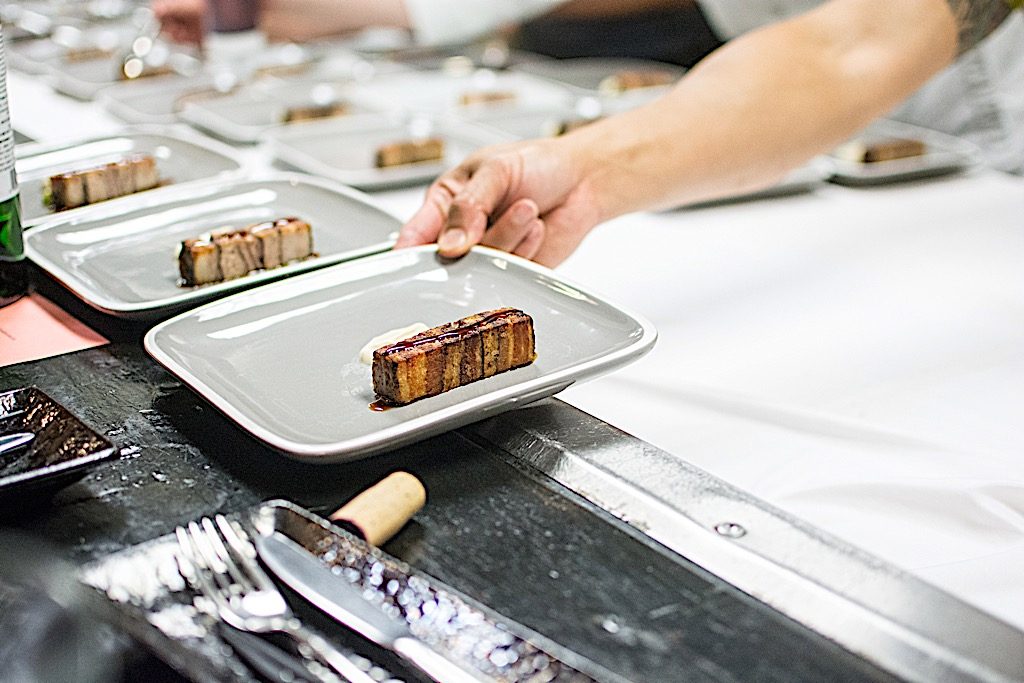 Lamb belly straight from the kitchen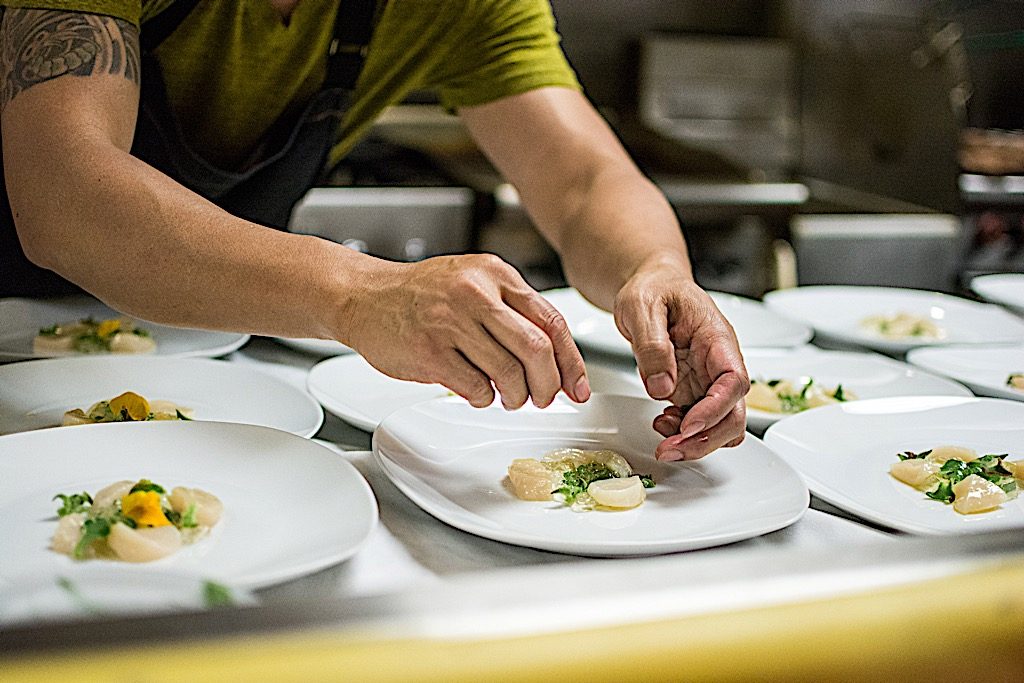 Adding the finishing touches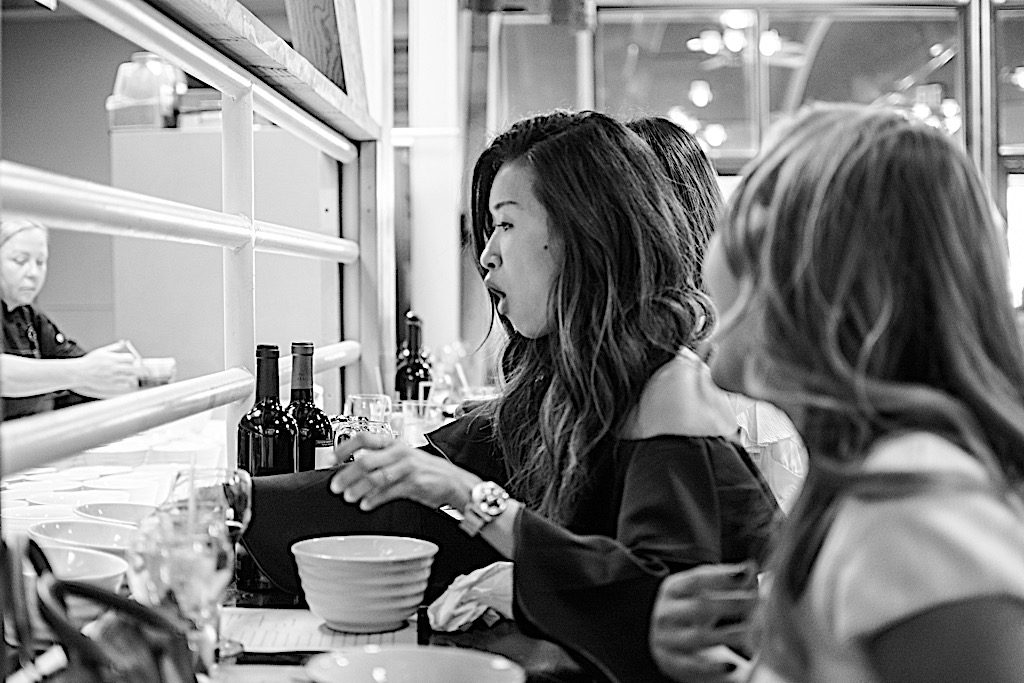 My excitement at each plate
/ The Menu /
Seventeen courses. Yes, you read that correctly. Small bites of perfection that literally melt in your mouth. Instead of me trying to describe the essence, I'll let the photos speak for themselves.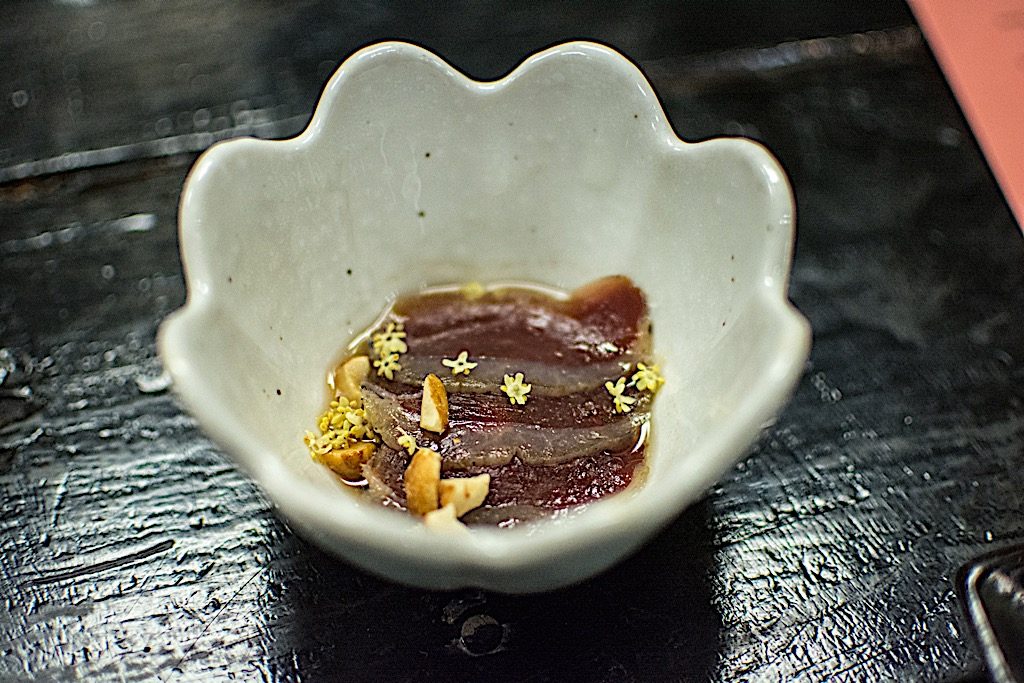 1 | Loquat: duck "proscuitto," peanut, elderflower hooch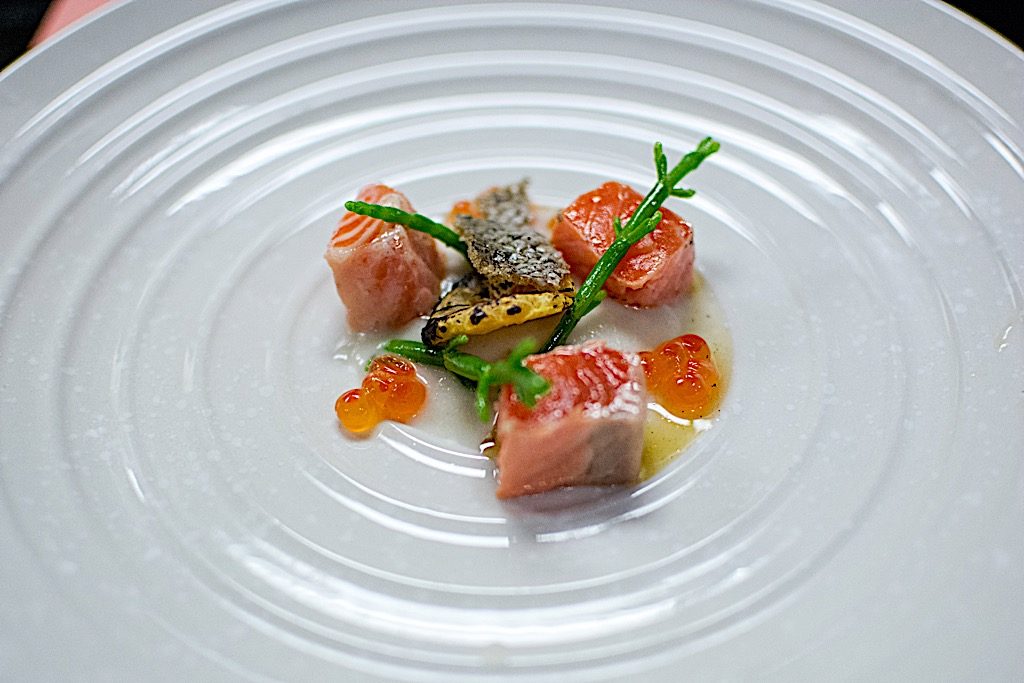 2 | Trout: roe, mandarine, samphire, sunchoke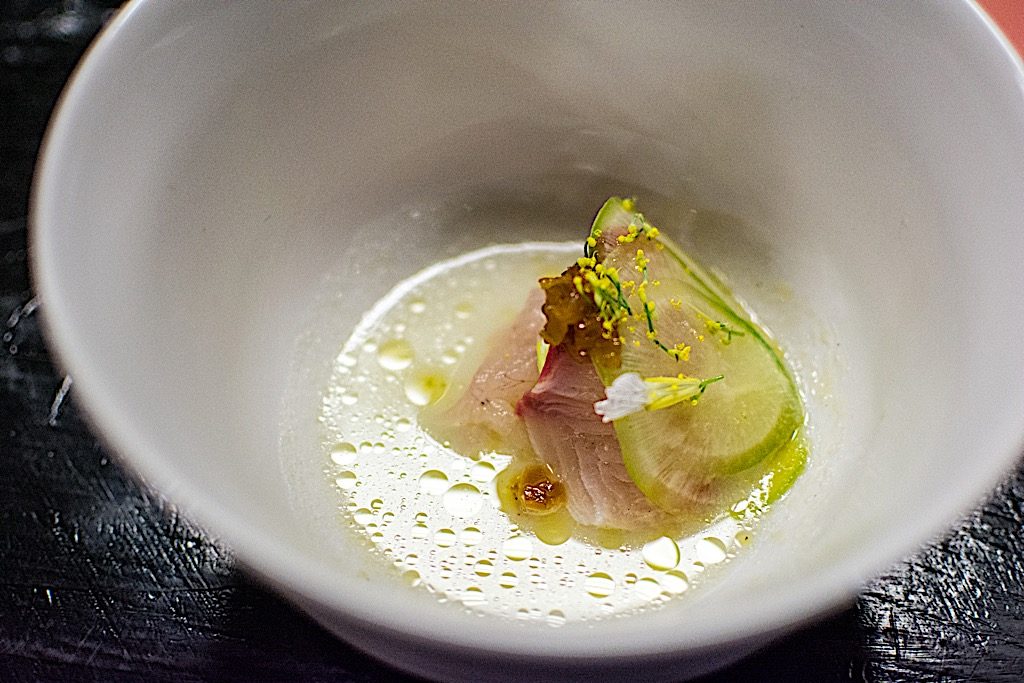 3 | Kanpachi: wild radish, kumquat, jicama, fennel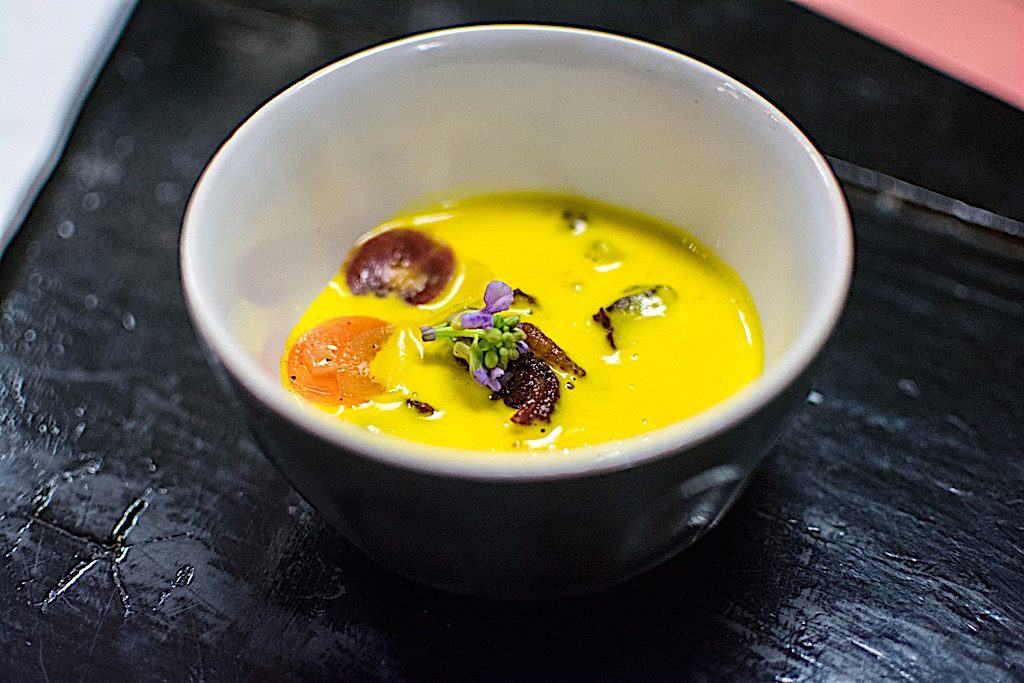 4 | Carrot: smoked jowl, meyer lemon confit, sea rocket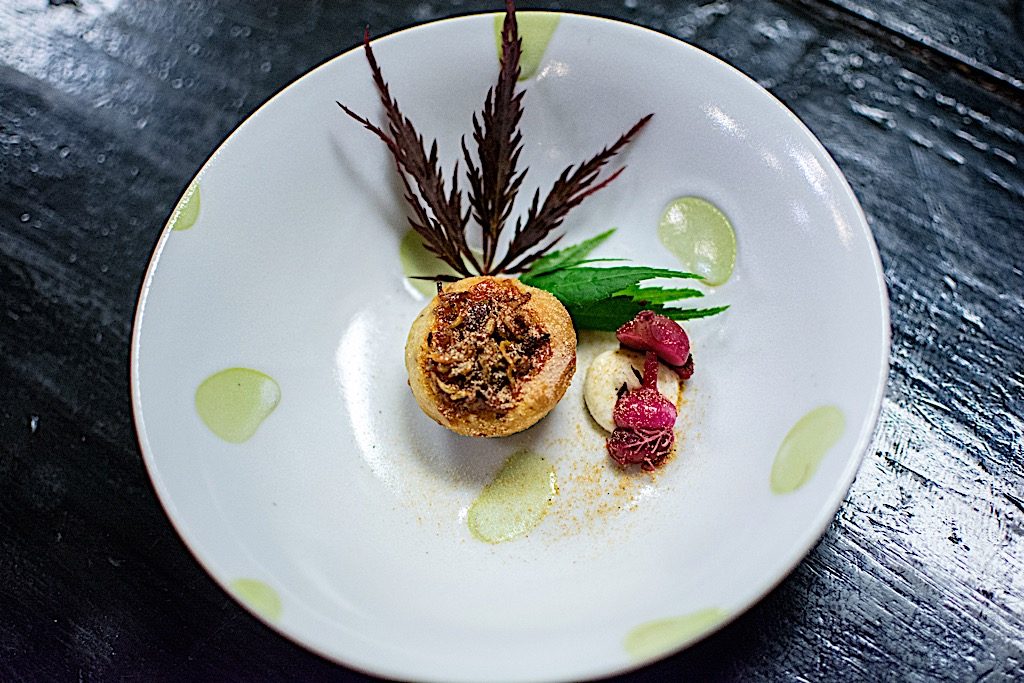 5 | Dough: bone marrow, baby dilis, parmesan, bluedick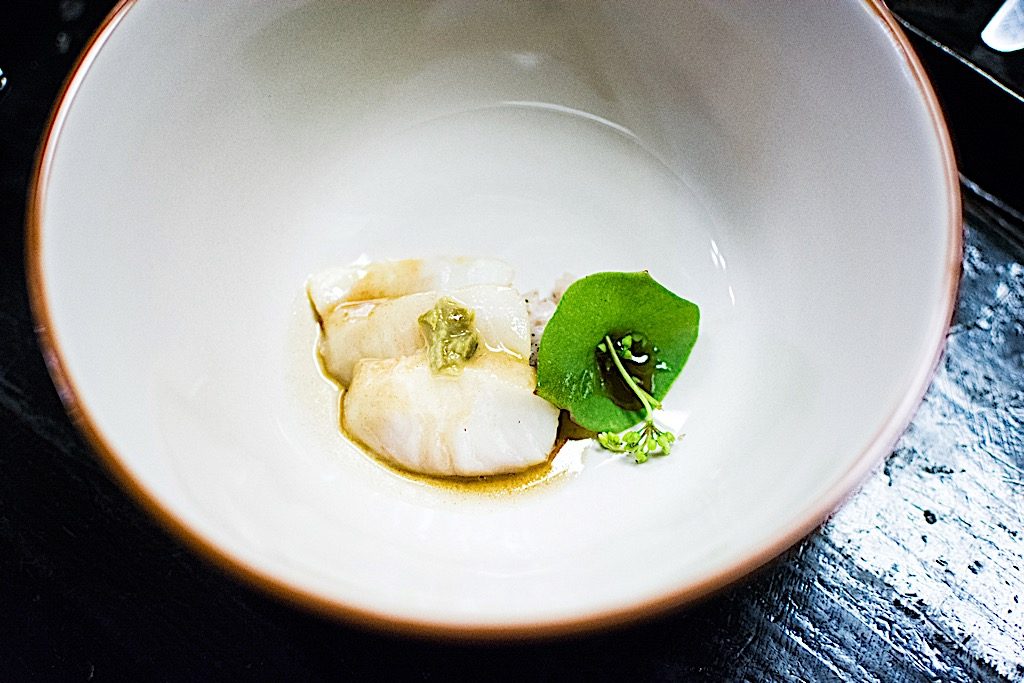 6 | Sable fish: kaffir lime kosho, miner's lettuce, brown butter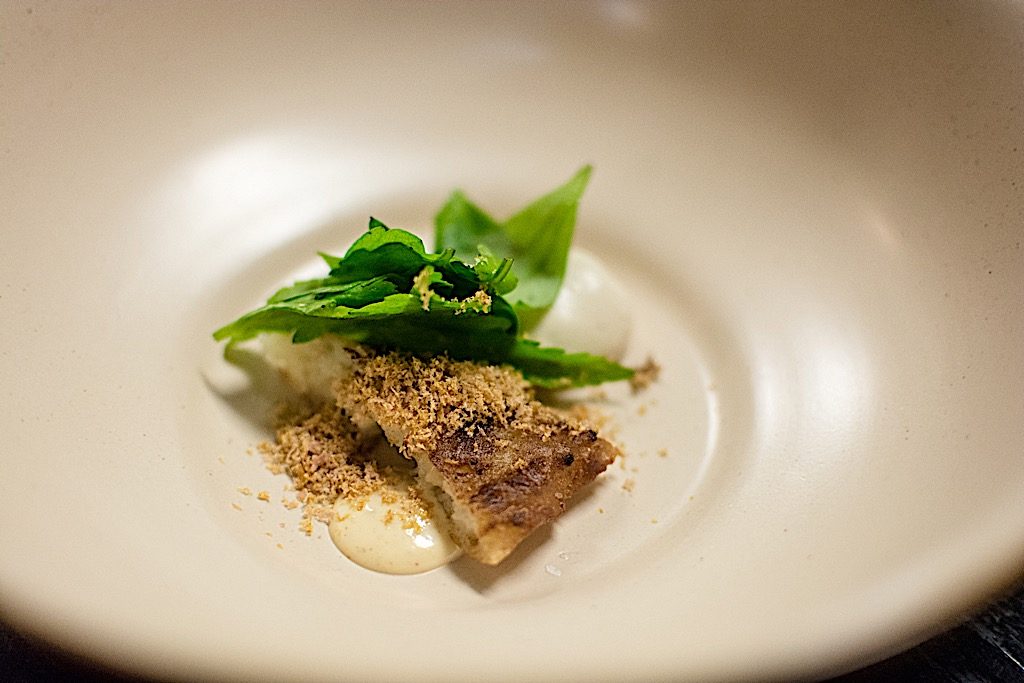 7 | Yamaimo: smoked tuna, water dropwort, burnt barley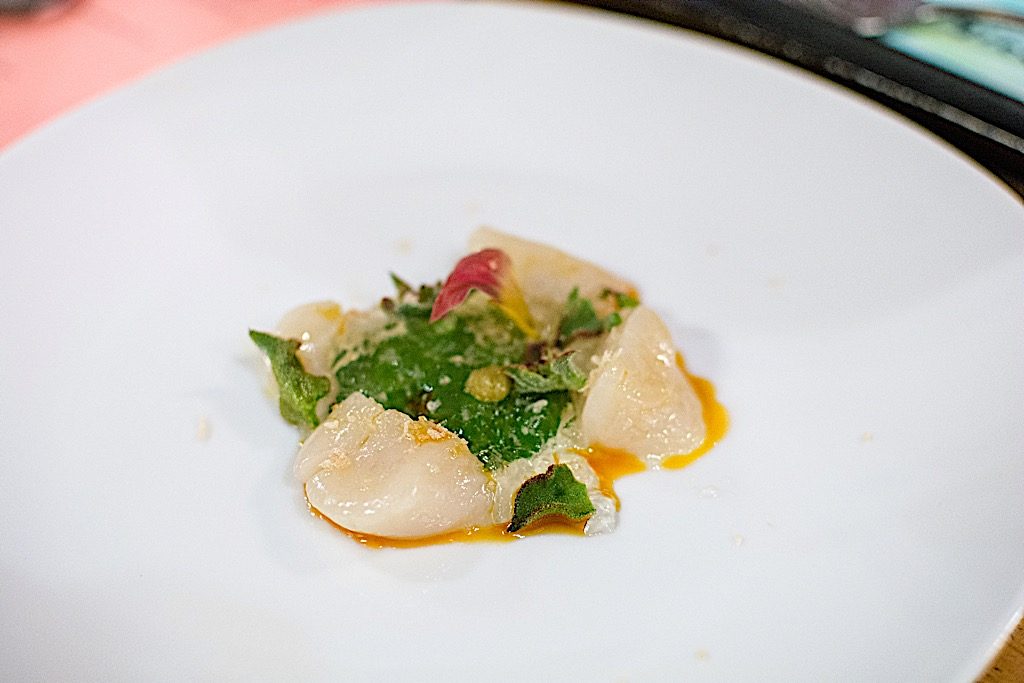 8 | Scallops: nasturtium, ice plant, verbena dashi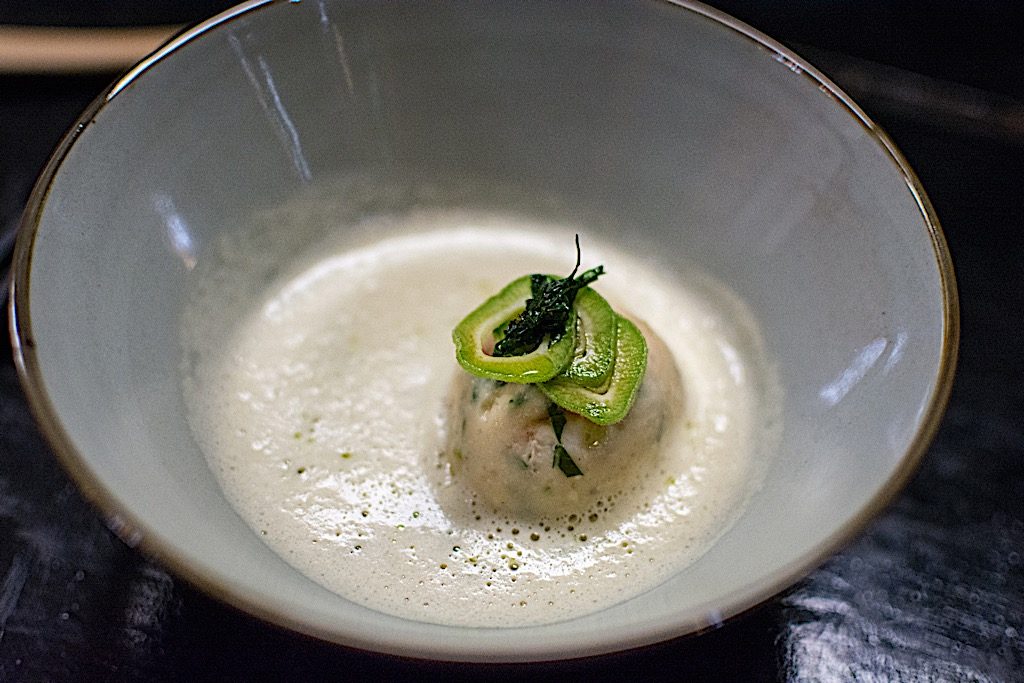 9 | Shrimp: lobster-almond bisque, kinome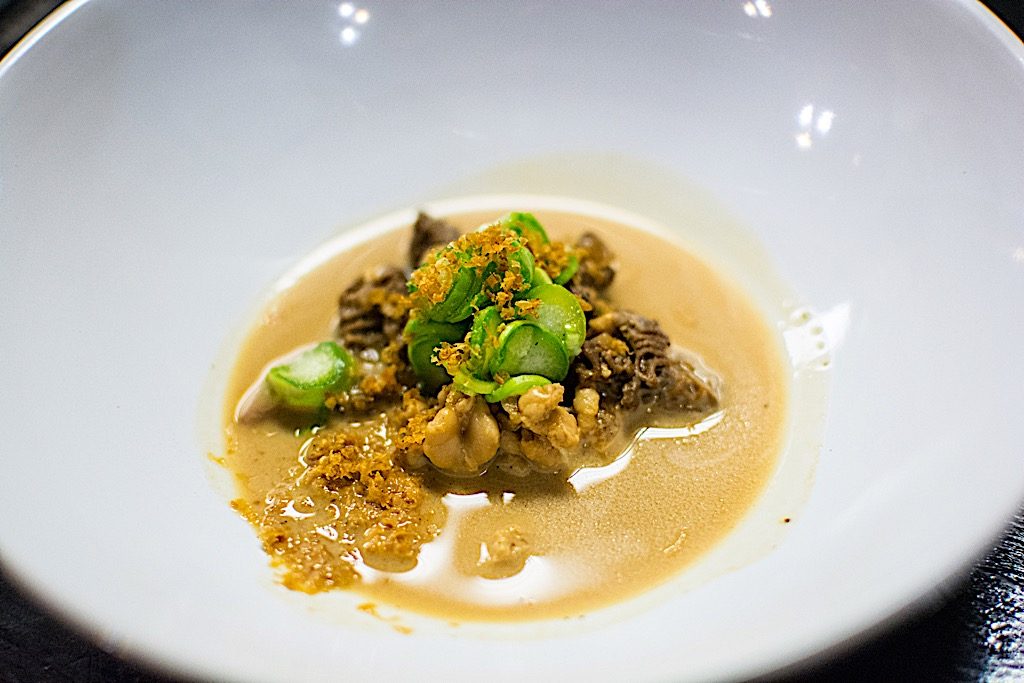 10 | Morel: asparagus, shirako, calamansi, cured uni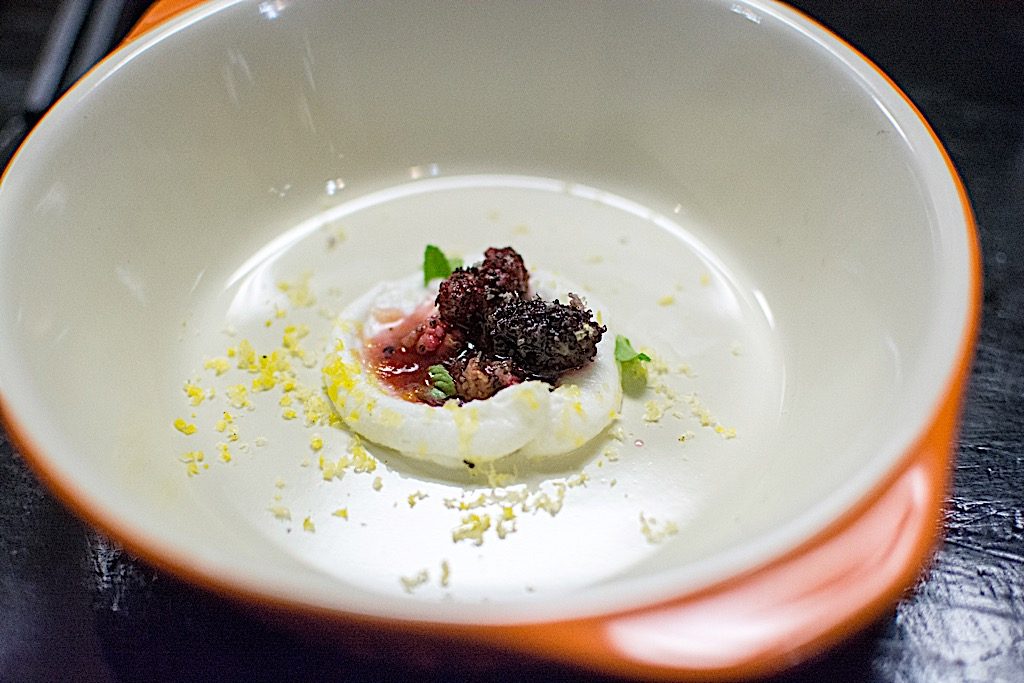 11| Mulberries: cultured coconut milk, ginger, egg yolk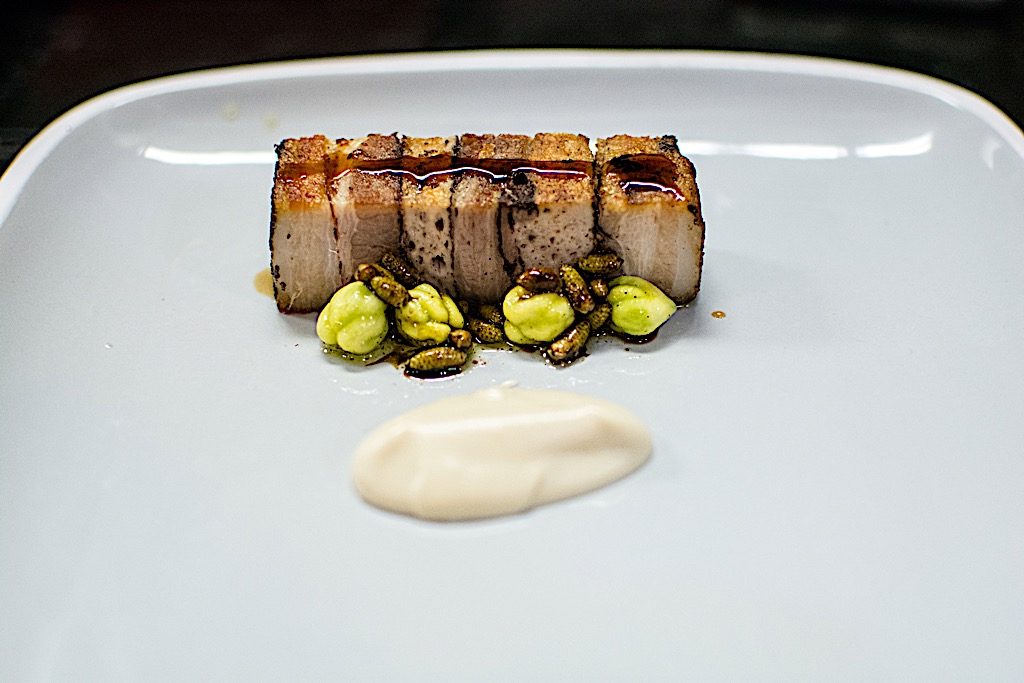 12 | Lamb belly: quail egg, pinenuts, green garbanzo, pine syrup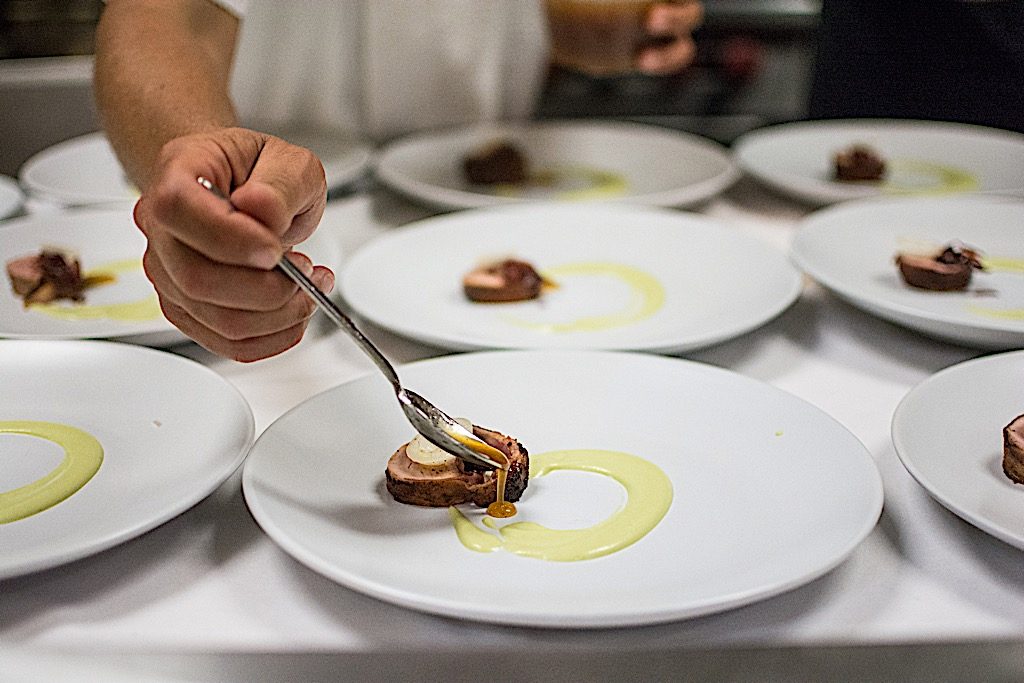 13 | Pork: bacon, platanos asados, cactus pear-yucca blossom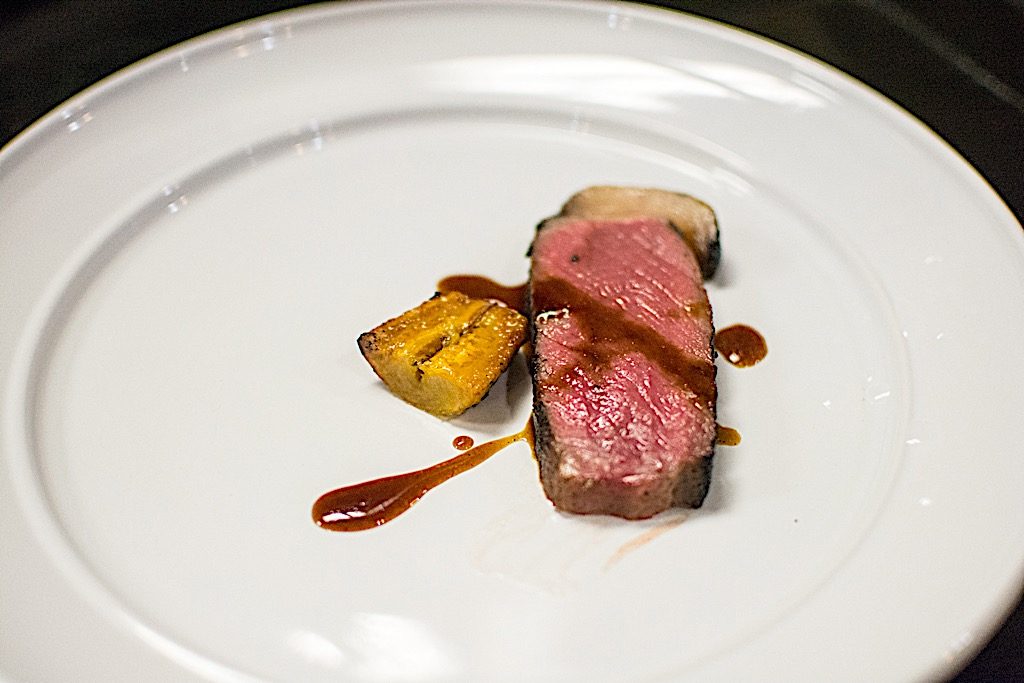 14 | Beef: koji-mugwort aged, fava, primativo grape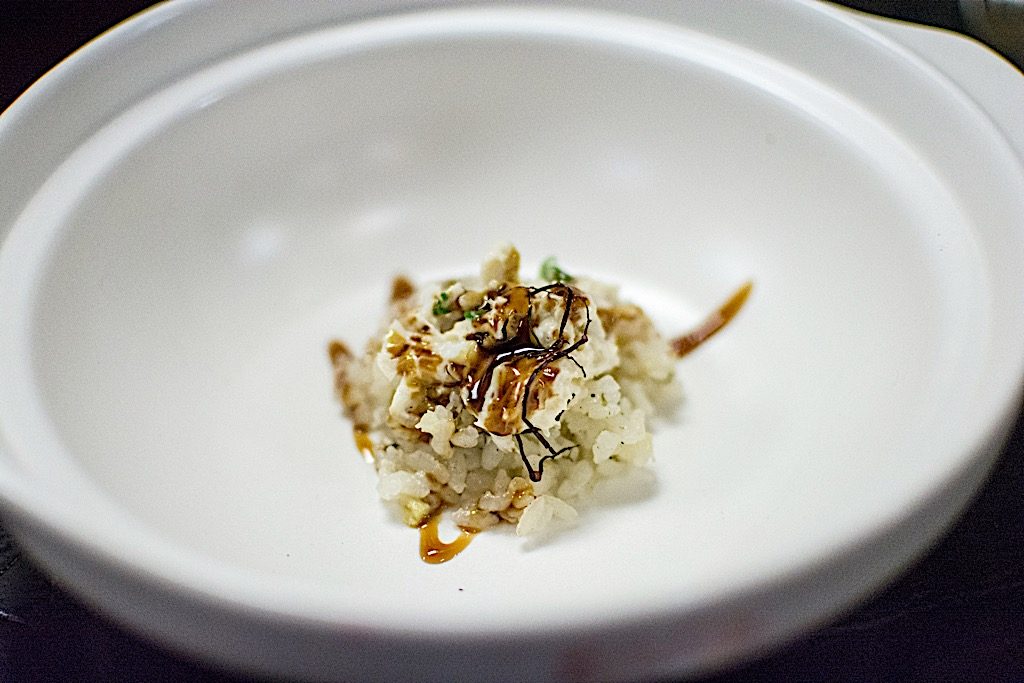 15 | Rice: rock crab, dulse, black vinegar, tia to-plum

16 | Marshmallow: coffee, sesame, shiitake, pomegrante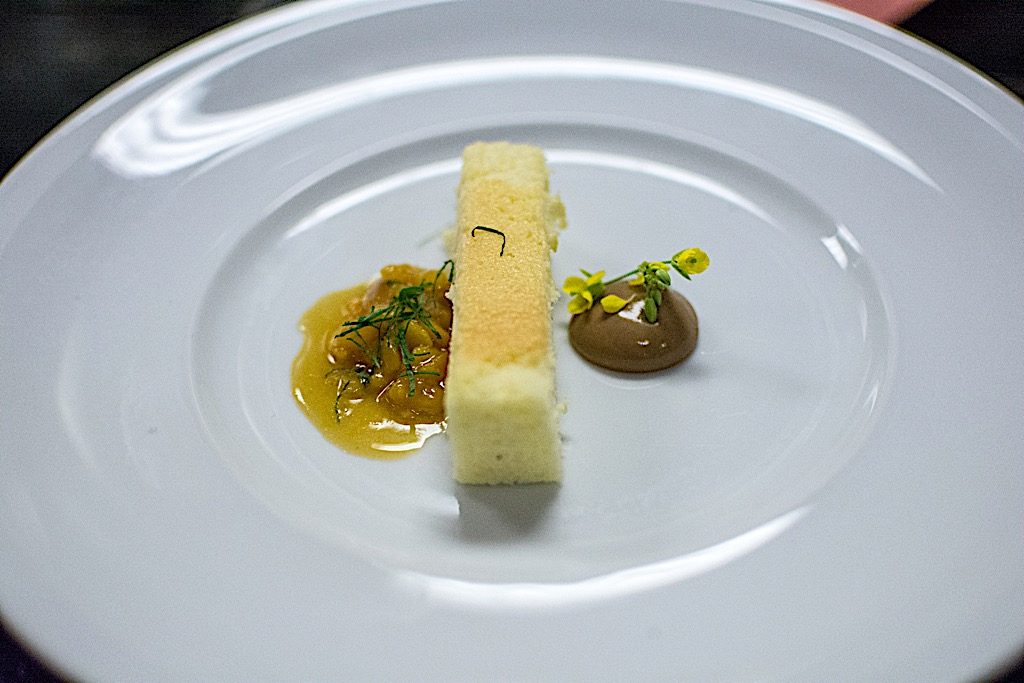 17 | Cheesecake: coco, hedge nettle, burnt mango cream
If you're name isn't up yet for this golden ticket, don't fret. You can still experience the essence of Chef Dee's creativity and flavor during his normal hours at Break of Dawn. My personal favorites are the mac and cheese, beef brisket, and the French toast creme brûlée. Trust me when I say that these are not your traditional dishes by any means.
But if you get lucky enough, know someone, or have 60 friends to convince Chef Dee to host a pop-up dinner yourself, you are in for treat. For more information on Break of Dawn's dinners, check here.
BREAK OF DAWN
AVENIDA DE LA CARLOTA
LAGUNA HILLS, CA 92653
949.587.9418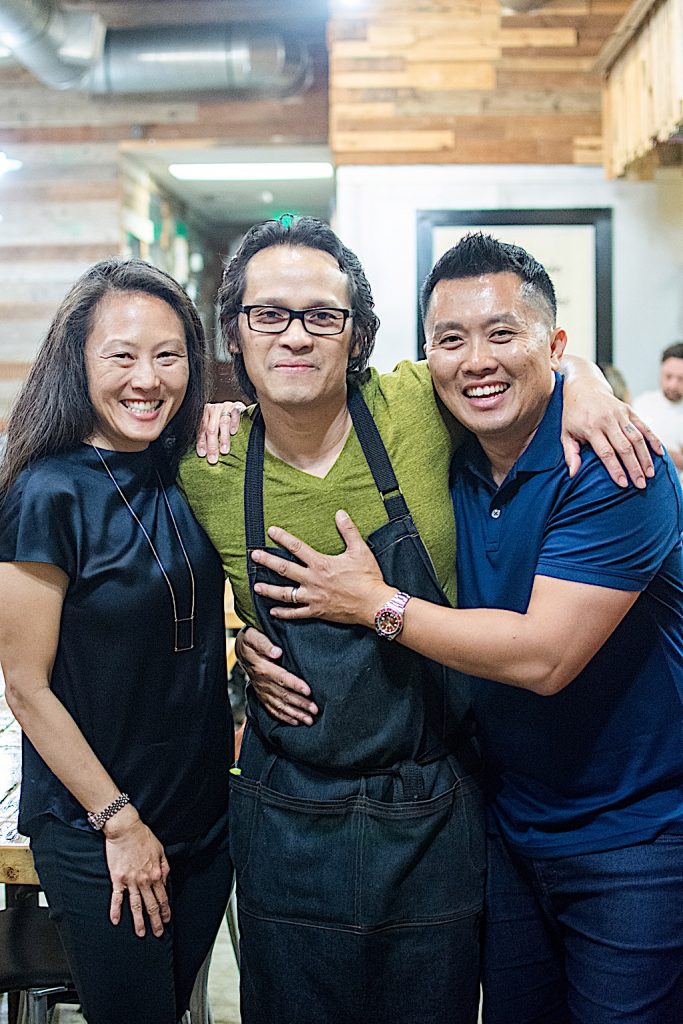 Thank you to Break of Dawn and Chef Dee for this unbelievable culinary experience and for Lisa Chen for putting this together.
All photos taken by Lisa Chen.