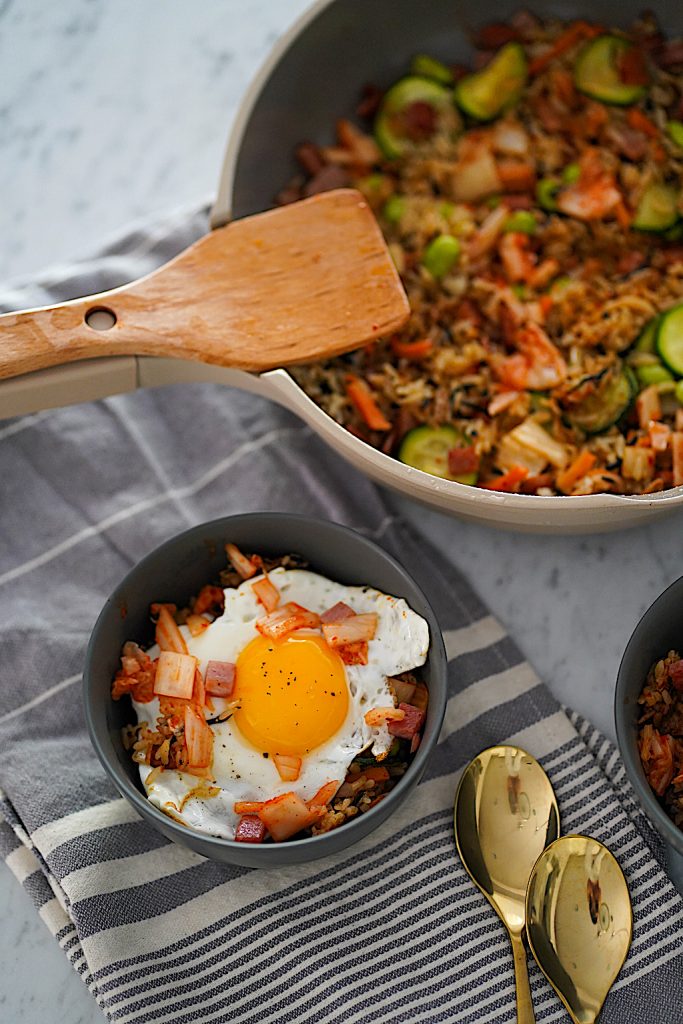 I've been cooking nonstop since March 12th (basically over 4 months), 3 meals a day, for a family of five.  We've gotten take out exactly four times those entire four months – Mother's Day, Father's Day, two birthdays, and 4th of July.  Needless to say, my kitchen is filled with delicious smells of everything from scrambled eggs, enchiladas, homemade pizza, to even kimchi fried rice.
While normally I would make fried rice from scratch, cooking so much has taken a toll not only on my recipes, but also on the amount of pots and pans I use to prepare a meal.  So here I am sharing my hack for making Korean kimchi fried rice using only four ingredients in my Our Place Always Pan.  Yep, I cooked everything in this one pan!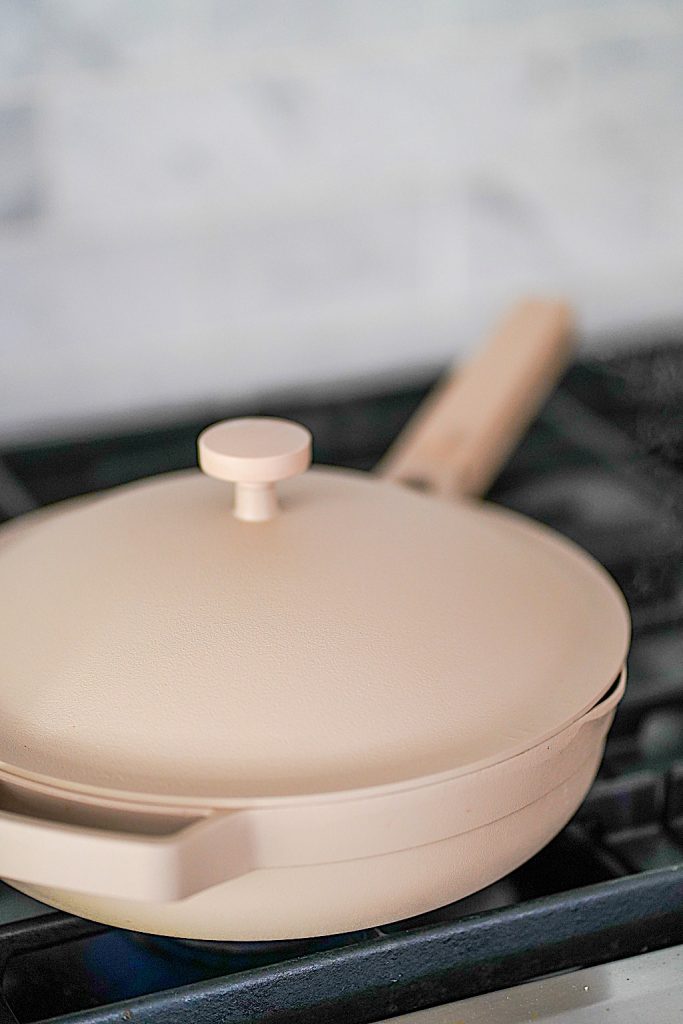 First and foremost, if you want an authentic kimchi fried recipe, this one is really good by Damn Delicious.  I love all of her recipes and "pin" many of them.  But, if you're looking for a hack, here you go.
Ingredients:
Trader Joe's Japanese Fried Rice (frozen section)
Spam
Kimchi (you can also find this at Trader Joe's and it's pretty darn good coming from a Korean person)
Egg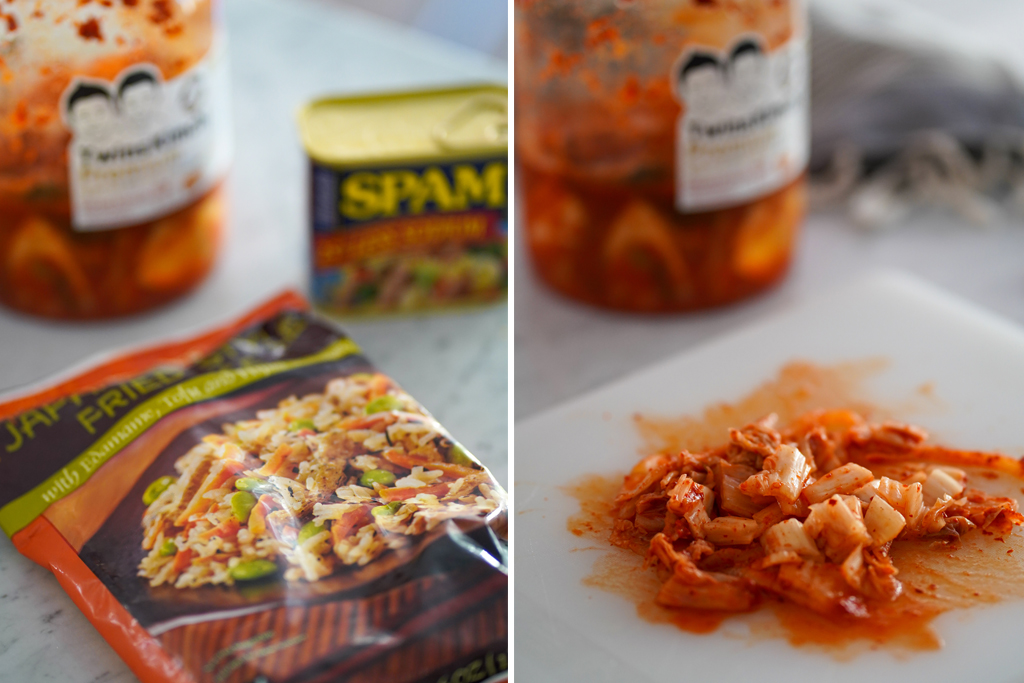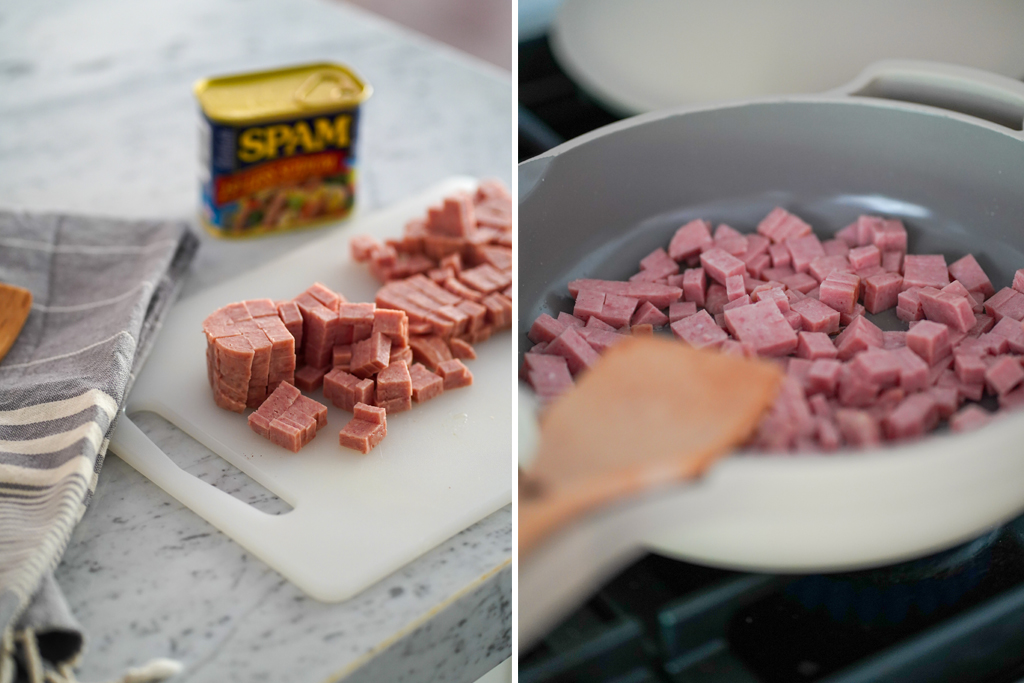 You can proceed to add more ingredients if you want, but a good Korean kimchi fried rice only needs spam, kimchi, and egg to make it legendary.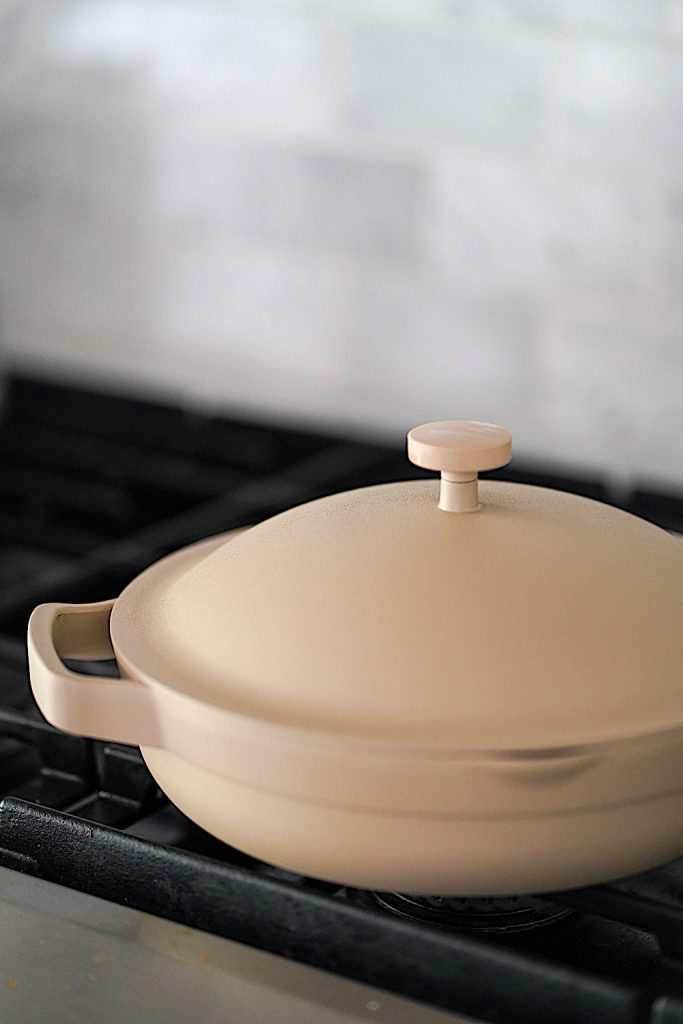 I cooked everything in the Always Pan.  It's been about a month since I got this pan and I'll have to admit I use this pan the most out of everything I own (from Le Creuset, All Clad, other non stick brands, woks, etc.).  I'll explain more why I love this Always Pan but first, let's get to the good stuff.  
Step One: Cook the chopped spam (I also added some leftover zucchini slices) and set aside.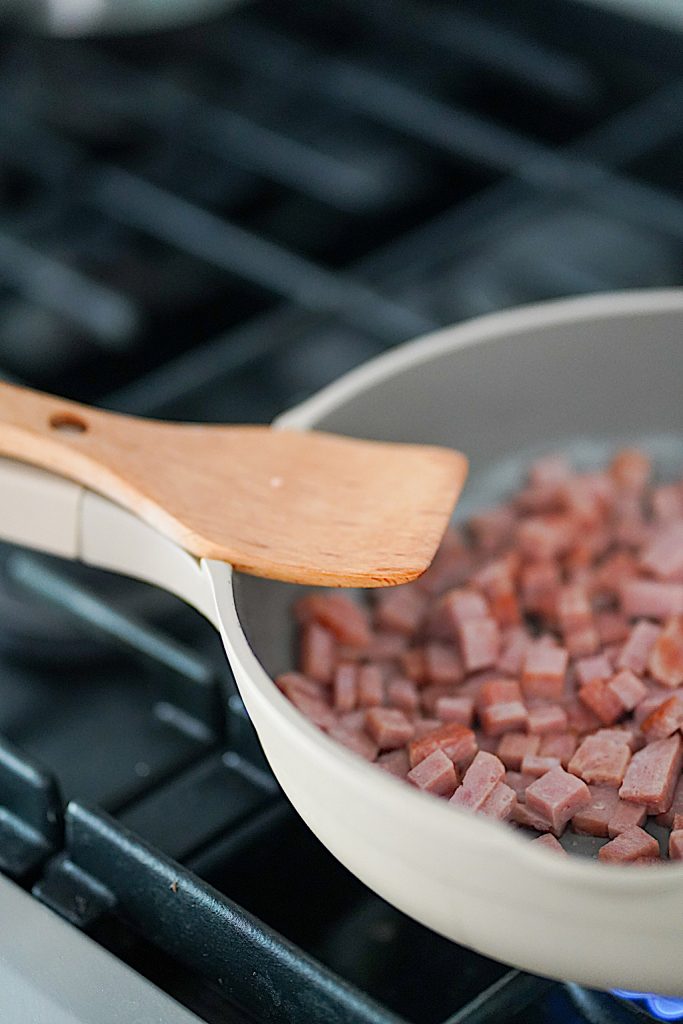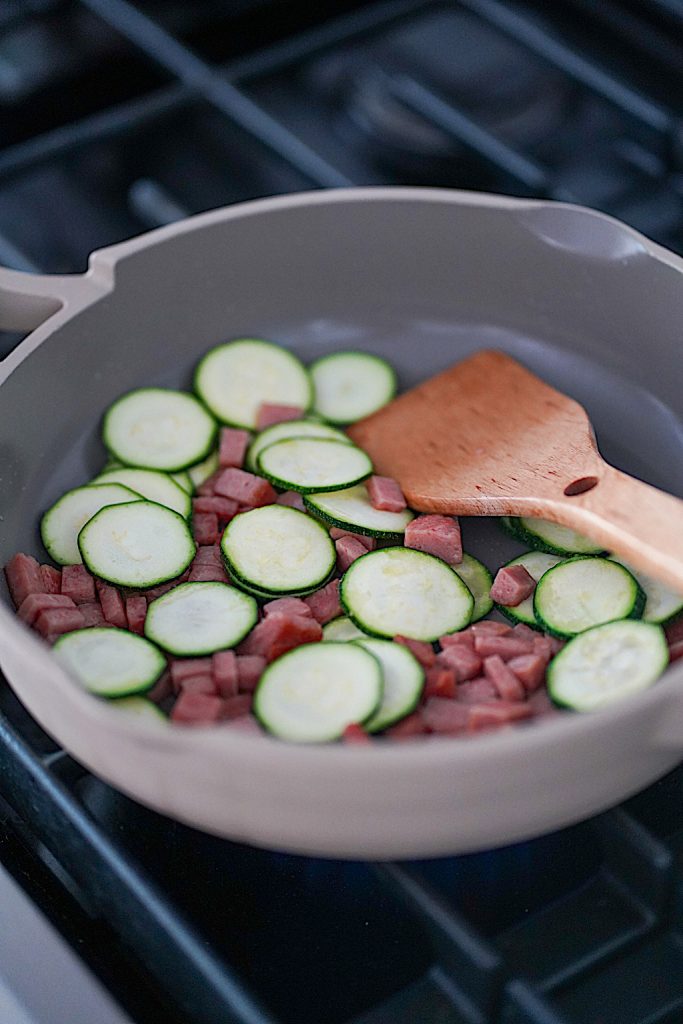 Step Two: Add a little oil and cook the egg sunnyside up (tip: to have the top of the egg cook a little more without flipping it, close the lid of the pan and it will cook just enough).  Set aside the cooked eggs.  They will literally just roll off the non-stick Always Pan and will not pop.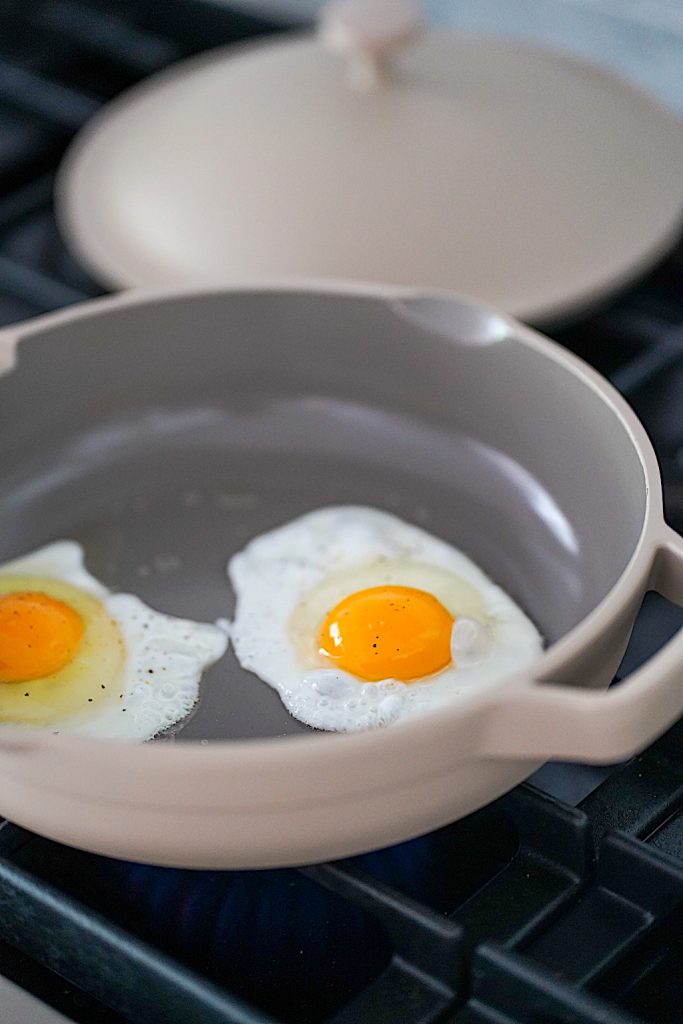 Step Three: Add some sesame oil (or any other oil) and "cook" the TJ's Japanese Fried Rice.  After cooking for about 10 minutes, add the kimchi to the pan as well as the previously cooked spam.  If you want the rice a little crispy (like I do), cook it a little longer until you see some rice browning.  Trust me, it's so good like that.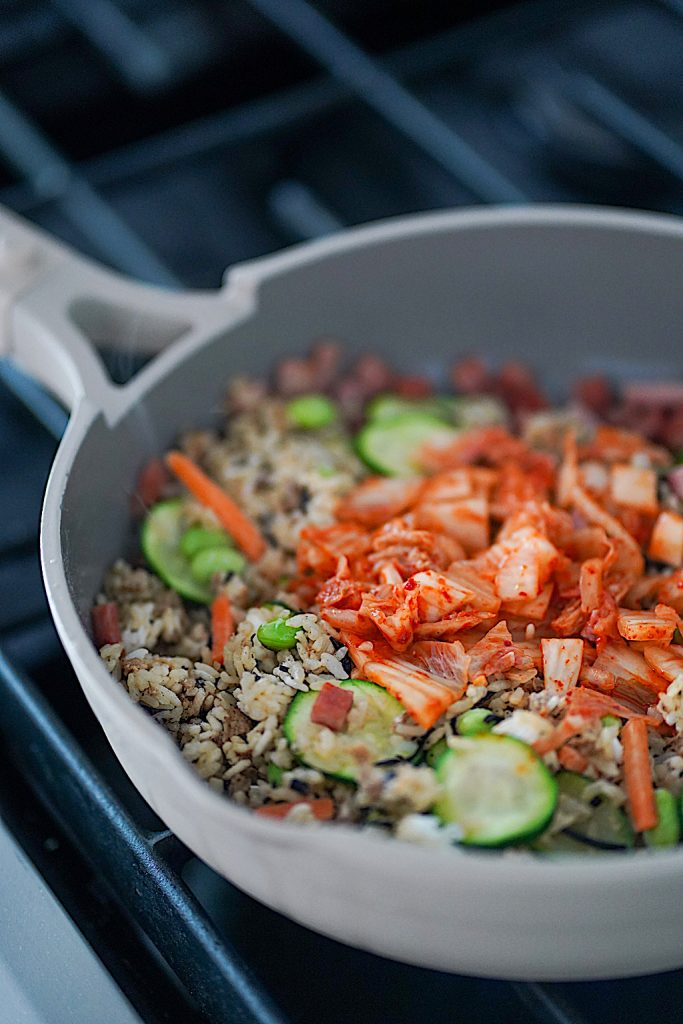 And you're done.
Place fried rice in bowls using the amazing wooden spatula that comes with the Always Pan.  You can literally portion it off the pan using the side spouted lip.  Add the fried egg on top and devour your quick, delicious, pretty authentic Korean kimchi fried rice.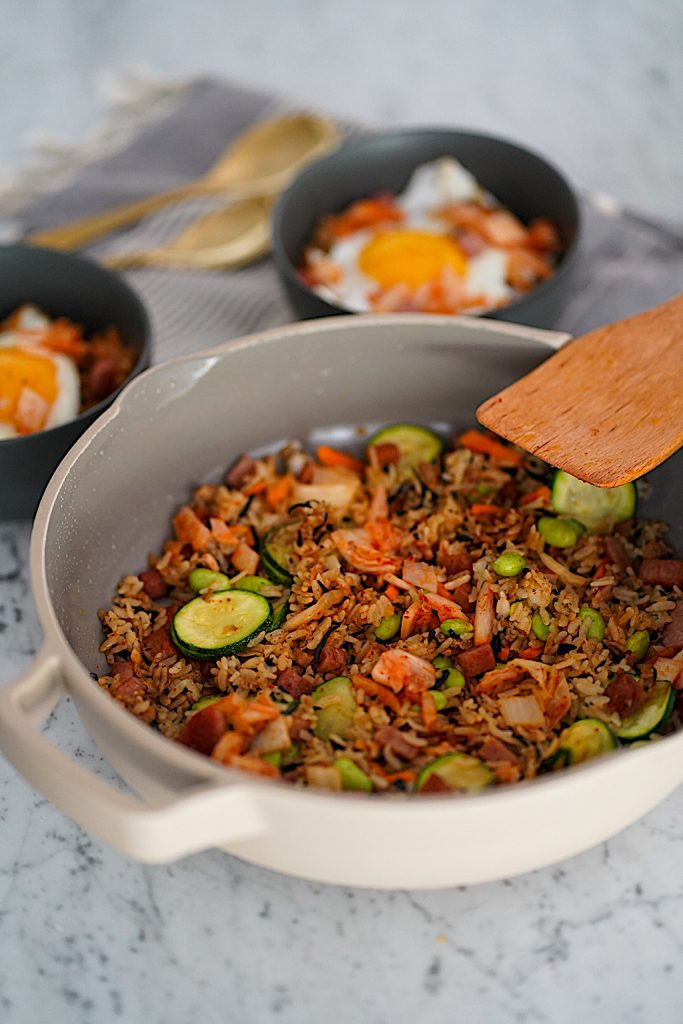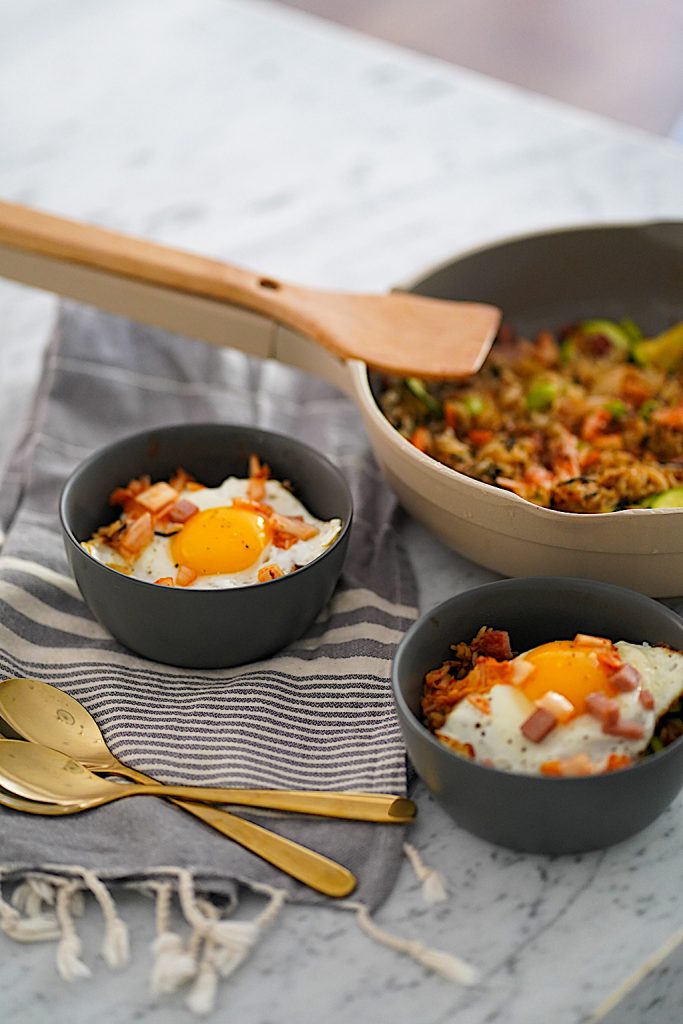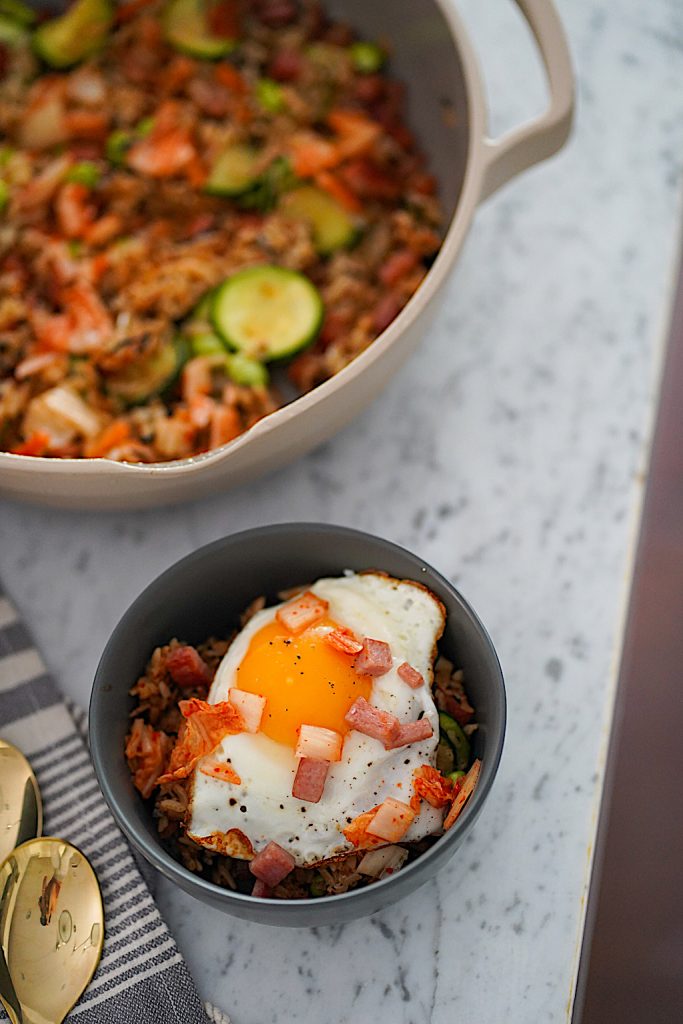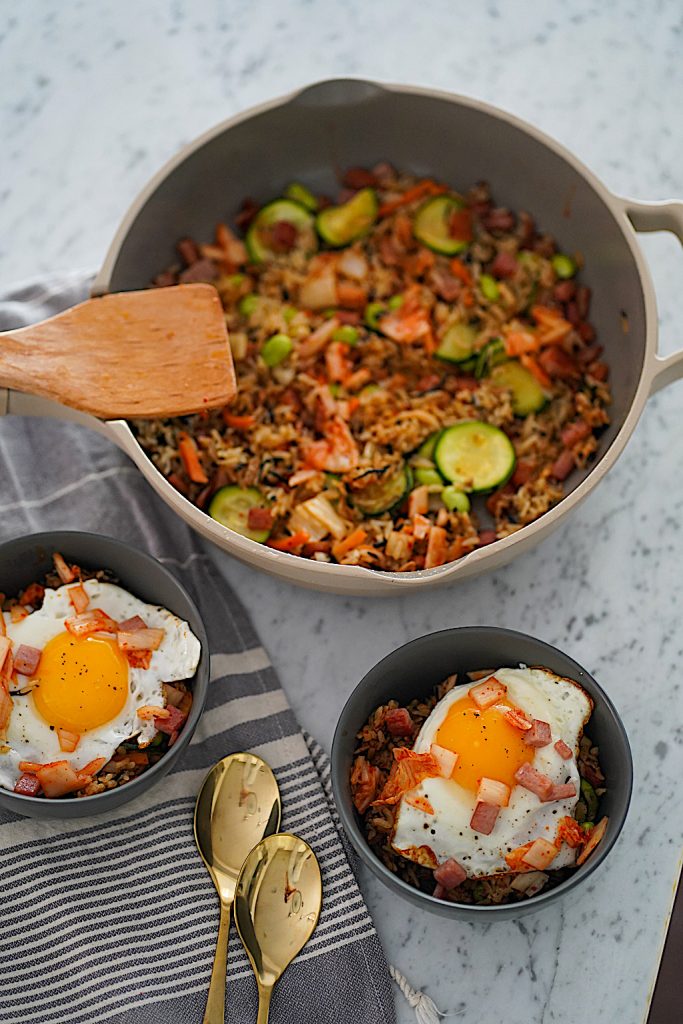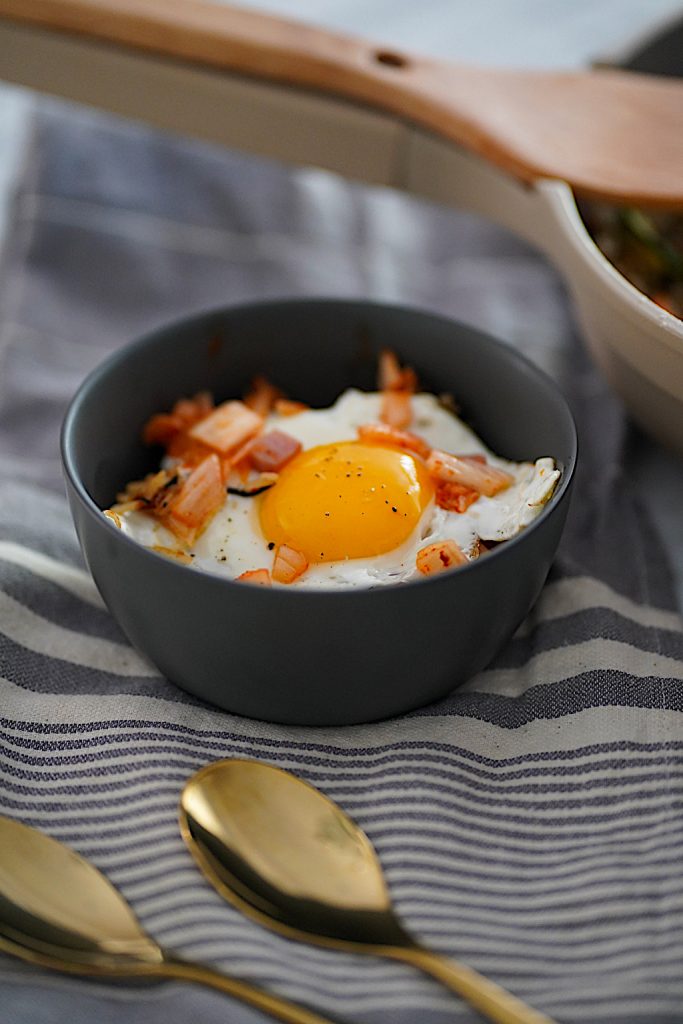 I've had so many people ask me about this Always Pan on Instagram Stories, so I wanted to break it down for you.  Overall, I LOVE this pan.  I think it's worth the price (especially if you can get it with a discount), and the pan I use daily.  It sells out ALL THE TIME but there is a pre-order list and they restock frequently so you can get a pan eventually.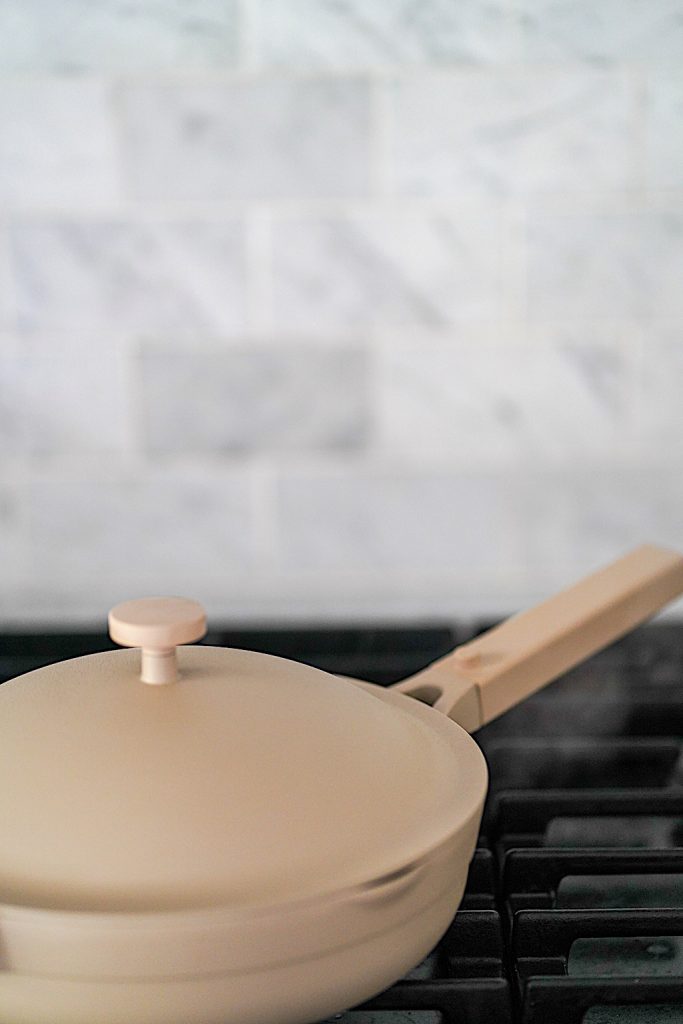 Pros:
Beautifully designed and color options are so good (I have "steam")
Non-toxic, ceramic non-stick coating (the best non stick pan I own)
Included wooden spatula that can be placed on the pan
Steamer basket that perfectly steams dumplings and veggies
Side spouted lip for easy pouring
Deep and big enough for a family of five (10" diameter)
Heats up quickly and evenly
Ethically made
Cons:
Slightly heavy (but not nearly as heavy as a Le Creuset pan)
Not recommended for oven use (no frittatas)
The holder (opposite of handle) gets hot on stove so use a mitt!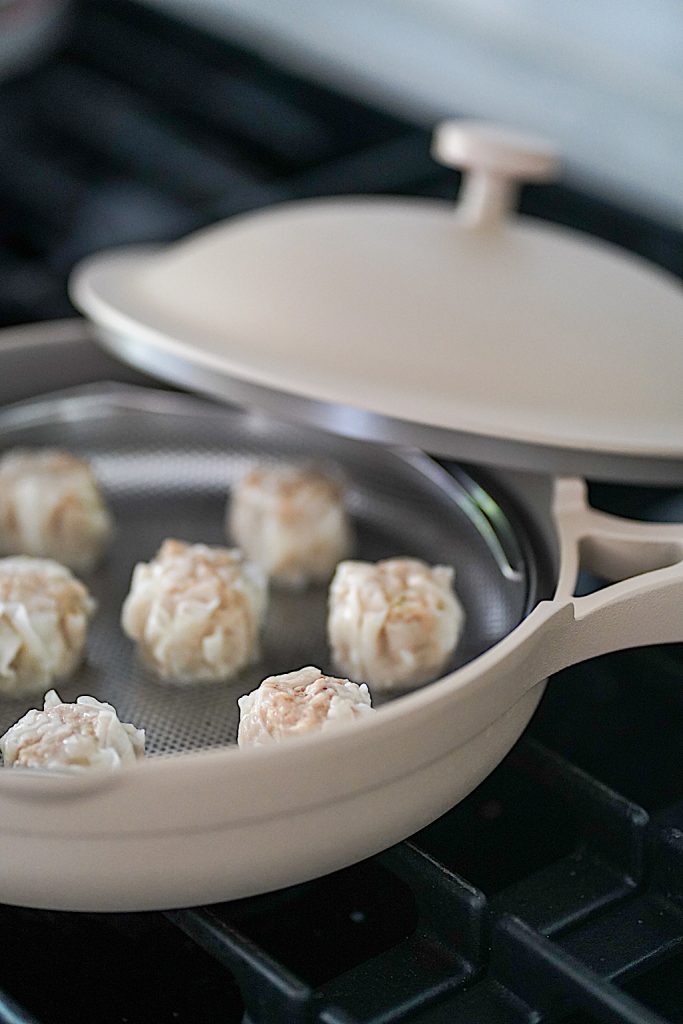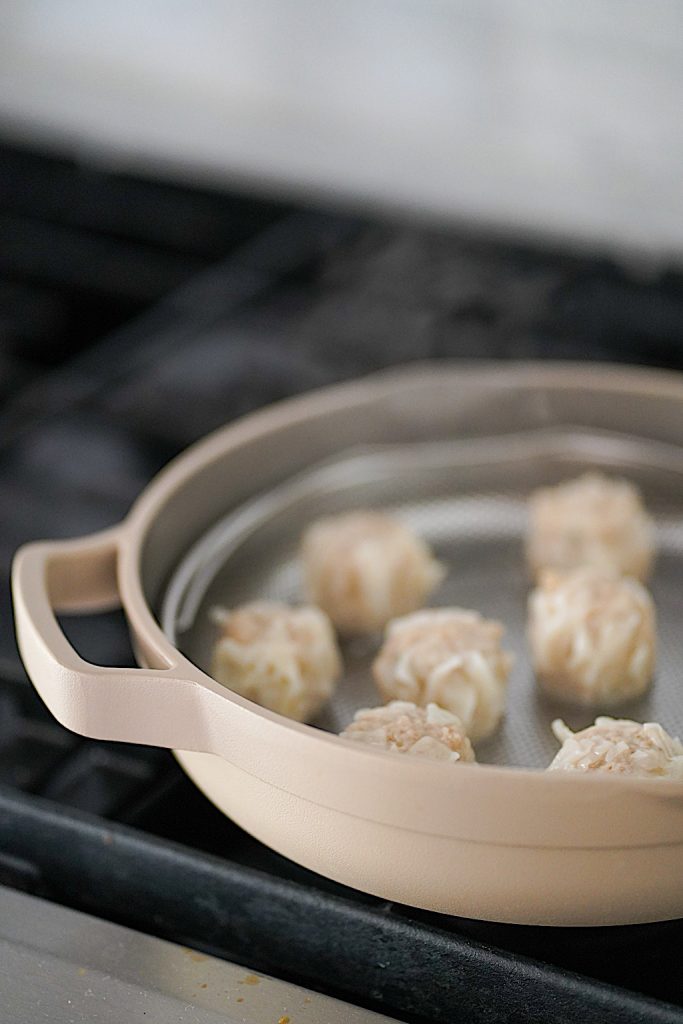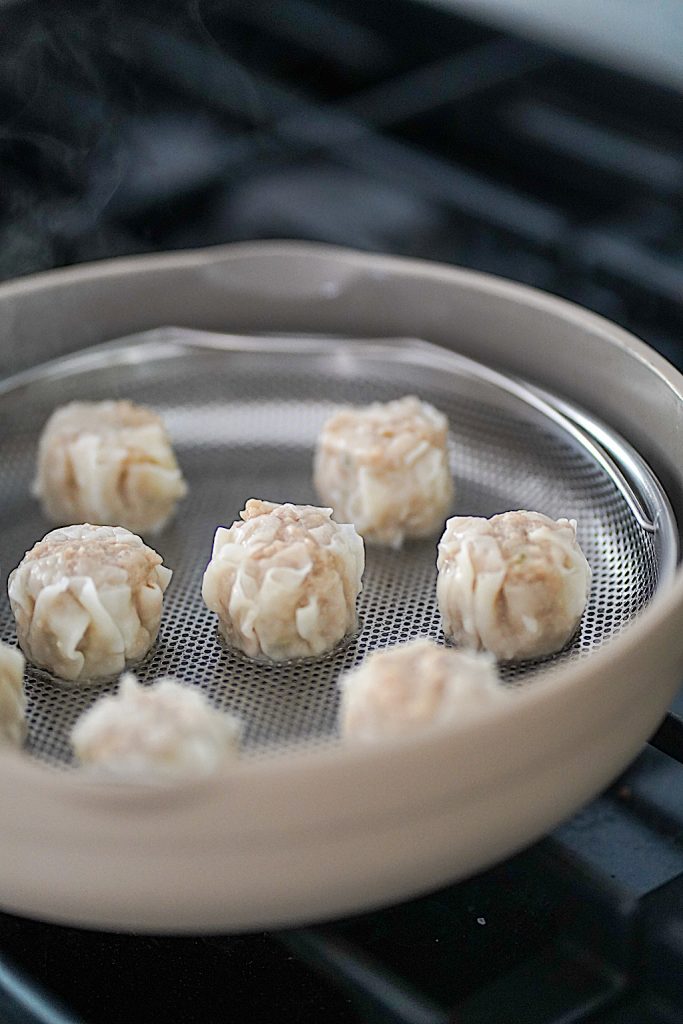 The pros definitely outweigh the cons and I highly recommend the Always Pan to those that love to cook, need to save space (this pan replaces the work of many pans), want a pretty pan that's thoughtfully designed, newbie cooks…basically anyone.  It would also make a great wedding gift or housewarming gift too.
Let me know if you have any other questions on the Our Place Always Pan.  I also have some Instagram Stories saved on my Instagram Story Highlights on my profile page under "Home."  Happy cooking!