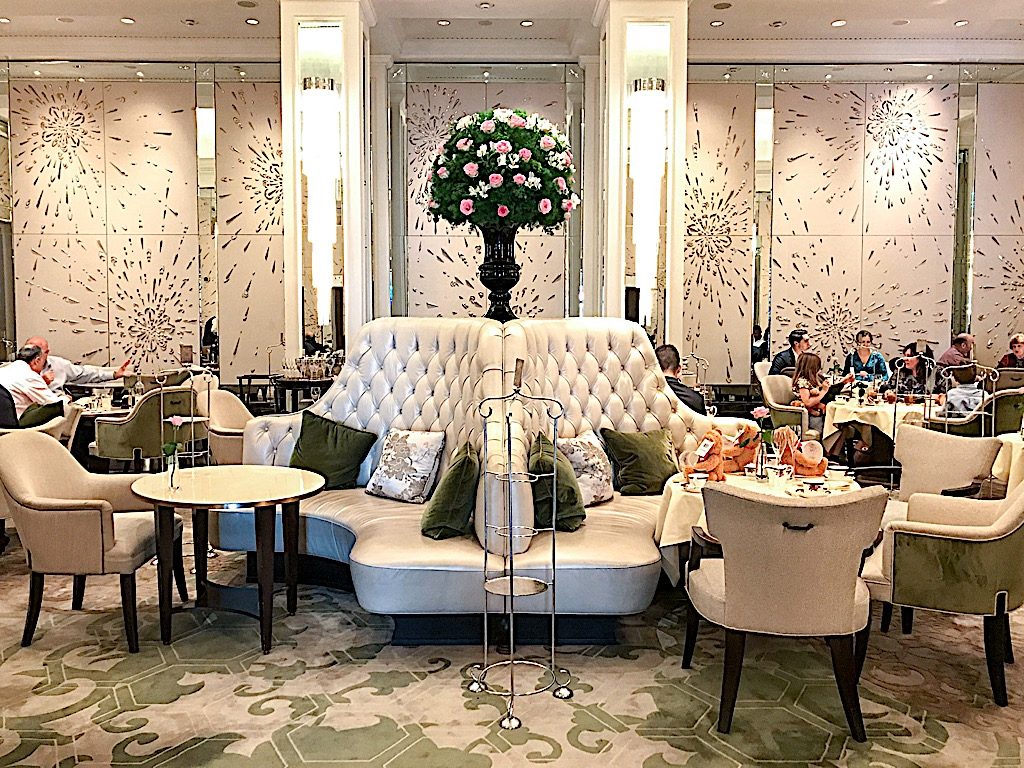 When in London, you have to do tea. It doesn't matter how many times you've done tea before, tea in London is an absolute must. While afternoon tea spots are plentiful in London, there was no question where we would go for our quintessential British tea experience – the one and only Langham London hotel in the Palm Court.
The Palm Court at the Langham is the birthplace of Afternoon Tea, where the tradition of tea started over 150 years ago. The Palm Court has served tea to the elite of London and continues this elegant culture for their delighted guests.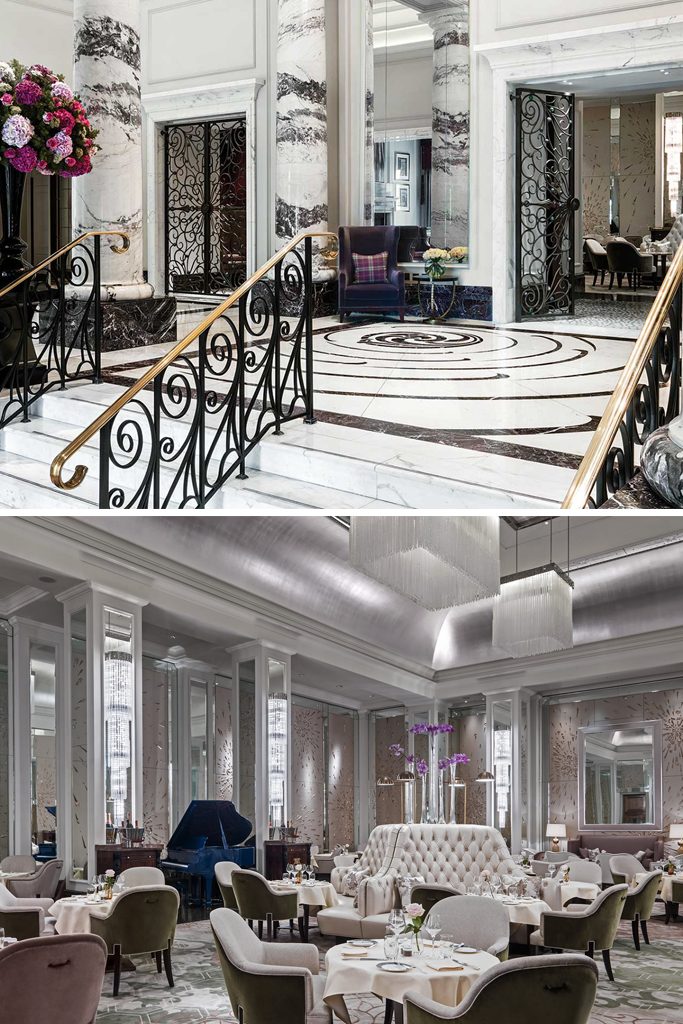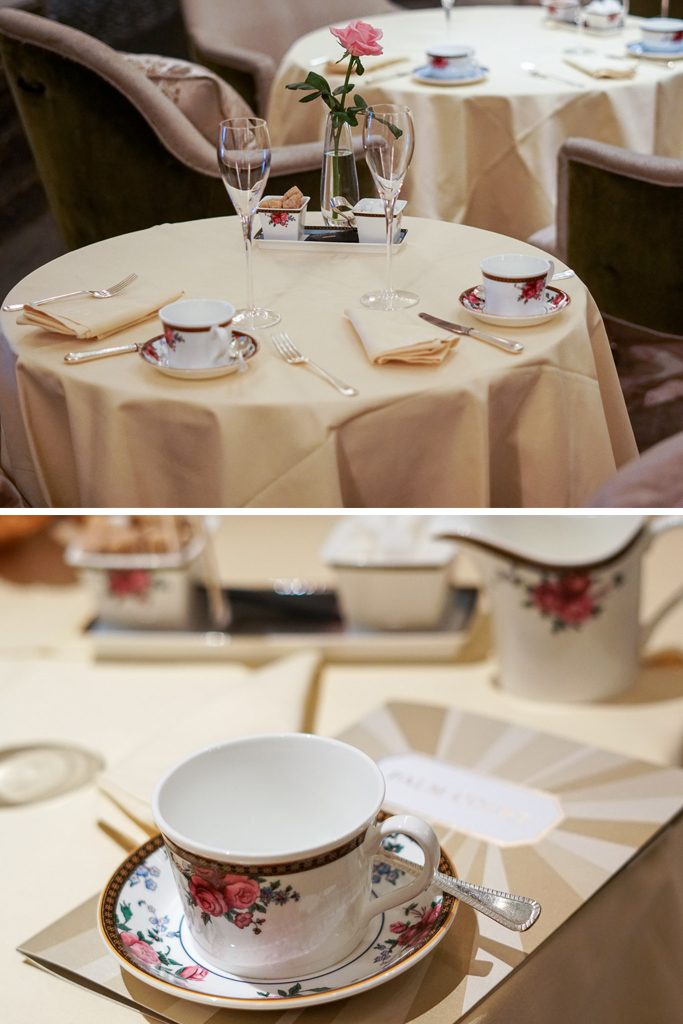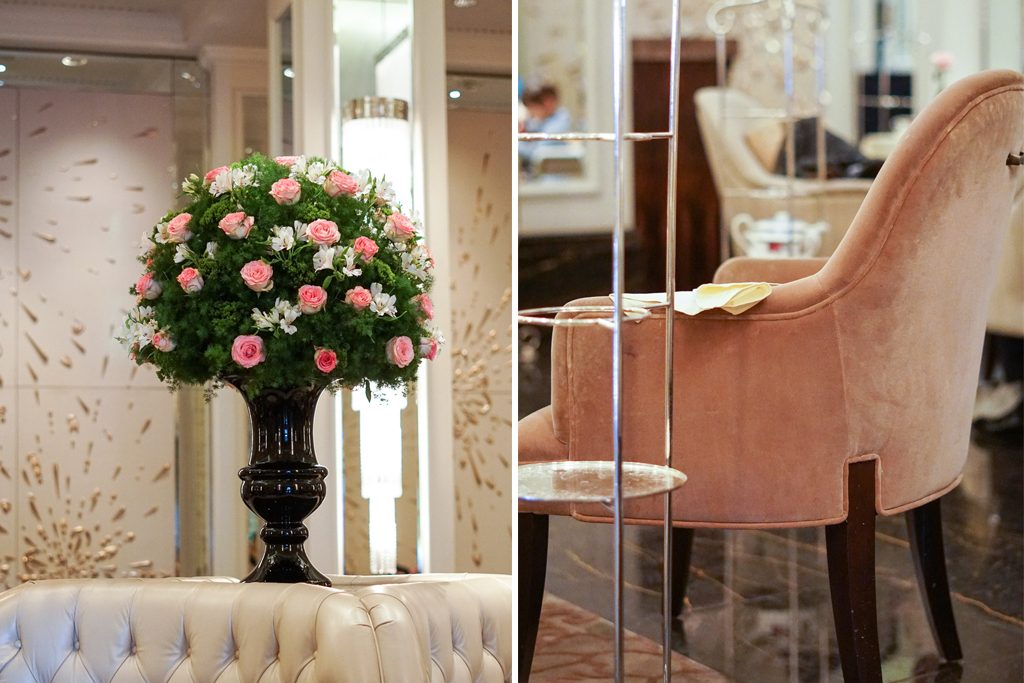 Reservations for our High Tea with Wedgwood experience were made well in advance to ensure we would be able to enjoy this experience. Before we even proceeded to the Palm Court we could hear the piano playing softly in the background. As we entered, our eyes immediately fell upon the center of the room and the beautifully tufted booth. Large mirrors and crystal chandeliers brighten up the space as the soft, dusty rose wallpaper with gold embellishments and white and grey chairs add a feminine and elegant touch. Wedgwood "Langham Rose" teaware is meticulously placed on the tables with a towering cake tier waiting to be filled with scrumptious sandwiches and artful desserts.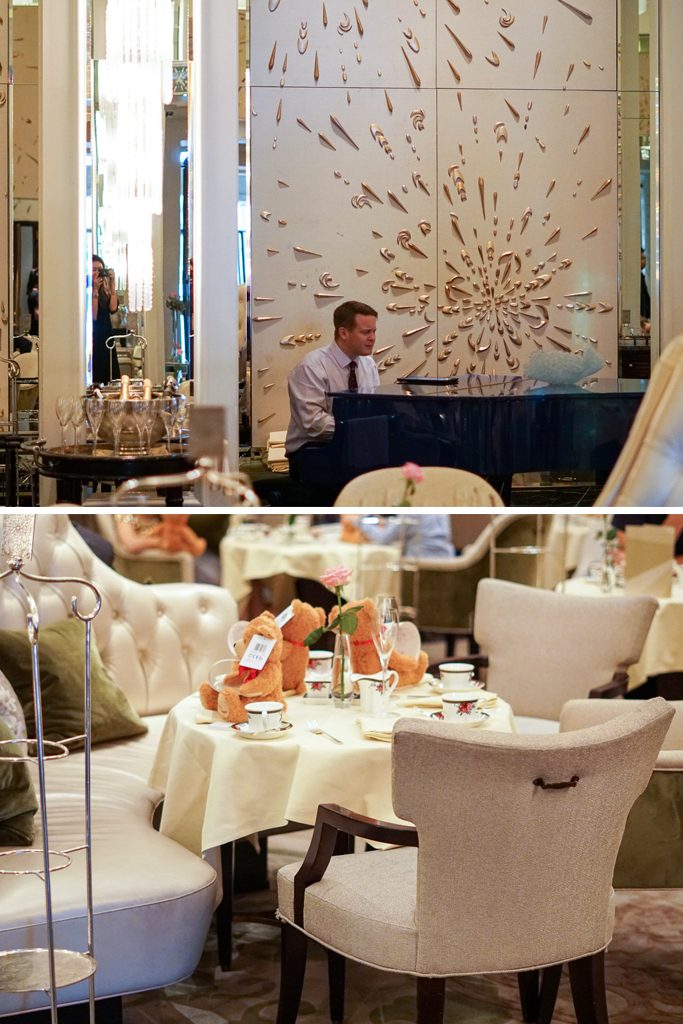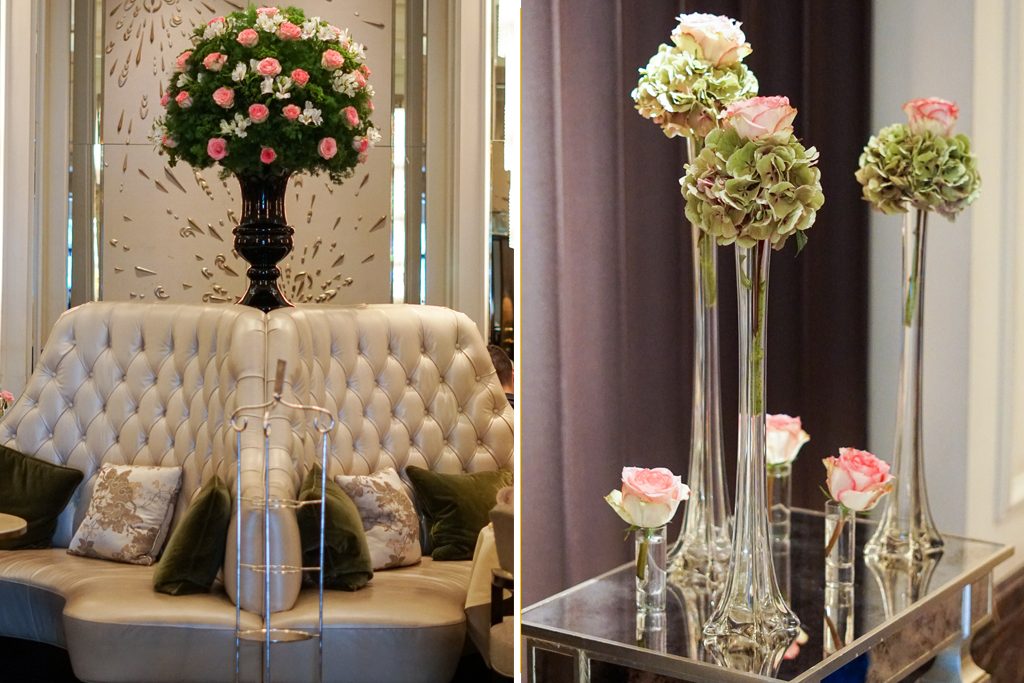 As we walked to our table, my children shrieked in delight to see three Hamleys stuffed teddy bears with bright red bows and colored pencils at each place setting. Child friendly menus describing Jigsaw Sandwiches and farm animal pastries such as Pedro Pig, Billy Bee, Lily the Ladybird, and Cecil the Sheep intrigued the little guests in anticipation of what was to come.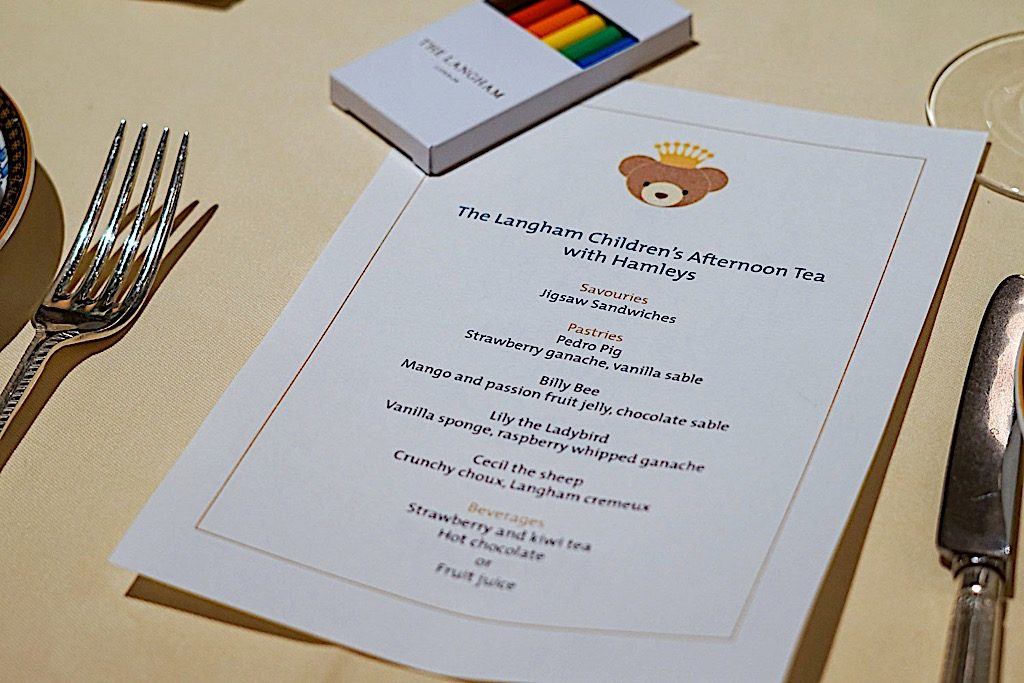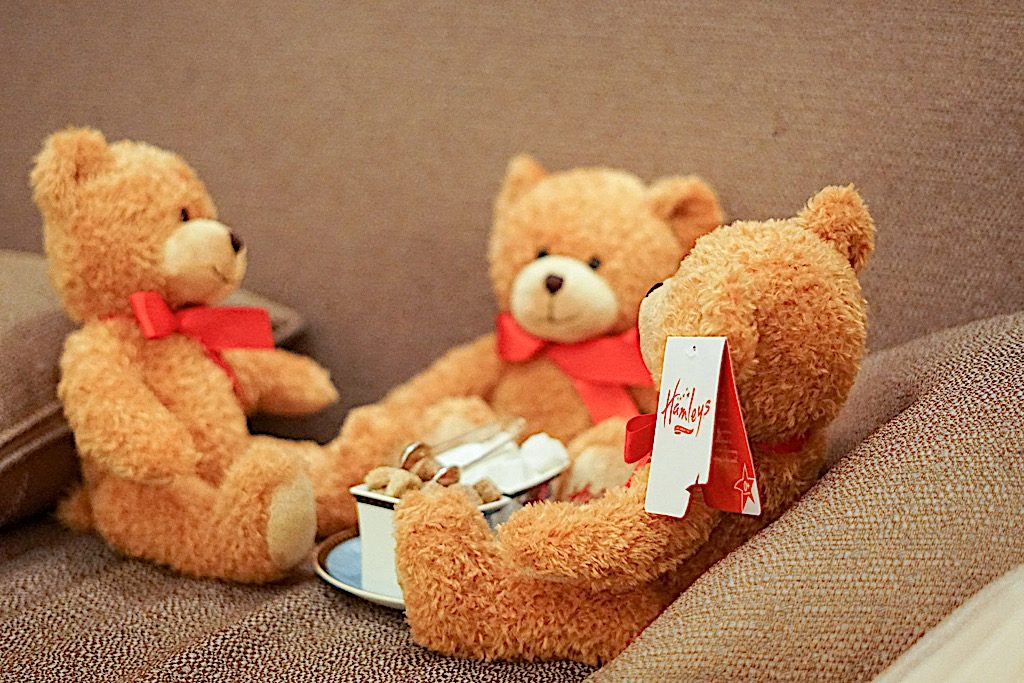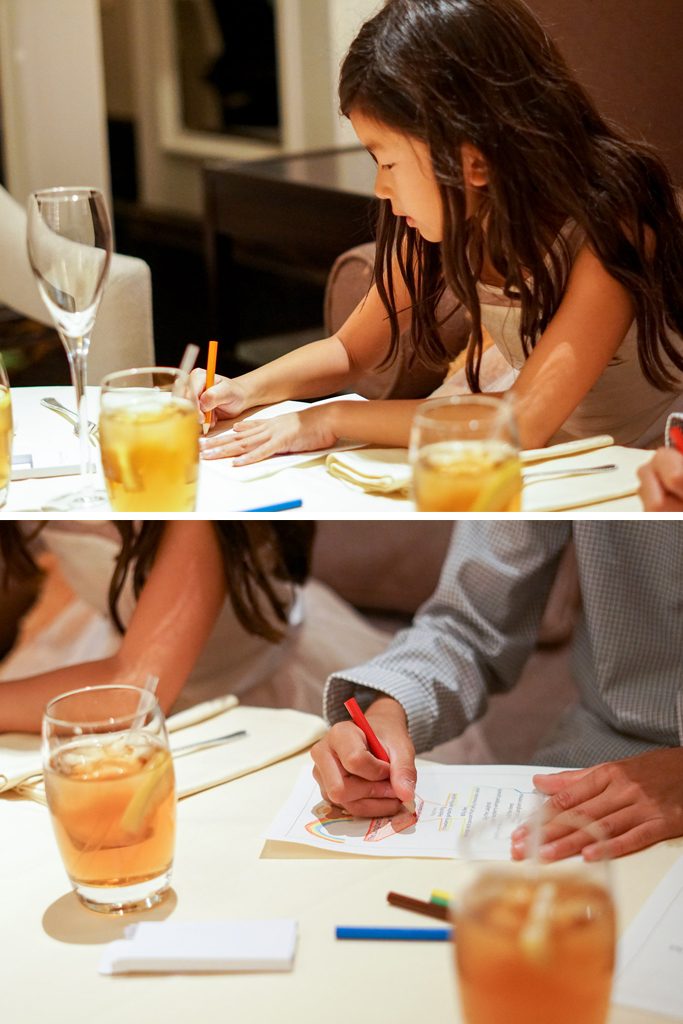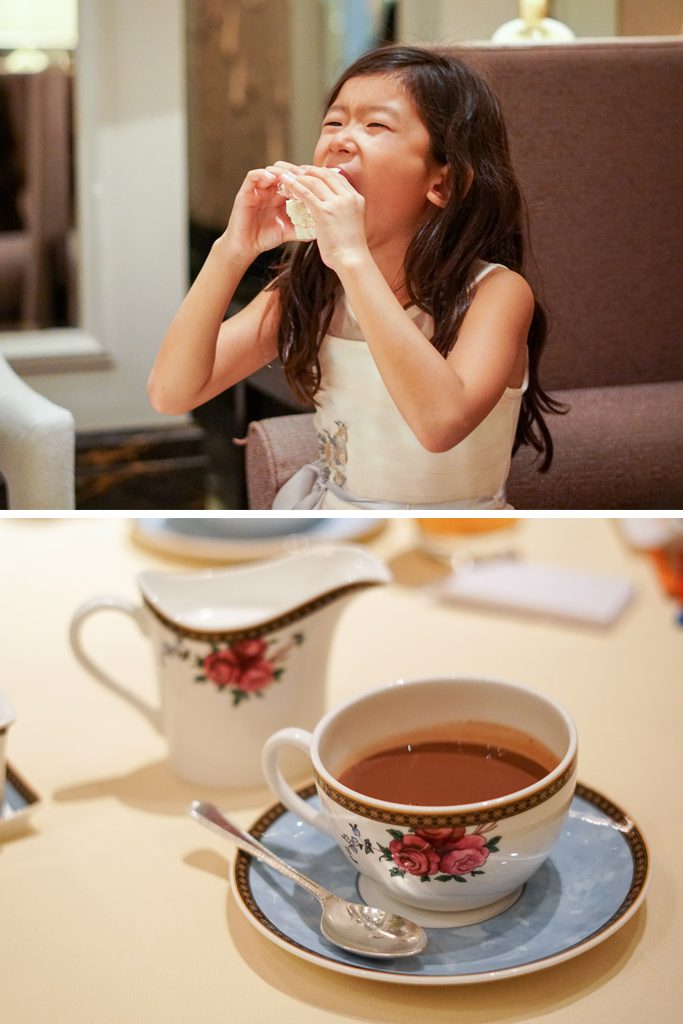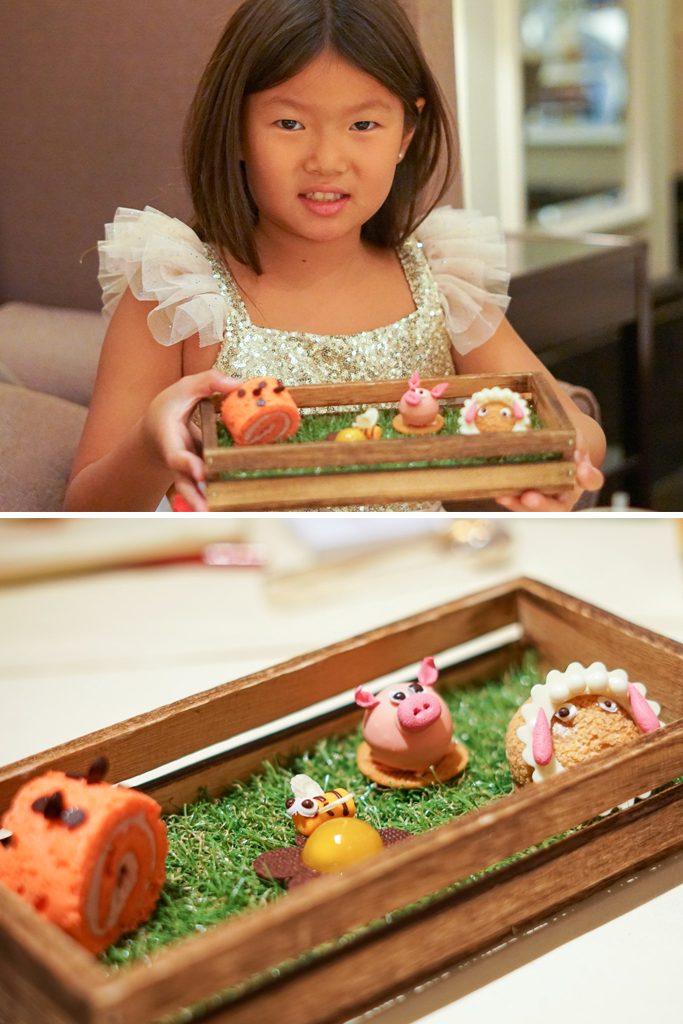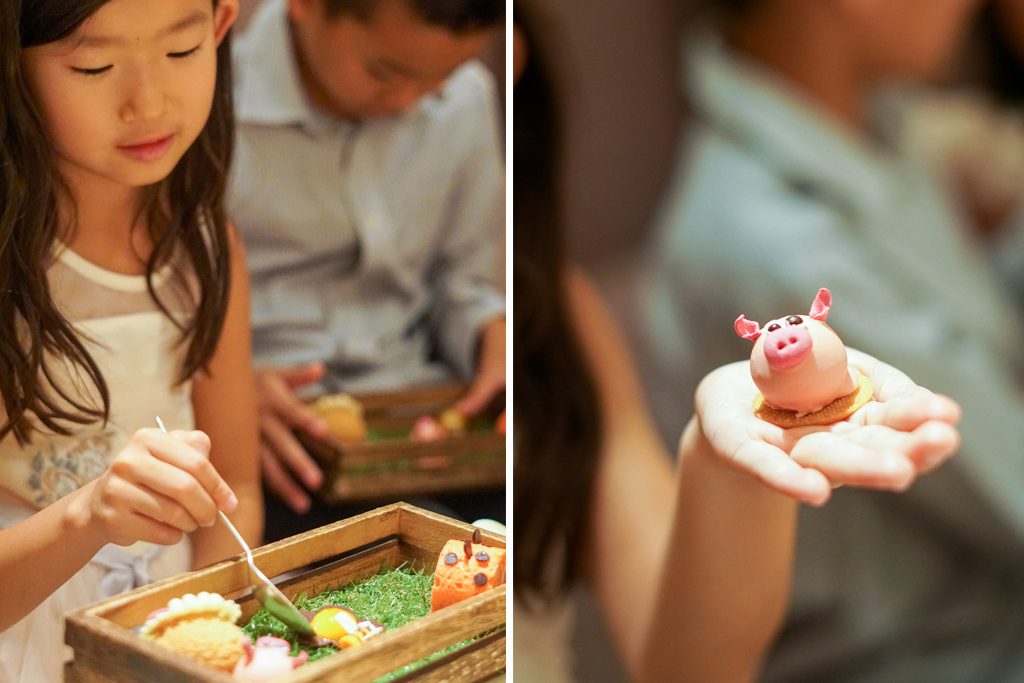 My husband and I opted for the High Tea menu which includes a glass of Pierre-Jouet Grand Brut NV champagne. The tea sommelier was not only knowledgeable about the 30 different tea blends, but also helpful in suggesting which teas would complement our sandwiches as well as our desserts. Included in our High Tea with Wedgwood menu was a choice of small entree to accompany our tea experience. I opted for the crab and avocado bite while my husband went with the —.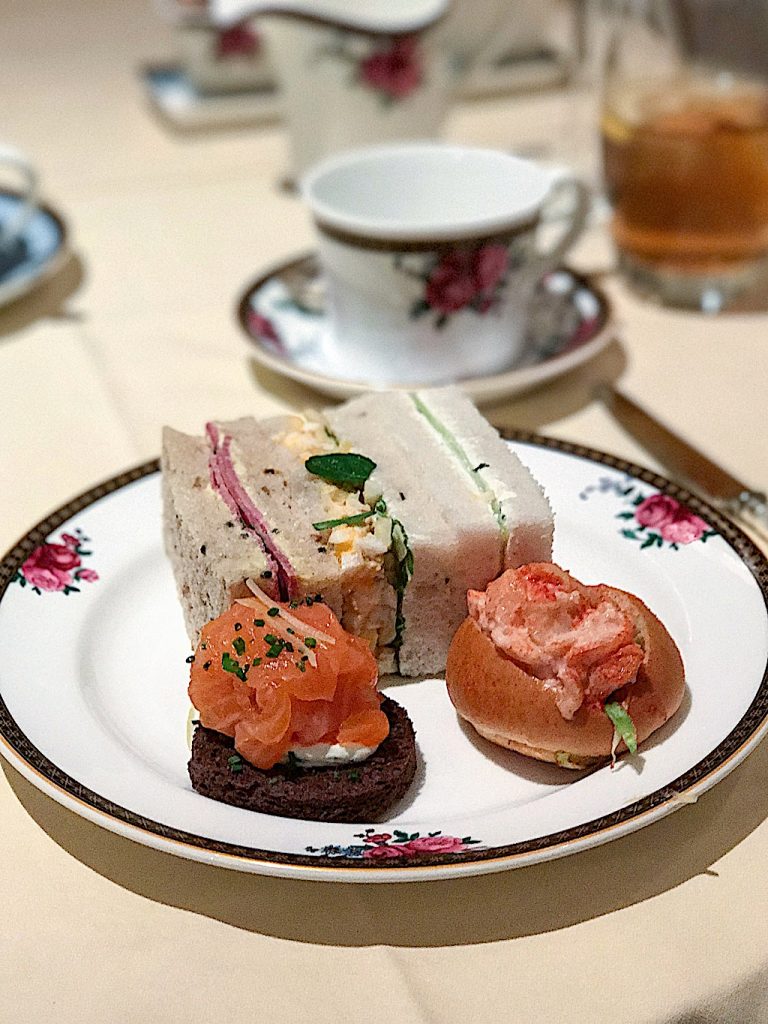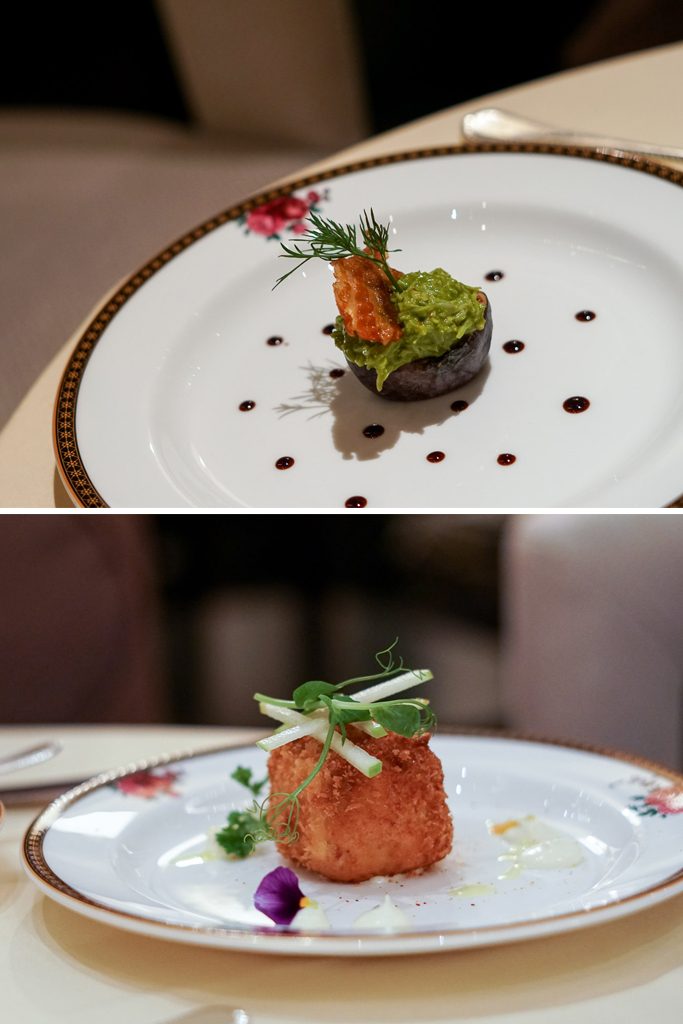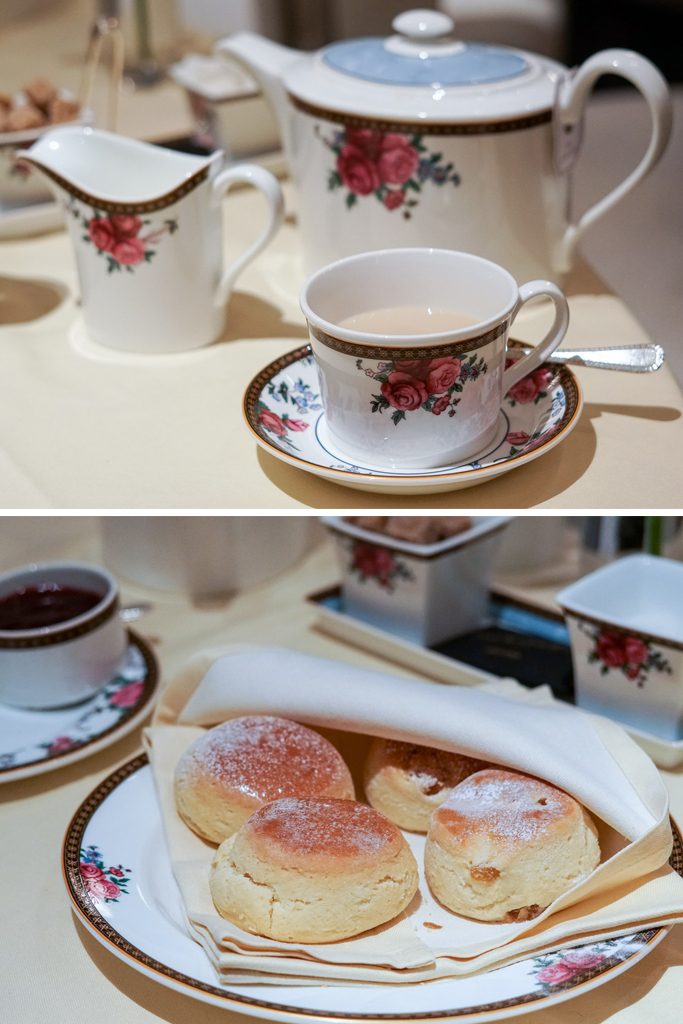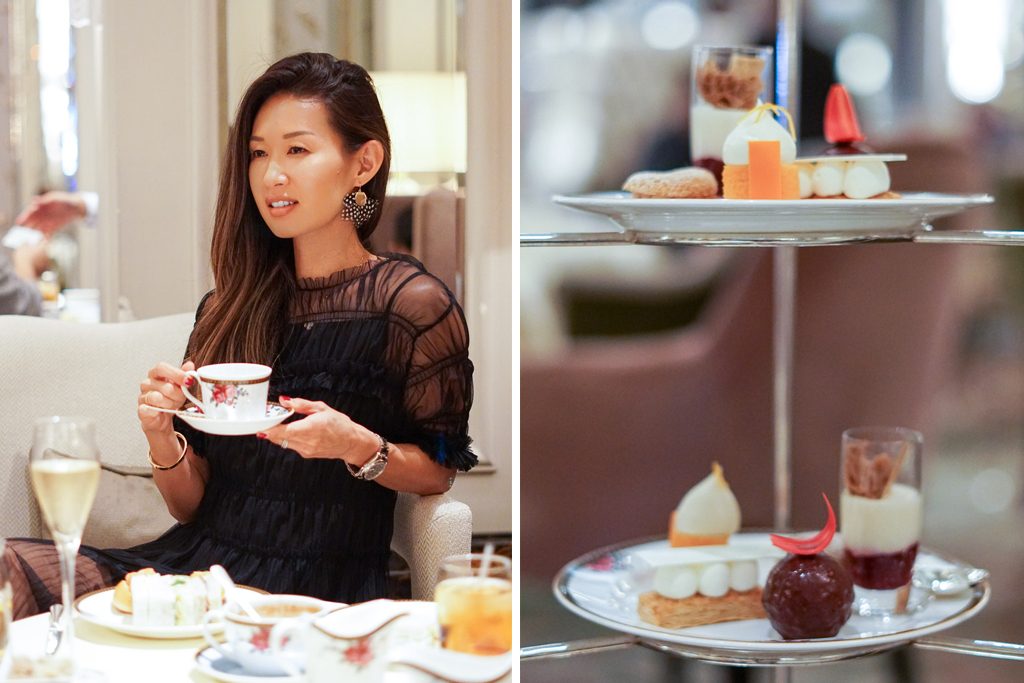 / Specialty Sandwiches /
Burford Brown egg salad
Classic English cucumber
Beef Pastrami
Scottish smoked salmon
Classic prawn cocktail
/ Scones with Cornish clotted cream & Strawberry preserves /
/ Exquisite Pastries /
Paris Brest – Crunchy choux pastry, lightened pecan cream and caramelised pecans
Babalicious – Blackcurrant and star anise baba, Jivara whipped ganache, crunchy pearls
Rikakaka – Crunchy sable, tonka and orange cream, fresh cherries
Spherically Challenged – Creamy coconut, liquid raspberry and Manjari mousse
One in a Million – Caramelised puff pastry, vanilla infused mascarpone, strawberry coulis
With all of these delightful food we were beyond stuffed by the end of our two and a half hour Afternoon Tea experience. A delightful surprise that I hadn't experienced before in all of my Afternoon Teas was the changing of our tea selection from the sandwiches to the desserts. It goes to show that the tea sommeliers really appreciate their teas and pairings with food. What I loved most about the experience was the ambiance of The Palm Court. With three children you always worry if they are being too loud or if they could sit through a two hour meal, but the background music along with the festive ambiance of the Palm Court made for such an enjoyable experience for the entire family.
/ High Tea Prices /
£57 per person
£67 glass of Perrier-Jouët Grand Brut NV champagne
£72 glass of Perrier-Jouët Blason Rosé NV champagne
£27.50 per child (12 and under)
And if you ever do Afternoon Tea in London, here are some basic Tea Etiquette Tips to brush up on:
1. The Langham's Tea Director recommends a brewing time of 2-4 minutes dependent on the type of tea and to use 1 tea bag or 1 rounded teaspoon of loose tea for each cup to be served.
2. Tea is poured first as it was done in the Victorian era, then milk. Pouring tea first allows for the milk to be added at the perfect quantity to suit the drinkers taste.
3. Contrary to popular belief, the pinkie finger should not be extended but should rest by curving gently back towards your wrist.
4. When stirring your tea, refrain from clinking the sides of your cup.
5. The spout of the teapot and the tea kettle faces the hostess or pourer.
6. Under no circumstances dunk any item into your tea. Dunking is a huge social faux-pas.
7. When serving lemon with tea it is correct to use slices and not wedges. It is best to provide a lemon fork to place a slice of lemon in the tea cup after the tea has been poured. Never add milk to a cup of lemon tea. The citric acid in the lemon will make the milk curdle.
8. Tea sandwiches should be served with crusts cut off.
9. Clotted cream spread on the scone first then jam, or vice versa? Either is acceptable, the Devonian method is to place the cream onto the half-scone first, allowing it to begin soaking into the scone. The Cornish method is the reverse.
If a trip to London is in your near future, I highly recommend doing the Afternoon Tea experience at the Langham. Nowhere else will you get the ambiance, service, and comfortable elegance as you do here.
Langham London
1c Portland Place
Regent Street, London
GB W1B 1JA
44 (20) 7636 1000
reservations@palm-court.co.uk
Thank you to the Langham London for the lovely, authentic Afternoon Tea experience and for the adorable Hamleys bears that have become a permanent fixture on our kids' beds.